For more than 90 years, Airstream has inspired travelers around the world to turn their dreams of hitting the open road into a reality. But beyond travel and exploration, our Class B touring coaches are versatile vehicles that serve a variety of alternate uses – even when they're sitting in the driveway. From a guest room to a comfortable remote workspace, Airstream touring coaches inspire joy and enhance your lifestyle even when the road trip is over.
Dive Deeper into Airstream's Touring Coach Lineup
A Home Away from Home: Guest Room on Wheels
Imagine having a stylish and comfortable guest room available at a moment's notice, right in your own driveway. Airstream's motorized touring coaches easily double as an extra room when guests come to visit. Whether you're hosting family for the holidays or having friends over for the weekend, our coaches offer all the necessary amenities to ensure your guests have a cozy and private space to stay. It's like having your own tiny home – except with the mobility to take it where your travel dreams lead.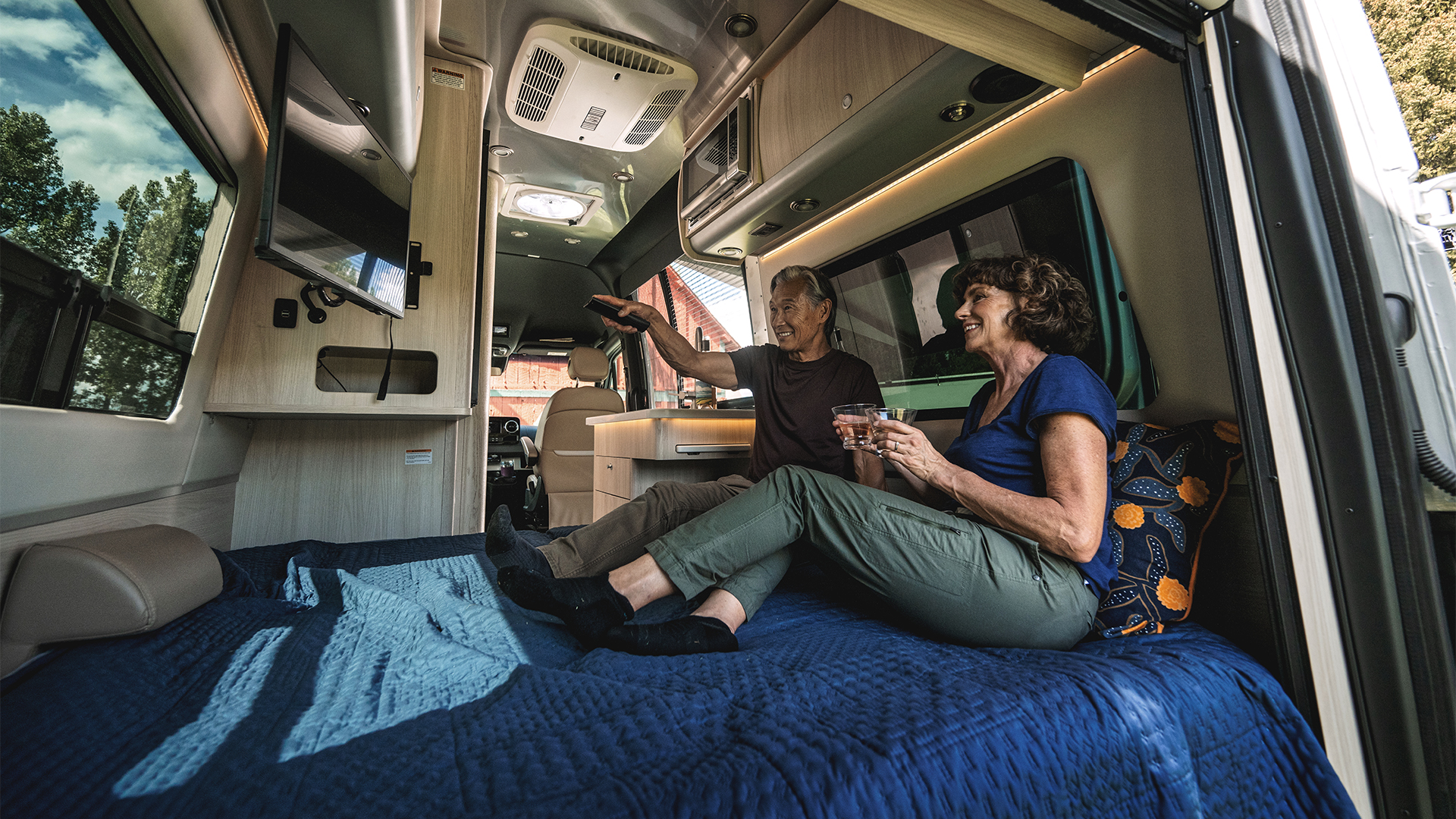 Equipped with comfortable sleeping quarters, private bathrooms, and fully-functional kitchens, Airstream coaches provide all the comforts of home for your guests. The adjustable living areas can easily transform into sleeping spaces, ensuring everyone experiences a good night's rest. This flexibility not only saves you the trouble of setting up air mattresses and temporary sleeping arrangements in your home but also offers your guests a unique and memorable experience.
Championing Parents of Traveling Athletes
For parents of young athletes on competitive sports teams, life can often revolve around traveling to various tournaments, games, and other events. Airstream's motorized touring coaches are the perfect solution for parents who want to support their young athletes while maintaining a sense of comfort and familiarity. Instead of booking hotel rooms and constantly packing and unpacking, parents can have a home on wheels that travels with the team.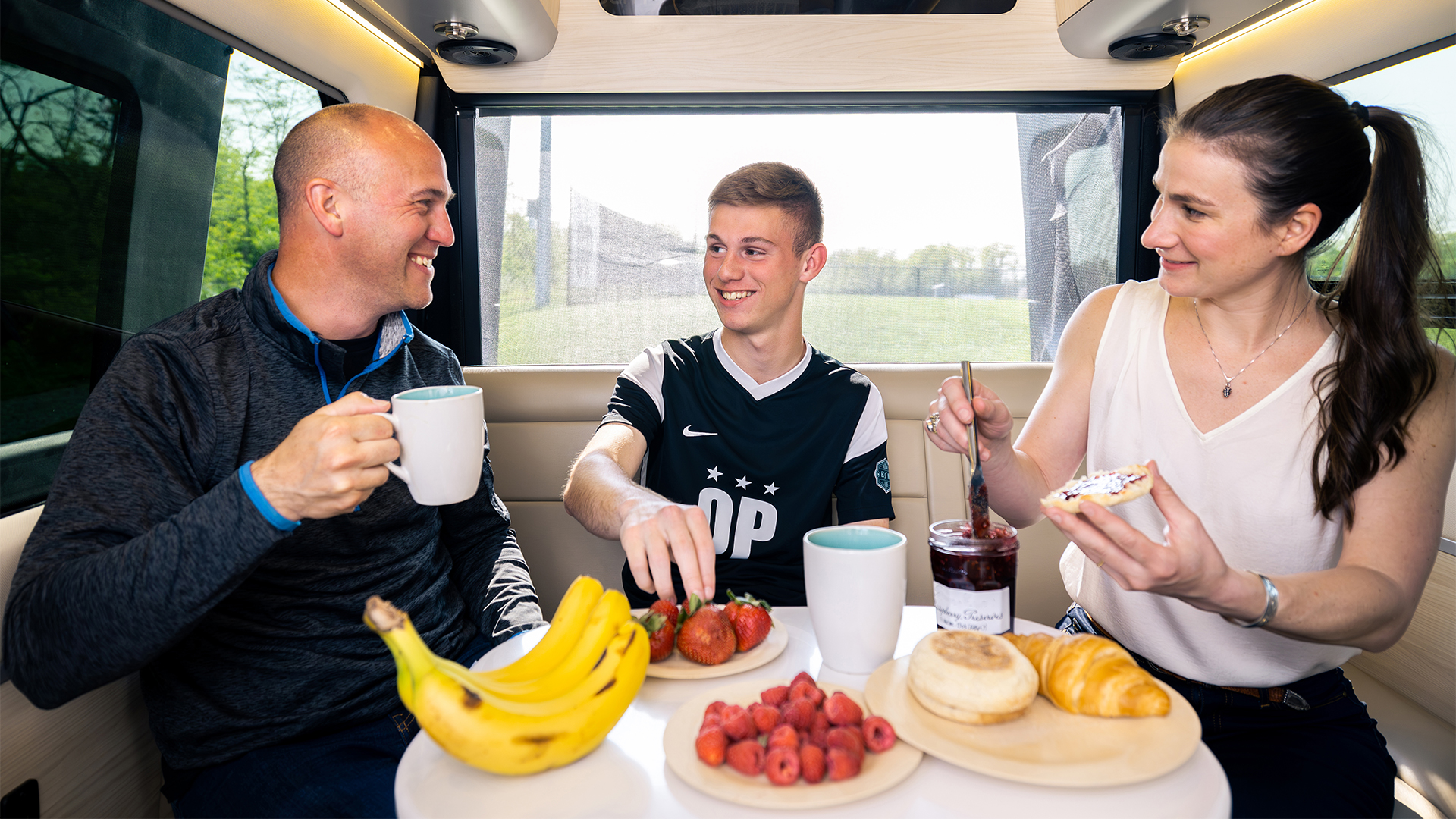 Airstream coaches are equipped with ample storage space, allowing parents to easily transport sports gear and equipment. No matter the weather, they offer a quiet, climate-controlled retreat for relaxing between games. And after a day of cheering on their young athletes, parents can retire to their own cozy haven, complete with a comfortable bed, shower, and kitchen.
The Ultimate Tailgating Experience
Sports enthusiasts know that tailgating is an integral part of the game-day experience. Airstream touring coaches take tailgating to a whole new level, with onboard amenities for entertaining any-sized group and a luxurious and fully-equipped space for pre-game festivities. Every Airstream touring coach makes for a great vehicle for cheering on the team, two Airstream coaches are particularly well-suited for tailgating – the Airstream Interstate 24GL features belted seating for up to nine (seven with the optional 4x4) and the Airstream Interstate 24GT offers room for up to seven.
With spacious interiors and outdoor awnings, Airstream coaches provide the perfect environment for hosting friends and fellow fans for the pre-game celebration. Imagine firing up the grill, watching the big game on a flat-screen TV, and enjoying refreshments from your very own kitchen. The coach becomes the hub of camaraderie and celebration, elevating the tailgating experience to new heights.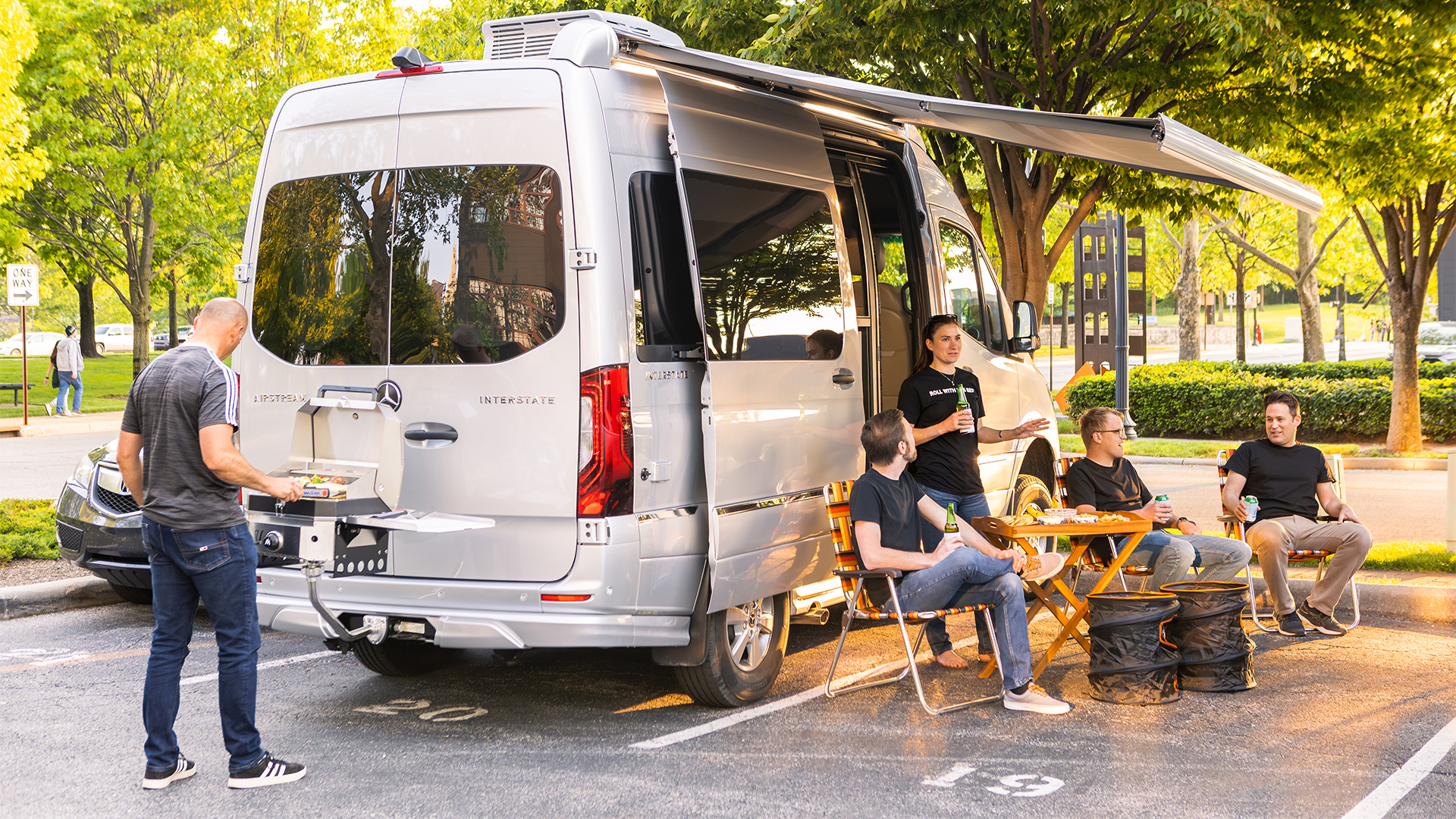 And while tailgating may be the highlight of your big game weekend, Airstream touring coaches also offer the benefit of staying in your own space while you travel. You can prepare your own meals after the game and before you head home, and avoid hotels, rest areas, and unhealthy food options at gas stations while en route.
Remote Work and Business Travel Redefined
The rise of remote work and digital nomadism has transformed how we approach our careers. Airstream's motorized touring coaches offer a unique solution for professionals who are constantly on the move. For businesspeople who frequently travel to meet with clients or tour facilities, these coaches provide a mobile office and accommodation in one. Navigate busy city streets and office parking lots in the nimble Interstate 19 or hit the road for an expanded work expedition in one of our luxurious 24-foot Interstate models.
For remote workers who want to indulge in the freedom of travel while bringing work along, an Airstream touring coach is the perfect digital nomad home base. Bring along the family in the Airstream Rangeline Touring Coach, which features a versatile table that's the perfect work from anywhere setup, and an optional pop-up where the kids can sleep at night.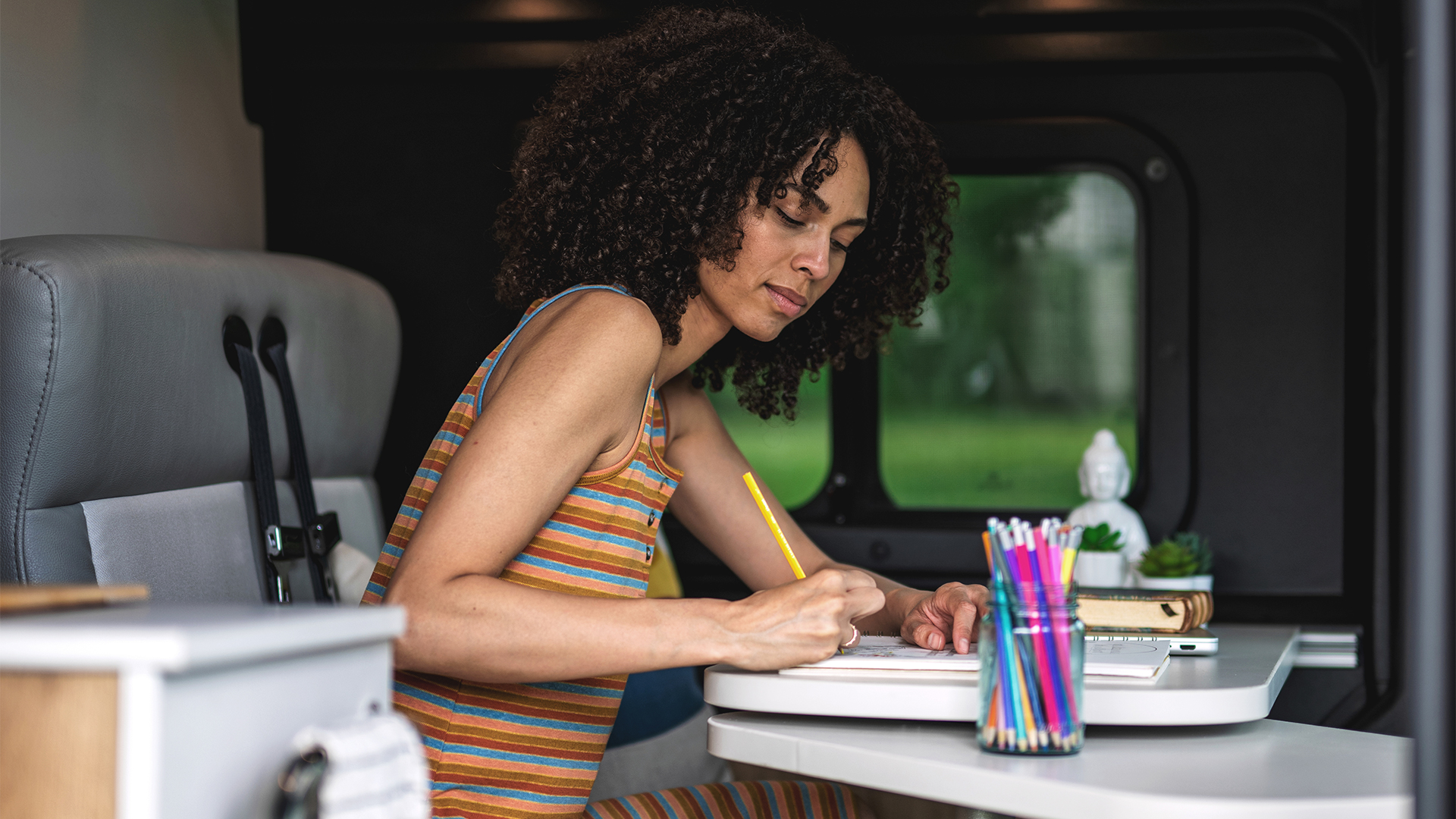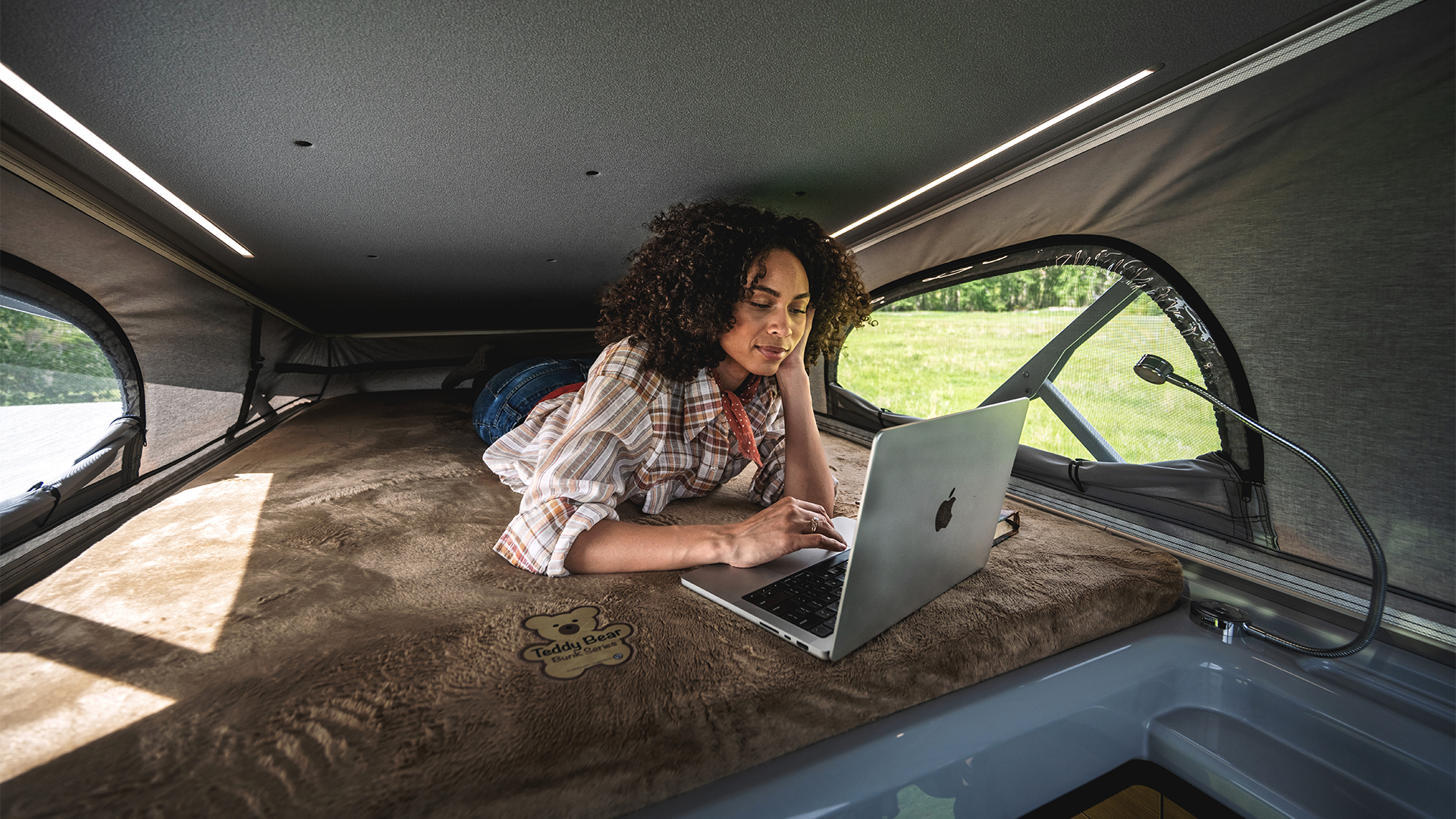 Pre-wired for Airstream Connected kits and equipped with comfortable space to work, Airstream coaches are ideal for professionals who need to stay productive on the road. The Airstream Interstate 24GT features a dedicated workspace behind the swiveling driver seat that's perfect for catching up on emails or taking video calls (and the flatscreen TV mounted above doubles as a second monitor). The expansive Airstream Atlas Touring Coach has a removable pedestal table that sets up in front of the lounge sofa where you can work comfortably during the day before lowering the Murphy Bed and settling in for the night. And new for Model Year 2024, Atlas coaches come standard with roof-mounted Starlink High Performance In-Motion satellite internet systems that make it easier than ever to stay connected on the road.
Instead of staying in impersonal hotels, set up your workspace with a view of the mountains or the beach. Work outside under the shade of your awning. Keep devices charged via dedicated outlets with USB ports so you can be productive and stay connected to employees no matter where you travel. And when the day is done, close your computer and unwind in your own cozy living space, enjoying the convenience and comfort of a home away from home.
If your business travel involves more than just yourself, bring along colleagues with plenty of room to spare. Take clients to the golf course, ride along to the restaurant for a luxurious dinner, or even have a quick business meeting on the way.
Comfort No Matter Where You Go – and No Matter How You Use It
Airstream's motorized touring coaches have evolved beyond being mere vehicles for travel; they have become versatile and adaptable spaces that cater to a variety of needs. Whether you're hosting guests, supporting young athletes, tailgating at the big game, or working remotely, these coaches offer a luxurious and comfortable environment that enhances your experience.
Ready to make your Airstream travel dreams come true? Take advantage of incredible savings up to $10,000 on new motorized Airstreams with the Summer of Adventure incentive program.
Build the Airstream Touring Coach of Your Dreams with Our Online Configuration Tool.