Episode 2 - The Perfect Winter Basecamp
Episode 3 - Currently Viewing
Episode 4 - Prep, Pack, and Pay It Forward
By Ryan Rabidou
It happened on our 2018 Christmas tour.
Deep in the planning stages for our epic Winter Camping 2.0 trip set for early 2019, we set off to spend the holidays with family and friends. Towing the newest addition to our family – a 6-month old baby named Carlton (our Airstream Flying Cloud) – our route took us through Pennsylvania, New York, Connecticut and Vermont. We rolled up to homes in family-filled neighborhoods National Lampoon-style: A rolling Christmas vacation in our RV, ugly sweaters and all.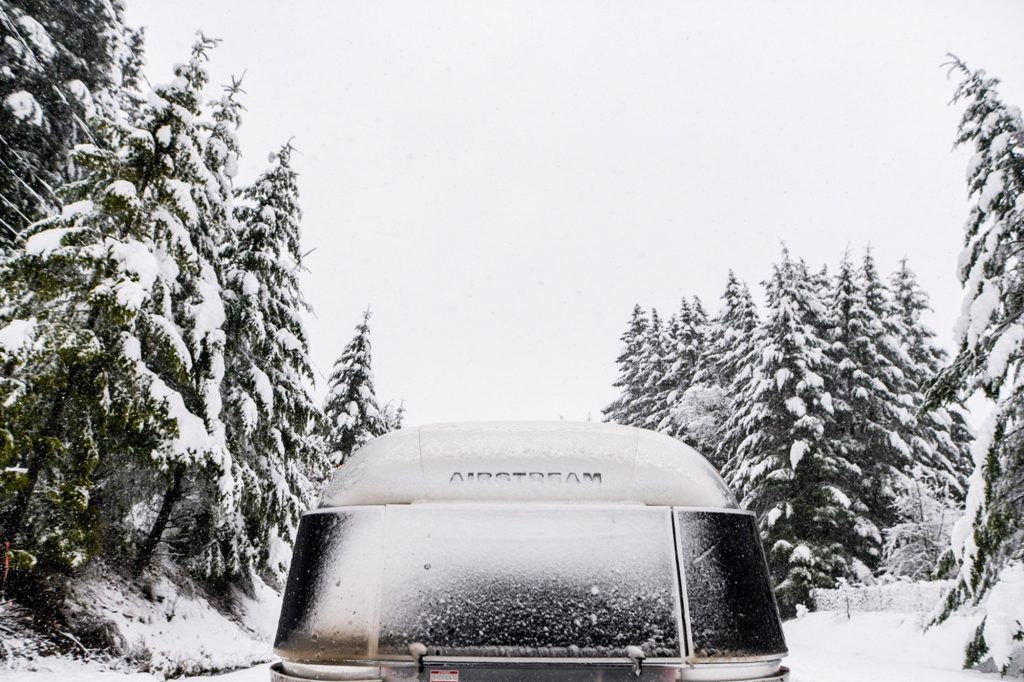 While we might have been the talk of the neighborhood, having our Airstream was fantastic. We can all admit that some of the stress of the holidays is being with family. If we needed a break, we'd just walk out the front door to our own space for a little adult "time-out."
We survived the festivities with Danielle's family but they wanted her to spend Christmas morning with them, so I left her on Christmas Eve to wrap up the east coast tour. I made the three-hour drive with the Airstream up to my twin brother's house in Connecticut where I play Santa every year on Christmas morning for my niece and nephew.
And I'll preface the story with the fact that when we're out on the road together, I do all the driving and Danielle is the navigator and, as you know, we get ourselves into some pretty tricky situations. But we always walk away unscathed.
Now, for the first time I'm hitting the road without my human back up camera – and I'm up against a lot.
RVing on the east coast is generally more challenging than in other parts of the country. Roads are tighter, traffic is more congested and gas stations are smaller (we've actually started using Google satellite images of gas stations when we are on the east coast to be sure our trailer will fit.)
Plus, I had crazy holiday traffic to contend with – traffic jams and drivers who only go into the city once a year – so many things could have gone wrong.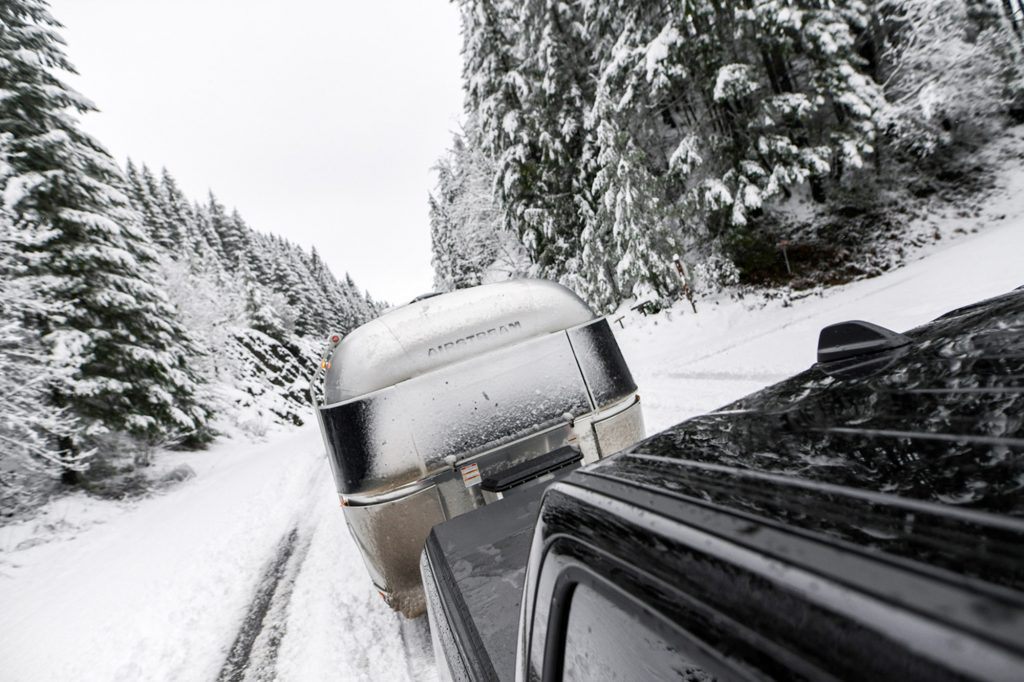 But I made it. I pulled up to my brother's house; it was dark and no one was home. I called him and found out he was about 10 minutes out and so I decided to use that time to park the trailer. He's got this nice little oak tree in his yard and I thought right underneath it would be the most scenic location for my iconic home on wheels for panoramic views of nature when I woke up in the morning.
And that's when it happened.
Feeling way too overconfident, and using only my mirrors, I'm backing up in the dark and I think I have about two feet of clearance before I need to worry about the tree trunk. What I failed to realize was that a branch about six feet up was still too low for the back of the trailer to clear.
Metal against wood makes a dreadful crunching noise. Like crumpling tinfoil amplified a thousand times.
Our beautiful, shiny, pristine, practically-brand-new Airstream experienced massive damage, and of all the places we've already been with Carlton, it happened on a city lot in Connecticut.
It was awful. My brother promptly gave me my Christmas gift early: A bottle of whisky to help soothe the sting. Thankfully, Danielle arrived the next day with her optimistic outlook to balance my self-loathing, which I was unsuccessful at drowning the night before.
I can look back on it now and realize, just like every other tricky situation we've found ourselves in, we always look back on it and laugh. The first ding is always the worst, but Carlton, named after my late grandfather who never turned down an adventure, is broken in now. And I have a greater appreciation for how Danielle and I work as a team!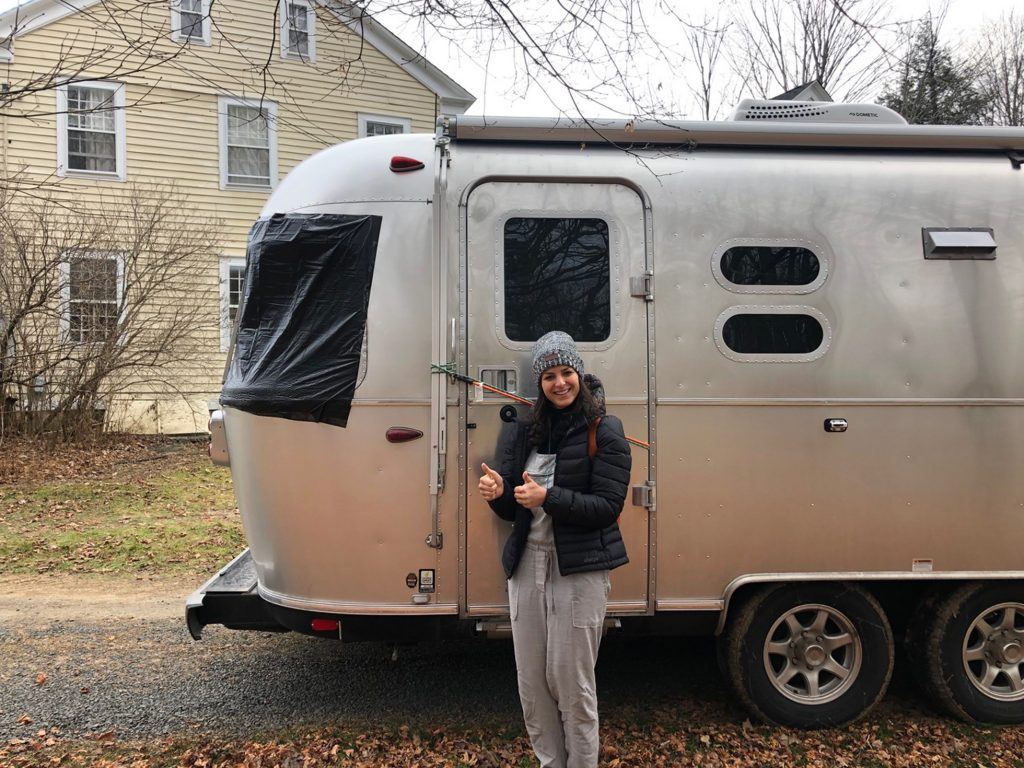 I know the wheels are meant to get dirty and that signs of wear and use are like battle wounds that not only leave a mark but come with a great story to tell. And I remind myself that it's things like this that make the story uniquely ours.
Follow along on Instagram - @zoomzoomcreativeco
Sign up for Endless Caravan updates so you never miss the next great adventure.