Episode 2 - currently viewing
Episode 3: Bumps on the Road to Experience
Episode 4: Prep, Pack, and Pay It Forward
By Danielle Visco
We had so much fun on our first adventure with Airstream exploring the world of winter camping. But our Endless Caravan eventually came to an end. We dropped off the rig at Airstream's headquarters in Jackson Center, Ohio, and headed back to Vermont energized by our winter camping adventure and ready for whatever was on the horizon. Life went on, the months passed, and we kept dreaming about an Airstream of our own. Conversations kept turning to the question of how we could make it work. We spent a lot of time on Airstream's website doing research on the different models. It was right about the time that we heard about Airstream's new Basecamp X package that the company asked if we wanted to take it for a spin and get some real-world experience in a winter environment. How could we say no?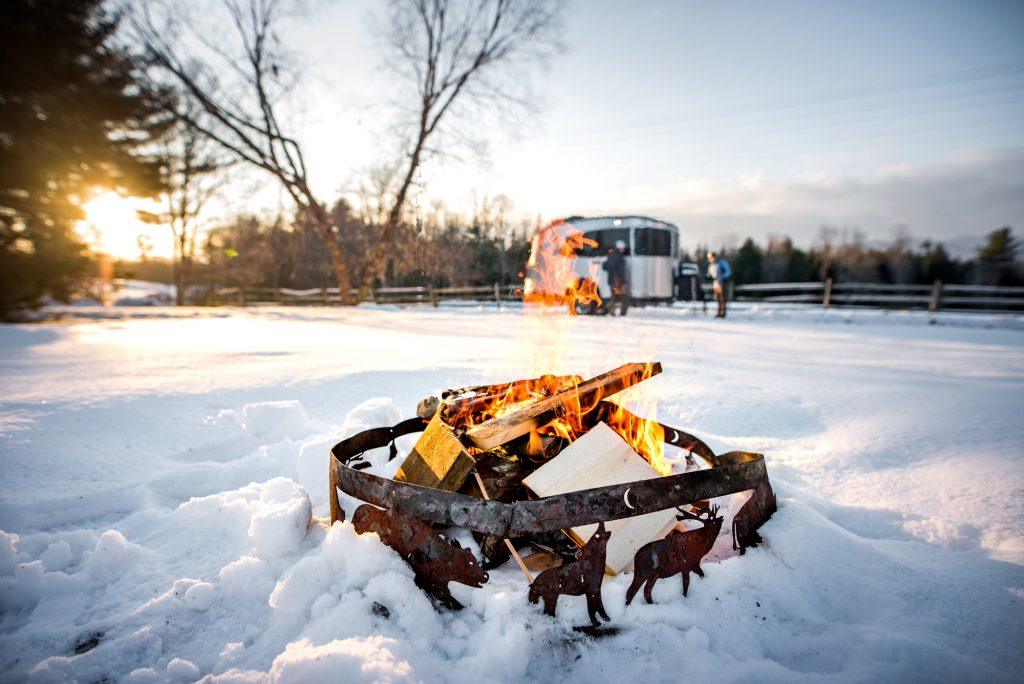 Our experience with a silver bullet taught us a lot about life in a travel trailer. But while the Basecamp X offered the opportunity to get out and explore further than we had before, it also posed some questions. We weren't sure how we'd like the smaller size (the Basecamp X is 16 feet compared to the 23-foot International Signature we'd taken on our first Endless Caravan). Would we drive each other crazy? Would we miss the silver bullet? And how would the Basecamp X perform when the temperature dropped below freezing?
Our first impression of the Basecamp X was that it was rugged, and ready for anything we could throw at it. The bigger tires looked ready for snow, mud, and anything we might encounter if we headed off road. We had a ton of snow in December 2018, and with three extra inches of clearance the Basecamp X was more than capable of handling it as we headed up VT 108 toward Ranch Camp where we planned to meet friends for some fat biking.
If you haven't heard of fat biking, you're probably in the majority. It has a kind of cult following here in the Northeast, where temperatures regularly drop below zero in the colder months. Mountain bikers looking to get their downhill thrill in any season realized they could put fat, slightly under-inflated tires on their bikes and ride the trails even when they're covered in snow.
Ranch Camp was created out of need for a mountain biking hub in Vermont where riders of all levels could hit the most popular trails in the area, and then come back to unwind and share stories of the day's rides. More than just a bike shop, Ranch Camp features original art on the walls and an excellent restaurant featuring a beautiful blend of pub fare and health-conscious grub for refuelling after a day on the trails. We met up with Ranch Camp co-founder Evan Chismark, who showed us the ropes and took us on an incredible ride through the snow-covered forest.
While we had a great time fat biking, we said goodbye and hit the road again, settling into the familiar routines we developed during our first winter camping adventure. We have an incredible system together and lots of times we laugh that we do better on the road in tight quarters than we do in the "real world." Luckily, we are able to work from the road and indulge our need for adventure. For one month of our relationship I had a desk job, but otherwise our entire relationship we've either worked from home or for ourselves. From houseboat living in Baltimore, to eight weeks in a silver bullet, to three weeks on the road in the Basecamp X, we find that we thrive while confined to small spaces.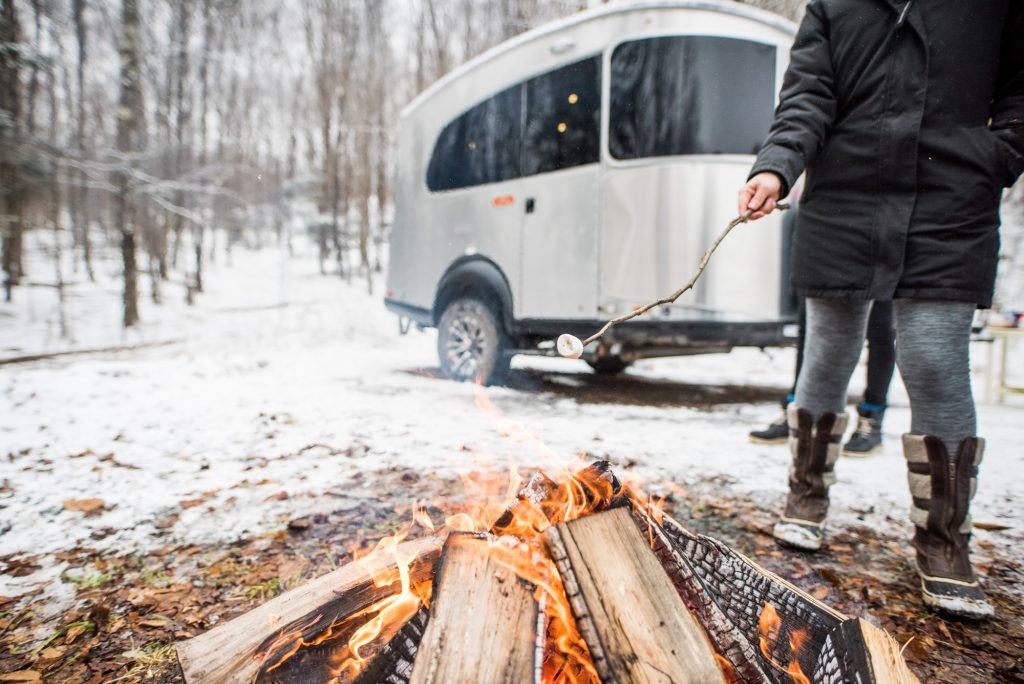 As soon as the tires hit the road, we slip into these defined and undefined roles to support our endeavors, and they really work for us. Ryan does all the driving – always. I co-pilot and research places to stay, restaurants, activities and weather. And most importantly: I figure out whether or not the little mountain gas station is large enough to accommodate the Airstream.
When we arrive at our destination, we both fall into different roles setting up the headquarters. Ryan does everything outside the Airstream – unhitching, hooking up hoses, disembarking the gear. I take care of everything inside: Unpacking, kitchen set up and other preparations for the stay.
Don't get me wrong: We certainly have our fair share of moments. And they usually go down when one of us has his mind set on something (cough, cough, Ryan) – and in an attempt to stay the course, sometimes we end up doing something a little risky. I get nervous fairly easily, and Ryan likes to stay the course even when there are signs telling us to stop, or turn back, or wait for conditions to change. I've been known to shout about how stupid his choice is, and he usually complains that I should get on board and everything will be fine. And then he usually turns the music up.
Eventually we both take a breath, and remind each other – and ourselves – that it's all about the adventure and the story and the laughs we'll have over some drinks when we finally make it through. We meet a lot of Airstreamers who say the same thing: Airstreaming teaches you a lot about yourself and the people you spend your time with. Ryan and I both know that our relationship is stronger because of the experiences we've had and the problems that we've solved together out on the road.
Maybe it's the fact that we had one Airstreaming experience under our belts. Maybe it's the fact that the Basecamp X is the perfect – well, base camp – for just about any adventure. But heading out with the Basecamp X to explore the Northeast in the dead of winter felt like a breeze. We spent New Year's up in the Catskills of New York popping champagne corks into the chilly air, and we met up with some friends at Edson Hill Manor for Nordic skiing – and to celebrate their recent engagement.
No matter what audacious challenge we've undertaken, when we get back to our Airstream and call it a day, we throw an old-fashioned Airstream party, complete with hot cocoa, corn hole, a crackling, warm fire and melodies filling the air and our adventurous spirit.
We've had so much fun Airstreaming, in fact, that we finally decided to take the plunge. We bought an Airstream to call home.
Check back next week for Episode 3 of Danielle and Ryan's Winter Camping 2.0 Endless Caravan, where they set off for another snowboarding adventure in the Canadian Rockies.
Follow Ranch Camp and Edson Hill Manor on Instagram.
Ryan & Danielle - @zoomzoomcreativeco
Never miss the next Endless Caravan update. Subscribe below.