You've been dreaming for months (or years) about owning an Airstream. For many new owners, hitching up and rolling out of the dealer lot with a new Airstream in tow is a dream come true. But whether you're a seasoned camper or a first-time owner, there are lots of questions you likely have.
The good thing is that many of your questions are the very questions other soon-to-be owners have as well – questions that our Airstream Ambassador group knows well. In our most recent Ask an Airstreamer session, three of our Ambassadors outlined their experience – from the early days of dreaming to those incredible moments when your dealer hands you the keys. Over the course of this one-hour livestream, our panelists shared inspirational stories, highlighted where to get answers to your questions, and the resources Airstream provides to help you on your journey to ownership. They also talked in-depth about key considerations like storage, financing, and budgeting.
Watch the video, and then come back for more in-depth insights to help you choose the right Airstream. 
Dreaming of the Freedom
Airstream Ambassadors Jim and Chelsea Keat and Daniel and Lauren Fernandez are like many Airstreamers in that their journey to Airstream ownership started with a revelation: We're ready to stop wondering, and we're ready to start wandering.
It all begins with dreaming about the places you'll visit, all the sights you'll see, all the National Parks you'll explore, and the memories you'll make. But there comes a moment of clarity for every future owner when they realize that now is the time. For some that moment comes quickly, while for others it may take years of research, budgeting, and planning.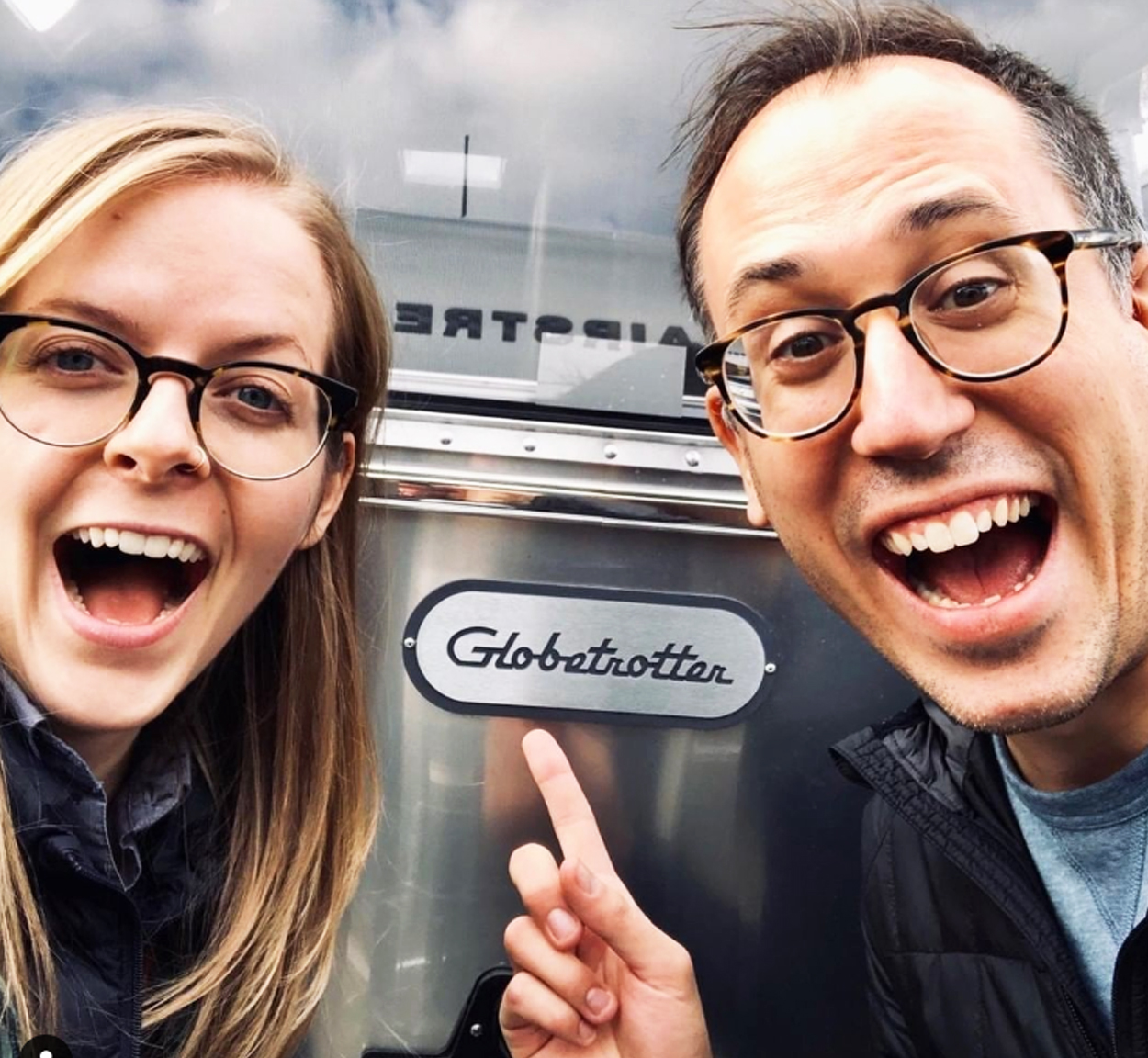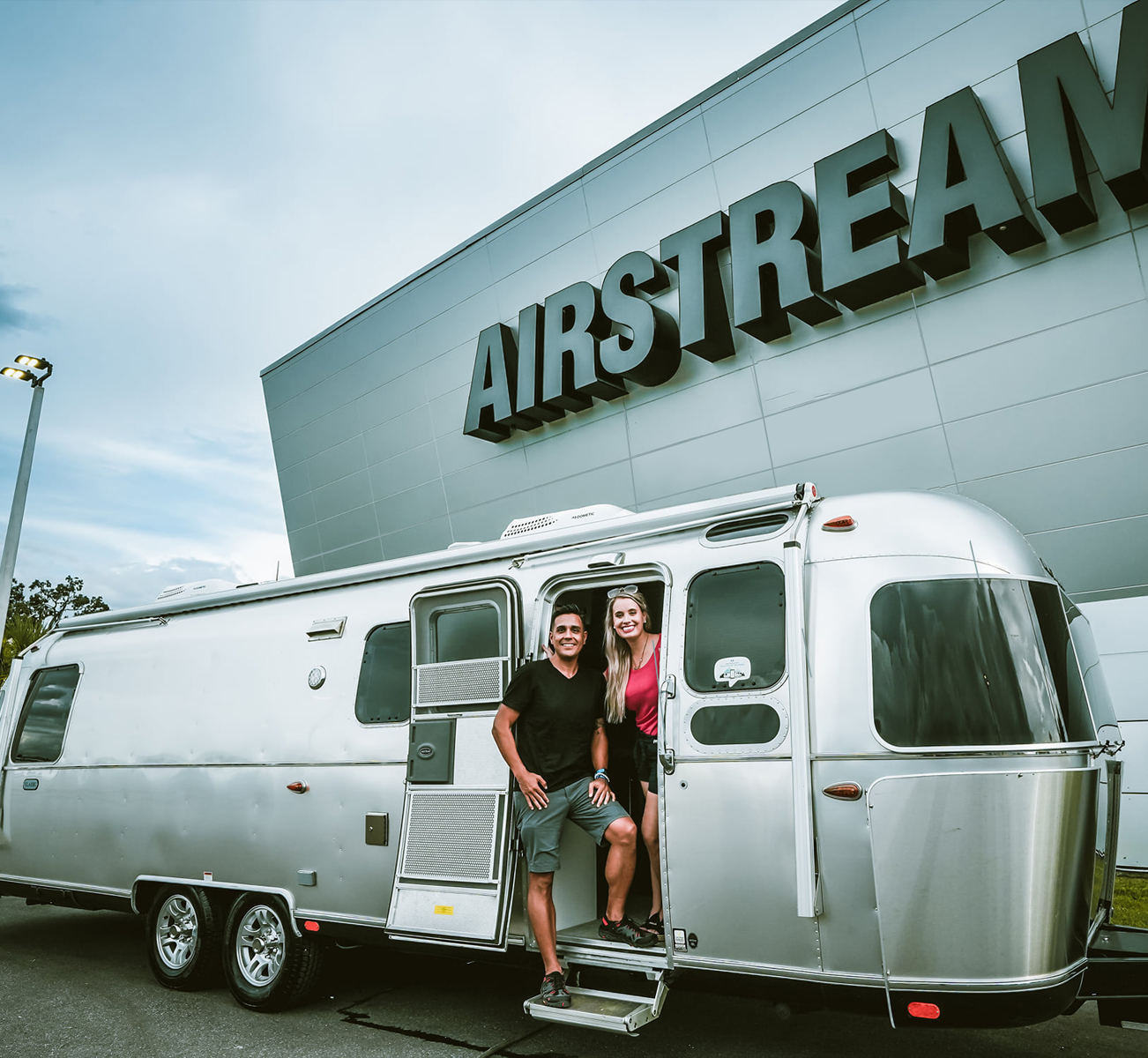 There's no right way to buy an Airstream. But talking with other Airstreamers and learning from our Ambassador group is a great way to start narrowing things down. The owner community is your most valuable resource – they've gone down this road before, and they have insights you simply cannot glean before you hit the road on your own. They're the ones who will help you narrow your focus – and help you understand all the things you can do with your Airstream other than simply traveling. You'll start to see that your Airstream isn't simply a vehicle for the traditional idea of travel – it's a mobile guest suite you can take along when you visit friends in other states, a huddle room for the kids' soccer team between games, or a place for your mother-in-law to stay when she comes for the holidays.
The sky's the limit when you're dreaming of Airstream ownership. Embrace the freedom as you start your journey and you'll quickly begin narrowing down your choices.
Choosing the Model and Floor Plan: A Range of Possibilities
The first thing you'll notice when your search gets serious is that there are many options to choose from. With eight model lines and a total of 133 different configurations, there's something for everybody. If you don't already have one particular model line in mind, browsing our travel trailer product pages and the blog at airstream.com is a great way to begin learning about what makes each line special.
Once you've sharpened your focus to a couple different model lines, our Compare Travel Trailers tool will help you narrow your search even further. This helpful tool lets you put three different models up against each other to compare and contrast the specs and features available. It's an easy way to start seeing what makes each model line unique. 3D floorplans, MSRP pricing, and in-depth specs lets you easily browse the differences.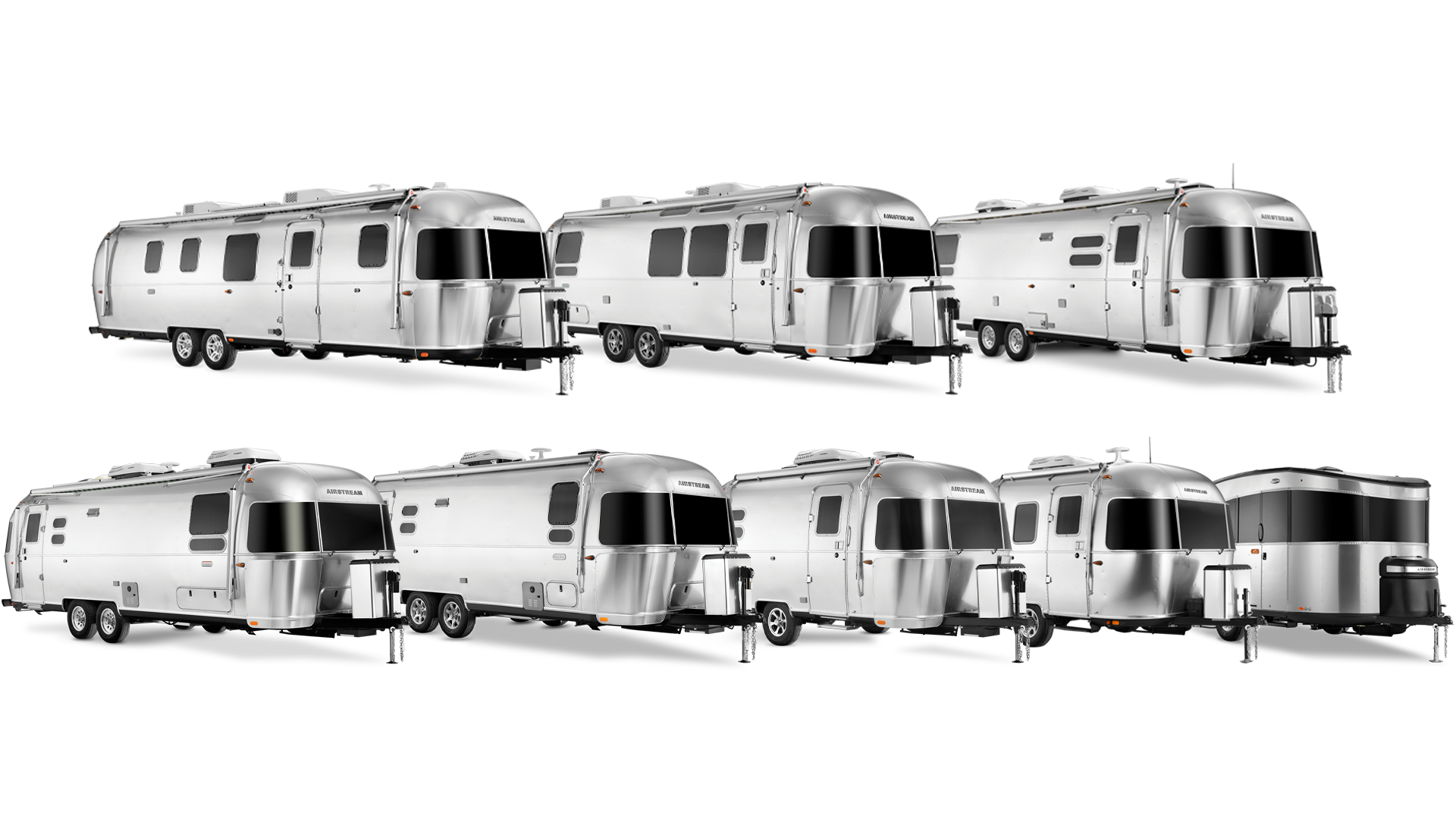 As you settle into an initial decision – We want a Flying Cloud, but we're not sure what length – go further on our travel trailer product pages. There you can drill down into the specs and easily compare up to four different models across a single line. Weigh the optional features between the 30-foot and 33-foot Classic, compare the four Bambi floor plans, and easily access information about base weights, GVWR, holding tank capacity, number of windows, and much, much more.
You will learn quickly that when it comes to the Airstream of your dreams, one size doesn't fit all. From in-depth blog articles about different features to product pages chock full of information, you'll get the knowledge you need to start differentiating between our eight travel trailer lines.
Features 
V
ersus Functions
A new Airstream is full of features that let you bring along all the comforts of home. Each model line has its own flavor of décor – but more importantly, each line has features unique to that particular model.
Keeping that one size doesn't fit all mentality in mind, our Ambassadors recommend considering the function of these amenities – how you'll use them out on the road, and how they will make you more comfortable. You may start down the path convinced you want one particular model, only to come to the realization that all those extra features don't jive with your travel lifestyle. Do you love to bake? Then you may want an oven (versus a convection microwave, which is an option switch on some models). Do you plan to boondock off the grid or are you sticking strictly to campgrounds – two great questions to ask if you're thinking about adding a solar panel package. Do you want to bring along a lot of adventure gear? Then the hatch option on Flying Cloud and International may be right for you.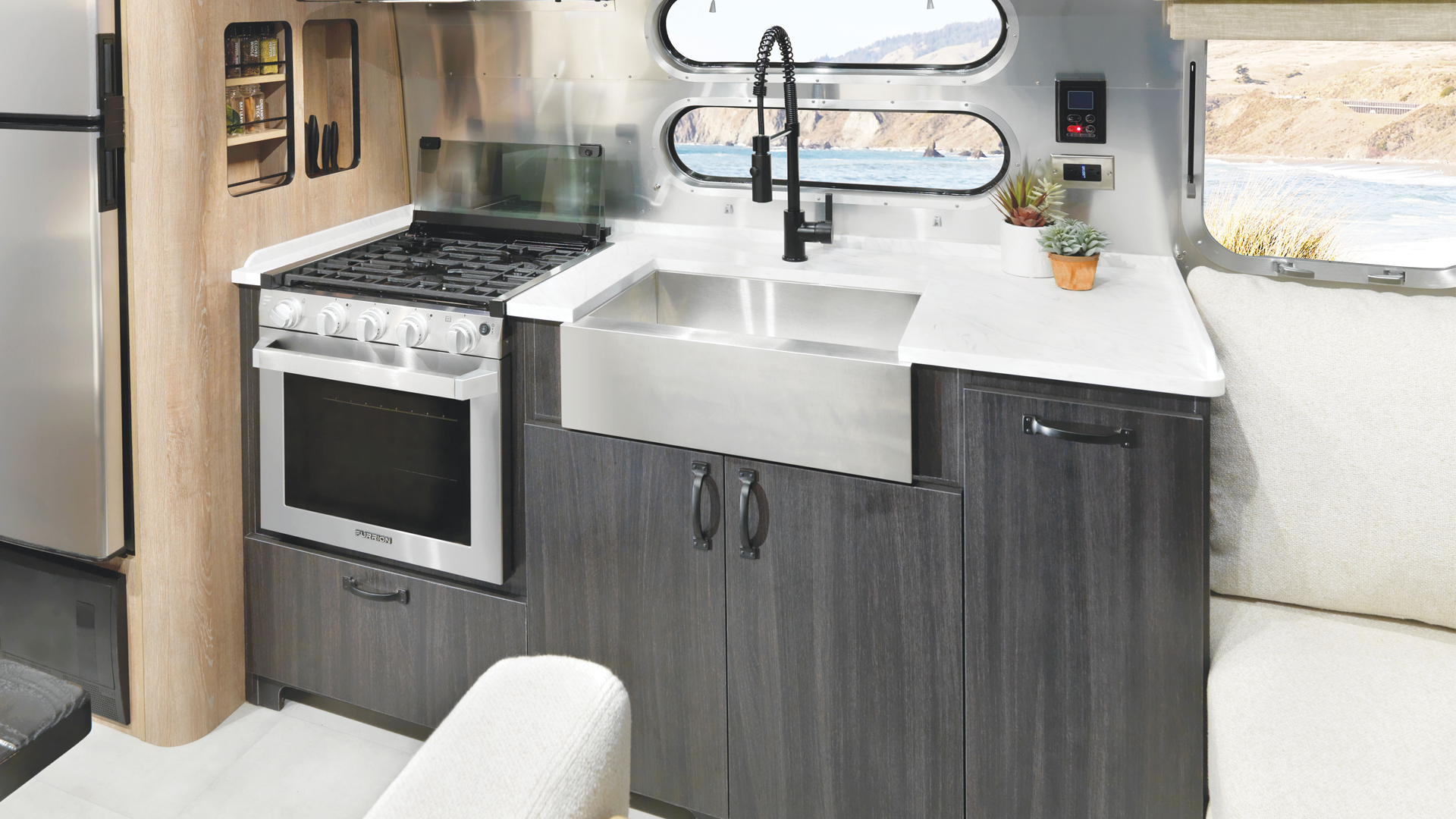 While your travel style may evolve over the years after purchase, understanding your needs now and in the near future is a great place to start when it comes to the various features available.
Matching to Your Existing Tow Vehicle or Purchasing All-New
After your new Airstream, choosing a tow vehicle is your next great decision. With so many opinions out there, it's easy to get overwhelmed on the subject. Power, performance, safety, and tow capacity will be debated online for years to come, and there will never be a single answer that works across the board for everyone.
If you already have a vehicle capable of towing, it may be best for you to narrow your Airstream choices down to the lengths and floor plans that are lightweight enough for your current vehicle.
But if you already set on the Airstream you want, a new tow vehicle may be in the cards. Two of the most important things to consider when considering a new tow vehicle:
What's the maximum weight capacity (Gross Vehicle Weight Rating, or GVWR) of your dream travel trailer?

 Our specs pages let you quickly compare GVWR across a model line, so you can start to narrow down the minimum tow capacity you'll need. But always keep in mind that towing isn't just about what you're hitching up…

 

What gear will you bring along? 

Adding weight to the bed of a pickup can drastically change the vehicle's handling, especially with a travel trailer in tow. If you're loading up heavy stuff like extra firewood, jugs of freshwater, dirt bikes, fire pits or the like, you'll want a more robust tow vehicle – something with more suspension, more tow capacity, and more power. Keep in mind that you're not just hauling your trailer down the road – you're also hauling gear as well as the people inside the vehicle.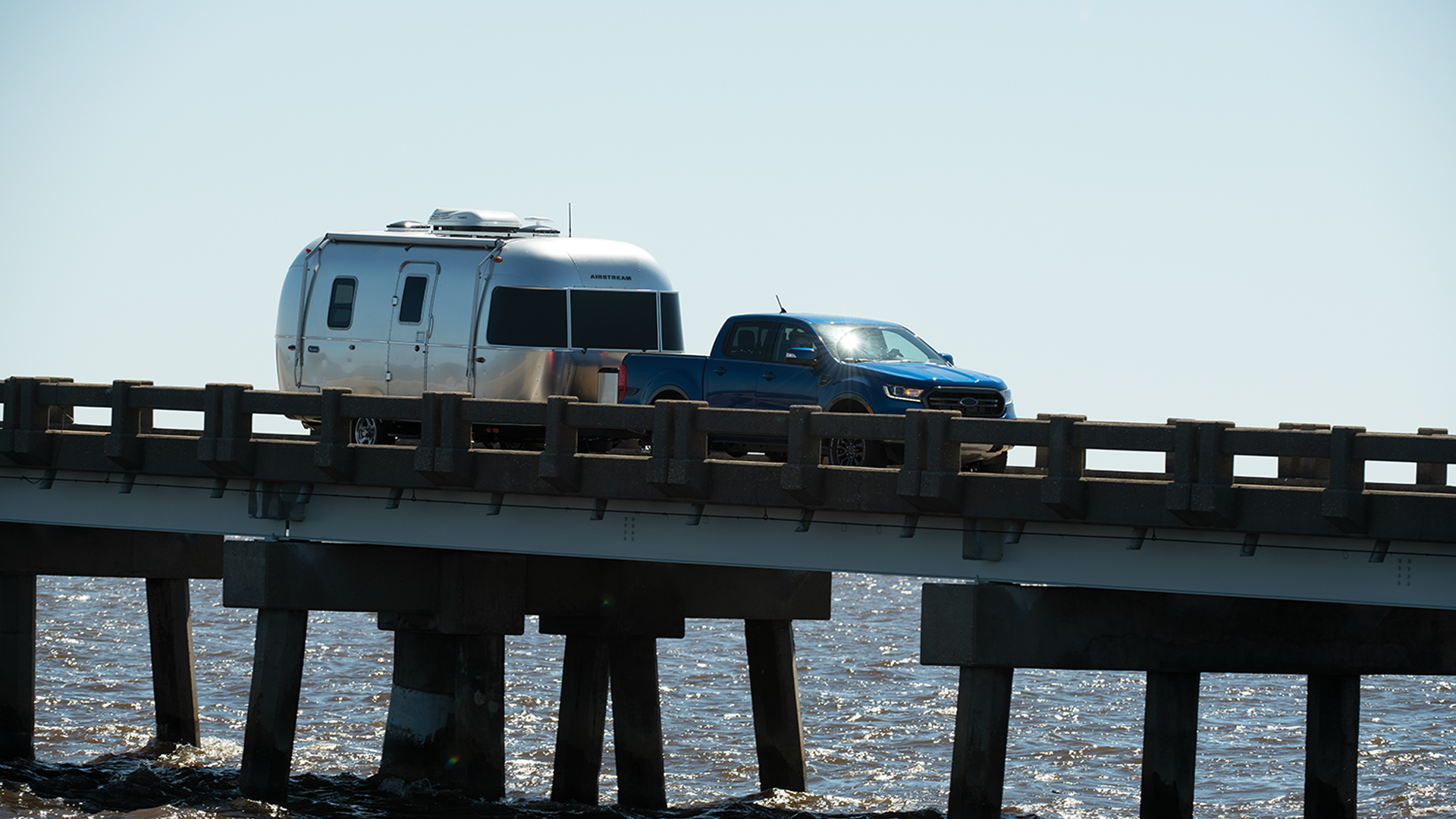 Online forums are a great place for details and specific information as your tow vehicle search deepens, but it's easy to start narrowing down your choices based on what you want out of your travel.
Silver Bullet Storage During the Off-Season
Freezing temperatures and RVs don't play well together. Even a small amount of water in your system can freeze and cause damage. That's why many Airstream owners in northern latitudes winterize their Airstream and store it during the winter months. Overhead storage protects your investment from the elements – snow, rain, hail, and sunlight all have an impact on an Airstream that's left exposed. And security is a primary consideration as well. Storage inside a gated fence or inside a garage – coupled with Airstream-approved lock kits like the ones we offer on Airstream Supply Company – will give you peace of mind while you're dreaming of next season's adventures.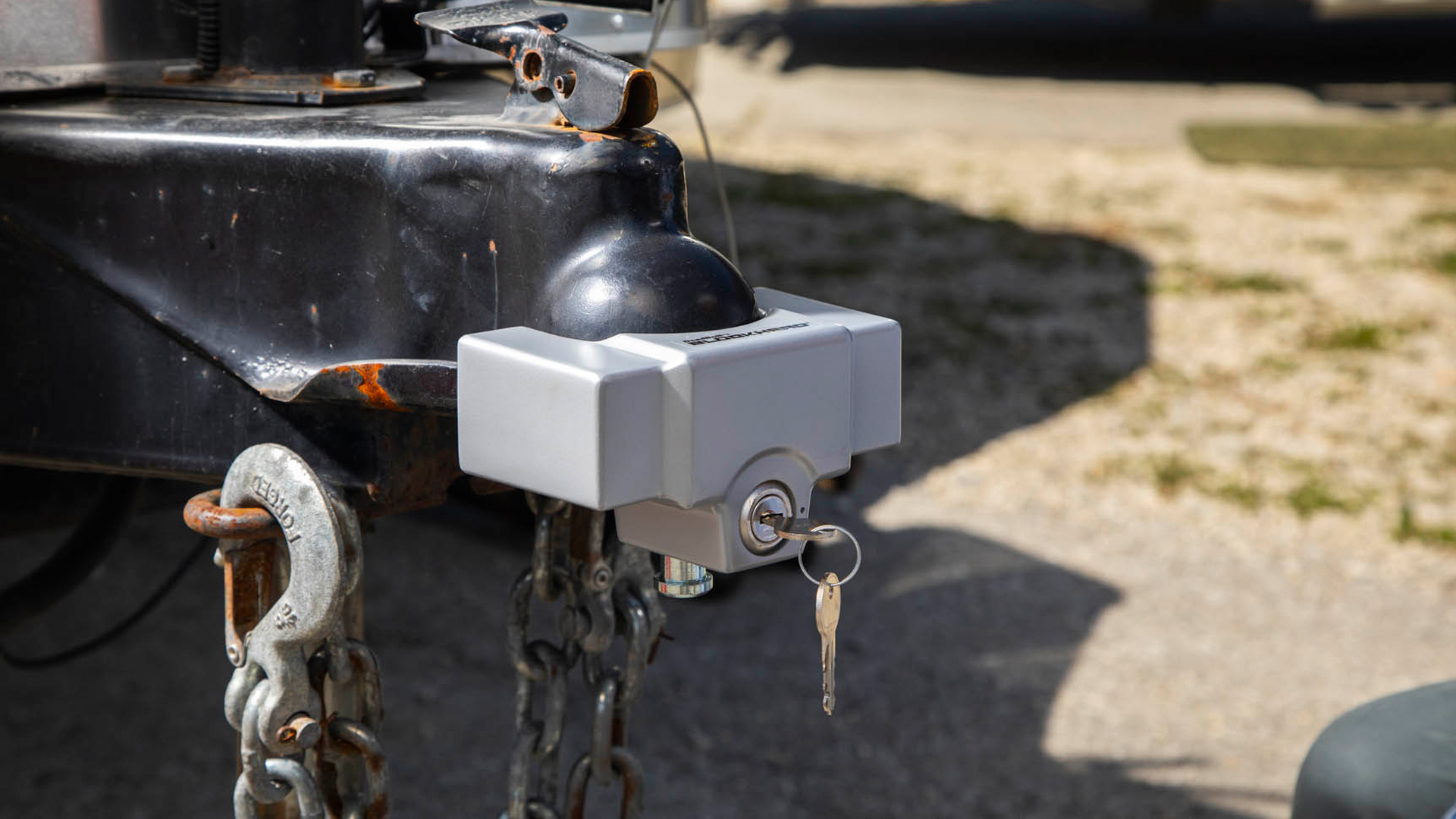 Must Haves Versus Nice-To-Haves
In our Ask an Airstreamer session on Choosing the Right Airstream, our ambassadors dug into some of the things they originally thought they would need for their adventures, and what they realized they actually needed after hitting the road. Of course, the panelists noted, it's important to distinguish between wants and needs when crafting your vision of the ideal Airstream. Some "wants," the Ambassadors noted, can be added later as upgrades to reduce your upfront investment.
One pro tip from the livestream: Visit your local Airstream dealer early in the search process. There you will find product experts and the opportunity to physically explore various Airstream models.
Learn from the Experts
When Airstream Ambassadors Jim and Chelsea decided to take their lives on the road, the couple set out to buy something that would recreate their New York City apartment. They wanted a big bed and a bathroom with a dedicated shower. Based on these parameters, the adventurous duo initially chose a 27-foot Globetrotter. And when they had a baby and dialed back their adventuring, they found that a 16-foot Caravel better suited their new lifestyle.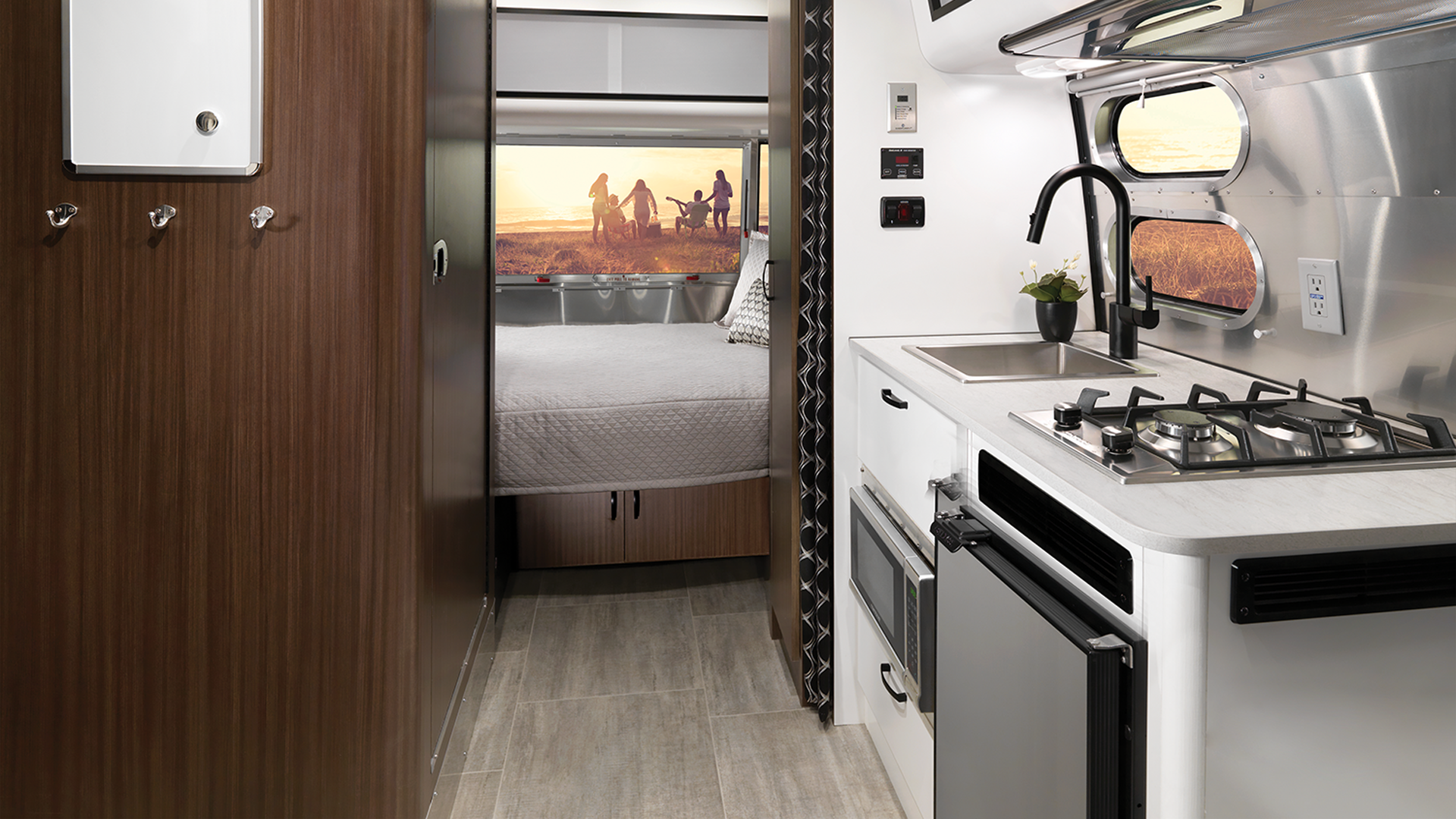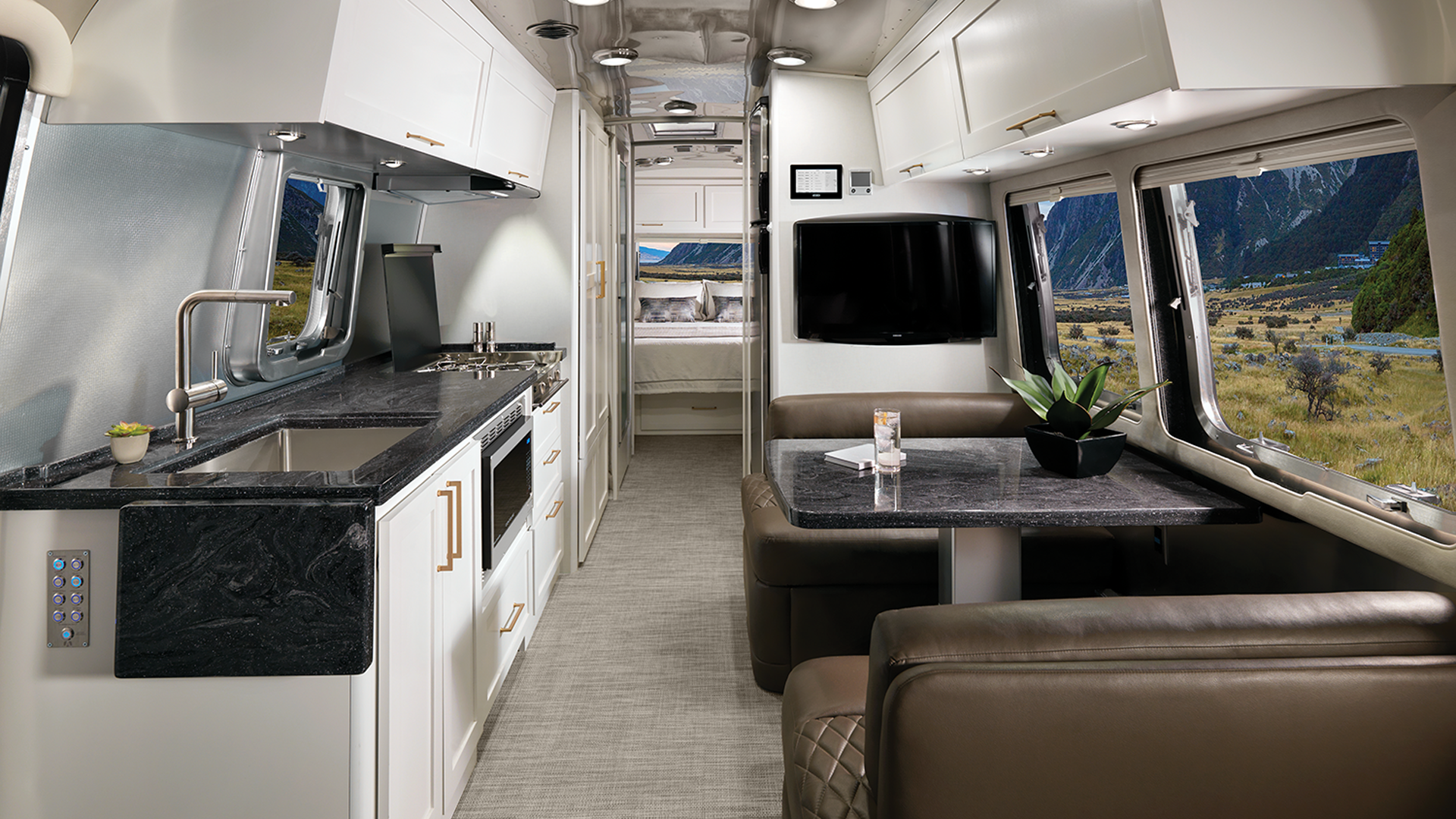 Daniel and Lauren were looking for an Airstream that would make it easier for them to adventure and work full-time. They wanted a travel trailer that would give them the luxuries of home; an oven was a must for Lauren, who is a passionate cook. The answer for them: a 30-foot Classic.
While your outcome may be different, if you follow the advice of our Ambassadors, you'll have a similarly happy result — a life of adventure in an Airstream travel trailer custom-tailored to your wants and needs.
Budget, Financing, and Taking Ownership
In addition to the actual cost of your Airstream, our Ambassadors also recommend thinking ahead about your travel budget once you take ownership of your new Airstream. Many Airstreamers dream of the big road trip, but the majority of camping trips occur within about 200 miles of home – so where will you travel? What sights do you want to see? What campgrounds do you want to visit? Are you a state park kind of person or do you want the luxurious amenities offered at some upscale private campgrounds? Maybe you prefer the community atmosphere in a franchised campground (like a KOA)? 
Whatever your preference, start doing your research: Learn what the reservation process is for campgrounds near you. See what availability they have for spots. Learn when they open reservations for next season, and start comparing the prices now for different types of campsites – from full hookups to primitive boondocking sites. If you live nearby and can make a quick visit before you book, many campground attendants will let you drive through to scope out the best spots. Get to know the options in your vicinity and start planning your camping budget.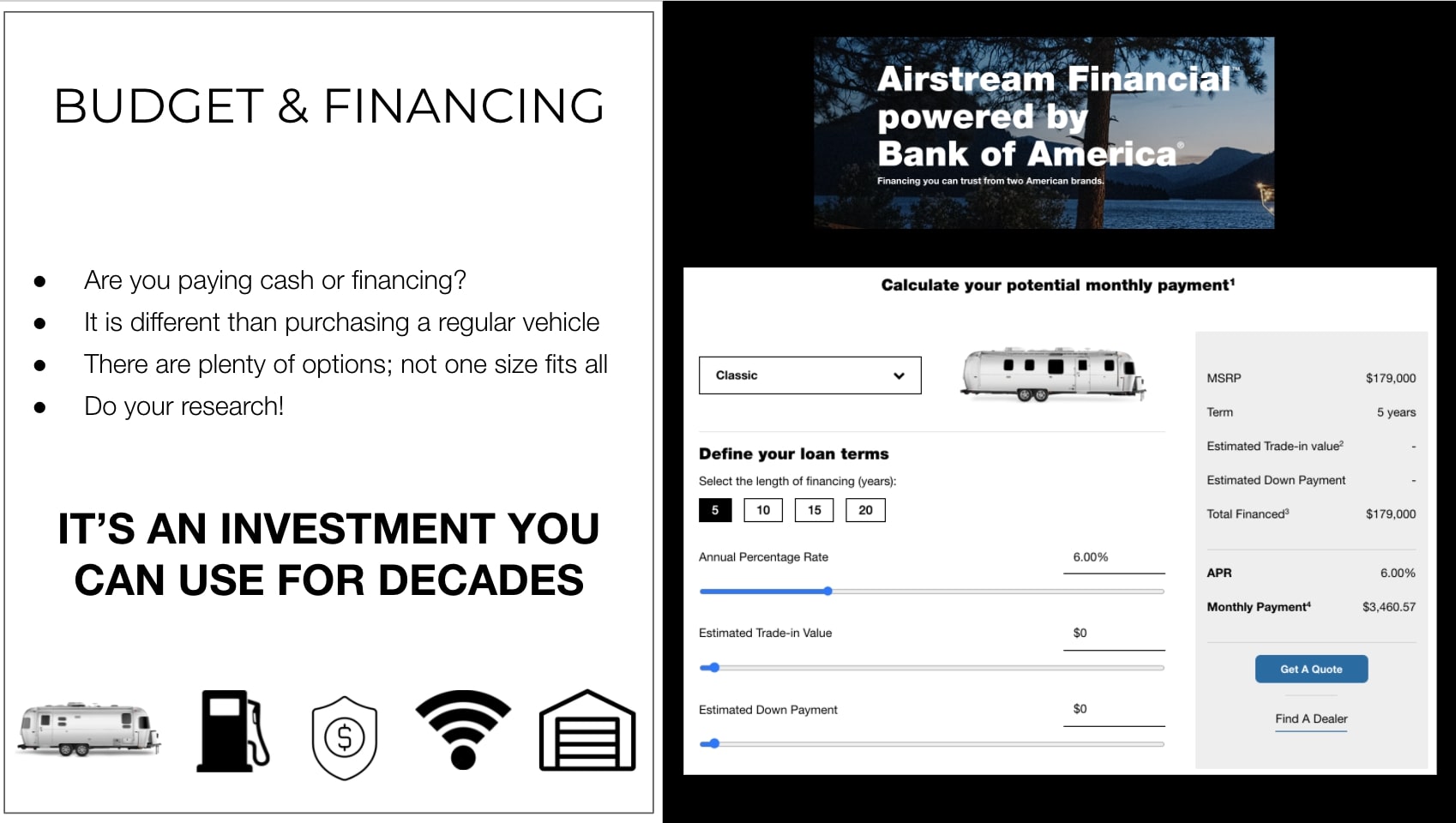 And it's never too early to start thinking about financing your Airstream purchase. There are many ways to finance your purchase, including Airstream Financial – our new financing partnership with Bank of America. View current interest rates, explore how you can reduce your monthly payment, and secure a great rate that will have you hitting the road in no time.
Ready to explore more road-tested insights from our Airstream Ambassador group? Browse through all our on-demand episodes of Ask an Airstreamer.
Want to dig into all the options and build the Airstream Travel Trailer of your dreams? Explore all the options and features available with our all-new configurator.