One of the best features of an Airstream Travel Trailer is the very fact that they're towed behind a vehicle, usually a truck or SUV. Travel trailers give you the ability to unhitch, set up camp, and leave your campsite intact and secure while you head out for day trips in the vicinity. Simply lock your Airstream's door, hop in the truck, and head off to whatever adventure awaits.  
Airstream's iconic silver bullet travel trailers like Globetrotter or Flying Cloud – as well as their Basecamp cousins – give you the freedom to go back and check out that trailhead you passed on the drive in, head down to the beach for the afternoon, or go into town for supplies. That versatility draws many people to the freedom of an Airstream Travel Trailer, regardless of their familiarity with trucks, towing, and hitching. So, if you're dreaming of an Airstream but you've never towed one (or anything else for that matter) don't worry – you're not alone.  
Shopping for a new tow vehicle means familiarizing yourself with the various brands, sizes, configurations, tow packages, and acronyms. And if there's a truck or SUV in your garage already, a trip to the car dealership may not be necessary. Yes, there's a lot to consider, but there's also joy in building your library of knowledge as you work toward mastering the fine art of RV life.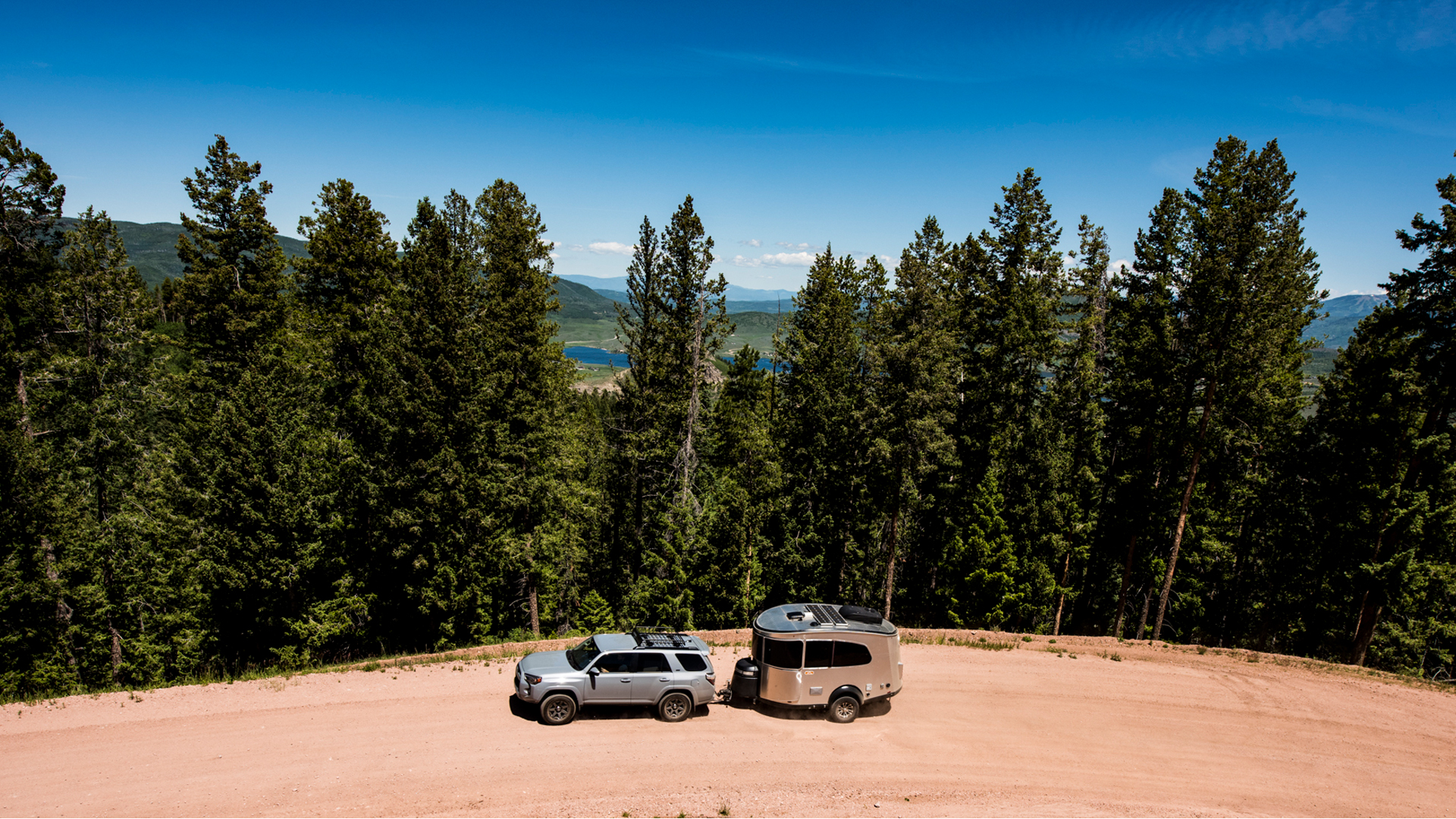 A little prep work will help you sort out whether what you have in the driveway will work, and get you primed for your first test drive. Many Airstreamers advise taking your time, and to not fall into the trap of only reading articles online. One of the best things you can do is visit your local Airstream dealer, where you'll find experts ready to help you navigate the ins and outs of towing. Every year our dealers travel to "The Mothership" in Jackson Center, Ohio to see firsthand how Airstreams are manufactured and get extensive education on how to tow, hitch, and use an Airstream. 
This article is meant to be an overview of some of the things you want to consider when shopping for a tow vehicle – but it is by no means comprehensive. While we can give you an overview of the different types of tow vehicles people typically use to tow Airstreams, ultimately it's up to you to determine what kind of tow vehicle fits your needs. And understanding the basics is essential if you want to make an informed decision.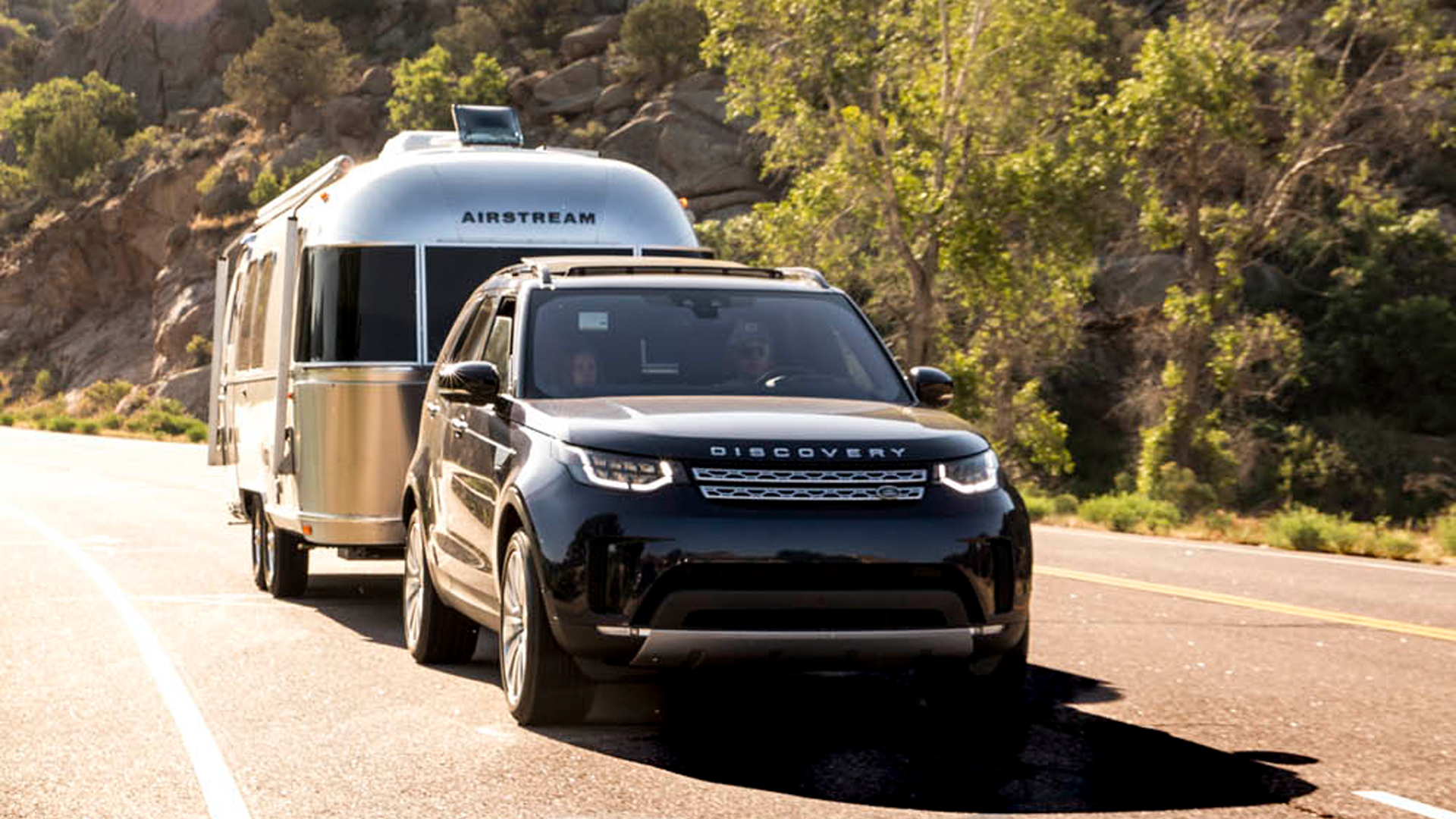 The Right Tow Vehicle for My Airstream...or the Other Way Around?
Safety is the most important factor in picking a tow vehicle. Simply put, your vehicle must be able to safely tow your Airstream, and it's up to the owner to understand safe operation procedures. Once you understand the safety requirements of your situation, you have a lot of choices. We've covered this in-depth before, with our guide to the acronyms and science behind safely towing an Airstream. Luckily the subject can be pared down to a few core ideas you need to understand. We've done a lot of the work for you here, with easy-to-follow explanations of the two most important pieces of the towing puzzle: 
Weight: 

Understanding what your Airstream and your tow vehicles 

weighs, and

 understanding how that weight changes when you add gear, clothes, food, water, passengers, and other necessities. 

 
Power:

There's a lot to consider when it comes to trucks and SUVs, but the bottom line is that you need a vehicle powerful enough to tow your Airstream safely and carry everything and everyone you want to bring along.

 
Spend any amount of time surfing through Airstream's vibrant online social community, and you'll learn quickly that the debate about tow vehicles is a lively – and sometimes playfully contentious – conversation. Airstreamers are a dedicated community of people who are passionate about seeing the world, exploring, and embracing this incredible travel community. Likewise, they are passionate about the tow vehicles that enable them to safely and dependably get where they want to go. Airstreamers may disagree on many things about tow vehicles, but nearly everyone will tell you that the second most important decision you make is which tow vehicle you choose.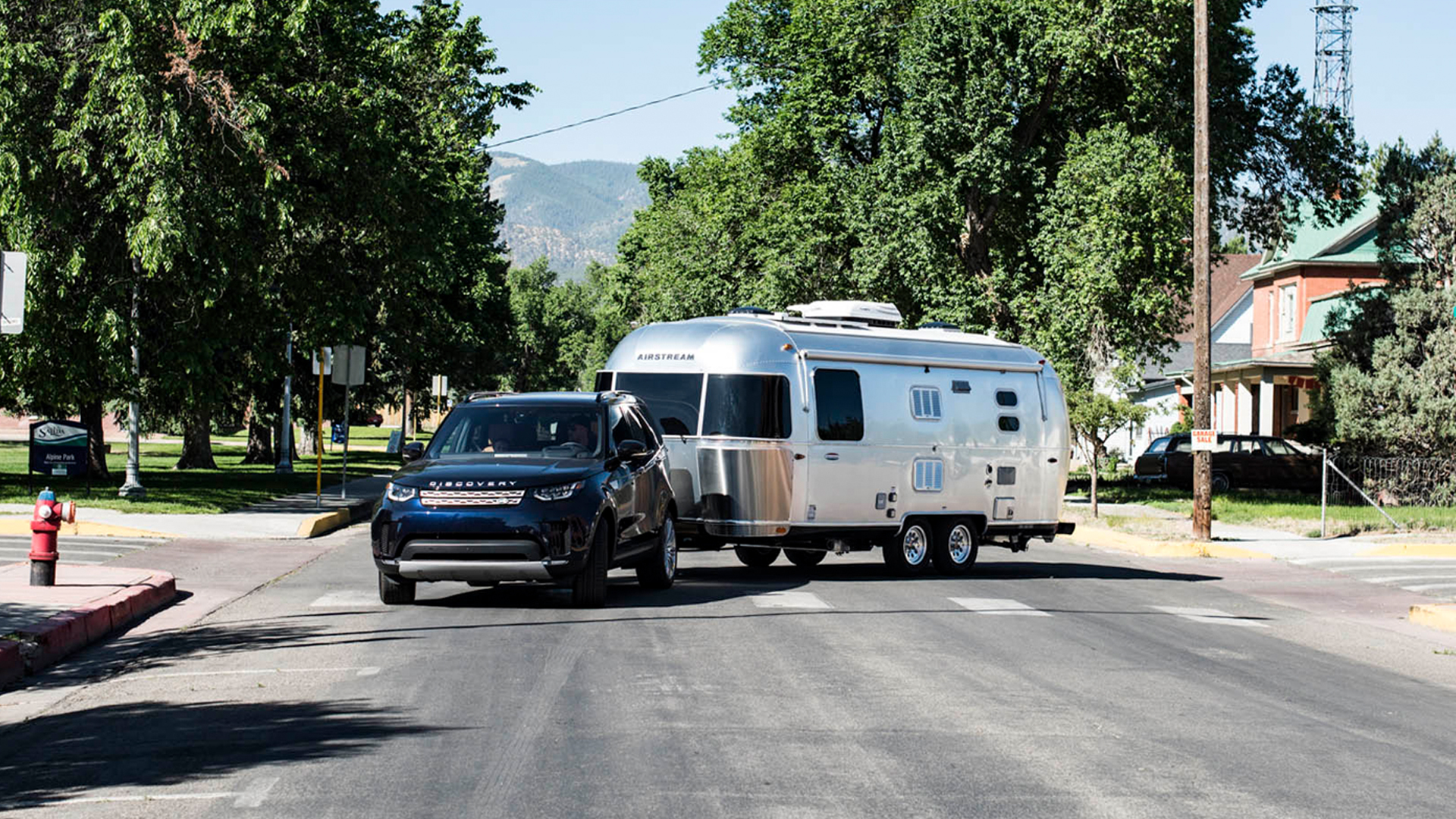 For every enthusiastic supporter of one auto brand or model, there are ten others who feel the same way about a different one. While the debate is fun and provokes dozens of informed and thoughtful bits of advice, the zeal makes it hard for newbies and pros alike to know where good advice stops and enthusiastic brand loyalty begins. 
Likewise, there's the question of Do I go with what I have already or shop for something new? If you already have a truck, it may make sense to shop for the appropriately sized Airstream. Most of the popular light-duty pickup trucks are more than capable of towing many Airstream travel trailers, especially the single-axle Caravel, Bambi, and Basecamp lines. If you already own one of the more common pickup truck models, there's a good chance there's an Airstream you can safely tow. Your local dealer can help you determine the right-sized Airstream for your current truck or SUV. 
You may also be limited by budget, style, or personal preference – lots of things can dictate the guardrails on your search for the perfect tow vehicle and Airstream. This is the great chicken-or-the-egg quality that comes with travel trailer shopping: Get the trailer of your dreams? Or buy a travel trailer to match the vehicle you already have?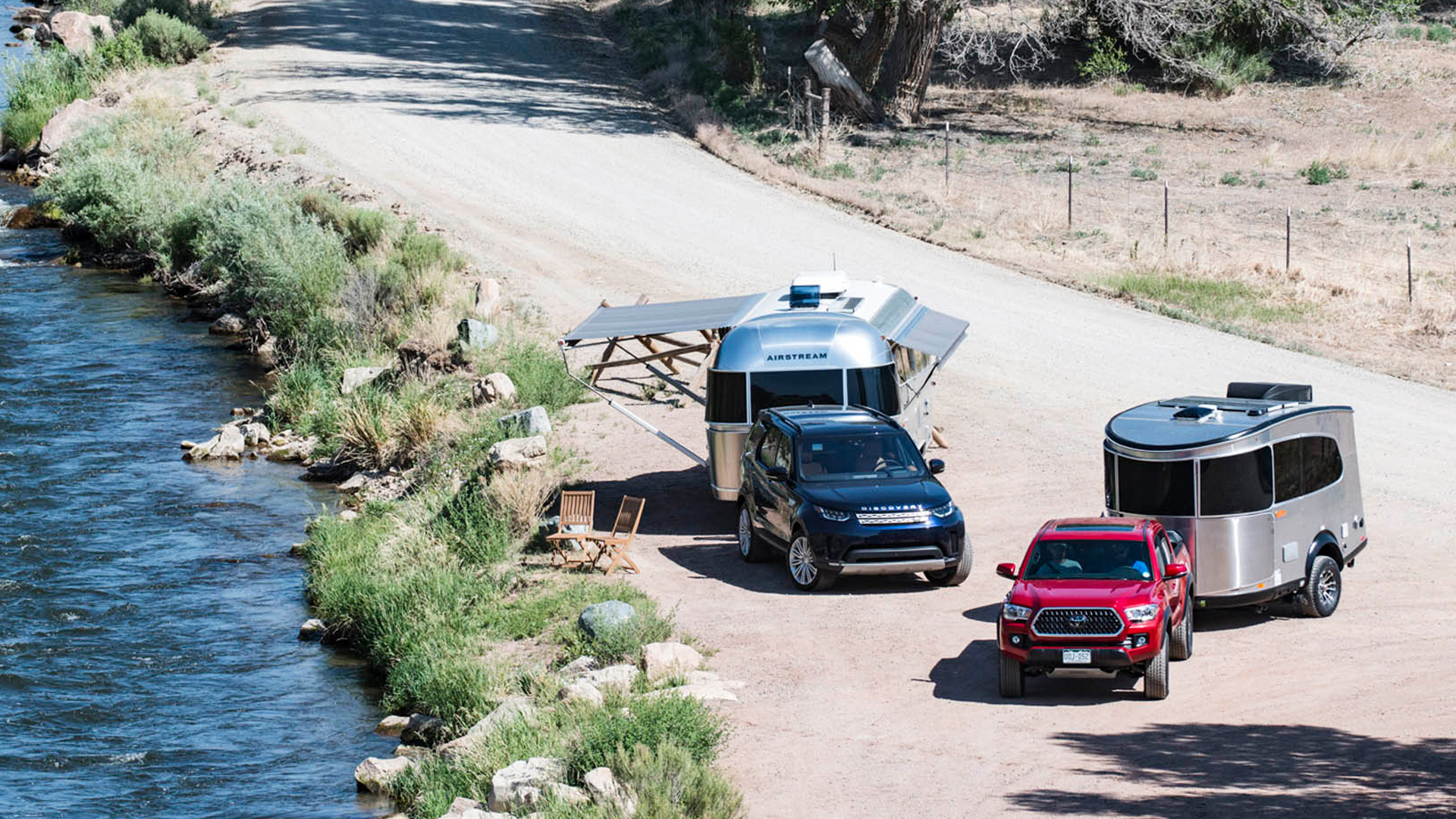 Understanding Airstream Travel Trailer Weights
Welcome to the wild world of RV acronyms. There's no getting around it: If you want to tow an Airstream and hit the road for the adventure of a lifetime, you need to understand a few key concepts and abbreviations. Chiefly among those acronyms is GVWR, or Gross Vehicle Weight Rating. Simply put, GVWR is the weight limit for safe operation of a vehicle or RV. It's the weight beyond which the vehicle becomes unsafe to operate. The number is commonly discussed when talking about cars, trucks, and RVs. And no matter how much you learn about towing, hitching, driving, and loading, there's underlying stress about understanding this number – because it's all about safety.  
We'll do our best to start unpacking these numbers, but it's important to reiterate: The best resource for understanding travel trailer weights, towing capacity, and the safety of towing is your local Airstream dealer. Always do your own research, but remember that your dealer can help you with specific questions about your Airstream or tow vehicle. While we can guide you and offer advice, it's up to you and your dealer to ensure your rig is safe and capable.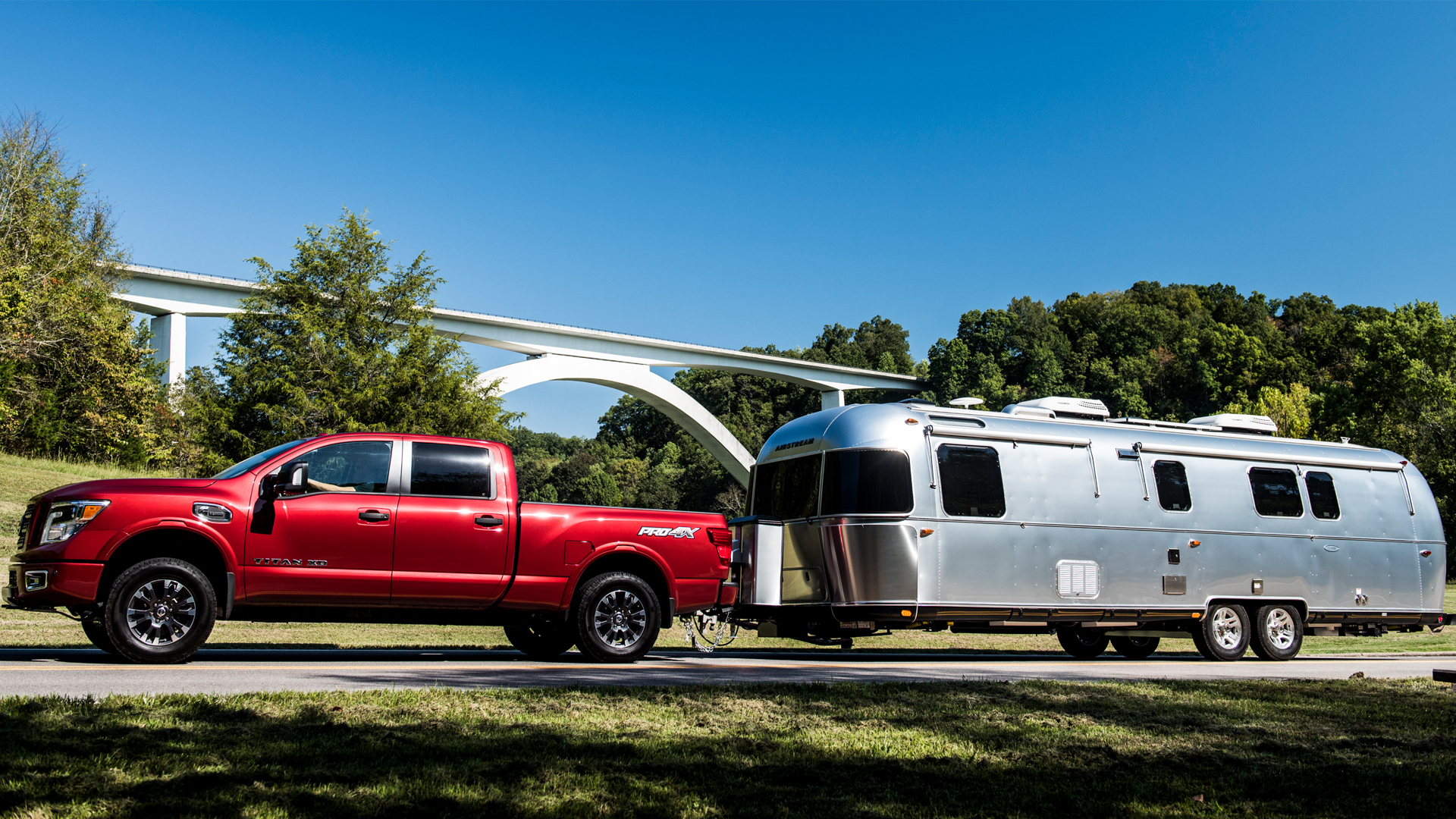 Pack Smart and Don't Overload
Your Airstream is equipped with incredible storage options under the bed, in the closet, under some of the seating, and up in the overhead roof lockers. You want to enjoy the benefit of an Airstream that's fully stocked and ready to hit the road when you are, but you must keep your trailer's GVWR in mind as you load your cupboards and closets. Before you even start loading up for your trip, your Airstream might already be stocked with sheets, blankets, dishes, pots, pans, sunscreen, dish soap, and more – all small things that begin to add up. Throw in other outdoor adventure gear like kayaks and bikes and you're getting closer to that maximum weight – your Airstream's Gross Vehicle Weight Rating. 
There are other acronyms that are important, but understanding your GVWR is the key to having a safe experience. Commit it to memory: It's as important as your email address, phone number, or SSN, and it's the warning sign beyond which you don't want to trek. Knowing the GVWR of your Airstream and your tow vehicle is the start. Understanding how to keep your weight under that number is the second half of the equation. If you're concerned about whether you're overloading your trailer, many truck stops and Airstream dealers have scales you can use to weigh your rig. For a couple bucks (or sometimes for free!) you can weigh your vehicle and Airstream. Fill up with gas and get your whole rig on the scales with its normal load of people and gear, plus a topped off fresh water tank, and you'll have a great baseline weight to work with.    
In time, you'll settle into routines that ensure the safety of everyone – and everything – on your trip. It's part of getting to know your Airstream, your tow vehicle, and the relationship they share.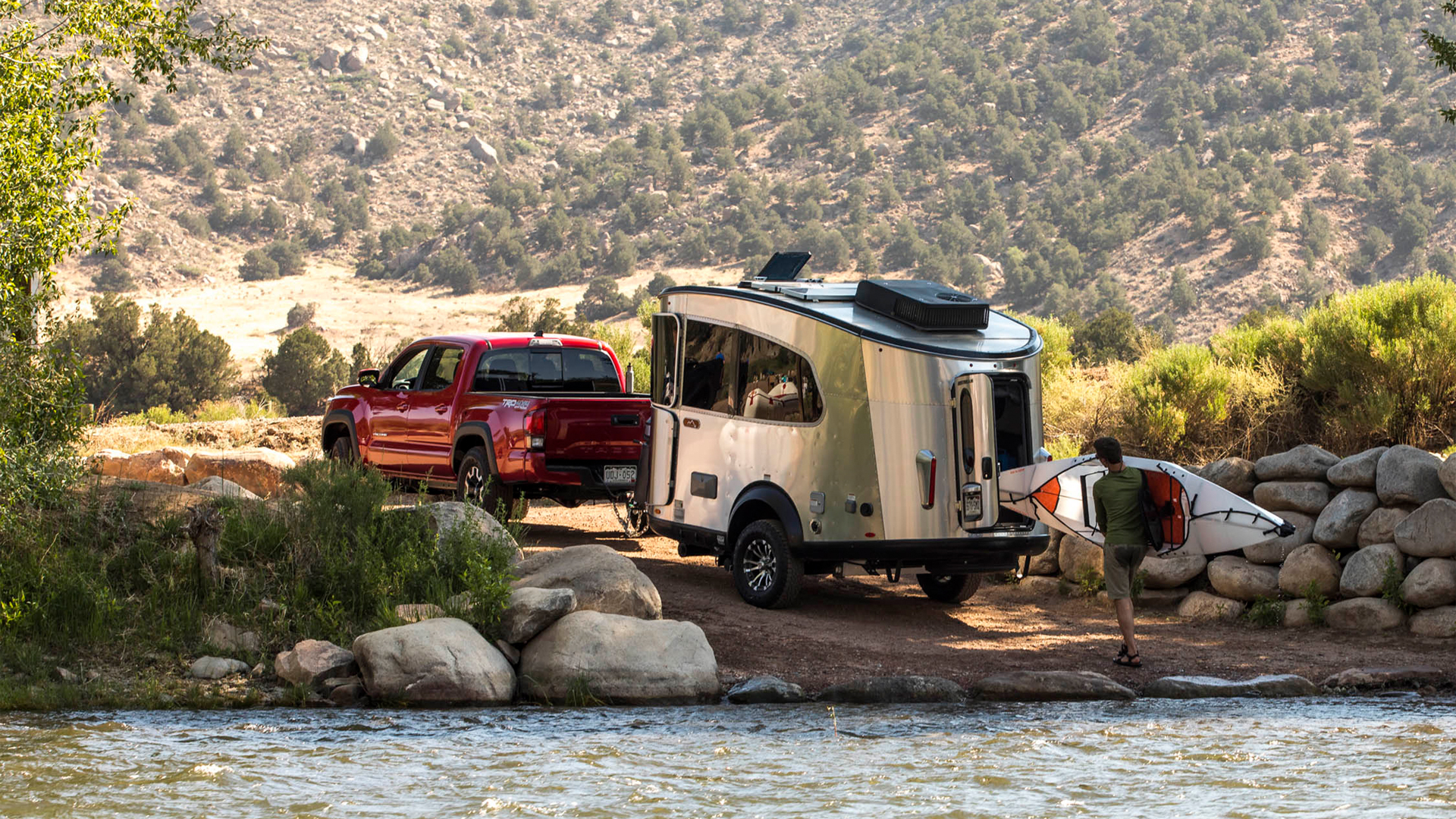 Power, Performance, and Towing Capacity
Once you understand the concept behind a GVWR, you can start to explore tow vehicle options and the other key concept to understand: your vehicle's Tow Rating. If you know the GVWR of your trailer (or dream trailer), you're halfway there! Your Airstream dealer can help you understand the proper Tow Rating required by the Airstream you're shopping for. 
SUV, Light-Duty, Heavy-Duty, Full-Size, OH MY!
There are endless possibilities for tow vehicles. From huge diesel pickups that rival semis for towing capacity to four-door sedans capable of towing several thousand pounds, the spectrum is wide. Most people who tow an Airstream choose a full-size SUV, a crossover SUV, or a pickup truck. There are relative benefits to each, but in many cases personal preference is more important than specs.
Sport Utility Vehicles and Crossovers
While many SUVs – both full size and the smaller crossovers – are more than capable of towing heavy loads, in general they are eclipsed by their more powerful pickup truck cousins. That being said, only the largest Airstream travel trailers (like the Airstream Classic and the larger Globetrotters, Flying Clouds, and Internationals) are beyond the towing capacity of the most powerful SUVs. Many owners love towing their smaller Flying Clouds and Globetrotters with large SUVs because the generous seating lets people spread out while still having plenty of room for storage. And a luxurious SUV can add a serious touch of style versus the rugged charm of a pickup.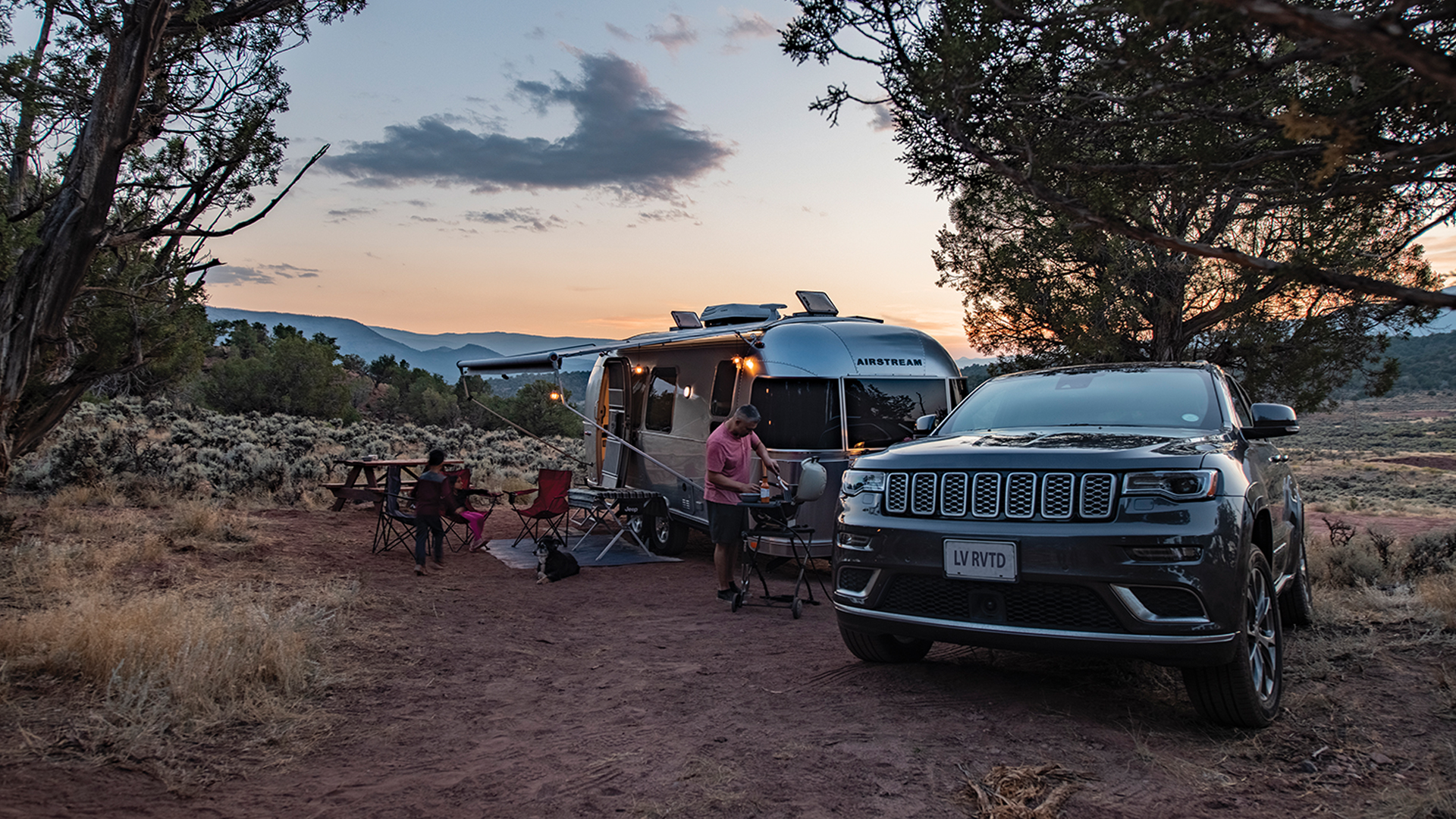 The smaller single-axle Airstream travel trailers like Bambi and Caravel are easily towed by many SUVs. Their single-axle design makes them more lightweight than the larger, heavier dual-axle trailers. The smaller 16-foot Bambi and 16-foot Caravel – along with the 16-foot Basecamp 16 – work well behind even smaller SUVs and crossovers. And don't forget that it's even possible to tow an Airstream Travel Trailer with an Airstream Touring Coach. The important thing is to always compare the Tow Rating of the vehicle with the GVWR of your Airstream.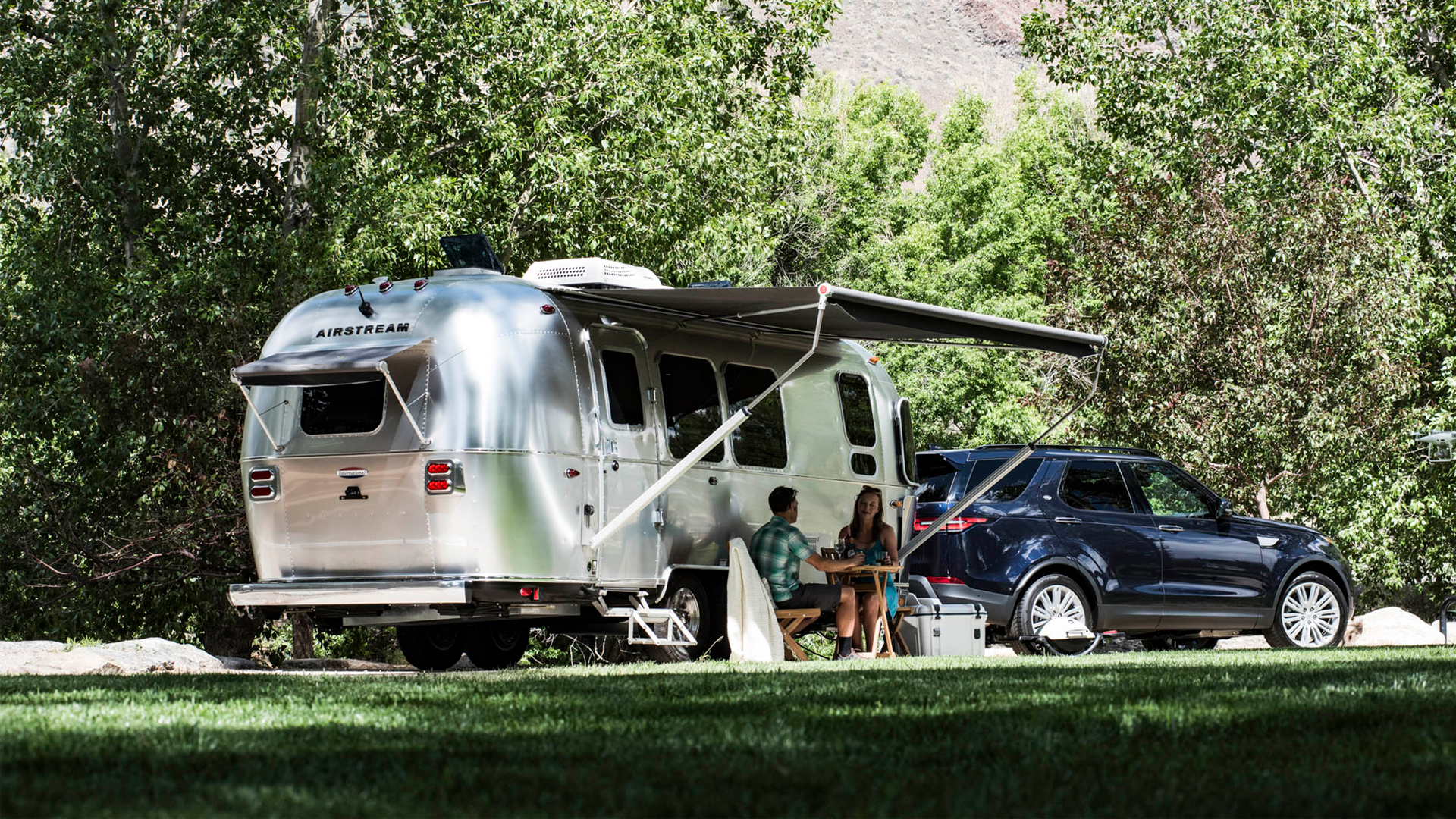 Truck vs. SUV: It's a Matter of Opinion
Just because your numbers add up to a safe experience doesn't always mean the pairing makes sense. An SUV offers a variety of different options that a pickup doesn't: enclosed and secure space, weather-proof storage, more comfort for more passengers. And a pickup offers many features that make it preferable to an SUV: accessibility, ground clearance, separation of gear, tools, grease, fuel, etc. In many ways, your personal preference will help you narrow down the choice between SUV and truck.  
Likewise, you want to think about where and when you'll be traveling. Having an Airstream means the freedom to go anywhere the roads will take you. Do you want to limit yourself with a vehicle that doesn't quite cut the mustard going up those mountain passes or down the gravel roads? It's a great idea to exceed the GVWR, and more powerful engines usually mean easier climbs, more powerful acceleration, better handling, and improved safety. Those qualities are more readily available in the pickup truck world.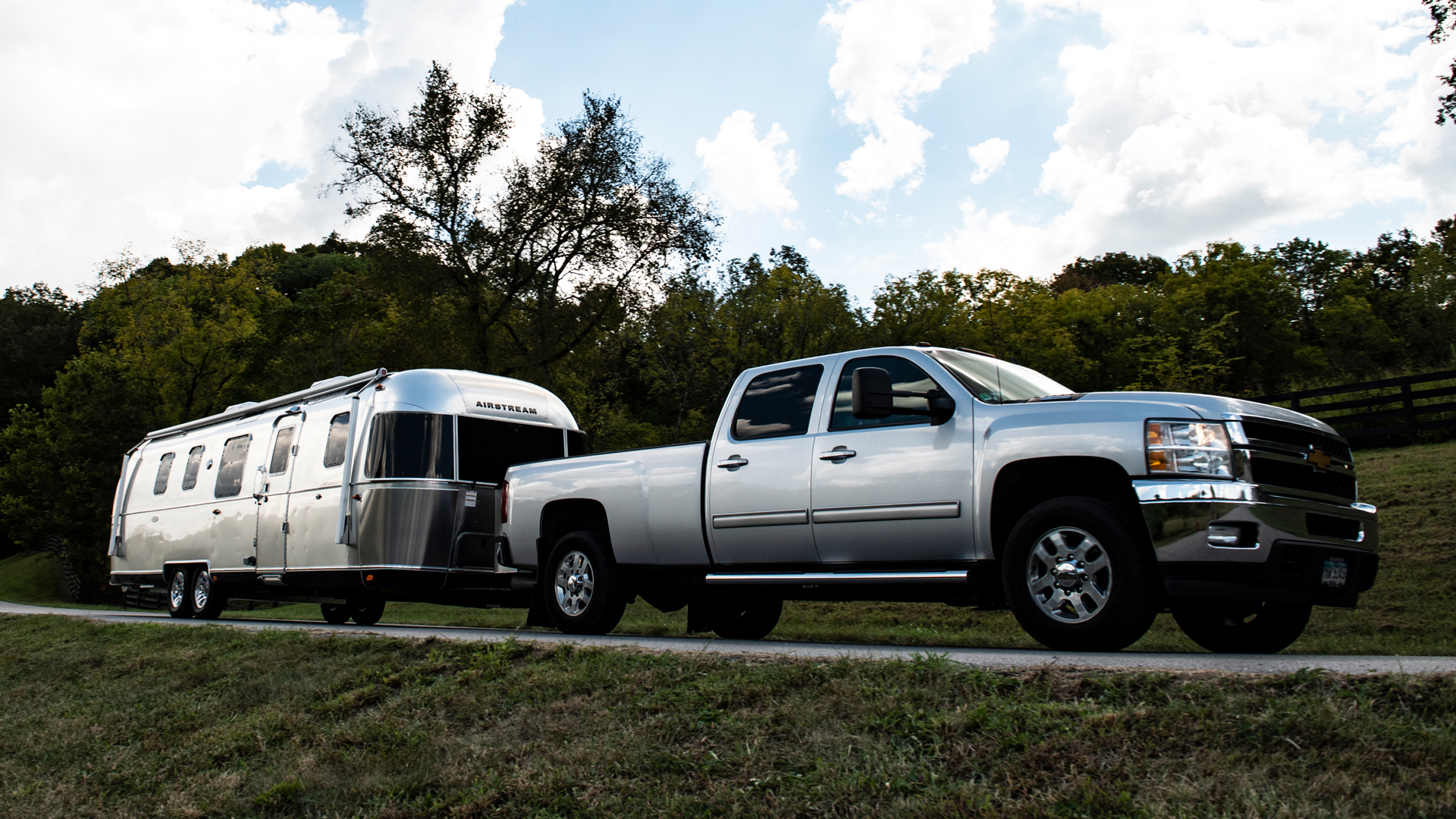 Light-Duty but Ultra Capable
When it comes to pickups, there are two main categories to consider: Light Duty and Heavy Duty. Within each category there are lots of options for towing everything from ultra-lightweight sub-1000-pound pop-ups to 25,000-pound fifth wheels. Often, you'll see pickups referenced as "half-ton," "three-quarter-ton", or "one-ton" pickups. Those terms in general reference the payload a truck can carry (i.e., cargo and passengers in the cab, plus whatever is loaded in the back bed of the truck). But those designations can confuse more than help sometimes.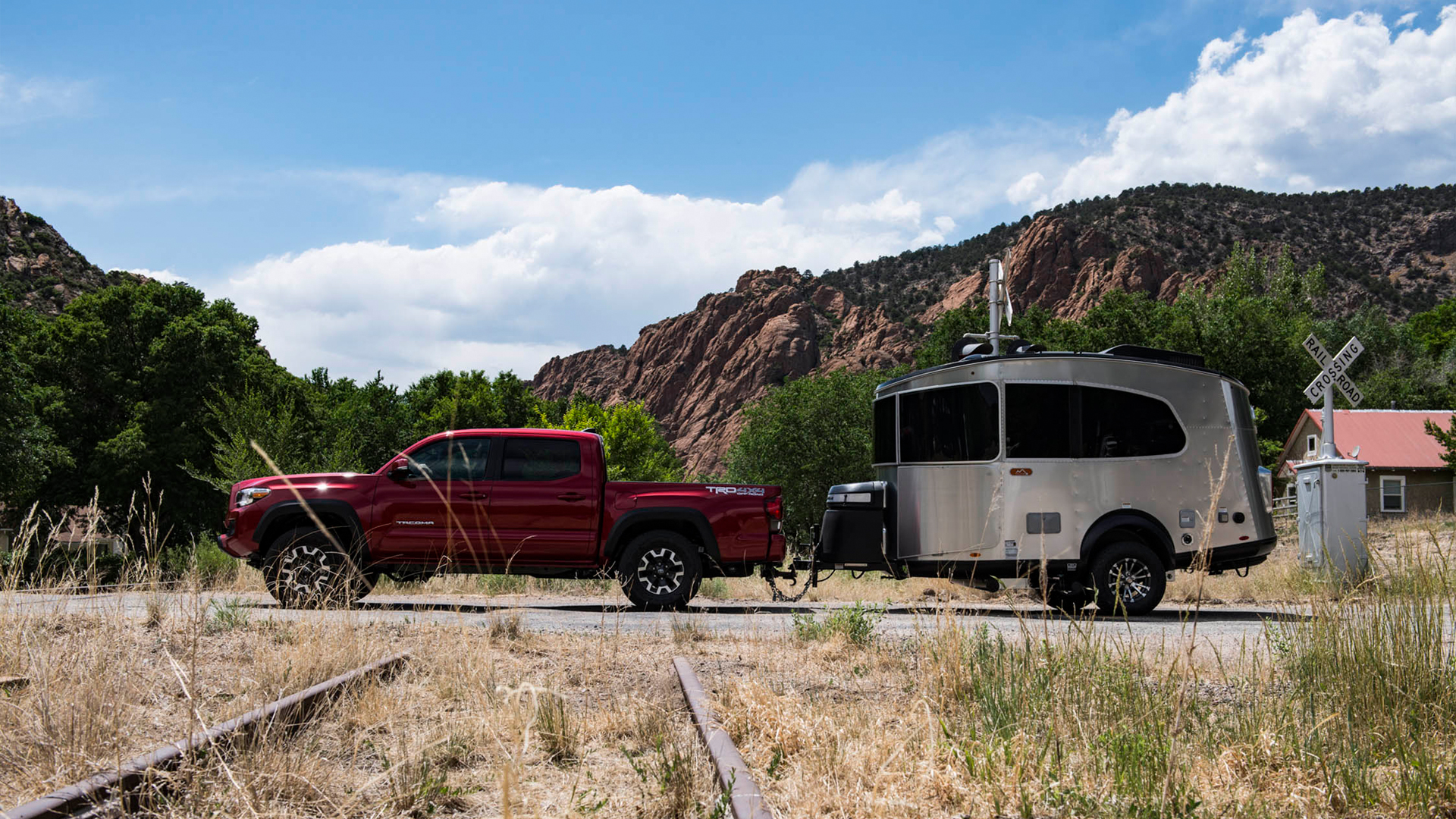 In general, the average Light-Duty pickup will handle an Airstream with no problem. The largest Airstream travel trailer – the 33-foot Classic – has a GVWR of 10,000 pounds. The most popular makes of Light Duty pickups on the market today have many models with Tow Ratings above 10,000 pounds. In fact there are so many types of trucks and optional packages, that it's fairly easy to tailor your tow vehicle's capability perfectly to your trailer – from a small truck capable of pulling a 16-foot Bambi, to a full-sized V8 that can pull a 33-foot Classic up into the Rockies.   
Many other factors go into safe towing, but starting with a comparison of the GVWR and the Tow Rating of a vehicle is a great place to start. Tow packages and bigger engines (scaling up from a V6 to a V8) will increase tow capacity, as well as the displacement of an engine – commonly recorded as a number of liters in the model name, i.e., a 5.0L V8 or a 3.3L V6 (read as five-point-oh vee-eight, or three-point-three vee six). That number indicates how much fuel can go into the engine's cylinders – more fuel corresponds to more combustion and more power.  
And there's always the debate between diesel and conventional fuel, both of which have plenty of adherents and detractors. We'll leave that rabbit hole for you to explore at your leisure. 
A Little Knowledge Goes a Long Way
Don't worry. You don't have to be an expert.   
Getting this far means you've educated yourself in the most important things to understand when it comes to matching up your perfect tow vehicle with your perfect Airstream. It's your choice – don't forget that. Follow the safety guidelines, talk to other Airstreamers, join online forums, and embrace the fact that your tow vehicle is as unique as your Airstream – and as unique as the adventures you'll have when you hit the road. Most importantly, always remember that your local dealer is the best resource to help you make your Airstream experience safe and dependable. As you learn more about tow vehicles and RV weights, 
Ready to take the next step in becoming an Airstreamer? Prepare to visit your Airstream dealer with our Travel Trailer Shopping Guide. Discover the Airstream of your dreams and learn about all the features you'll want to see for yourself in person.
Get the Travel Trailer Shopping Guide