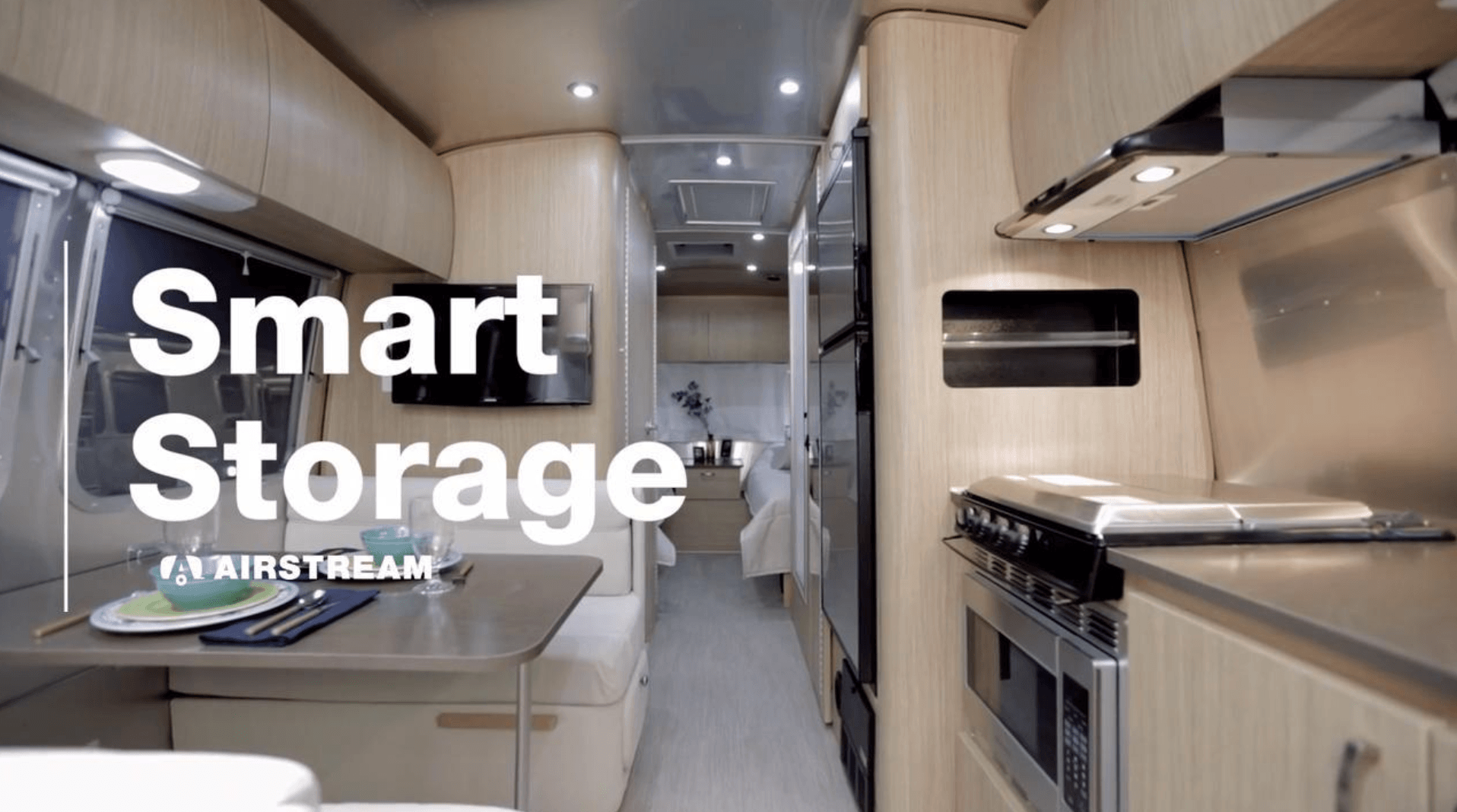 Before you buy an RV, one of the biggest questions you might ask is: Will I have room for all of my stuff? When Airstream product designers begin work on a new travel trailer, one of the first and most important things they think about is storage. The quality of your adventure often depends on the things you can bring with you, and the last thing you should have to do in the Airstream of your dreams is compromise.
When it comes to RV interior storage and organization, Airstream draws on nearly 90 years of experience perfecting the use of space inside our iconic travel trailers. And Airstream owners are always happy to share feedback about what works and what can be improved. It's that kind of customer feedback that makes Airstream storage solutions even better, and every trip better than the last.
The History of Storage in Airstream Travel Trailers
Airstream founder Wally Byam grew up working with his uncle on a sheep farm and spent his nights in a wooden wagon. You could say the seeds of what would become Airstream started there, but they took root later when he and his first wife, Marion, began camping outdoors. While they shared a love for nature and adventure, Marion hated sleeping on the ground in a tent.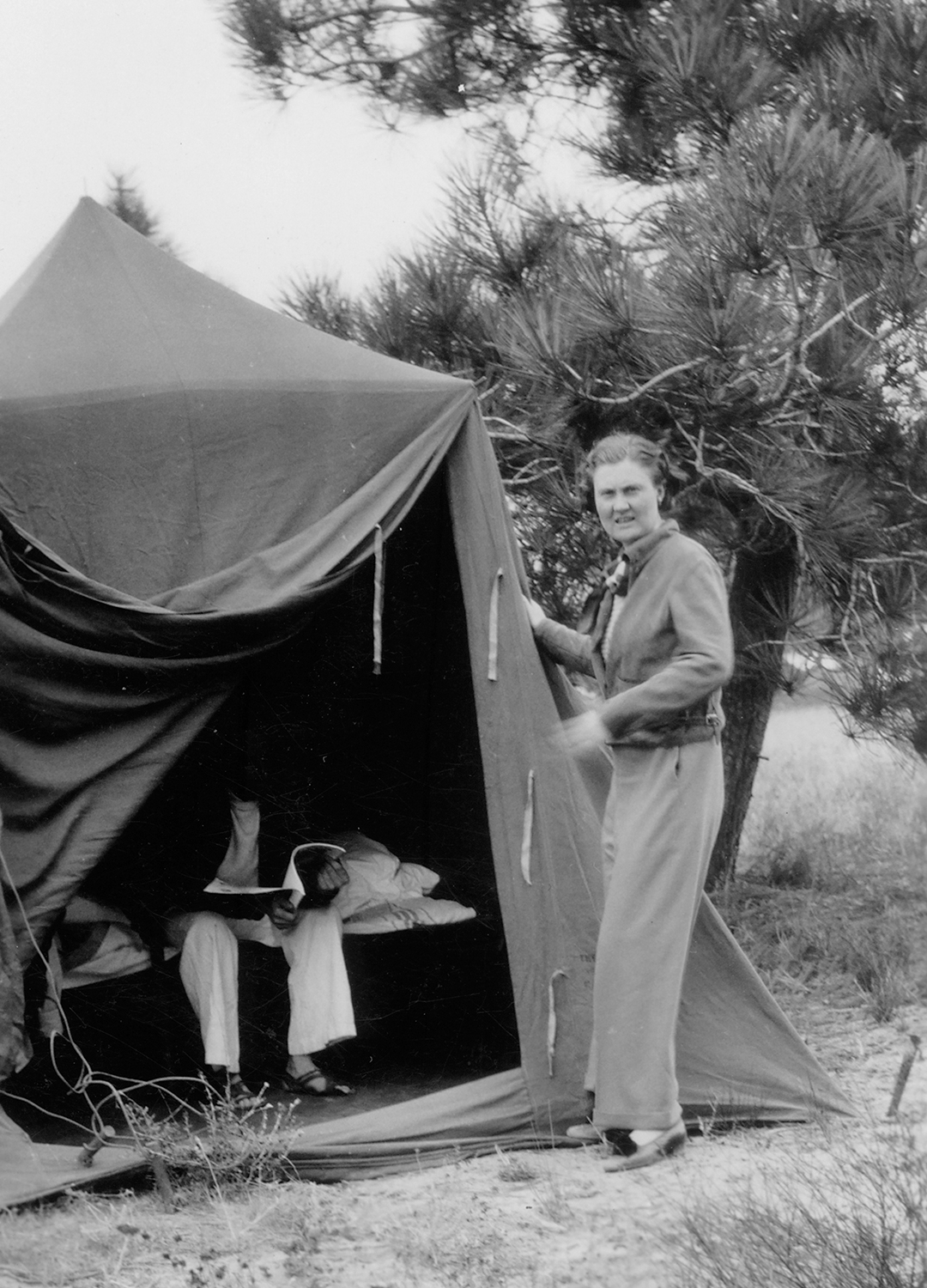 Wally's solution? He built Marion a makeshift tent-style RV on the chassis of a Model T. Later, he turned the concept into a wooden teardrop trailer. Eventually, Wally began selling plans for the trailers so anyone could build one themselves. And in that wooden teardrop-shaped trailer, Wally brought his ideas for modern conveniences and storage to life. It included a stove, an ice chest, and storage compartments for pots, pans, and dishes.
Today's Airstream Storage is Better than Ever
Since Wally's early innovations, we've consistently made Airstream storage better and better.
Storage inside any RV is limited, so every square inch has to be used intelligently. That's why we think about what people typically bring on trips: clothing, food, utensils, hoses and hookups, sports and adventure gear, entertainment and games, and even pet supplies.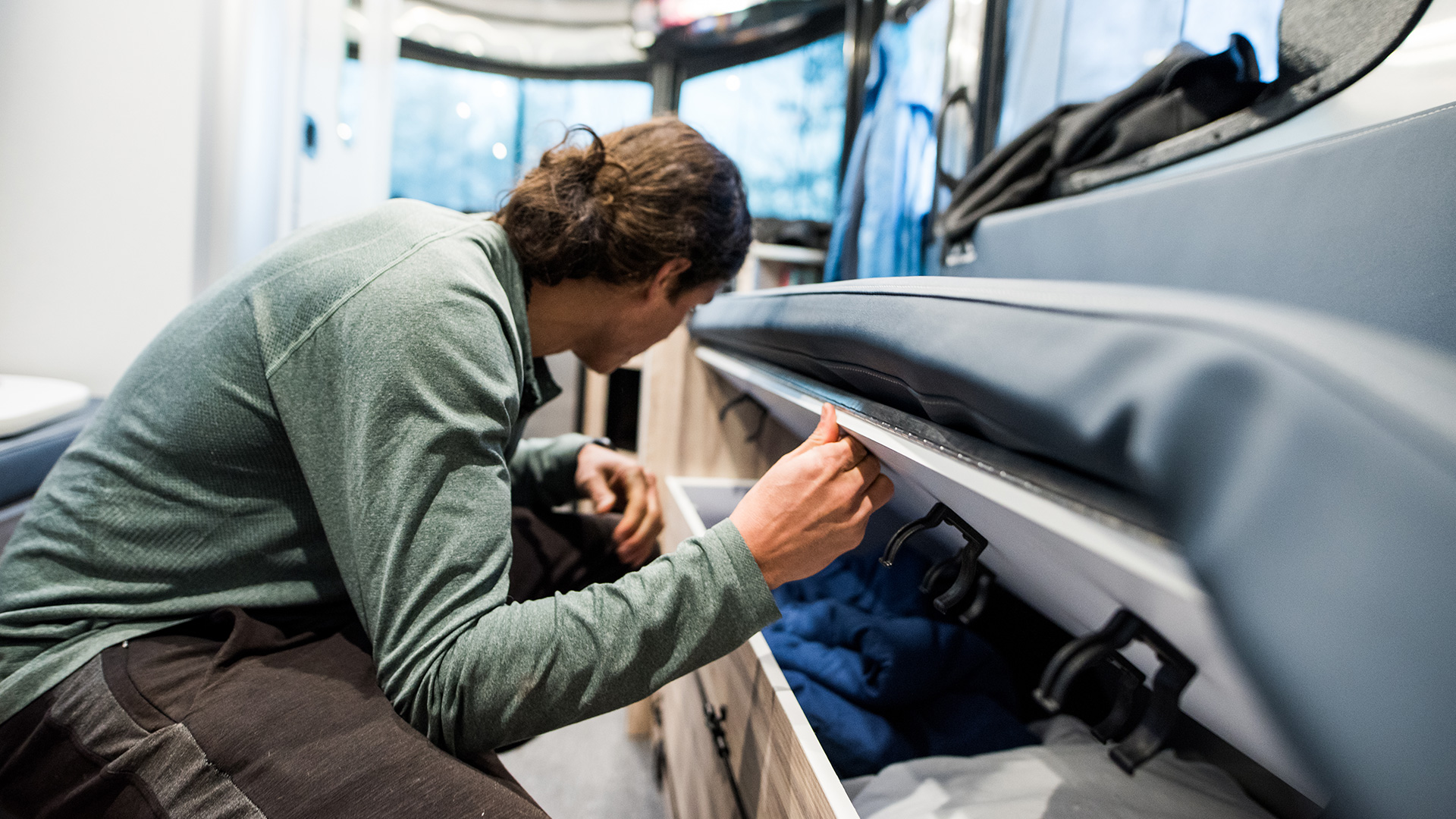 Airstream storage and organization is designed to blend seamlessly into the design of each travel trailer and make smart use of all the hidden nooks and crannies throughout.
Kitchen Storage
Each Airstream travel trailer model features its own unique kitchen style, but upper and lower storage for dishes, pots, pans, silverware, and pantry items is always included.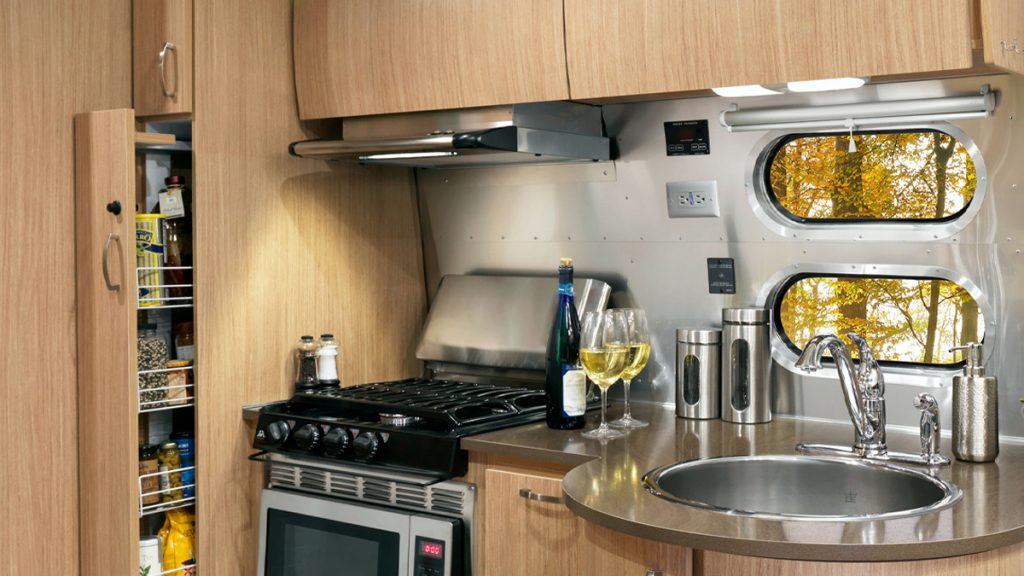 In larger travel trailers, pull-out pantry storage makes it easy to see what you have and grab what you need.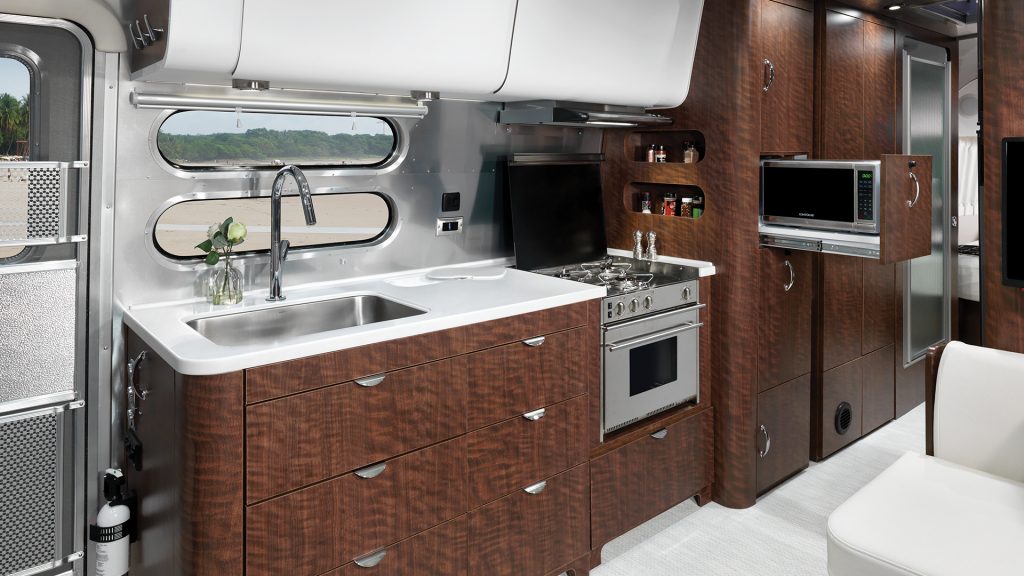 In the Globetrotter, overhead cabinets feature custom curved panel doors with soft-close hinges and a fingerprint-resistant finish.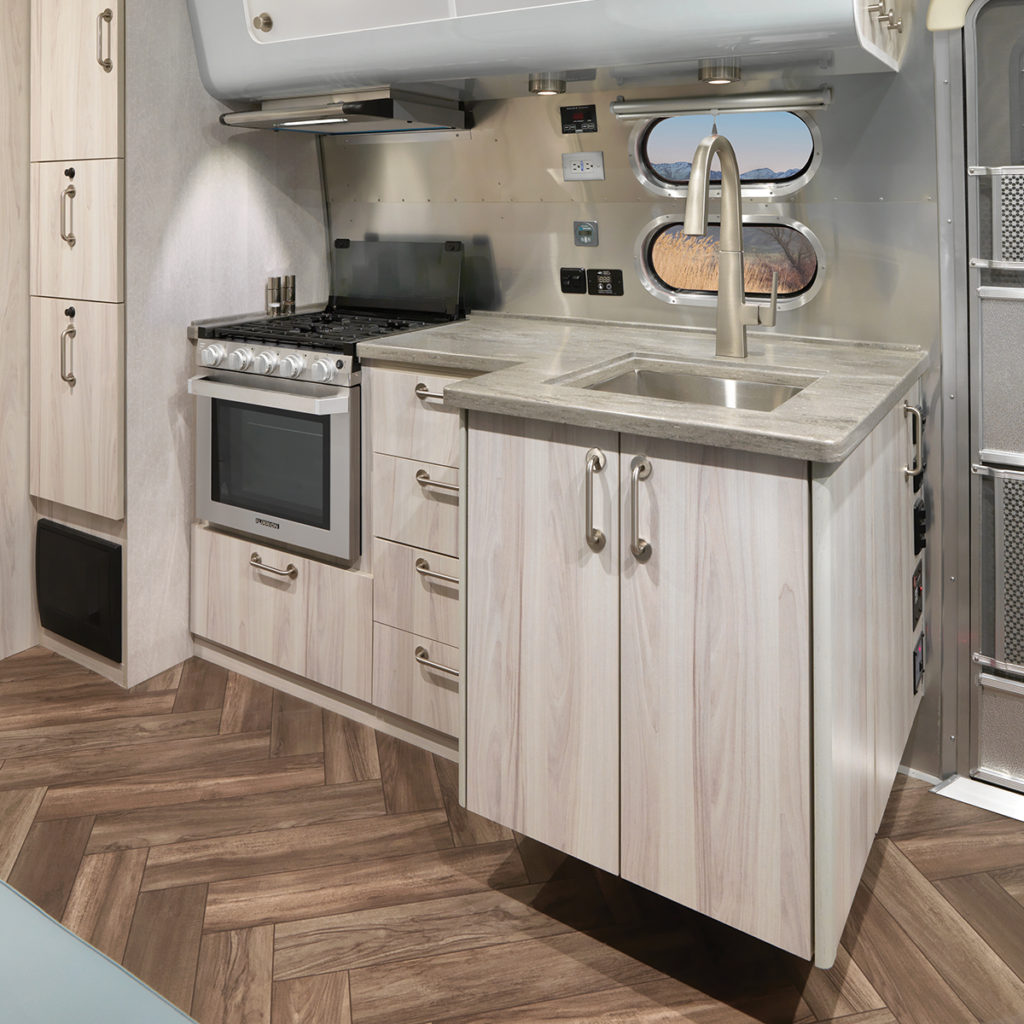 Under the sink is the perfect place to store cleaning products and trash bags.
Bathroom Storage
No matter the layout, there's always a place for your bathroom essentials.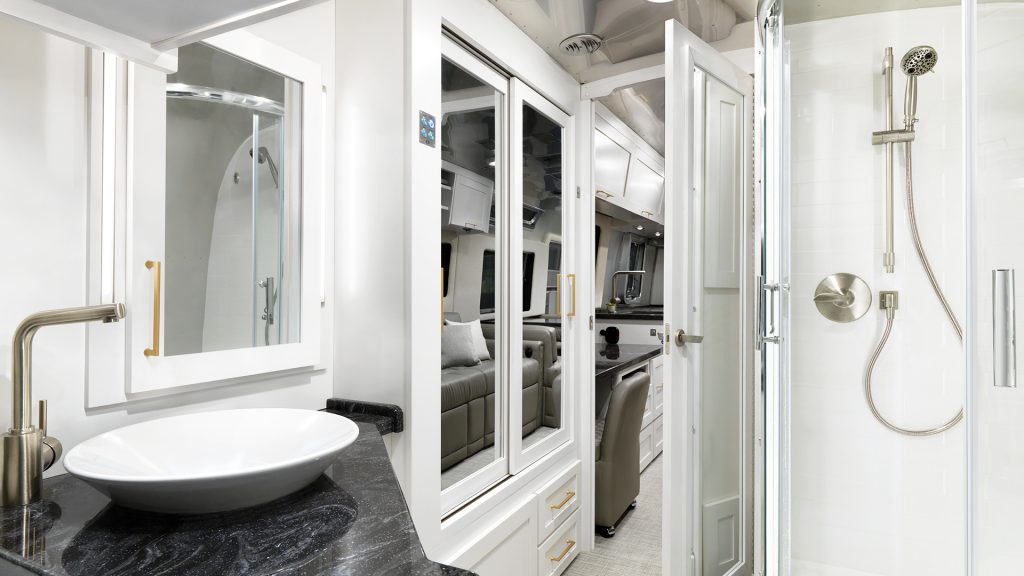 The Classic 33 features upper and lower cabinets, and even features a clothing closet inside the bathroom.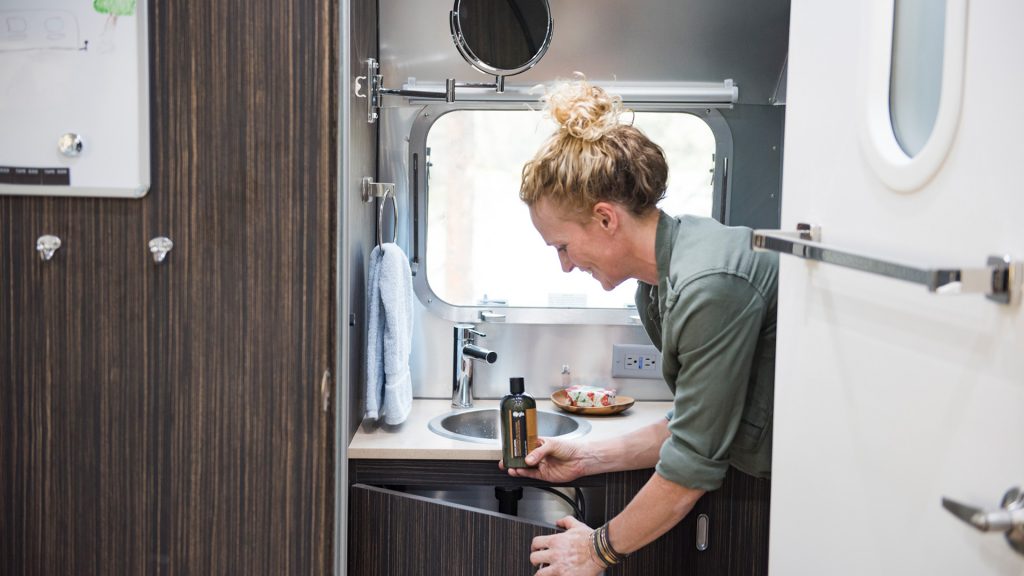 From Bambi all the way up to Classic, each model features storage below the sink and cubbies for quick-grab items.
Basecamp and Nest feature built-in shampoo, conditioner, and body wash dispensers so you have to pack one less item.
Bedroom Storage
From your closet to your nightstand, each Airstream sleeping area is made to get clutter out of the way.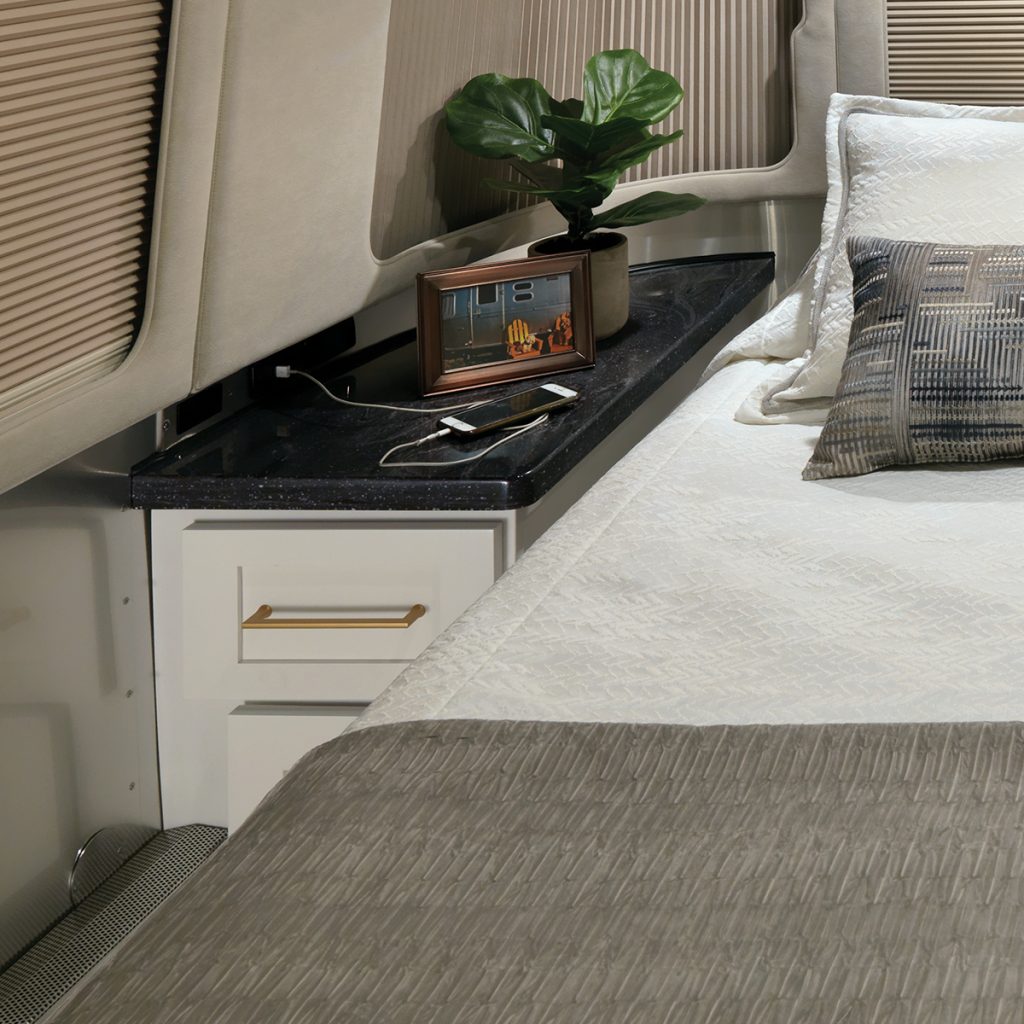 Nightstands are perfect storage for books, lotions, essential oils, and chargers.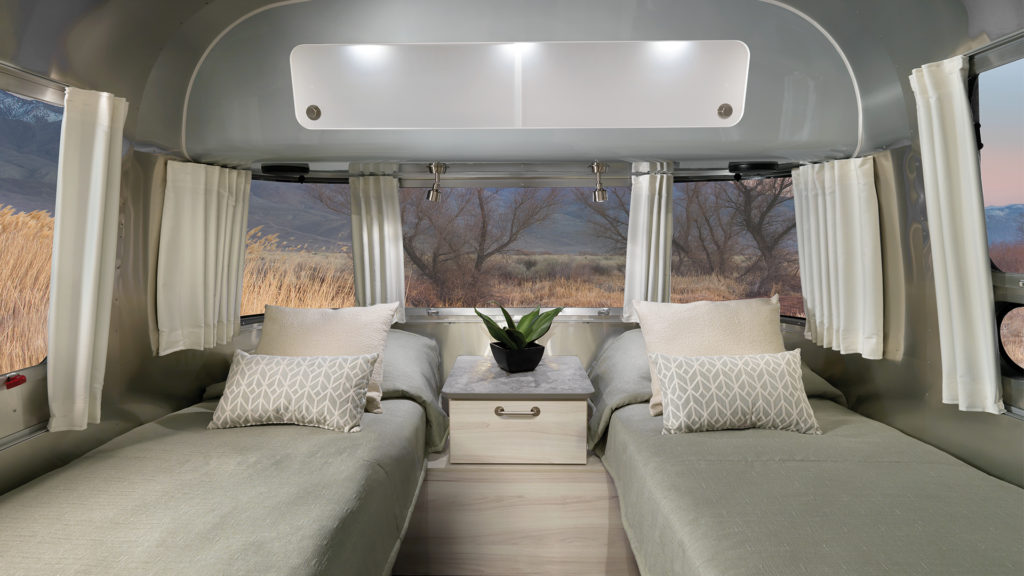 Overhead storage is a great place to stash shoes, scarves, hats, and smaller items.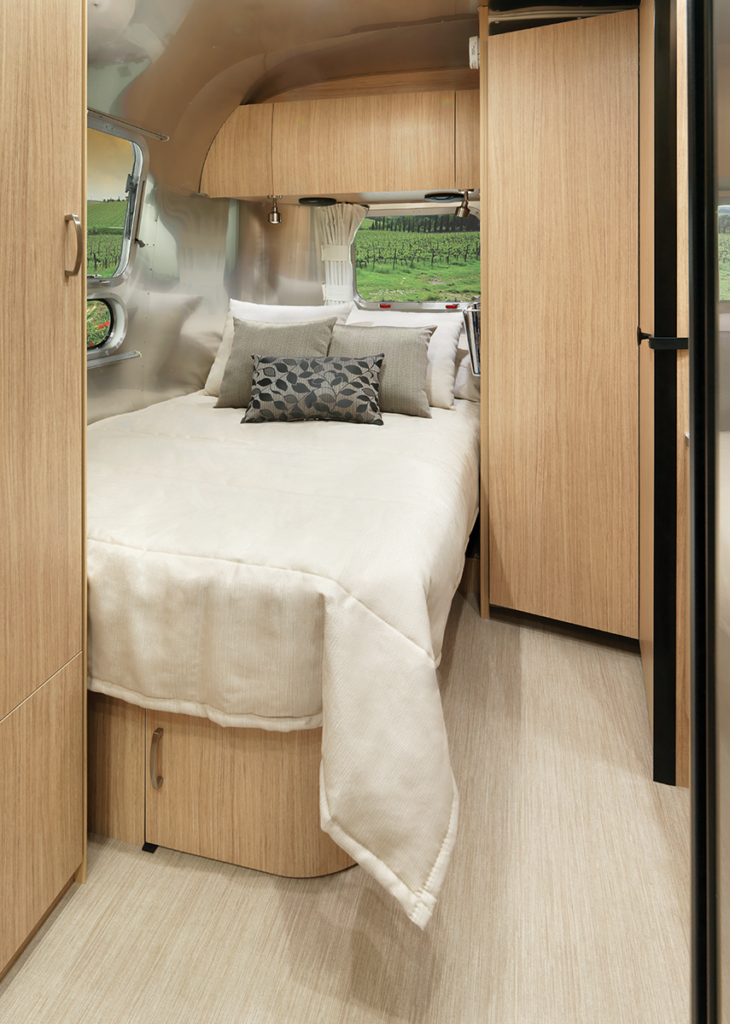 All models feature some kind of storage under the bed itself, so you have a dedicated, easy-to-access place for larger gear, games, and extra supplies.
Exterior Storage
Some of our travel trailers feature storage you can access quickly from the outside of the travel trailer.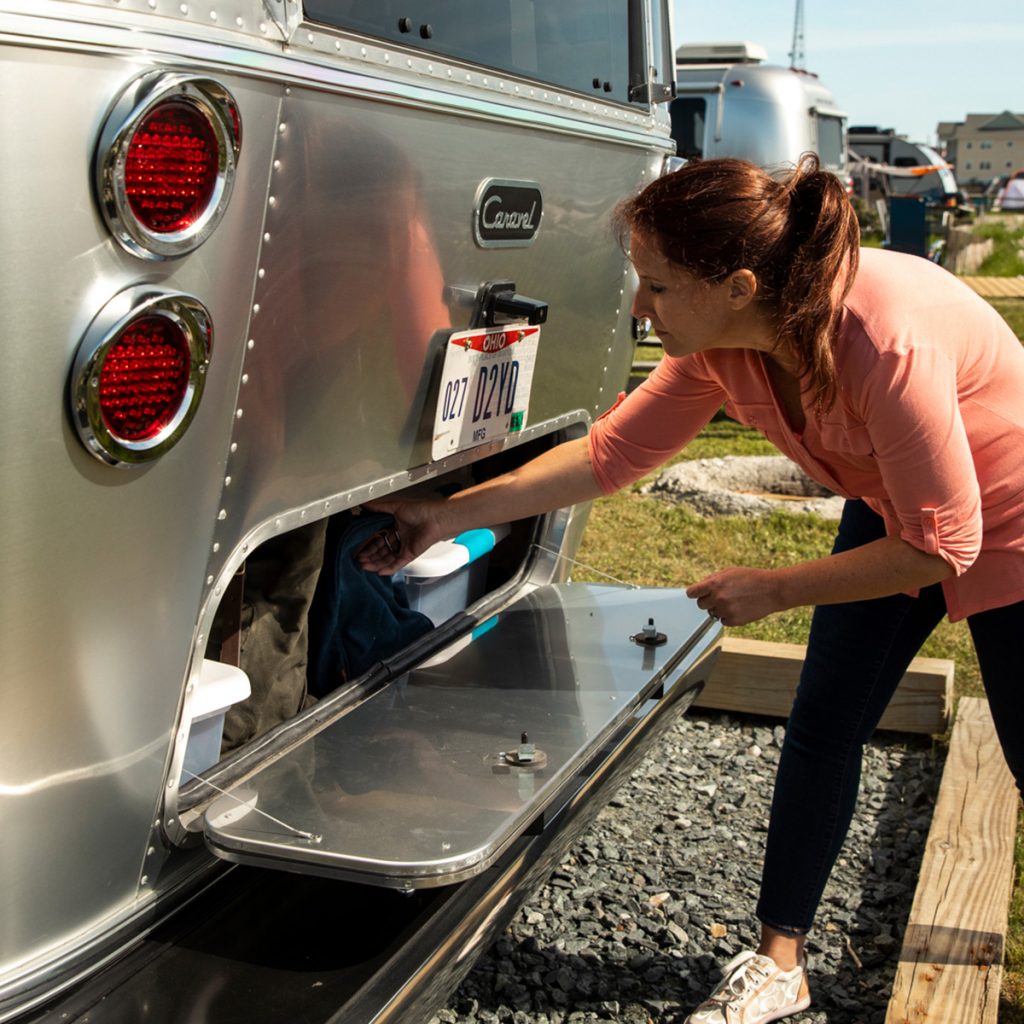 The Caravel travel trailer features "garage" storage via a lockable door in the back, and it's perfect for hoses, chairs, and any other gear you don't want to store inside.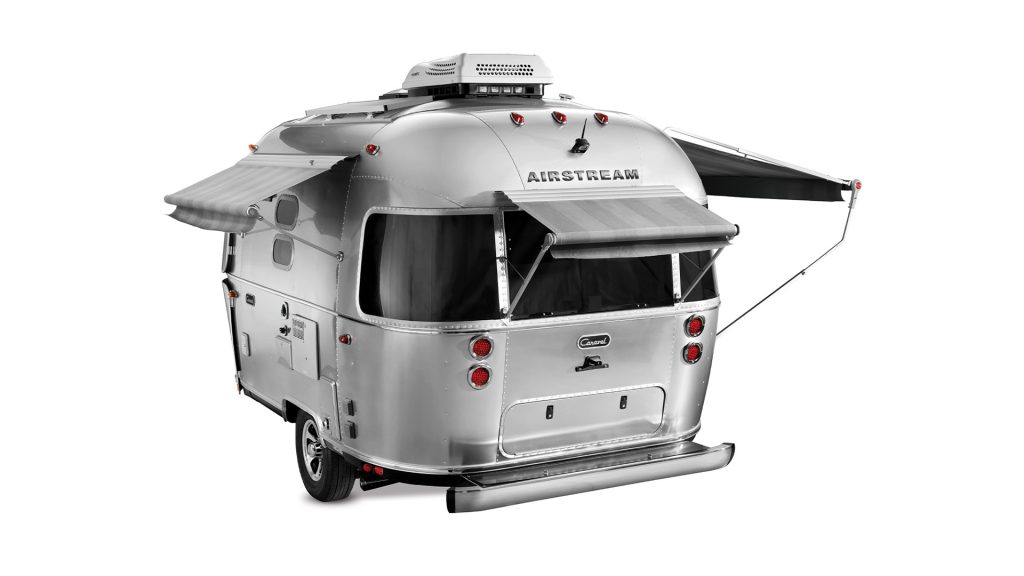 The Caravel also includes rear bumper storage for longer, more slender items and anything you need easy access to while you're on the road.
Gear Storage
From bungee cords and climbing gloves to a full-size kayak, Airstream travel trailers are designed with your adventure gear in mind.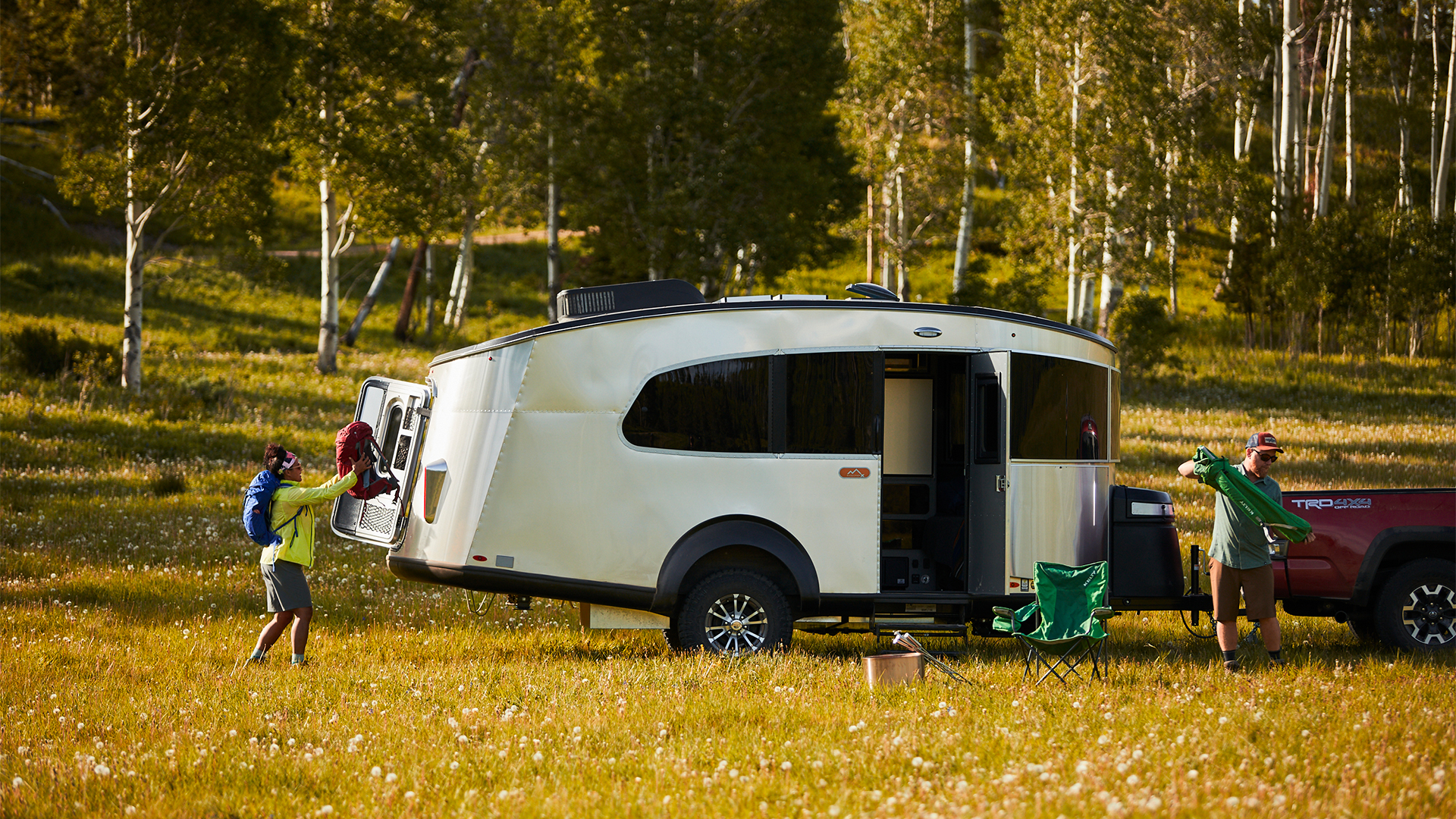 The Basecamp's rear hatch is the perfect way to get gear into the trailer without having to maneuver around the front door.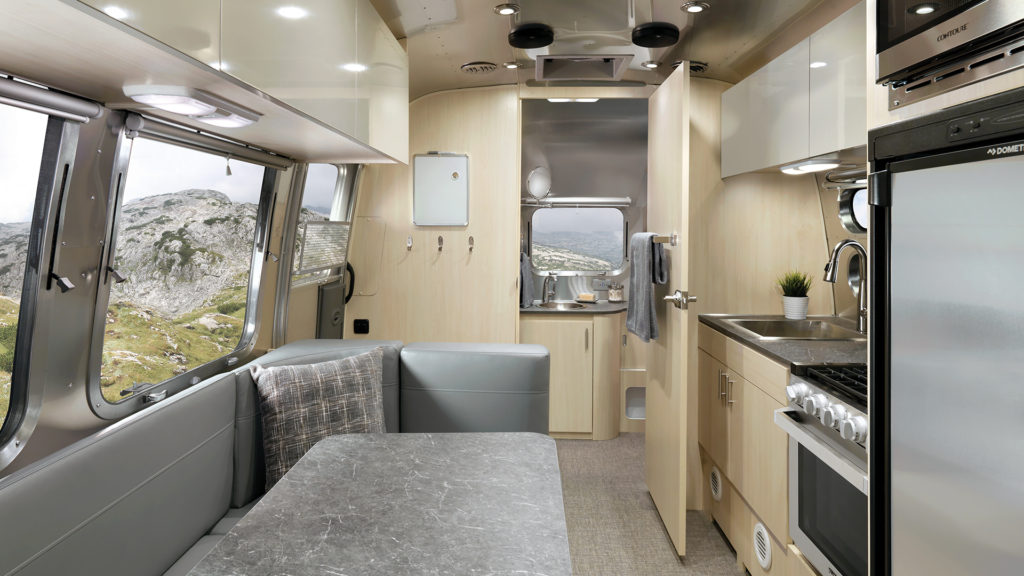 The overhead cabinets above the seating/dining area in the Flying Cloud are perfect for sports gear, inflatables, travel guides, pet supplies, and more.
Want some storage and organization tips, tricks, and hacks?
Read through some related Airstream blog posts, many of which are written and/or informed by real Airstreamers' experience.
Organization in Your Tiny Home On Wheels

Basecamp Storage Spaces

Kitchen Essential Checklist for an RV
Curious how we go from design to final product?
If you want even more detail about the process that goes into building an Airstream and keeping it on the road for decades, download our Lifetime of Adventure Guide and learn about the quality that goes into each and every one of our travel trailers.
---
This article is one part of a video series about Airstream Travel Trailers. To read additional entries and watch more videos, click one of these links:
Part 01: Beautiful Models, Inside and Out
Part 02: 350 Hours of Craftsmanship, Decades of Experience
Part 03: Quality Materials to Last a Lifetime
Part 04: Daily Adventures, Nightly Comforts
Part 05: The Luxury of Home Everywhere You Go
Part 06: Decades of Innovation
Part 07: A Place for Everything You Need — Currently Reading