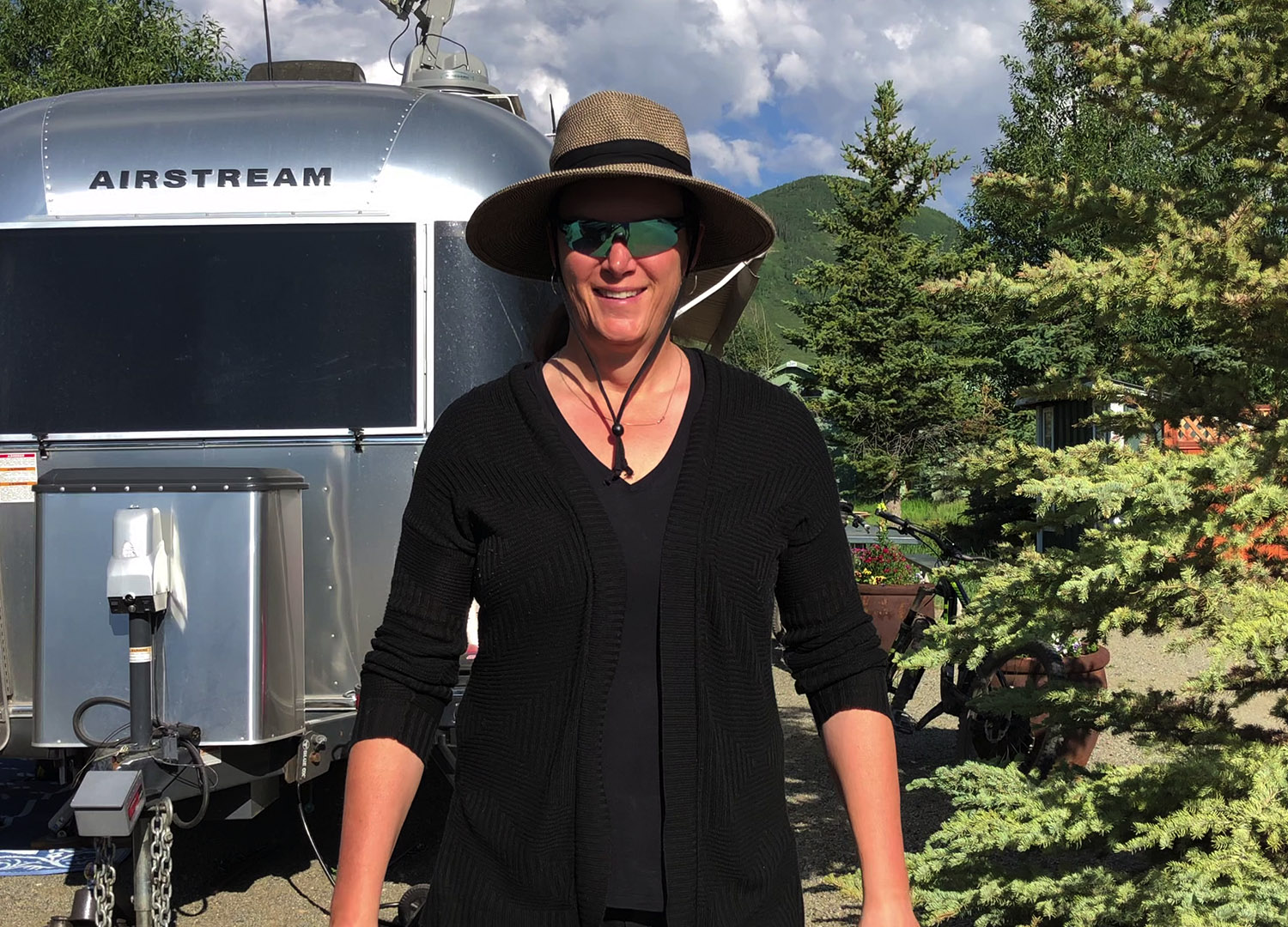 It should come as no surprise that she and her wife, Tina, put over 30,000 miles on their 2016 30' Airstream® International Serenity in the first year they owned it.
"This is one of the most unique products I've ever owned," says Emily. "It's magnificent."
Since earning her dual degree in Electrical and Computer Engineering at the University of Colorado at Boulder, Emily has worked as a software engineer for 26 years. As long as she has her laptop, she can work.
From 2016 to 2017, Emily and Tina lived in their Serenity full-time. Emily remembers the time as a period of amazing exploration.
Today, the couple has a home in the Phoenix suburb of Gilbert, Arizona. Emily's professional role has shifted to a team lead manager, so she now reports to an office. But, Emily is allowed to work remotely for a couple of months here and there, so she and Tina continue to put a lot of miles on their Serenity. Mostly, the couple enjoys boondocking.
"We're to the point now that when we're dry camping, we routinely can make it a ten day trip, and sometimes we can stay out for as long as 14 days," says Emily.
Both Emily and Tina have an affinity for the mountains. Their travels have taken them to the Sierras, the Rockies and the Ozarks, with trips to Arkansas, Alabama, Georgia and Florida thrown in.
The first thing in my mind was if I'm going to buy something, it's going to be a generational buy

- Emily Lewis
The couple seeks out places where they can explore and engage in their shared passion of mountain biking.
"Mountain biking is one of the few things that I've found will shut my brain off, let me be in the moment and enjoy nature even more," says Emily. "It's got a fast enough tempo that I don't get bored, and the fitness aspect is a bonus."
For Emily, the choice to go with Airstream really wasn't a choice at all – it was a given.
"The first thing in my mind was if I'm going to buy something, it's going to be a generational buy. What could better meet that objective than a metal trailer? The first time that we physically went inside an Airstream, I remember feeling this vigorous energy that resonated from my engineering background. I thought, 'This is a machine made with exceptional engineering in every single detail, and the aesthetic is unlike anything I've ever seen.' I could tell that there was an enormous amount of handcrafting behind it," says Emily.
She was sold in minutes.
"An Airstream borders on art. And, it was born in the '30s, which is mind-boggling. They just got it right the first time," says Emily.
From the time that they got their Serenity to the time they hit the road as full-timers was only a short six months.
"Six months may sound like a long time, but we renovated the house, downsized to next to nothing and found someone to rent our home. It was quite a bit of work!" says Emily.
I'm not getting any younger and I really want to see our country
They formed a relationship with their salesman at the dealership, who had previously lived in an Airstream. He turned out to be a valuable resource for information to help them get started on their journey.
"We were metaphorically at the empty nesting stage, though we don't have any kids. We had paid off our mortgage and cars. Every day, I was doing the same thing and look out the same backdoor. I thought, 'I'm not getting any younger and I really want to see our country,'" says Emily.
It took only three months for their Airstream to arrive, so they were able to take it on some "test drives" to get used to camping with it. Then, after another three months, Emily and Tina jumped in it and sailed off to explore the country.
The couple named their Serenity in honor of their three Dachshunds, who travel with them. It's called "The Doxibus" because the shape of the Airstream reminds them of their beloved dogs.
Today, Emily and Tina have a dream to be "reverse snowbirds." They'd like to travel at least six months out of the year, when it gets swelteringly hot in Arizona. Their destination points? The mountains, of course!
When Airstream caught up with Emily, she and Tina were in Crested Butte, Colorado. This is a favorite destination because of its incredible mountain biking opportunities. They really enjoy their frequent trips to Colorado. Emily believes it's because she spent so much time there as a child.
In her spare time, Emily has a YouTube channel called Airstream MTB that's devoted to the intersection of Airstream life and mountain biking.
"My friend and I who run the channel, we talked a lot about what we wanted from the endeavor. The fundamental core of it, the nugget, was that it's an outlet and a hobby for us. We just enjoy creating videos and sharing them with other Airstream and mountain biking enthusiasts," says Emily.
Of their travels, Emily says, "We've had quite a wonderful journey everywhere we've been. We're looking forward to continuing to enjoy our exploration of the country, wherever it may lead us."