During my journey on Airstream's #EndlessCaravan, I've been asked many times about the reality of trailer living. From the outside looking in, many people assume I simply live the dream life– bouncing around from beautiful place to beautiful place without a care in the world. Other onlookers have a more practical view, asking me questions like: Do I get scared sleeping alone in the middle of nowhere? Do I get lonely? Is Nest easy to tow? Both approaches are valid, but the only way to really explain what life is like in a trailer is to do just that. In this post, I'll explain the ins-and-outs of trailer living and what I've learned from this particular lifestyle.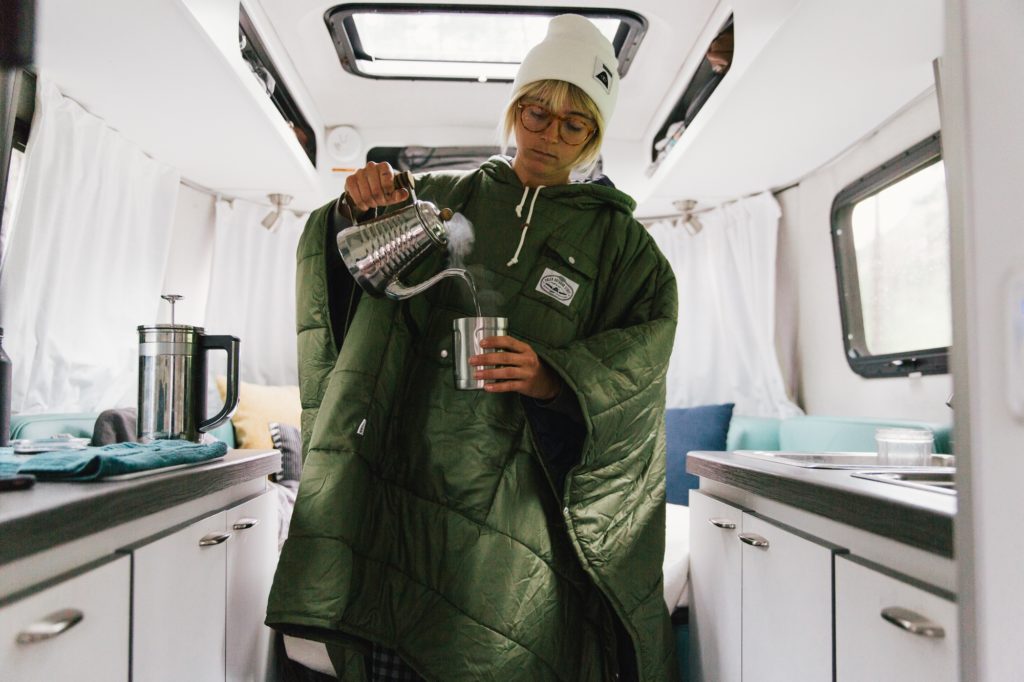 Morning Routine
Waking up in The Nest is one of my favorite things ever. Cozy underneath my covers, it can be hard pull myself from the bed. But the soft morning light creeps through nearly 360 degrees of windows, and that is plenty of motivation for me to get up and get moving every morning. My coffee routine depends on if the trailer is connected to power. If connected to power, I can use the electrical sockets and an electric kettle to heat up my water, that way I am not using up propane. But if I'm "off the grid" without power, I can use one of the two burners in the trailer to heat up water. Admittedly, my coffee routine is overly complicated– but I've become addicted to the routine of it. It requires a hand grinder, a scale, and (these days) a french press. (This Kitchenaid press that I use has a scale and timer built into it.) Here's my recipe for consistently delicious coffee:
Weigh out the beans. For one cup, I use 20 grams of beans. (The beans are the most important part! I recommend

Heart

or

49

th

Parallel

.)

Grind your own beans to maintain freshness. (I use this

Porlex hand grinder

.) For French press, you want the grinds the consistency of course salt.

Pour the grinds into the French press.

Pour enough boiled water into the press just to cover the beans. Let sit for 30 seconds.

Pour the rest of the correct ratio of water into the French press. For this method, I do 14:1, water:coffee. (So, 280 grams water for the 20 grams of coffee.)

Put the lid of the French press on and press down halfway.

Let sit and brew for 4 minutes.

Press down all the way and pour into a cup.

Enjoy a really good cup of coffee.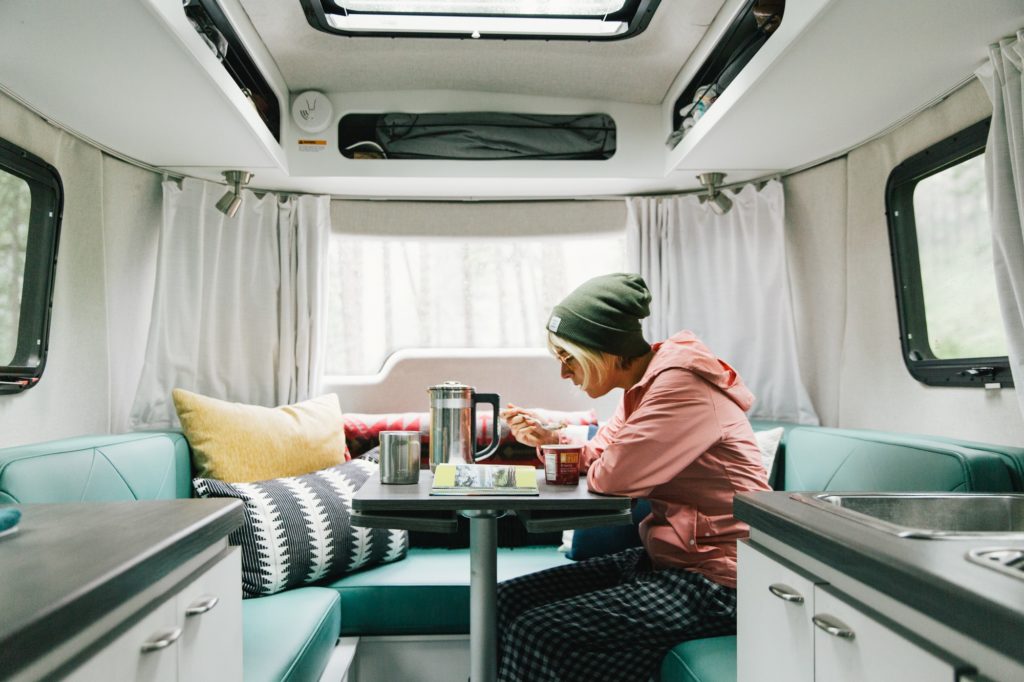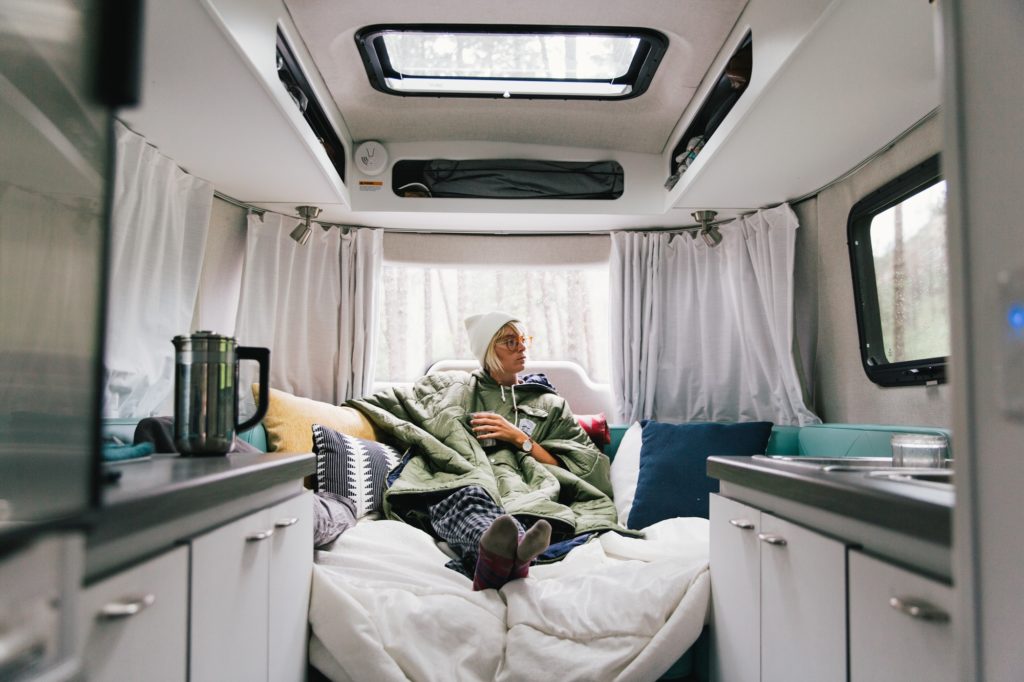 Meals - Saving Money and Staying Healthy
I absolutely love being able to make meals in the travel trailer, no matter where I am. The Nest is equipped with a two-burner stove, a decent-sized fridge, and plenty of counter space. It's especially nice to come back to the trailer after a long hike. Instead of rushing to the nearest place to eat some unhealthy burger and fries that I would regret later, I am able to change out of my sweaty clothes, and make myself a proper meal right in the parking lot. Eating a meal made with fresh ingredients definitely beats eating the quick food you would normally eat on long road trips, and it saves money when you can just stock up on groceries for the week and store them in your trailer.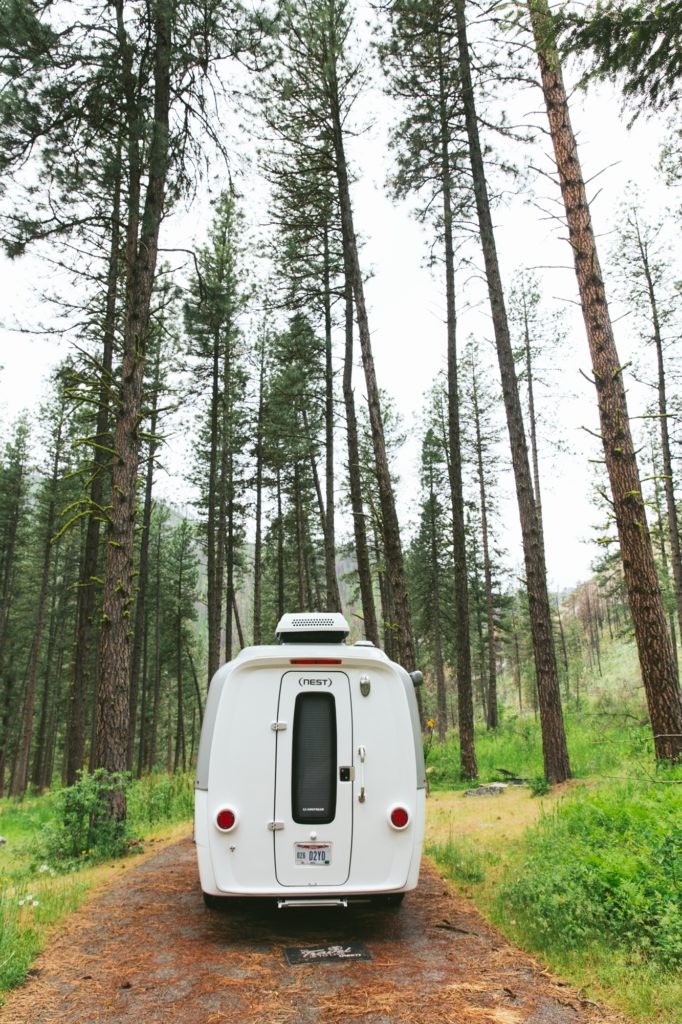 Arriving and Departing Campsites
This trip has been a combination of staying in RV parks, campgrounds, and "primitive camping," whether that means on a beach, in the woods, or on a street in front of a friend's house. RV parks with full-hookups allow me to connect to power to charge the Nest's batteries, water, and to dump the grey water tank. After I spend a night at RV park and replenish my resources, I can go 3 or 4 days "off the grid." However, if you have your car setup to charge the trailer while you drive, you could go much longer than that. I tend to fill up my water tank in the trailer to 50% before I leave RV parks. This gives me plenty of water to use on the go, but also doesn't weigh me down too much. Throughout the trip, I've used the website freecampsites.net, which is a great resource to find public land you can park on for free without getting hassled. I've also used RoadTrippers.com to plan out my entire route– it's a great tool to find new places to check out along your journey.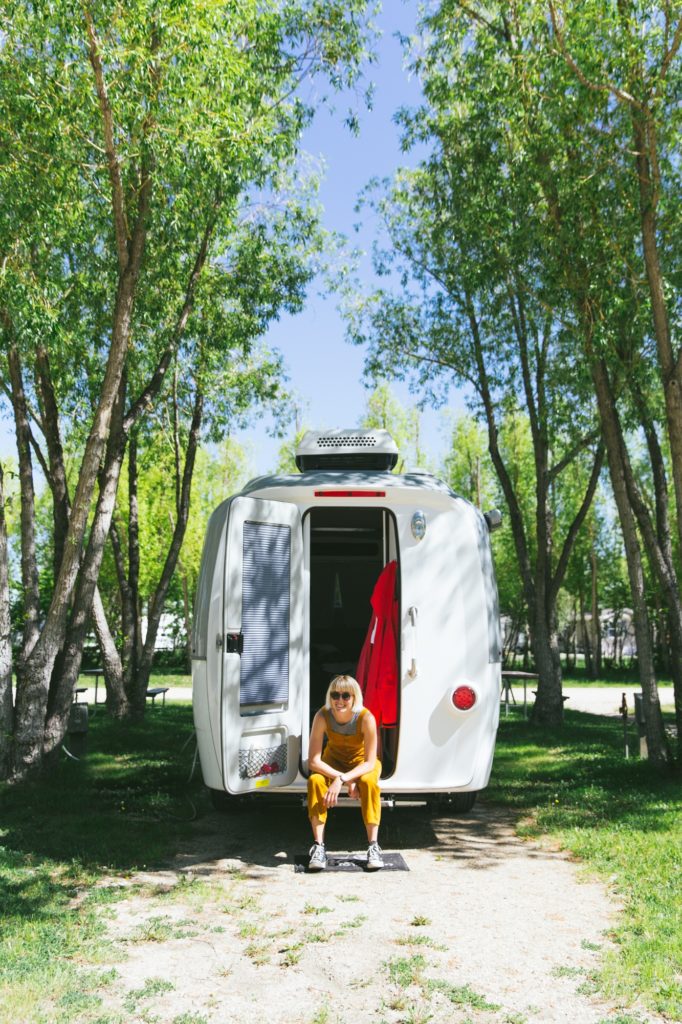 Freedoms of Solo Traveling
Am I scared to camp alone? This has never been the case when I'm in RV Parks and proper campgrounds. From my experience, the other people staying in these areas tend to always be good, like-minded folks. However, when I decide to do some "primitive camping," it can be a little intimidating to be alone without anyone else around. In these situations, you just need to keep your wits about you. (If a place feels sketchy, then go somewhere else.) In reality, though, the door on the Nest locks and it feels completely safe inside. I'm never really worried about anyone breaking in… but I do keep pepper spray with me just in case.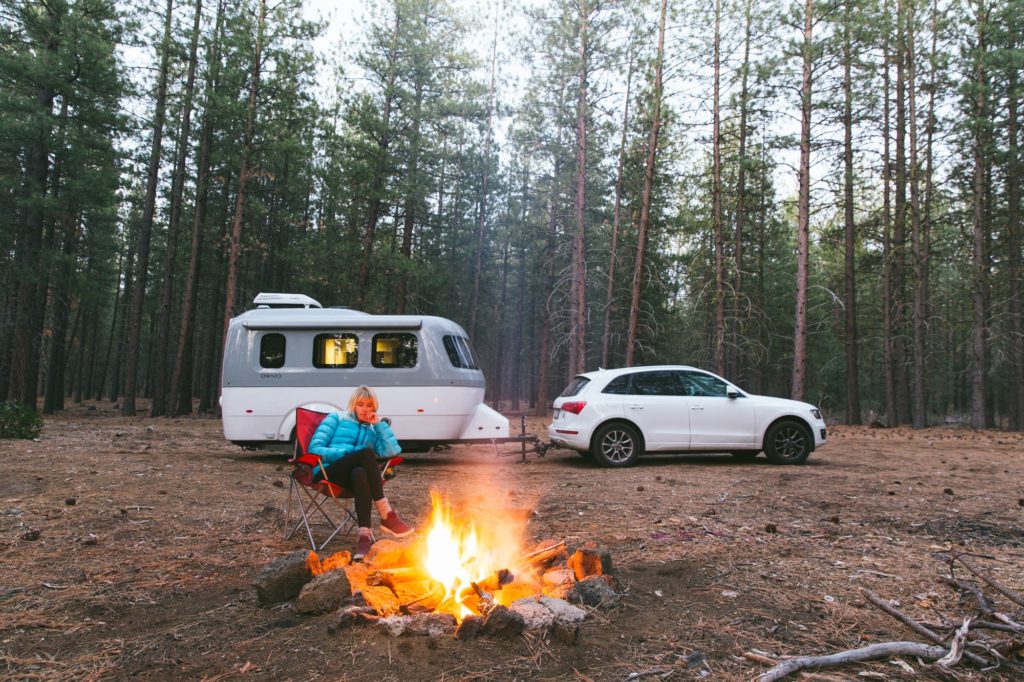 Towing & Gaining Confidence
I'll be honest, I was pretty intimidated about the thought of pulling a travel trailer before I went on this trip. I'd never pulled anything behind my car before. However, I was given a little tutorial at Airstream HQ when I picked up the trailer, and due to the small size of the Nest (16' long), it was so much easier than I expected. Backing up can be the only tricky part, as it is counter-intuitive. If you have never towed anything before, I recommend going to an open parking lot and practice backing up into spaces. At this point, I hardly even notice that I'm pulling a trailer anymore, and I've confidently backed into the tightest of spaces.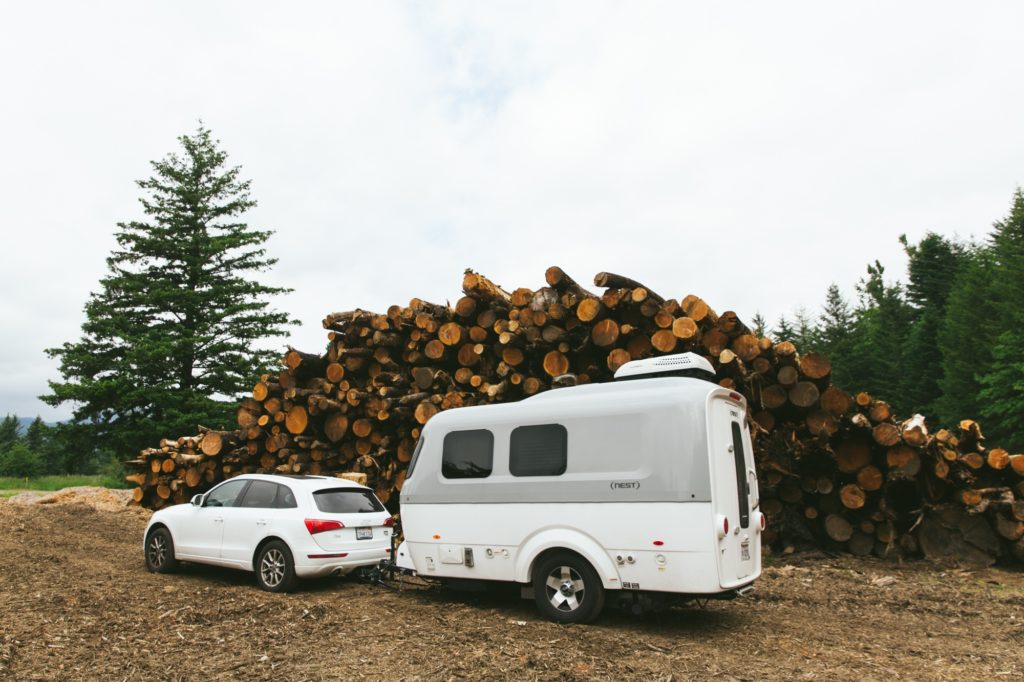 I've loved hopping around from place to place over the past two months in the Nest. I can be parked for the night in a parking lot or in the middle of the woods and still feel comfy and cozy inside the trailer. The normal things that might run you down on an extended trip don't really apply when you are pulling your home behind your car. You aren't unpacking and repacking a suitcase each stop, sleeping in unfamiliar beds every night. With a trailer, your home is where you park it.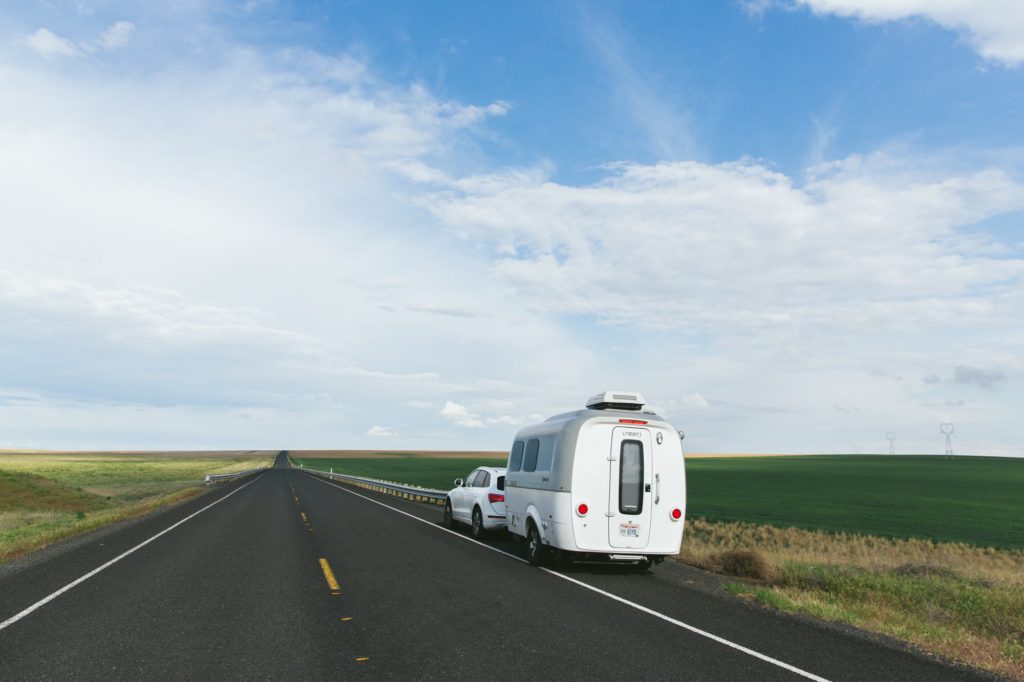 Learn more about the thoughtful features and design that goes into each Nest Travel Trailer.