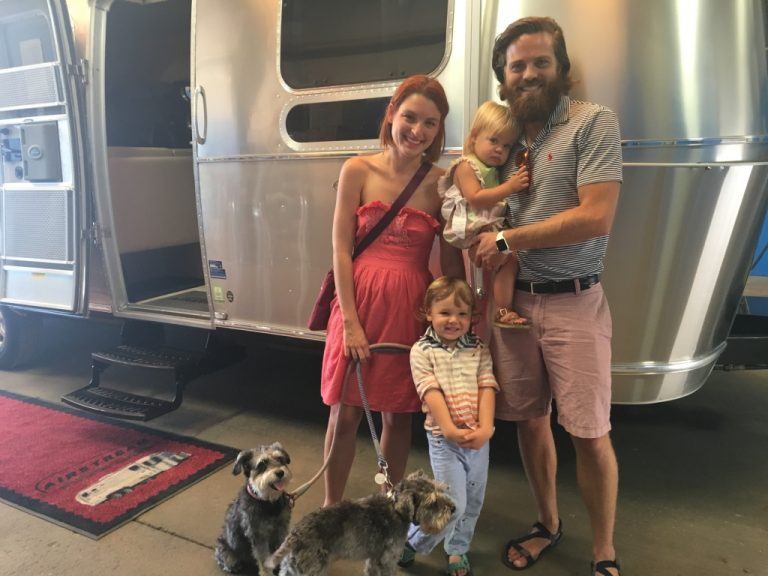 Years ago when I was dreaming of my grown-up life and what that would be like, I never imagined that it would entail living in an Airstream with my husband, 2 dogs, 2 toddlers and another on the way. When my high school sweetheart became my husband in 2010, we did the "normal" thing - we bought a house and settled down. We settled…
In November of 2015 we had had enough. The life of adventure we wanted wasn't going to come to us, so we would go out and get it. We sold the house.
Our journey began on January 6th, 2016 and 6 months later we welcomed our Airstream 30-foot Flying Cloud, "Runaway Mayzie." Mayzie has brought us to 23 states and 3 countries. Here is our story beginning with Mayzie: traveling the USA and becoming Airstreamers for life!
We owned a travel-trailer before and lived in it for a month while we explored the east coast with our son who at the time was 6 months old. The inside storage was lacking, the process of setting up, hooking and unhooking felt cumbersome, and the build-quality was missing the "quality." So, when we sold the house, we bought a tent— we're nothing if not logical! We set off on our "adventure" in our Ford Expedition, a few plastic bins of clothing, toys, 2 kids and 2 dogs. Our idea was to tour the USA by tent, staying in hotels, and using AirBnB. We made it to Idaho (from Florida) and then reality started setting in. The weather was a force majeure and impossible to deal with. The hotels were expensive (especially with dogs) and nice rentals were hard to come by and rarely affordable.
It all hit the fan near the Hagerman Fossil Beds. We setup our tent in 100+ degree weather, made dinner on our camp stove and then went to bed. We woke up in the early hours just after midnight, still wet with sweat-soaked sleeping bags, to find our breath fogging the chilly air and our bodies shivering to fend off the cold. I remember putting extra layers on sleeping children using our lantern for light, and our 2 dogs were snuggled so tight up against my husband that he couldn't move to help. It was then I literally gave an ultimatum, "we buy an RV or we are done." Half-awake from his frosty slumber, he mutters, "I will only buy an Airstream."
The next morning, we rerouted ourselves to Boise, Idaho. Airstream Adventures NW wasn't far from us and it kept getting better, they had a bunk model!
I never realized my husband wanted an Airstream; this wasn't something we had ever talked about but on the way there he started to divulge his secret passion. And now the timing was right for us to satiate his desire. We had sold our house, so we had the money on hand, and the practical side of me was persuaded. Airstreams are solid and will stand the test of time! With no slides and a lower profile, we could have a go-anywhere attitude. The quality and style could not be beat. Runaway Mayzie was ours that very day! 
After getting Mayzie our trip seemed to take on a whole new level of amazing! We stood under fireworks outside of Glacier National Park, cooked a crab dinner on the Olympic Peninsula, met new friends in campgrounds and became part of a larger community— #myliverivitedlife. Our journey has also allowed us to take Mayzie on a ferry in Washington. We've been able to roll the dice and visit a casino campground in Reno. In Arizona, saguaro cactus surrounded us as we watched indescribable sunsets paint the mountains. We hit over 30 national parks during the Centennial year of the National Park Service. We've driven Mayzie from the north-westernmost point of the contiguous 48 all the way to the Mexican border; through wind and rain and sleet and snow. Yet, Mayzie has greeted it all with style and elegance and, above all, dependability that can't be found in anything else.
As we go into the next year of adventure we are glad to have a home on wheels. Our family has become closer to one another, although adjusting to 200 square feet took a little time. I know, for me personally, this has been a big year of learning that the things you own mean very little in the end, what matters most are your experiences. So, go out there and explore! As my favorite Disney movie says, "Adventure is out there!"
Caitlen Murrell is a "stay-at-Airstream" Mom to 2, with a 3rd on the way. Her family has been exploring the USA since January 2016. Caitlen is the "stream-director" for her family's travel schedule and often figures out where to head next. She blogs their adventures at www.floraltrains.com and Instagram's daily @floral_trains.
If you or someone you know has also chosen the adventurous path like the Murrell's and would like a chance to be featured on our blog, please email us at [email protected].