Airstream recently got together with a legendary design firm to play a game of What If? The result of that collaboration is the Airstream Studio F. A. Porsche Concept Travel Trailer, an ultralight, garageable travel trailer concept that addresses the changing world of RV adventure.
The concept, which debuted March 9 with a showcase at the South by Southwest Conference and Festivals (SXSW) in Austin, TX, builds on Airstream's signature design elements while reimagining the RV owner experience.
Among the many innovative ideas incorporated into the design, the concept addresses changing demographics in the RV market by utilizing a pop-up roof for additional interior headroom and a lowering suspension that allows city-dwellers to store the trailer in most standard residential garages. Brought to life through three-dimensional renderings, a 1/3 scale model, and extensive computer-assisted wind tunnel testing, the project resulted in a conceptual evolution to Airstream's iconic riveted aluminum look that's unlike any previous Airstream design.
"Innovation is the art of discovering the possible," said Airstream President and CEO Bob Wheeler. "Our collaboration with Studio F. A. Porsche brought talented new eyes and minds to our never-ending process of improving the Airstream experience. It's a fresh design approach aimed at reaching a broader, more diverse base of potential customers."
"Our design team has long wanted to partner with Airstream," said Roland Heiler, Managing Director of Studio F. A. Porsche and Chief Design Officer of the Porsche Lifestyle Group. "More than 20 years ago, when my family lived in Southern California, we owned a 1964 Airstream Overlander. That's when I met Bob Wheeler for the first time at a vintage trailer show in Newport Beach. For me Airstream has always been an iconic brand that has thrived by evolving its products while remaining true to its design DNA – an approach very similar to the philosophy of Studio F. A. Porsche. So, it is not difficult to imagine that we were more than excited when the idea to develop a new iteration of Airstream's travel trailers finally became reality."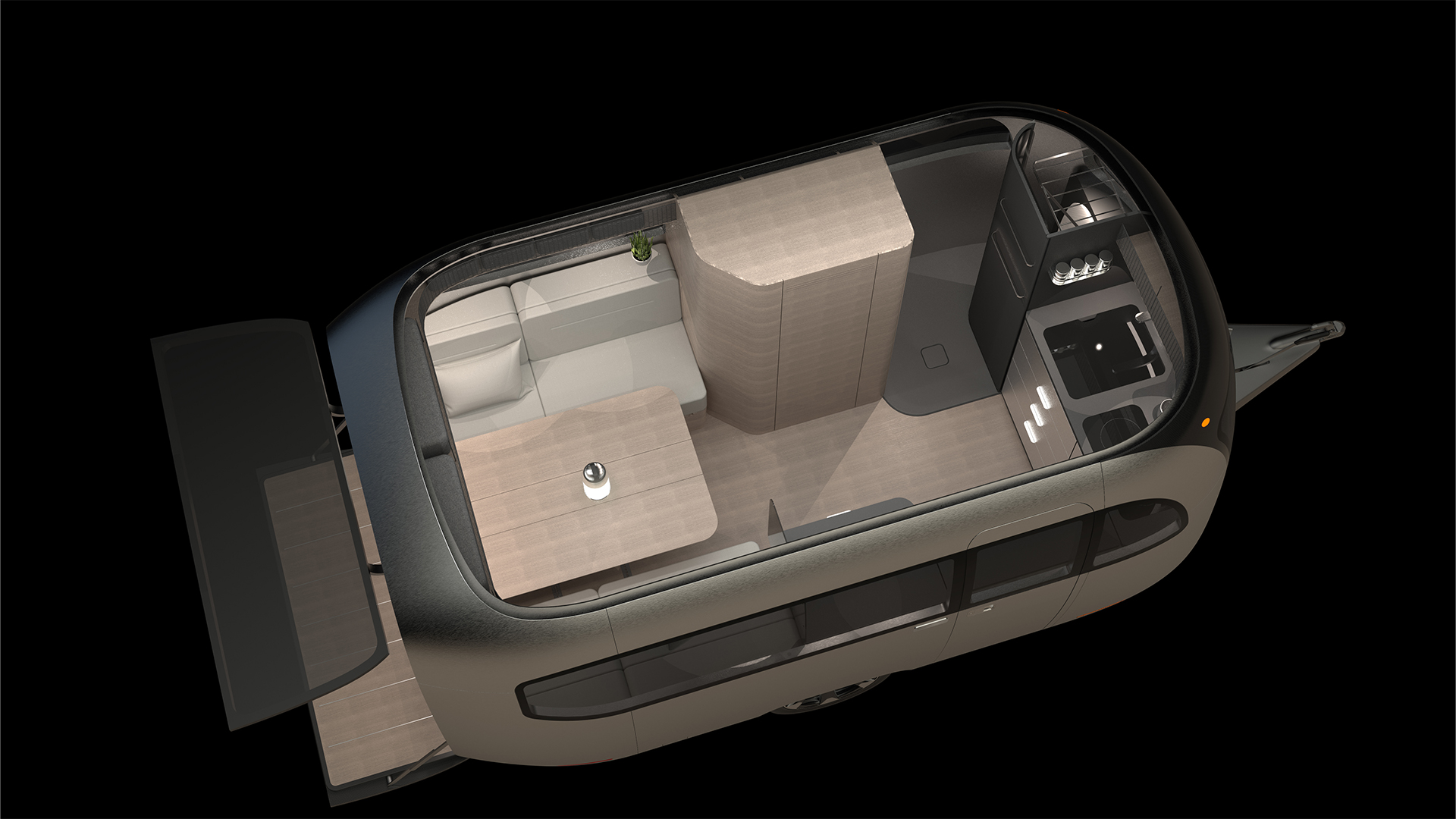 That enthusiasm and respect for the Airstream legacy shows in Studio F. A. Porsche's design, which riffs on the brand's iconic riveted aluminum design with fresh eyes and employs new features and materials to deliver an Airstream unlike any other.
The Airstream Studio F. A. Porsche Concept Travel Trailer's most exciting innovation might be its adjustable suspension, which makes this the first "garageable" Airstream design in the company's 90-year history. The chassis' automatic suspension allows the trailer's body to be lowered far enough to allow storage in most home garages. The ability to securely store the unit at home makes travel trailer ownership much easier for many potential owners.
The chassis' ride height can also be adjusted to improve aerodynamic efficiency or enhance off-road maneuverability.
A carbon fiber pop-up roof, also a first in Airstream history, is another game changer. The pop-top can be raised while camping to create an extra 12 inches of headroom and lowered flush with the roof to preserve a low profile while in tow.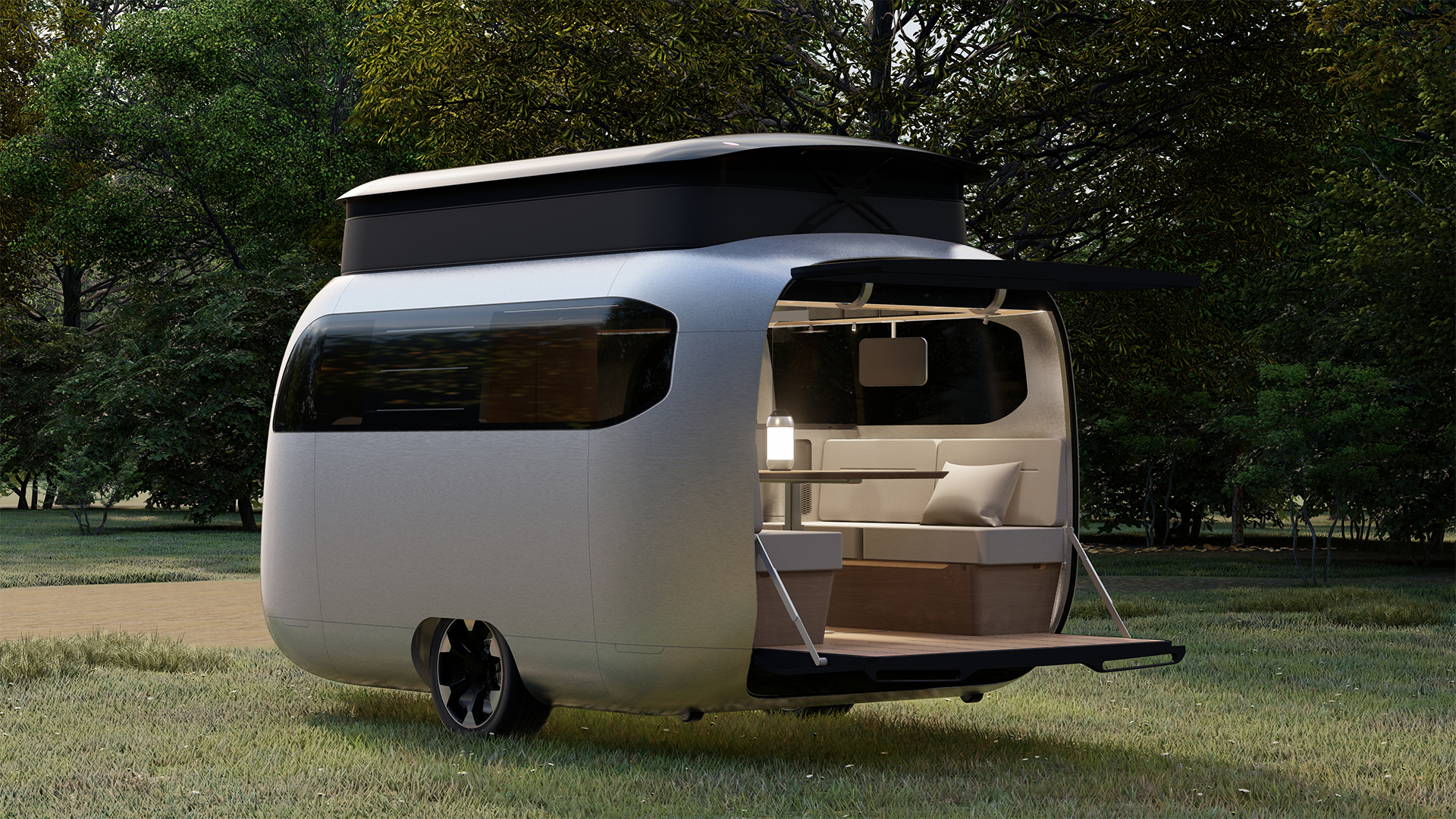 Keeping with Airstream's heritage, the concept design pushes travel trailer aerodynamics to the next level. The Airstream Studio F. A. Porsche Concept Travel Trailer's shell shape was refined through advanced computer-assisted aerodynamic testing using scale models of the concept. A new rear shape and flush underside shed air while in motion.
Systems that create drag-inducing protrusions on a trailer's exterior are cleverly located inside the concept's chassis and interior. The ducted air conditioning, for example, a prominent feature of many RV rooftops, is situated above the concept's floor. A 10-inch-deep space below the floor houses the hot water and heating components, spare wheel, holding tanks and lithium battery.
The concept's interior design maximizes the use of space and dramatically enhances the owner experience. Windows and skylights create a spacious interior feel and connect people with the beauty of their surroundings.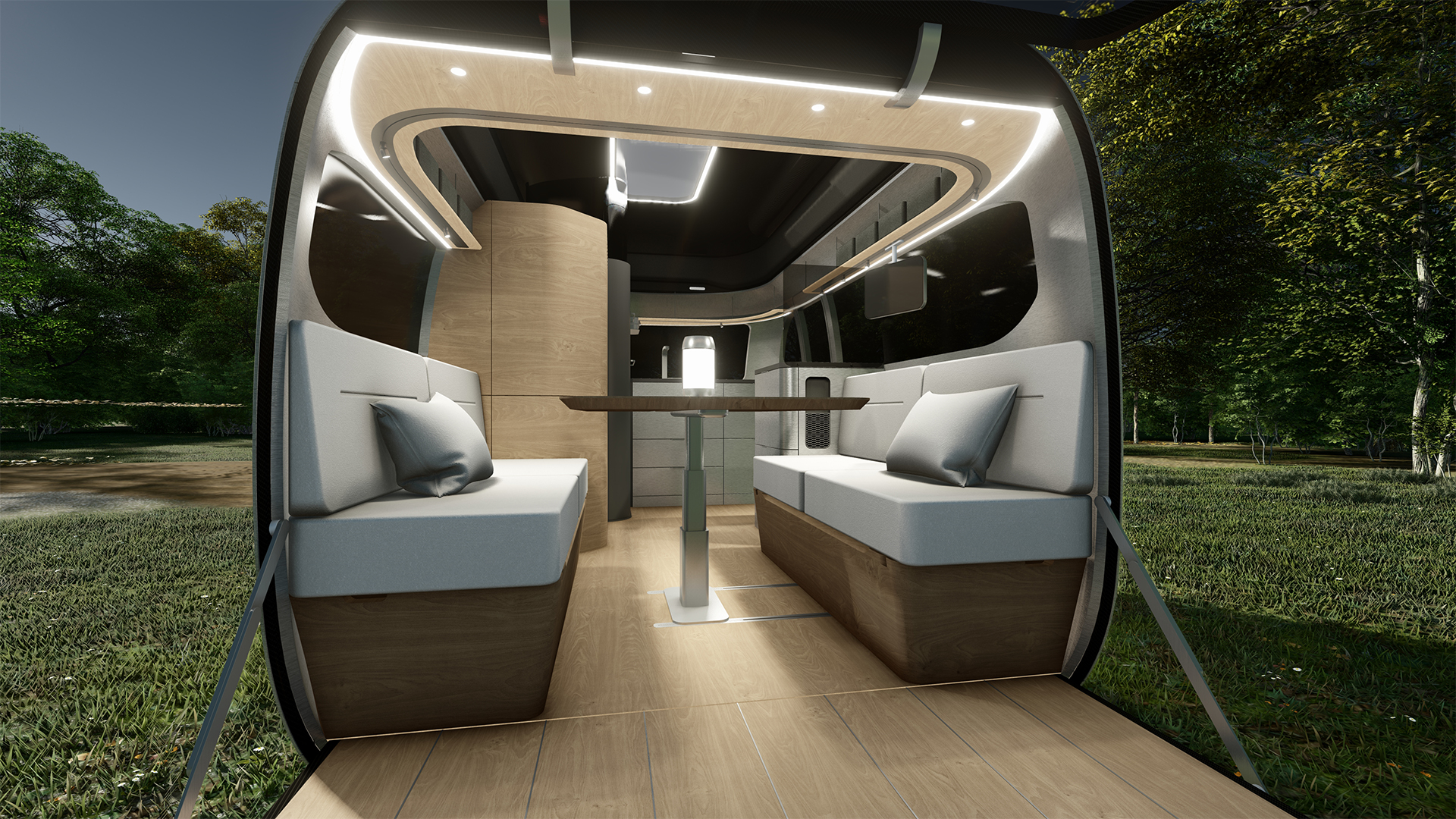 The Airstream Studio F. A. Porsche Concept Travel Trailer's rear hatch features a new two-piece design with a hinge-up hatch and a drop-down tailgate. This design element extends the interior living space, connecting travelers with the beauty around them and allowing for the easy loading of adventure gear. Enjoy hanging out on the patio? Attach an awning to the hatch to create a shady place to relax and plan your next adventure.
Studio F. A. Porsche's designers prioritized flexibility in the concept's interior design. An innovative rear seating area transforms from dining to working to relaxing space. The versatile seating area quickly converts from a dinette to a large 82" x 61" sleeping area. Reclining seat options allow owners to enjoy the views through the open hatch.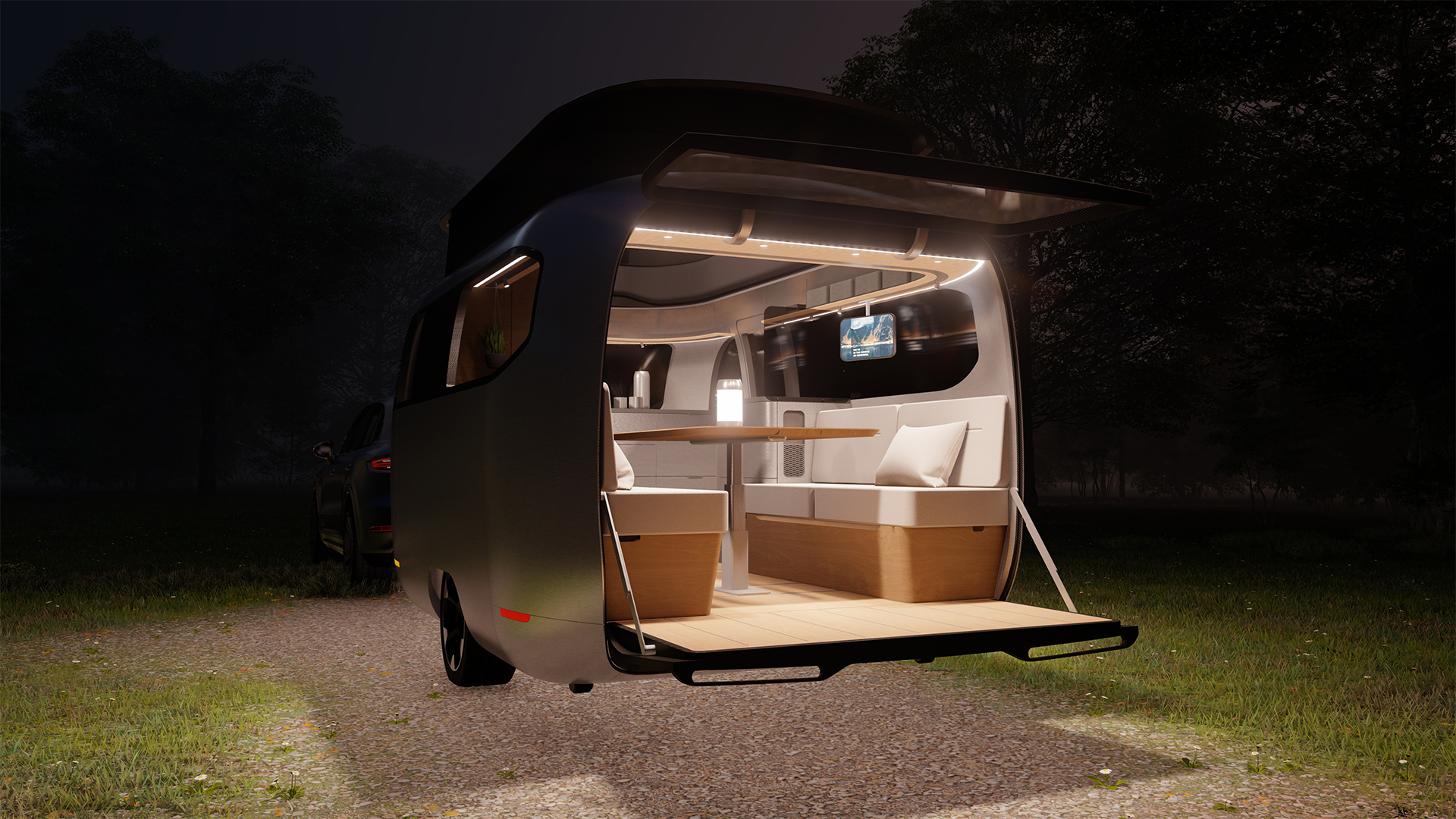 The wet bath, located in the front roadside corner, has a door that creates an enclosed, private area and swings freely to hide the toilet when it's not in use. This efficient design opens up more space in the adjacent galley, which is extended further on the curbside by a hinge-up counter that runs in front of the main entry door. These ingenious design elements create a sizeable L-shaped workspace comparable to that of many larger travel trailers.
So, when will the Airstream Studio F. A. Porsche Concept Travel Trailer be available? Well…
Whether the design studio concept will become a campground reality remains to be seen. While Airstream concept projects don't always reach the marketplace, the resulting lessons and innovations often influence present and future products. Airstream's 2002 collaboration with Nissan Design America, for example, played a significant role in the creation of the Basecamp.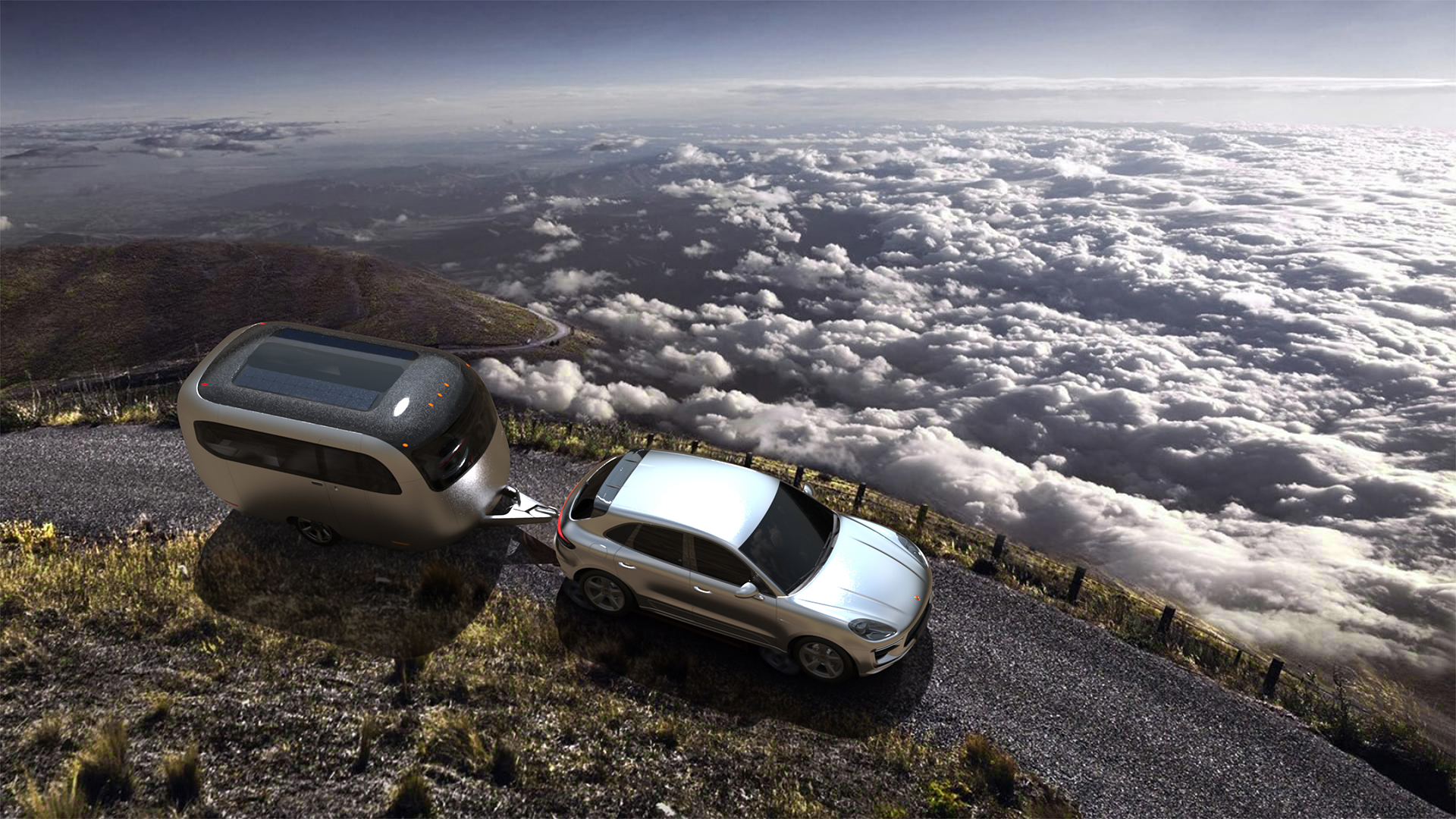 So, whether as a full-blown new model, inspiration for another travel trailer, or the source of innovations in other products, the Airstream Studio F. A. Porsche Concept Travel Trailer is now a part of the Airstream family.