Since the launch of the Interstate Touring Coach in 2004, the partnership between Airstream and Mercedes-Benz® has transformed the motorized RV landscape. Combining the iconic American Airstream aesthetic with legendary German engineering, this ambitious collaboration produced the industry's most sought-after Class B motorized RVs. The Sprinter van chassis has served as the rock-solid foundation for the Airstream Interstate and Atlas touring coaches, offering powerful, high-performance drivetrains that deliver unmatched capabilities and platform versatility while inspiring driver confidence.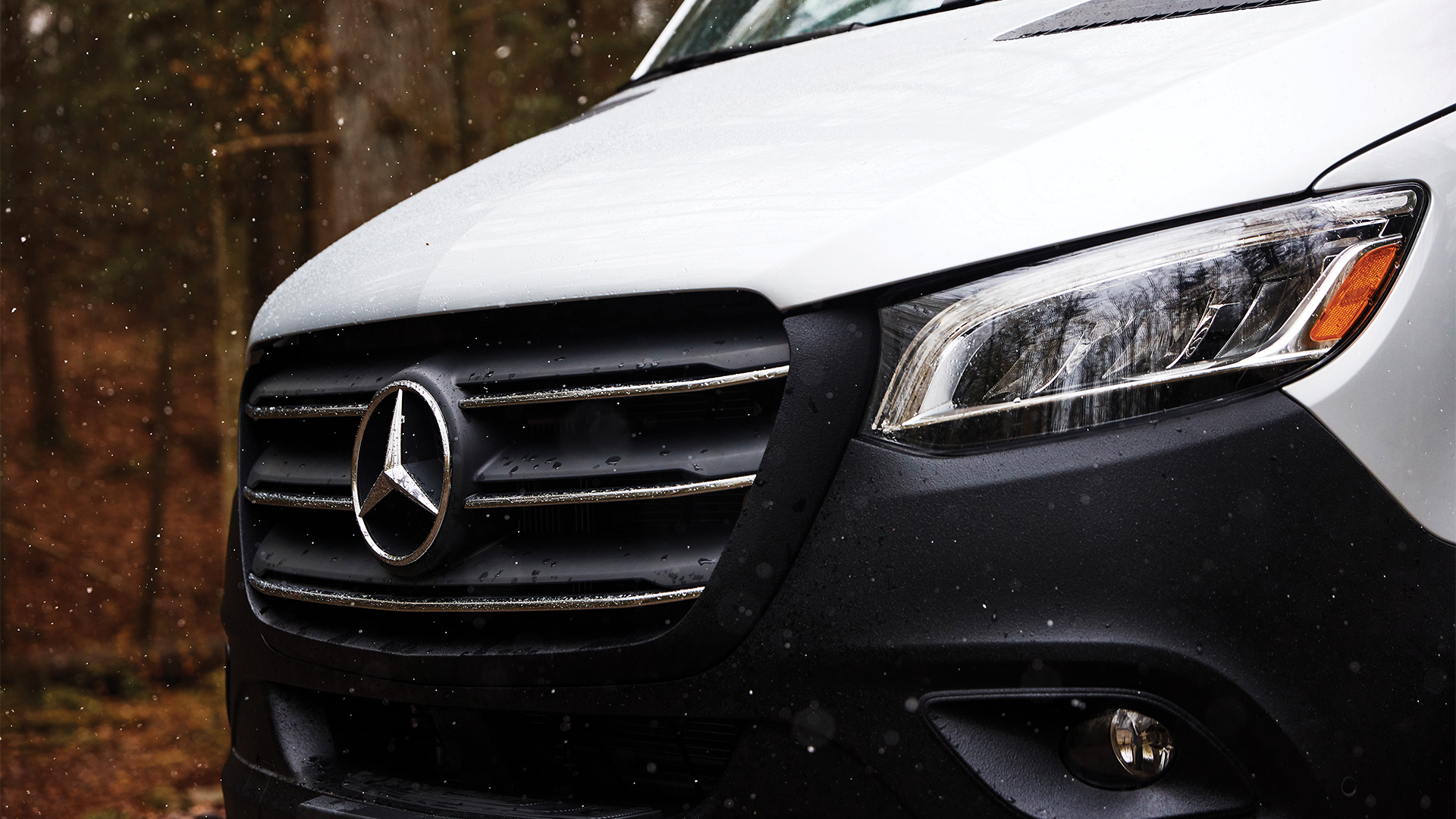 The 2024 model year upgrades to Airstream's Interstate and Atlas Touring Coaches are a testament to the evolution of this innovative partnership. Building on the latest generation of the Sprinter van chassis, these new models offer next-generation improvements in power, fuel economy, and performance. Along with the upgraded chassis, Airstream designers also integrated new standard features, added more conveniences, and new exterior color options.
More horsepower and higher fuel economy. More torque with fewer emissions. More ride stability and less vibration. More luxury features made standard. More convenience and versatility — with no compromises. Meet the 2024 Airstream touring coach lineup.
Dive Deeper into Airstream's Mercedes-Benz Touring Coach Lineup
Driven by Mercedes-Benz Chassis
U
pgrades
The new Sprinter van chassis is driven by a diesel-powered, twin-turbo 2.0-liter in-line four-cylinder engine. Clocking in at 208 horsepower and 332 pound-feet of torque, this robust engine delivers a 20 horsepower and 7 pound-feet improvement over its predecessor. And since it also lightens the load by 30 pounds, it all contributes to increased fuel efficiency and lower emissions.
9-Speed Transmission for Smoother Ride
The new chassis is paired with a nine-speed automatic transmission with a shorter first-gear ratio and two more additional gears than its predecessor. Combined with the higher horsepower engine, the results are faster take-off, smoother acceleration, higher torque values (even at lower speeds), and significant reductions in cabin noise and vibration levels. Simply put, it's a smoother and quieter ride for captain and crew.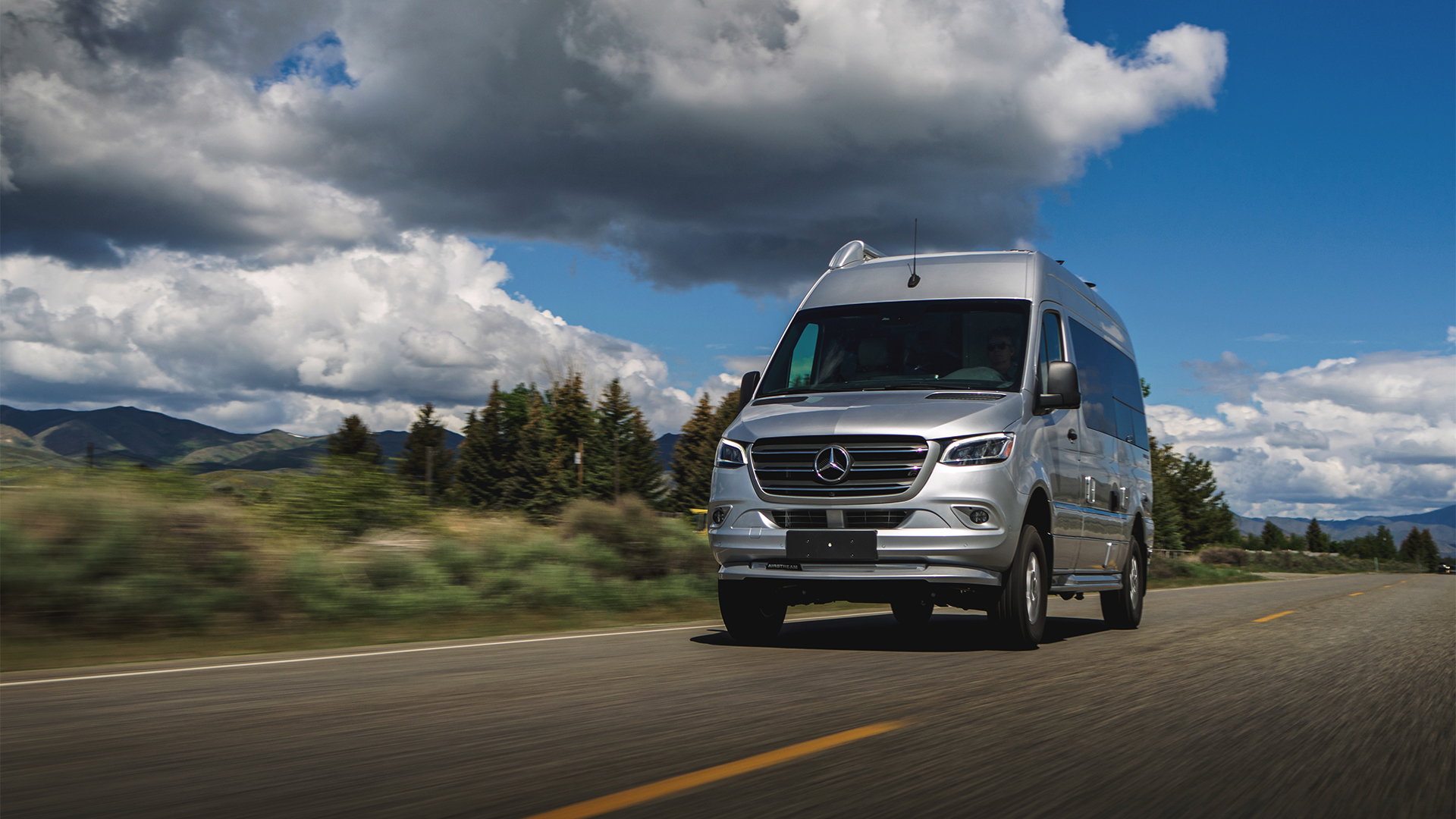 A
ll-Wheel Drive
Adds Full-Time Stability
With the new 2024 Sprinter Van chassis upgrade comes the option for automatic AWD. The full-time AWD option adds stability and versatility to the Airstream touring coach experience (selectable 4x4 option is available while chassis supplies last). Its electronically controlled, four driven-wheel torque distribution system will automatically detect wheel slip and send up to 50 percent of torque to the front wheels when needed. This makes driving a Class B or Class B+ motorized RV safer and more responsive than ever, much like the feel of modern Mercedes passenger vehicles with automatic AWD.
Electric Power-Assist Steering
Adding to the list of capable updates to the 2024 model year Airstream Interstate and Atlas Touring Coaches, the new Sprinter van chassis comes standard-equipped with electric power-assist steering. As a replacement to the previous generation of hydraulic-boost technology, electric power-assist steering delivers a light, precise feel that makes the RV easier to navigate through tight city streets, crowded campsites, or narrow backroads.
Design Updates and Added Amenities to the Interstate Lineup
To correspond with 2024 model year releases, Airstream is also offering new exterior paint options and upgraded in-cabin amenities. In the Interstate lineup, the option for a black paint exterior is replaced by a new Tenorite Gray color option that joins the classic Iridium Silver Metallic. Inside, flatscreen TVs in all models have been upgraded to smart flatscreen TVs, providing more entertainment connectivity and vanlife convenience.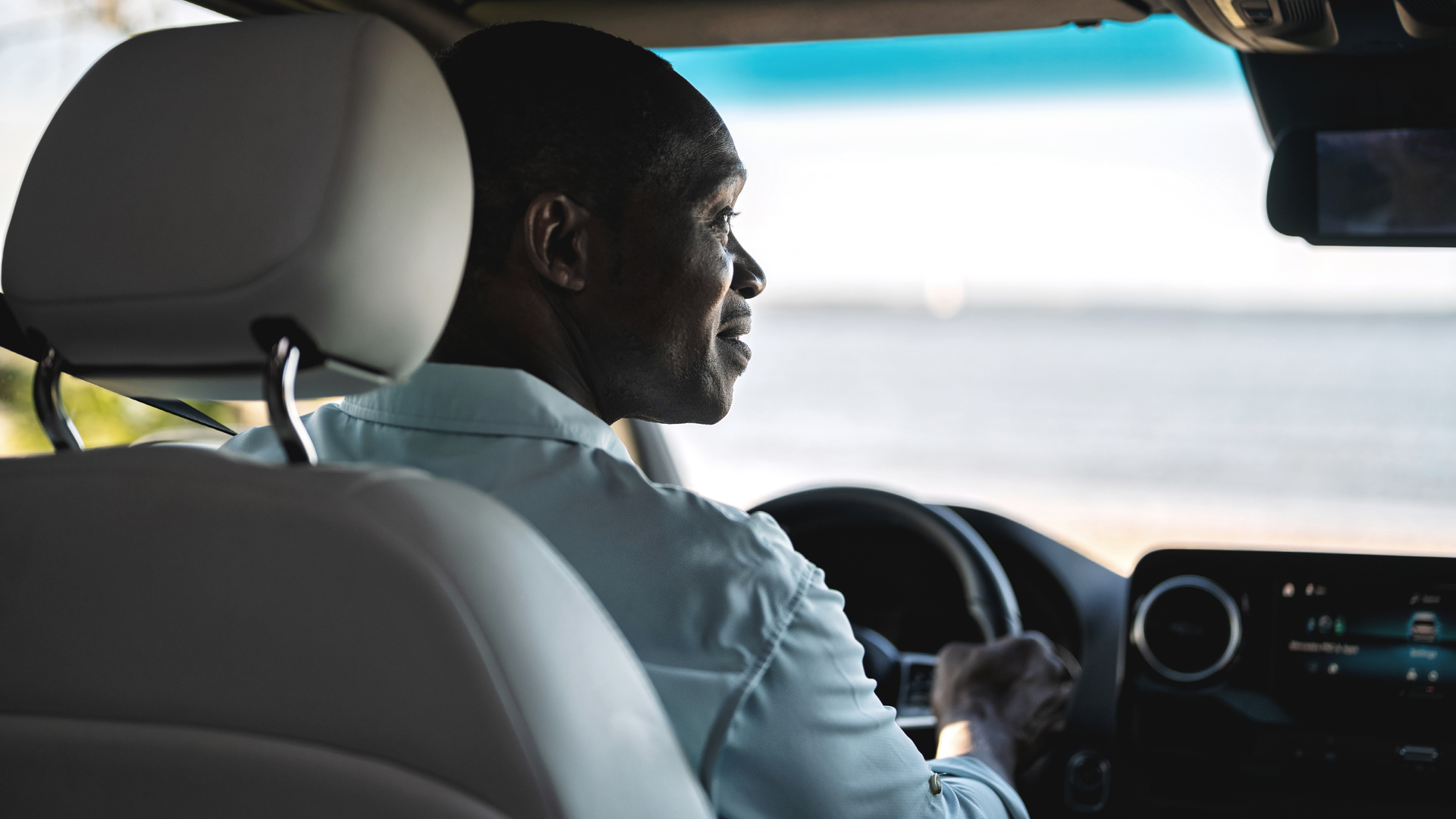 Atlas-Specific Upgrades
As the most luxurious and well-equipped of Airstream touring coaches, Airstream has appointed the 2024 Atlas with model-specific, convenience driven features. In addition to the Sprinter Van chassis upgrade, the 2024 model is built on the 4500 platform, which supports an additional 1,000 pounds of payload capacity.
To support this extra payload, hitch ratings have downgraded to 4,000 pounds, which still allows Atlas owners with plenty of robust towing capabilities. An upgraded hitch is 18 pounds lighter and comes with integrated skid bars.
The Starlink High-Performance In-Motion antenna is a standard option on the 2024 Atlas, with a seamlessly integrated roof design that supports maximum signal transmission with ease of access and servicing. Stay connected while traveling, stream media, and catch up on work emails with Starlink's roof-mounted connectivity system.
Elsewhere, an all-new, four-corner hydraulic leveling system replaces the previous stab-jack system to simplify vehicle stabilization while you're camped out for extended stays. And Atlas now features Triple Nickel Chrome wheels, which perfectly complement the hand-crafted exterior and high-performance tires to achieve a classic, sleek exterior profile.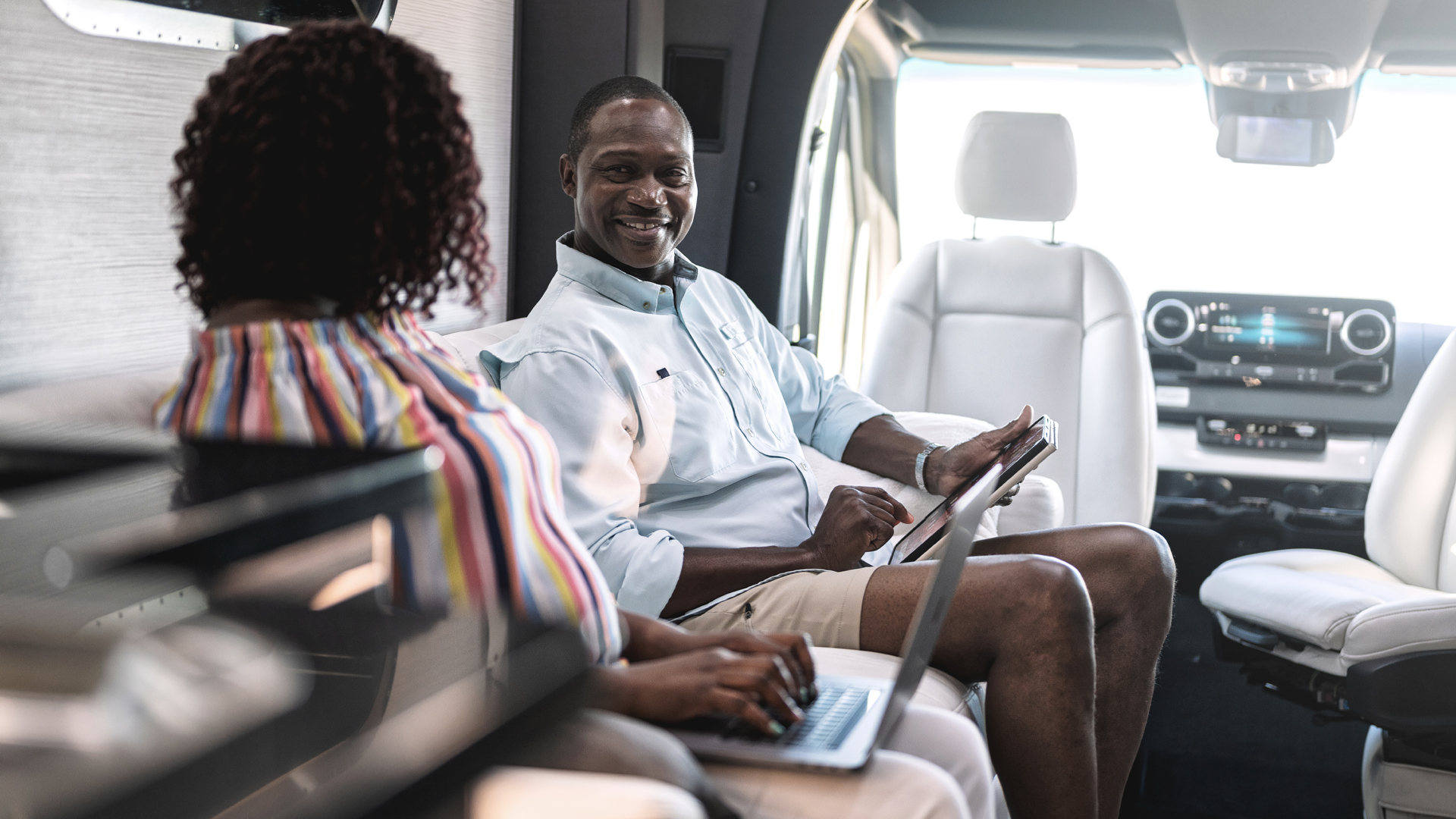 2024 Is Looking Up
For Airstream aficionados and vanlife lovers alike, the 2024 model year touring coach upgrades raise the standard for motorized Class B and Class B+ RVs. The newest generation of the Sprinter van chassis offers best-in-class power, fuel economy and driver-friendly performance. Combined with standard-equipped amenity upgrades, unmatched craftsmanship, luxury creature comforts and a variety of models to suit every lifestyle, the Airstream's 2024 Mercedes-Benz touring coaches represent the continued elevation of an already legendary RV platform.
Visit your local Airstream dealership to get an in-person demonstration of the model year 2024 Interstate and Atlas touring coaches.
Explore our full lineup of motorized touring coaches, learn more about their luxurious amenities, and discover how each model caters to different travel styles.
Ready to hit the road in an Airstream Touring Coach? Save up to $10,000 on a new 2022 or 2023 Interstate Touring Coach during the Summer of Adventure incentive program.