Any enthusiast, be it a cycling extremist, beer making master, knitting aficionado, cooking expert or fishing fanatic, can rattle off facts and spew information about their beloved pastime. They also can't wait to consume the latest book, workshop, seminar or event that connects them with like-minded individuals who share their passion.
RVing is no different. If you're a nature-loving outdoors person or RVer, you know some tricks of the trade that allow you to take your adventures to a new level, but you also know that there's always something you can learn to enhance your experience or make your trip smoother.
The weather is turning warmer and RV season is shifting into high gear. Whether you're a first-time RV owner or just thinking about buying, or you're an experienced road tripper and wanderlust extraordinaire, here's everything you need to know about planning the ultimate RV experience.
Get answers to your top RV questions with useful tips and tricks to help you plan your next road trip.
What's the Best Way to Plan My RV Road Trip?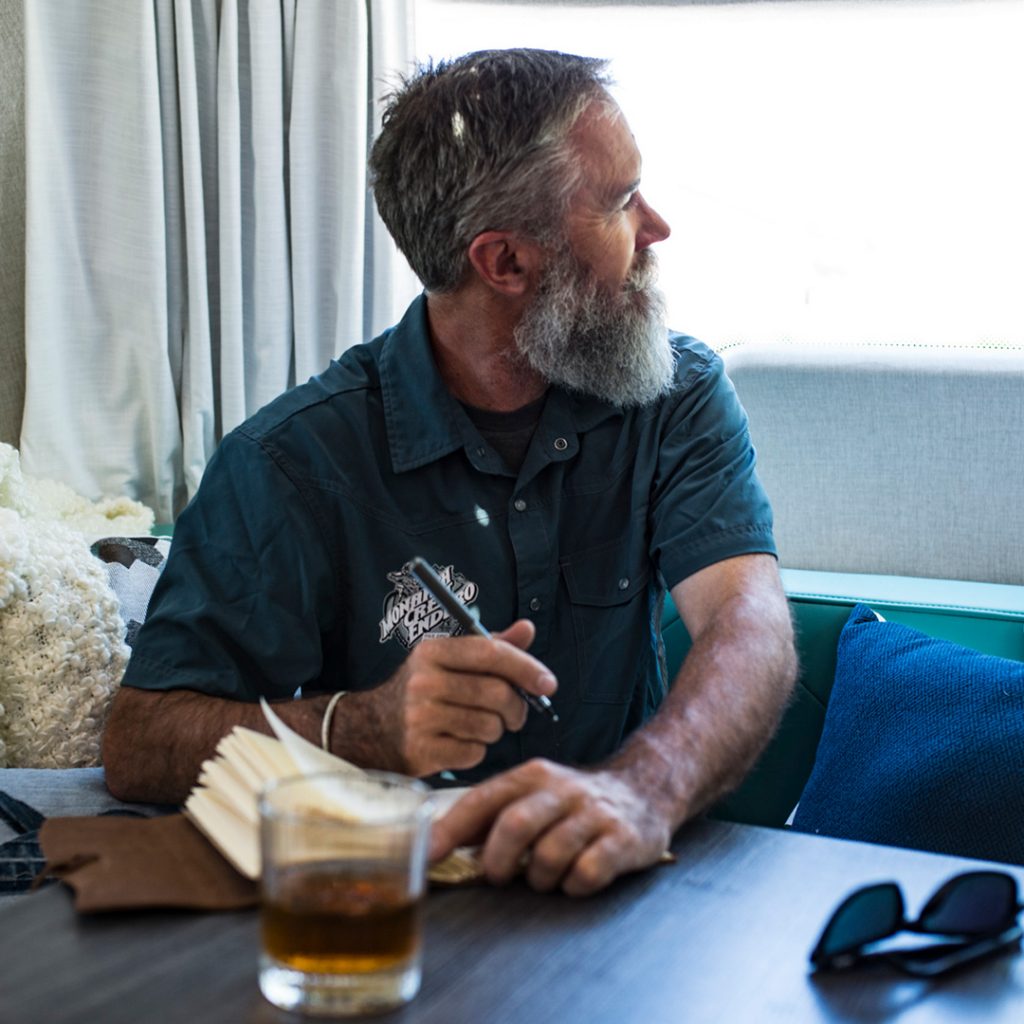 So many different things can dictate you how you plan a road trip. Perhaps you want to work around weather, maybe you have a destination but want to see the sites along the way or conceivably you have a week's vacation and want to make the most of it.
Let's say your family reunion is in Cedar Rapids, Iowa, a cross-country jaunt for you and the fam. You can't miss it, but if you're going to be on the road you want to make your trip worth every mile. That's where Road Trippers comes in. Enter your destination and this helpful tool will tell you the best sites to see along the way. You'll not only relive your childhood memories of fishing with Uncle Jim at the reunion, but you'll make new memories along the way. Along with several other useful tools, Airstream Care also has Road Trippers built directly into it for seamless transition between getting ready and actually leaving.
If nothing makes you happier than getting outdoors, a week's vacation in your Airstream probably sounds like heaven. But with so many places you could see and things you could do, narrowing it down or making a final decision can seem overwhelming. Our Best Road Trips Guide compiles favorite road trip routes that you can use to plan your own classic outdoor adventure. Sometimes the best ideas are the ones you borrow from someone else.
There are plenty of weather apps and websites out there, but for our money Dark Sky is the pick of the litter. Whether you're looking to avoid the rainy season or you want to drive into the snowstorm because you're seeking ideal skiing environments, Dark Sky will guide your trip based on the conditions you want and those you don't.
How Can I Ship a Package to Myself While I'm on the Road?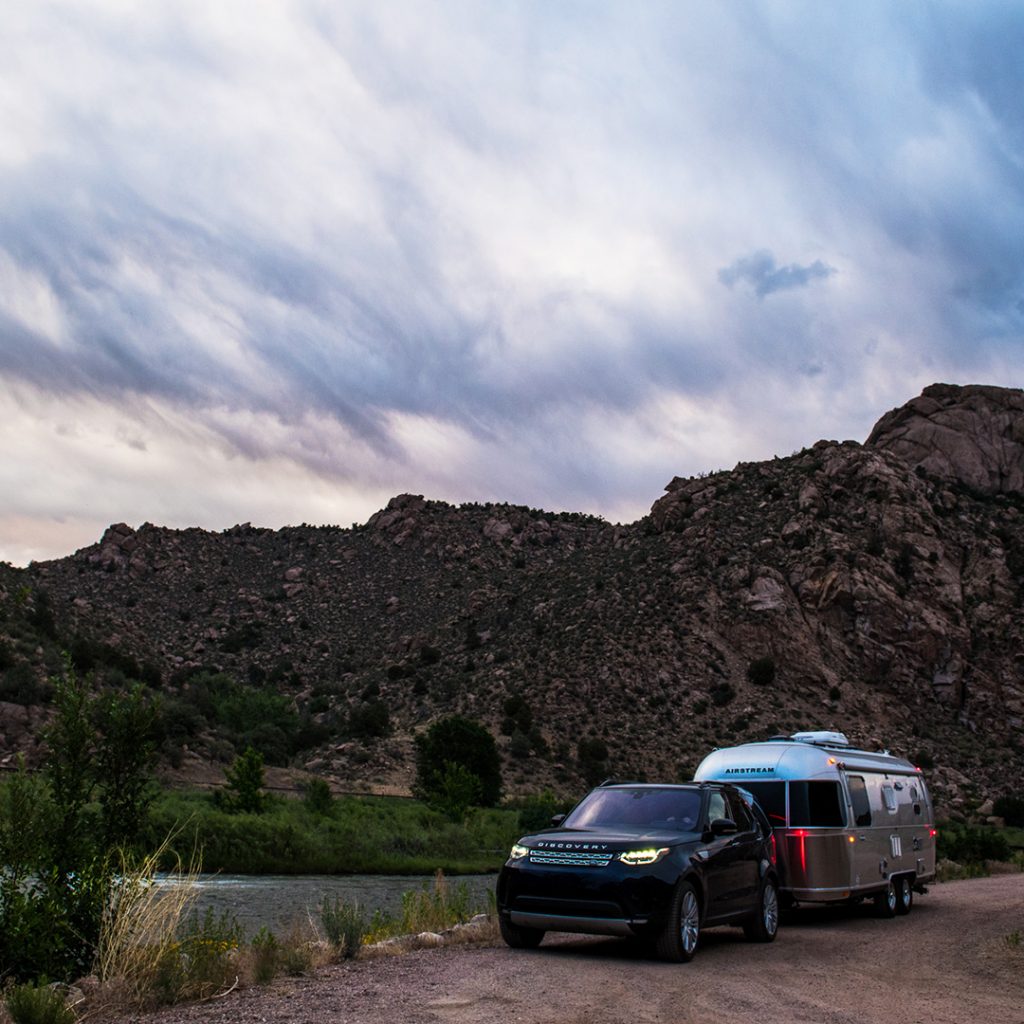 You're on your big adventure and you lose or break your gear on day one of your 15-day expedition. With online shopping and two-day shipping you can fix your problem with the click of a button, except you're in your Airstream without an address. Before you write off your adventure as a lost cause, consider calling the local UPS store. UPS will hold a package shipped to you at their address for small one-time fee and daily hold fees if you can't pick it up upon delivery. (Note: Call ahead to ensure the UPS store in your upcoming destination offers this service).
Can I Camp and Travel in the Winter?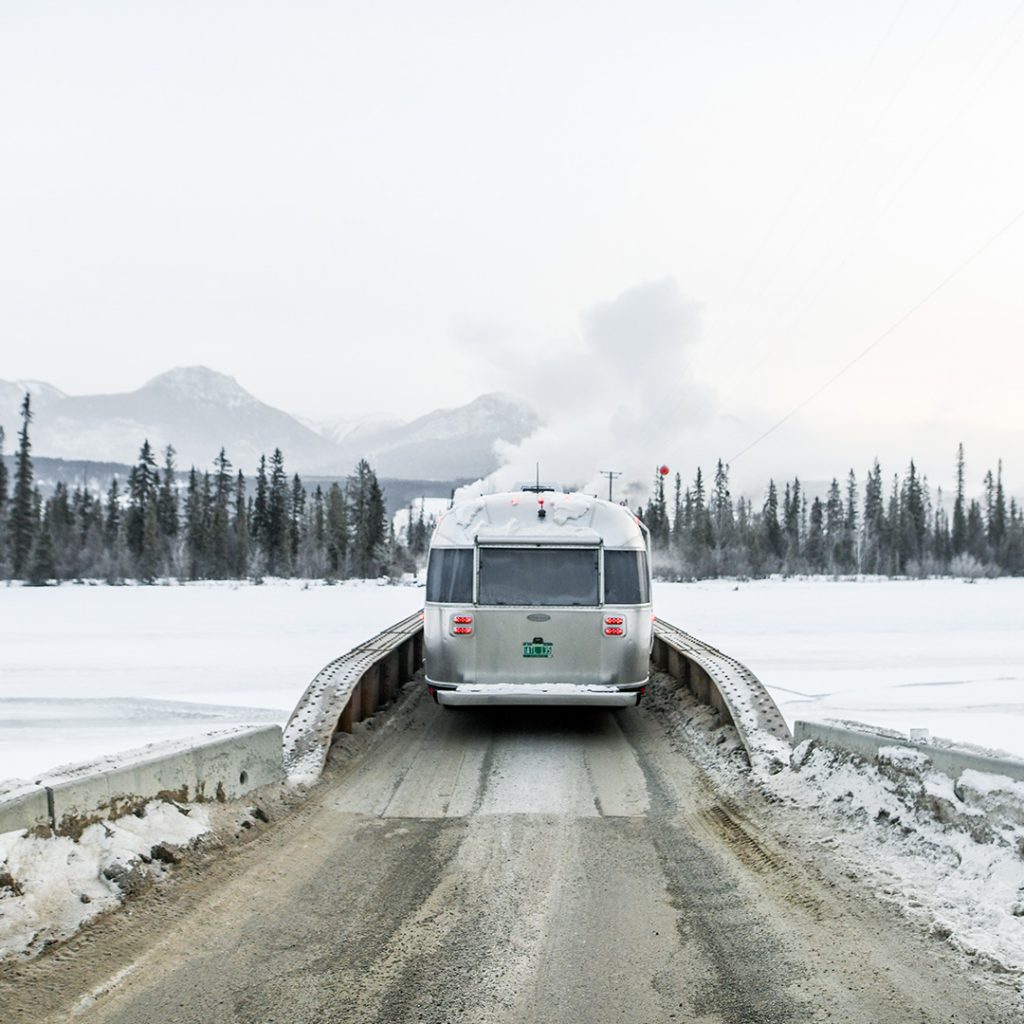 Extreme campers will tell you there's no bad weather, just inadequate gear. If you're looking to camp in the thick of winter – with blustery conditions, frigid temperatures and difficult to navigate roadways – we've got you covered.
Before you hit the road, you need to make sure that you and your camper trailer are ready for the cold weather. Take the time to make sure your travel trailer is properly sealed so you're not losing heat. Add in insulated curtains to keep your rig nice and toasty. While you're at it, pack extra blankets, jackets, and gloves for yourself and fellow campers. Read more winter camping tips here.
From the gear you need to tips and tricks, our Winter Camping Adventure Guide has everything you need to know about staying comfortable and making the most of your trip in winter conditions.
If you're still not convinced and you need some encouragement, get inspired by Danielle and Ryan, Airstream's winter camping experts, as they show you the ropes. Their live and learn chronicles will prove anyone can take on winter camping with a spirit of adventure.
How Can I Navigate in a Big City with a Travel Trailer?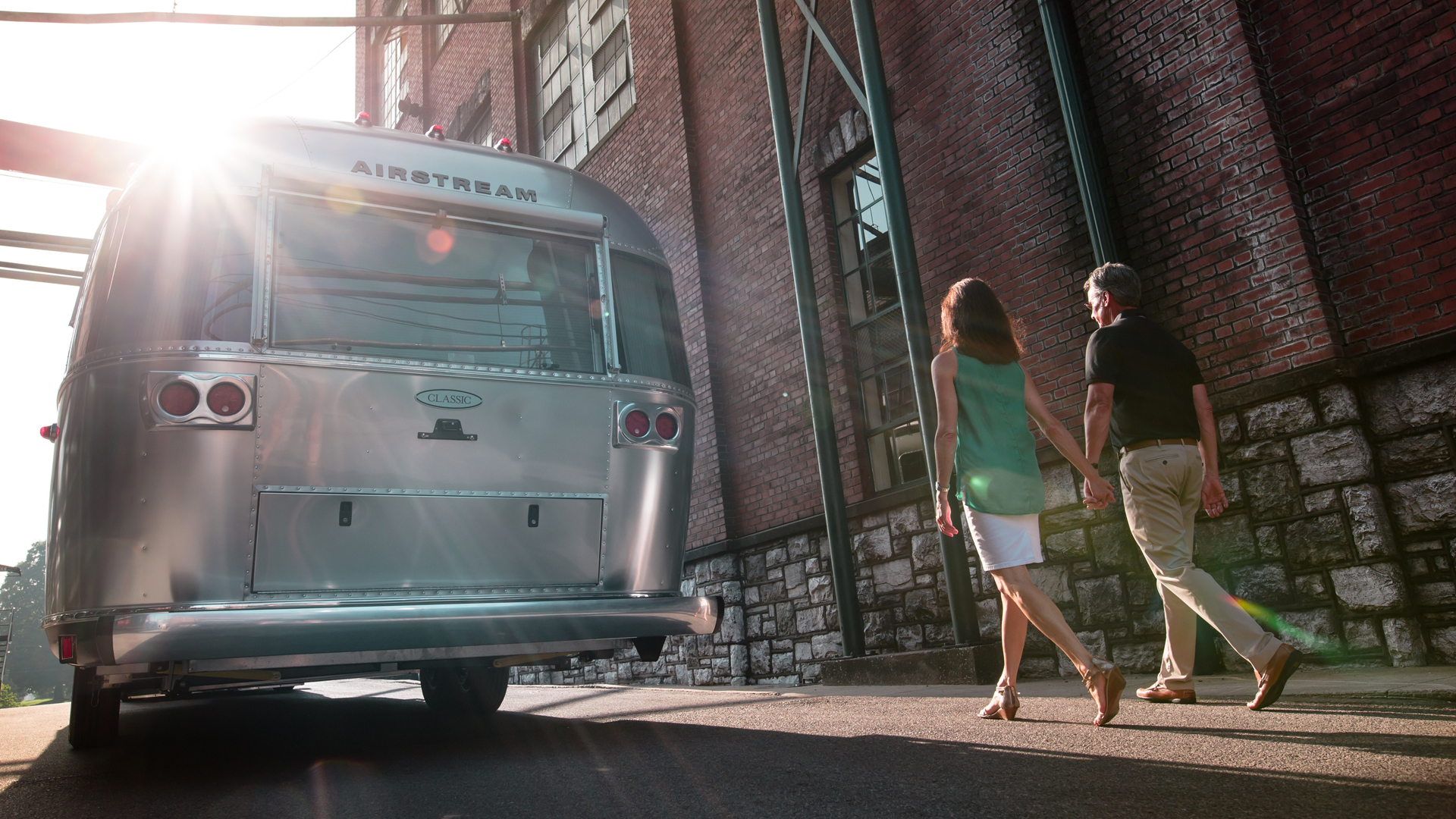 Small travel trailers like the Nest and Basecamp models are ideal for navigating big cities, but even these compact designs face challenges where skyscrapers abound. When the square footage of concrete outnumbers those of grass, and city lights outshine the stars, you might need a little extra help navigating in your Airstream.
Spot Hero, a parking reservations service, allows you to set up camp and venture into the city to pre-arranged, inexpensive parking. From there, those in the know jump on public transportation to see all the sites.
City traveling can be an adventure all in itself. Forget mountainous terrain: With low bridges, road restrictions, and construction, city traveling has its own set of obstacles. With CoPilot Mobile Navigation you'll be one step ahead of any unexpected complications that might otherwise hinder your trip.    
How Can I Save Money on RV Camping Costs?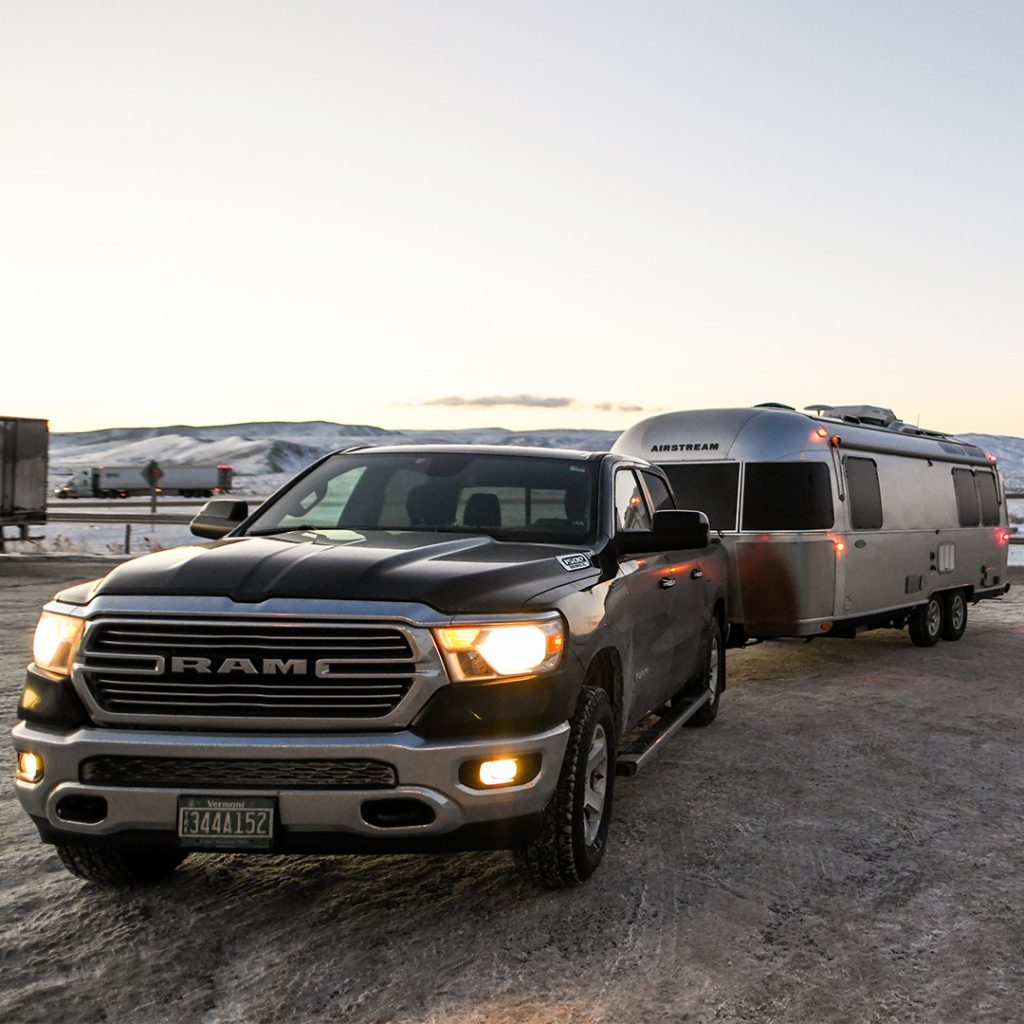 You know you're always welcome in your Airstream at a campsite, but campsite fees can add up, and you can't always get to one when it's time to call it a day. From keeping costs down on cross-country pilgrimages to those unplanned overnights just shy of the final destination, these apps reveal an RV oasis. So before you launch or when you're in a bind be sure to check out Pilot/Flying J (where you'll usually find convenient dump stations and RV accessories), RV Dump Stations database, Harvest Hosts and Boondockers Welcome.
How Can I Work From the Road?
These days, working remotely is the norm, which is simple to do when you're holed up at home during a snowstorm or logging in from the free hotel WiFi on spring break with your kids. But how do you work on the road when you're sightseeing in your Airstream? First step: Be sure to equip your trailer with the Airstream Connected package. Or perhaps the wanderlust lifestyle is calling, but you can't figure out how to quit your day job and follow your dreams. Our Digital Nomad Guide has everything you need to break free from the rigid demands of a 9 to 5 job and make a living and working on the open road a reality.
What Can I Cook in my Airstream?
With a few modifications, some simple tricks and a few choice tools you can cook almost anything in your Airstream. Keeping mealtime simple and relying on "one-dish-wonders" or recipes you can fix and forget in the crockpot while you're out adventure seeking are ideal for being active and eating well on the road. Before you hit the road, make sure your pantry is stocked with kitchen essentials. Check out some of our favorite camping recipes in this blog: Tips and Tricks for Cooking in an Airstream.
What's the Best Way to Stay up-to-date on Current Airstream Information?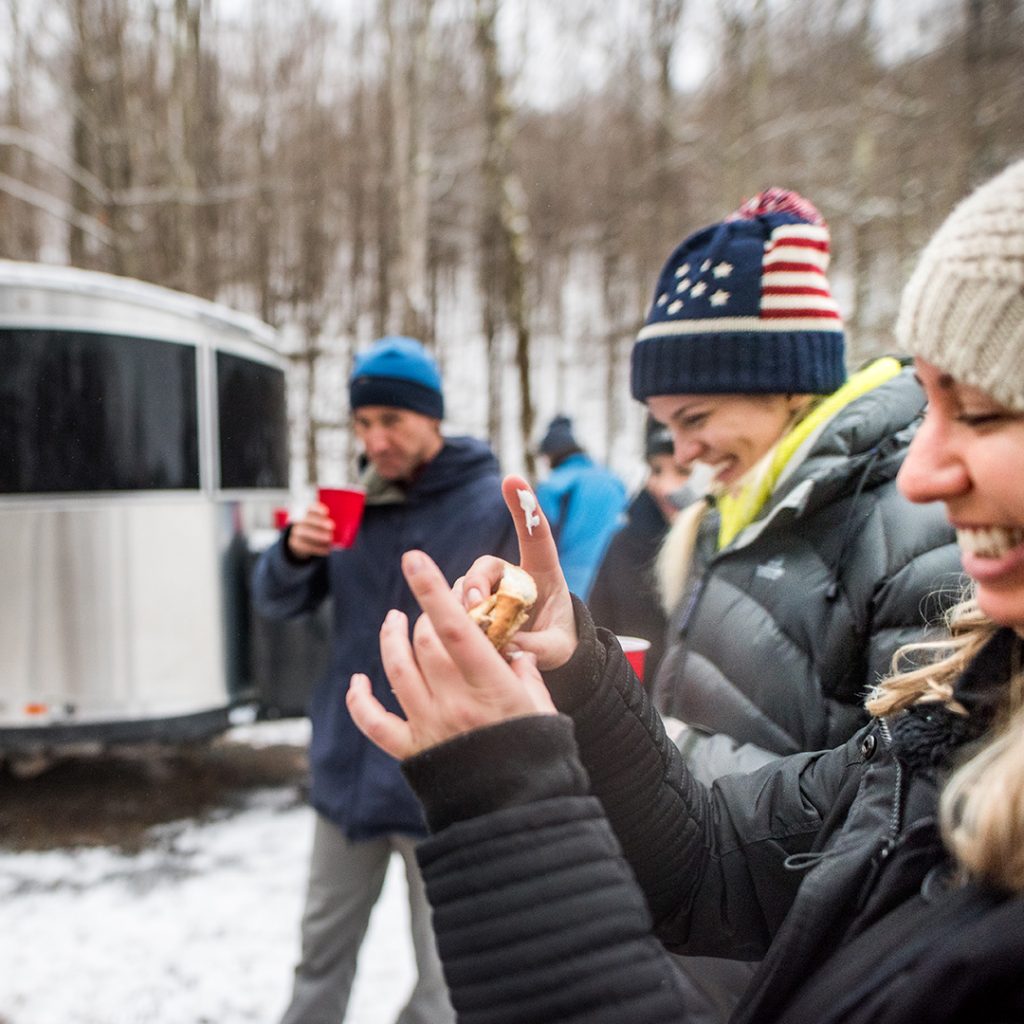 If you own an Airstream, you're automatically part of the Airstream family – a group of people, not connected by blood, but by a deep yearning in their soul to seek adventure. When you're out gallivanting in your Airstream you'll connect right away with other Airstreamers willing to lend a hand, share a tip or connect over a story. But when it's time to pack up the campsite, you don't necessarily have to sever those connections. Air Forums allow you to network with thousands of other Airstream owners from across the globe. Available in print or online, Airstream Life is a magazine dedicated to helping you get the most out of your Airstream. From location and product reviews to Airstreamer profiles, the Airstream blog has you covered with everything you need to know to stay current.
How Do I Make Sure Everything is Ready to Go for my Trip?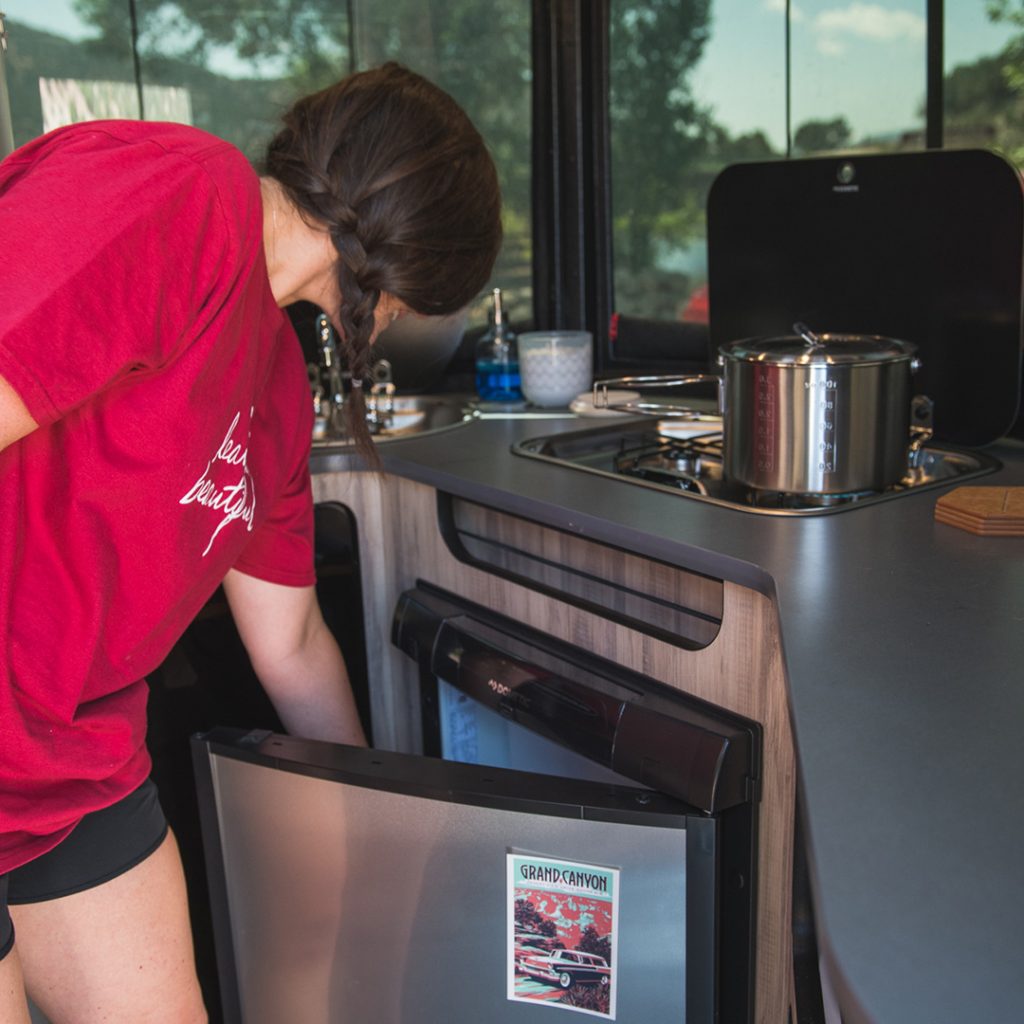 Being ready for your next adventure requires more than a detailed packing list and well thought out itinerary. Making sure your home-away-from home on wheels is maintained and ready for the open road is equally important. With Airstream Care you can track your service and maintenance checks, receive registration renewal alerts and access checklists for your travel. If you find yourself on the road and needing assistance, Coach-Net provides 24/7 roadside assistance for RV'ers and their unique needs.
Before you hit the road, pack your bag full of resources and tips to make your RV experience unforgettable – from helpful apps and the wisdom of Airstreamers who have gone before you – there are plenty of useful resources to make your next road-trip one to remember.