A bright star in the constellation of Chicago's food scene, Chef Iliana Regan's story is as full of surprises as the celebrated food she makes. Now, Regan and her wife and business partner Anna Hamlin are hitting the road with Airstream, charting a new course in a culinary world hit hard by the pandemic. 
It's an exciting opportunity for a chef who's always searching for new ways of telling stories and exploring her creativity through food. Over the course of the last decade, Regan has risen through the ranks of the Chicago food scene. She got her start working in some of Chicago's best restaurants, and for a time ran an underground restaurant in her apartment. In 2012 she opened Elizabeth, a restaurant proper on Chicago's northside. Other restaurants would come and go over the course of the decade, while Elizabeth won seven (and counting) Michelin stars.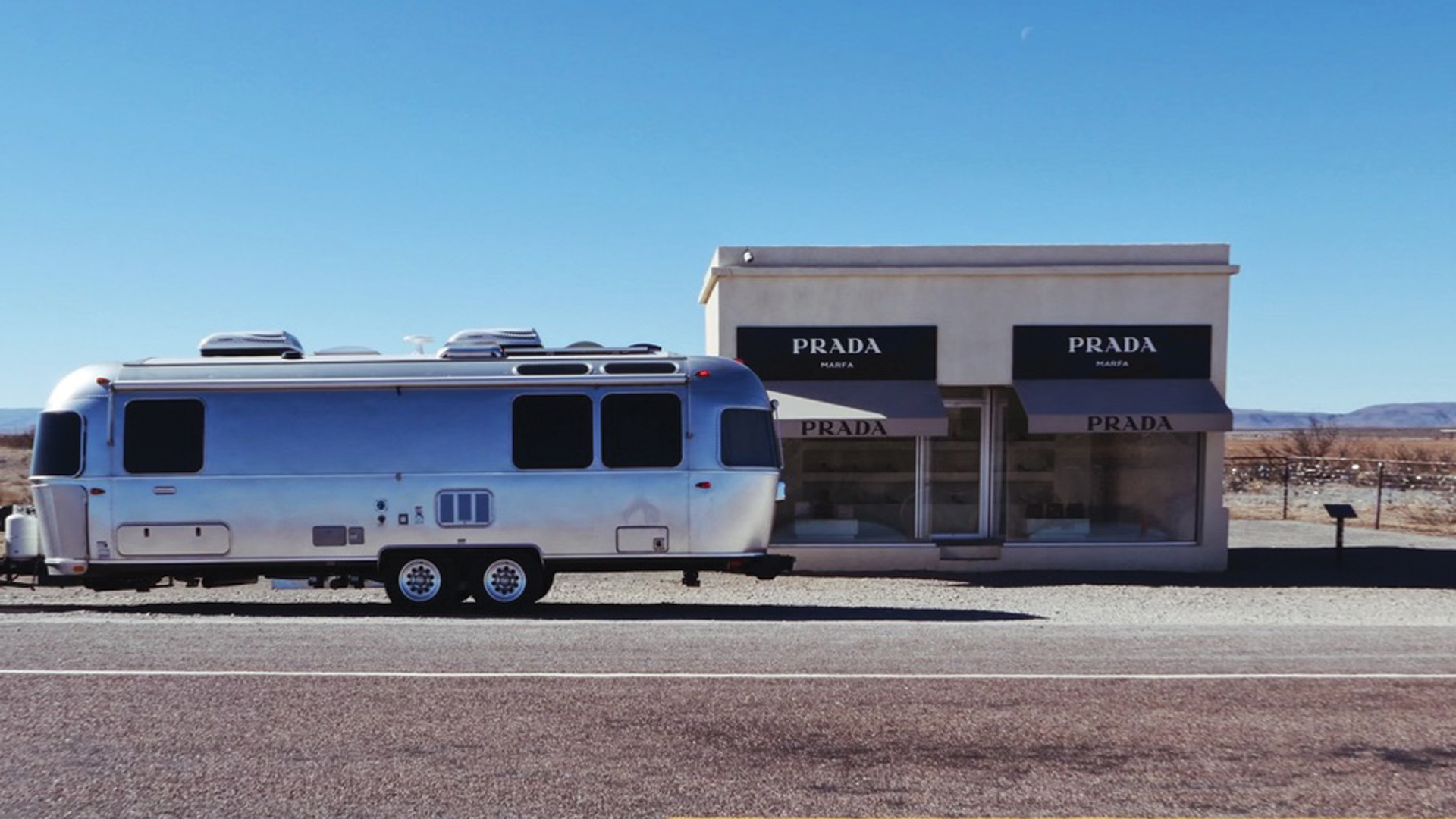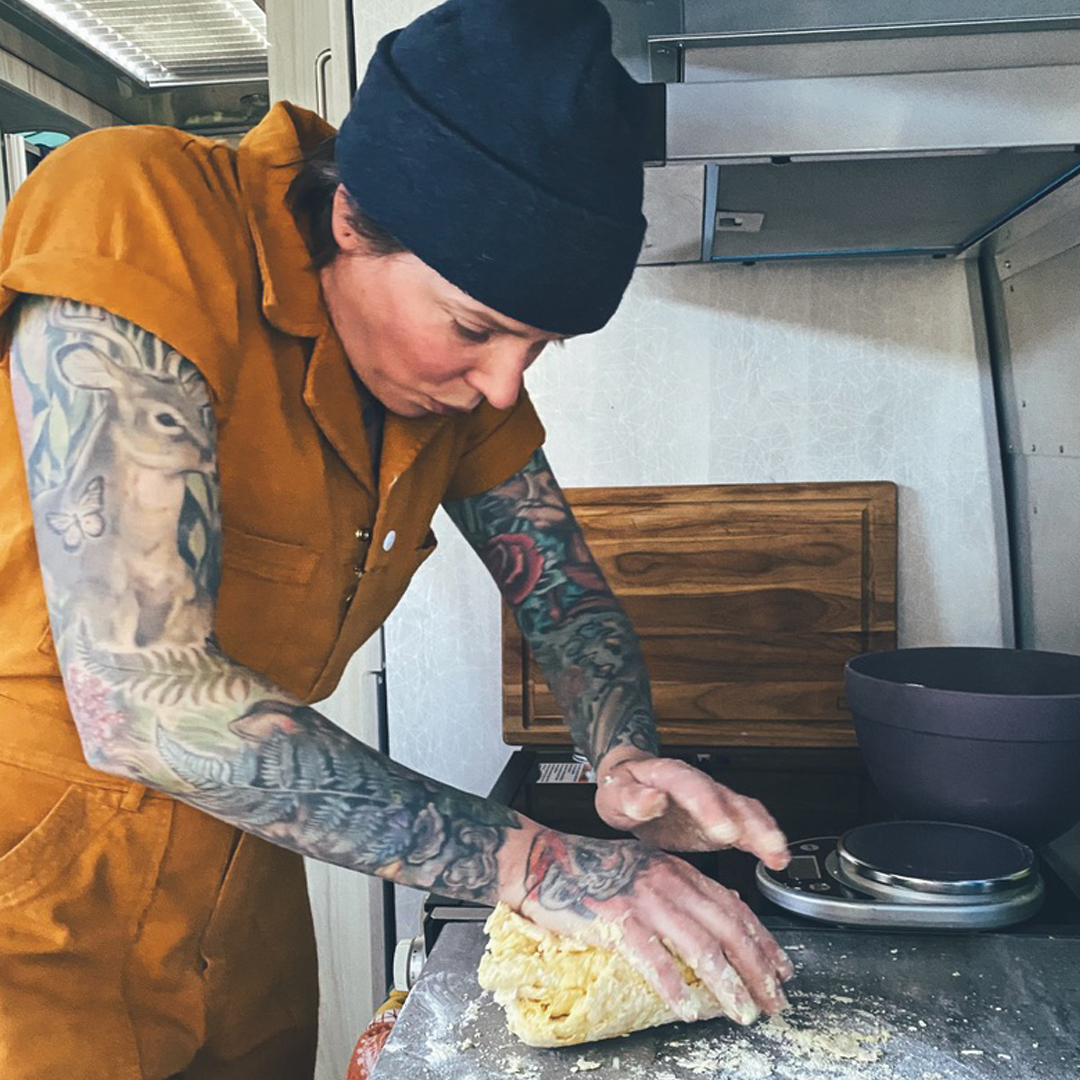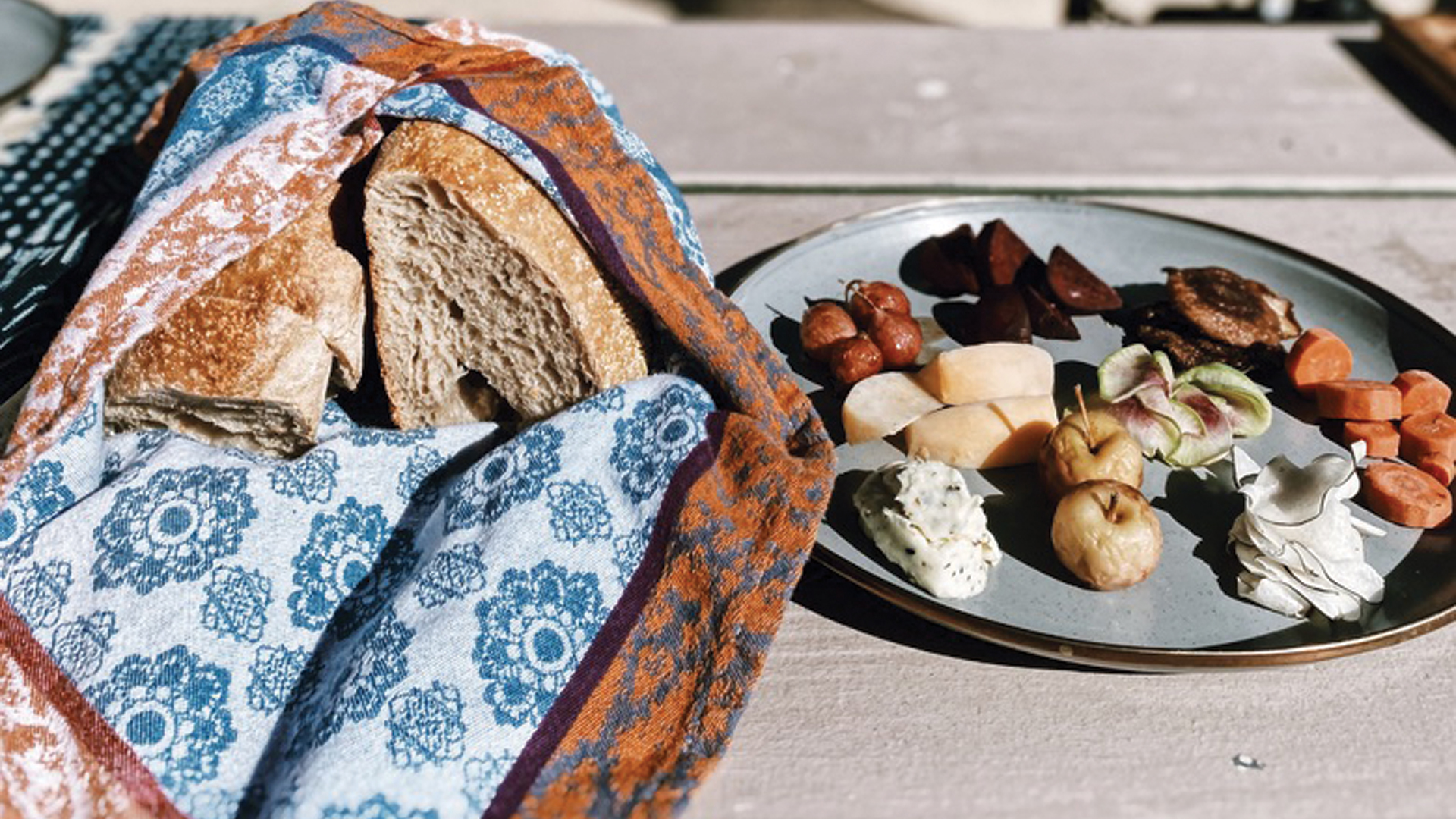 Regan and Hamlin (who is the wine director at Elizabeth) hit the road in an Airstream during the spring of 2018, escaping the increasingly hectic restaurant life. They created a mobile restaurant on the road and hosted exclusive dining experiences in a tent wherever they unhitched, putting together 12-course meals Regan cooked in the galley of their 16-foot Airstream Sport. All the while, the couple plotted their next move, while Regan worked on a memoir. Upon its publication, Burn the Place caught the attention of the literary world. She landed on the long list for the National Book Award – the first time since Julia Child won in 1982 that food writing had been recognized by the award committee. 
"That year (2018) was one of the most busy and exciting years we've ever had, professionally," Regan remembered. "Our experience on the road and cooking off the grid inspired us to start our next project."
Deeper Into the Woods
After returning from their Airstream adventure (and getting married), the couple bought a log cabin in Michigan's Upper Peninsula. The rustic location allowed Regan to focus on her passion for foraging local ingredients from the surrounding landscape, and the couple threw themselves into creating The Milkweed Inn – a remote, culinary destination experience. Over the course of the summer, ten guests come every weekend. They stay spread out across a cabin, a fully furnished wall tent, and the Airstream that previously served as their mobile restaurant. Bookings include all meals and beverages, including a tasting menu of foraged foods from the property – a 12 to 16 course menu with full wine pairings. The food world took notice and reservations sold out two years in advance.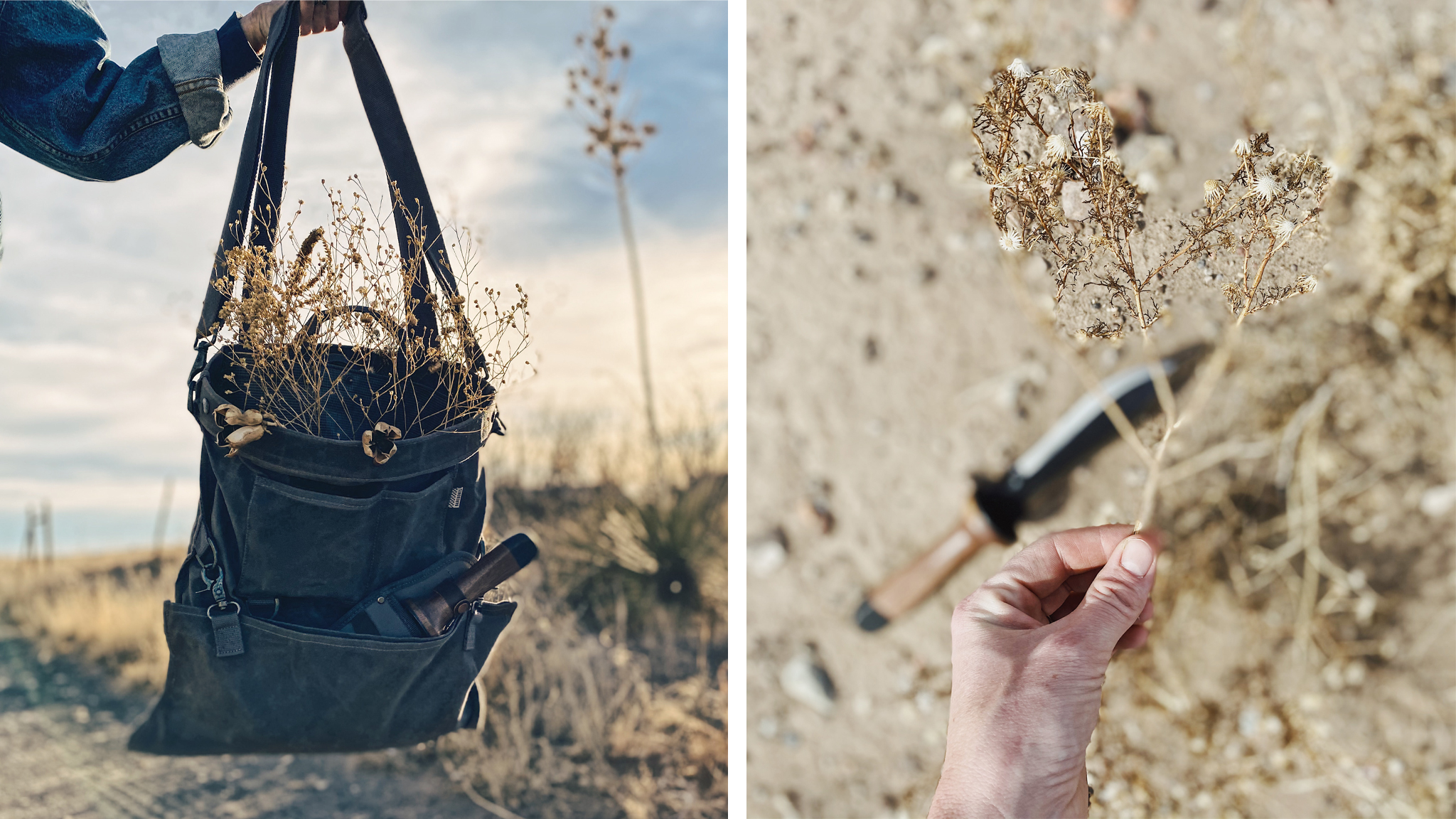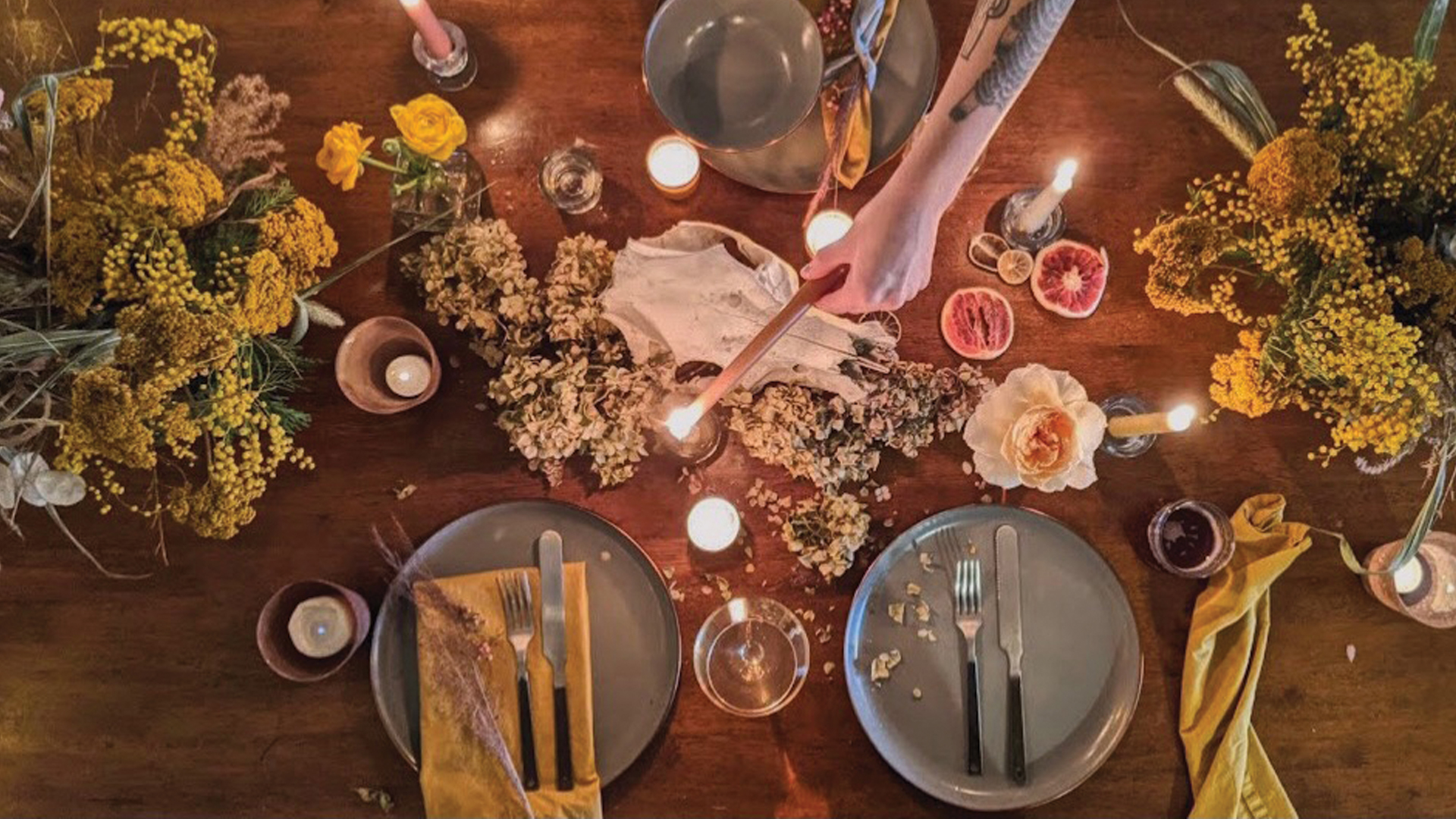 Switching Gears, Getting Creative
But then 2020 delivered a pandemic-sized headache for the restaurant and travel industries. Like many in the restaurant business, Elizabeth got creative. They shifted to a take away menu of multi-course meals, and they've found success in that structure. But when the restaurant's round of PPP ran out in July, they had to lay off two front of house staff. 
At Milkweed, they shifted all reservations up a year. And then Regan and Hamlin found themselves in a unique position. 
"We just needed something to focus on again," said Hamlin. "COVID decimated our day to day schedule for almost a year now. It completely changed everything for us."
Now, Regan and Hamlin have hit the road in an Airstream International 27FB Twin – bigger than their 16-foot Sport and much more accommodating for a world-class chef who also is working on a Masters Degree in creative writing and teaching cooking classes online.
"Coming off of the busiest years of our life, it was devastating to come to a full and grinding halt," Regan said. "This trip with Airstream has been a way to challenge ourselves in new ways – it's been essential to us. We are the type of people that need to be constantly moving and creating."
Their goal initially was to return to their mobile restaurant roots, with small, intimate gatherings where Regan would cook out of the Airstream galley and Hamlin would supply the wine pairings.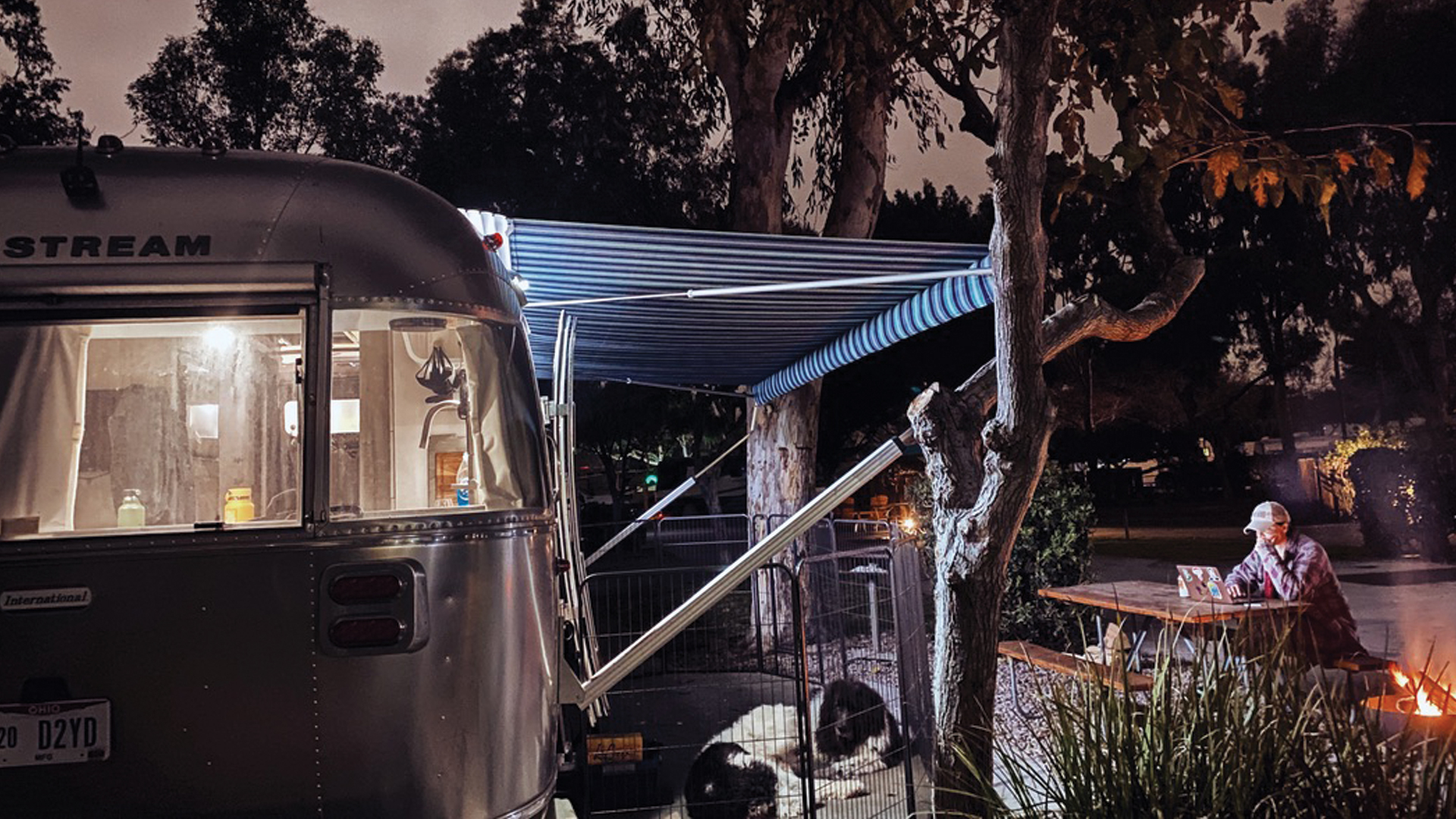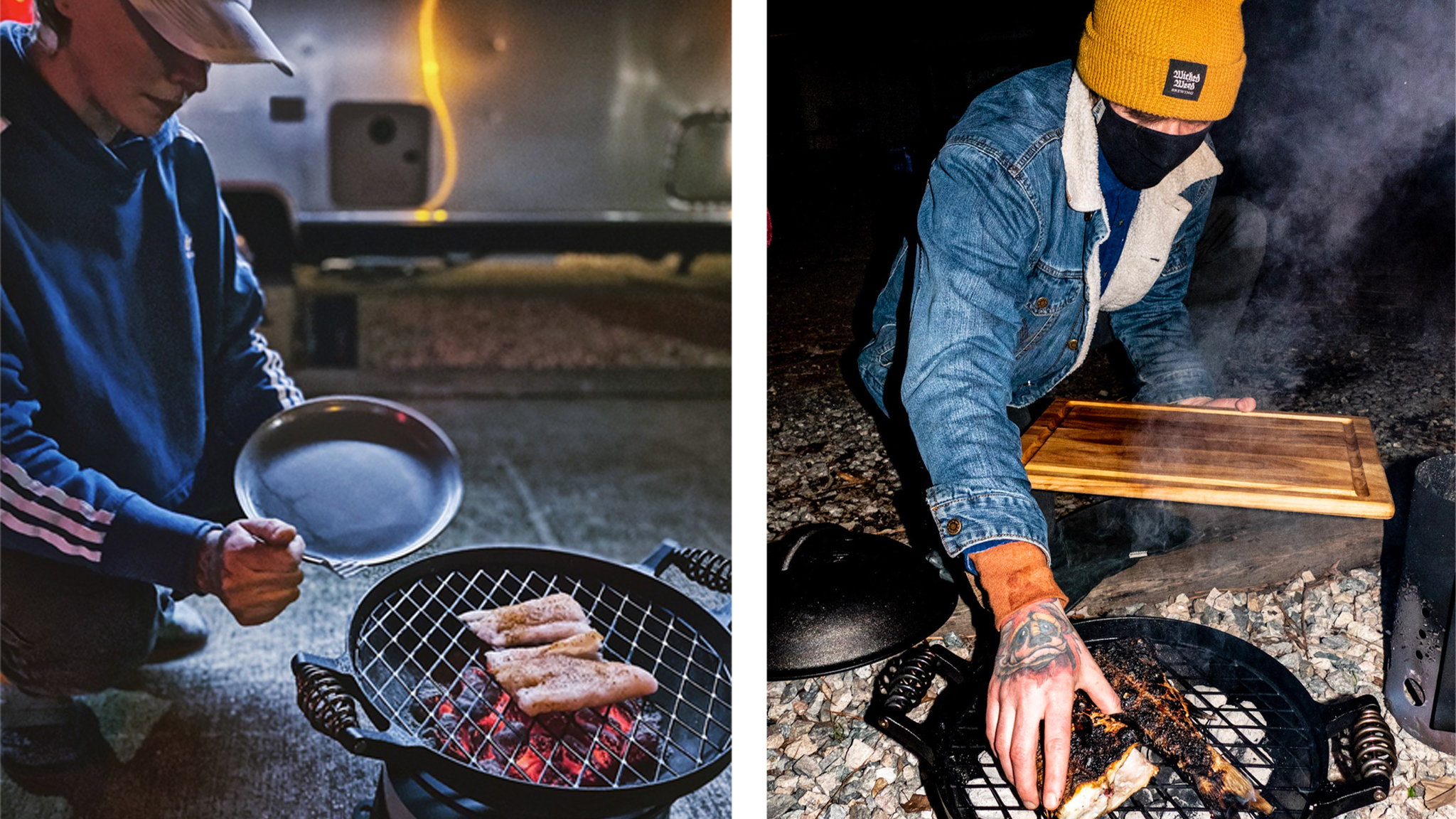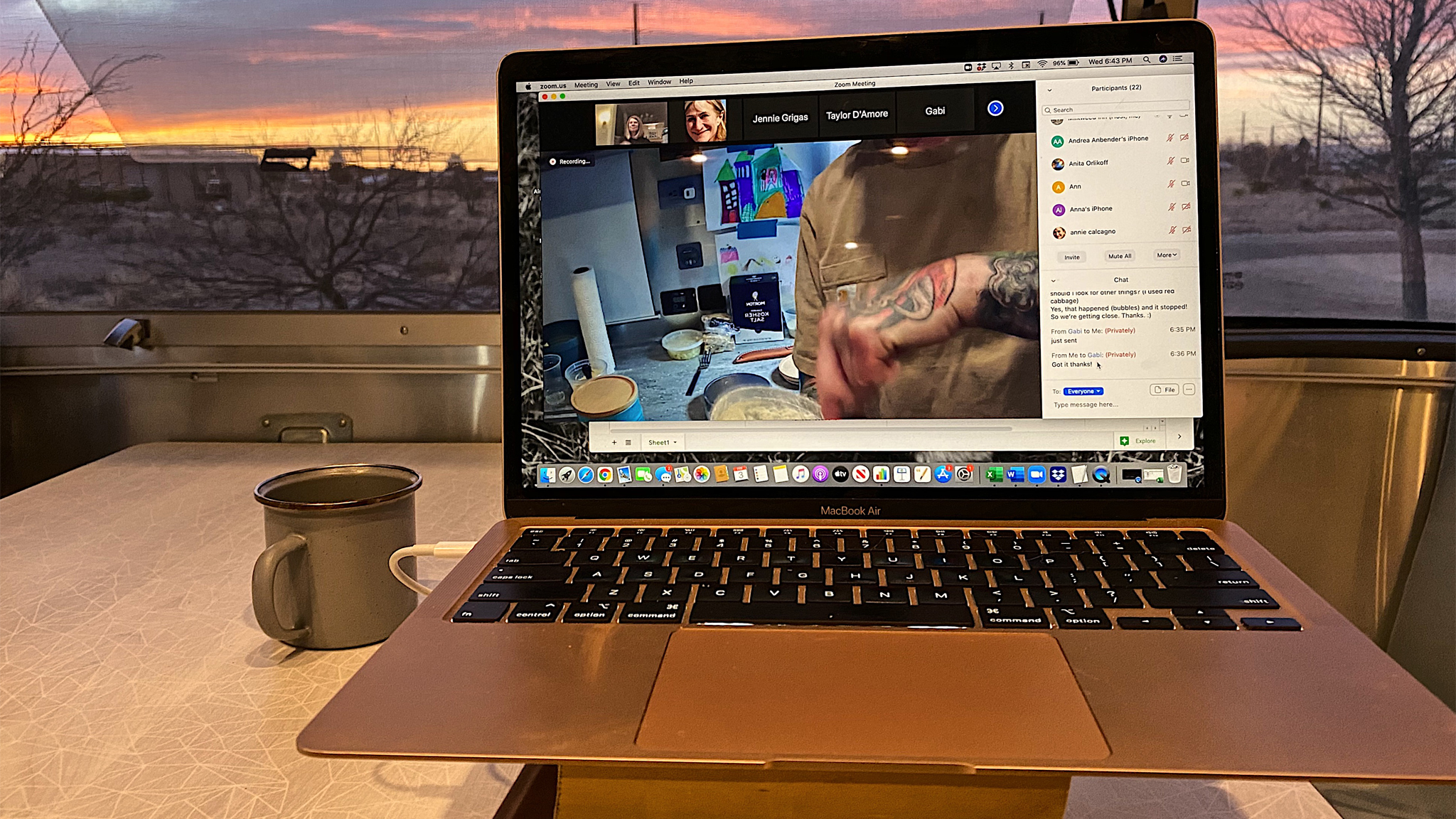 "It seemed safer," said Hamlin, who is immune compromised. "For me, this is the only way to travel. You're completely self contained, and you don't even have to go into gas stations if you don't want to. You just carry food and water in the camper."
By the time they hit the road, though, the situation had worsened, and they decided to scrap the mobile restaurant in favor of a work-from-anywhere mindset. With a following of fans who tune in to online cooking classes, Regan took her cooking show on the road. The four-week classes are held every Sunday and cover topics from building a pantry and wine basics to bread, pasta, and desserts. They focus both on kitchen techniques, as well as cooking over the fire using cast iron cooking tools and grills from Barebones. It's an incredible way to connect with a world-class chef for cooking instruction. Along the way they've researched and sourced local markets, wine shops, and grocers to feature in their classes. 
"Class was the answer to our problem," said Regan. "Everyone in the service industry has to adapt in the era of COVID. We've done our classes for years, but doing it from the road over Zoom added an extra layer of interest to the whole thing. We'd be in Savannah teaching food and wine 101, and then Austin teaching pasta and Italian wine."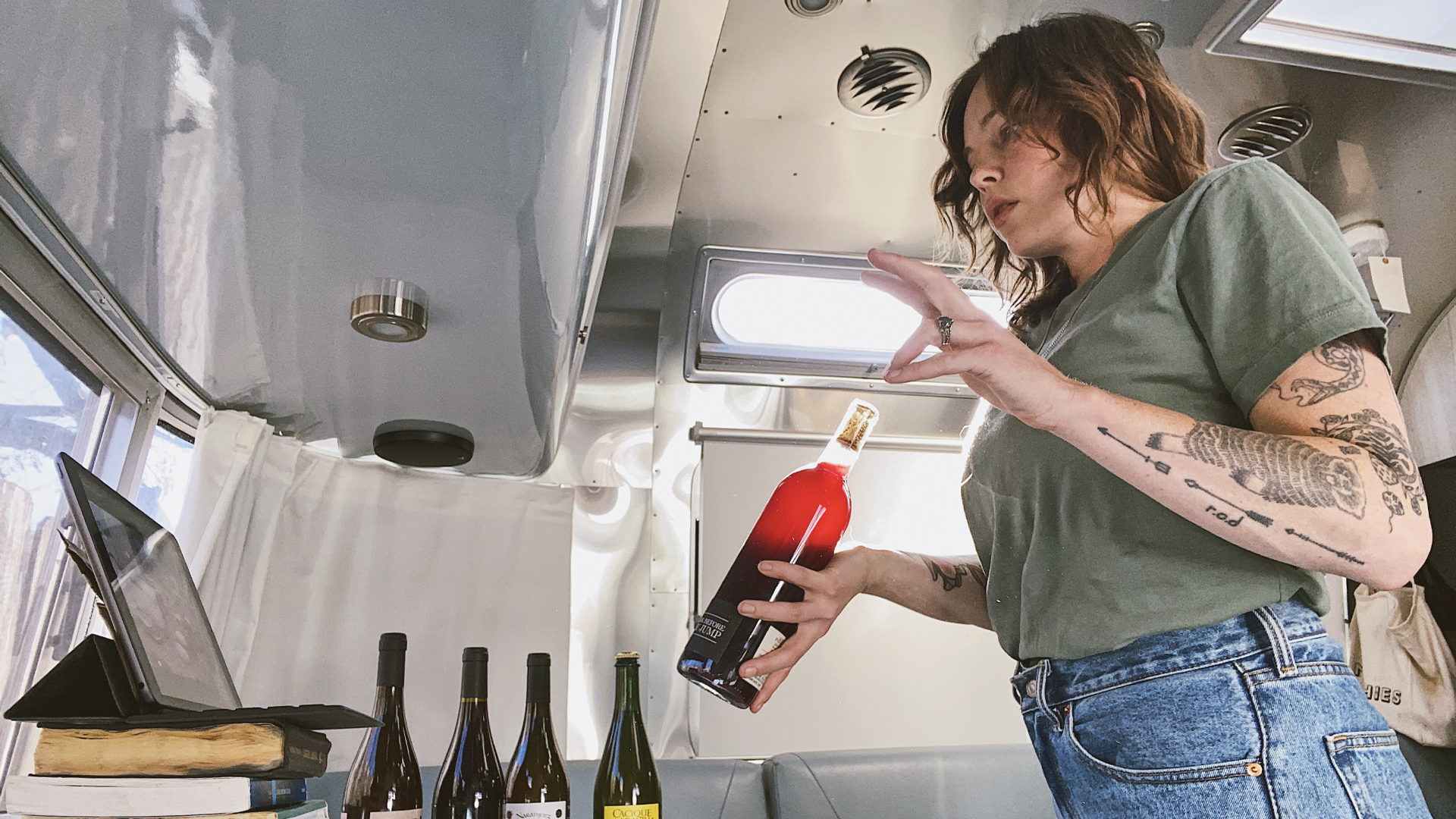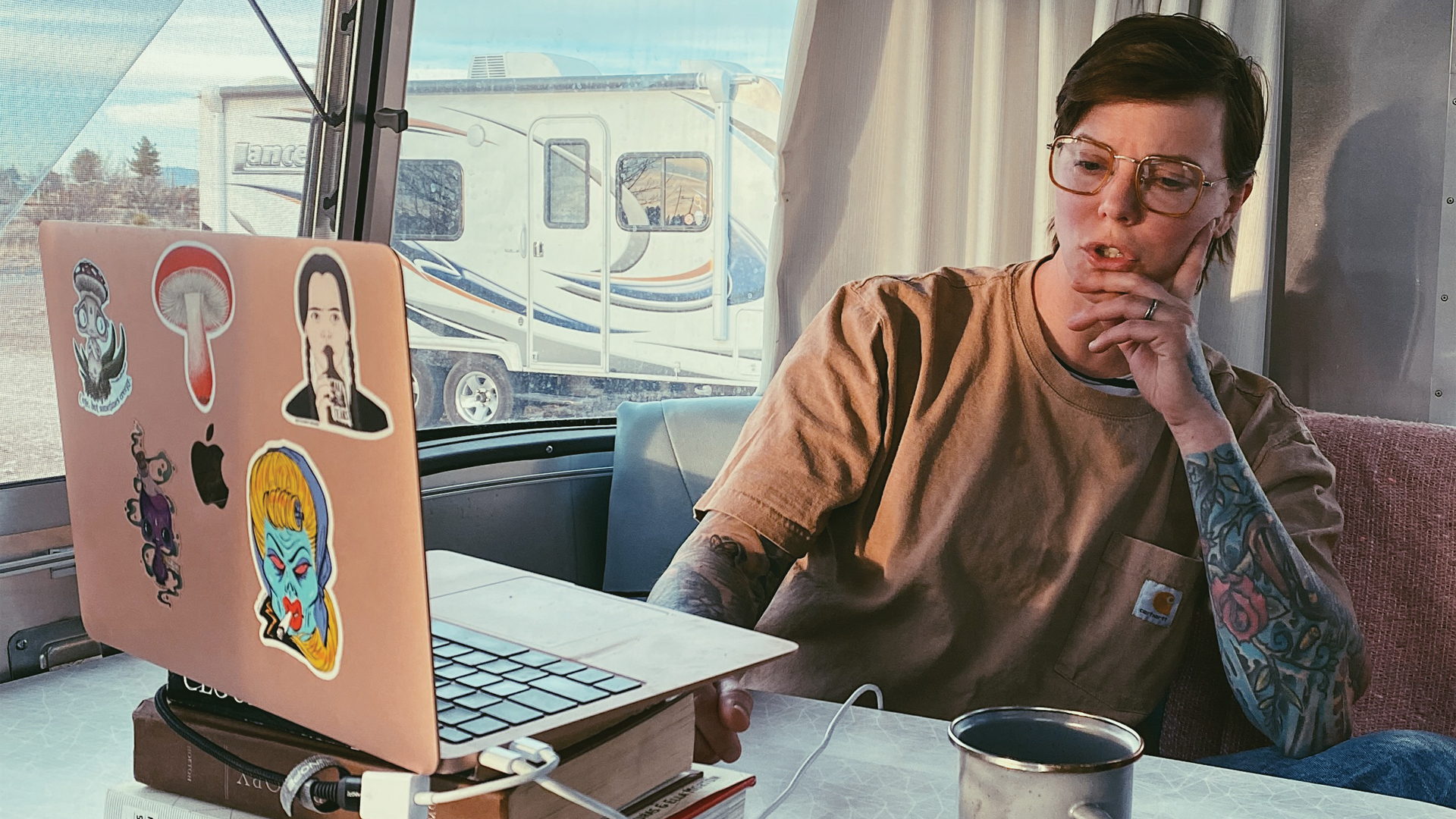 While the future is uncertain, the present is full of creativity and exploration, for a couple who seem continually ready to chart new courses. 
"We would love to come back to our original idea of a touring fine dining restaurant," said Regan. "But for now, seeing the country and connecting with people on video, using our skill sets to teach them new things – it's the dream."
Stay tuned for more dispatches from Iliana's and Anna's adventures in an Airstream, as they bring recipes, insights, and stories of cooking around the campfire and living the Airstream dream. Sign up for Airstream's monthly newsletter, The Rivet, and never miss a story.
Sign Up for The Rivet Newsletter
Learn more about the features inside and out of the International travel trailer.
Shop incredible outdoor gear – like Barebones cast iron and kitchenware – and Airstream essentials at Airstream Supply Company.