In 2002, dull, routine mid-life suddenly sparked and sparkled again when stage left from Las Vegas entered a woman of a certain age named Ruby. Here's the story of how we got hitched up.
Life was calm and composed that March when quietly there appeared in my inbox a message seeking a valuation and possible buyer for an old Airstream trailer. The three photos accompanying the email showed a dusty old girl long ago parked in the shade of a carport.
Though a bit thick around the middle, her rivets were tight and orderly and kept her well pulled together. Her black cast bronze deco jewelry proudly proclaimed AIRSTREAM on her side and across her full and well-rounded rear. But a quick look at her curbside window revealed this lady had been around the block, and more than once, to hideaways named Bryce, Zion and Death. She soared on Boulder Dam then plunged to the depths of the Grand Canyon. She was even seen in (gasp) Ensenada! What sordid and storied past did this grand dame have? What baggage did she still carry with her? I was driven to find out.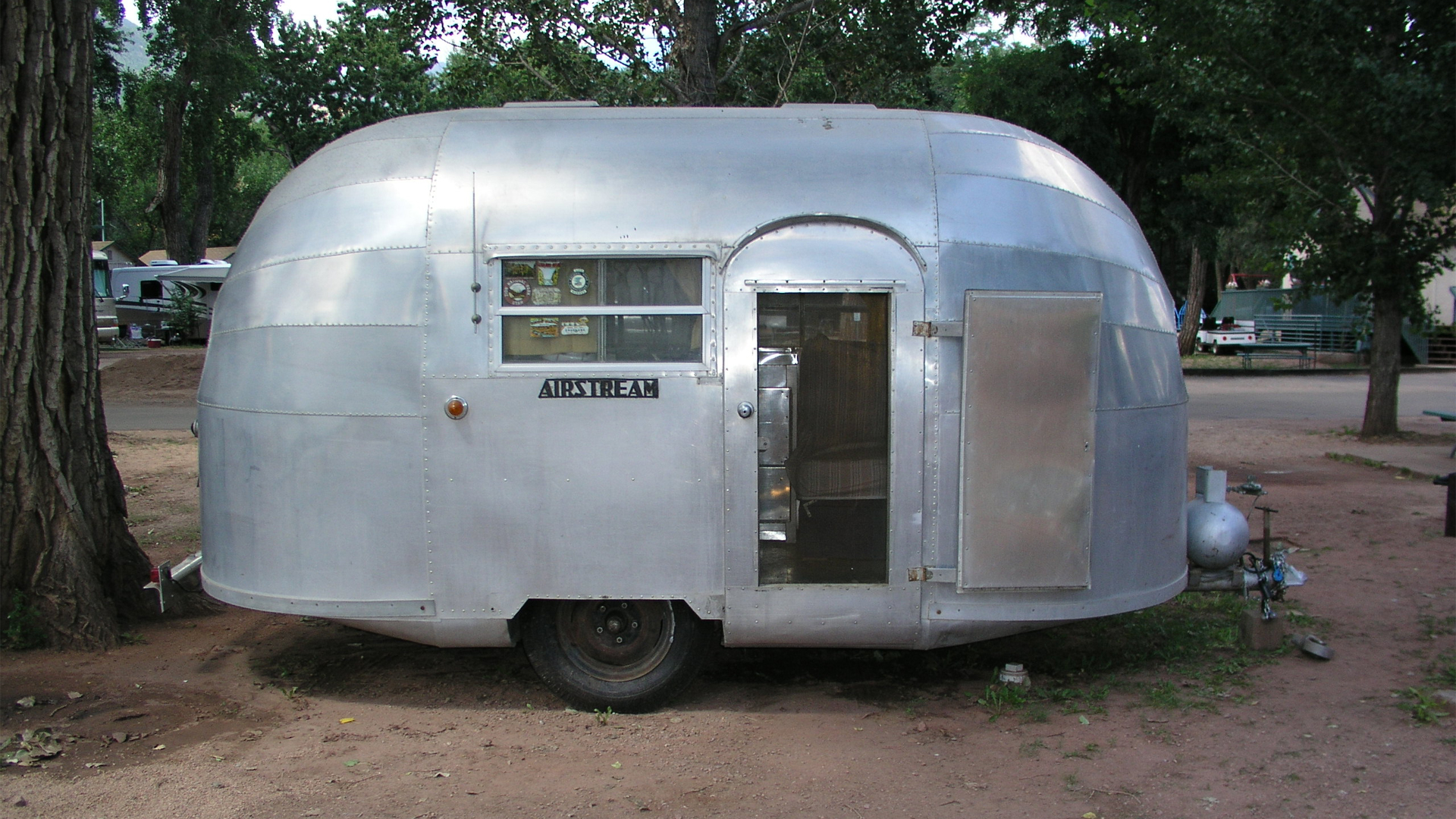 I replied to the email and sent them website addresses for VAC Rally Reports showing similar vintage trailers on display and for R.J Dial's Airstream price vs. value website.  I also included an expression of interest by me and an offer to take care of this old gal. Their plans for her uncertain, her caretakers demurred but promised to keep me in mind. Long story short, six months later they accepted my offer to purchase the Airstream. Quickly, it was off to Las Vegas to see how much trouble I had bought.
I arrived at 9:15 p.m. when the caretakers were working at their casino jobs. Her door was unlocked so I cautiously entered. In the dark I could barely see some uninspiring upholstery that looked more like mattress ticking than fabric. But then I remembered: her recent owner Ruby Mann grew up in the slipcover generation, so I lifted the bottom of the cover and discovered a deep rich royal blue waffle pattern fabric on the side of the bedsprings. Lifting further, I could barely see a cream and blue cushion top that was far more cheerful than the dull slipcover. Encouraged, I returned to my truck and went to sleep, dreaming of aluminum sugarplums.
The next morning I inspected her in greater detail in the daylight. Ruby is a very early Airstream Liner, which had two semicircular round ends until 1950, when optional flat front ends began to appear. She is a 16' long 1948 Wee Wind, the shortest Airstream made in the late 1940s. Her serial number 3003 told me she was the third Wee Wind built. She was in excellent unrestored original condition and was kept and maintained that way since new, with minimal repairs only as necessary.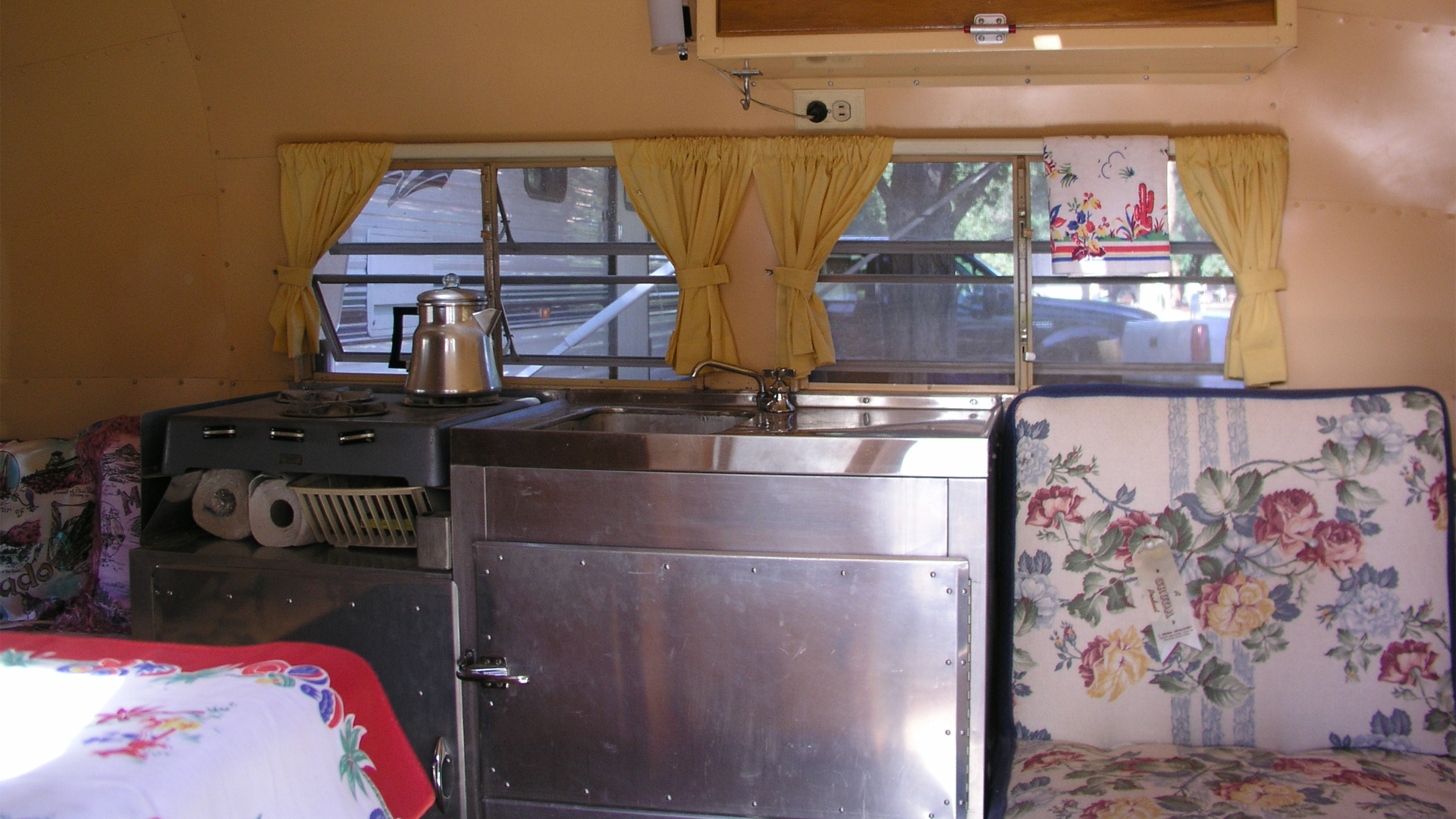 Many of her exterior features appear only on 1947 and very early 1948 model year Airstream trailers. The large, 1-inch diameter exposed thread jack in the front of her frame must be kept greased for smooth operation.  However, that made it a magnet for dirt, grit, and the owner's clothes. This exposed screw jack was soon replaced in production by a Marvel jack with an enclosed mechanism that kept both itself and the owner much cleaner.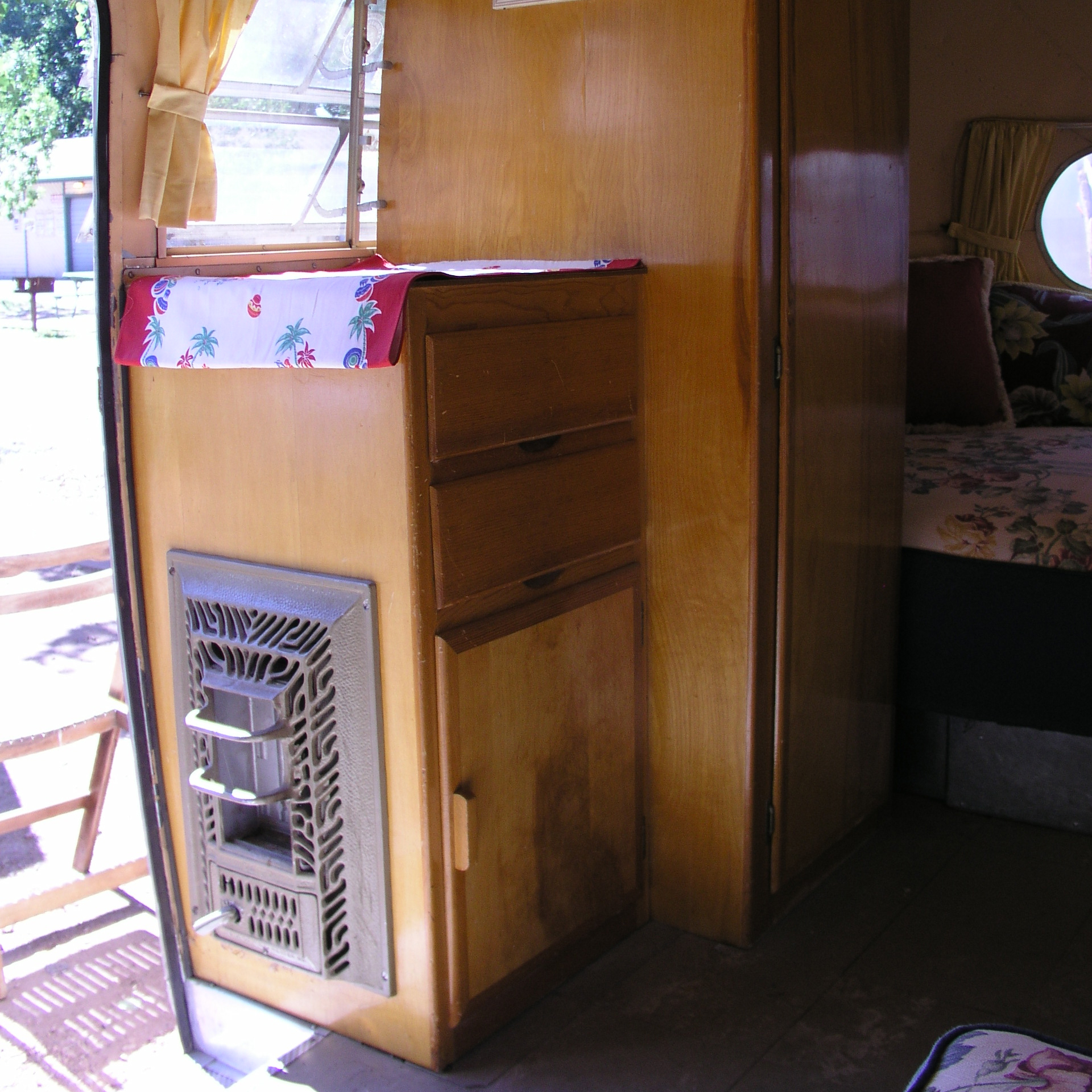 Ruby still had her original butane tank up front, stamped with build date January 8, 1948 by her manufacturer, Butane, Ltd., 1804 South. Main Street, Los Angeles, Calif. That business was located about 35 blocks away from Airstream's only factory at 1755 North Main St., Los Angeles, Calif. This early January build date suggests Ruby likewise was built in the first two months of 1948.
The hinges for the inner and outer doors were small thin aluminum "C" channels across the doors, the earliest type of Airstream post-war door hinge. They were soon replaced in later production by taller and stronger flat metal straps. Ruby's two roof vents are hinged on their front ends so open only toward the rear. These were soon replaced by the Hehr no-draft roof ventilator that opens fore, aft or evenly upward. Black painted cast bronze AIRSTREAM name plates from before World War Two add a distinctive deco flourish to her curb side and rear end.
Her double frame rectangular side windows were commonly used on Airstream Liners from 1947 to 1950. They were made by Air-O-Lite Window Co., 832 W. Fifth St., Los Angeles, 13, Calif., another local manufacturer. Ruby's windows still have small red factory decals on the inside vertical center ribs that succinctly instruct the user to "open upper first/close lower first". 
Ruby has the early center-pole frame that was used on 1947 and 1948 Airstream trailers. It is a sufficient but not robust design comprised of a 1/8 inch thick, 4-inch diameter seamless Shelby pipe running front to back down her centerline. Thin 6 inch deep "I" beams stretch perpendicular off each side to support the trailer body. These early "I" beams were back-to-back "C" channels formed from .051" thick aluminum stock and riveted together.
The low combined 1,200-pound weight of the trailer and its simple furnishings made such a lightweight frame practical, though marginal, for these early Airstreams. The 1947-48 center-pole frame was strengthened in 1949 by adding an interior 3-foot long doubler pipe inside the front three feet of the center pole to reduce flexing and cracking. The axle subframe side rails to which the spring hangers were attached was extended in 1949 to go forward of the door, strengthening support for the floor by reducing the rotational flexing that caused floor tiles to crack along the seams of the plywood floor. This last measure purportedly cured door misalignment, an ailment not suffered by Ruby, although with her the shorter side rails the floor tiles have cracked from body rotation along the plywood floor front seam.
The trim strip that wraps around the bottom of Ruby's front and rear semi-circular ends is a very shallow "C" channel that appears to be a solid strap. The rear underbelly skin still has factory workmen's chalk marks showing where to screw the trim strip into the body side, revealing Ruby was not used much at all by her previous owners. Her leaf springs have no shock absorbers, which were later added as standard equipment on 1949 Airstreams. Her wheels are the same one-piece stamped steel 16-inch diameter wheels used on Mercury cars, and wear four-ply 600-16 tires. One 1955 date-coded B.F. Goodrich Silvertown 600-16 tubeless tire that was still mounted to Ruby's street side wheel when I bought her in 2002 likely was installed that year for the Mann's move from Los Angeles to Las Vegas, discussed below. I installed newer 600-16 tires since then to tow her to vintage Airstream events in Colorado.
Ruby's interior has been very well preserved. The front single and rear double bed each have mattresses with full arc circumferences. Ruby was manufactured before shallow storage compartments were added as a standard Liner feature underneath the front and rear oval Plexiglas windows.
The front 3-foot deep single bed and the rear 4-foot deep double bed each have plywood boards on the bottom, supporting their spring cushions. The beds rest upon very light aluminum horizontal stringers, and each bed can be raised to access more storage underneath. There is an aluminum storage drawer under the rear bed, but none up front.
A two-foot wide upholstered chaise sits between the galley and front bed. Moving it toward the center of the trailer and pulling its back forward releases a catch and allows the chaise back to be lowered level with the front seat cushion. When so positioned, the chaise forms an extension to the 3-foot deep front bed that easily accommodates two supine people. It's ability to sleep two in the front bed and two in the rear bed leads me to conclude Ruby has the un-illustrated "sleep four" floor plan.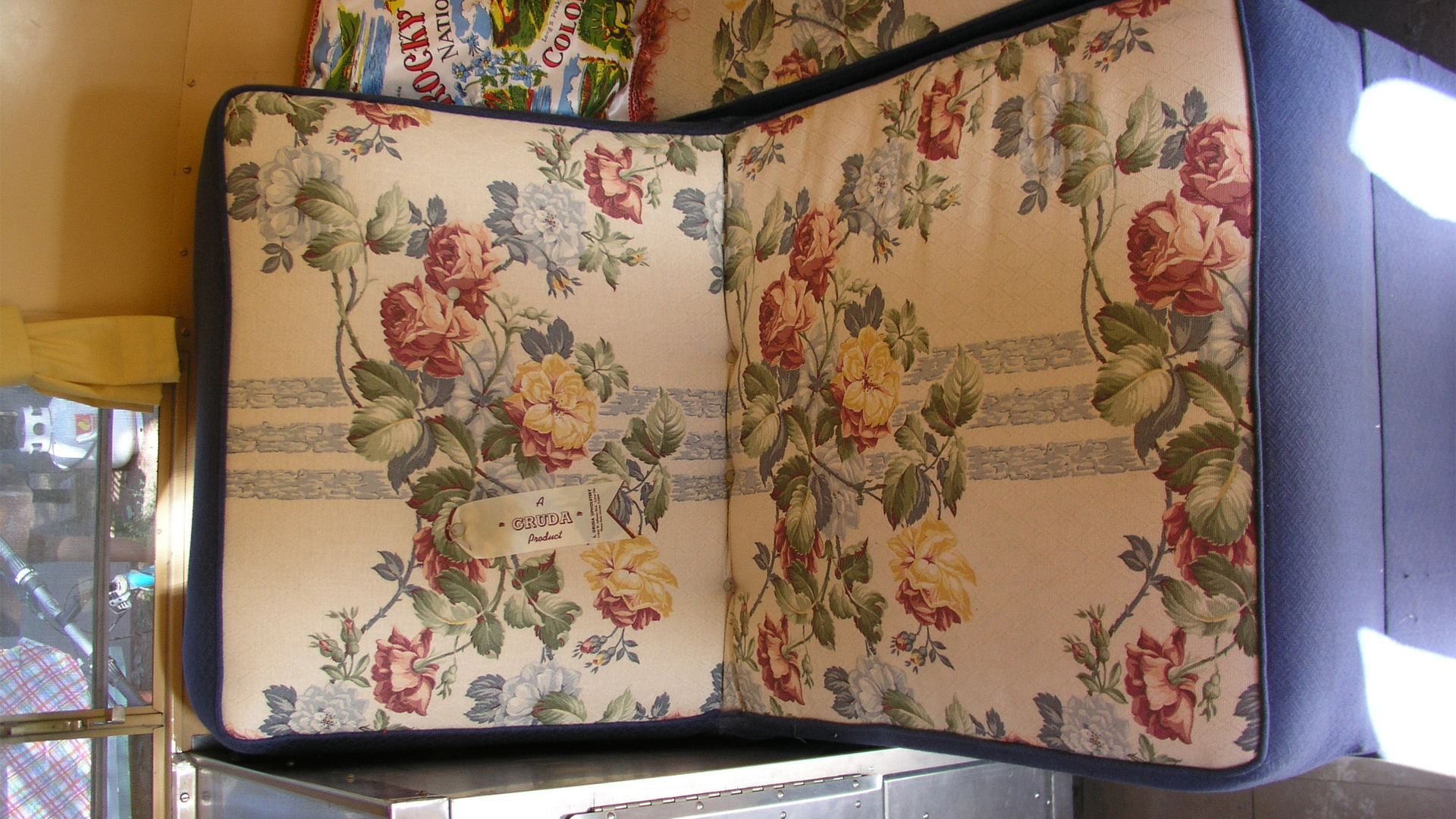 Mattress ticking slipcovers on the upholstery have kept the blue, white and yellow rose pattern seat fabric crisp and clean during the past 74 years. The overall little used condition of the interior yellow/ buff paint, cabinets and galley suggests the upholstery fabric is original, confirmed by the dated upholstery materials tags stapled to the bottom of the front cushions. Miraculously, the chaise still retains a button-held ribbon identifying it as a "Gruda Product" made by I. Gruda Upholstery, 11844 W. Jefferson Blvd, Culver City [Calif.], phone Santa Monica 7-3404. I imagine they manufactured many of Airstream's early upholstered furnishings. This upholstery tag dated 2-26-48 is stapled to the bottom of the front seat cushion.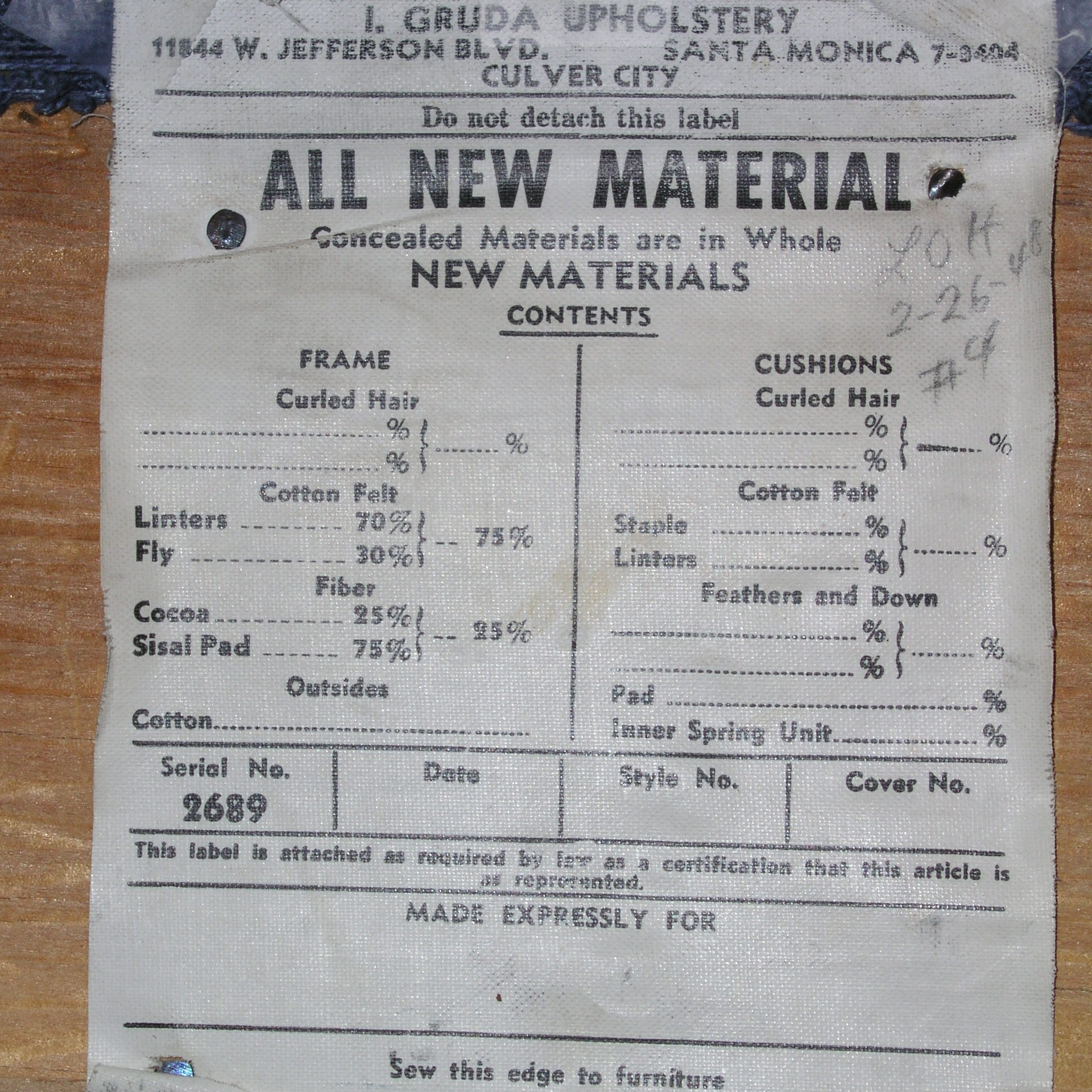 Attached to the entry side of the small curbside chest of drawers is a visually busy Elite model unvented propane heater made by the Deluxe Wall Heater Co. (no address given). Three ceramic heating inserts were found carefully wrapped in newspaper inside the rear bed drawer. Neither the wood chest of drawers nor the wood closet has any manufacturer name plate or identification, but they were likely built for Airstream by a nearby woodshop. A curbside radio antenna with a long lead-in permits a radio to be placed and played on top of the chest of drawers or wardrobe.
The three-burner butane stove top is made by Hansen Burner Products, Inglewood, Calif. It rests on two full depth "P" shaped brackets that leave a 4 inch space underneath the stove top to store cookware. The sink is riveted in four places to the galley top and is served by a single cold water faucet that attaches to an outside pressurized water hose. There is no water storage tank or hand pump in Ruby. There is no manufacturer name plate or identification on either the Monel galley countertop or the aluminum kitchen galley.
Nevertheless, the sheet aluminum specifications "ANC ALOCA .032" I "ALCAD 24S-T" printed in red ink on the inside of the galley storage compartment door below the stove top are identical to the sheet aluminum specifications for her body panels. This strongly suggests the galley base was built in-house by Airstream. The long horizontal ice box and another storage compartment reside below the Monel metal galley top.
The overhead storage bin lacks any device to hold its wood door open in a raised position, so the former owners bent a small rod that went through a hole in the ceiling and curled around the latch to accomplish that important task. A 120 volt AC unbranded translucent plastic light fixture mounts to the overhead storage bin above the sink, complimenting identical fixtures at each end of the trailer. A sturdy hook on the bottom of the galley overhead storage bin awaits a liquid fuel lantern to provide illumination during remote camping away from 120 volt AC electricity.
Ruby was purchased new from Airstream by Harry and Ruby Mann when they lived in the Los Angeles area. Ruby Mann often mentioned to her nephew how proud she was that she owned the third Wee Wind built. Her husband, Harry Mann, was a famous sportsman of the 1940's and 50's. The couple hobnobbed with the rich and famous. Harry was an authority on and collector of vintage firearms. While in Los Angeles, he advised many famous people, including numerous movie stars, on firearm purchases and sporting matters in general.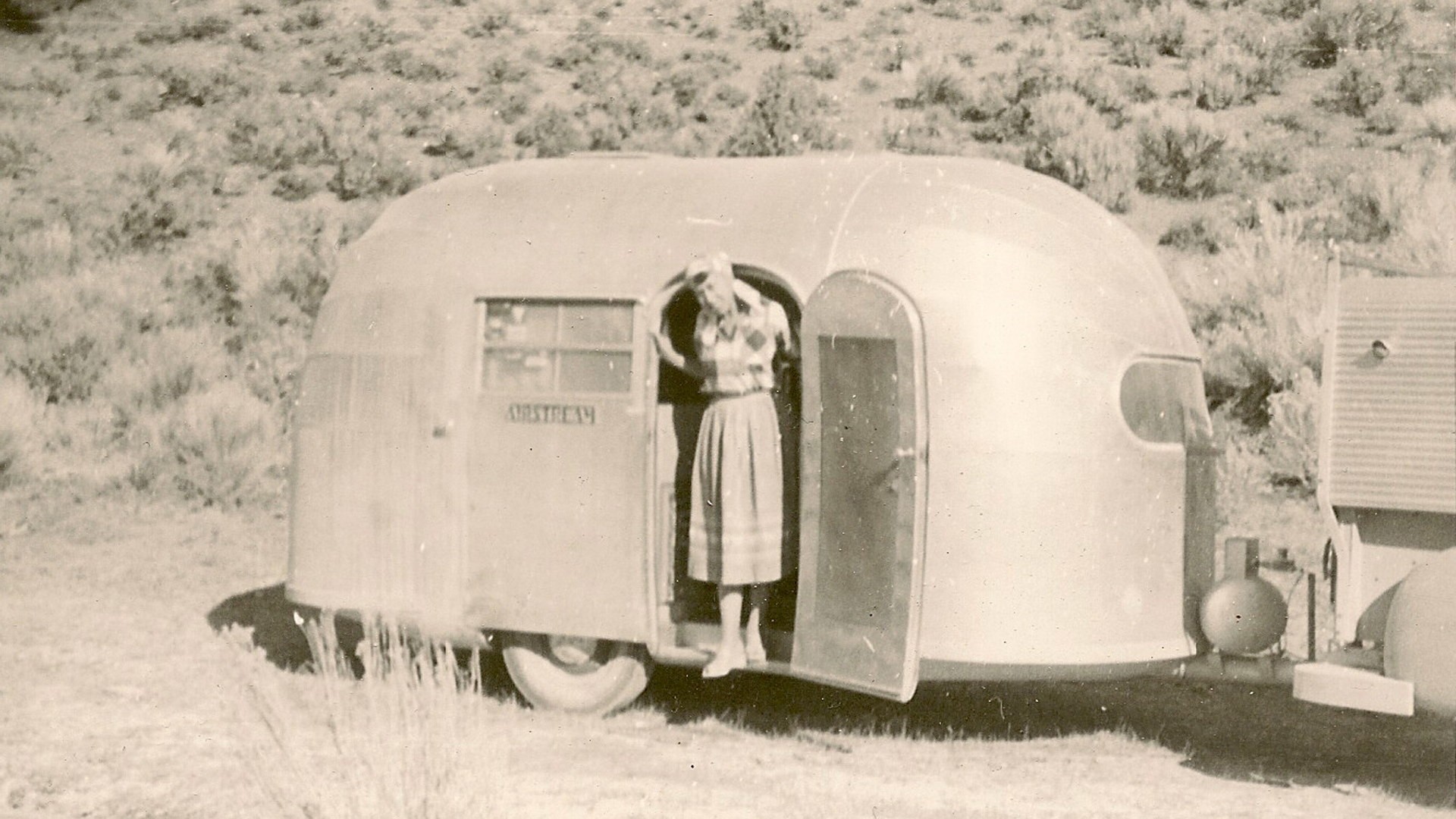 Harry and Ruby Mann moved to Las Vegas in 1955, where he soon established the Frontier Gun Shop next to the Last Frontier Hotel. Harry was a founder and co-sponsor of Hotel Sahara's Gun Show, shrewdly scheduled mid-winter during the first week of February and reputed to be the best gun show in the country. A second Sahara gun show was held mid-summer.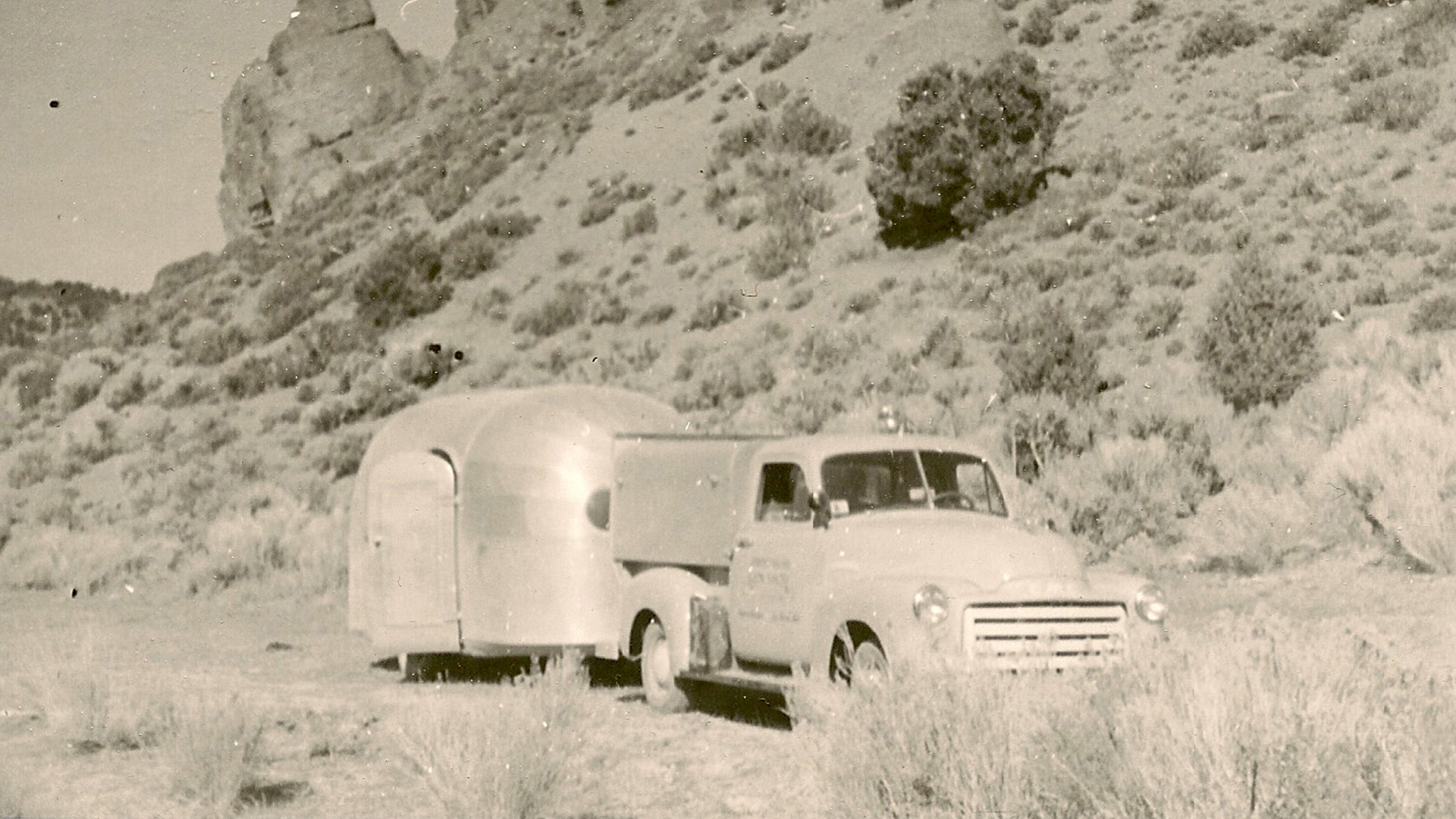 Though Ruby's condition reveals she was not used often, the Wee Wind did occasionally roll her tires across the great Southwest. Vintage photos show Harry and Ruby at her door in the Nevada countryside. Harry installed a trailer hitch into the rear of the pipe frame and used it to tow his fishing boat behind the Airstream. I used this rear trailer hitch to install modern, bright, easily demountable 12 volt tail lights, turn signals, and reflectors to supplement the original single rear 6 volt S&M Lamp Co. tail and brake light.
Harry Mann died at a young age in 1960, and the Wee Wind was little used from that time to Ruby Mann's death in 2001. During those 40 or so years the Wee Wind spent most of its time under a carport on the south side of Ruby Mann's central Las Vegas home, on a quiet residential street just 8 blocks west of the "Strip". As you may have guessed by now, this unmodified gem of a Wee Wind has been named Ruby in honor of her original co-owner, Ruby Mann.
In August, 2002 I bought the Wee Wind and moved it on a flatbed trailer to her new home in Denver, Colorado. During the past 19 years, Ruby the Wee Wind has been diligently preserved and enjoyably shown at a few Vintage Airstream Club events in Colorado. The few who were lucky enough to attend those events got to see her in person.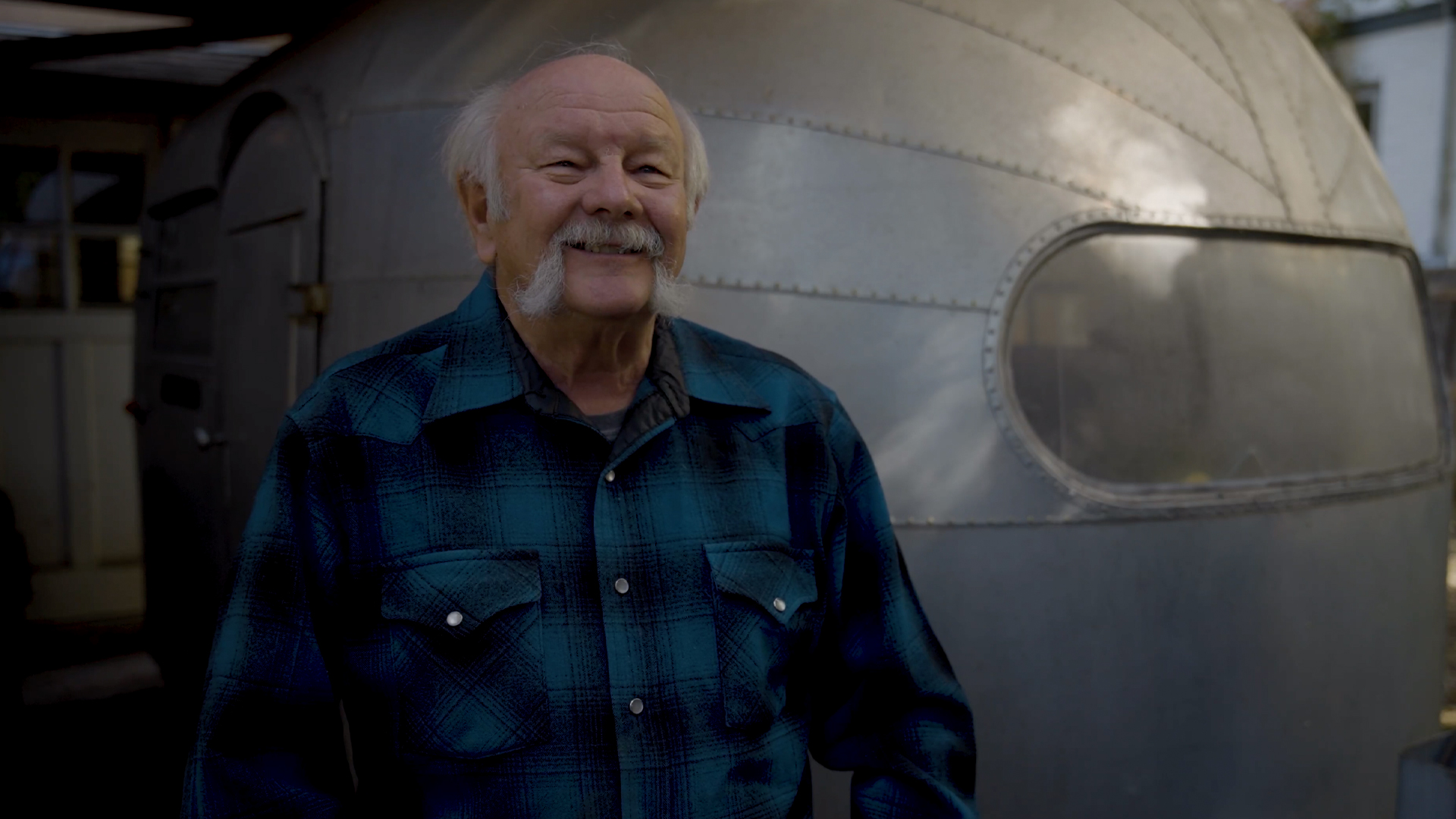 In Fall 2021, Ruby was acquired by Airstream's Heritage Center Museum in Jackson Center, Ohio, where she will be on display as the most original 1947-1950 Airstream travel trailer existing today. Now in her new premises, she can be seen, enjoyed, and studied by thousands of Airstream enthusiasts in the future. The next time you are in Jackson Center, stop by the new Heritage Center Museum and visit Ruby in person. You will be glad you got to know her.
-- Fred Coldwell, Ruby's second owner 2002-2021
Looking to dig even further into Airstream's long history? Learn more about the upcoming exhibits and vintage Airstreams on display in the Airstream Heritage Center.