That's according to several Airstream® Ambassadors who are well-versed in the art of winter camping. Read on for some great cold-weather advice from Andrea Umbach, Ronnie and Tera Dennis, and Roberto and Bella Gibbons. 
Cold weather adventuring offers unique seasonal scenery and less competition to see those sights.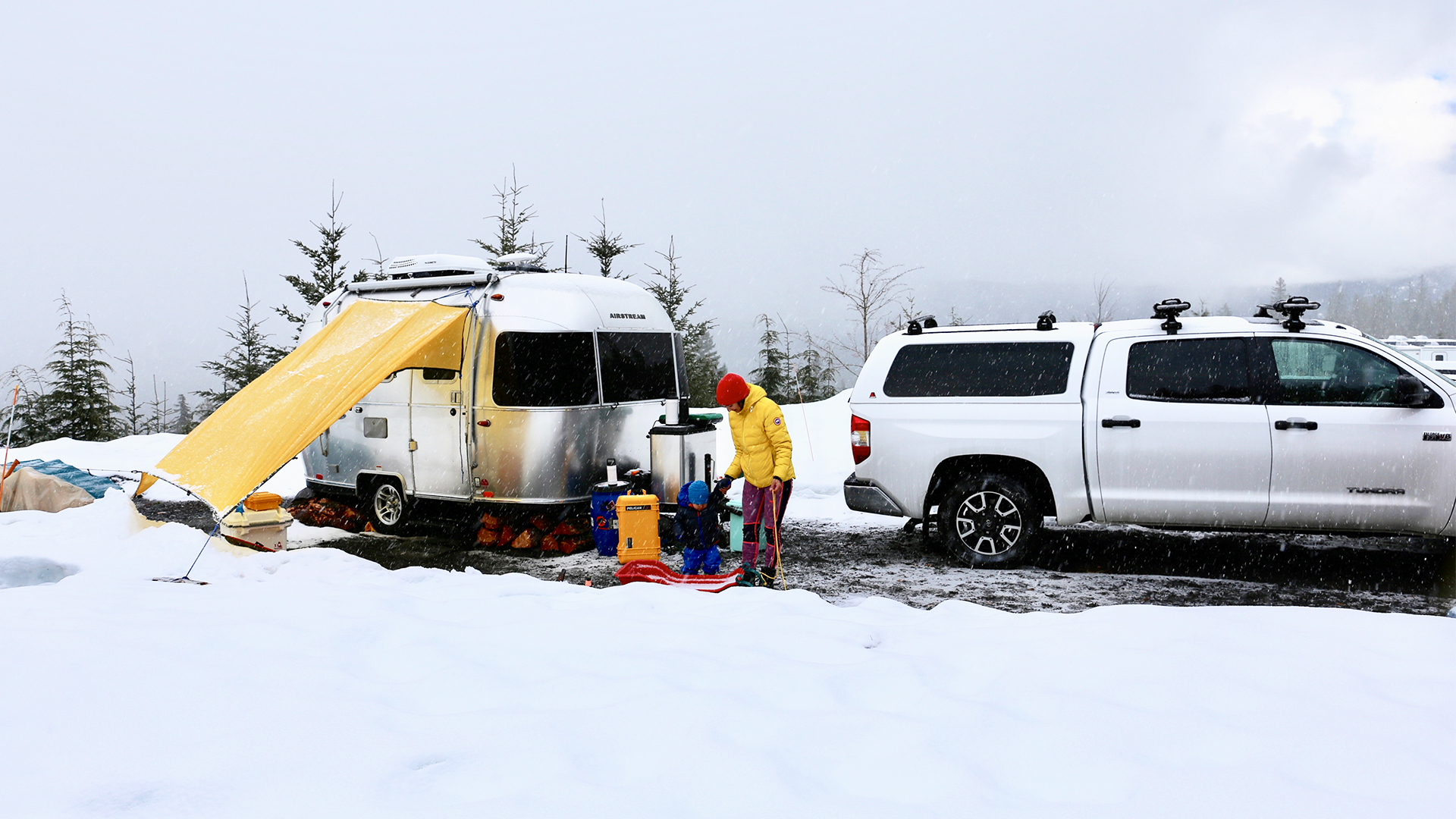 "With winter camping, you get access to places without any other tourists," says Roberto. "Most campgrounds are empty, meaning you get the place all to yourself. And when a park is under a blanket of snow, it's just magical!"
A cold-weather trip to Yellowstone is among Ronnie's and Tera's favorite camping memories. 
"We were driving through the park from Canyon to West Yellowstone while it was snowing," says Ronnie. "Looking at all the hot springs steaming away while the snow was falling was a beautiful sight."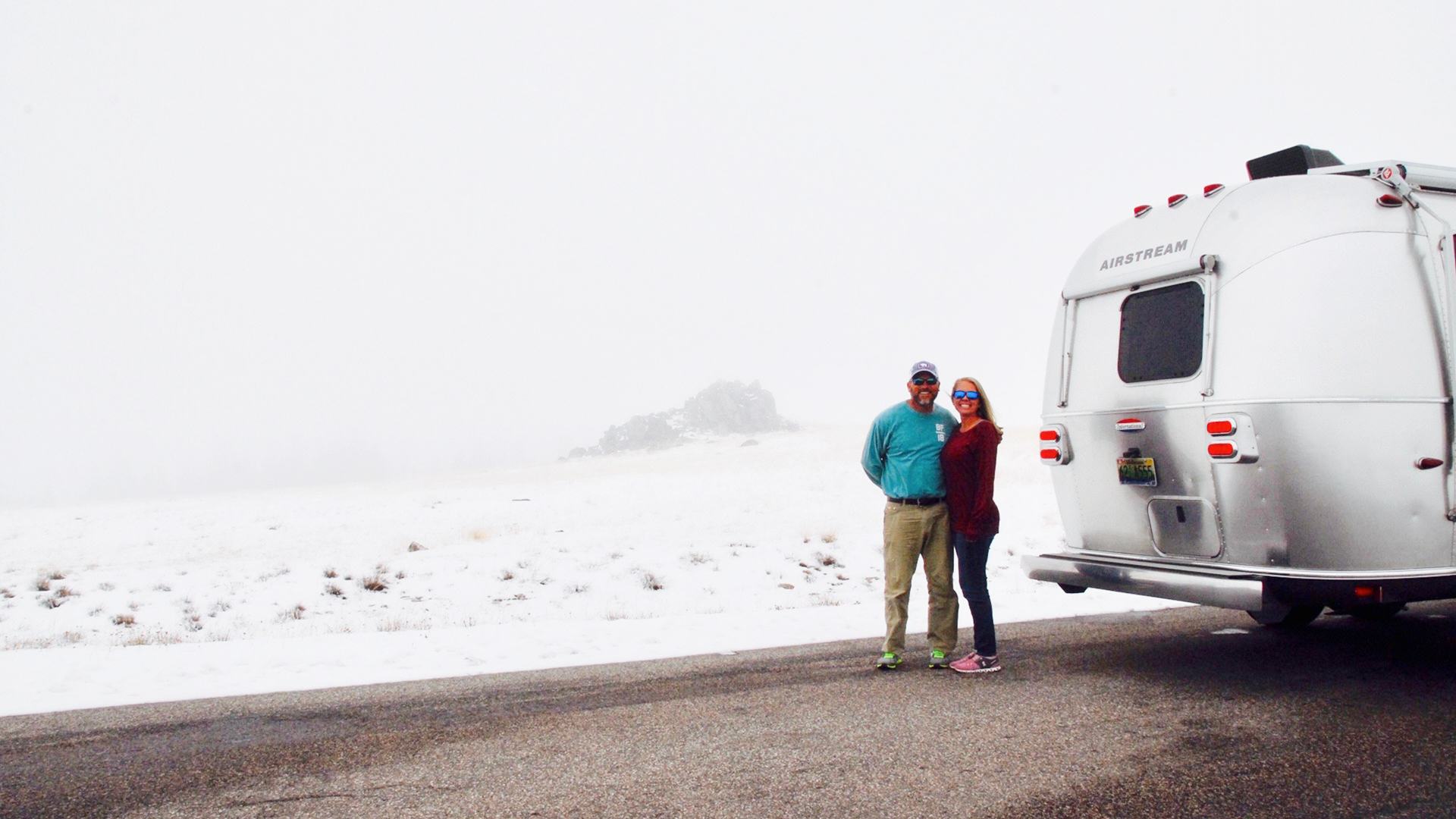 Warmth and comfort are among the perks of winter travel in an Airstream. Our Ambassadors have a few tricks for keeping things safe and cozy.
Ambassador Tips
Top-off Before You Head Out
While it's always a good idea to check your propane levels before departure, doing so before a winter adventure is doubly important. Stay mindful of your levels throughout the trip and be aware of nearby refill sources.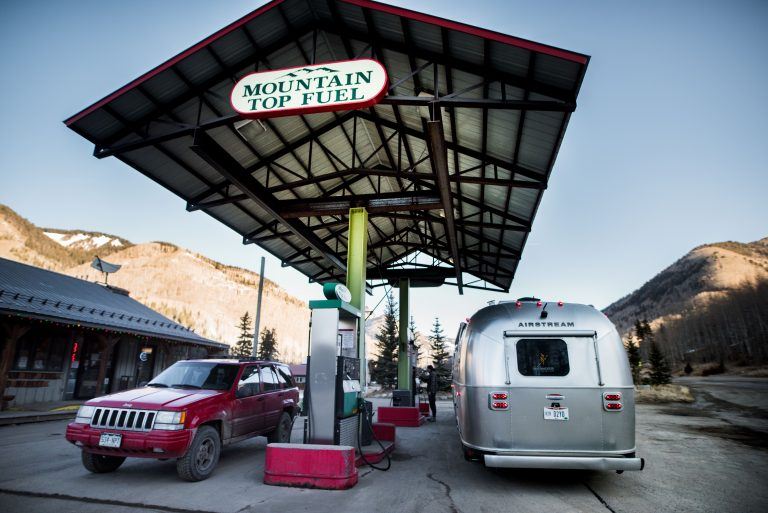 Have a Back-up Power Source
The cold can put a strain on your Airstream's battery. If you're boondocking, it's a good idea to have a backup power source or lithium batteries, according to Andrea. Roberto and his family travel with a small generator for when it's too overcast for their solar panels to generate enough energy from the sun.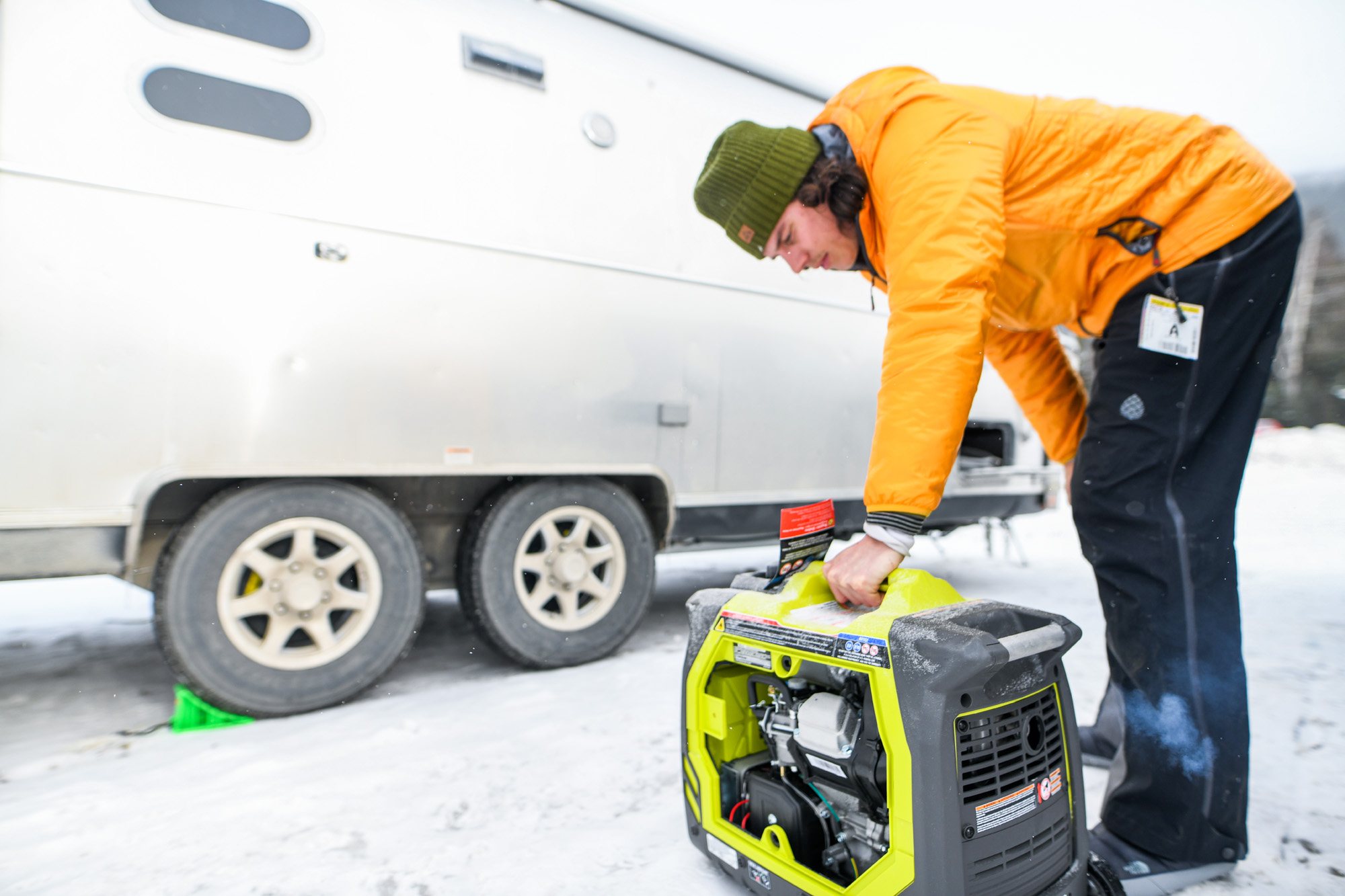 Be Ready For a Hard Freeze
Keep an eye on the weather reports, especially as nightfall approaches, and take appropriate steps. 
"If it's going to be below freezing, disconnect your water hose and run off the onboard supply," Says Ronnie. "If you have full hookups and have an in-line water filter on your water hose, that filter will freeze faster and at higher temperatures than the rest of the water supply."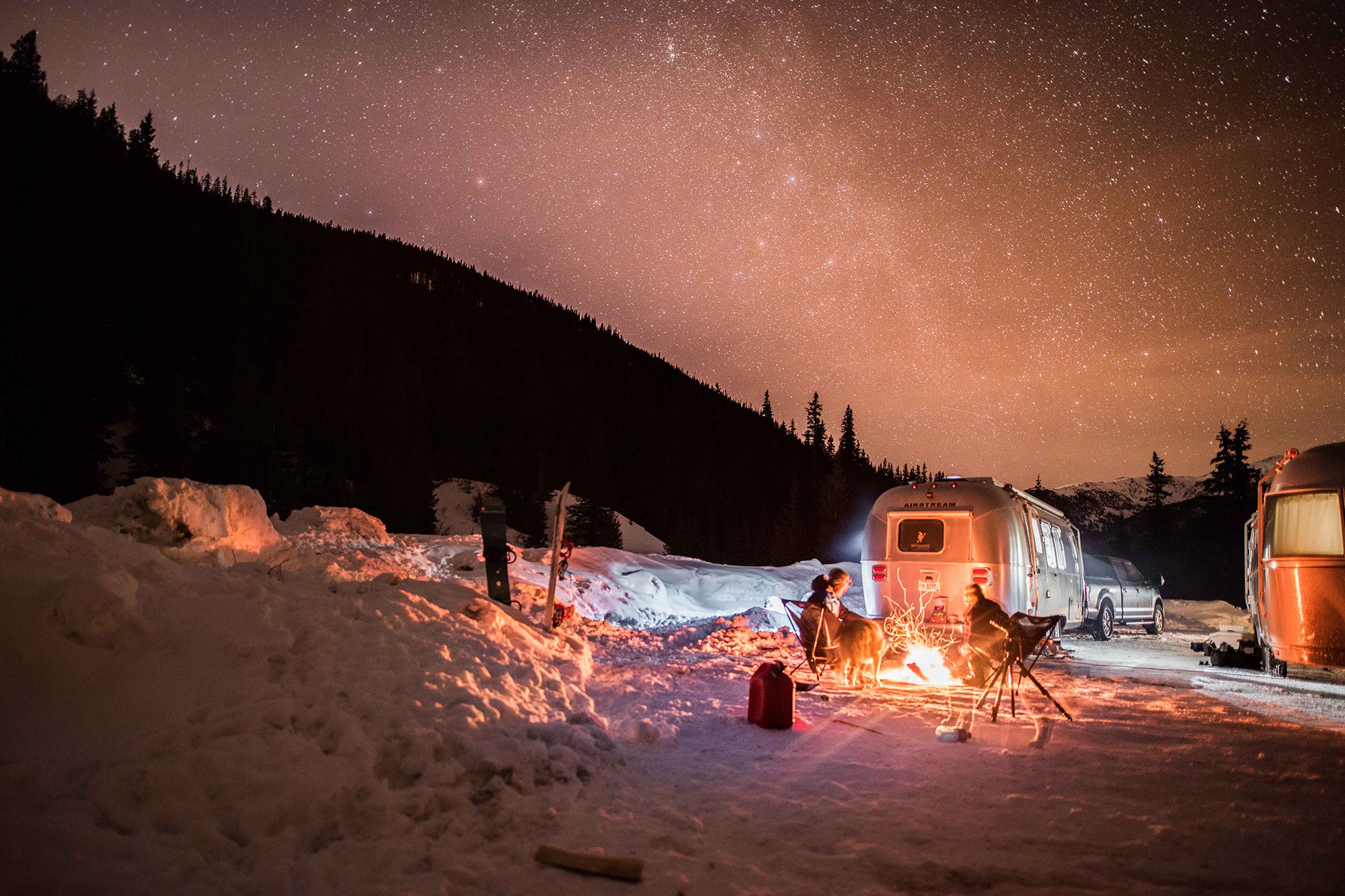 If you are towing your Airstream a long distance in sub-freezing weather, Ronnie suggests running the furnace to protect against freezing. You will need to turn off the heat while getting gas and at some bridges and tunnels.
Minimize Heat Loss Through Windows
Consider placing Reflectix insulation over windows and skylights to boost heat retention dramatically. You can find Reflectix at a home improvement store.
Crack Open a Window.
Because of the difference in air temperatures inside and outside of your Airstream, the moisture that builds up inside can lead to condensation. This annoyance is easily eliminated by creating a bit of airflow between inside and outside.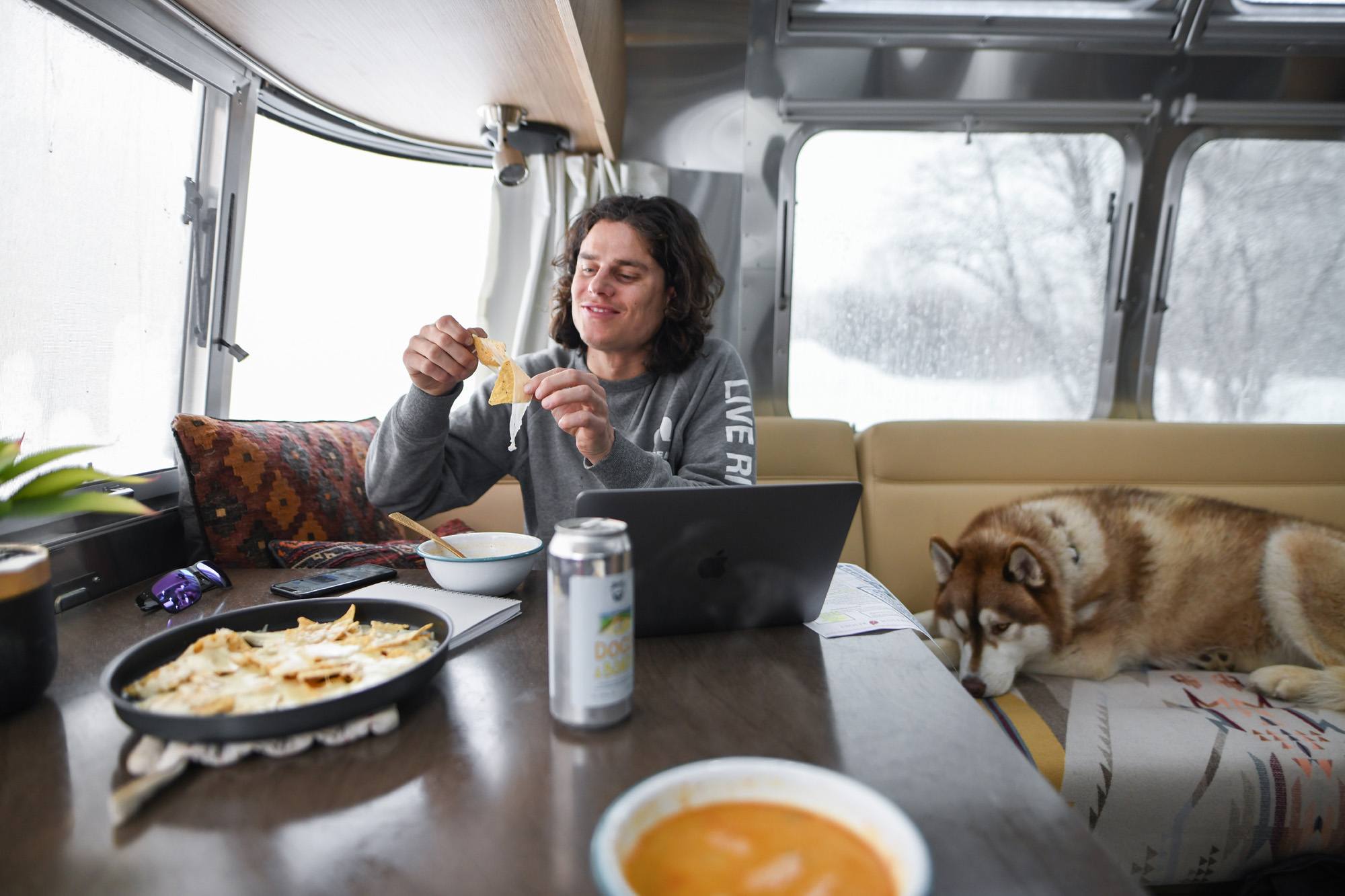 "You have to let the moist air to escape and bring fresh air in," says Ronnie. "This does not have to be done for long stretches of time – we've found a small, steady constant flow provides the best results. Cracking a window works great."
Ronnie adds this related heads-up for new winter adventurers. "No matter how warm the air gets in your Airstream, the walls will be cold to the touch. It's just something you need to know and get used to."
Stay Dry
Winter snow and sleet can leave a mess inside and outside your Airstream.  Roberto's winter camping kit includes a tarp to keep their firewood ready for a nice warm fire. Andrea keeps a box for wet boots just inside the door of her Basecamp.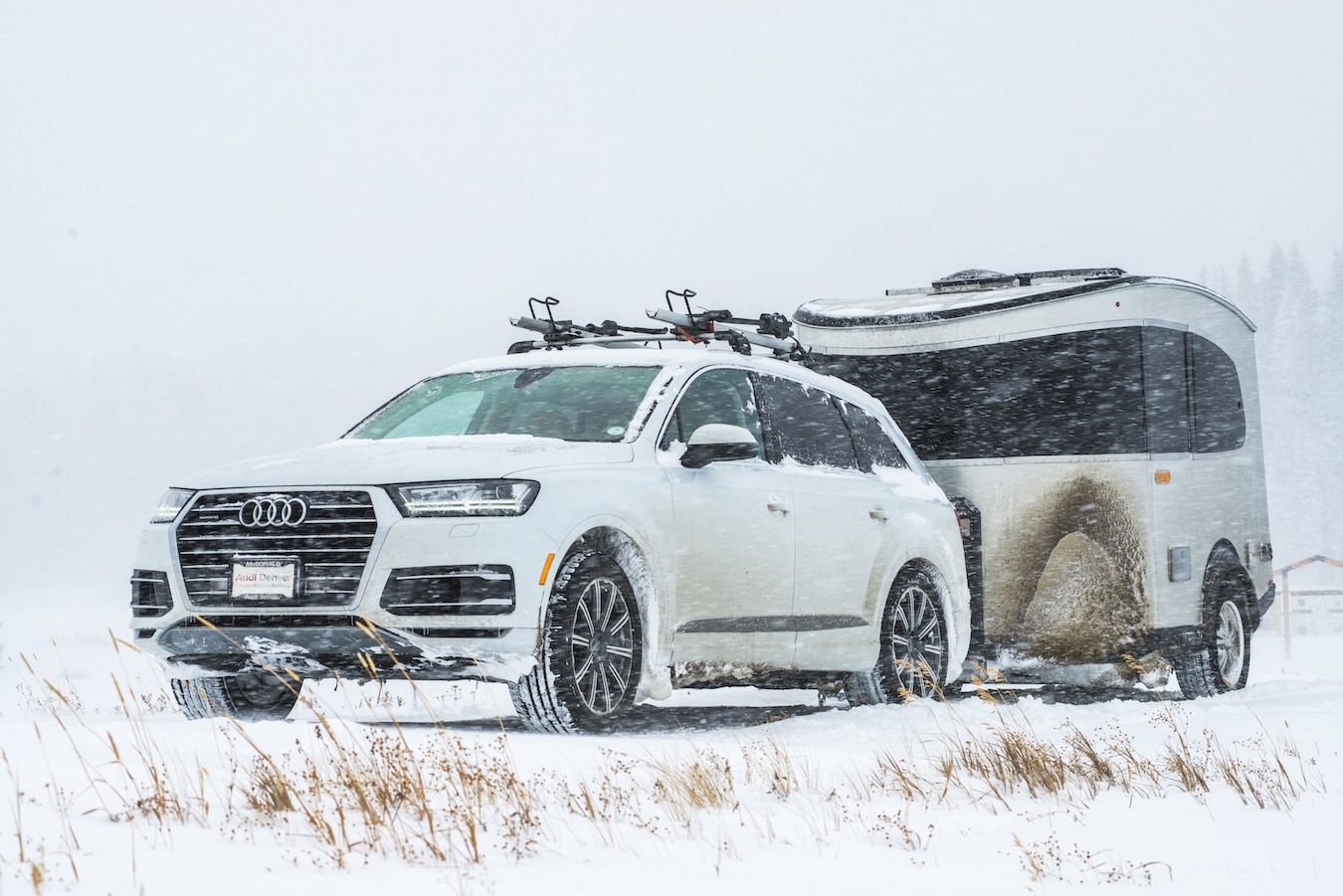 And, without a doubt, the most critical winter wandering guideline:
Be Safe Out There
All of our Ambassadors stressed the importance of watching the weather and road conditions to make sure it's safe to tow before venturing to your next destination. 
"We've learned to slow down in winter travel," says Roberto. "When we get hit by a snowstorm, we simply stay put for a few days and enjoy it instead of trying to drive on icy roads. We were up in Jasper once when a big snow came and had a great time just pausing to take it all in."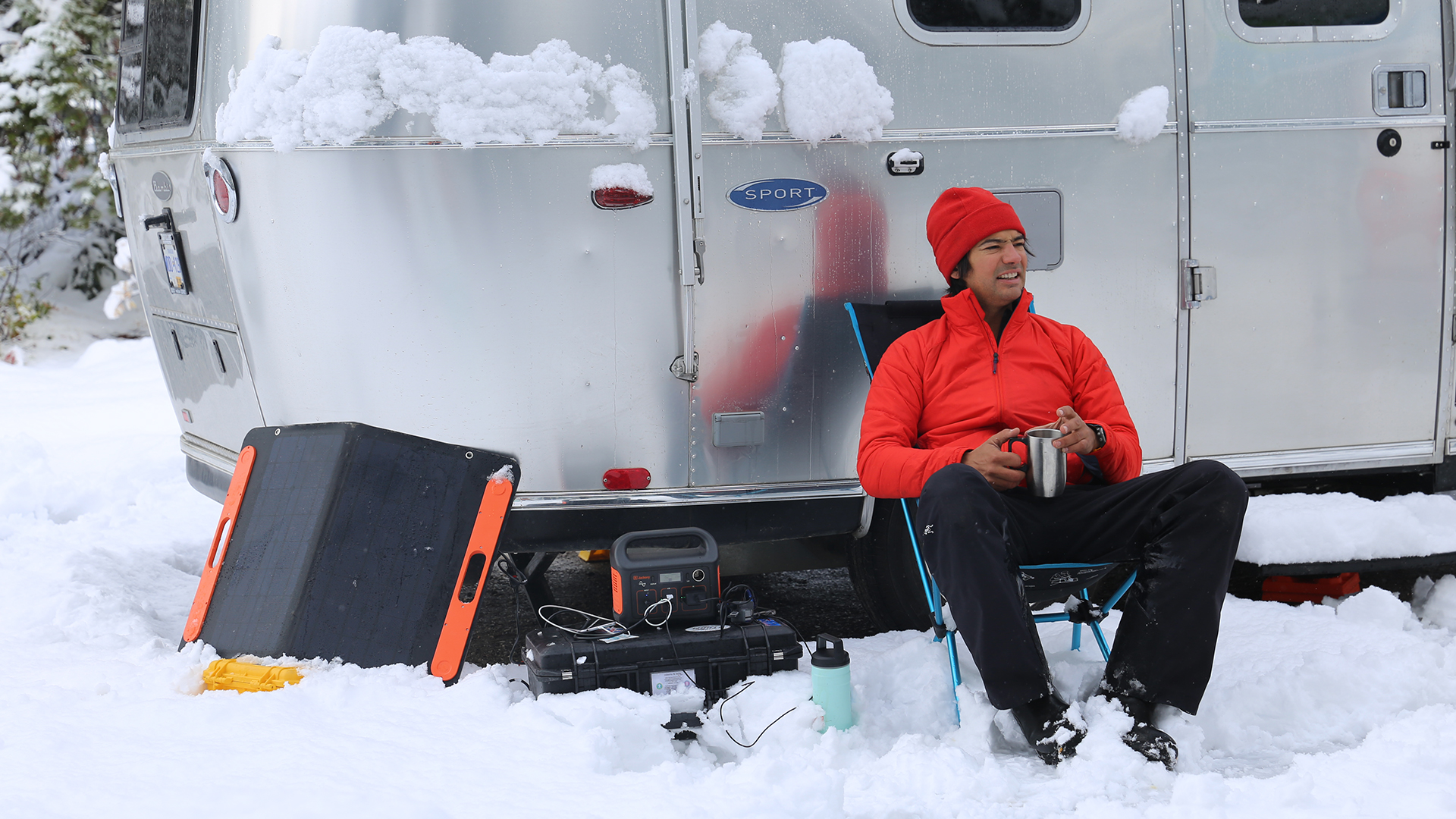 With a little bit of preparation (and maybe add an extra layer of clothes), you can adventure straight through the winter, from the last falling fall leaf through the first blooms of spring. And you should.
Says Ronnie: "Embrace the weather! It's one of the main reasons you like to get outside, right?"
From staying dry and safe all the way to saving time and cutting costs, there are more Tips & Guides in our blog for you to keep exploring. You can also reference our winterization guide if you're not planning on Airstreaming during the colder months.