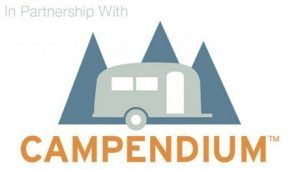 Northwest Camping
Mammoth Campground
Yellowstone National Park, WY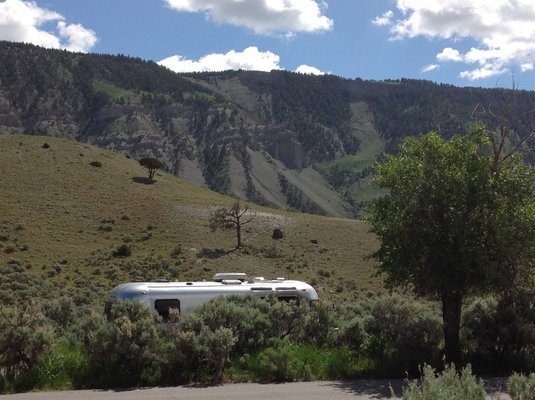 At the northwest entrance of Yellowstone National Park, there lies Mammoth Campground. At Mammoth, you'll set up camp on a high sagebrush steppe above the Gardner River, with juniper and Douglas fir trees speckling the landscape. Take in the sites of nearby Mount Everts, a geological wonder formed by rapid lifting and erosion. While there, take advantage of the nearby Mammoth Hot Springs, which boast the appearance of a cave turned inside out. Keep an eye out for elk and bison, as they occasionally pass through the campground. In the evening, relax under the ribbon of stars that light up the night sky. At Mammoth Campground, you'll get some of the best dry camping there is. Plan ahead; all sites are first come, first serve, and reservations are not available.
Learn more about Mammoth Campground
Curt Gowdy State Park
Cheyenne, WY
Halfway between Cheyenne and Laramie, Curt Gowdy State Park is known for its extensive trail system, fishing reservoirs and richly varied landscapes, flora and fauna. Nestled in the foothills of the Laramie Mountains, the park is home to three reservoirs – Granite, Crystal and North Crow. At Granite, visitors will find excellent rainbow trout and kokanee salmon fishing, as well as space for water sports. North Crow is an unimproved fishing area and provides supremely natural angling, paddling and boating experiences. Crystal, the smallest of the reservoirs, has shoreline fishing for brown trout, rainbow trout and kokanee salmon. Campsites are set amidst low-lying meadows, gently rolling hills and massive steep granite formations.
Airstreamer JessieMonsters calls Curt Gowdy "a jewel of Southern Wyoming."
Learn more about Curt Gowdy State Park
Olde Stone Village RV Park
Mcminnville, OR
Sometimes you want to be in the solitude of nature with your Airstream®. Other times creature comforts and access to attractions are what you're after. Welcome to Olde Stone Village RV Park, with its tree-lined streets and many green spaces. Tucked into the rolling landscape of Yamhill County, this RV park is McMinnville, Oregon's premier place to park your Airstream. Olde Stone Village offers easy access to McMinnville's shops, restaurants, scenic vineyards, historic attractions and roadside produce stands stocked with seasonal favorites. The park is also located within easy distance of golf courses, the Spirit Mountain Casino, wineries and tasting rooms, Mt. Hood, the Columbia Gorge, The Oregon Garden and the spectacular Oregon Coast.
Learn more about Olde Stone Village RV Park
Holland Lake Campground, Flathead National Forest
Condon, MT        
Situated on the shores of Holland Lake in the Swan Valley of northwest Montana, at an elevation of 4,050 feet, the campground is blanketed in Tamarack, Ponderosa pine and Douglas fir trees. If you're looking for a place to camp while enjoying Flathead National Forest, Holland Lake Campground is for you. From pristine campsites with great lake access to ample opportunities for hiking on the scenic Holland Falls National Recreation Trail, Airstreamers who visit will have a spectacular time exploring the outdoors. Some sites are located close to the 416-acre lake, while others sit further back or higher on the bank. All sorts of wildlife make their home at Lake Holland, including grizzly and black bear. This is dry camping, however, vault toilets and drinking water are provided. There is a dump/fill station within 1/4 mile of the campground.
Learn more about Holland Lake Campground
Parkside Campground, Custer Gallatin National Forest
Red Lodge, MT
Parkside Campground is located in Custer Gallatin National Forest in south-central Montana. The camp encompasses eight acres and offers visitors a range of activities, including hiking and fishing in Rock Creek. Plan on some wildlife spotting at the campground, which sits at an elevation of 8,000 feet in the shadow of the Beartooth Range. As Airstreamer Janel reports, "Wildlife, including grizzly bear, deer and elk, make their home in the surrounding area." Parkside Campground is located 12 miles south of Red Lodge, Montana, just off the Beartooth Scenic Highway. Deemed "the most beautiful drive in America" by the late CBS journalist Charles Kuralt, The Beartooth Highway crosses the rugged Beartooth Mountains from Red Lodge to Cooke City, Montana, and is the highest elevation highway in the Northern Rockies. As Janel puts it, this is "a must drive," and Parkside is the perfect place to keep your Airstream while you wander.
Learn more about Parkside Campground
---
Southwest Camping
Camino Cove Campground, Eldorado National Forest
Pollock Pines, CA
Despite its proximity to both Sacramento and Reno, Camino Cove will give Airstreamers that middle-of-nowhere sense that comes with a great campsite. Here you'll find hiking trails and an abundance of woodland animals in the nearby forests, including mule deer, mountain lions, bear, bobcats, raccoons, marmots, squirrels and gophers. This is a dry camping location, and sites are first-come, first-served, spacious and rustic. The area is great for winter activities including skiing, snowboarding, sledding, tubing, xc skiing and snowshoeing. There are two ski operations located within Eldorado National Forest that offer equipment rentals, Sierra at Tahoe and Kirkwood. Explorers can also head to Loon Lake Chalet for cross country skiing and snowshoeing, with miles of ungroomed backcountry trails. So, set up camp, gather around the campfire, and start soaking up those winter camping vibes!
Learn more about Camino Cove Campground
Datil Well Campground, BLM
Datil, NM
The Datil Well Campground sits on Bureau of Land Management property located one mile west of Datil. The camp's water supply comes from one of the original wells drilled by the Civilian Conservation Corps (CCC) for the Magdalena Stock Driveway. Datil Well campground provides a peaceful place for Airstreamers to stay, play and enjoy the smell of the pines while hiking the area's many trails and spotting some local wildlife. Datil Well also borders the Cibola National Forest. At Cibola, visitors can get their fill of backpacking, skiing, hiking, wildlife-viewing, star-gazing, horseback-riding, hunting and mountain biking. Datil Well offers 22 single-family campsites as well as a group site for large gatherings. This site takes reservations, and campground facilities include graveled sites for back-ins and pull-throughs. All sites have picnic tables, upright cooking grills, fire rings and are a short walk from vault toilets.
Learn more about Datil Well Campground
East Canyon State Park
Morgan, UT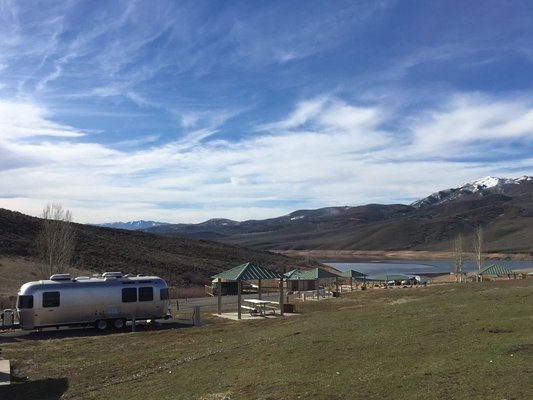 East Canyon State Park is tucked away in a narrow-walled canyon 5,700 feet up in the mountains of northeastern Utah. The park is a popular destination for boating, fishing and camping. Park facilities are open year-round and include a 33-unit RV campground with full and partial hookups, a concrete boat launching ramp, paved parking, restrooms, showers, and a fish cleaning station. East Canyon Dam, a 259-foot-high, 436-foot-long arch concrete dam is located in the park. The resulting reservoir is fed by East Canyon Creek. Airstreamers Gotham Gamers filed this report: "We overnighted at East Canyon State Park in February on our way west from Wyoming. The location is breathtakingly beautiful." The area holds a bit of history, too. The nearby Mormon Pioneer Trail includes part of the route Mormon pioneers used while migrating more than 1,300 miles from Illinois to Utah in the 1800s. Many others used the route over the years, including the Overland Stage passengers and Pony Express riders.
Learn more about East Canyon State Park
Lost Dutchman State Park
Apache Junction, AZ
Situated near the Superstition Mountains in central Arizona, Lost Dutchman State Park is a 320-acre state park named after the legendary Lost Dutchman's Gold Mine. The Superstition Mountains have long been a source of mystery and myth. Visitors will find ancient cliff dwellings and caves, many showing signs of former habitation by an unknown civilization. Come and explore this fabled region for yourself! Airstreamers will enjoy some of the best camping, and will likely come across native wildlife, including mule deer, coyote, javelina and jackrabbit. Lost Dutchman serves as a trailhead for many trails leading into the Tonto National Forest. The campground has 138 sites: 68 sites with electric (50/30/20-amp service) and water. The remainder are non-hookup sites on paved roads. Every site has a picnic table, and a fire pit with adjustable grill gate. There are no size restrictions on RVs.
Learn more about Lost Dutchman State Park
Gilbert Ray Campground, County Park
Tucson, AZ
Come and experience what Airstreamers WAP describe as a "perfect Sonoran Desert setting." At Gilbert Ray, travelers will discover beauty in the heart of desert country, Campers would never guess how close their campsite is to Tucson – the area feels very remote and there is plenty of wildlife to see. As Airstreamers Jen and Mace Man Fancy Pants report, "There's lots of desert and lots of dark." If you're looking for stunning scenery, easy access to hiking and biking trails, and incredible night skies, this is the place. Nearby attractions include Saguaro National Park, Tucson Mountain Park, and, of course, Tucson. The campground has 130 RV sites with individual 30-amp electrical hook-ups, centrally located water, picnic tables, modern restrooms, and a dump station. Reservations are not accepted, so plan on arriving early to ensure you get a place at this hotspot.
Learn more about Gilbert Ray Campground
---
Southeast Camping
Alexander Springs Campground, Ocala National Forest
Altoona, FL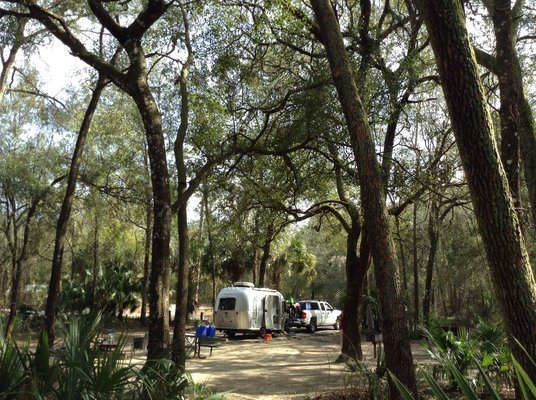 Florida is a go-to destination for winter camping. Why? Because in the Sunshine State, Airstreamers will find mild temperatures, stunning greenery and sparkling water. This is certainly true of Alexander Springs Campground, located in the Ocala National Forest. While it may not be the beach, don't let that keep you away from this gem, situated in Florida's interior. Alexander Springs is home to beautiful, turquoise waters and delightful forest scenery. The water is a constant 72 degrees and extraordinarily clear with a sandy bottom. Because the campground is located in a subtropical region, it's surrounded by a floodplain forest of maples, sweet gum and cabbage palms. Alligators, turtles, deer, raccoons, black bear and numerous birds make their home in the national forest. This recreation area offers camping, swimming, canoeing, scuba diving, hiking, birding and wildlife viewing. The Ocala National Forest spans 383,000 acres and invites visitors to hike, bike horseback ride, and, of course, play in the water to their hearts' content.
Learn more about Alexander Springs Campground
Skidaway Island State Park
Savannah, GA
Oh, Savannah! It rivals many other cities with its rich history and culture. Skidaway Island State Park is just a hop, skip and jump away from the city center, but still envelopes you in nature. As Airstreamer Tom and Earl report, "Arrival to Skidaway Island is via a dramatically shaded canopy road with moss hanging from the oaks." This park borders Skidaway narrows, a part of Georgia's Intracoastal Waterway, and is home to trails that wind through maritime forest and past salt marsh, leading to a boardwalk and observation tower. Watch for deer, fiddler crabs, raccoon, egrets and other wildlife. Welcome to the Georgia coast! "Skidaway Island is well located for exploration of Savannah and Tybee Island," say Tom and Earl. So, when you're not soaking in your natural surroundings, head over to the town proper to take in the various shops, restaurants and galleries, or drive over to Tybee for a delightful beach town experience.
Learn more about Skidaway Island State Park
Blue Spring State Park
Orange City, FL
Have you ever seen a manatee? If not, add that to the list of reasons you should visit Blue Spring State Park! Located just west of Orange City, the park is a popular year-round tourist destination, offering activities such as canoeing, SCUBA diving, snorkeling, kayaking, fishing, hiking, wildlife watching and swimming. The spring located in the park is the largest on the St. Johns River and tempts visitors with a warm temperature of 73 degrees. In addition to sea cows, the springs are home to many fish and a variety of wading birds, ospreys, eagles and kingfishers. Boat tours are available, as are tubing rentals. In the park, you'll find fifty-one campsites with water and electricity hookups. For those looking to say no to the snow, I hear the manatees calling!
Learn more about Blue Spring State Park
Nashville KOA RV Park
Nashville, TN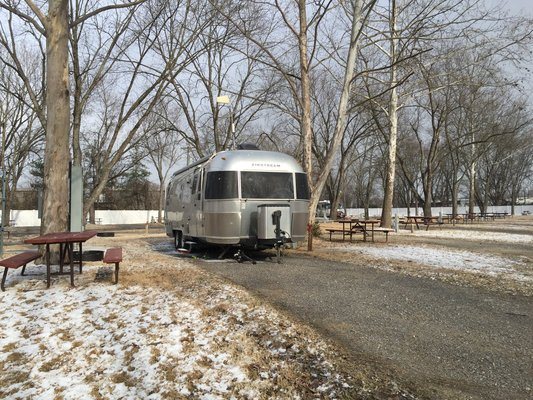 Whether you're making your first visit to Music City or returning for the umpteenth time, check out the Nashville KOA RV Park. Here you'll find the finest in Southern hospitality and charm as you check out the capital of country music. Located less than 3 miles from the Grand Ole Opry, this is the perfect destination for exploring all the fantastic shows, shopping, and dining in Nashville. The park even offers a concierge for site-seeing tours and tickets to local events. When you're done honky tonkin', head back to the park to enjoy its numerous amenities, including a year-round pool, hot tub, sauna, lounge room and activities park, complete with pickleball, outdoor bowling and giant chess and checkers. For your furry friends, there is a dog park so they can play as hard as you will. Site amenities include full hook-ups, Wi-Fi, cable, and extras like firewood and propane for sale. You may find that you came to explore Nashville, but don't want to leave the park!
Learn more about Nashville KOA RV Park
Magnolia Beach County Park
Port Lavaca, TX
Boondocking on the beach? Yes, please! Airstreamer Maggie, who visited in early March of last year, puts it best: "If you like to sleep with the sound of the waves this is it! You park 15 feet from the shore. The access to the beach is very easy, you drive in and select your spot. And it's free!" At Magnolia Beach, you'll find about a mile and a half of clear, clean and peaceful beachfront. The only sounds you'll hear at night are the waves lulling you to sleep. Take in the magnificent sunrises and sunsets, and just bask in the beauty of this county park. While this site doesn't offer hook-ups, campers will find free bathrooms and hot water showers. If you need to dump or fill your tanks, there are a few RV parks within a one-mile radius of Magnolia. The park is also big-RV-friendly (everything's bigger in Texas!). Pull in, pick a spot, and start relaxing.
Learn more about Magnolia Beach County Park
Searching for other great camping locations? Check out the top spots from previous months.