4,000 miles. 15 designers. 11 days. 4 iconic cities. 1 Airstream.
Trêk-À-Porter, a mobile pop-up, fashion odyssey, culinary tasting, art in progress and shopping extravaganza toured 4 iconic cities this summer– Miami, New Orleans, Nashville and New York City. From July 9-19, the Trêk-À-Porter team collaborated with 15 fashion and accessory designers, local food and liquor partners and artists to bring a one of a kind boho-chic experience to each city on the tour.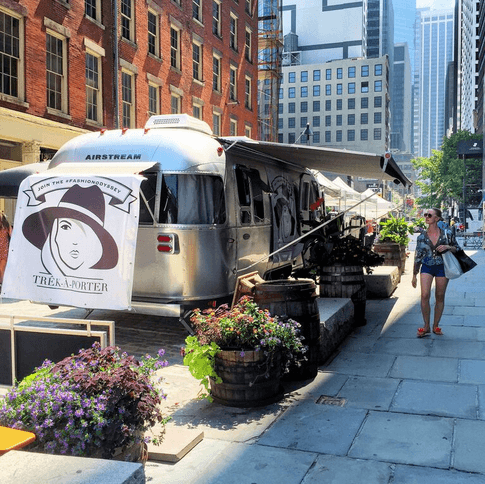 In a time where the virtual world relates to every moment of people's lives, Trêk-À-Porter wanted to bring the tactile sensory back to the creative industry by connecting emerging brands with their potential followers and consumers through their 4-city journey. Designers included contemporary women's wear, swimwear, hats, handbags, children's wear, accessories, beauty and makeup lines and more.
When asked why they decided to travel the country in an Airstream, Wenlan Chia of Trêk-À-Porter said, "Airstream's extraordinary aesthetics and handcrafted tradition represent what American design and lifestyle are about– nonchalant beauty and effortless elegance; which is in line with Trêk-À-Porter's vision of contemporary design."
They traveled in a 2016 Flying Cloud over 4,000 miles from New York City, to Miami, to New Orleans, then on to Nashville and finally back to New York City on their "Journey of Making."
For each iconic city they visited, Trêk-À-Porter engaged the local community. They brought on designers, artists, chefs and mixologists to share their own creative processes with the audience. Each stop reflected the culture and flair of the individual city, creating a unique and innovative experience for the audience.
When asked about how they Live Riveted, Wenlan beautifully said, "Living Riveted to us means to try something without calculating the risks, and thinking out-of-box to live a full and rich life. Trêk-À-Porter has most definitely accomplished that. Our Fashion Odyssey travelled 4,000 miles across the country and back, touring to cities we've never been before and pioneering a path most designers have never taken. We blazed trails with emerging designers in tow and filmed our experience so that others may see the other side of fashion. We hope to inspire others to Live Riveted by jumping into an idea and finding out answers in the end. There are moments in life when your hearts says it's right, because you love what you do, and because you want to share it with the world. We seized those moments and put these moments in action and therefore created an unforgettable memory in this journey."
To learn more about Trêk-À-Porter's fashion odyssey, follow them on Instagram (@trekaporter) or on Facebook! If you or anyone you know is interested in becoming a part of Trêk-À-Porter, please contact: [email protected] or [email protected]