The spirit of the open road and freedom that comes with departing your driveway has been a staple of American travel for generations. With more surfaced and maintenanced roadways coming together in the late 1920s and into the 1930s, the automobile helped lead the push and Airstream founder, Wally Byam, pioneered the idea of creating a self-contained travel unit that could accommodate an entire family. The automobile and paved roadways gave Americans a new way to experience nature, the creation of the interstate system in the 1950s introduced cross-country road trips, and the Airstream travel trailer provided the solution for recreation and leisure and inspired people to experience the spectacular sights of our beautiful country – and beyond.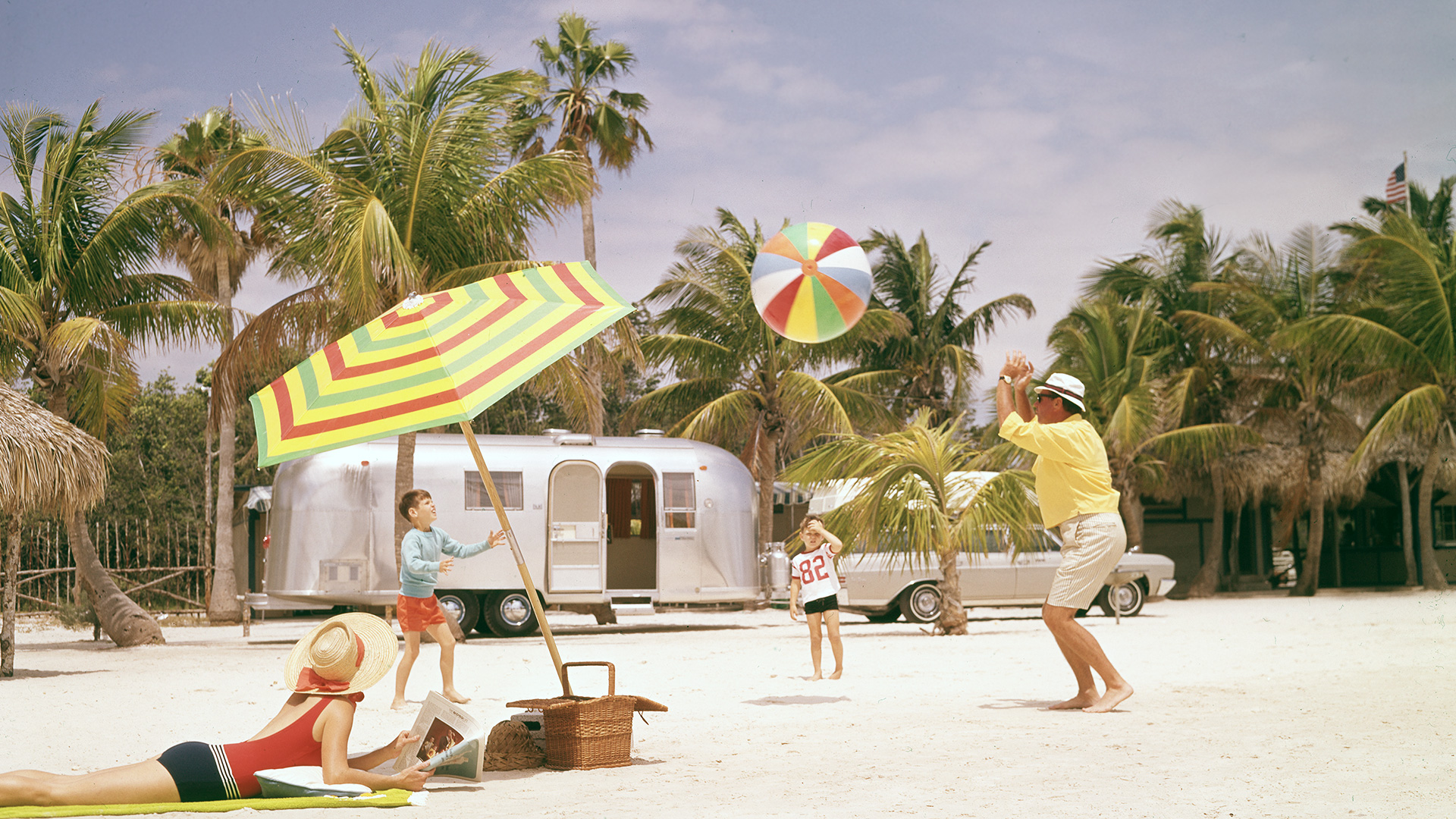 Looking back, things changed significantly with the leaps made in transportation technology the past few decades. Airlines made it easy to hop from one city (or country) to another in a few hours, hotels and Airbnb made it seamless to book a place to stay, and ridesharing apps have made it a snap to get a lift wherever you want to go. 
And now in 2020 – lo and behold – transportation and vacation have changed again. But rather a gradual change over the decades, this time the change took place over just a few short weeks.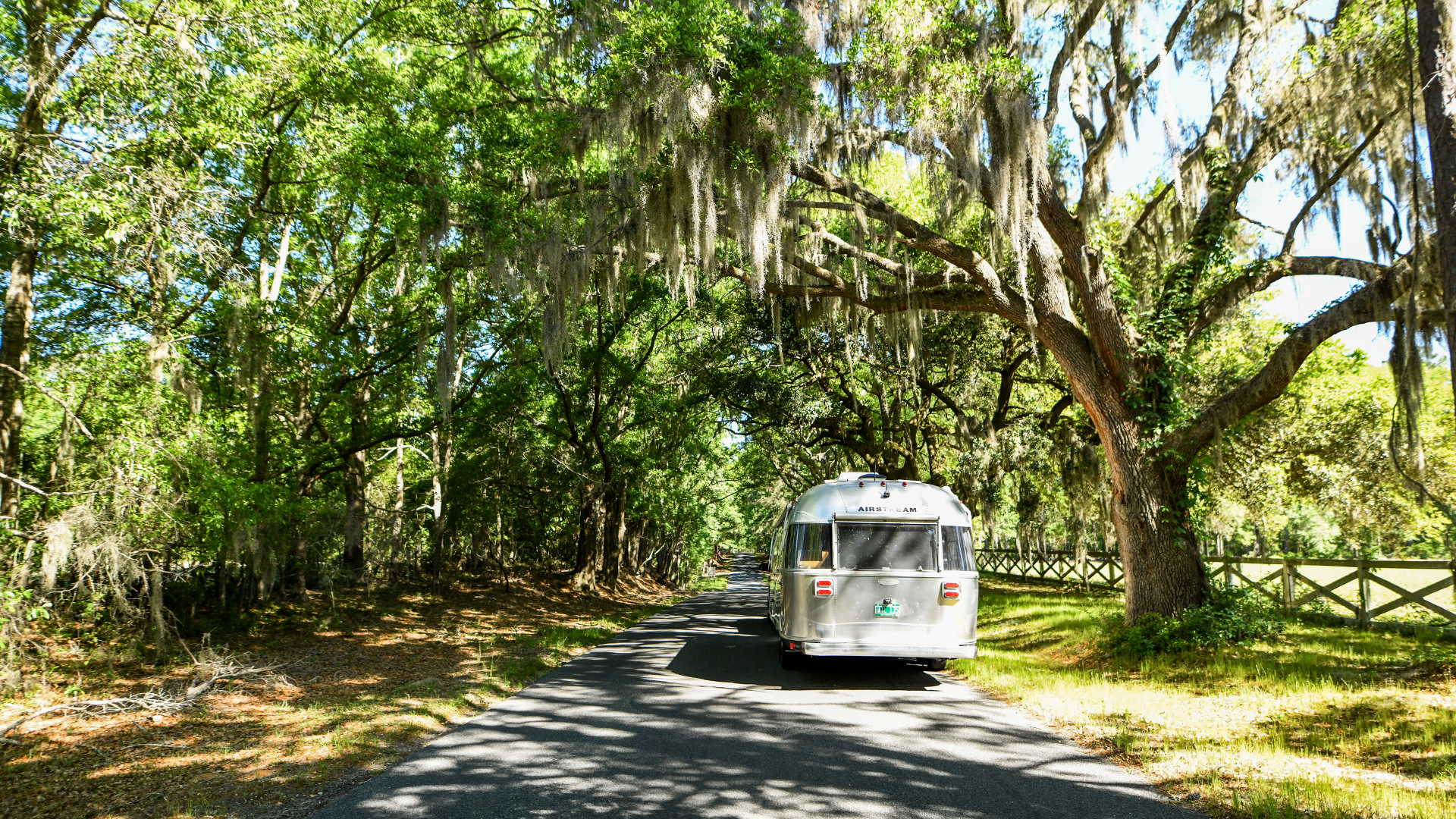 We're all hopeful the day will come soon enough when regional and cross-country travel will become normal again. As we head into the summer months of 2020, the aftermath of the stay-at-home orders are affecting the way we think about travel plans and how we spend time outside our homes as safely as possible. 
The road trip renaissance is within sight and we've compiled a few reasons why the Flying Cloud is ready to be your go-to travel trailer during this time of renewed and fundamental interest in family road tripping.
Mobilizing the Whole Family
We truly get to know our family members better when we camp together, and we get to know others who share our passion for the outdoors as they camp nearby. With an Airstream, you move at your own pace, making the #rvlife perfect for families who enjoy the journey as much as the destination. While there are numerous options across Airstream's travel trailer and touring coach lineup, it's only fitting that we focus on our "just right" model that includes lengths from 23 to 30 feet and sixteen different floor plan configurations: The Flying Cloud. This model was first introduced in 1949 and became popular throughout the 1950s for its comfort and features. It was also the very first travel trailer to come off the production line in Jackson Center, Ohio! Seeing a need for a family-friendly option, Airstream unpacked the model name and badge from the archives in 2009 and started manufacturing the iconic trailer again.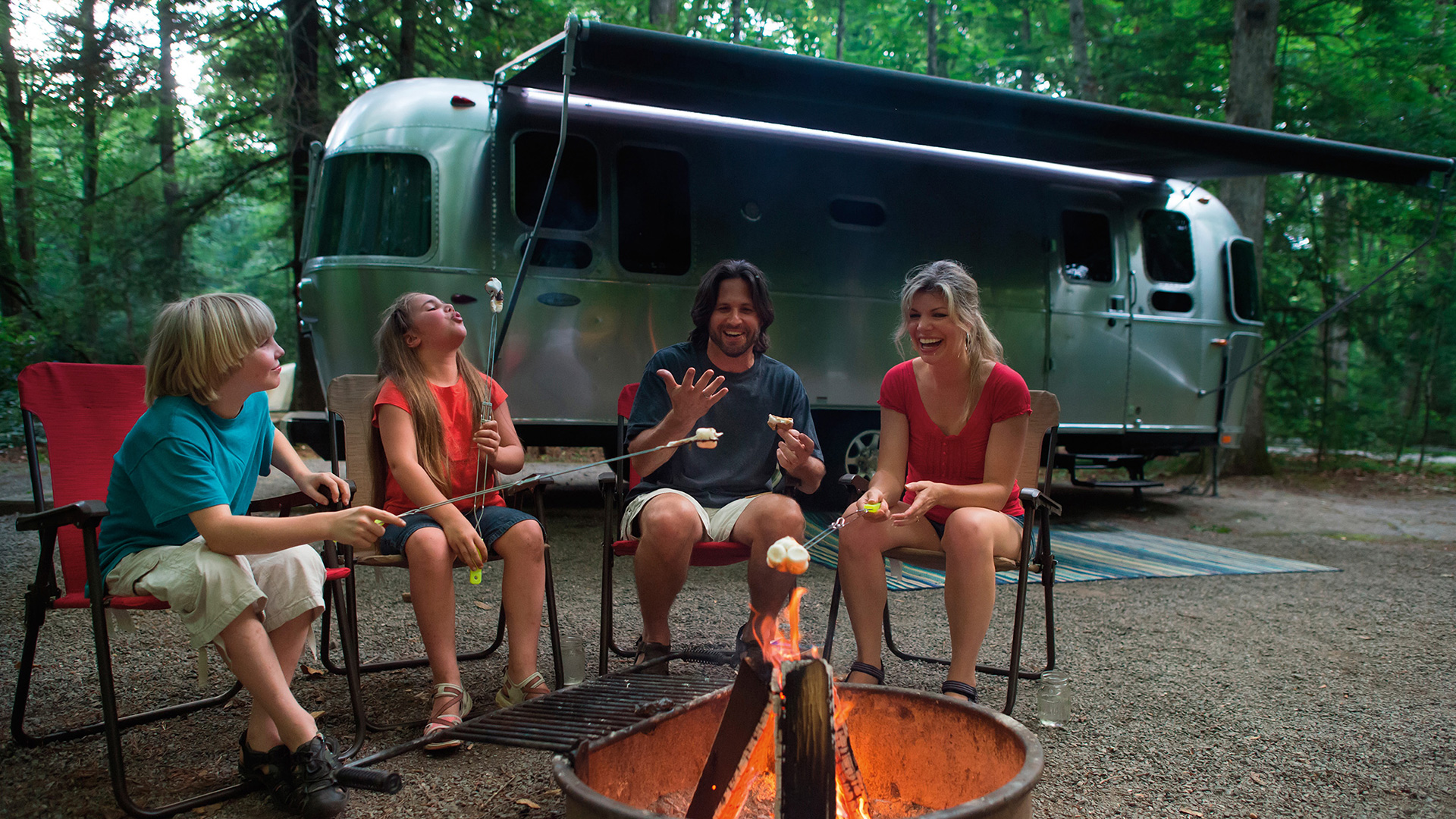 Traveling Alone, Together
More than ever before in recent history, people are cognizant of the safety requirements to maintain their health during the pandemic. The perception of walking into a hotel or restaurant with other people has changed simply because there's an unseen risk that didn't cross our minds a few months ago. A travel trailer is a self-contained home on wheels that includes a full kitchen, bathroom, sleeping and lounging areas, entertainment, and even connectivity options which can keep the family safe and healthy while still moving from point A to B. Plus, with premium features like QuietStream Ducted Air Conditioning, the family can stay cool during the hot summer nights.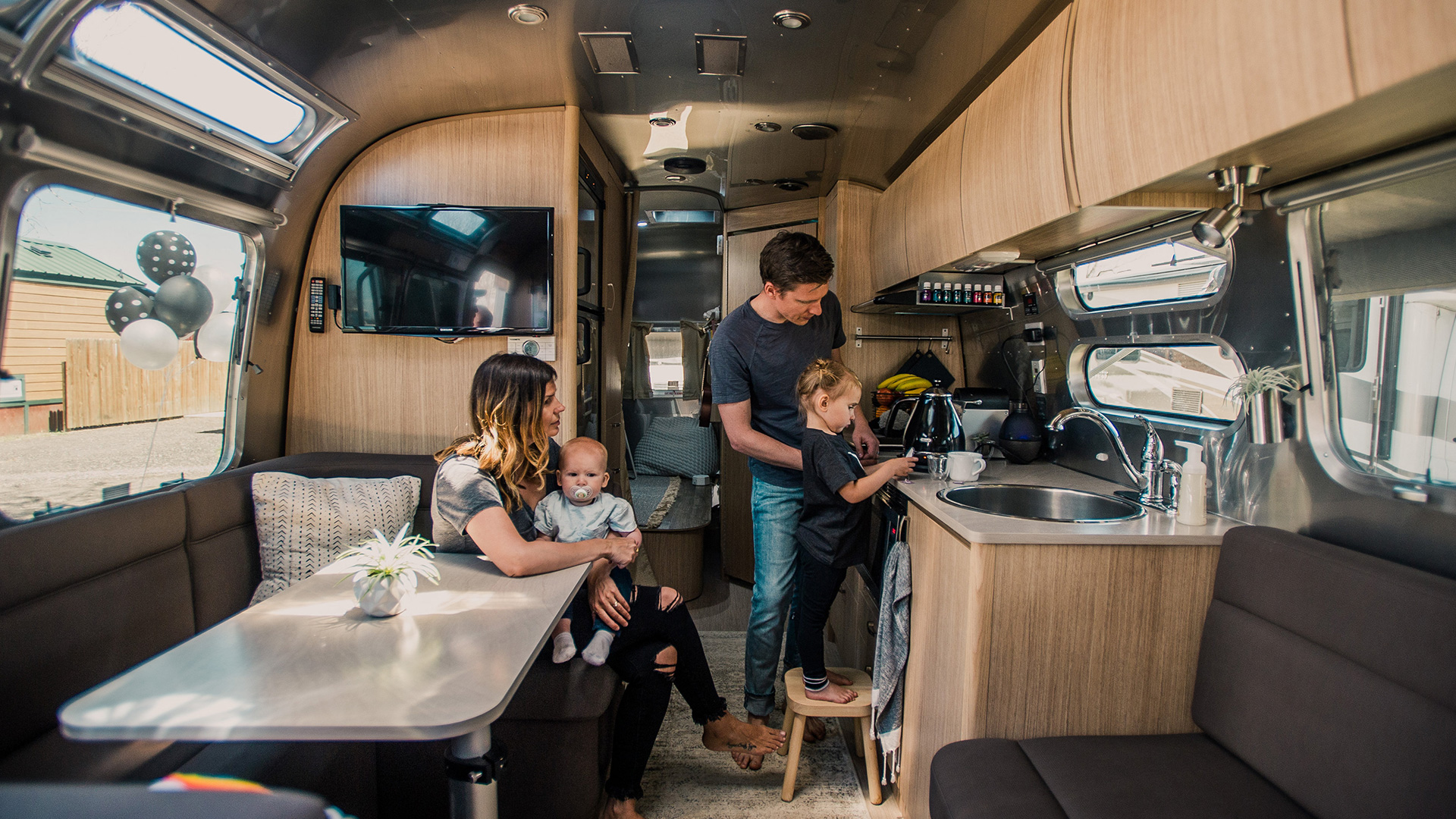 Versatility and Options
The Flying Cloud features a long list of amenities that come standard and also a few options that can change up the general functionality quite a bit. No matter the floor plan or length, there's a full kitchen with everything you need to create a gourmet breakfast or bring the family together for taco Tuesday.
In January of this year, we introduced new bunk options for the 25FB and 27FB Flying Cloud models, adding on to the existing 23CB and 30FB bunk bed floor plans. The bunk area isn't just for sleeping, though. Some creative Airstreamers who travel with a lot of gear use it for extra storage. The bunks can support up to 150 lbs. of weight (including the mattress).
The show-stopping rear hatch has also been added as an option to the 27FB floor plan. Open the hatch for the ultimate view at dinner, to let the breeze flow through, or to load and unload gear more easily than ever. Then close it all back up securely when you're done. It's a game-changer.
Because the entire family will be coming along, there's also a need for bountiful storage options which is a priority for Airstream when designing floor plans. Step inside any of the 16 options and you'll be delightfully surprised with how much storage there really is inside the shell. Check under the dinette and lounge, over your head, pull out drawers, large wardrobes, even lift up the bed to discover you have room for everything you need to bring with you for a long road trip. Explore the other features that make the Flying Cloud stand out from the rest of the travel trailer lineup.
To complement the extensive storage options, there's also the most sleeping arrangements of any Airstream travel trailer. The shortest Flying Cloud model sleeps up to 4 people with the master bed and dinette combination while the longest floor plan includes sleeping for up to 8 people. See the rest of the 14 floor plans and everything they have to offer.
Safety, Comfort, and Confidence
Wide Open Spaces
Sooner than later, it's likely that campgrounds and National Parks around the country will be bustling with like-minded folks eager to embrace the sweet relief of fresh air and colorful sights not available on the flat screen in their living room. Social distancing might be a priority for quite some time, but that doesn't mean we can't explore open spaces safely. At the end of the day, you can confidently return to the safety and comfort of your home on wheels.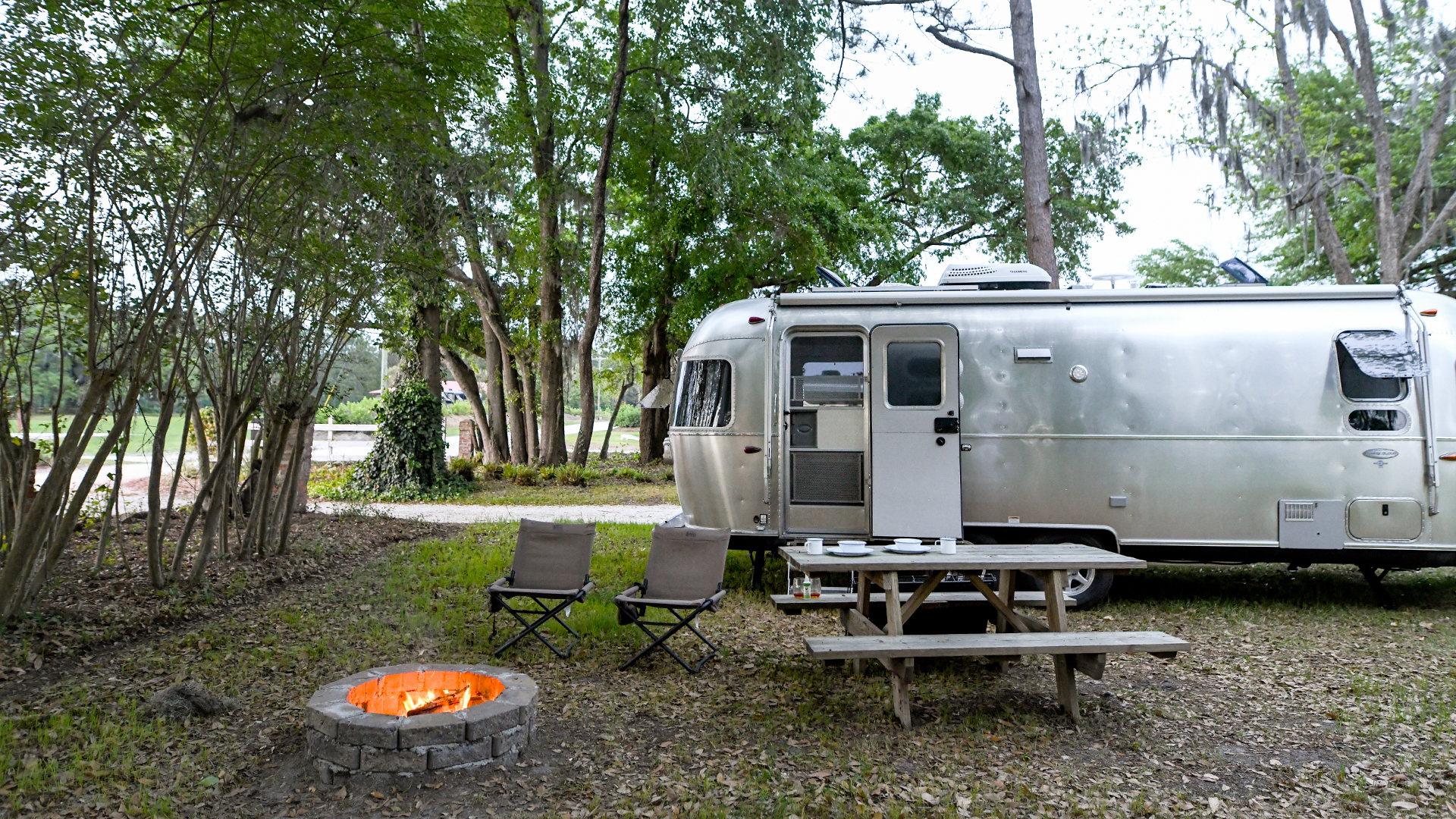 Self-Contained Travel
There's nothing better than having your own space to come back to after a long day hitting the trails, lounging on the beach, or exploring a National Park. Shower up, cook your own meal, relax with your favorite book or show, and settle down in your own bed. An Airstream travel trailer is your self-contained accommodations on wheels, and gives you plenty of choices about how your travel experience looks and feels. Steering clear of busy public areas and eschewing the recycled air on a crowded flight will likely be smart decisions when trying to stay healthy in the coming months – and possibly for years to come.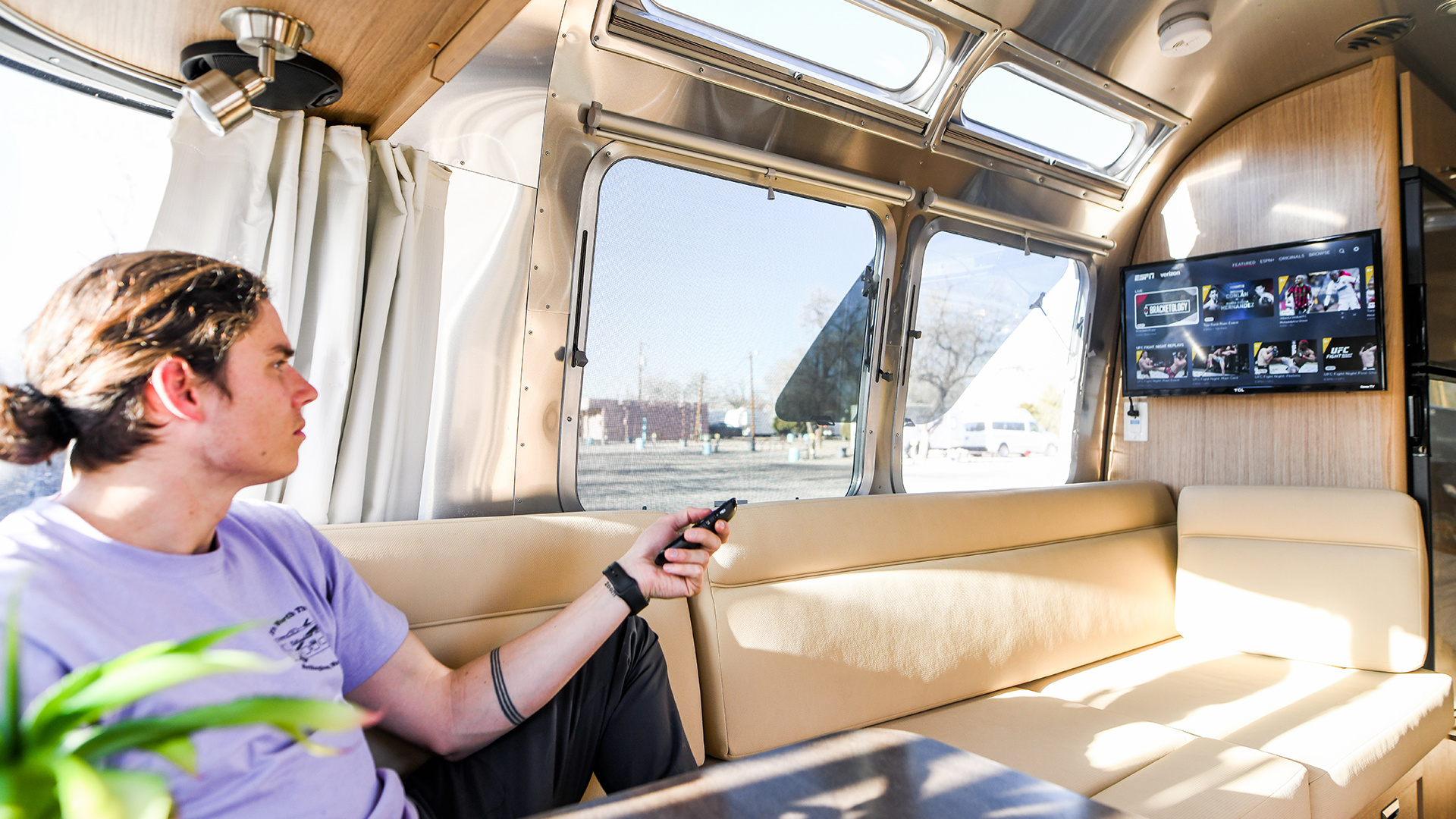 Your Airstream solves those issues by giving you and your family a comfortable and secluded place to yourselves. Most importantly, your Airstream comes with the freedom and flexibility to choose where and when you get outside and explore safely.
Efficiency in Motion
We're currently seeing fuel prices across the country at historic lows. This is exciting for the road warriors looking to get some miles in while saving on costs. While it's difficult to anticipate what will happen with the future of fuel costs, Airstream travel trailers are (and always will be) designed with efficiency in mind when it comes to all things towing.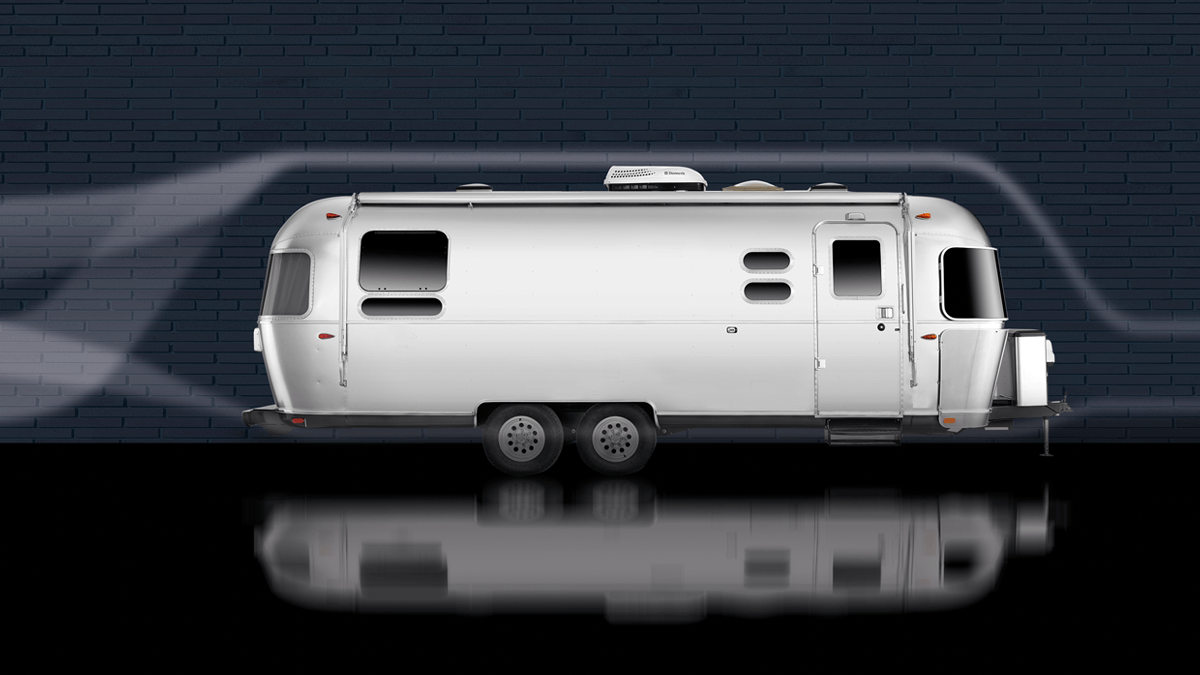 Airstreams travel trailer are optimized with industry-leading stability, durability, safety, and ease of towing. Every inch of the Flying Cloud has a function. To name a few: 
Low Center of Gravity – The weight of an Airstream is distributed evenly, making it easy to tow. The majority of the weight is below the floor line and between the axles.
Aerodynamic Design – With a low profile and rounded shape, our travel trailers naturally deliver low wind resistance and create less drag. The rounded aluminum end caps eliminate the vacuum and increase overall stability. Due to the aerodynamic shape, tow vehicles will achieve up to 20% better fuel economy than when towing a box trailer.
Ultra-Towable – The easiest and safest travel trailer to tow. If you combine the benefits of the low center of gravity, aerodynamic profile, durable aluminum shell, premium suspension system, and steel chassis, you'll quickly discover how and why Airstream got its name.
Learn more about how Airstreams are unlike any other RV on the market.
With so many unknowns, we're sticking to what we do know – Airstream travel trailers. Learn more about why the Flying Cloud is ready for the ultimate family road trip for this year, next year, and for decades to come.