Inside the Basecamp Living Space
Inside, the Basecamp has everything you need to rest up from a long day of adventure and prepare for the next one. A smart, efficient kitchen, clean streamlined bathroom with shower, and seating that converts into a bed – every square inch of this space was designed to work hard so you can play hard.
Basecamp's modular benches can seat up to five people comfortably with adjustable tables in the center. Fold one bench down for a single bed or both for a bed that spans the entire space. With recent updates in the modular bench design, there are even more ways to configure the bed. In the front of the trailer, panoramic windows let you look out at the world you're exploring, and in the back the 26" x 46" rear hatch makes it easy to load larger gear like bikes and kayaks – straight into the trailer. An attachable screen lets you enjoy the outdoors and fresh air without letting bugs in.

And then there are the details – bungie storage to keep your gear out of the way and ample storage in the bench, a fold-down faucet and tempered glass cover to add more working counter space. There's a hidden retractable screen on the entry door, and a variety of decor options that all utilize antibacterial, flame retardant, and mildew and stain resistant Syntex marine fabric. You can even add extra space to your Basecamp with a visor and two different tent options.
Airstream Aluminum, Unique Design
When people think Airstream, they think aluminum. This soft, non-magnetic, and beautiful silver metal is lightweight, durable, flexible, and it forms the exterior and interior walls of the Basecamp. Although Basecamp looks a little different from other Airstream travel trailers, it still has the same commitment to quality built in. Every inch, every curve, and every material is considered and planned out for the best travel experience possible. 
Features and Design Video
The Basecamp aluminum shell is built by hand, piece by piece, and riveted to the all-aluminum frame for maximum strength and aerodynamic shape. Because the shell is completely made from aluminum it will never rust or rot. 
Fear-Busting Towability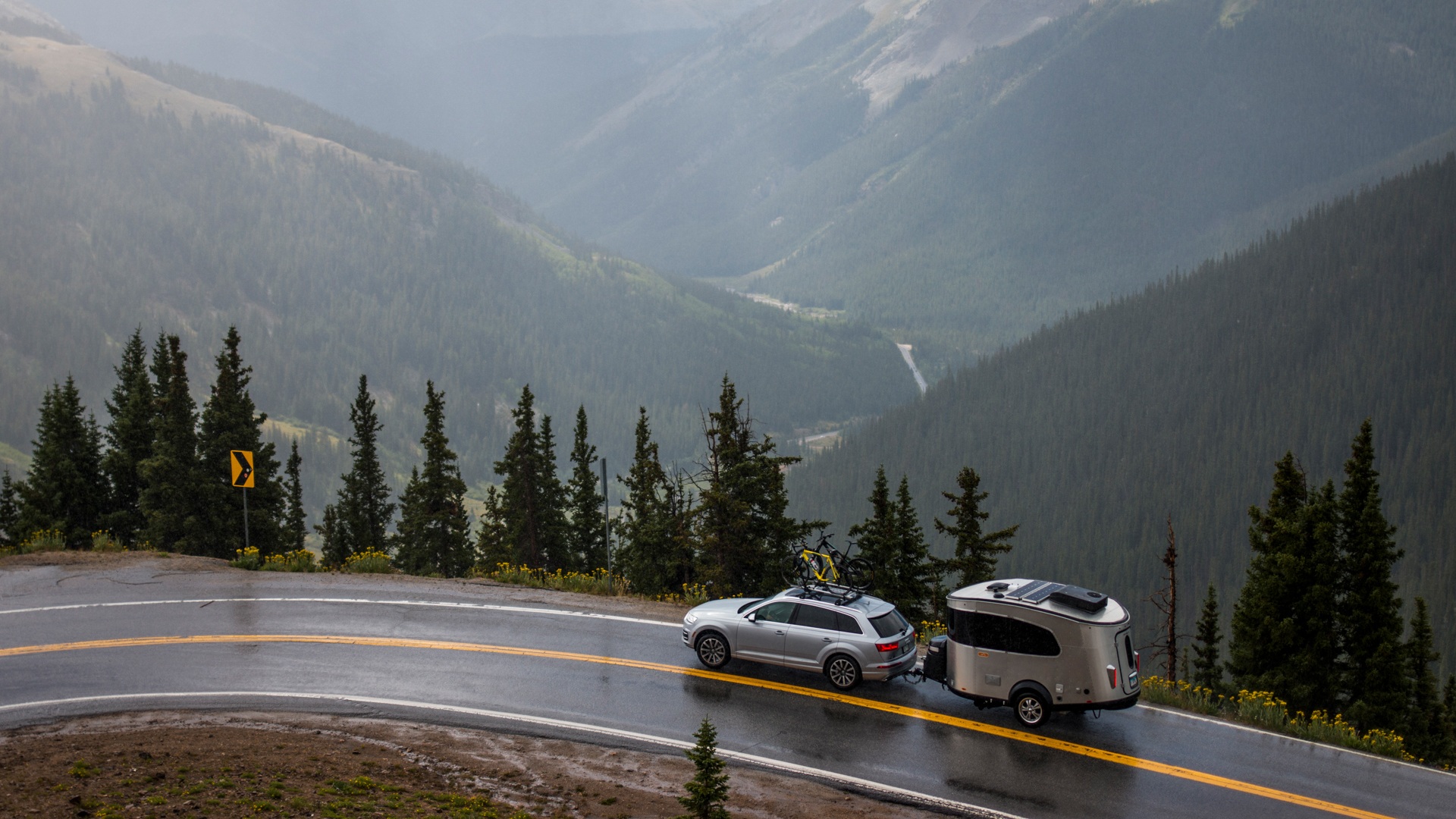 At just over 16 feet, Basecamp's size makes it one of the most lightweight and easy-to-tow Airstream travel trailers to ever be manufactured. The compact, lightweight design means the Basecamp is ultra-towable. With a base weight of just 2,635 pounds and maximum trailer capacity (GVWR) of 3,500 pounds, it can easily trail behind a long list of the most common SUVs on the market.
During the initial design stages, the Airstream design team emphasized ensuring that the end product was something towable by the vehicles many people already own. From the popular family SUV to the best-selling half-ton pickup class (Ford F-150, Ram 1500, Chevrolet Silverado 1500, etc.), Basecamp was intentionally designed to be universally towable without needing to go out and buy a new tow vehicle.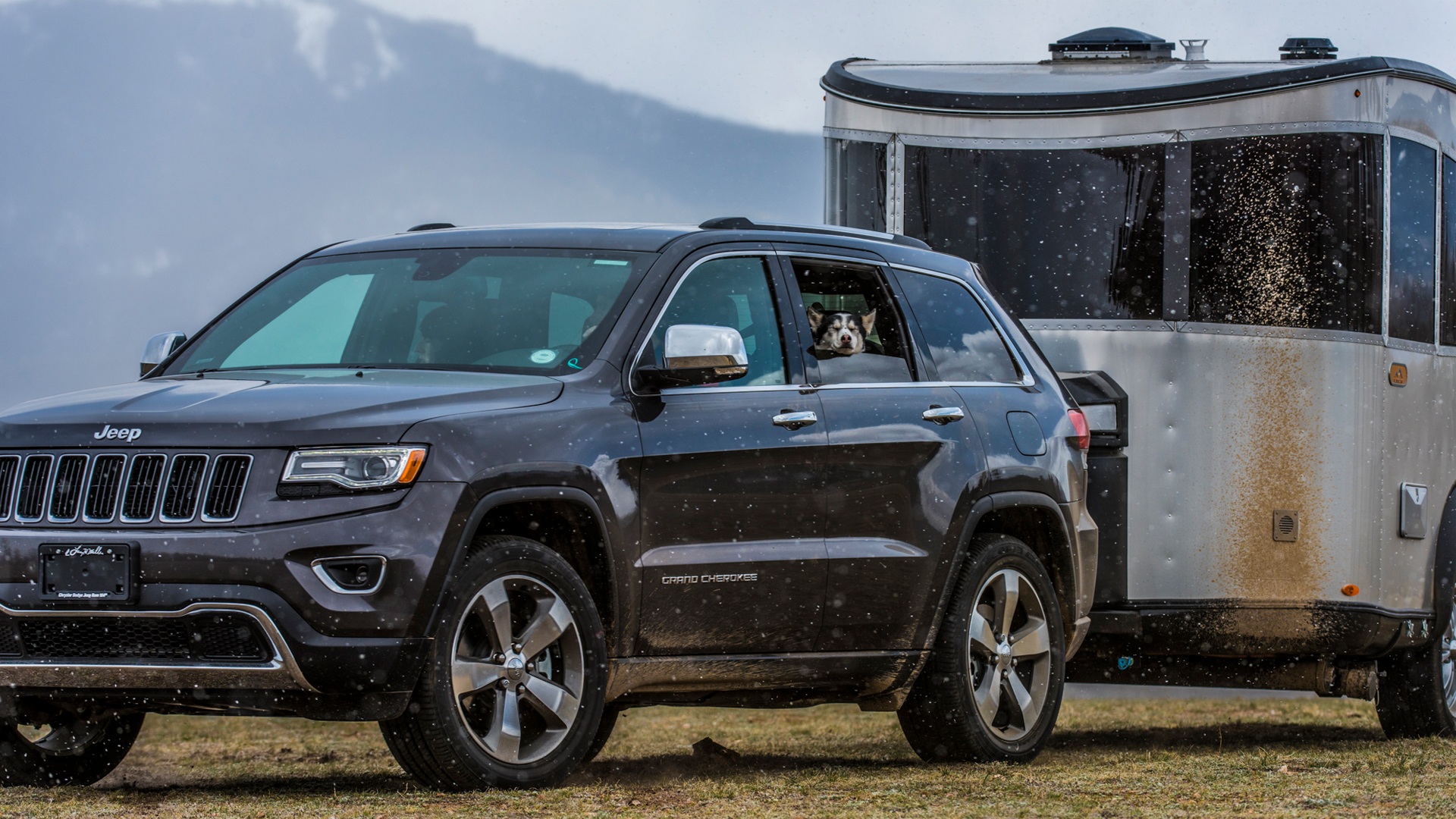 "At 2,635 pounds — roughly the weight of a pair of hitched-up Ski-Doos — it's remarkably light to tow," wrote Hayden Coplen in a recent hands-on review from Gear Patrol. "Plus, its compact proportions make navigation through tight spaces easy; it was a relief to have no superfluous length behind my car while angling for parking at a roadside stop or maneuvering in reverse to my campsite. Conversely, the short length means the trailer is extremely responsive to inputs while reversing; the rig is so manageable, however, that it shouldn't be a problem for any driver with a bit of practice." Read more about what Gear Patrol had to say about Basecamp.
Ready for Rugged
The Basecamp stays true to the roots of Airstream founder Wally Byam's Credo, which aims "To provide a more satisfying, meaningful way of travel that offers complete independence."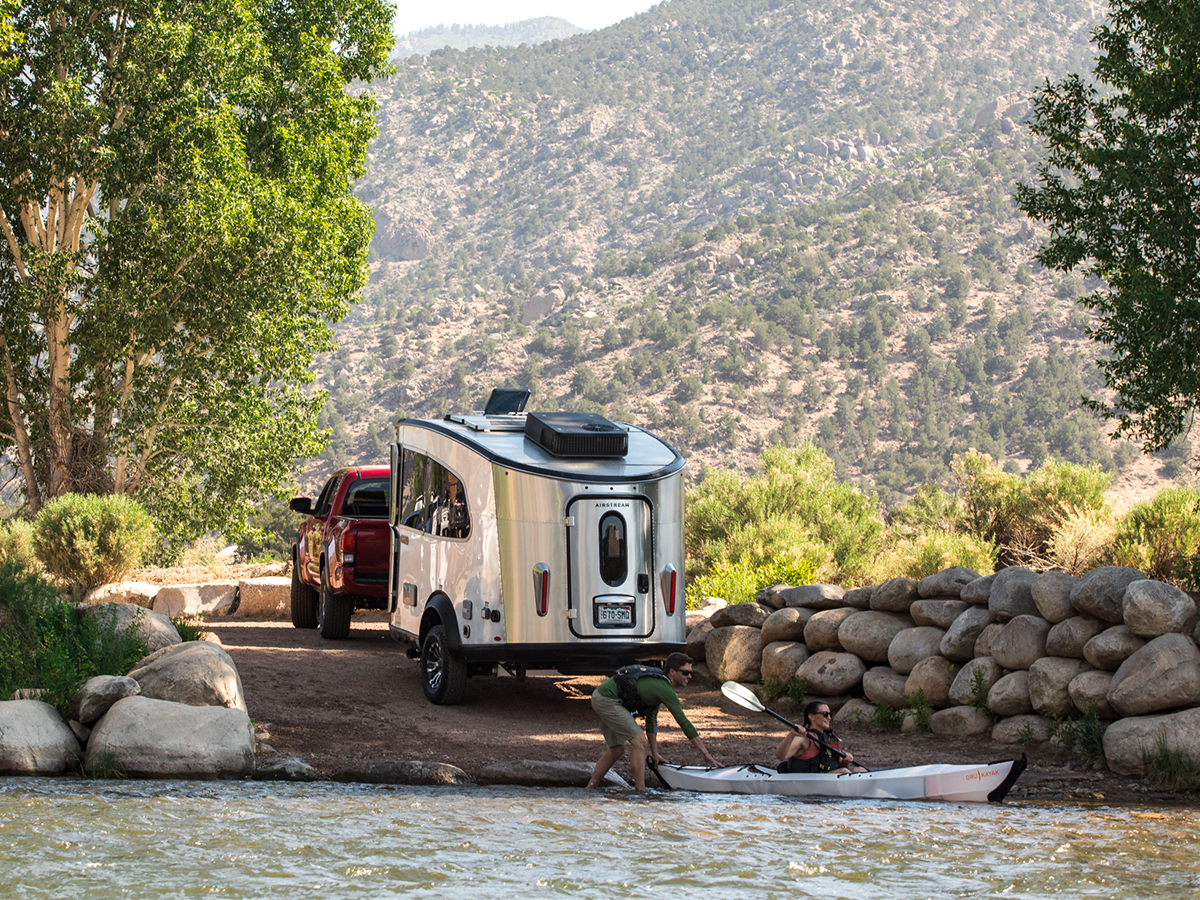 While still far from standard, our standard Basecamp floor plan is more than capable of taking you to a remote destination and possesses features that make your camping experience comfortable and fun. It comes with quality Goodyear ST255/55R18 tires that grip to the road and are reliable in just about any type of terrain other than extreme. If you're looking to break the threshold where the blacktop really ends, you're going to want to check out the Basecamp X. 
In addition to standard Basecamp features, the Basecamp X package includes a lift kit, Goodyear Wrangler tires with stylized black shadow wheels, stone guards, and window guards. Some of the best places in the world to camp are in the middle of nowhere and this travel trailer gets you there safely and comfortably. Plus, the optional 180 watts (two 90 watt panels) of rooftop solar power can keep your batteries charged when there aren't shore power connections nearby.
Why Add a Lift Kit? 
The Basecamp X features a 3" Dexter lift kit. The kit raises the travel trailer frame to provide additional clearance between the frame and the axle, giving you more space to adventure off the road. Other than freeing up space for the larger off-road tires, the main benefit of the lift kit is for an enhanced departure angle.
What's a departure angle and why does it matter? Departure angle is the angle between the ground and a line running from a rear tire to the lowest-hanging component directly behind it. This concept speaks for the grade that the travel trailer can descend without making contact between the ground slope and the bumper. This is important in many situations – from crossing a steep entrance at the gas station all the way to driving over ruts and gullies. The attention to detail and engineering that went into the Basecamp is unmistakable as it's the only Airstream that slopes upward behind the axle.
Why Goodyear Wrangler Tires and Different Wheels?
If you're planning to take your Basecamp X off the beaten trail, you're going to need tires that can do it safely. The Goodyear 235/75R15 Wrangler radial tires that come standard are up for the challenge. These all-weather, traction enhancing, heavy duty tires are ready for road or terrain. Because the wheel size and diameter are different from the standard Basecamp, there's stylized black shadow aluminum wheels that are factory balanced and ready to go just about anywhere.
Stainless Steel Front Stone Guard and Window Protection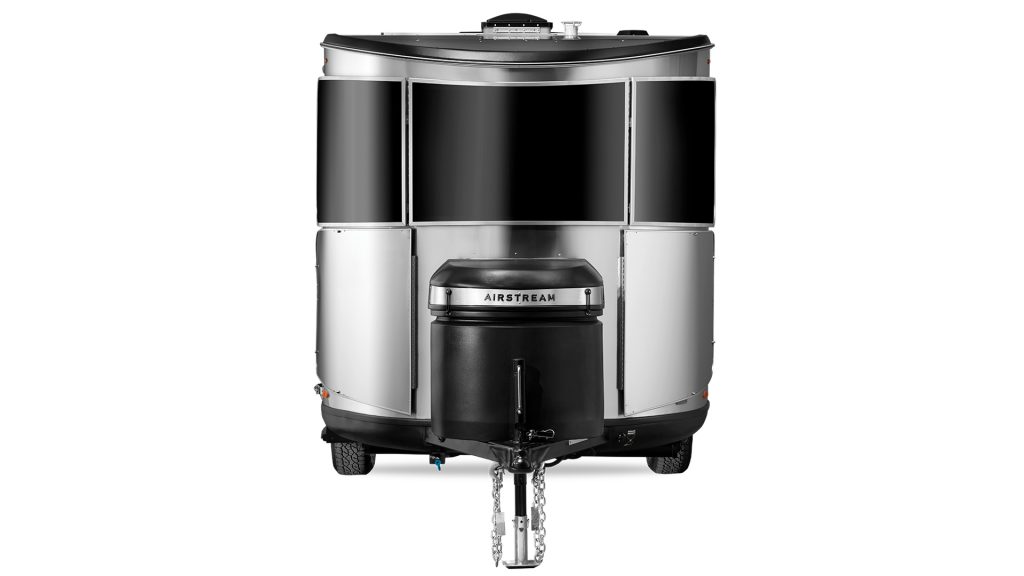 Basecamp comes standard with a durable 3M protective film strip to protect the aluminum from scrapes and scratches. The Basecamp X includes two front stainless steel stone guards that will safeguard the aluminum from rock damage or other road debris that may come up while traveling. Additionally, the X-package also includes a front window guard that not only protects the glass from road debris but also shades the interior and provides extra privacy.
Airstream Anthem - Adventure
You've likely seen the Airstream Anthem video which highlights Airstream founder Wally Byam's commitment to building more than just a travel trailer, but a way of life. Wally's passion for travel, community, and commitment to quality has been Airstream's guiding light since Wally put pen to paper sometime after World War II. 
In the spirit of Wally's commitment to "keep alive and make real an enduring promise of high adventure," we present the second chapter of our Airstream Anthem series. We hope this video inspire you to keep alive your own dream of adventure. 
Basecamp packs everything you need into one versatile trailer that's just as comfortable at a campsite as it is off the beaten path – so hit the road, hit the trails, and get going on your next grand adventure.
Want to know more about the versatile Airstream Basecamp Travel Trailer? See its design, features, and floor plans in the brochure.