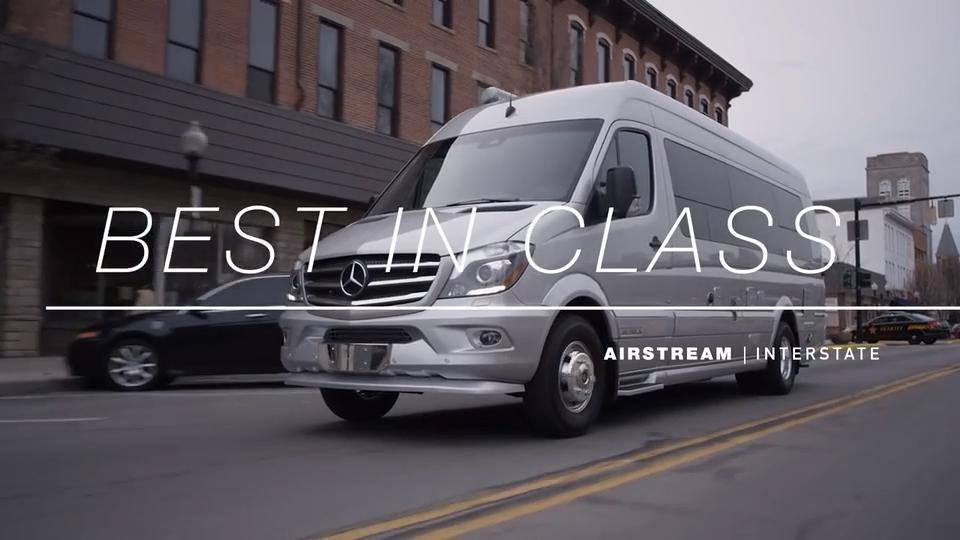 The end result is industry-leading performance and style everywhere you look. You'll feel it in the way it drives, in the finishes that remind you of home, and in the way it makes the journey just as enjoyable as the destination.
"Best-in-class in every way."
"We knew that when we developed the Interstate and put the Airstream name on it, it had to be more than just another luxury touring coach. It had to be best-in-class in every way – performance, quality, design, we had to lead the field. Over 50 best-in-class features come standard in the Interstate and they combine the refinement of Mercedes-Benz with the quality and luxury provided by Airstream."
"Let me start with the power plant. A powerful V6 turbodiesel engine from Mercedes provides great acceleration and tremendous fuel economy. Our owners rave about how easy the product is to drive and park. And additional features like the power awning, which deploys with a push of a button, or the power shades, all designed to make the ownership experience both comfortable and convenient."
"The Airstream Interstate is the only touring coach that offers every Mercedes-Benz safety and convenience feature standard. You can get these features with our competition, but they make you pay for them. Whether it's collision avoidance, lane-change assist, heated windshield – every box is checked."
"With the Airstream Interstate it's not just about performance and safety, it's also about luxury and design. Whether it's the hand-crafted overheads, the beautiful Corian® countertops, the Ultraleather® seating surfaces, or our marine-grade flooring, all of these are carefully selected to provide a luxury ownership experience that our customers would expect."
"We're very humbled to have been the top-selling Type B diesel motorhome in America for four years straight, and that's really a testament to the craftsmanship and the hand-built quality of the workforce here in Jackson Center."
The Interstate offers over 50 best-in-class standard features, perfect for those who seek the best or nothing at all. See how you can experience your next adventure in luxurious style.
Take a closer look at the Airstream Interstate. Visit the video series gallery by clicking the button below. Learn more about the product on the Touring Coaches overview page, or choose the perfect floorplan, design and options for your Interstate with the Build Your Own tool.
---
This article is one part of a video series about the Airstream Interstate Touring Coach. To read additional entries and watch more videos, click one of the links below:
Part 01: Built with the Best Materials
Part 04: Best-in-Class — Currently Reading
Part 05: Partners with Mercedes-Benz
Part 08: Environmental Consciousness
Part 10: Grand Tour vs. Lounge