Thanks to his service in the Air Force, Chief Master Sergeant James (Jim) Lucas saw the world. Now that he's retired, he's planning to see the country – with a bit of serendipitous help from the Airstream Salute program. Just as soon as his daughter can secure daycare for the grandkids, that is.
It was the grandchildren who first brought Jim and his wife, Susan, to Wichita, Kansas, from Connecticut, where they lived after he retired from the Air Force and took a job with the Veterans Administration as an analyst.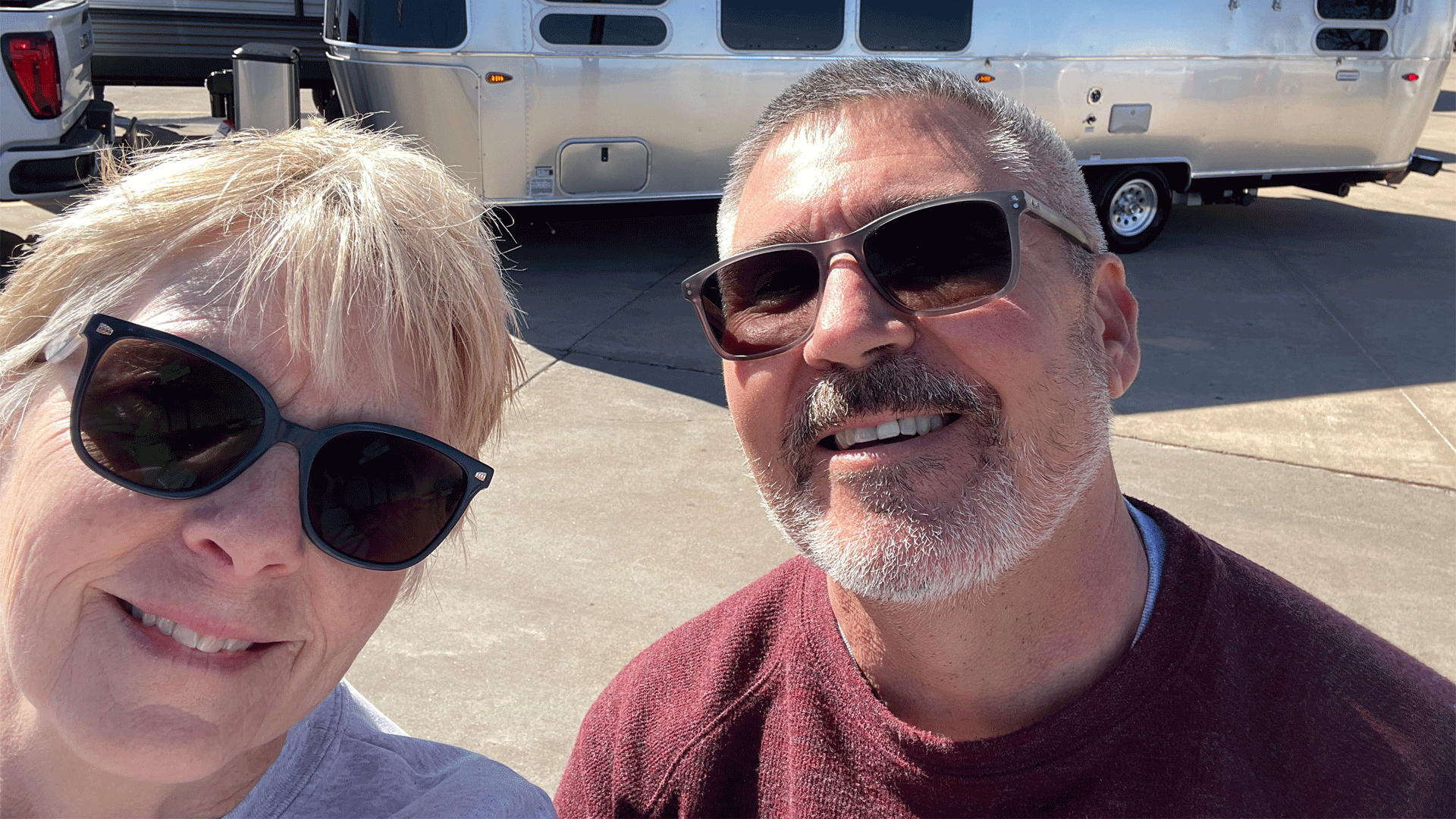 Before that, he had assignments all over the world. Jim went into the military right out of high school in Connecticut. During his 30 years of active duty, he and his family lived in Japan, England, Turkey, Guam, Okinawa, and other places afar. He also had wartime deployments to Southeast Asia, Central Asia, and Southwest Asia.
"We spent most of our time overseas, which, when you think about it, is kind of a good deal," Jim says.
"You go into service, you want to see the world, right? And you get paid to do that. So that's what we did."
"But only three of those assignments were in the States, so we didn't really get to see a lot of the U.S."
They first started to explore with a Class A motorhome while they were still living in Connecticut and working full time. But in addition to time constraints, they felt hamstrung by the logistics of their large RV.
"I'm an analyst by trade, and I did a lot of planning throughout my Air Force career," Jim says. "And I just didn't want to plan that much anymore. I wanted to have a lot more freedom when we were taking this journey. And so that led us to explore the van life."
The flexibility and mobility of a Class B suited Jim and Susan for a while. But then the granddaughters got a little older — they're now 3 and 5 — and started camping with them. With two grandchildren and a dog, they soon were looking for an RV that was a better fit for their growing needs.
"I had always had this dream," Jim says. "We saw a lot of Airstreams out on the road and thought you know, maybe…"
They were discussing the possibility again during a drive back to Kansas from South Padre Island in the van in November 2021 when they spotted an Airstream dealership in Oklahoma City. Industry shortages were legendary at the time, but there was a row of shiny Airstream travel trailers lined up in the lot.
"I said, let's just go look," he remembers. "I turned off the exit and – to make a long story short – four hours later we had a promise from the dealer."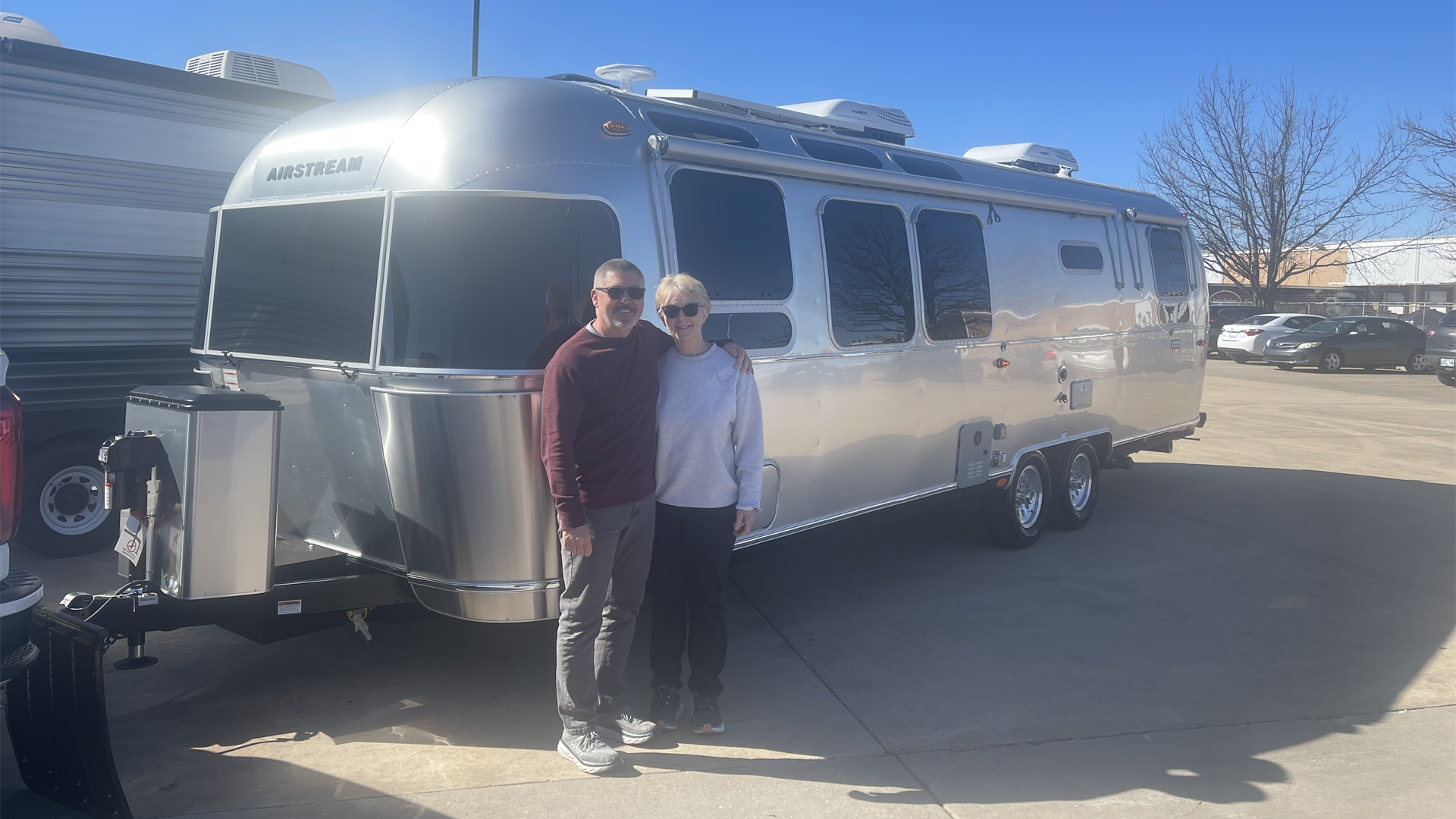 There was a 30-foot International with the exact combination of features that Jim and Susan were seeking; even the interior color that Susan had hoped for. It was to be ready in March.
Even better, the Lucases were eligible for the Airstream Salute program, which offers a discount off the bottom line for active and retired military.
The couple remained a bit skeptical of their good fortune, knowing that the market for RVs at the time was more than tight, even for used models, let alone a new travel trailer with the precise specifications they were hoping for. Surely their salesman was exaggerating with his promise of a March delivery.
"We're thinking this guy's kind of pulling our leg," Jim laughs. "Well, sure enough, he calls us up at the end of February. He said, 'Your Airstream is going to be here next week. When can you pick it up?' So here we are. It was fantastic. It was really a super experience, and so we couldn't be happier."
By then, their daughter's work took her from Wichita to El Dorado, Kansas, and the distance meant they saw their granddaughters less frequently. Jim and Susan decided that they were ready and the time was right for their next epic adventure.
They sold the van and made plans to hit the road full-time. They sold their house, too, and had just headed north toward South Dakota to establish residency when their daughter ran into daycare challenges. Instead, they ended up living in their Airstream in El Dorado for six weeks, hoping to depart in another three. It was a good test of their new Airstream.
"Now that we've lived in it full time for six weeks and used it a lot in the months before that…zero problems," he says. "It's been fantastic."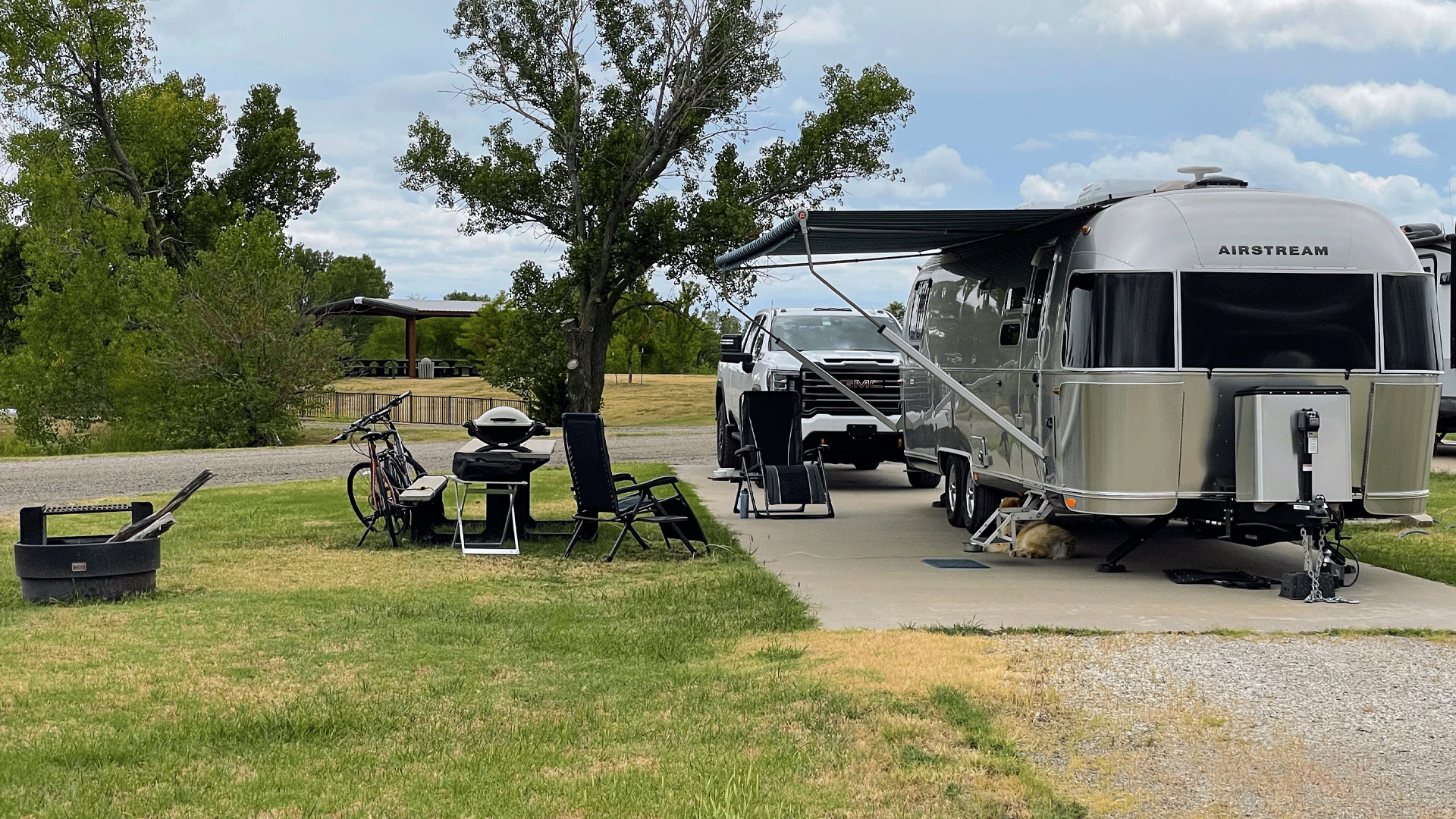 Just as soon as the granddaughters are settled, Jim and Susan plan to start in the southeast, then drive across the country to winter in the southwest. When winter breaks, they're looking forward to seeing Sequoia and Yosemite National Parks, then on to Seattle, Glacier, and Yellowstone National Parks before meandering east to New England.
Their ultimate ambition is to see the entire country — minus Hawaii, of course — over the span of five years before heading overseas again, this time for fun.
And while the timing of Jim and Susan's departure didn't work out ideally in the face of an unexpected childcare situation, their minimalist means of purging their house last April was fortuitous for many others. An EF-3 tornado wiped out portions of Andover, Kansas, just east of Wichita, shortly thereafter. The Lucases were able to donate most of their household goods to help those who had lost everything.
"It worked out really well," Jim says. "You know, to be honest, we've never felt more free."
Chief Master Sergeant James Lucas's first assignment was Loring Air Force Base, Maine, in 1983. His last assignment culminated with duties at Dover Air Force Base in Delaware, home of the Air Force Mortuary Affairs Operations unit, where fallen service members make their first stop in the States on their journey home. Chief Master Sergeant James Lucas retired in 2013. We at Airstream thank him for his service.
The Airstream Salute program offers discounts on Airstream travel trailers and touring coaches to active and retired members of the military, as well as active first responders. Learn more about the Airstream Salute program and see if you qualify.