Joe and Conner love Seattle. They also love escaping their beloved hometown for a weekend getaway or a globetrotting memory-making adventure. Already primed for travel adventures, all it took was an encounter with a shiny riveted aluminum travel trailer to make them fall in love with the Airstream life.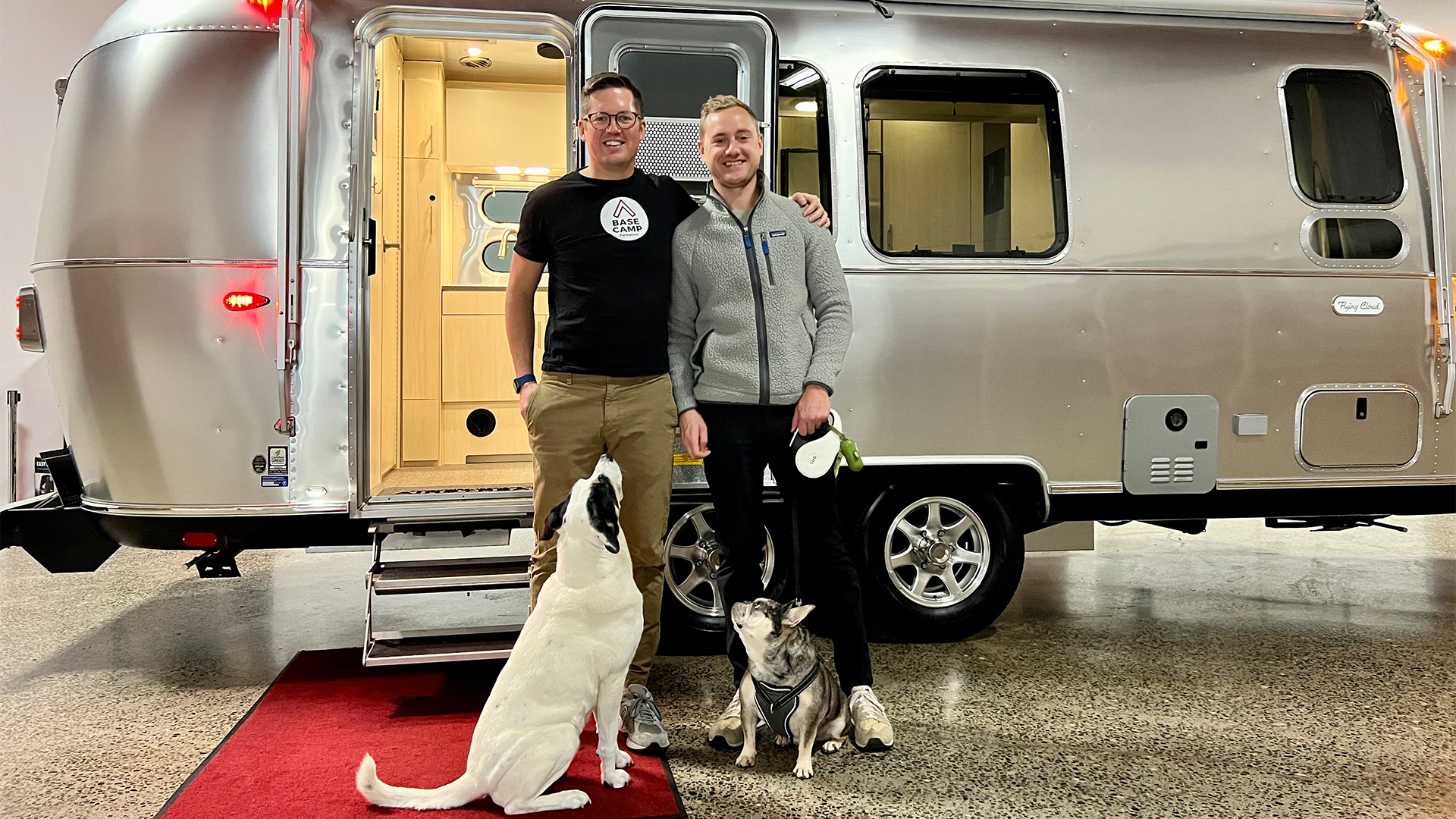 "Our friend invited us to visit him in his International last year, and that was it," says Joe with a laugh. "I said to myself, this is perfect for us, we've got to get one of these."
Conner didn't take much convincing – his parents and grandparents both owned Airstream travel trailers, which they routinely used for winter escapes to Arizona. And, so, this past fall, the couple took the plunge and bought a 2023 Flying Cloud 23 FB, which they christened 'Camp Foxtrot."
Part of a
New Generation of
Airstreamers
Camping with Pride
Joe Loeffle and Conner Gallagher are among the newest members of the LGBTQ+ RVing community, which has grown in numbers and visibility in recent years. The internet reflects this trend with numerous Facebook pages, Youtube videos and websites offering advice, recommendations and travelogues by and for LGBTQ+ RVers. Many of those websites and pages belong to regional and national LGBTQ+ RVing clubs, such as the Airstream Club International's Pride Streamers and RainbowRV.
The Flying Cloud helps this busy professional duo get outside in two ways. When they aren't using Camp Foxtrot as a base for snow skiing or to explore the natural wonders of Washington, the Airstream sits on a gorgeous mountain lot serving as a quick and easy weekend hideaway.
"We did some tent camping earlier in our relationship," says Joe, who works for a tech company. "But as you get older and life gets busier and more complicated, something like the Flying Cloud becomes a perfect way to get into nature with less work and more comfort."
Looking Forward to Bigger Adventures
Joe and Conner, who have been together for nine years, are looking forward to keeping Camp Foxtrot busy this year. The couple is planning some multi-day trips and hopes to master the art of boondocking (or camping off the grid).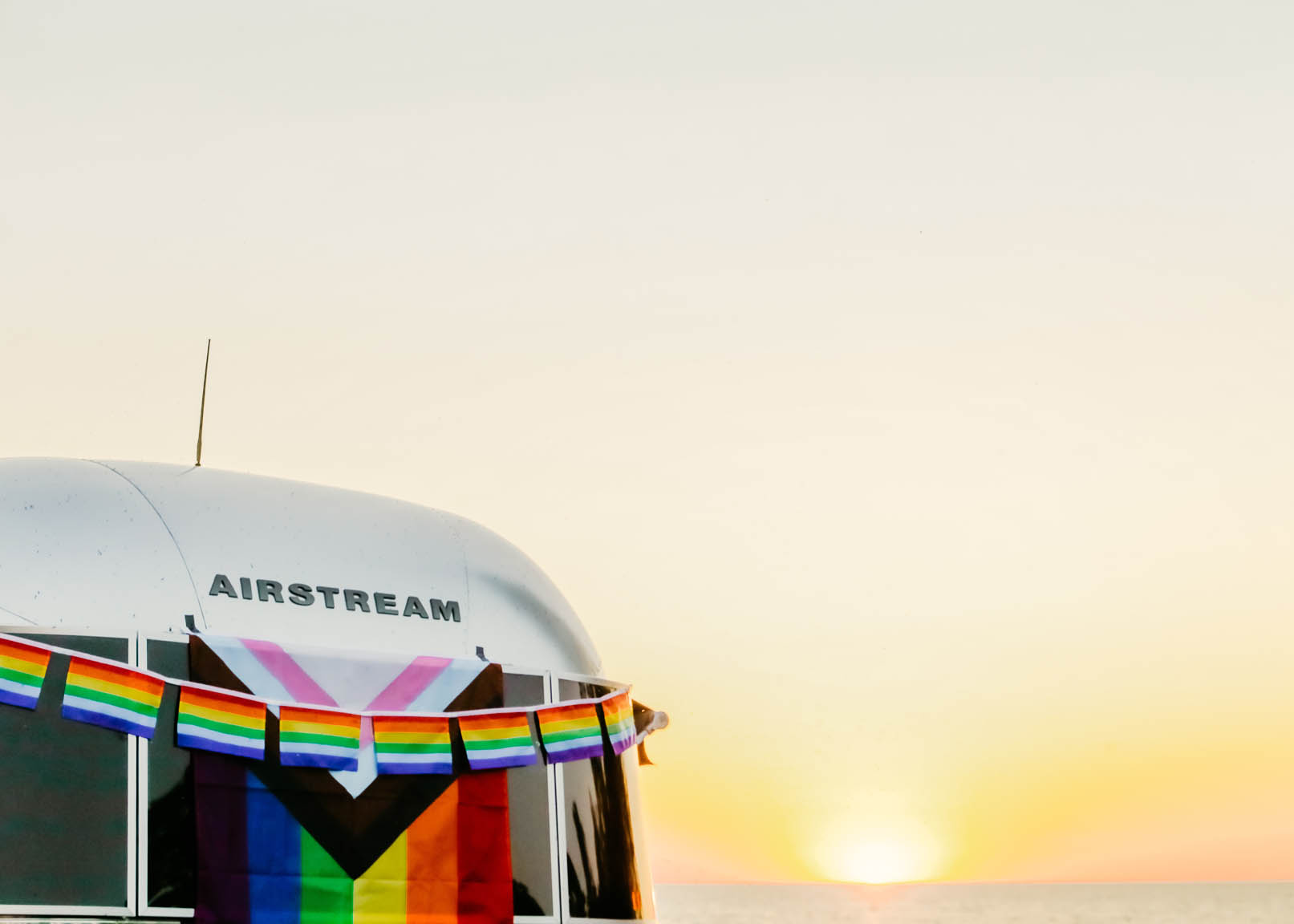 "We're very social, and we love people, but sometimes you just want to really get out there away from everything," says Conner, a flight attendant.
Their Airstream dream is to make an epic journey on par with Conner's family's trips from the Pacific Northwest to warmer places. They love the spirit of adventure and discovering new places and new experiences. And they both recognize that making memories is always better when you have someone to share the experience with.
"Because I'm a flight attendant, we can fly just about anywhere for little or no cost," says Conner. "But there's something extraordinary about seeing the country close-up, mile-by-mile. And there is something intimate and connected about making such a trip with someone you love."
Like the memories we make traveling the highways and byways, the best things endure.
Ready to take your own Airstream adventure? Connect with your nearest dealer, where you can see Airstream travel trailers and touring coaches up close and start your own Airstream adventure today.
Airstream, Inc., and Wally Byam Caravan Club International, Inc. d/b/a The Airstream Club International are separate, independent legal entities.