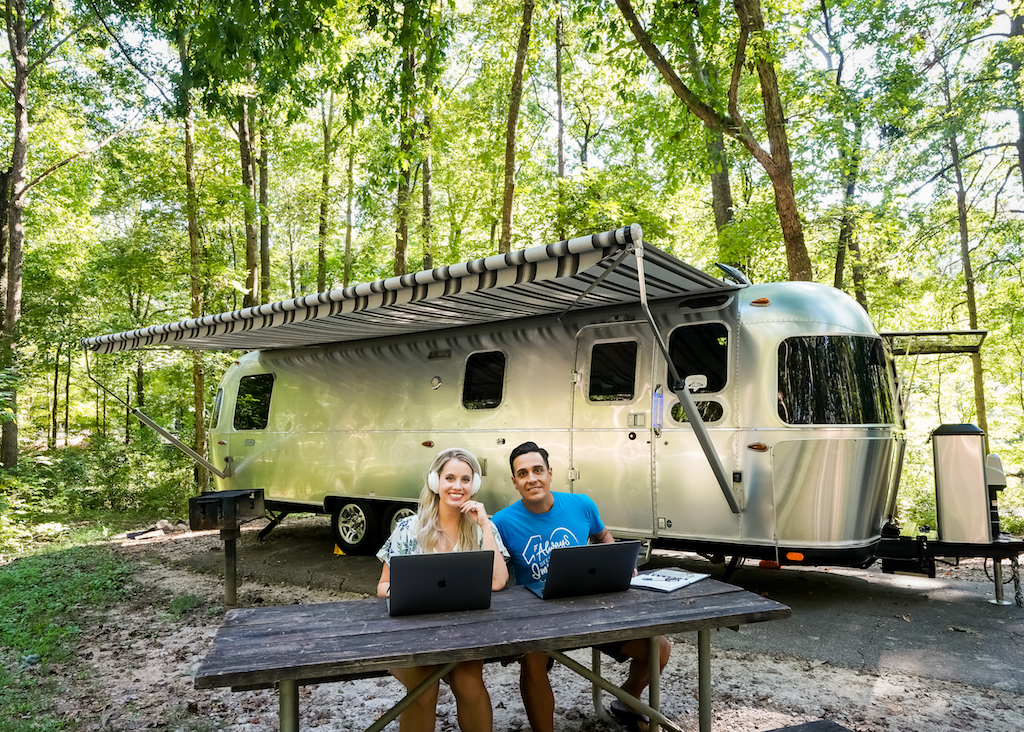 When a couple decides to live full-time in their Airstream, they typically spend a lot of time shedding belongings via yard sales, trips to Goodwill, and giveaways to family and friends. 
Not so much for Lauren and Daniel Fernandez. They own more stuff now than before they moved into their 30-foot Classic. That's because these hardcore minimalists and veteran nomads spent two years living out of two suitcases and shuttling between AirBNBs and hotels before hitting the road in a Silver Bullet.
Until 2019, Lauren and Daniel were tracking nicely on a very traditional life trajectory. They met and married in St. Petersburg, FL, where Lauren owned a digital marketing agency. Daniel eventually joined the business, which flourished thanks to the couple's relentless efforts and long hours.
But...
"It was exhausting," says Lauren. "We had a staff of 20 and just worked ourselves to the bone. Daniel finally put his foot down and said we needed a vacation. So, we went to Jamaica for a week."
Once they realized the agency could survive their absence, Lauren and Daniel began to take more and longer vacations. And, after watching a documentary on minimalism, the couple decided to up their travel game.
"We started thinking about our lives and all the stuff that we had around us and the things we weren't really using," says Lauren. "We realized that if we just reduced how much we own, we could travel full-time and live a life that excites us."
After selling the house and unloading most of their possessions, Lauren and Daniel began traveling the world in ultra-minimalist fashion. They carried one suitcase each and stayed mostly in AirBNB-style accommodations. The couple continued to run their agency remotely with occasional visits to the St. Petersburg office.
The start of the COVID pandemic caught Lauren and Daniel in Morocco, where they used their communications skills to draw attention to the plight of Americans and others who were trapped in North Africa when countries began to close their borders. The success of that effort prompted the couple to look for other ways to apply their skills to help others. The answer was right in front of them.
"We saw how hard local businesses were impacted by the pandemic, ours included," says Lauren. "We had friends whose businesses went bankrupt. We decided we wanted to shine a light on local businesses somehow — and we wanted to get back on the road again. So we decided to make a 50-state tour to highlight local businesses."
The first challenge: how to make such an ambitious journey in a time of social distancing. The answer: a 30-foot Airstream Classic, which checked a lot of boxes for Lauren and Daniel.
"Airstreams are modern, beautiful, and they're American-made," says Lauren. "Even though we travel full-time, we like to do it in style. And, our Airstream is exactly that." 
By the start of 2021, Lauren and Daniel had visited 11 states, promoting local businesses along the way via social media.
"We started a YouTube channel that's growing quickly, " says Daniel. "Our weekly videos promote local businesses in the place we visit. It's our hope that our Airstream adventures will inspire others to wander locally in their own communities too."
Lauren and Daniel, who had no RVing experience before undertaking this adventure, are also documenting what it's like to be an Airstream newbie. Their videos offer hitch-level advice and insight for their fellow RV newbies and mobile entrepreneurs, some of which were learned through embarrassing missteps. Like the time they, um, backed their truck into their Classic.
"We're definitely making plenty of mistakes," says Daniel. "We're just trying to learn as we go, and we want people to know this is part of the process. You are going to make mistakes, but they're totally worth it."
No surprise, Lauren and Daniel are big advocates of traveling light. After loading down their Classic with clothes and gear to cover every season and situation, they found themselves doing another possessions purge.
"If you're not going to use something on a regular basis, leave it at home," says Lauren. "The less stuff you pack, the less stress you'll have in the long run."
Perhaps their most important advice to those considering full-time Airstream life is, you can do this.
"If we can learn how to travel and live this way, anybody can do it," says Daniel. "We've met so many amazing, incredible people through this experience. The Airstream community is so willing to help you that it makes it a lot easier than what you probably imagine it would be."
Daniel and Lauren don't know exactly how long they will stay on the road. Certainly long enough to level up from newbie status.
"We don't foresee our Airstream lifestyle-changing anytime soon," says Lauren. "The U.S. is huge, and there's so much to see! Traveling in our Airstream allows us to see so much more than we ever did before when jumping from one airport to the next. America is beautiful, and we're soaking up every moment of our new travel lifestyle wandering locally. It's good for the soul." 
Learn more about Lauren and Daniel as they adventure across all 50 states