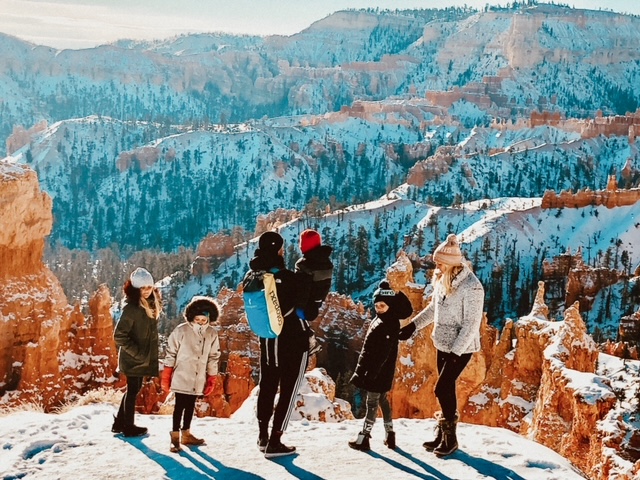 This energetic Utah couple turns the knob up to 11 in every aspect of their action-packed lives. They have four young kids, two dogs, three businesses, two business ideas in development, and, of course, two Airstreams.
"Our first one was a 23-foot International," says Sommer. "We loved it, but we decided we needed a little more space, a little more room. So, we got a 27-foot International, and now we rent out the 23-foot."
Sommer is a second-generation Airstreamer. She grew up adventuring with her family in a Silver Bullet. When Sommer and Ryan were first married, they frequently borrowed that same Airstream.
"We used my parents' Airstream and rented other RV's to see if this was something we'd enjoy," says Sommer. "We both fell in love with the Airstream experience. We bought our first Airstream about four years ago."
Design, craftsmanship and aesthetics were key drivers in the couple's decision to buy an Airstream.
"An Airstream is like a piece of art," she says. When you're looking at the windows, and have the rounded ceilings and aluminum, that's art. To be camping in something handmade and you know someone put a lot of love and attention into building it makes being out in nature even more special."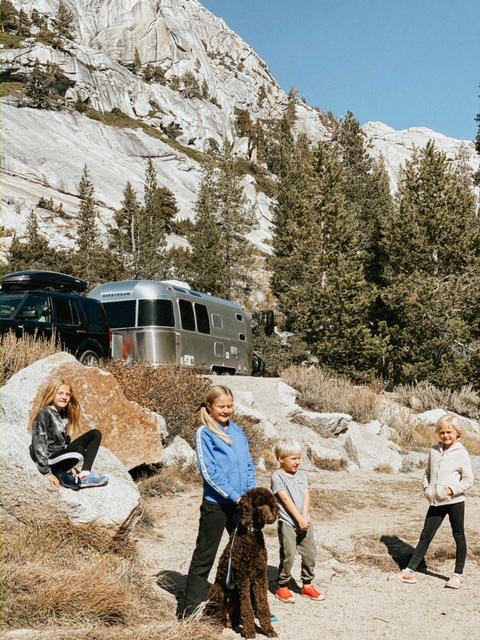 And, says Ryan, "There's an Airstream culture and community that we love. There are a lot of nice RVs out there, but when you're in an Airstream, it's just a different experience when you are on the road or in the campground."
The Schwarz clan spends about half their time adventuring in their Airstream. They take lots of extended weekend trips and journeys that last up to two weeks. Their itineraries are driven by either dream destinations (lots of National Parks) or places where family members can engage in their favorite outdoor activities, including snow and water skiing, hiking and mountain biking.
(Yes, they haul six bikes on their outings, some in the bed of their F350 truck, the rest on a rack that Ryan installed on the back of the International. They boondock about half the time, often when visiting popular National Parks.
"I think one of my favorite trips was the big loop we did that started in Lake Tahoe, went to San Francisco, up through the Redwoods, along the Oregon Coast, and through the Pacific Northwest to the Seattle area."
Says Sommer, "We looked at each other in Olympic National Park and said we both wished we could keep going and going."
The couple sometimes lets friends use their smaller International to create a mini-Caravan.
"We love having friends take our 23-footer," says Sommer. "Because then we get to travel with friends or family and share those experiences with people we love."
Of course, every one of Sommer and Ryan's adventures includes four people they love - those four kids, ages 12 to five. What's that like?
"We get the funniest looks from people when we all come pouring out of the truck when we arrive at the campground," says Ryan. "People ask how we all fit in the Airstream, and they think we're crazy. But we fit well, in fact, we fit perfectly."
And while adventuring with a pack of youngsters might seem like an excellent way to discover new levels of chaos and stress, Sommer says being on the road can be more relaxing than home life.
"We're all a little bit calmer when we're camping with four kids, which sounds bizarre, but it's how it usually turns out," says Sommer. "The kids fight less when we're traveling in our Airstream because things are minimalistic, they're simple, so there's not that much for them to argue about or get frustrated with each other about because we're just out there enjoying each other. Meanwhile, as a mom, I'm not super stressed or crazy. I always feel better when I'm outside doing things and enjoying nature. It's less stressful than when I'm home, and life gets so crazy."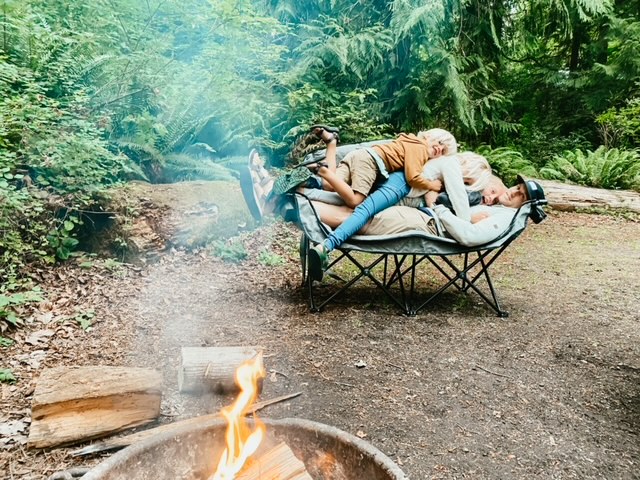 Sommer offers two interrelated pro tips for Airstreaming with young children: First, pack minimally. Don't bring along a ton of stuff designed to entertain the kids, because — tip two —you should select destinations that offer lots of outdoor activities for the family.
"We don't spend much time just sitting around looking at each other and doing nothing," says Sommer. "We stay busy when we're out camping."
Ryan says he and Sommer have learned not to let logistics or the small stuff diminish their adventure and escape.
"Sure, it can be stressful to pack for six people and two dogs," he says. "But we've made a pack with each other not to worry about whatever we might have forgotten. Once we're gone, we're gone."
To learn more about how they road-school on the road, watch this Ask an Airstreamer with Ryan and Sommer.