When Bob Hoffman and his partner, Wayne Clark Jr., decided to buy an Airstream, they went all-in. They loaded that 2020 27-foot Globetrotter with all the options.
"Oh, yeah," says Bob with a laugh. "We ordered it with all the bells and whistles. It comes with everything we want for how we travel."
But shortly after starting their Airstream odyssey, Bob and Wayne discovered their Silver Bullet came standard with another amazing accessory. Community.
"We have been welcomed with open arms from day one," says Bob. "It's been a phenomenal journey. Wayne and I have learned that Airstreamers come from different backgrounds and have various political opinions. But when we're camping together, the thing we focus on is the shiny, silver trailer."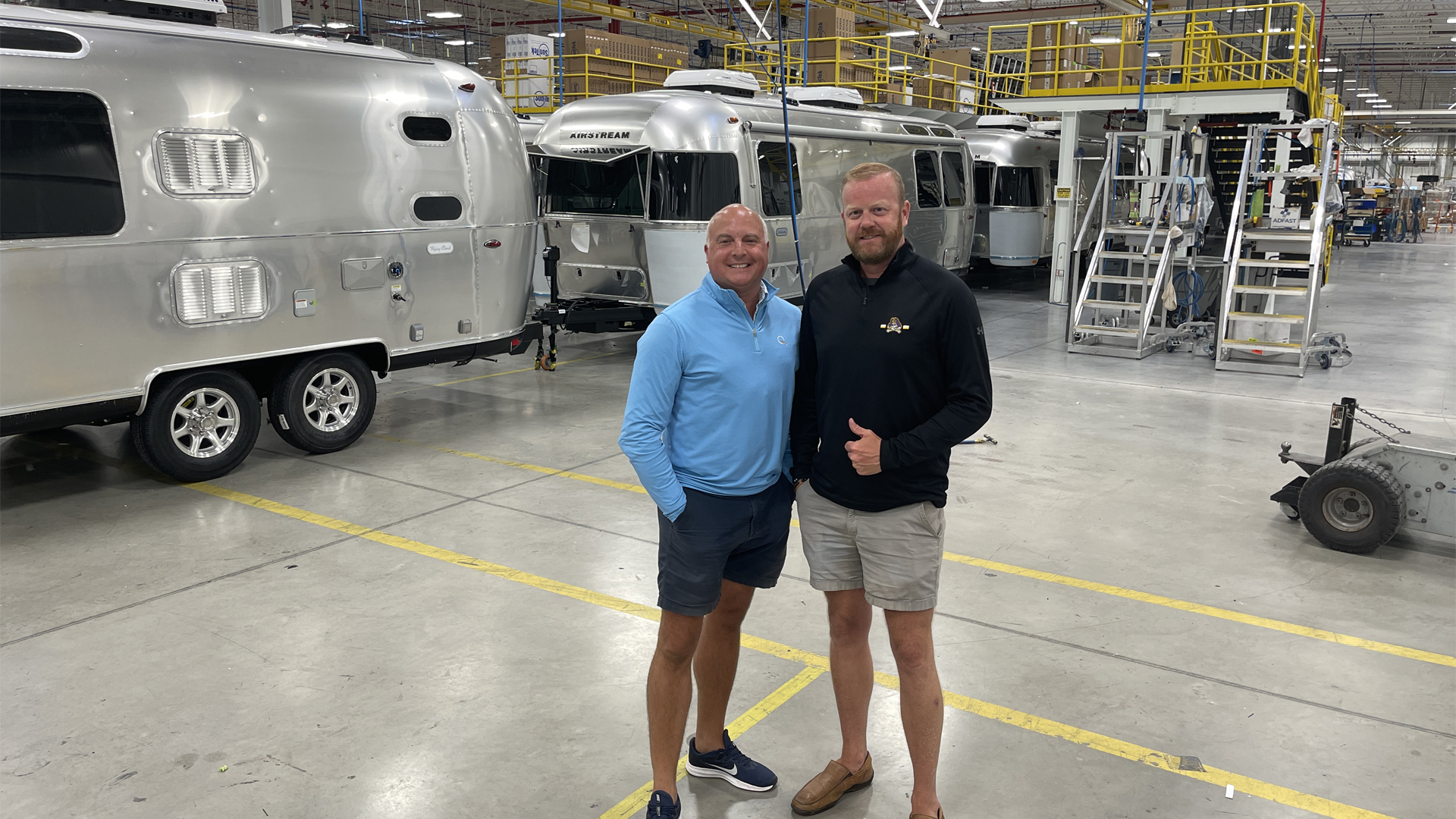 Growing up in Allentown, PA, Bob did a lot of RV camping with his family. When he and Wayne got together, the couple started tent camping and later owned a series of pop-up and hybrid travel trailers. A few years ago, they decided to buy a bigger truck so they could tow something grander. Initially, they considered a fifth wheel trailer. Then, Wayne had an epiphany.
Says Bob: "Ever since I was a little kid, camping with my family, I've always wanted an Airstream. I've always found them fascinating, and I've talked about Airstreams as long as Wayne and I have been together. Finally, Wayne said, 'You've always wanted an Airstream, now seems like the time to do it.'  So we did."
In their pre-Globetrotter days, Bob and Wayne were fairly solitary campers. They chose campgrounds near destinations they wanted to visit, including wineries and breweries, and didn't spend much time mingling with their fellow RVers.
So, when Bob raised the idea of checking out some of the local Airstream clubs, Wayne was skeptical. In part, because he wondered if the couple would be accepted. Still, he agreed to let Bob explore the Airstream groups near their hometown of Charlotte, NC.
"I started by kind of stalking our local clubs' Facebook pages," says Bob."In the pictures from the Carolinas Airstream Club, I noticed that one of the women had purple hair. I said to Wayne, 'If they're accepting of people with purple hair, I bet they would be accepting of us.' So we decided to give it a try."
The rest is delightful history. Bob and Wayne joined the Carolinas Airstream Club. In the two years since they bought the Globetrotter, the couple has signed up with five more clubs associated with the Wally Byam Caravan Club International (WBCCI). Bob is currently serving as a Director for the Carolinas Airstream Club and will be inducted as the 2nd Vice President for Region 3 of the WBCCI at the International Rally, which takes place in August.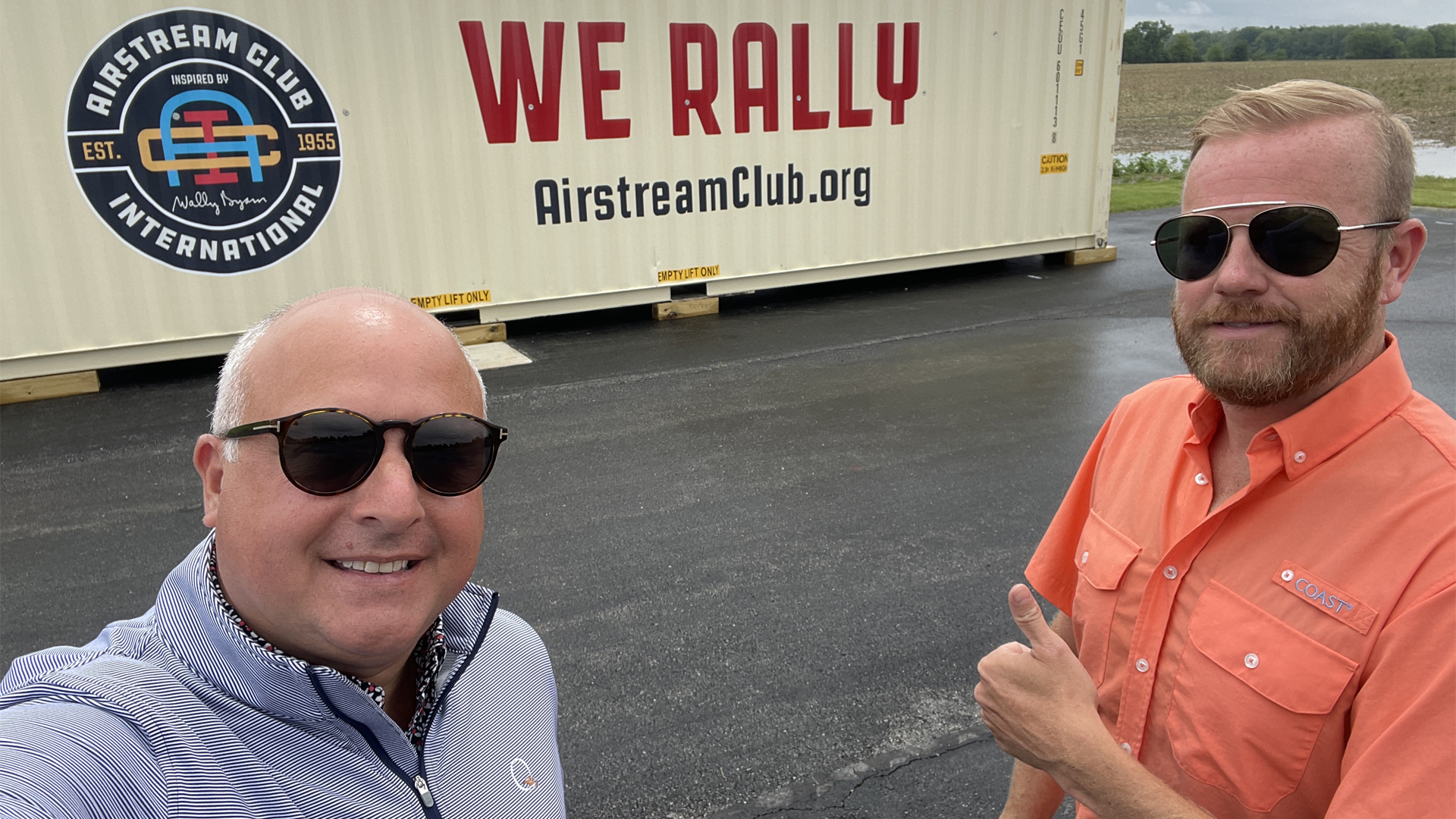 "Some of our best friends are Airstreamers, and I know they have a completely opposite political view than we do," says Bob. "Yet we are all best friends when we're camping. It's been a neat journey, and it's the trailer that really pulls us all together. As magical as that sounds, it's truly the Airstream that makes it all click."
Since taking delivery of their Globetrotter two years ago, Bob and Wayne have traveled 26,000 miles and spent 362 nights in their Silver Bullet, affectionately named "The Chang Tin Pony." Their adventures have taken them from the Gulf Coast to Lake Michigan to Kentucky's horse country. One special memory: last year's Charlotte to Key West roundtrip ramble, which was envisioned as a short jaunt but ended up lasting six weeks.
That trip was made possible by the couple's ability to work remotely and the comforts of home they enjoy in their Globetrotter.
"With our other RVs, it was a lot of long weekends, where we'd leave maybe a Thursday night and come back on Sunday," says Bob. "Now, with the Airstream, we're typically gone four to six weeks at a time. We'll go back to Charlotte to reset, take things out that we don't need, put things in that we do need, and then we're off and running again."
This summer's big adventure is a trip to Maine for the annual WBCCI International Rally. Next summer Bob and Wayne will finally cross the Mississippi with their Globetrotter as they head to the 2023 International Rally in Rock Springs, Wyoming. Between those tentpole journeys, the couple will continue to ramble regionally and check out more of their beloved wineries and breweries.
But no matter how far they roam, Bob and Wayne will always be close to their community. Their Airstream community.