In 1956 Airstream founder Wally Byam collaborated on a trailer design with his wife, Stella. The floor plan they came up with was christened "Stella's Dream Trailer." "Stella's Dream Trailer" went into production during the Spring of 1957. When Stella's Airstream came off the production line at the Jackson Center, Ohio factory it was far more than a typical Airstream: It was clad in beautiful gold anodized aluminum. The now-famous travel trailer made the epic trip on the legendary Cape Town to Cairo African caravan in 1959-1960, and today it is on display at the Airstream production facility in Jackson Center, Ohio. Soon, it will take center stage in Airstream's new Heritage Center museum space.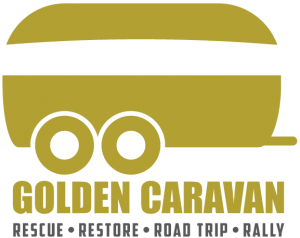 Until now this was thought to be the only "gold" Airstream in existence. But recently, Paul Lacitinola – publisher of Vintage Camper Trailers Magazine – unearthed a "sister" trailer. Instead of being fully clad in gold anodized aluminum, this unique Airstream features a single panel of gold running in a stripe down the length of the travel trailer. Over time, this unique travel trailer had been lost and forgotten, but Lacitinola's research into its mysterious past revealed faded evidence of the red #100 still visible on its end cap. This red number had been assigned to the President of Airstream's California Plant, Art Costello, and his wife Caroline. Another glimpse into the Gold Stripe Airstream's past came from the 1961 serial number records where the travel trailer was listed as having been ordered "special-Art."
In addition to the unique Gold Stripe, this Airstream "unicorn" also features:
Gold metal flake bathtub

Gold colored trim

Unusual dual axles for a 24' Tradewind

Unique jalousie style windows in the front living area and in the entrance door
Extensive renovation of the Gold Stripe Airstream has brought this forgotten gem back to life, and now Lacitinola is hitting the road for a summer road trip where he'll show off the one-of-a-kind trailer. Check out the list of dates below so you can see it in person, and stay tuned through the rest of the month for Lacitinola's inside look at the challenges and joys of restoring and traveling the country in vintage travel trailers!
---
See Paul Lacitinola's newly-renovated Gold Stripe Airstream travel trailer during its tour of the United States. Dates for each stop and more info below!
Hollister, California. Rockabilly Rally. June 8, 2019 (10a to 2p) Come camp with us!
Salt Lake City, Utah. Airstream of Utah. June 11, 2019
​Minden, Nebraska. Pioneer Village. June 14-16, 2019 Make your reservations to camp with us.
Jefferson City, Missouri. Modern Litho Printing. June 17, 2019
Jackson Center, Ohio. Airstream Factory. June 21, 2019. NEW DATE (FRIDAY INSTEAD OF SATURDAY)
Elkhart, Indiana. RV Hall of Fame and Museum. June 29, 2019
Volo, Illinois. Volo Museum. July 1, 2019
NEWLY ADDED CAMP OUT
Clear Lake, Minnesota. Minnesota Airstream Park. July 5-6 2019. Make your reservations to camp with us.
Gillette, Wyoming. Cam-Plex Event Center. July 11-14, 2019. Make your reservations to camp with us.
Reno, Nevada. San Rafael Regional Park, Hot August Nights Trailer Revival. August 9-10, 2019. Come camp with us.
Plymouth, California. Trailerfest Rally. September 28, 2019 (10a-2p)
Fontana, California. California RV Show. October 4-13, 2019