The Airstream Basecamp is more than a small RV. It's a simple yet powerful portal to outdoor adventure and human connection.
That was the big takeaway from Basecamp owner Andrea Umbach's appearance on the first episode of the Ask an Airstreamer livestream. The Seattle-based executive coach and life-long outdoorswoman's presentation drew enthusiastic reviews from livestream participants, who appreciate the Airstream Ambassador's honest insights and detailed advice on everything from trip planning, safety, to unhitching and hitching to towing to making the most of the Basecamp's space and amenities.
Andrea grew up in the wilds of Idaho, where her family raised llamas and taught her the simple joys of backpacking and tent camping. Minimalism is still a cornerstone of her outdoor adventure philosophy, and her 2017 Basecamp is a perfect fit with that mindset.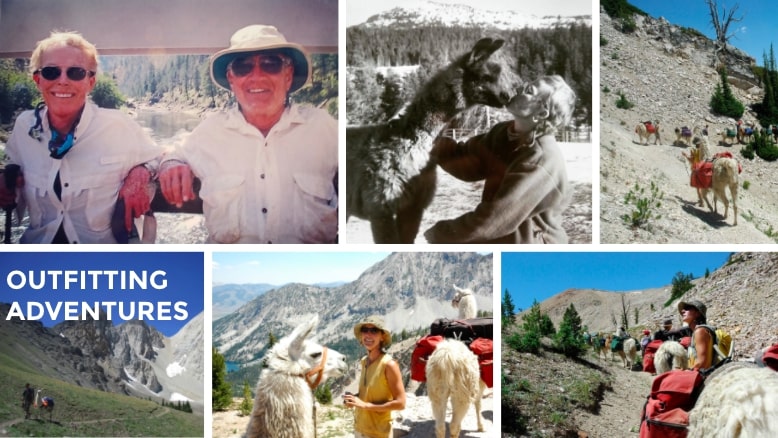 "I call my Basecamp my yurt on wheels," Andrea said. "Yes, there are Airstreams that are truly New York apartments on wheels, but mine is a yurt. I love all the Airstream models, but I wanted something outdoorsy, simple and small."
Owning a Basecamp, she told the audience, allows her to "get out there," whether that means venturing solo into remote areas to relax and recharge or meeting up with family and friends on the road. She typically undertakes a couple of two-week explorations per year and regularly makes shorter trips, often working remotely from her Basecamp. Andrea is a big fan of the Airstream Connected internet connectivity system.
She strives to be intentional about all her adventures.
What I feel is most important about Basecamp trips is having a purpose," she said ."Build the adventure around a hike you want to go on, a group of people you want to be with, a work project where you want isolation, a destination that's important to you, or your family. I think having a purpose is really important to Basecamp trips.

- Andrea Umbach
The Basecamp's light weight is one of the first things that appealed to Andrea. She can tow the unit with her everyday drive vehicle, a crossover SUV, and more easily access remote, rugged areas. 
"I wanted to be in the wilderness more," said Andrea. "I wanted a trailer that was lighter, easier to pull. The Basecamp is 2,500 pounds, the Bambi is 900 pounds heavier, and the Caravel is even heavier, so weight was an issue."
A meticulous planner by nature, Andrea reminded the audience that it's critical to know the lay of the land if you're planning to explore a wild area. Even a small, light RV can get bogged down on some of what passes for roads in untamed areas.
Andrea sometimes fills her Basecamp with outdoor sports gear, such as her snowboard or mountain bike, and sometimes with people. Winter definitely doesn't stop her from adventuring. She's camped with up to 11 others, most of whom pitch tents around the Basecamp, which serves as a sort of clubhouse and kitchen for the group. While the Basecamp can officially sleep two people, Andrea said the unit can handle three adults, "so long as everybody understands it will be like sleeping in a tent."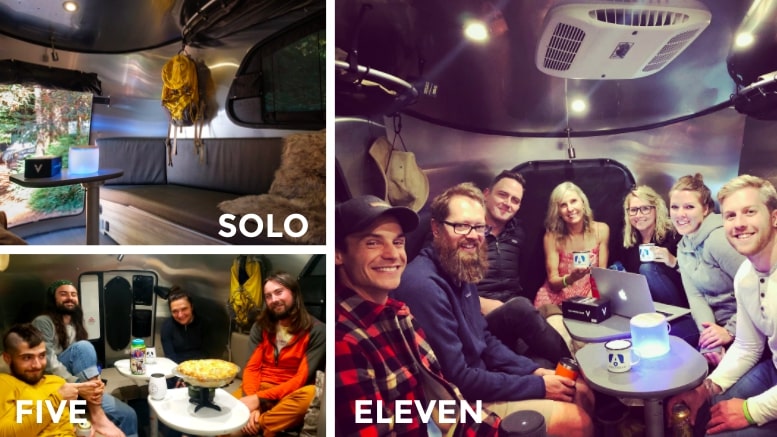 During her presentation, Andrea also shared several tips for maximizing the Basecamp's interior space. 
"I really believe in going light," she told the audience. "I have collapsible bowls and collapsible pans, collapsible colander, a collapsible teapot, collapsible buckets, everything so that it compresses and can be stored easily. I use lightweight chairs and outdoor tables, the kind that backpackers use. I use compression sacks for my comforters, my pillows, sleeping bags, the memory foam topper, and I store all of that in the Starbury bench."
Andrea's Ask an Airstreamer presentation drew rave reviews from the livestream's audience, who appreciated her candor and first-person insight.
Soooooo informative! I need to watch it ten more times.

- Webinar Participant
Another live participant stated, "It's very important to talk to an owner who has an RV trailer when you are a newbie to the experience. Andrea did a great job of detailing the adventure of getting started and answering questions. The photos really tied everything together. Well done. I look forward to more talks like this."
To watch other episodes in this informative, entertaining livestream series, head to Ask an Airstreamer.