There are many different ways to plan your next adventure.
You know, like rock, paper, scissors. 
"That's how we determine if we go left or right down the road," Tim Elkins laughs.
Tim and his wife, Ursulla, have been on the road for about five years in their 30-foot Airstream. Early on in their full-time adventure, a closed mountain pass forced them to drive 12 hours in a single day to make their reservations; since then, they've scaled way back on formal plans.
But not all of their destination decisions are determined by a game of chance. In fact, whether it's the weather, the desire to meet up with family and friends, or — in the case of Ursulla, a job opening for a traveling nurse — Airstreamers tend to follow a common funnel when mapping out their best next quests.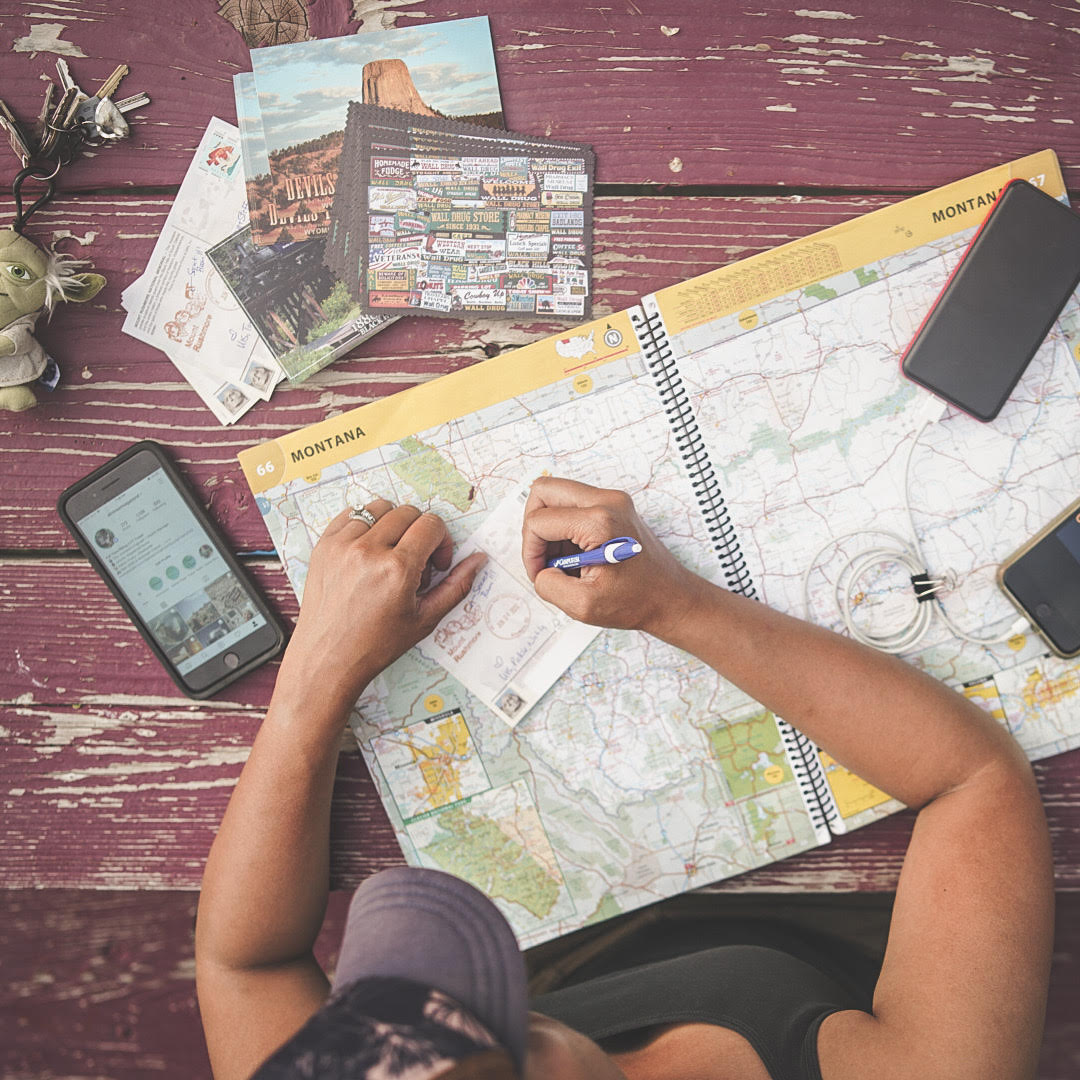 Putting Pins in the Map
The best way to plan an RV trip often starts with a good sense of direction — not necessarily a talent for spotting moss, but knowing which way you generally want to go. 
And since the pandemic drove a new passion for the great outdoors, it's never too soon to be thinking about those pages in the Rand McNally Road Atlas that you want to dog-ear. (Shoutout to Tim and Ursulla for their nostalgic trip-planning tool.) 
In fact, planning a full year ahead is warranted for those places that you decide to mark in pen.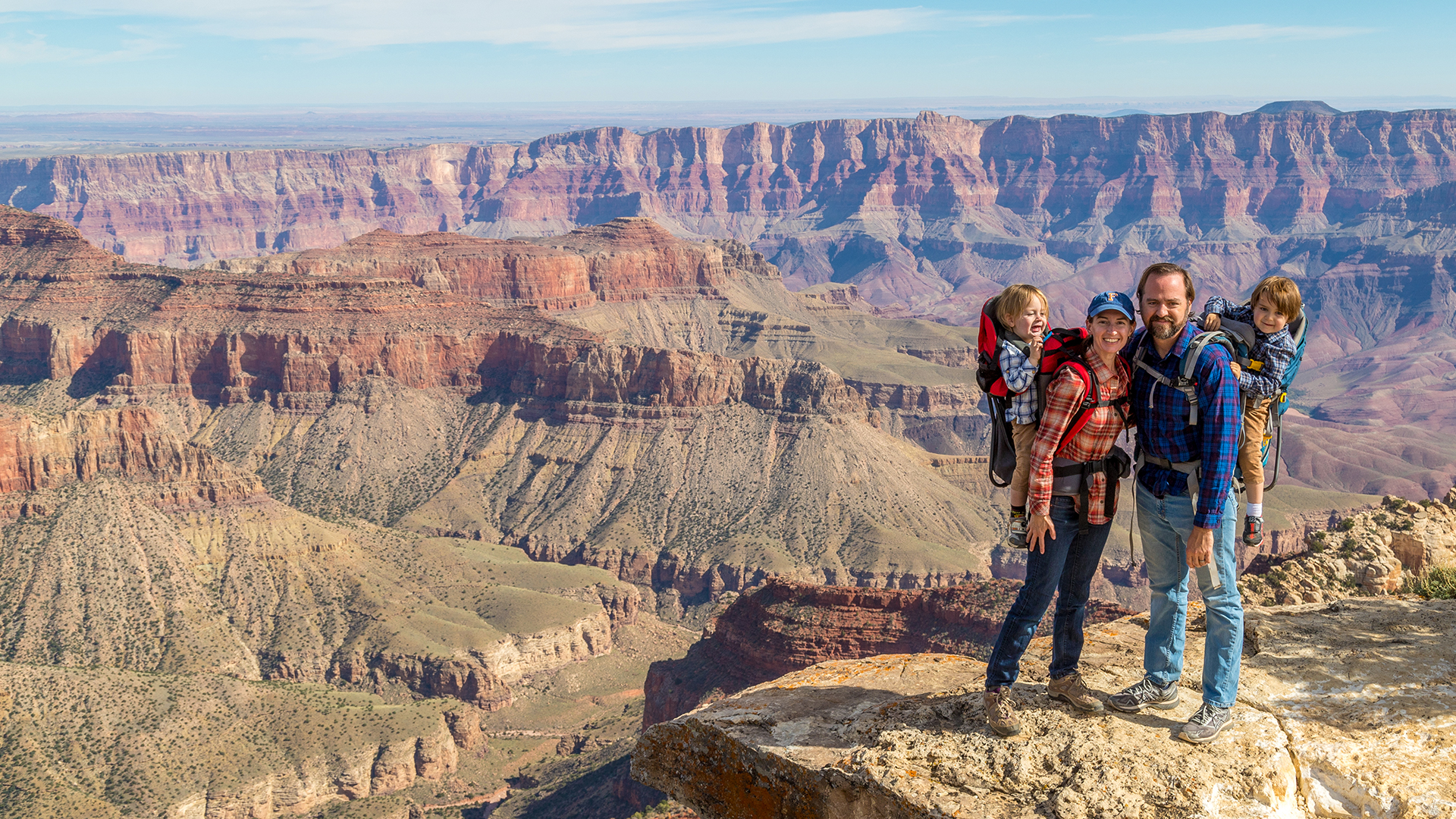 Nina Ritchie, who travels with her husband, Eric, and two boys in a 19-foot Bambi, detailed her strategies for securing spots at the big-name parks in a webinar hosted by Airstream. Her tips for how to be prepared to pull the trigger on a campsite the moment that reservations open up are a must-listen if you want to visit a special site.  
For Eric McHenry, president of the Airstream Club International, and his wife, LaVerne, Airstream rallies and other events often influence their trip plans.  
"That's typically our structure: We're going to go someplace because there's something going on that we want to join with," Eric said.  
Here again, planning well in advance is recommended. The 2023 International Rally in Rock Springs, WY, filled up back in December 2022, with 1,200 Airstreams registered. 
When Tim and Ursulla aren't navigating to a nursing stint for Ursulla, they're crisscrossing the country between the Pacific Northwest and Florida. 
"We go back to both families frequently throughout the year," Tim says. "So we use the geographic separation to adventure in between and see them." 
Maybe you know which point on the compass you're pursuing, but you don't have a city or even a state yet in mind. As you prepare to plan an RV trip, check out Airstream's Round Trip travel guides for some great location inspiration.
Maximizing the Route
Once you've decided to go west, young man (or whomever, wherever), it's time to fill in the blanks: where you'll stay and when.  
For Jim and Carmen Beaubeaux, who document their full-time adventures in a 2001 30-foot Excella Airstream travel trailer in their blog Living in Beauty (and wrote an incredible six-part series on full-time Airstream life), RV LIFE Trip Wizard gets a ringing endorsement.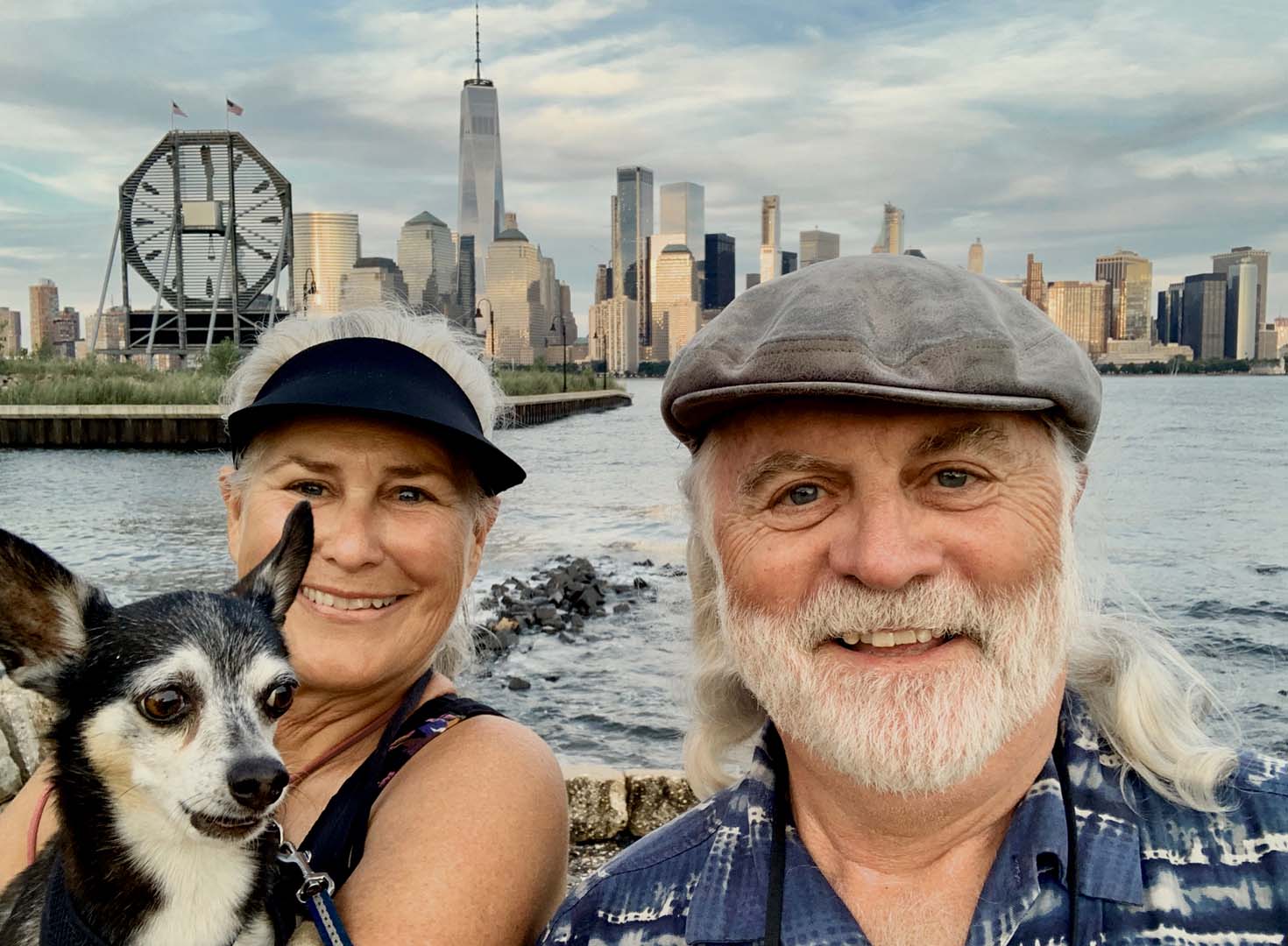 "It not only is connected directly to campground reviews, but you can click through to book," Jim says. "I can then move things around, and it gives me the mileage and it shows it on a map. Google Maps has limitations. This program doesn't." 
In fact, Jim walks newbies through the setup and use of RV LIFE Trip Wizard on the couple's blog. They also have an extensive and well-explained list of other tools to plan an RV trip under Camping Resources on their site. 
Eric and LaVerne also are fans of RV LIFE Trip Wizard.  
"LaVerne and I have agreed that our ideal travel is what we call three and three. So no more than 300 miles per day and get there by 3 p.m, because happy hour is at 4 and you've got to get there an hour before happy hour," Eric laughs.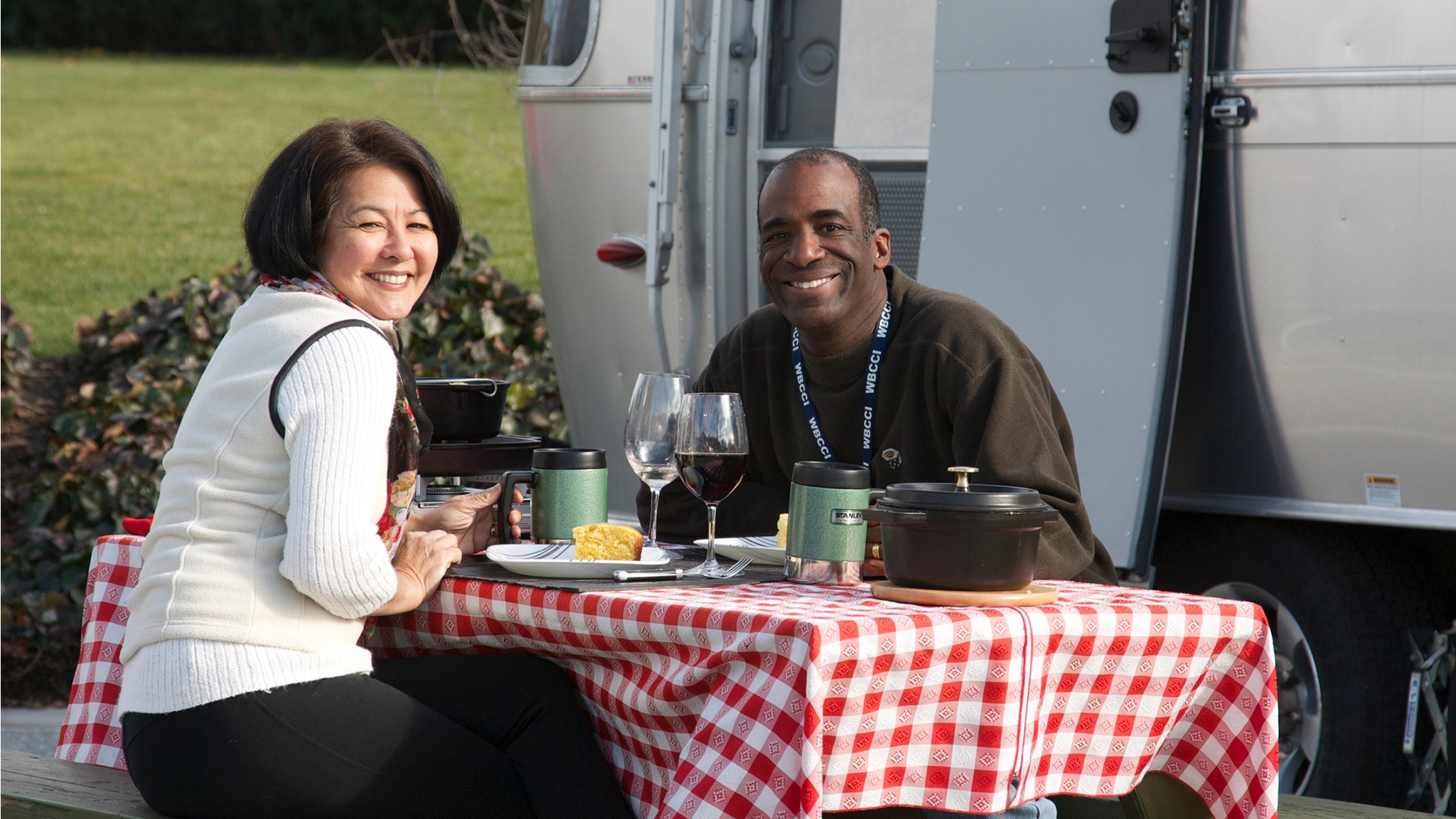 "By the way, if you ask anyone in our Airstream club, What time is happy hour?, you're going to get four o'clock or maybe five sometimes, but it's a known thing. It's that gathering thing — that's why we do this. You may know five people in a group but by the end of happy hour, you know pretty much all of them." 
Of course, there's a whole plethora of technologies to help you plan out fuel fill-ups, scenic sites, potty stops and dinner plans. We recently updated our list of favorite RV travel apps. Whatever your brand of travel, from paved plot to never finding the grid again, there truly is an app for that. 
Communicating with Friends and Family Along the Way
Ask any Airstreamer and they'll tell you one of the best parts of the lifestyle is the people — whether they're close friends and family or perfect strangers.  
Molly Moore, who lived full-time in a 30-foot Airstream with her husband, Joe, and their four young kids for several years, discovered that their travel didn't distance them from loved ones; rather, it closed gaps and miles.  
"That was a really sweet part of the trip," she says. "Right when we left, COVID was really still peaking, and we designed the initial six months of our trip around being somewhat close to family, both in case something happened to us and in case something happened to them. Our parents are all in their 70s, and it was really nice throughout our time on the road that we've been able to go be with them for a month at a time. … It was really fun to be able to have these long, extended periods of time with our family in ways that we've never had before.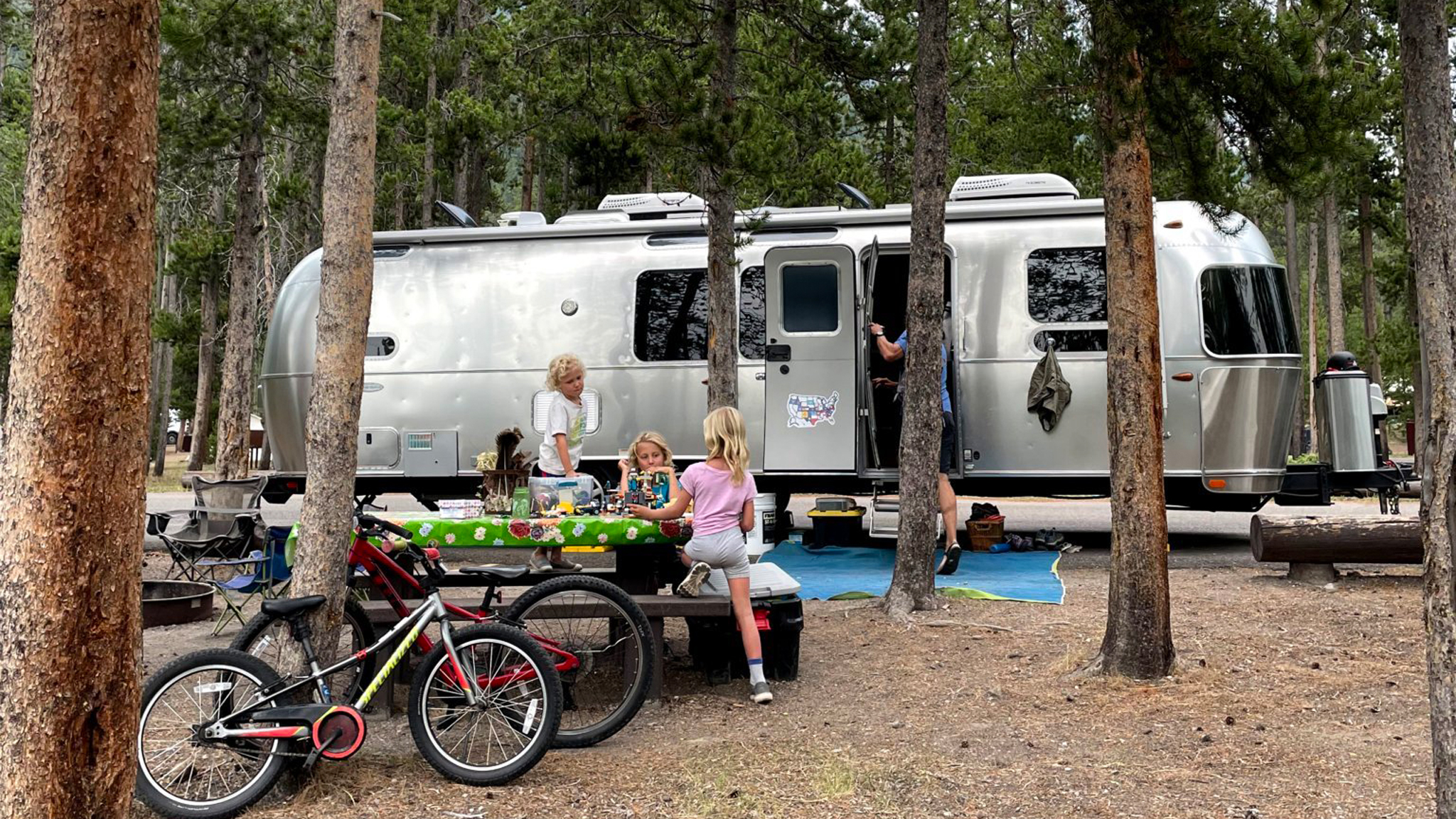 "And that goes for our siblings or our parents. You know, we would go to a lot of different places where we'd have a friend or an acquaintance or a former colleague, and all over the country we really made a point — even if it was a distant relationship — to reach out and connect. 
"It was both a great way to like see this beautiful network of people that are in our lives but also get to know that specific place through locals' eyes." 
While Molly and Joe organized their trips using a Google Sheet that they shared with family and friends, they found that social media — particularly Instagram — was the best way to coordinate and communicate along the way. 
Jim and Carmen use FaceTime and the Find My app on their iPhones to stay in touch with their son while they're on the go, but Jim created a custom bit of technology to find all of their wide network of friends. 
"We have a little map that I tag people in. So if I know someone lives in Phoenix, I put them in with their contact information," Jim explains. "And so when we're traveling, we get this map out when we're going to Phoenix. 
"We've actually connected with not only family but long, long lost friends that we thought we would never, never see again."  
Eric has a philosophy on why this lifestyle holds such immense value for so many.  
"There's that spirit. I don't care what state you go to. If I went to Oregon and said, Hey, we're coming by, they'd get together. I don't think that a lot of us have those opportunities these days anymore," Eric says. "Kiwanis clubs, bowling leagues, churches, those were those natural gathering areas that our parents and our grandparents grew up with. And that doesn't, for a lot of people, exist anymore. 
"Here though, we're welcome every place we go. And I may sound a bit evangelical about it, but that, I would argue, is why people fall in love with the Airstream lifestyle — because of that community out there."  
There's an old saying about journeys and destinations. And it's true that when preparing to plan an RV trip, most of us start with the destination in mind. But good connections of both the technological and the human kind along the way make for the most memorable and rewarding journeys.
Want even more travel inspiration? Our Round Trip Travel Guides are Airstreamer-approved itineraries that help you make the most of your trip.
Inspired to learn more about Airstream's iconic RVs and this incredible travel lifestyle? See an Airstream up close and personal by visiting one of our nationwide dealers.