Are you inspired by the thrill of embarking on your next outdoor adventure? Do you revel in the chance of getting lost and exploring the vast undiscovered country? Do the changing seasons call you to take in the sights, sounds, and smells? Do you daydream of clocking out early and finding your own secluded spot to boondock for the weekend? If you answered yes to any of these questions, welcome to the club. You have all the characteristics of a Type A "Airstream Adventure" personality.
Since our inception in 1931, Airstream and adventure have gone hand in hand. But creating a motorized recreational vehicle (RV) that is tailor-made for adventure requires a robust chassis, durable design elements and special attention to rugged details. When Airstream set out to build the Interstate 24X Touring Coach, we included features and capabilities that not only provide the freedom to travel outside the lines, but also enable you to enjoy all the comforts of home — regardless of how far you've strayed off the beaten path or how long you want to stay there.
Explore the Great Outdoors with Confidence
Like all our touring coaches built on the Mercedes-Benz® Sprinter van chassis, the Interstate 24X is built with the RV industry's highest standards of quality. They all feature hand-made craftsmanship, ultra-comfortable living (and sleeping) quarters, and fully functioning bathrooms and kitchens. If you're curious about how they're made, view a virtual tour of our manufacturing facility or schedule an in-person tour.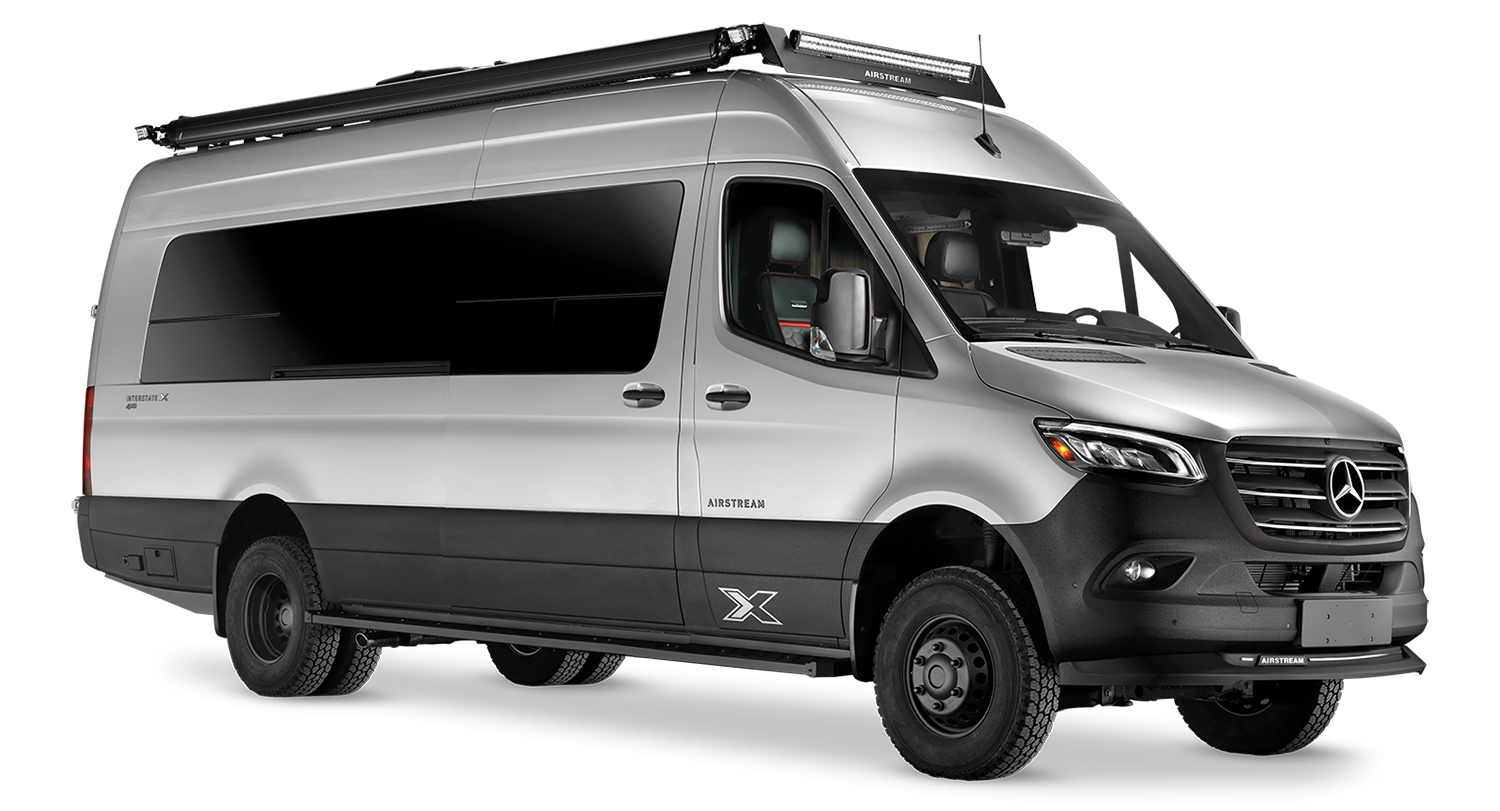 Upon closer inspection, you'll find that the Interstate 24X shares many similarities to its 24-foot touring coach siblings — i.e., the Atlas®, Interstate 24GL, and Interstate 24GT — yet with carefully appointed, durable features you'd want behind the wheel of your next adventure.
Four-Wheel Drive Mercedes-Benz® Sprinter Van Chassis
Building an adventure-ready RV starts from the ground up, and no chassis is more rugged, reliable, or capable than the legendary Mercedes-Benz® Sprinter van chassis. Backed by a 3.0L V6 Turbo Diesel engine, the Sprinter chassis delivers ample power to the Interstate 24X's standard 4-wheel drive (4WD) drivetrain. Its push-button load-adaptive electronic stability and electronic traction system allow you to easily switch between 2x4 and 4x4 modes on demand, depending on road conditions.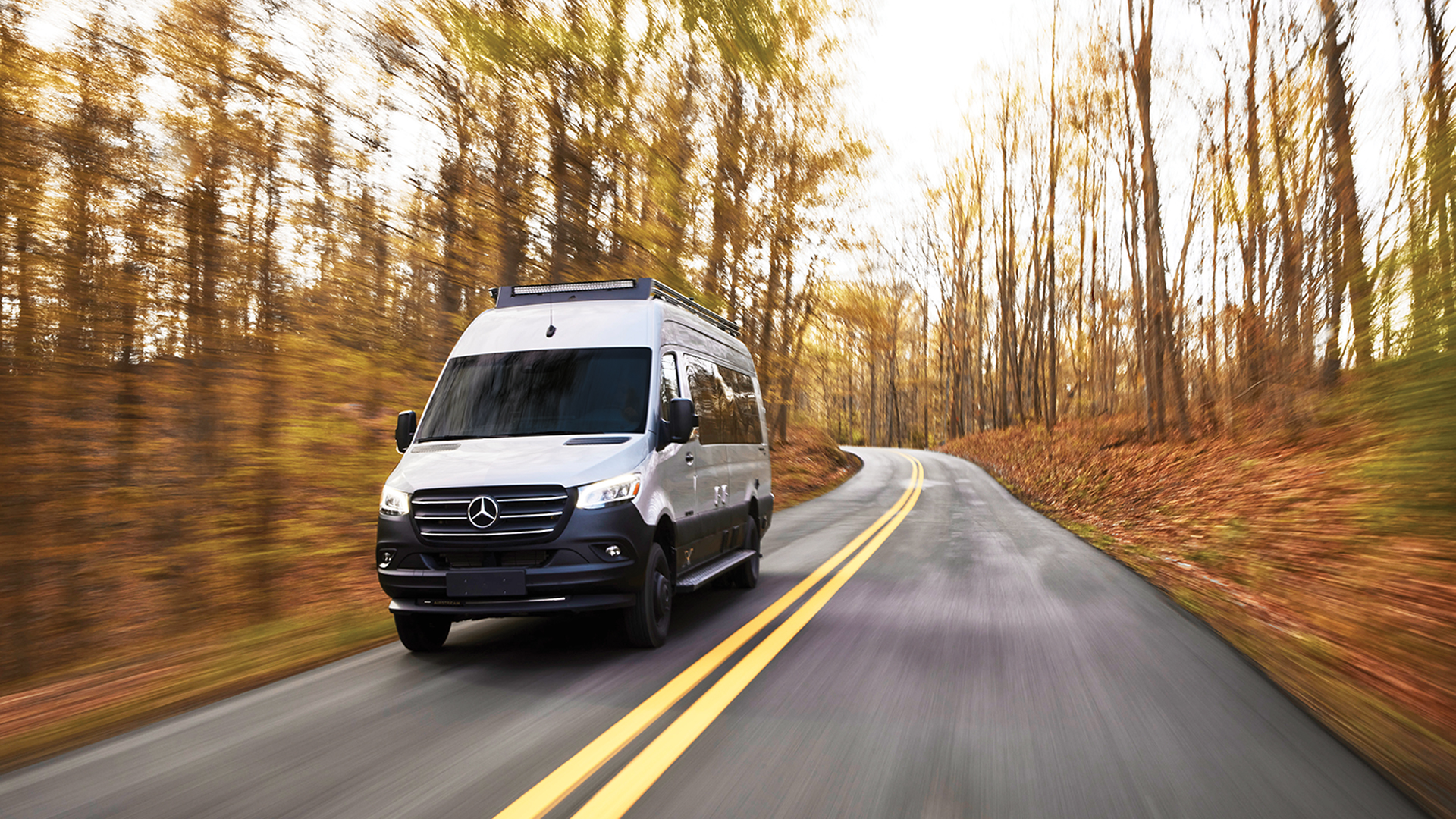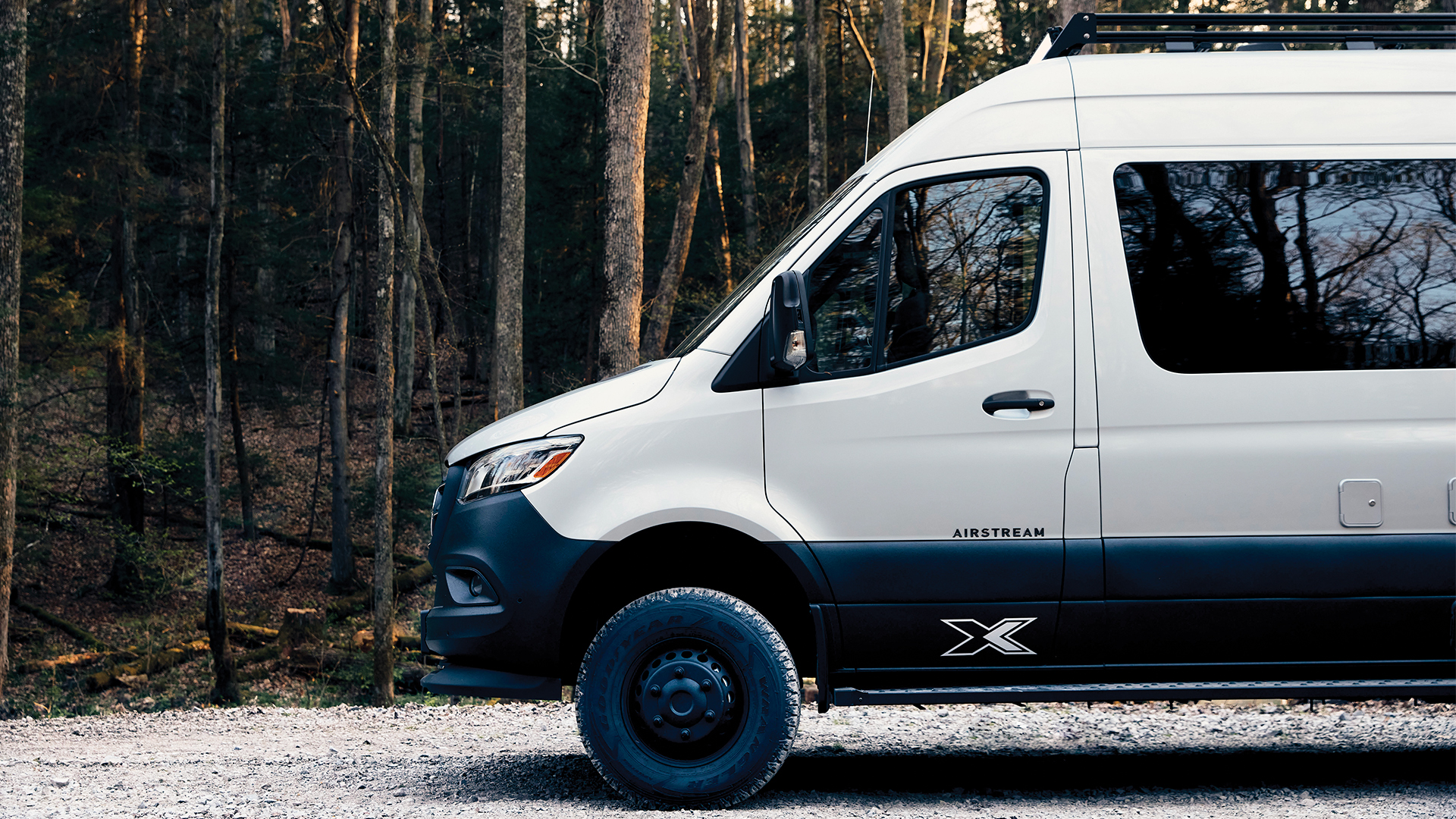 For adventurers, 4WD opens the possibility of discovering that off-grid destination beyond the reach of paved roads. To help you traverse the sand, dirt, mud, gravel, or rock back roads on your quest for the perfect boondocking spot, Interstate 24X is equipped with all-terrain tires and ample ground clearance — plus a durable protective coating that covers the front and rear bumpers, lower body sides, and wheels. And with the chassis' fully automatic, electronically controlled Air-Ride Suspension, you won't be distracted by bumps in the road as you explore the expansive views of undiscovered landscapes.
Stay Powered While Off the Grid
Once you've reached an off-grid destination, you'll discover an advanced power system that makes boondocking a breeze, keeping you comfortable and charged up for the adventure ahead. The Interstate 24X comes standard with a robust power system featuring: 
Two 100Ah deep cycle lithium Battle Born batteries (LiFePO4)

30-AMP energy management system

2000W power inverter

400w of military-grade solar panels on the roof (300w to the house batteries, 100w to the chassis battery)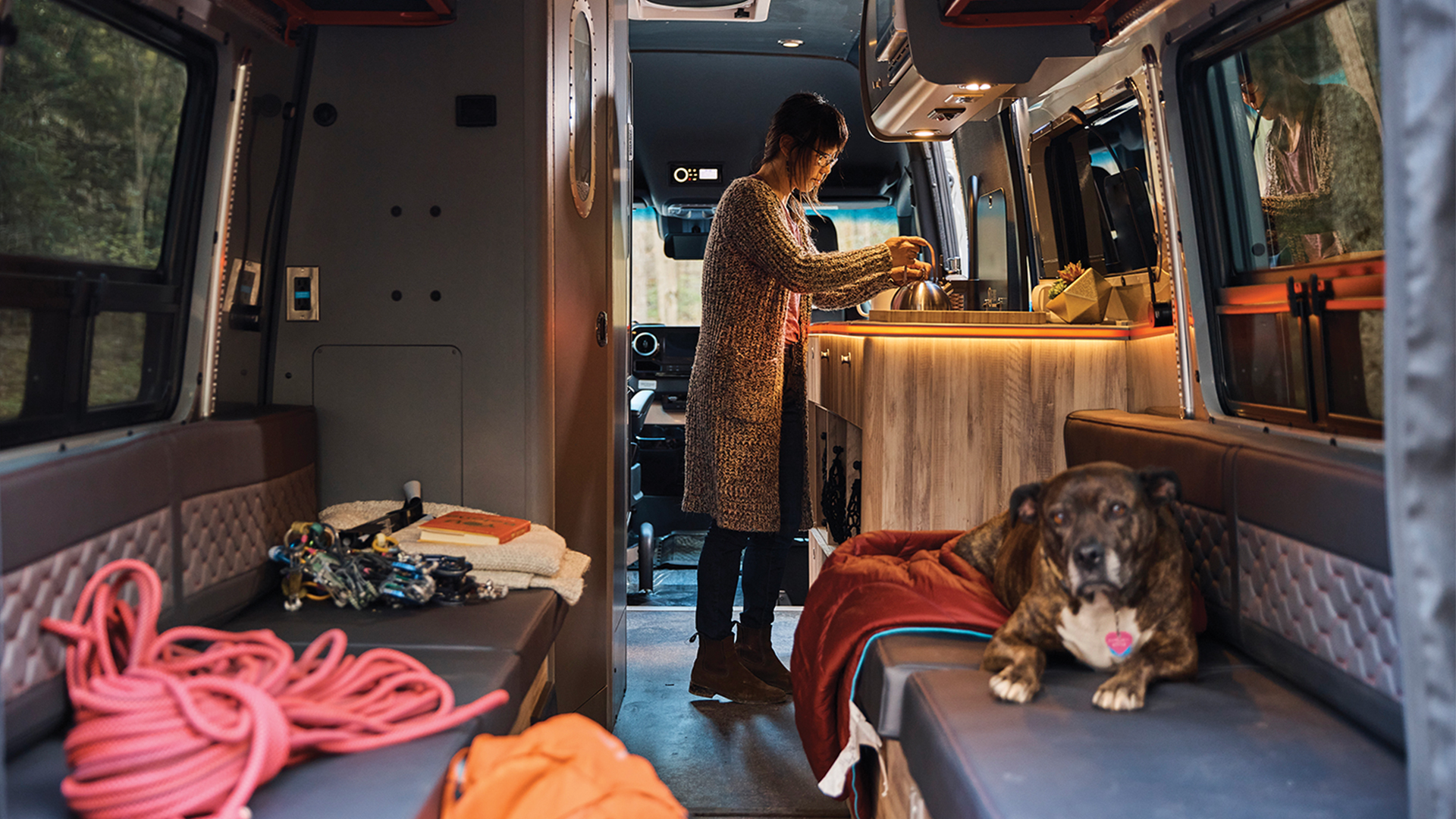 To extend the duration of your excursions, consider an optional E1 Package power upgrade. The optional E1 Package combines an enhanced energy system with the simplicity of single-fuel-source heating and hot water system — leveraging the engine's diesel fuel tank. If you're looking for the ultimate in off-grid boondocking power reserves, an E1 upgrade delivers industry-leading performance.
Built for Outdoor Enthusiasts
If you're a Type A adventure seeker, chances are you want the option to bring your outdoor toys and recreational gear with you. The Interstate 24X features an aircraft-aluminum L-track storage system on the walls, ceiling, and floor that offers a highly flexible and secure storage system for bikes, fishing tackle, kayaks, or anything else you need to enjoy your adventure.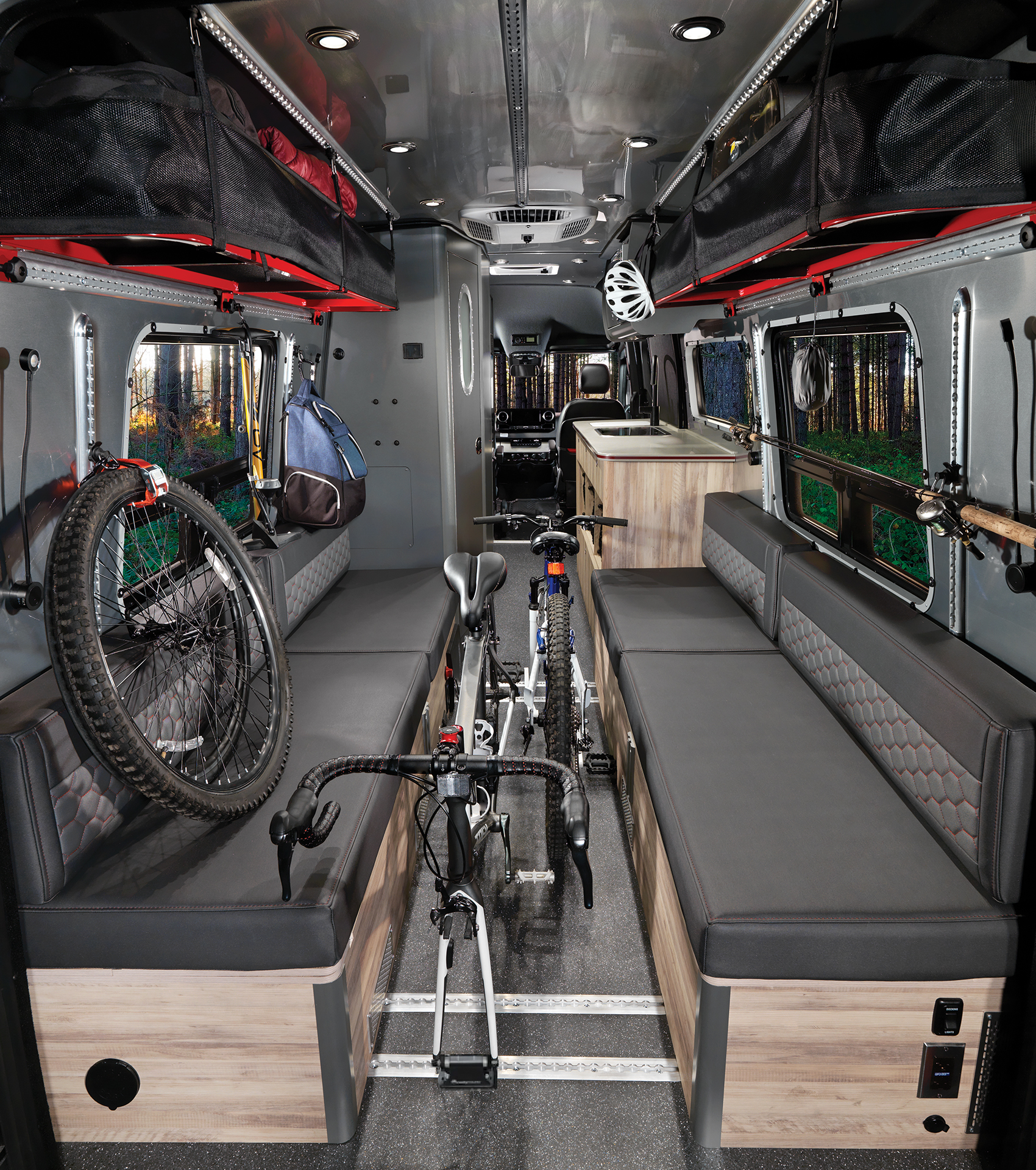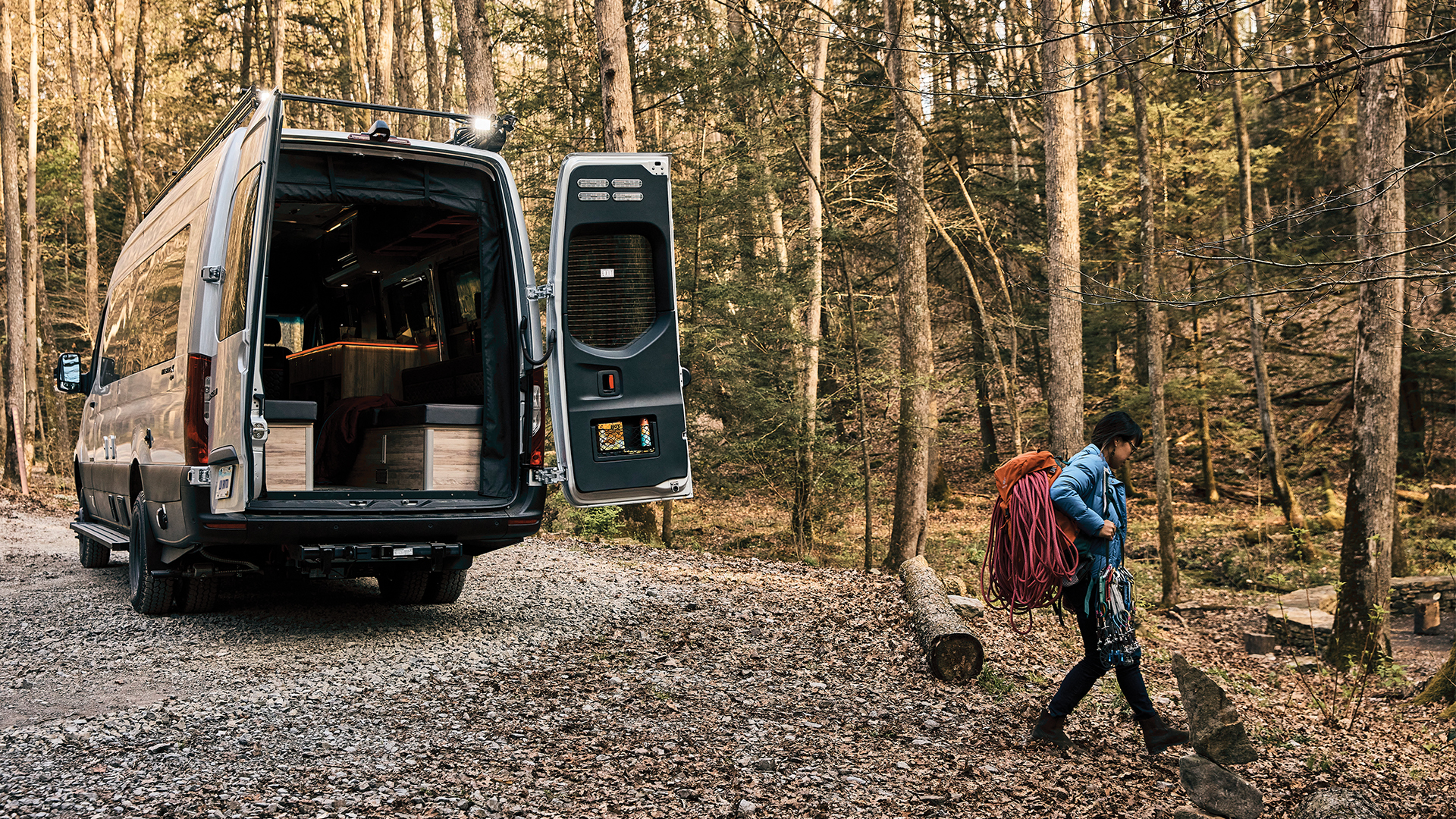 Inside the Interstate 24X's rear seating and sleeping quarters, you'll find marine-grade Simtex carbon-seating fabric that's as comfortable as it is easy to clean — perfect for withstanding wet, muddy clothes or four-legged companions. Above the windshield on the front of the roof, you'll find a high-performance, heavy-duty 42-inch LED light bar to guide your way in unfamiliar terrain or illuminate your campsite at night.
Comfort Without Compromise
With the Interstate 24X, going off the grid doesn't mean going without the comforts of home. The flexible floor plan supports multiple configurations that can adapt your outdoor adventures to your indoor preferences.
Cooking Up Kitchen Functionality
The premium kitchen galley delivers essential cooking and storage functionality with stylish design accents:
Solid-surface countertop

 

Deep sink and cover

 

Matte finish Moen pulldown faucet

2-burner propane cooktop

0.7 cu. ft. microwave

Large storage

cabinets

Red translucent edge banding light accents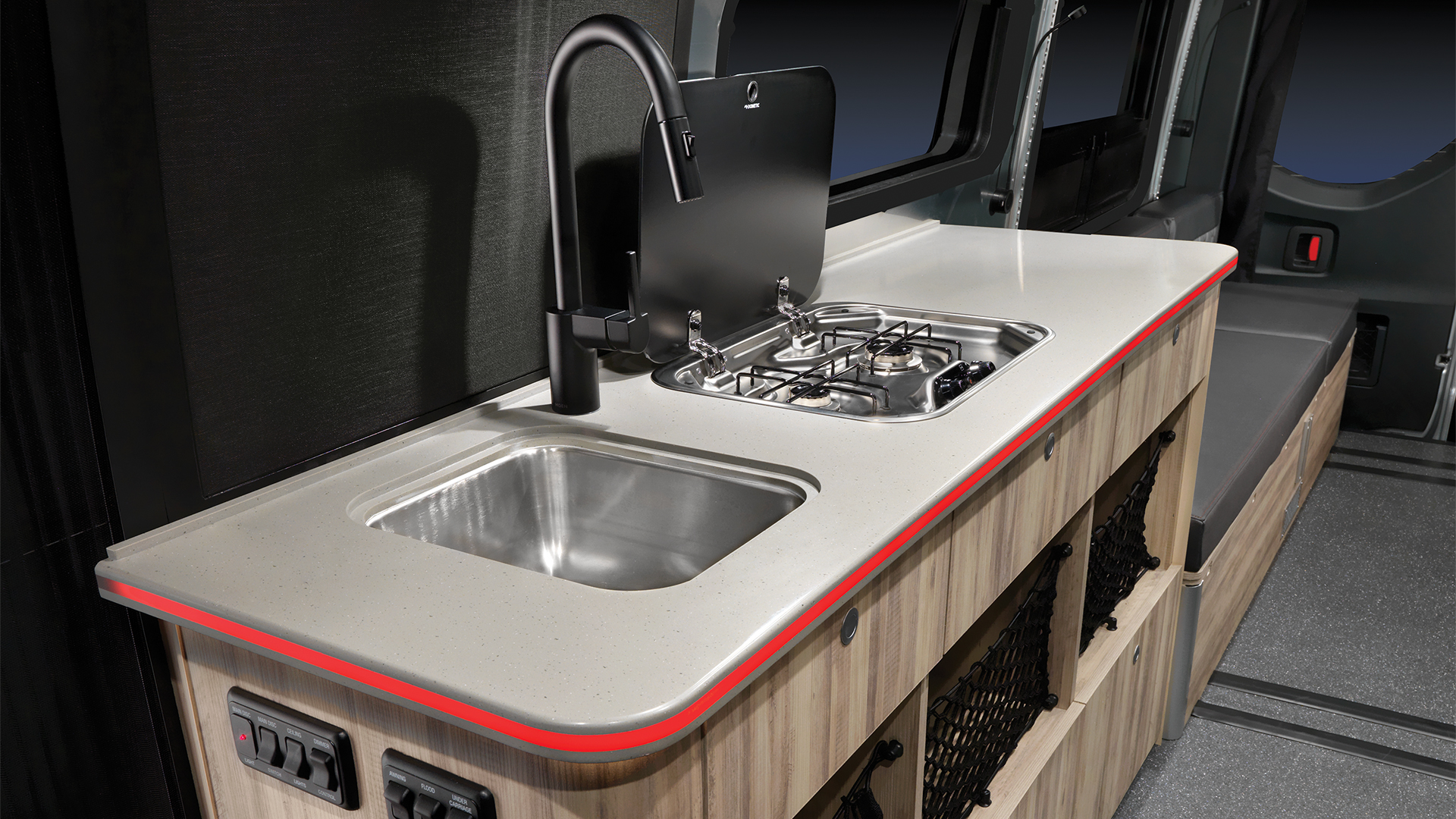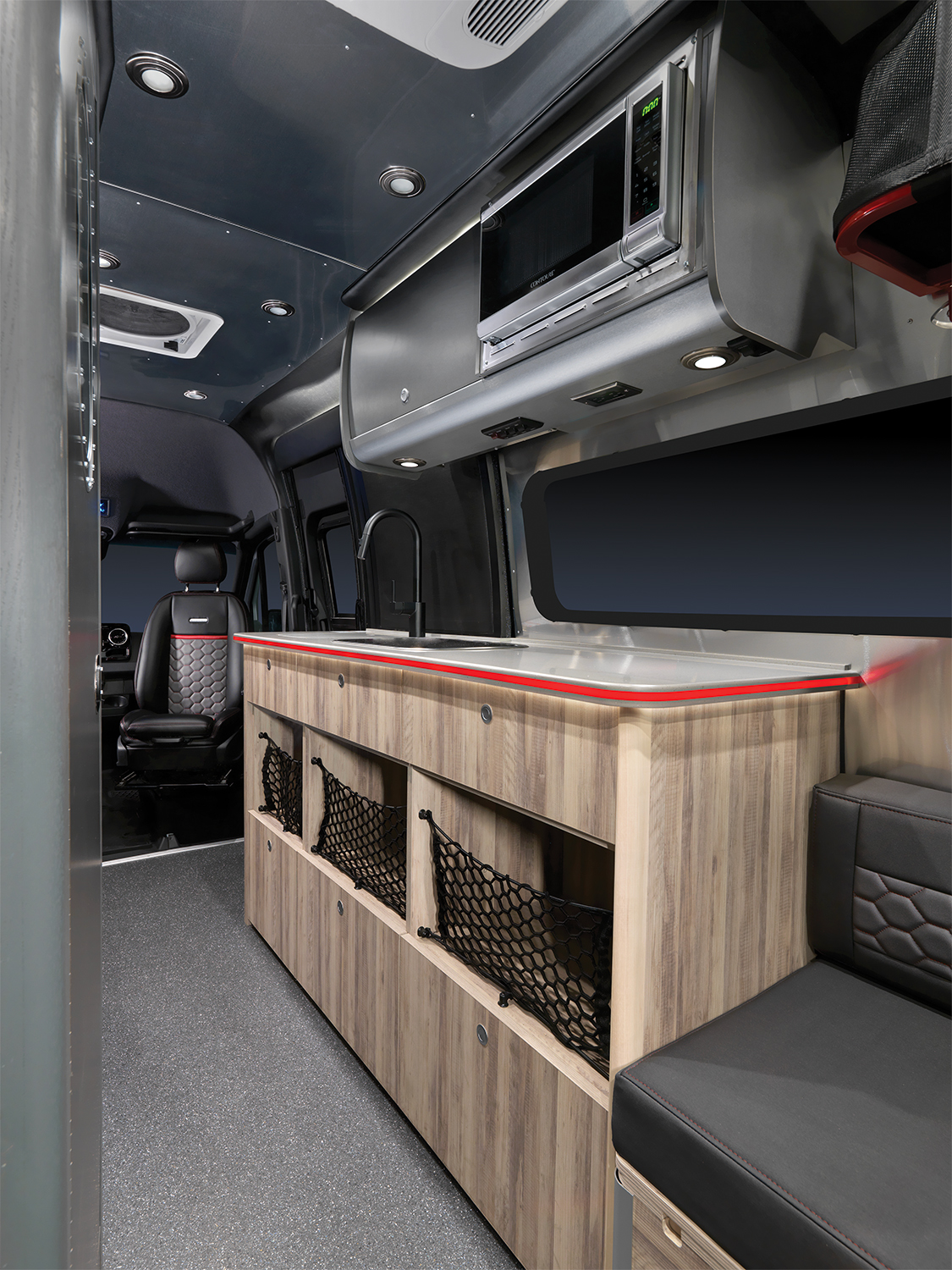 On-board Wet Bath and Outdoor Shower
After a long day of adventuring outdoors, it's reassuring to come home to the convenience of a fully functioning bathroom and shower. The Interstate 24X's wet bath features a toilet and detachable shower head in a compact space that's designed to get wet from floor to ceiling. The outdoor shower is a perfect option for those times when you need to spray off a layer of mud before entering the motorized RV.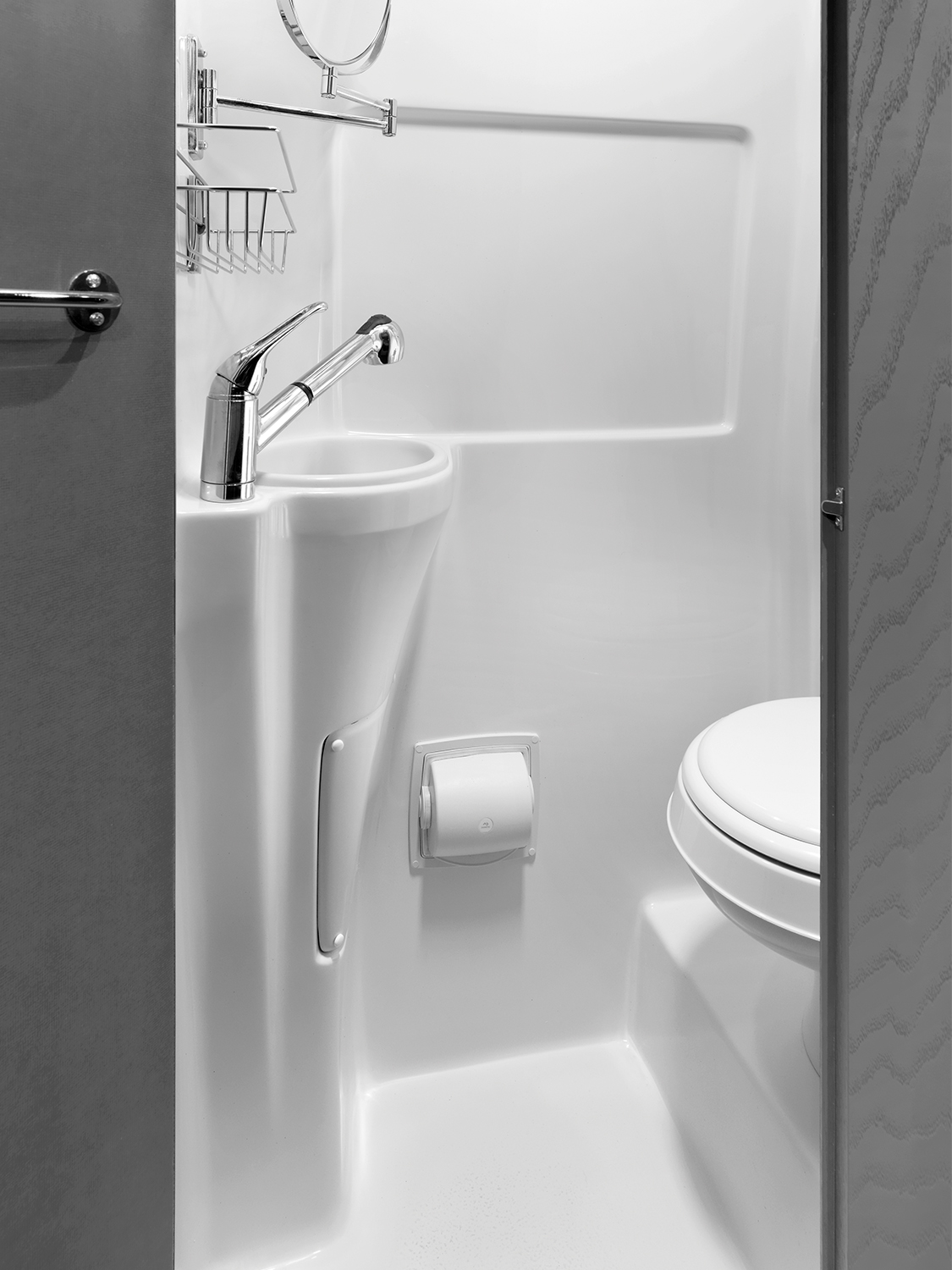 Comfortable, Convertible Seating and Sleeping Areas
From the captain's chairs to the rear seating/sleeping quarters, the Interstate 24X is designed to deliver maximum comfort and convenience. The two captain's chairs with Simtex fabric ensure comfort throughout the journey, while their hexagonal pattern with red contrast threading complements the interior design accents.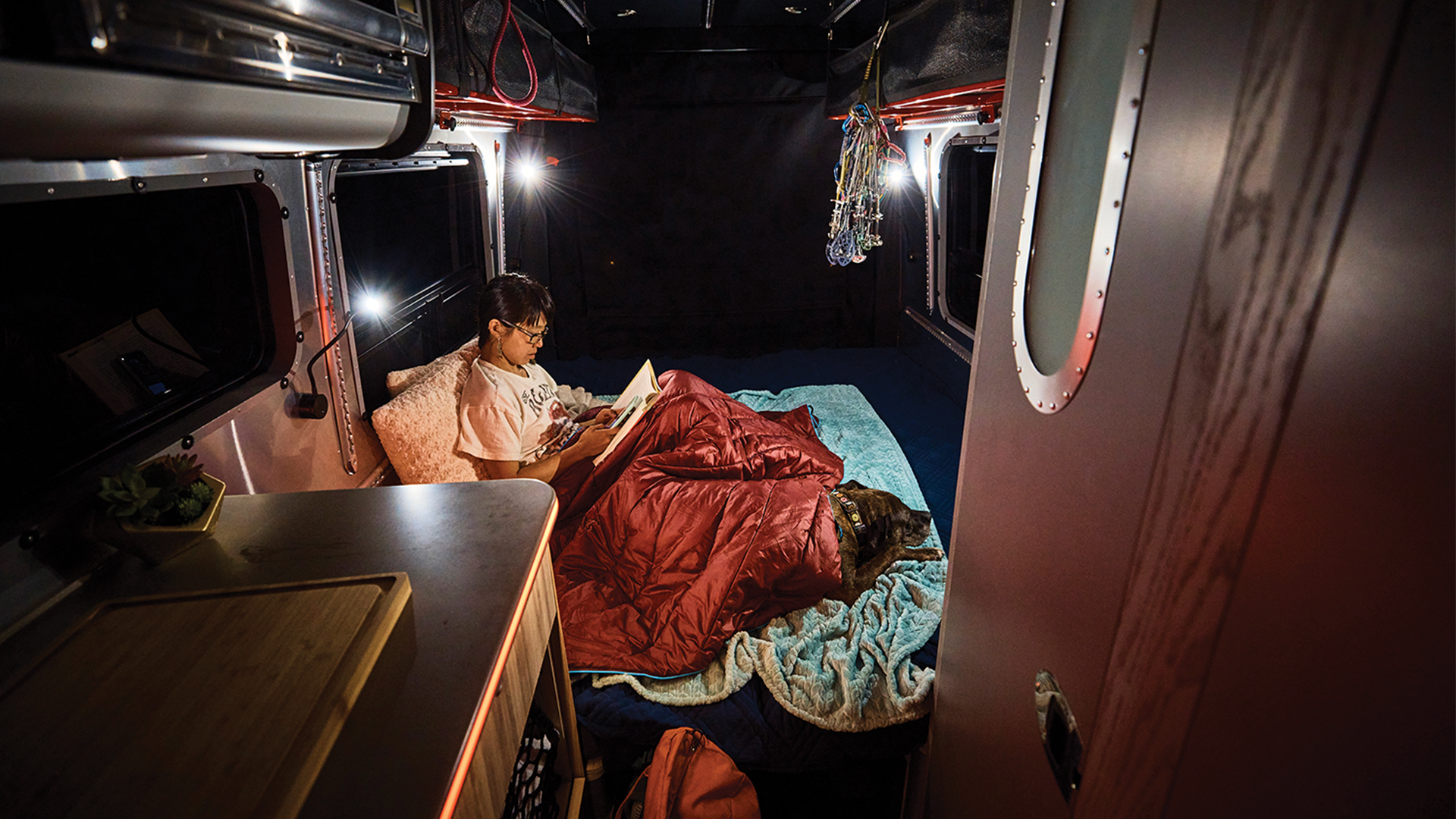 In the rear of the RV, you'll find a roomy, convertible living and sleeping space that offers seating for six and comfortable sleeping for two — including custom configurations that adapt to your specific needs. A modular table system enables you to mount the table in multiple locations: behind each captain's chair, two additional spots in the living space, or outside the entry door.
Gear Up for Your Next Outdoor Adventure
If you're ready to open the doors to a world of ultimate freedom, flexibility and fun, it's time to take a closer look at Airstream Interstate 24X. Designed to meet the growing need for off-grid, outdoor-driven excursions, the Interstate 24X is an adventure lover's dream motorized RV. Combining best-in-class Mercedes-Benz Sprint Van chassis durability, unmatched high-quality Airstream craftsmanship, premier interior creature comforts and ample gear-friendly storage, the Interstate 24X is purpose-built to deliver on the promise of unlimited outdoor adventures.
Ready to start your Interstate 24X adventure today? Take advantage of a limited time offer and receive up to $10,000 off the purchase of a new Interstate.
Ready to see the Interstate 24X up close for yourself? Schedule a visit with your nearest dealer.