Years of planning, design, and engineering come together in the all-new Airstream Pottery Barn Special Edition Travel Trailer: A gorgeous, 28-foot travel trailer that combines a world of adventure with all the comforts of home. 
Comfortable, connected, and capable of letting you travel anywhere while feeling like you're "always home," the new riveted, aluminum Airstream is outfitted with all the beautiful furnishings and cozy details you'd expect from Pottery Barn. 
Combining over 160 years of design expertise, the partnership between Airstream and Pottery Barn brings together two iconic brands with one goal: Redefining what it means to travel in comfort and style. Over the course of two road-trip-inspired collections of home goods, the collaboration gave fans of both brands the ability to add a touch of wanderlust to their home – or home on wheels. 
Now, the partnership has found a new road to travel, with an Airstream Travel Trailer unlike any in the company's 90-year history. Featuring custom furniture, tailor-made storage solutions, and a timeless design aesthetic, the Pottery Barn Special Edition Travel Trailer sets a new standard for a well-traveled life. Perfect for families, couples, and solo travelers who want to experience the live anywhere lifestyle in supreme comfort, the new travel trailer is a beautiful and timeless addition to Airstream's fleet of iconic travel trailers.
"Since launching two co-branded collections of home goods with Airstream, it's become clear that fans of both brands understand the unique value of coming together," said Marta Benson, President of Pottery Barn. "We were as excited as our customers to see how we could apply Pottery Barn's design expertise to Airstream's live anywhere mentality, and we couldn't be more excited about the results."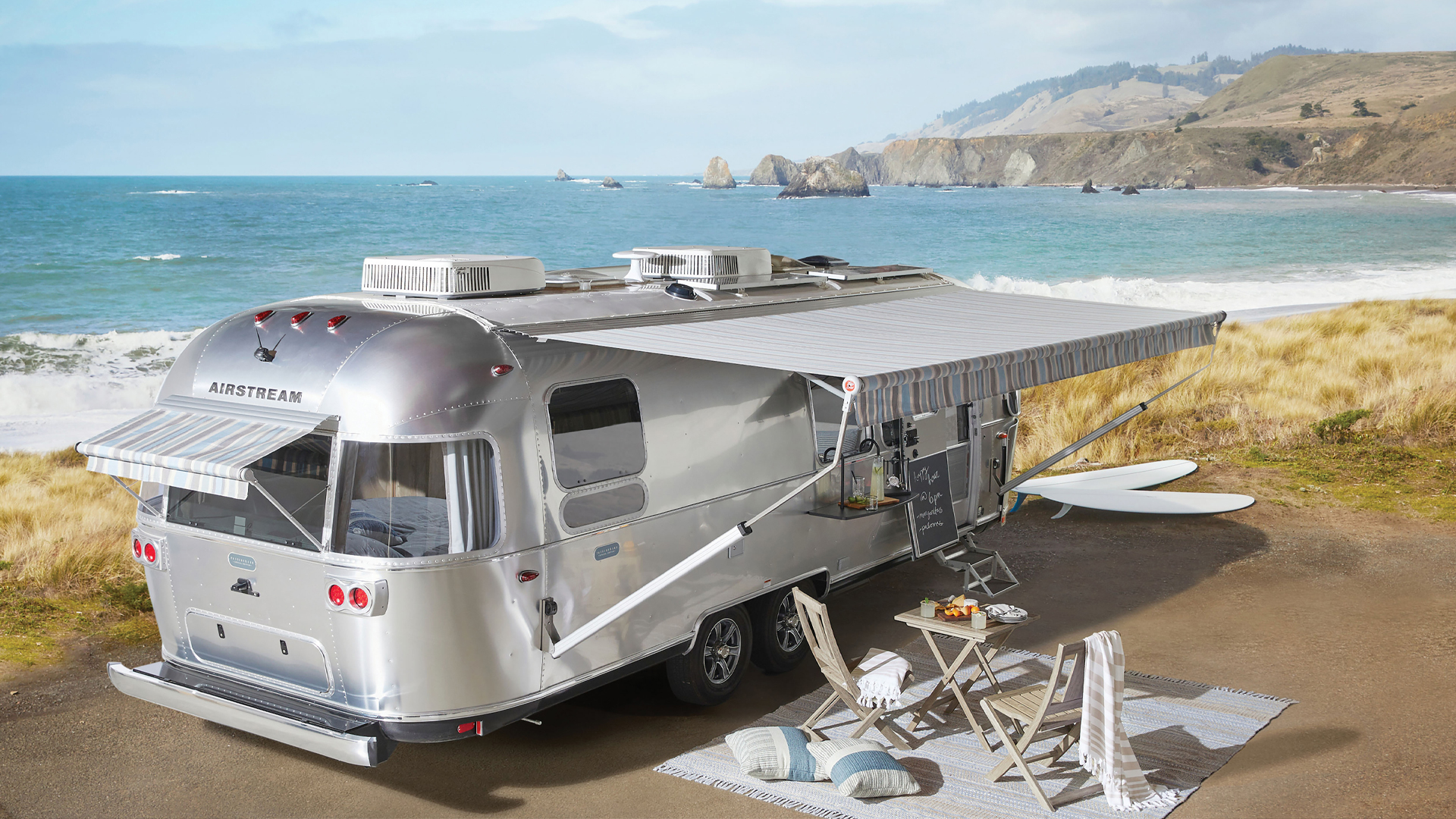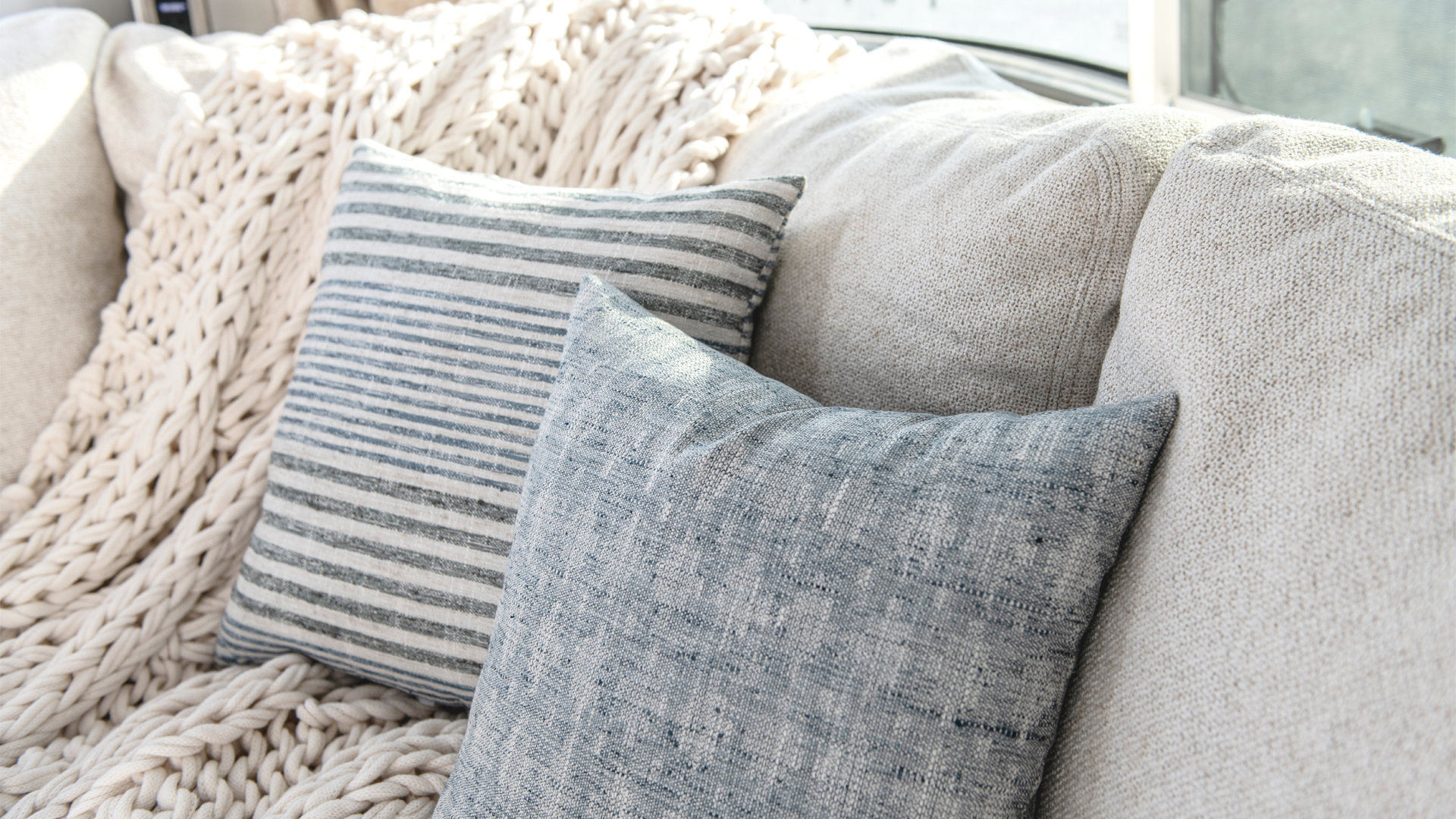 Iconic Airstream Innovation Blends With Timeless Pottery Barn Style
Working hand-in-hand, design teams from both companies approached the Airstream as a blank canvas upon which to create something fresh – a travel trailer imbued with the exceptional quality and unparalleled value for which both brands are known. 
"It's a match that makes sense in many ways," said Airstream President and CEO Bob Wheeler. "Pottery Barn has this kind of magical ability to shape a space. You see it in their home interiors, where there's a comfortable, functional beauty to even the smallest pieces. They understand how your home is this canvas where real life happens, and we love how they applied that to the Airstream lifestyle."
In addition to the onboard travel amenities pioneered by Airstream – a dedicated kitchen and bathroom, as well as sleeping and relaxing areas – the new travel trailer is finished with hardware, soft goods, fixtures, and other surprising touches crafted with Pottery Barn's design expertise. Every detail has been considered, from the custom-made sofa and seating in performance boucle fabric – with some of the most comfortable cushions ever to grace an Airstream – to window coverings made with Pottery Barn's oatmeal linen Emery Curtain fabric. 
At the heart of the new travel trailer is the full complement of Airstream's innovative technology solutions – improvements and amenities that take the Pottery Barn Special Edition Travel Trailer one step closer to the future of travel. Airstream Smart Control Technology lets you monitor and control primary onboard features like the awning, lights, thermostat, and more from your smartphone while powered stabilizers and a powered awning allow you to set up your campsite quickly and start your adventure – whether that's relaxing in a camp chair or hitting the trail. The result is a travel trailer made for the modern era, where work, play, life, and learning blend at home and on the road.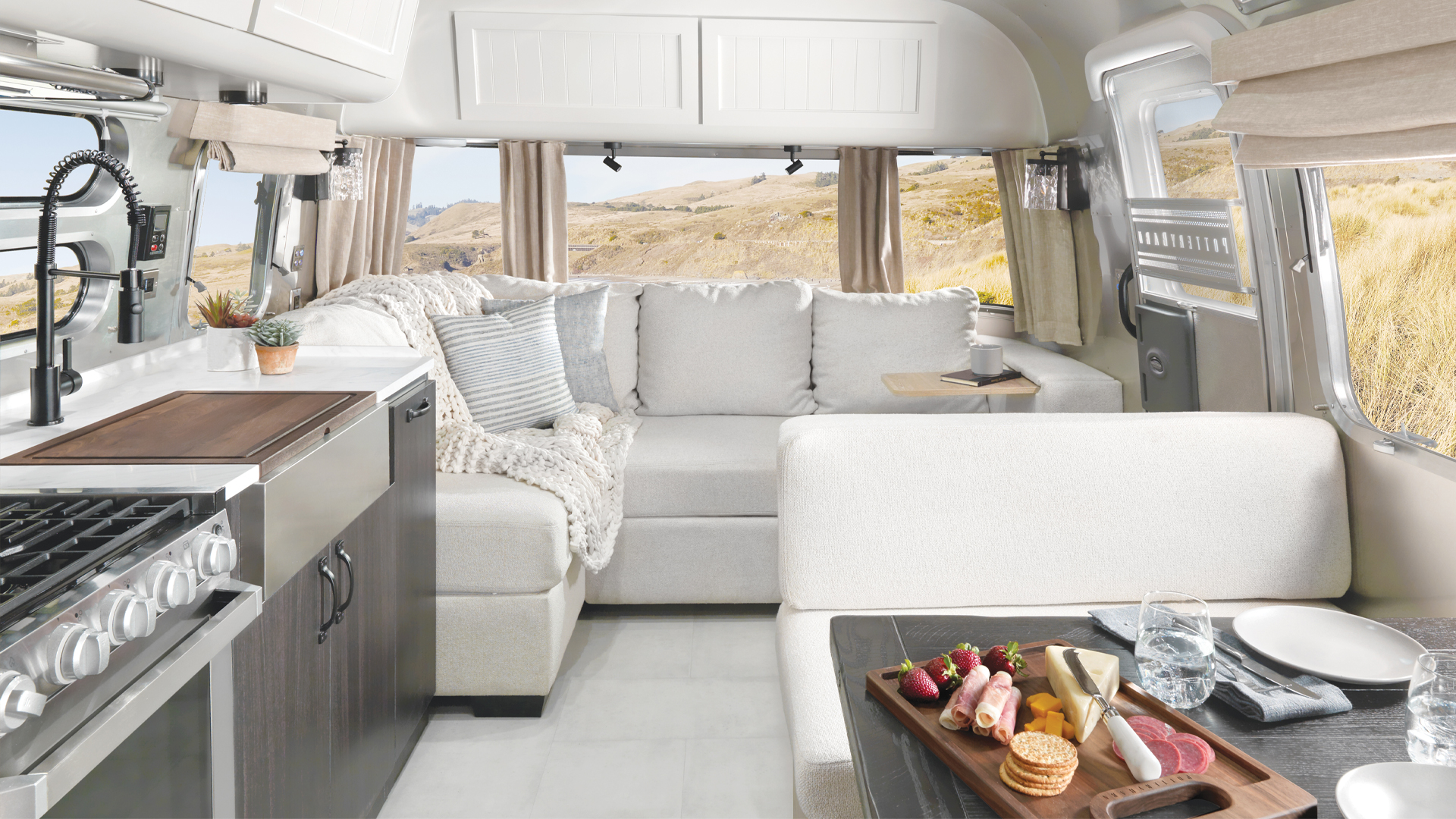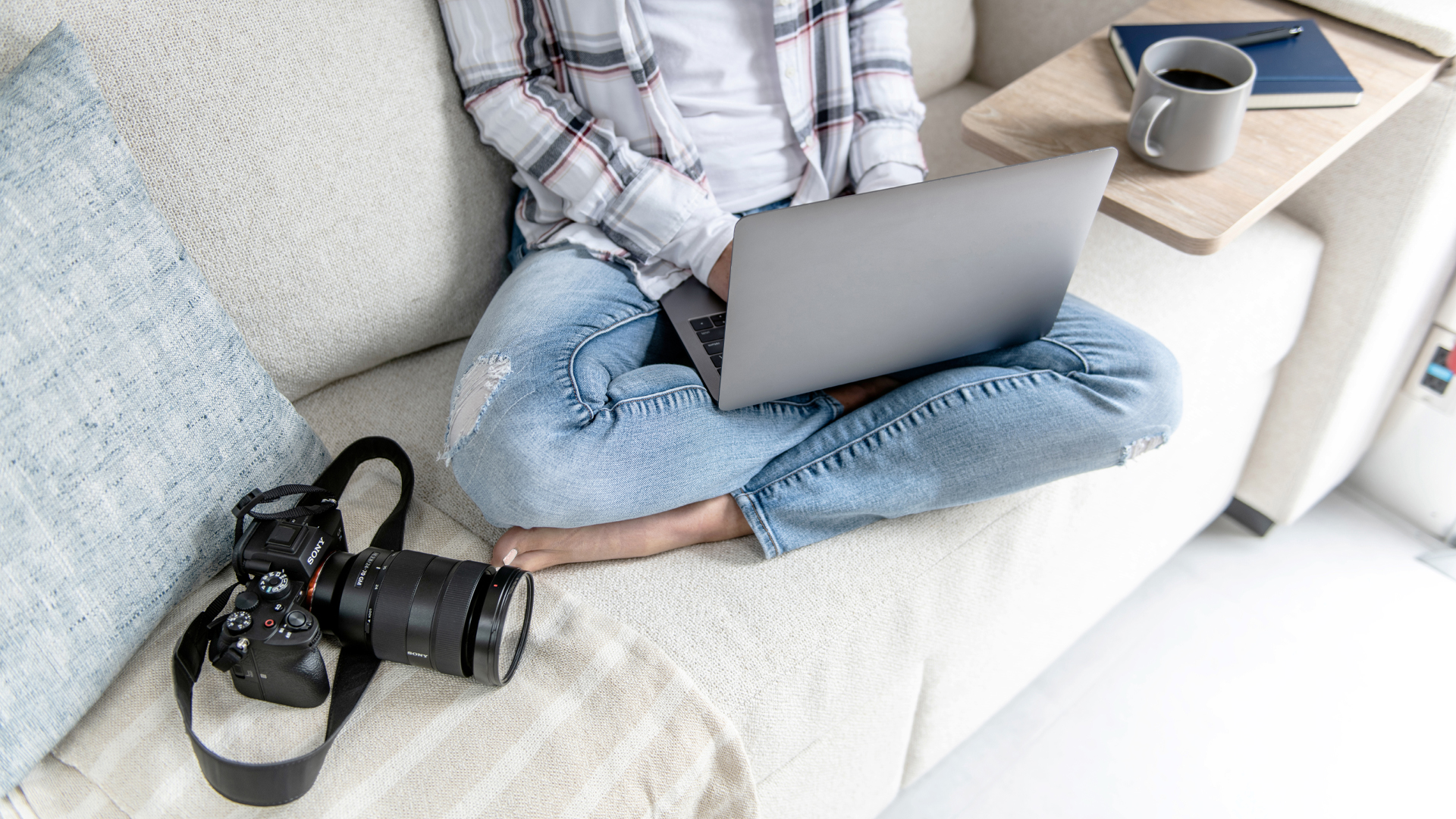 No Matter How Far You Travel, You're Always Home
The Pottery Barn team worked with Airstream's design and engineering teams to incorporate a variety of surprising, delightful features. In a design first for Airstream, an outdoor hanging table attaches to the trailer's exterior and creates the perfect place for appetizers and a glass of wine at sunset – a detachable ledge that stows in the rear exterior storage compartment when not in use. A hidden airline-style table swings out of an armrest, and there's a chalkboard riveted to the inside of the main entry door for personalization and communication with friends. Pottery Barn also put their signature touch on the powered awning fabric, soft goods, and décor. 
The collaboration shines brightly in the kitchen, where Pottery Barn's design instincts led to a solid wood oak dinette table. An heirloom-quality piece inspired by Pottery Barn's best-selling Benchwright Dining Collection, the dinette table is built with oak hardwood, finished with premium materials, and designed to last for generations. Elsewhere in the galley, Pottery Barn brought to life the allure of their timeless aesthetic in a matte-black pull-down kitchen faucet, a stainless steel flat apron sink, and a solid walnut cutting board sink cover. 
The aesthetic continues in the onboard bathroom, where a bowl sink and a matte-black faucet are complemented by wall sconces. Under the bed, Pottery Barn-style canvas storage solution bins give travelers flexible options for stowing road trip necessities. The ultra-soft Emery window shades have a residential feel while the overhead lockers drew inspiration from Pottery Barn's popular Aubrey beadboard furniture collection. Wall sconces round out the interior decor, adding ambiance and charm. 
The new travel trailer also includes a Pottery Barn accessory kit, featuring an Indio Outdoor Folding Table and Armchair Set, as well as a 16-piece Mason Stoneware Dinnerware Set, a doormat, storage bins, and more. With room to sleep up to five people, it's available in two-floor plans that feature either twin beds or a queen bed. Both floor plans feature Pottery Barn bedding that lets you sink into total comfort at the end of an adventurous day. 
Whether your travel dream is to head deep into the woods, out into the desert, or down that coastal highway, the all-new Airstream Pottery Barn Special Edition Travel Trailer is adventure-ready – and feels like home. Step inside and experience it for yourself at your nearest authorized Airstream dealership.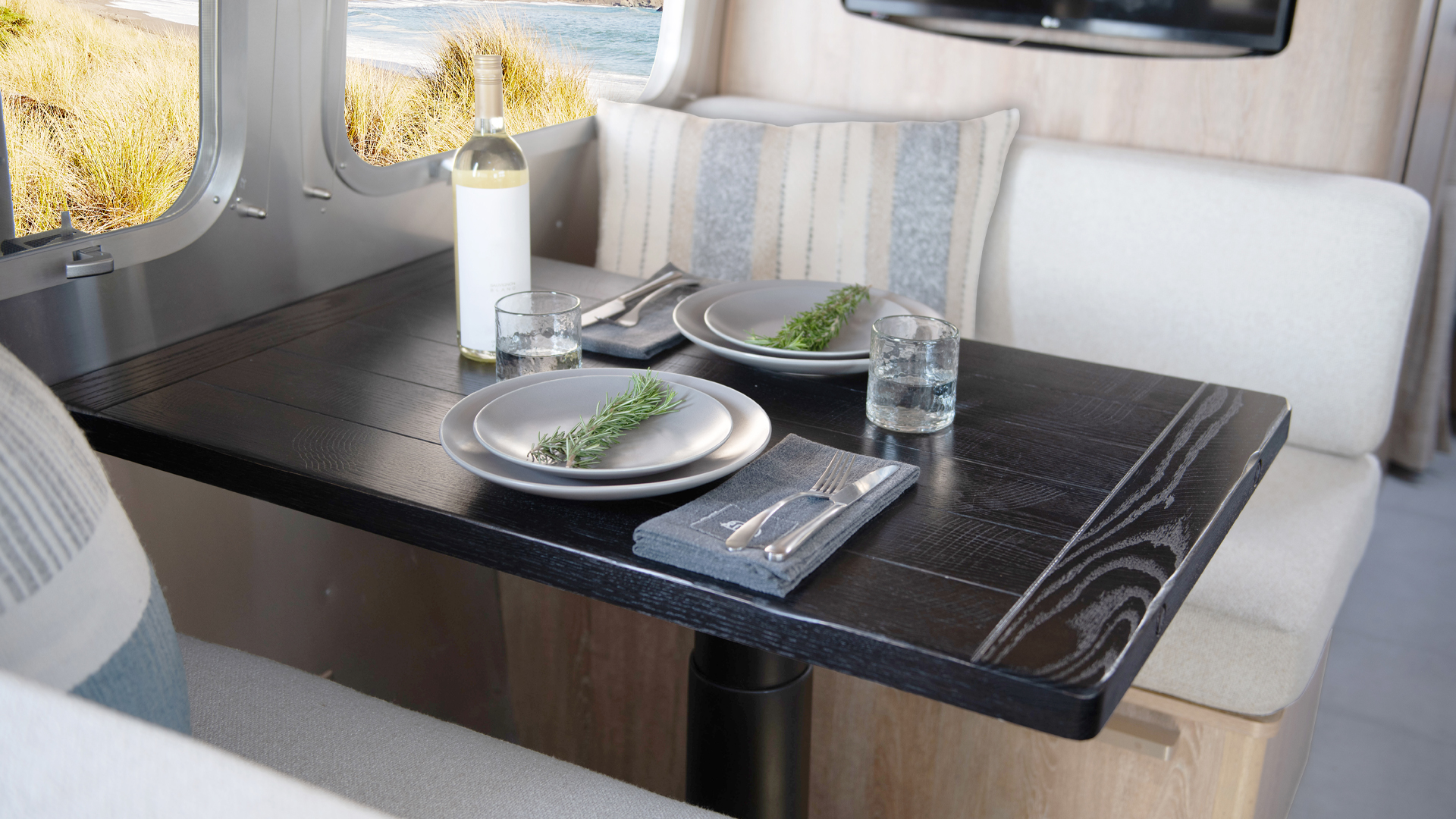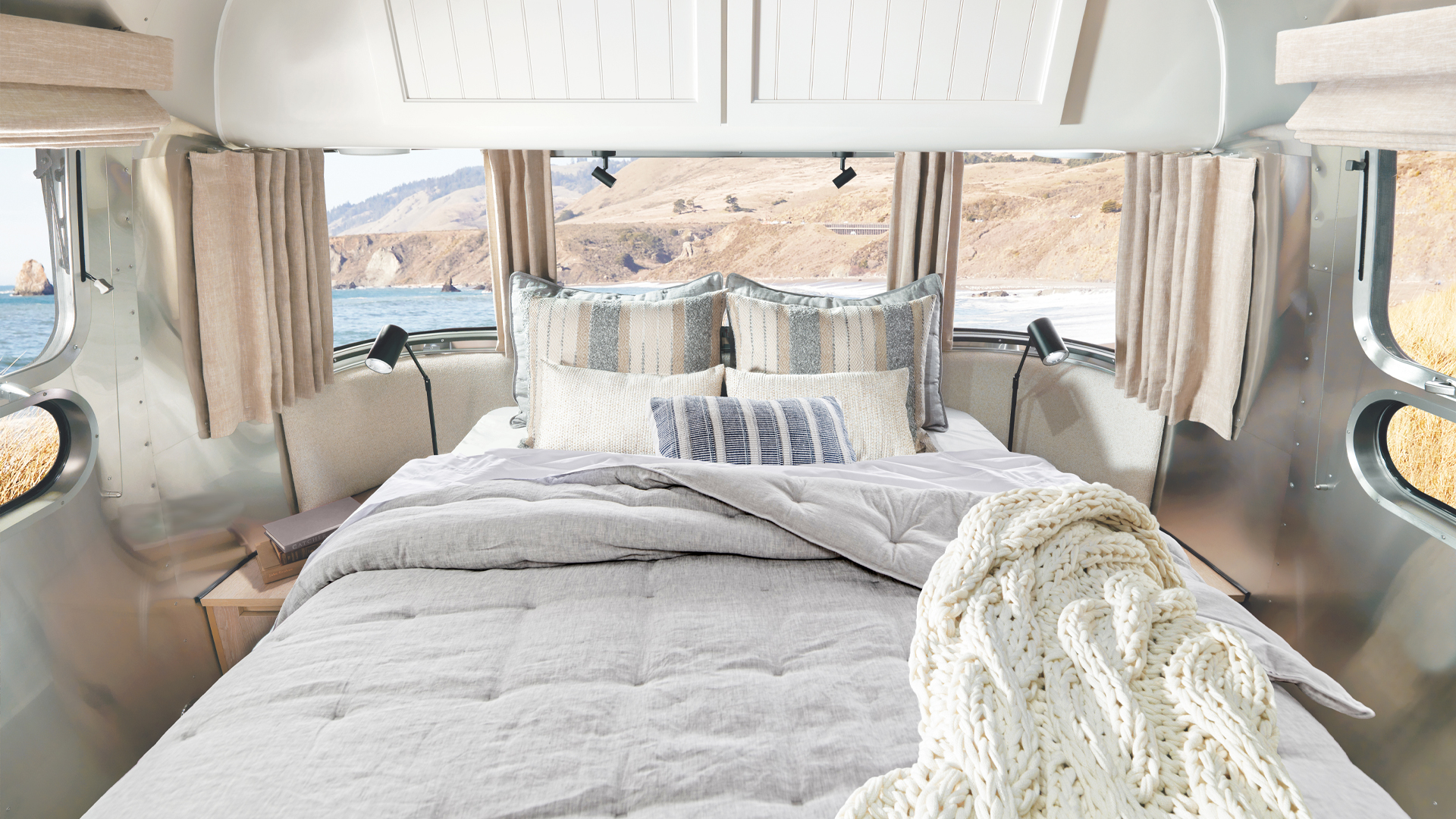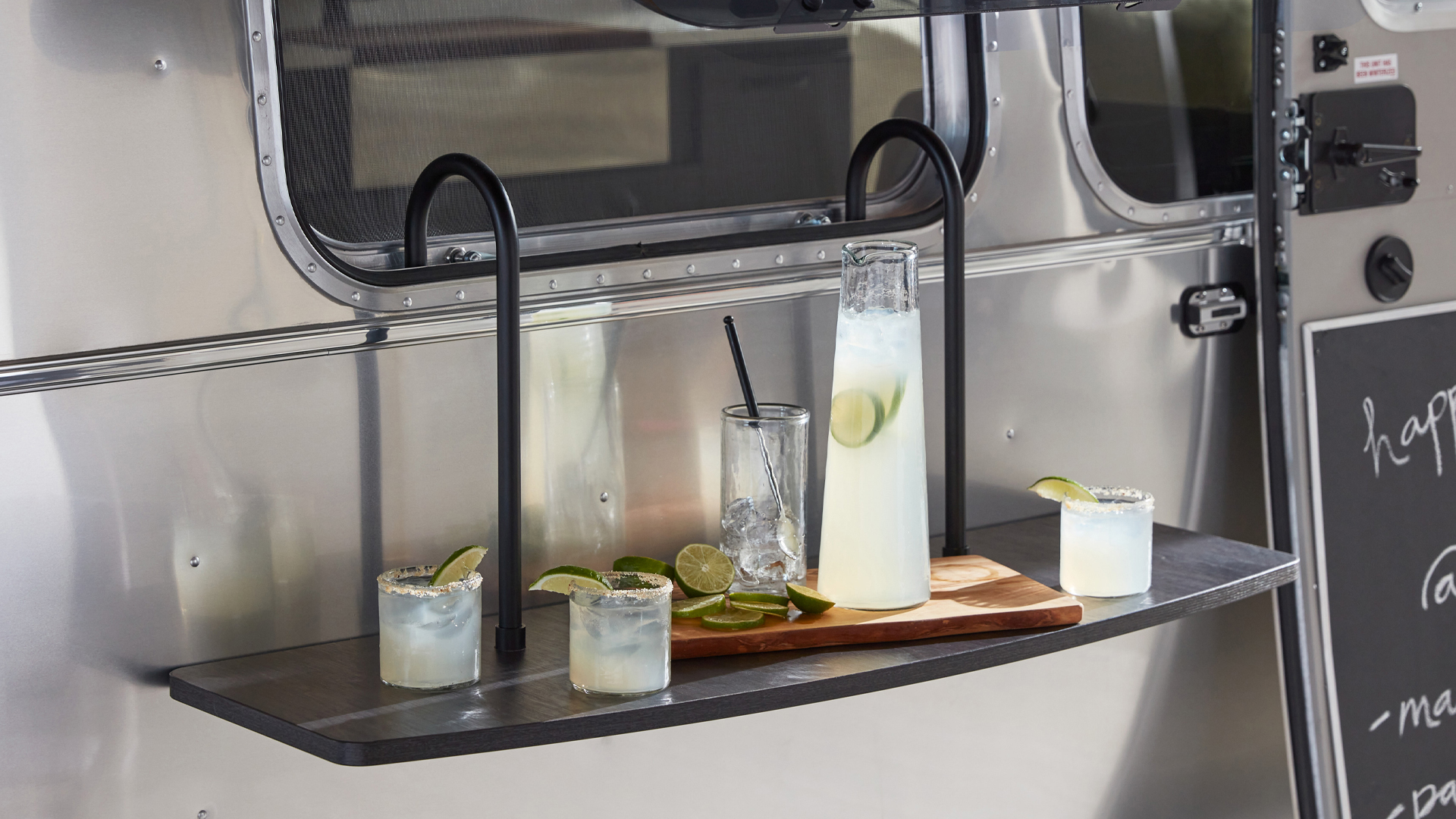 Explore all of the features and watch the videos on the product pages or head straight to the brochure to learn what makes it special among our product lineup.