Sometime after World War II, Airstream founder Wally Byam committed his personal philosophy to paper. Poetic and concise, the resulting creed has guided Airstream ever since and driven the American heritage brand to hold true to the promise of uncompromising travel with all the comforts of home.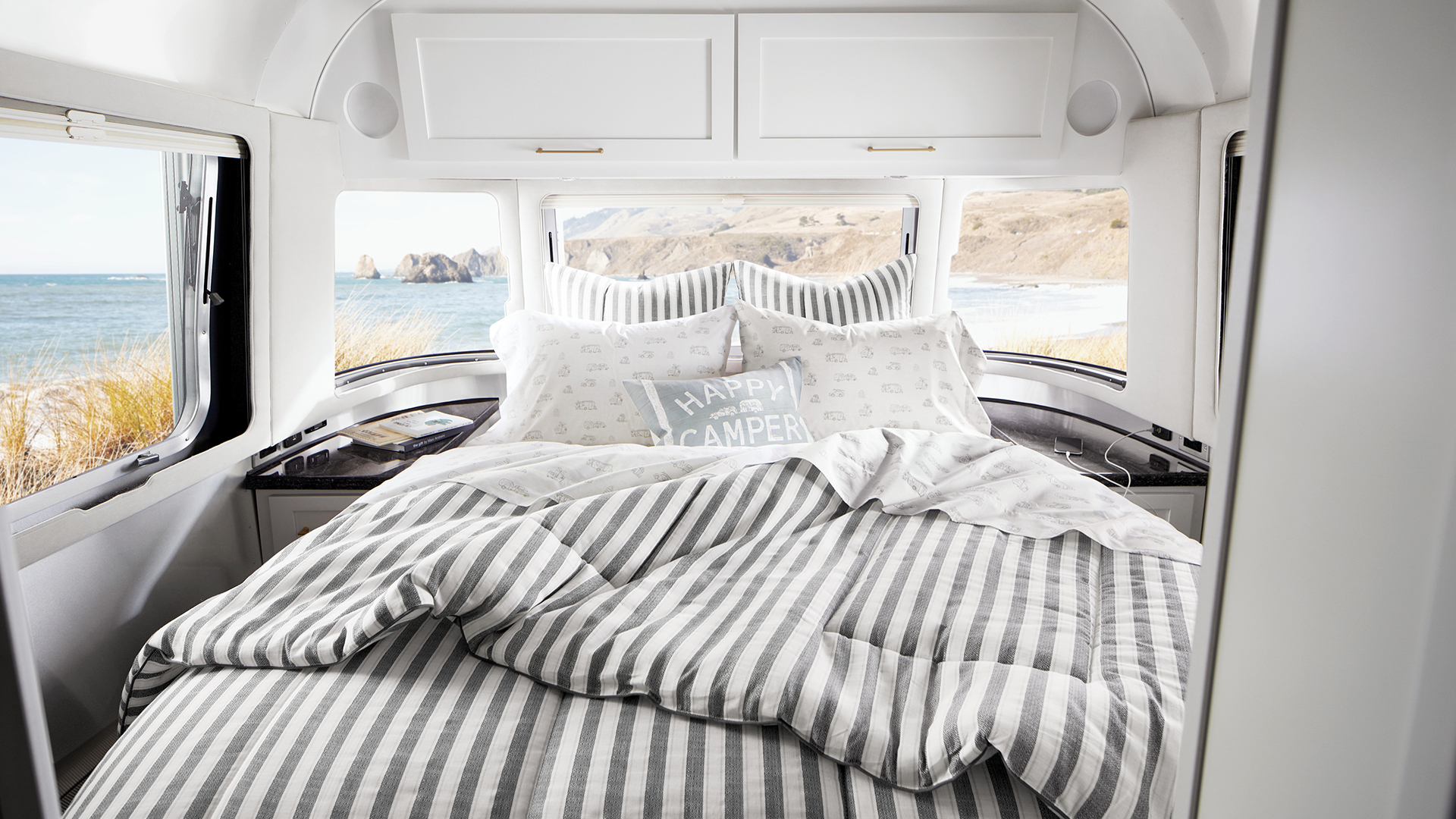 Now, Airstream has partnered with Pottery Barn to create a wanderlust-inspired collection of camping and home essentials that keep that promise alive. From organic cotton bedding and dinnerware inspired by classic camp wares to original art and Airstream-inspired collectibles, the partnership brings together two American brands united by a shared passion for comfort, style, and quality craftsmanship. Whether at home or on the road, this new collaboration features products that are perfect for gathering with family, mingling with friends, and making memories that will last a lifetime.
An Iconic History
Celebrating a combined 150-plus years in business, Airstream and Pottery Barn have solidified their places in the history of American design. In 1931, Airstream began with a dream to create lightweight travel trailers that elevated the camping experience with practical amenities. Continually improving on that idea over the ensuing decades, Airstream fostered a new travel ideal. Nearly ninety years later, new freedoms, new destinations, new experiences, and new friendships continue to be the backbone of the Airstream life.
In 1949 – eighteen years after Airstream was founded – Pottery Barn opened its first store in New York City. More than 70 years later, Pottery Barn's iconic warm and welcoming aesthetic continues to strike a chord with consumers and the design industry alike, with hundreds of stores across the globe and a thriving online presence. Their timeless, high-quality collections continue to set the bar in the home industry and inspire customers around the world.
Today, both brands work to guide and define a way of life and build a sense of community. Beyond simply manufacturing products, Airstream and Pottery Barn have become lifestyle brands and lead the way in crowded industries. 
Obsession with Quality and Craftsmanship
Superior craftsmanship. Uncompromising attention to detail. Both Airstream and Pottery Barn are driven by a commitment to quality. Proudly hand-built in Jackson Center, Ohio, USA by hundreds of talented craftspeople, each Airstream travel trailer takes approximately 350 hours to build. Form and function are tightly woven into every thoughtfully-planned inch, and every design is carefully considered.
The result is a travel trailer that will last a lifetime – or more. Likewise, Pottery Barn creates more than just timeless furniture and stylish home accents. From their original designs to artisan craftsmanship, Pottery Barn meticulously crafts products that will be loved for a lifetime.
Sense of Social and Environmental Responsibility
Airstream's founder, Wally Byam, believed that promoting goodwill was an essential component of the Airstream business, and today Airstream prides itself on its sustainability initiatives and ecologically-friendly practices. Similarly, Pottery Barn is an industry leader in sustainability, and is committed to crafting beautiful products in a way that's good for the environment and our communities. In the Airstream x Pottery Barn collection, products like the Airstream Multi Striped Indoor/Outdoor Pillow and Airstream Eco-Friendly Indoor/Outdoor Rug are made with recycled plastics and the bedding is crafted entirely of organic cotton.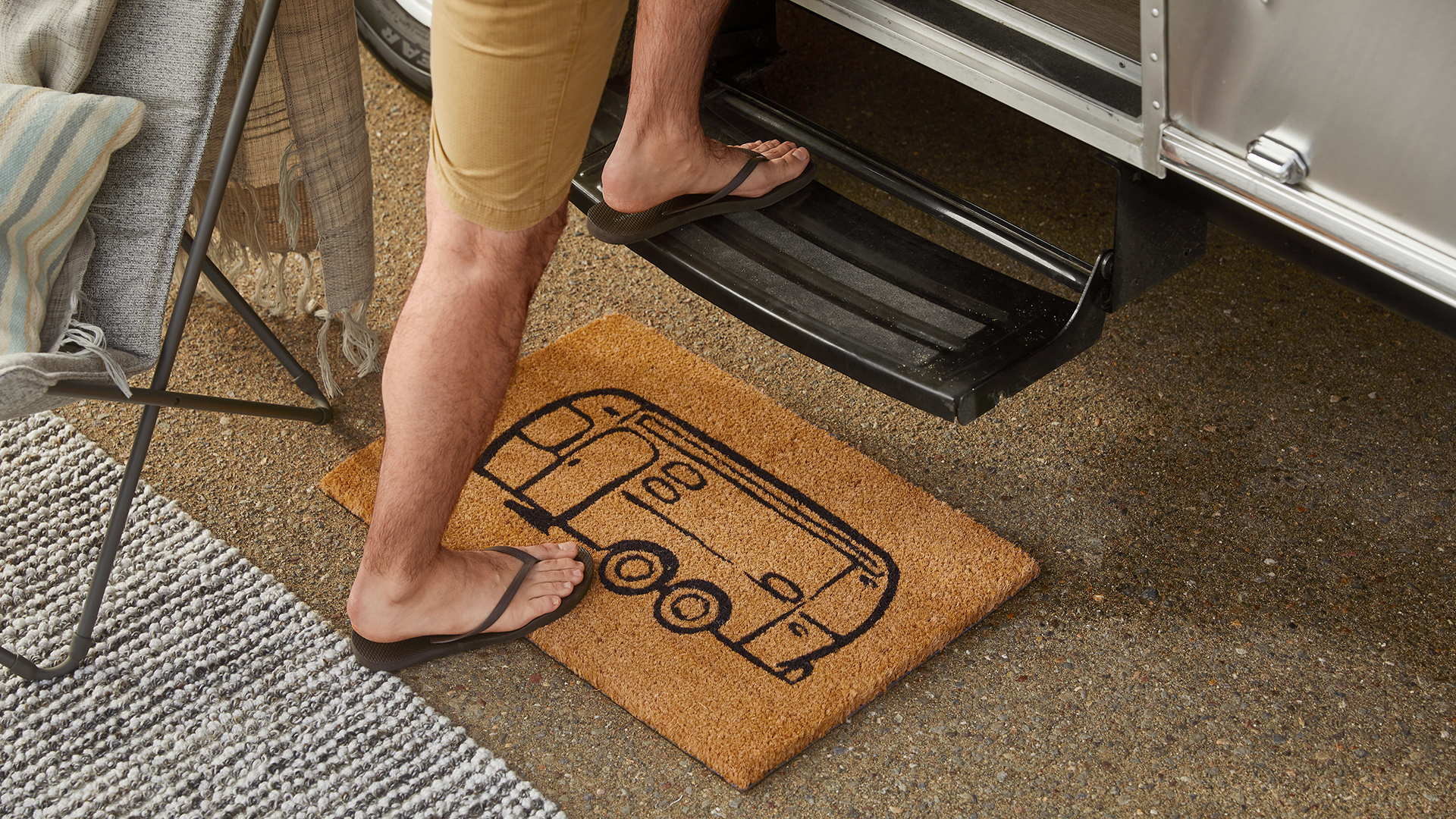 Wally Byam promised, "To place the great wide world at your doorstep for you who yearn to travel with all the comforts of home." Through this partnership, Airstream provides the means to travel while Pottery Barn delivers the comforts of home with a wanderlust flair.