In January 2020, Airstream began production in its brand new 750,000-square-foot Travel Trailer Production Facility in Jackson Center, Ohio. Located down the road from its previous home, the new production facility and corporate office is the first new Airstream travel trailer production facility in almost 50 years – and it more than tripled the amount of available space for our production teams.
More than simply a shiny new home for our shiny riveted aluminum campers, this new building was also purposefully built with features that cater to Airstream owners. For years, our in-person factory tour was one of the most popular reasons that Airstreamers made the pilgrimage to Jackson Center. Led by experienced Airstream associates, these tours wove their way down the entire travel trailer production line, giving visitors an up-close view of how we rivet together the iconic shell and build out the interior with expert craftsmanship and hand-made dedication.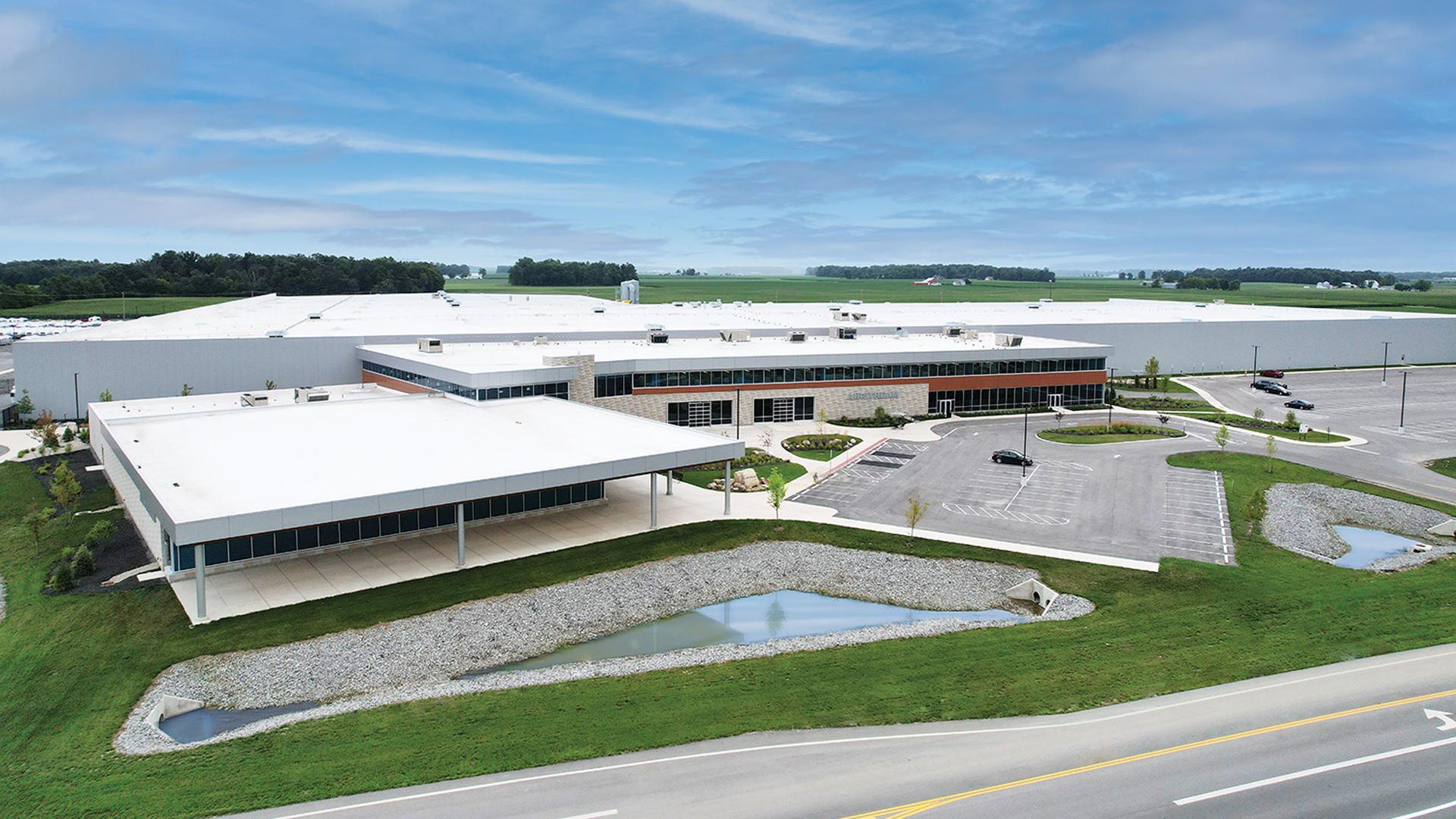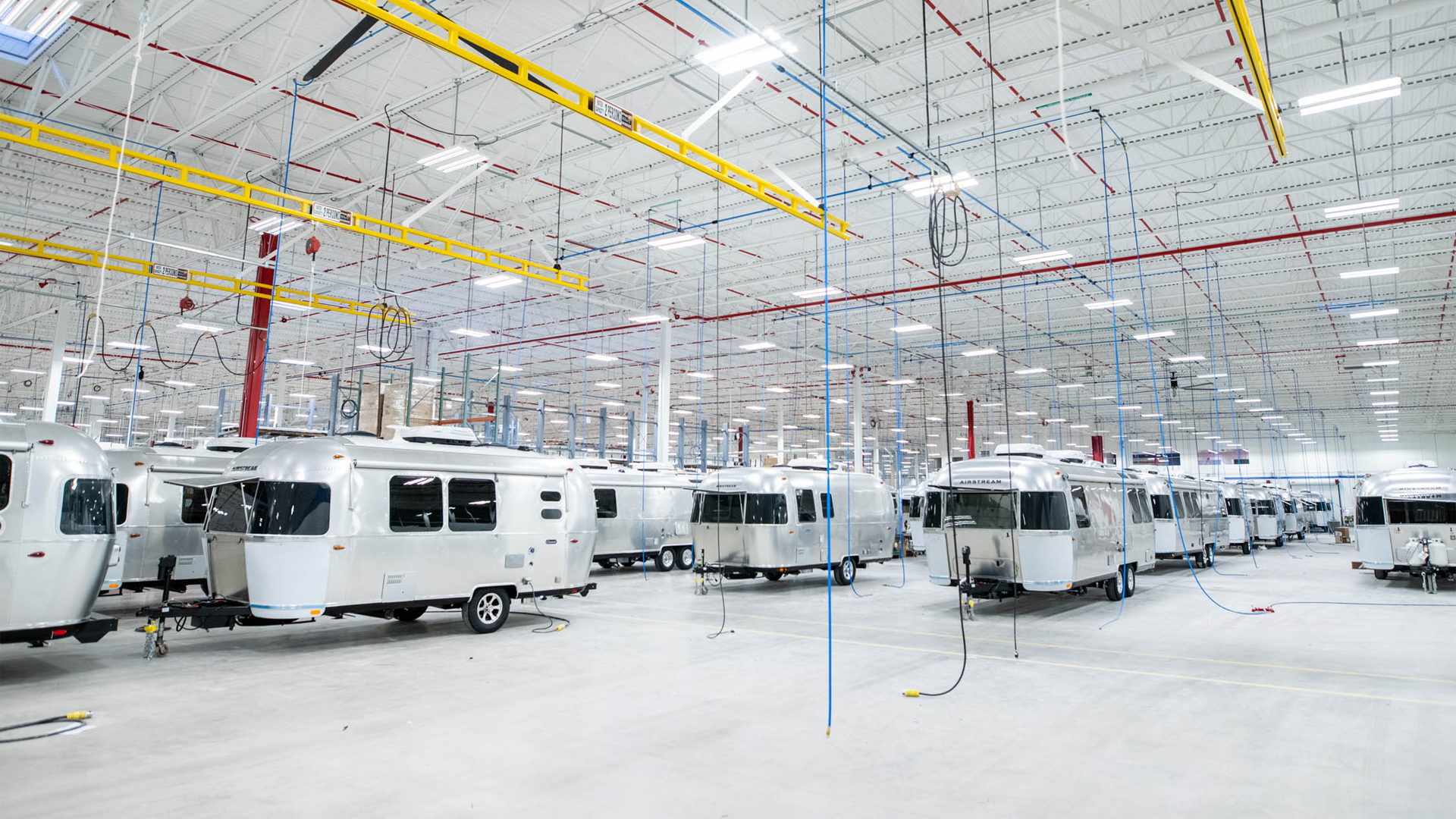 Since 1980, every Airstream has been built here in the cornfields of west-central Ohio, and it wasn't long before Airstreamers began referring to it as The Mothership. From factory tours and on-site rallies to visits for service from the expert technicians in our service department, a trip to the Mothership became an opportunity to immerse oneself in the history and community that makes Airstreaming one of the most satisfying ways to see the world.
To this day, forty-two years later, a trip to Jackson Center means coming back to the source – and it's a great opportunity to get up close and personal with the past, present, and future of Airstream.
A Tour Unlike Any Other
From its inception, our popular factory tour drew the attention of Airstreamers and the media alike, landing it on several high-profile lists of America's best factory tours alongside other American heritage brands like Corvette, Boeing, and Harley Davidson.
Our new Travel Trailer Production Facility opened in January 2020, with a plan to begin public tours soon after. But the coronavirus pandemic put those plans on ice for more than two years. Early in the summer of 2022, we re-opened daily public tours, and for the first time visitors were welcomed into this sprawling, state-of-the-art facility for an up-close look at how we build Airstream travel trailers.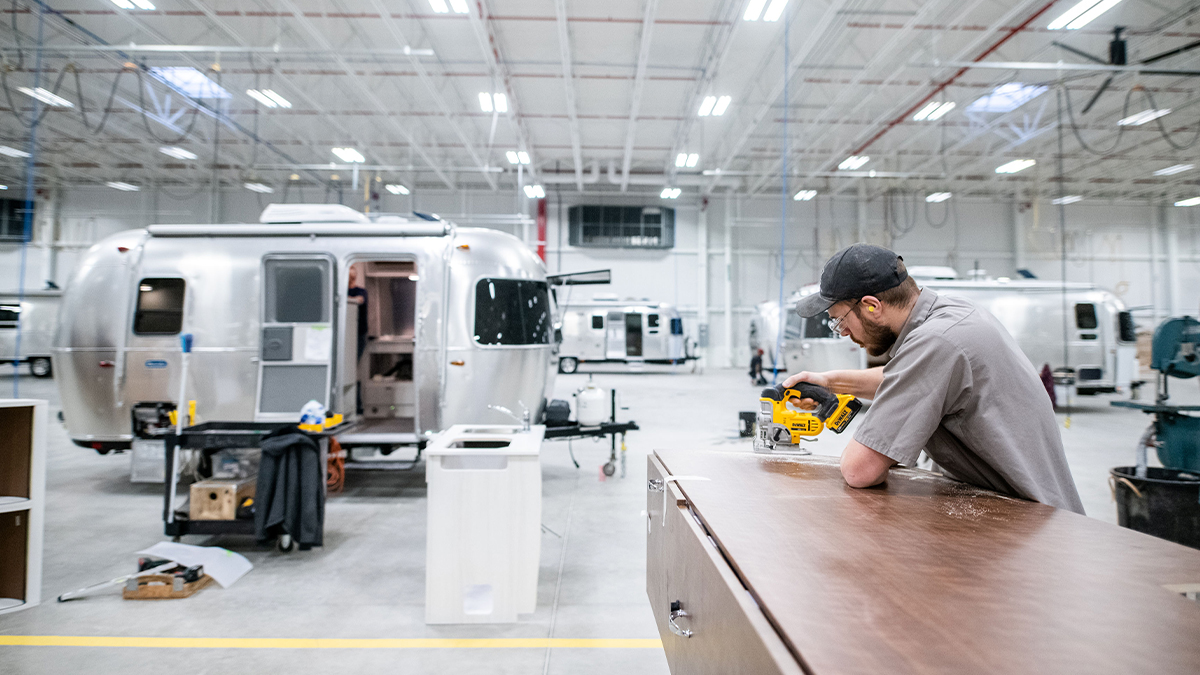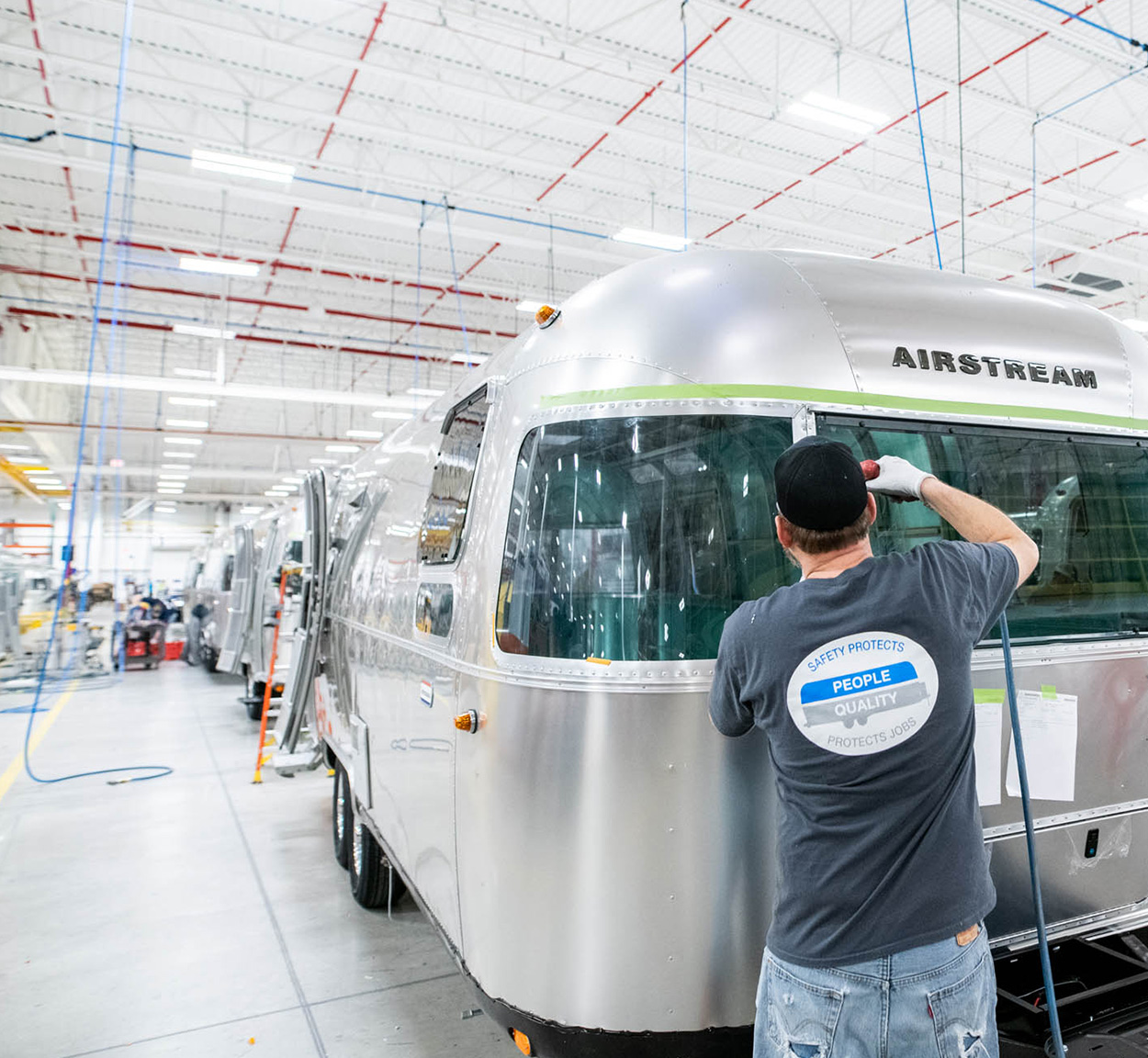 If you'd like to see this incredible process for yourself, book a public tour today. We offer daily tours of the Travel Trailer plant, as well as tours of our Touring Coach facility every Tuesday and Thursday. If you're planning on visiting the Mothership, be sure to book one of these popular tours in advance. And please note: Our production line typically ends their day at 10:30am on Fridays, so the factories are often shut down or running limited production on those days.
Step Back through 90 Years of Airstream History
From the moment we began drawing up blueprints for this new facility, we knew that a museum space was essential. For years, our collection of vintage Airstreams didn't have a proper, permanent home where the public could marvel at the design innovation and vintage grandeur of these gorgeous, historic recreational vehicles.
More than simply a place to display our collection, we wanted to create a space that would do justice to the genius behind the Airstream brand and the intrepid individuals who made it all possible. From personal mementos collected on globe-trotting Caravans to custom Airstreams that paved the way for innovative design improvements, our collection of artifacts remained tucked away in our corporate archives until the grand opening of our new Airstream Heritage Center.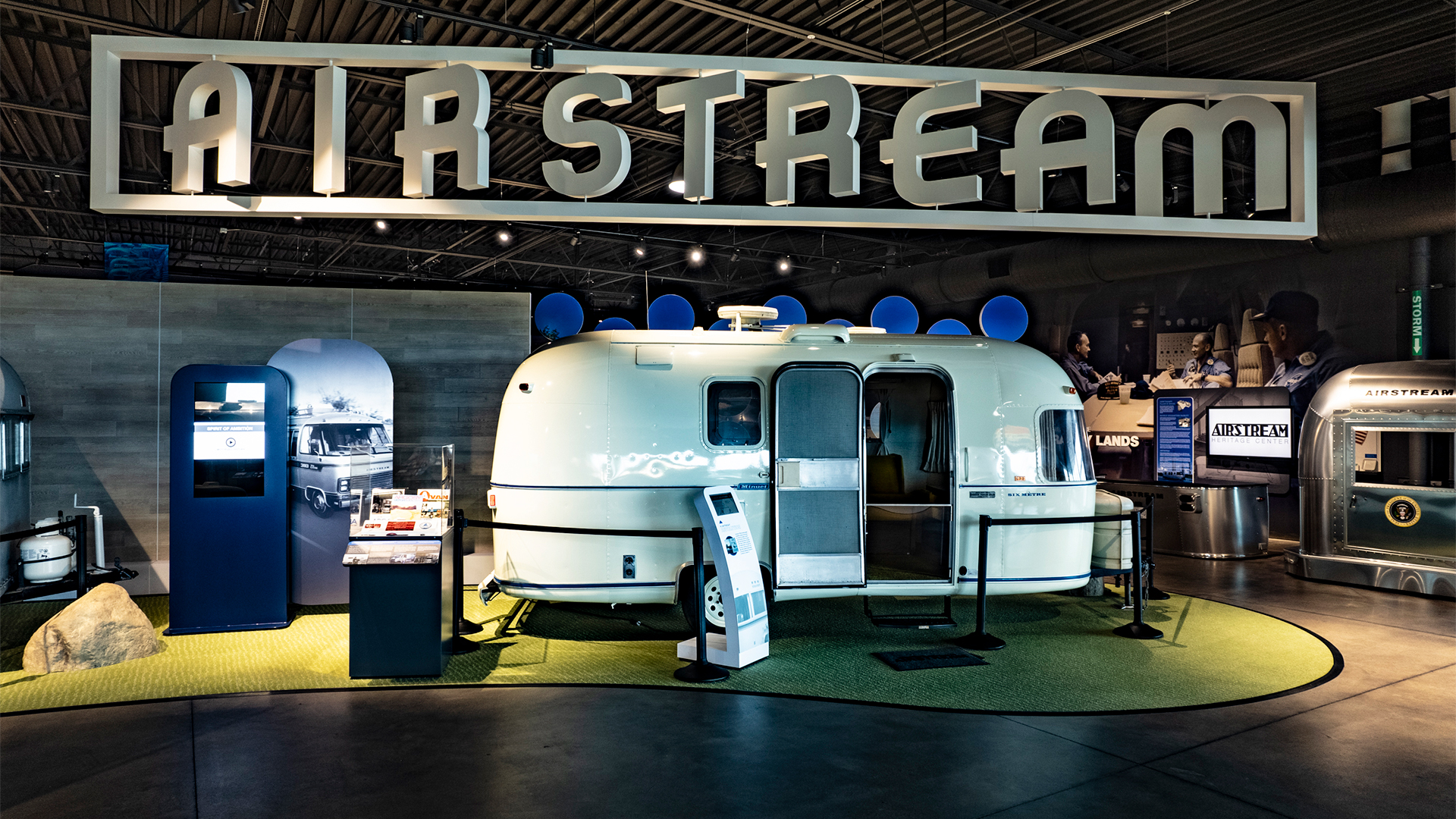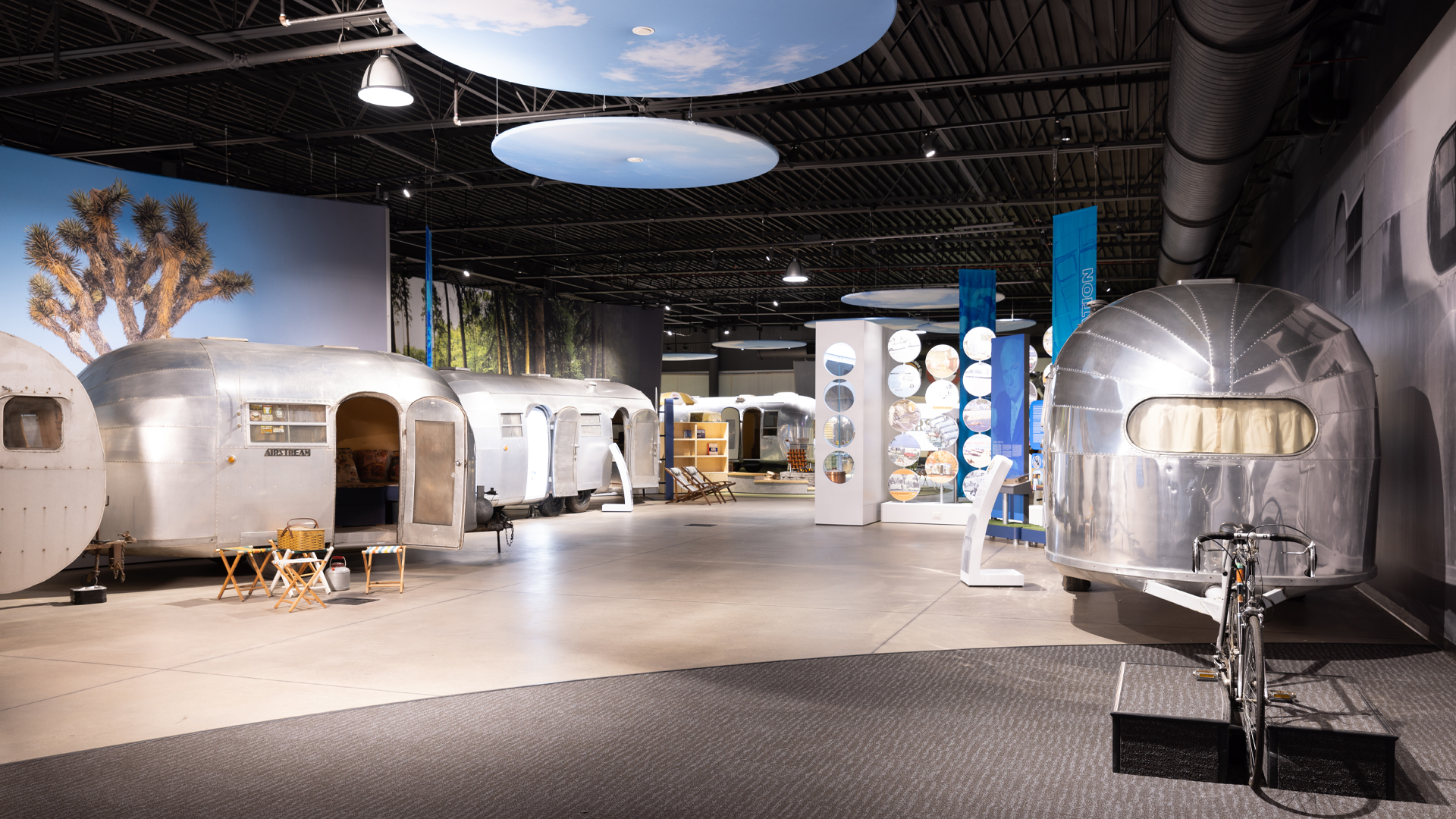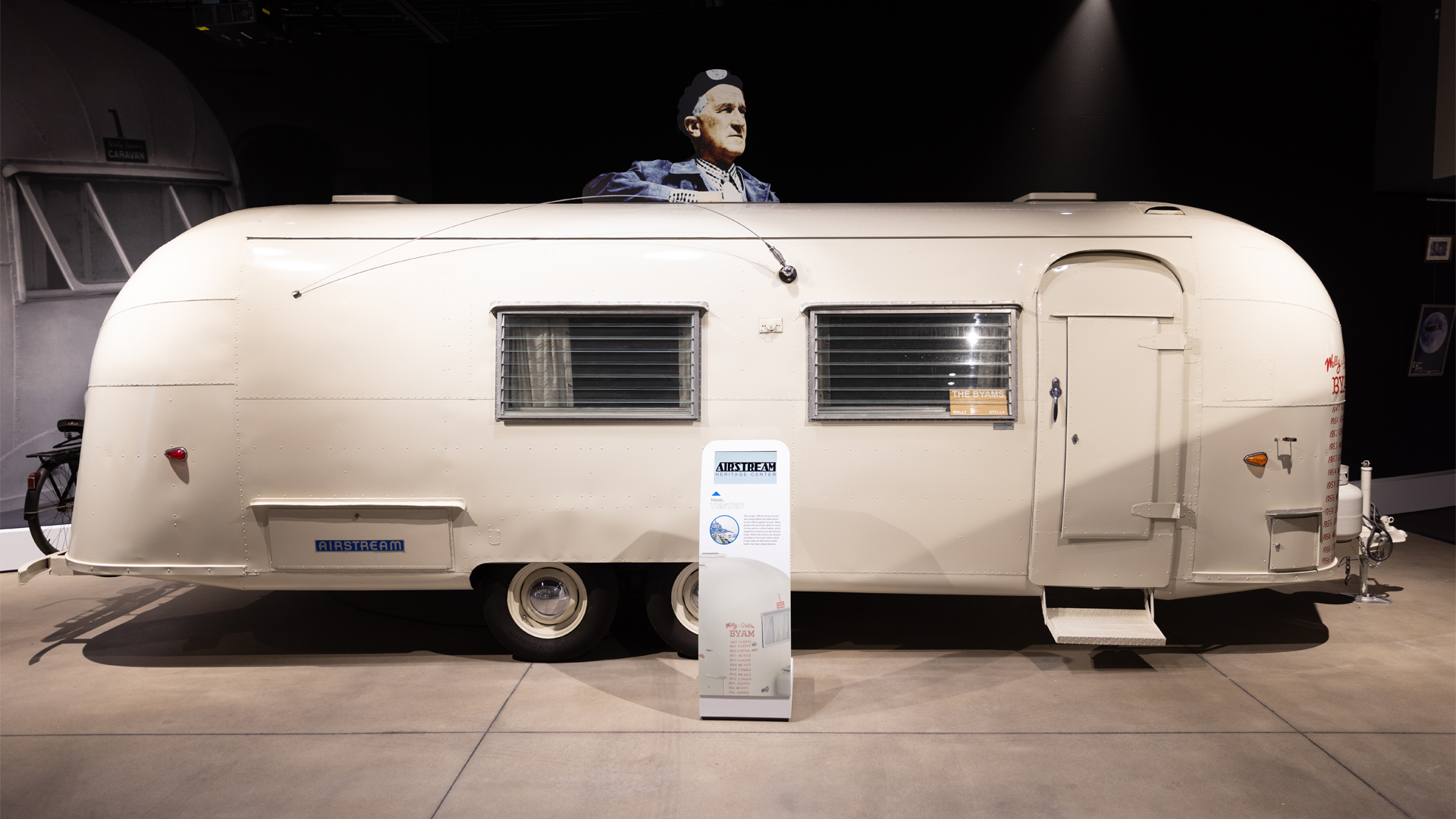 Now, this 16,000-square-foot curated museum space is open to the public – and a visit to Jackson Center isn't complete without a tour down Airstream's memory lane. Beginning with the gleaming Art Deco style of our 1938 Airstream Clipper, through the early days of the company and the epic Caravans that traversed the far reaches of the globe, to our involvement with America's space program, the Airstream Heritage Center brings to life the iconic moments, design innovation, and personal stories of the tight-knit, adventurous Airstream community and our founder, Wally Byam.
The Airstream Heritage Center is open weekdays from 9am to 4pm eastern time. Admission is $5 for adults, $3 for seniors, $2 for military, and free for kids 12 and under. All proceeds benefit the Airstream Foundation.
Outfit Your Adventure at Airstream Supply Company's Flagship Retail Store
Located just inside the Airstream HQ lobby, the Airstream Supply Company flagship store brings to life our curated collections of gear, camp furniture, apparel, jewelry, and more that's available online at the Airstream Supply Company website.
We search far and wide for the best equipment, most durable (and comfortable) camp chairs, and the best shatterproof dishware for traveling. We source custom solutions that upgrade your Airstream experience – products like our Custom Teak Shower Mats, our innovative Under Dinette Dog Bed, and our popular custom mattresses, bedding, and sheet sets that are manufactured to fit the unique curves of our trailers. Our in-house sewing department creates beautiful custom curtains for a variety of Airstream models, and we're constantly updating our collection of Airstream branded apparel.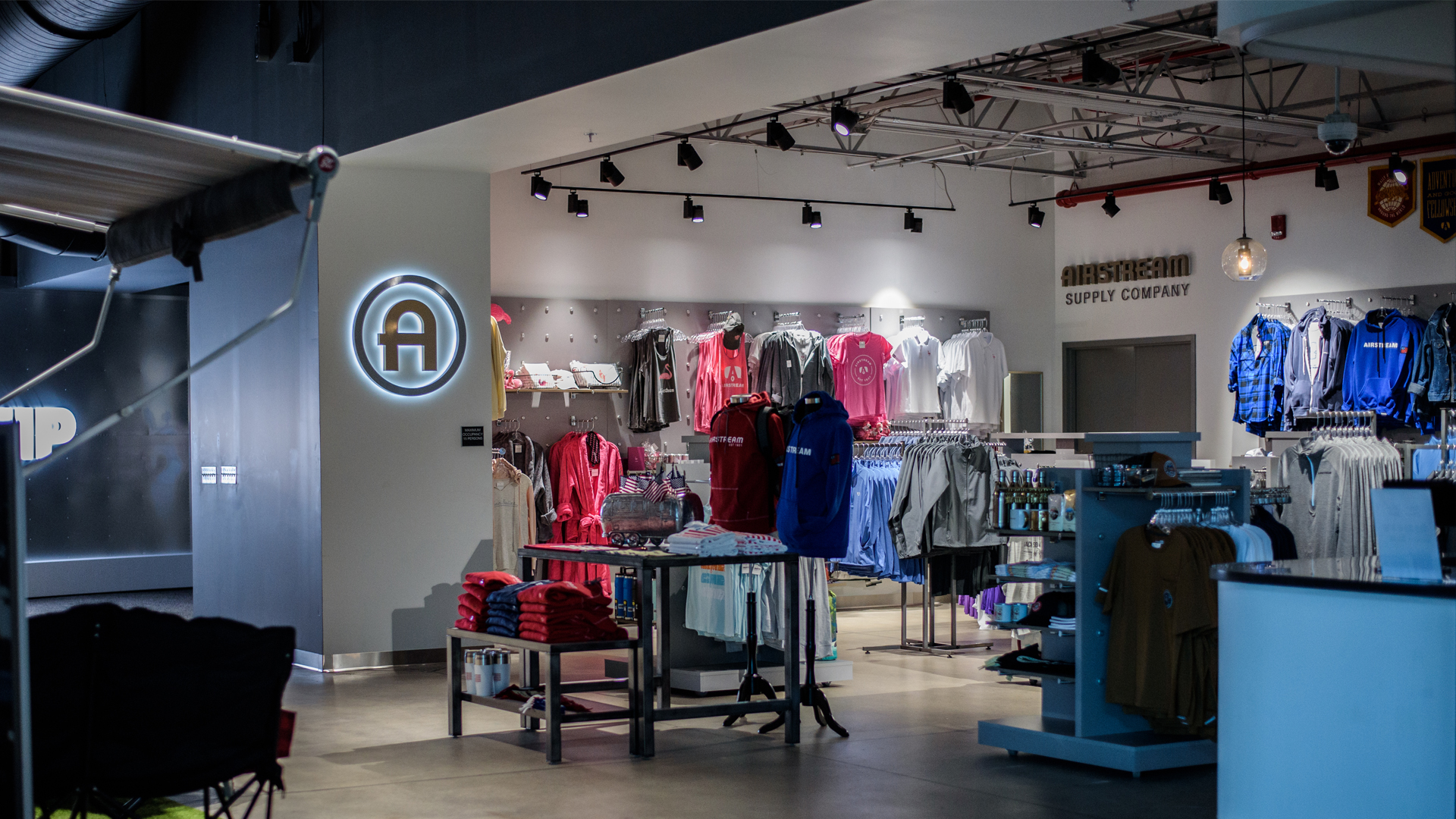 A visit to the Mothership gives you the unique opportunity to experience many of these products up close. Just inside the door you'll find a fully-equipped Travel Trailer outfitted with many of these unique products, and an impromptu campsite set up with some of our favorite gear. Experience the comfort of a KUMA chair, check out our Weber Traveler® Portable Gas Grill, and size up our apparel collection (with many styles only available in-store).
There's so much to do here in Jackson Center when you make the pilgrimage back to the Mothership. Start planning your visit today.