Like home ownership, buying an Airstream truly is a transformative moment that promises to reshape nearly every aspect of your family's life. For those who make their Airstream dreams a reality, a lifetime of memories awaits.
If it's time for you to take the next steps toward Airstream ownership, it's important to consider all variables impacting your decision. Whether you're interested in an iconic Airstream travel trailer or have your sights set on one of our luxurious touring coaches, take a few moments to start building a case for the best decision you'll ever make.
From rethinking vacation expenses and exploring flexible financing options to removing travel limitations and extending your services, you'll find a wide range of reasons to start writing the next great chapters of your life.
Discover an "Unreal" Estate Investment
There are very few activities that add depth to life and feed the soul, like setting time aside from the daily grind to go on vacation. To prioritize this important outlet, many people invest in vacation homes or get tangled up in timeshare arrangements. In doing so, they discover many downfalls — starting with a steep price tag and a lack of variety.
Airstream breaks the mold of traditional vacation home ownership and is an investment in what we like to call "unreal" estate. The initial cost of purchasing a travel trailer or touring coach can be significantly less than the cost of a beach-front house, mountain cabin, or timeshare condo. Plus, you'll say goodbye to other cost adders and nuisances, such as property taxes, rental management companies, and HOA fees.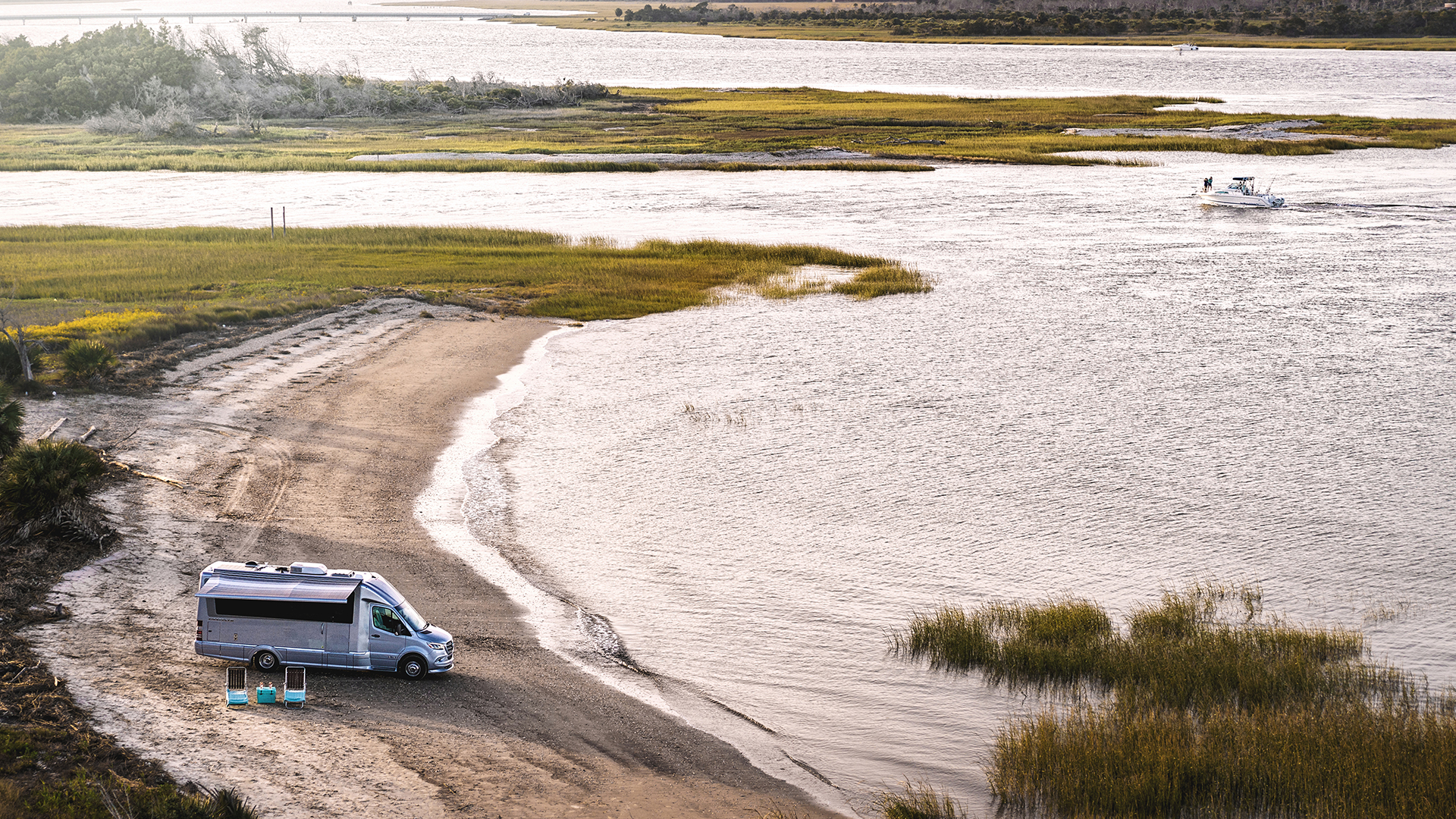 Rental vacation properties have their own drawbacks, namely: You just never know what you're going to get when you open the door for the first time. After traveling hundreds of miles to get there, you're stuck with a sub-par rental for a week or more. You can only hope that the kitchen cupboards and bathrooms are stocked with the supplies you need to live comfortably.
Airstream is an investment in true vacation freedom. You can go to the beach this weekend, hit the mountains next month, and then make your way to the next National Forest or natural treasure. Your options for adventure are endless. Most importantly, Airstream delivers the same vacation home plus the assurance that you'll have exactly what you need on-board to enjoy your stay.
Financing the Path to Airstream Freedom
At Airstream, we believe nothing should stand in the way of making your Airstream dreams come true. Airstream makes it easier than ever to lock in a great rate with flexible terms while partnering with an institution you can trust.
Powered by Bank of America® and available at select Airstream dealerships, Airstream Financial® is committed to making the financing process quick, simple, and as easy as possible. Because buying an Airstream is a comparable investment to owning a second home, we offer various term lengths. Like a home mortgage, interest may even be tax deductible in some cases, so check with your tax advisor to see if you qualify.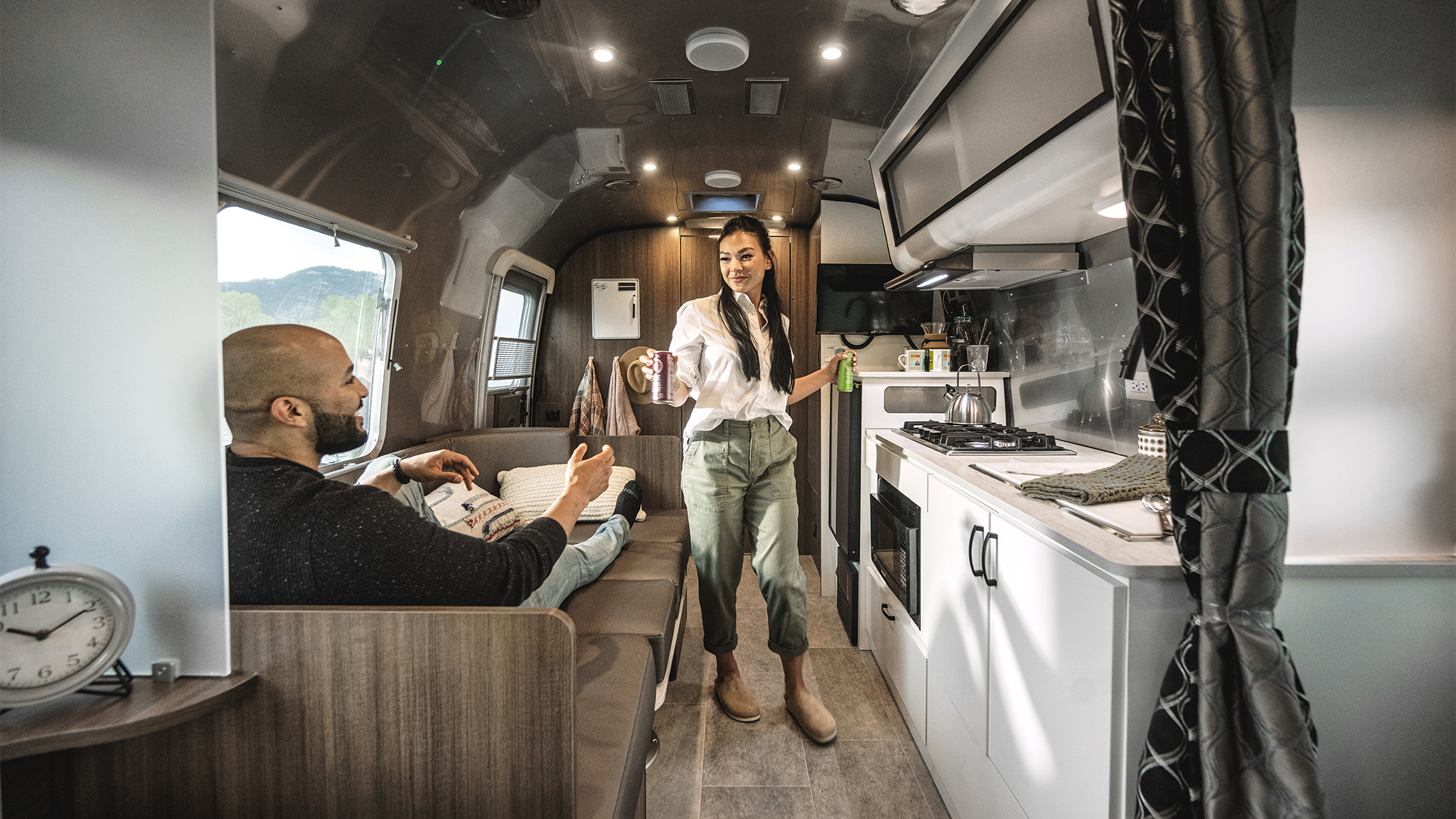 To estimate the cost of your monthly payment — with term options from five to 20 years — please view our convenient payment calculator.
Extend Your Services. Enhance Your Peace of Mind.
If you're weighing the decision to join the growing Airstream community, it's important to realize that financing is just one variable in the purchase equation. Airstream Financial Services® offers a variety of options, including best-in-class extended service contracts that extend your coverage to critical appliances and systems. Certified pre-owned Airstream travel trailers and touring coaches bring the same guaranteed quality while reducing initial costs. Guaranteed Asset Protection (GAP) waivers help to safeguard you against the unexpected. Combined, these financing, servicing, and purchase options help take the worry out of your first Airstream purchase.
Elite Service Contract
At Airstream, investing in service contract coverage isn't just about protection from repairs; it's about having the assistance and expertise you need to recover from unexpected calamities. The official Airstream Elite Service Contract is designed to give you this essential peace of mind.
Underwritten by Nationwide® and administered by Phoenix American Companies, the Airstream Elite Service Contract covers appliances and systems, such as air conditioning, audio/visual, awning, brakes, electrical components, water, heat, LP gas, refrigerator, range, suspension and more. The claims process is quick and easy and is available throughout the continental U.S., Alaska, Hawaii, and Canada.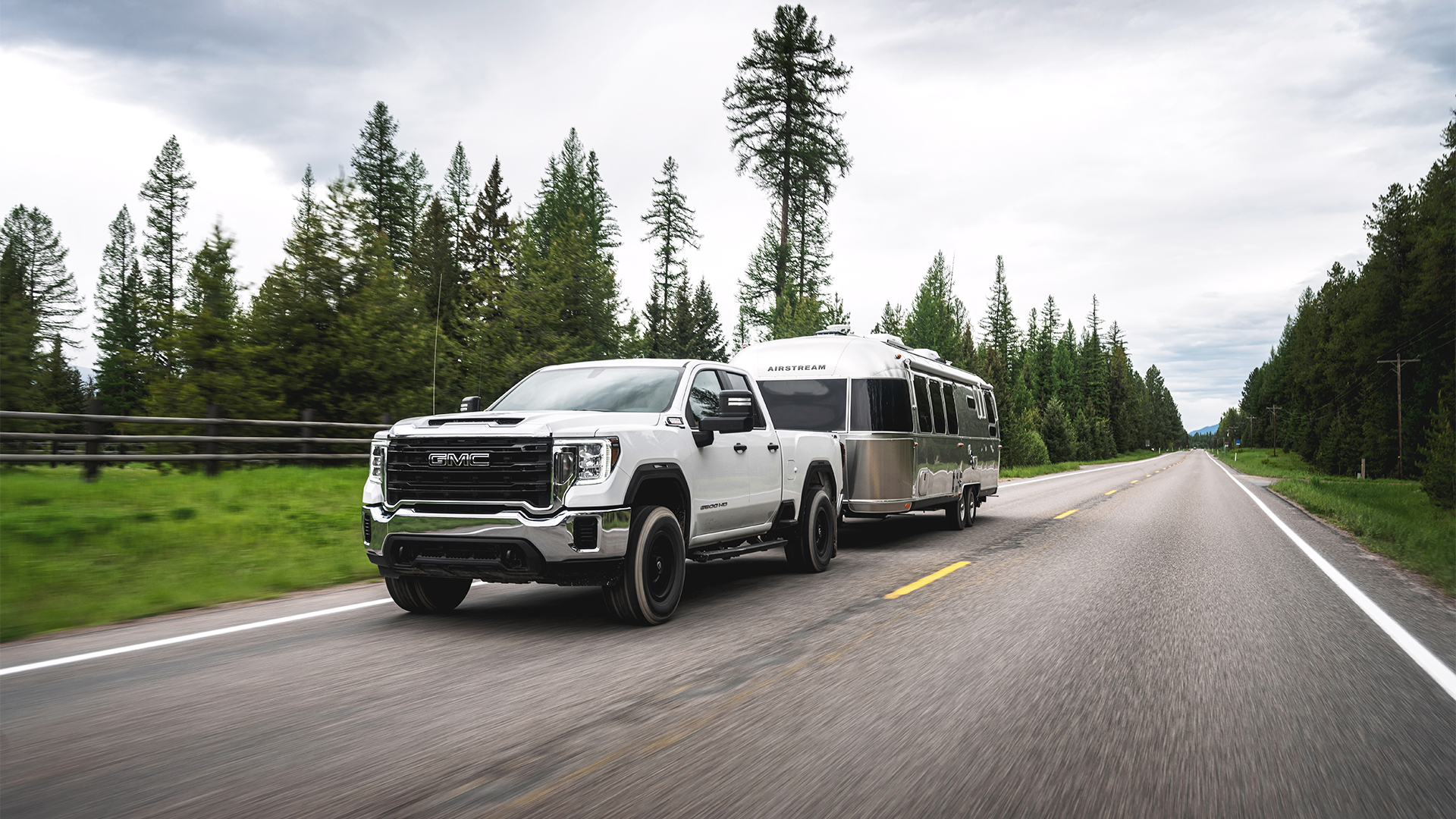 The Airstream Elite Service Contract also provides 24/7 access to a Concierge Agent who can help you with any travel need or question. Whether you need roadside assistance or have a question about your specific travel trailer or touring coach, your personal agent has you covered. And, if an unforeseen travel snag introduces unexpected costs, your Airstream Elite Service Contract gives you money back for:
Towing reimbursement

 

Rental car reimbursement (touring coach owners only)

 

Lodging and meal expenses

On-site repair costs
Certified Pre-owned
The Airstream name is synonymous with timeless, lasting quality, and our Certified Pre-Owned program brings the same promise to your first-time purchase or trade-in experience. All Certified Pre-Owned Airstream travel trailers and touring coaches undergo a rigorous inspection and certification process, utilizing the same legendary craftsmanship and attention to detail for which Airstream is well-known. From engine performance (touring coaches only) to door closing/latching, no detail is overlooked to achieve Certified Pre-Owned status.
This means you can shop directly from your dealer and know you're getting the absolute best of the best, regardless of model or year.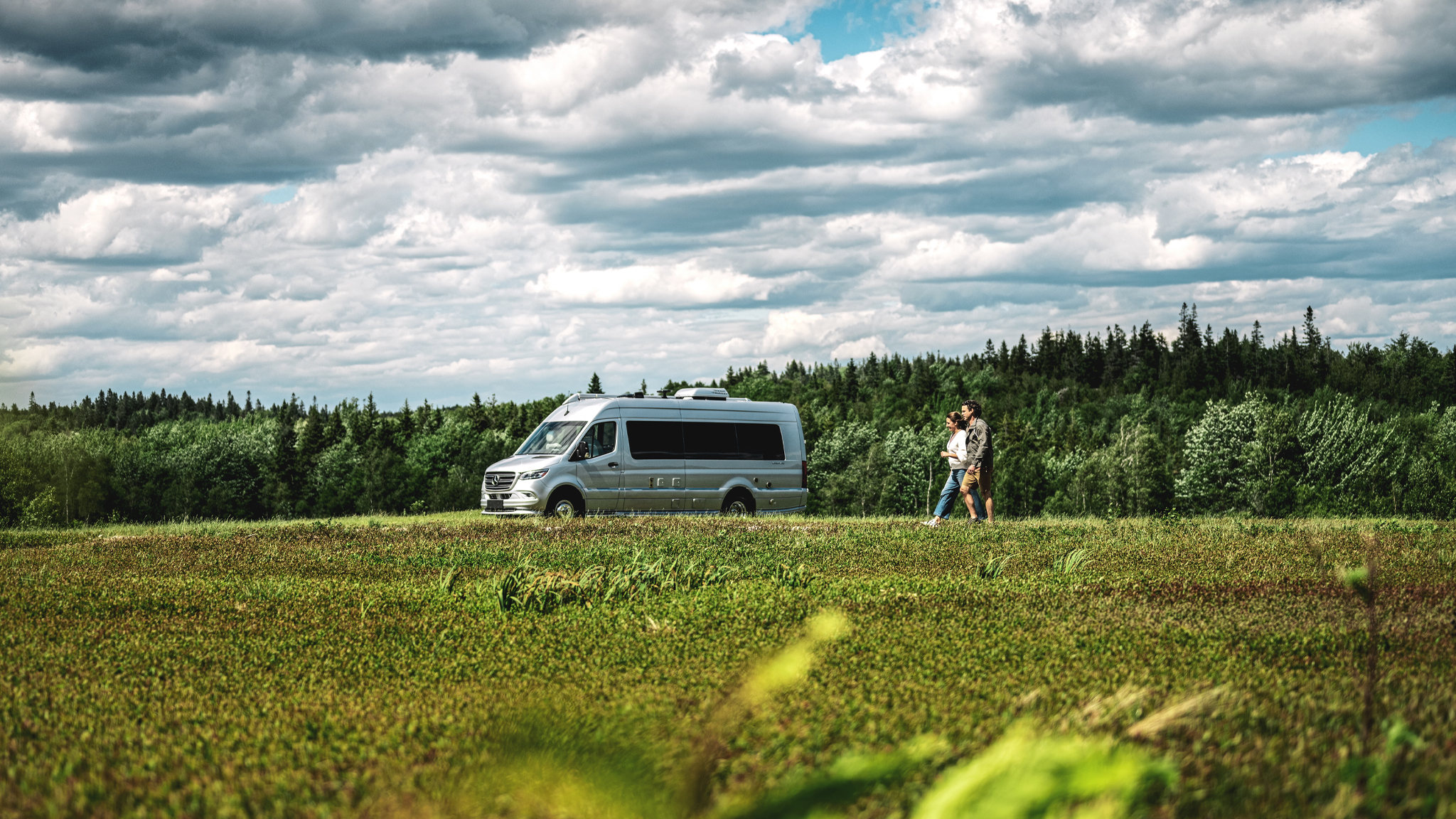 All Certified Pre-Owned Airstream RVs come with one year of warranty coverage — insured by Nationwide and administered by Phoenix American Companies — giving you access to the same expert service team as you would have on a new RV. These dedicated Airstream service and repair specialists will ensure your Certified Pre-Owned Airstream adheres to our strict quality standards.
Protection Guaranteed
No matter where your next adventure takes you, GAP waivers are the pinnacle of protection against the unexpected. Essentially, GAP refers to the difference between the actual cash value of your Airstream and the amount left in your loan. In the unlikely event that your Airstream travel trailer or touring coach is stolen or totaled in an accident, the Airstream GAP Waiver protects you from this unexpected amount owed.
The Airstream GAP Waiver — which is also underwritten by Nationwide and administered by Phoenix American Companies — includes:
Travel trailer coverage up to $25,000

Touring coach coverage up to $50,000 with a $1,000 maximum payment for your primary insurance deductible
In the event you should have to file a claim and pay your deductible, your GAP deficiency balance is paid to your lender on your behalf, pursuant to the terms of the Airstream GAP Waiver.
Dream Big. Rest Easy.
When you add it all up and evaluate all the vacationing advantages, flexible financing options, and robust service contracts, you can see how becoming an Airstream owner can create a future of unbounded freedom, happiness, and peace of mind. So don't squander your precious time and money on fruitless timeshares and shoddy rentals, make your Airstream dreams come true with a travel trailer or touring coach that fits your lifestyle and your budget.
If you're ready to unlock a lifetime of memories, please visit your local Airstream dealership for new and Certified Pre-Owned travel trailers and touring coaches.
View Our Travel Trailer Lineup
* Airstream recreational vehicle products are sold and serviced by select Airstream dealers. Recreational vehicle financing is offered by Bank of America, N.A. Airstream and Bank of America are not affiliated and there is no agency relationship between them. You are not required to purchase a recreational vehicle from a select Airstream dealer to obtain financing from Bank of America, and you are not required to obtain financing from Bank of America to purchase a recreational vehicle from a select Airstream dealer. Bank of America makes no warranties or representations and is not otherwise responsible for any aspect of the purchase of your recreational vehicle or any associated ancillary products or services. Credit and collateral are subject to approval by Bank of America. Terms and conditions apply. This is not a commitment to lend. Programs, rates, terms, and conditions are subject to change without notice. Airstream and Airstream Financial are trademarks of Airstream, Inc. Bank of America and the Bank of America logo are registered trademarks of Bank of America Corporation.
Bank of America, N.A. Member FDIC | Equal Housing Lender | © 2023 Bank of America Corporation.