First revealed to the world in January 2022, the all-electric Airstream eStream Concept Travel Trailer incorporates a suite of innovative technology while laying the groundwork for improvements across our future product lineup. A one-off concept travel trailer built in partnership between Airstream and parent company THOR Industries, the eStream is sparking conversations about the future of travel. It paints a picture of a world in the not-so-distant future where your travel trailer works with your tow vehicle to maximize range and efficiency, where you unhitch and use your mobile device to remote control your Airstream into the campsite, and where ultra-efficient solar panels and high-voltage batteries enable you to take your adventures even farther off the grid.
Nestled inside the eStream's state-of-the-art chassis is a large, safe, automotive-grade high-voltage battery bank that powers everything from the all-electric appliances to the independent motors that allow the travel trailer to move under its own power. Those same motors work while the eStream is in Drive Mode to help move it down the highway in concert with the tow vehicle – essentially the eStream "follows" along, rather than being towed purely by the tow vehicle. And at the campsite, the battery bank allows for longer stays in comfort and the ability to run the air conditioner, appliances, and connectivity solutions without the need for a shore power connection.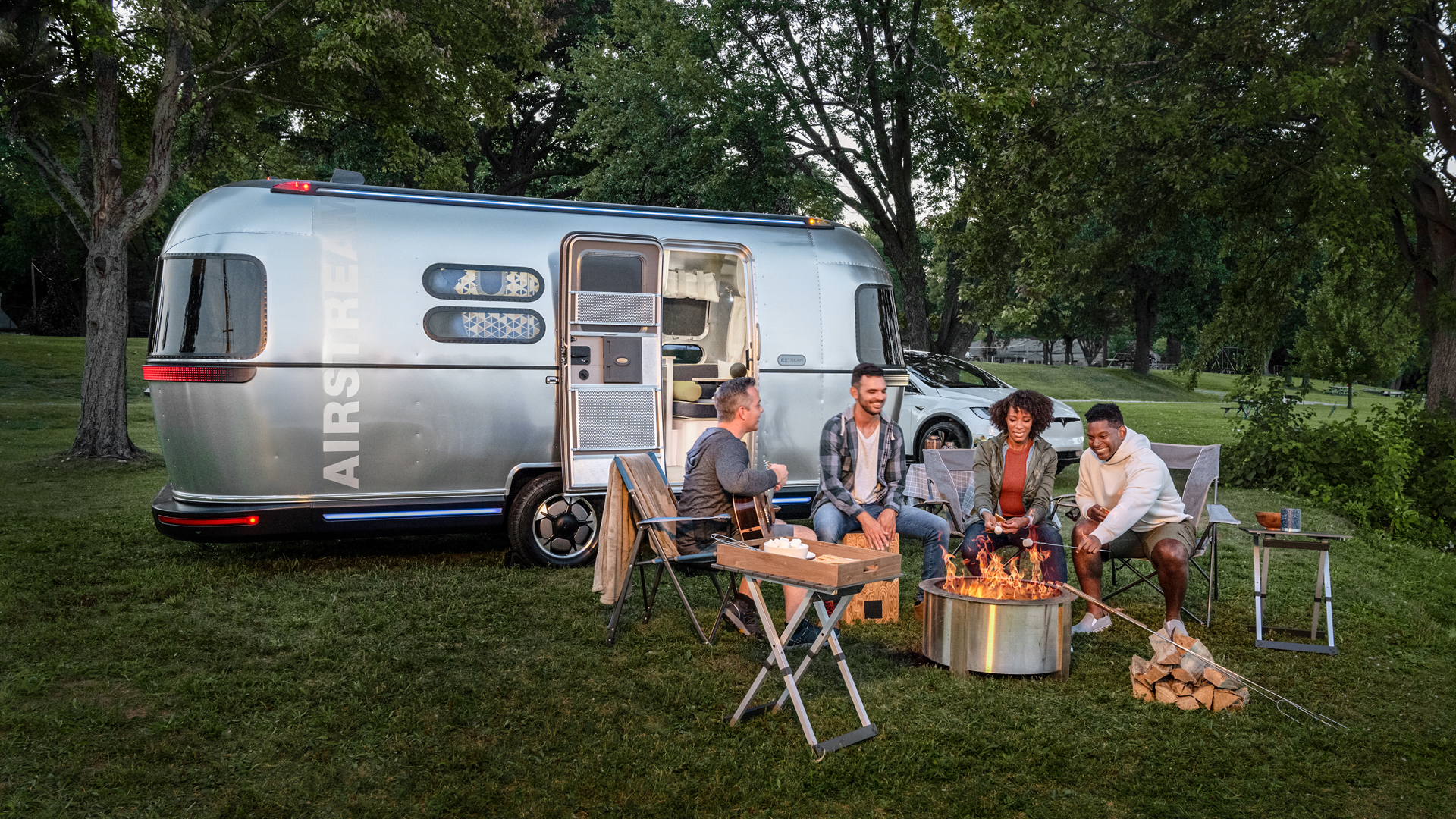 The eStream brings to life a reality that is not so far in the future: A world where Airstreamers are far less tethered to the campsite and free to roam in comfort. And while the eStream is primarily designed to evoke the possibility of the next generation of RV e-mobility, the concept travel trailer also includes an all-new, modern interior. With a rear bed and front convertible dinette, four people can comfortably sleep and stay in the 22-foot-long floor plan. 
"What you see in the eStream is an electrified travel trailer concept that really lays out the blueprint for what's to come," said Bob Wheeler, Airstream President and CEO. "This was our chance to explore what's possible – to push a little and begin to understand where we can build on 90 years of innovation."
A Tradition of Innovation
The design and engineering improvements in the eStream echo the foundational work done by Airstream over the decades. In the late 1950s, Airstream founder Wally Byam introduced the world to a new way of traveling – one that left behind the need for standard electric and water connections and let Airstreamers travel with true independence. The 1958 Airstream International Travel Trailer line brought together years of innovative product development and was unlike any RV that had come before – fully self-contained, with a water heater, holding tanks, and batteries, as well as a kitchen, shower, and bathroom that let owners enjoy the comforts of home even when far afield and not hooked up to the standard utilities at a traditional campsite.  
Over sixty years later, Airstream has again pushed against current limitations, creating an exciting view of the future of RV travel.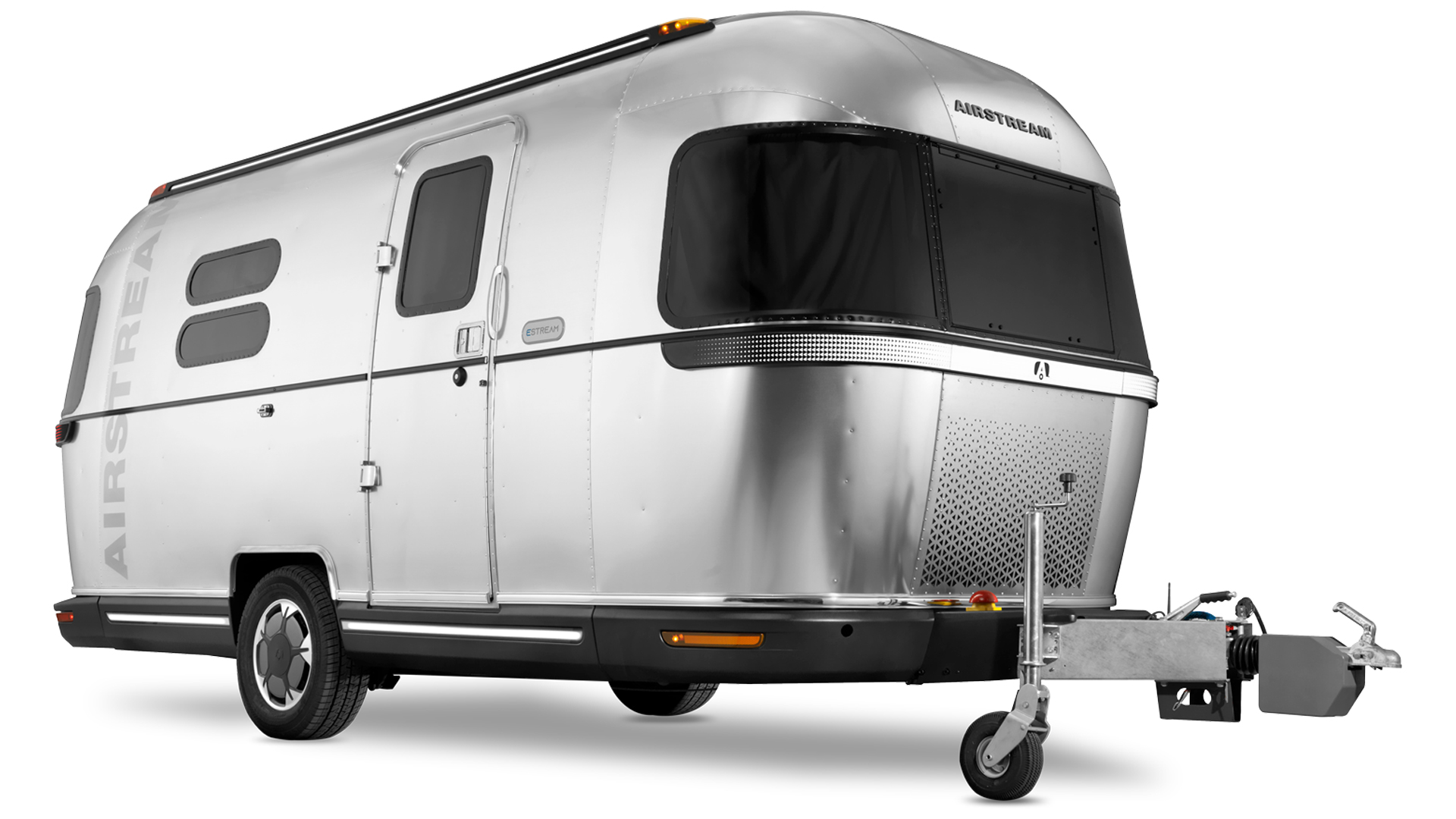 "Individually, the all-electric appliances, the drive-assist motors, or the advanced aerodynamic design would be notable improvements to any of our current models," said Wheeler. "The eStream is an inspiring vision for what's to come, but what's more exciting is that the Airstream owner is going to start seeing the benefits as some of these elements work their way into our core model lines." 
While the eStream is only a concept for now, the true potential of the eStream is in the way it will transform camping and Airstream travel. 
"It's not just about how we can help you stay out there longer, but how we can make it more comfortable, easier, more efficient, and less stressful," said Wheeler. "It's about protecting the environment with more sustainable products while helping you save money at the pump – or the charging station – and going farther before needing to refuel. These are all real-world issues Airstreamers deal with while traveling. We know big changes are coming, and the eStream has shown us a variety of ways to get there."  
Three
eStream
Modes: Living, Driving, Moving
Living Mode: High-Capacity Batteries for a Versatile Suite of Features and Amenities
At its heart, a travel trailer is a home on wheels. Wally's 1958 Airstream International brought to life the dream of traveling without the requirement of cords and hoses tying you down to your camping spot. But in the decades since, the upper limit of how long one can stay off grid has remained bound by battery limitations, tank capacities, and the need for portable power generation. And even those who have mastered the art of long-term boondocking understand that staying longer means sacrificing some comfort. Standard air conditioners require shore power, and boondocking comfortably often means bringing along generators, heavy fuel canisters, and bulky portable solar arrays to ensure the lights and fans stay on.  
The eStream's battery bank makes those limitations look like a thing of the past. With 80 kWhrs of power stored in its battery bank, the eStream can provide more than 30 times the power of the lithium batteries that are included with many Airstream models today. The high voltage batteries and electronic systems are essentially capable of providing the experience of being connected to shore power while being far away from it.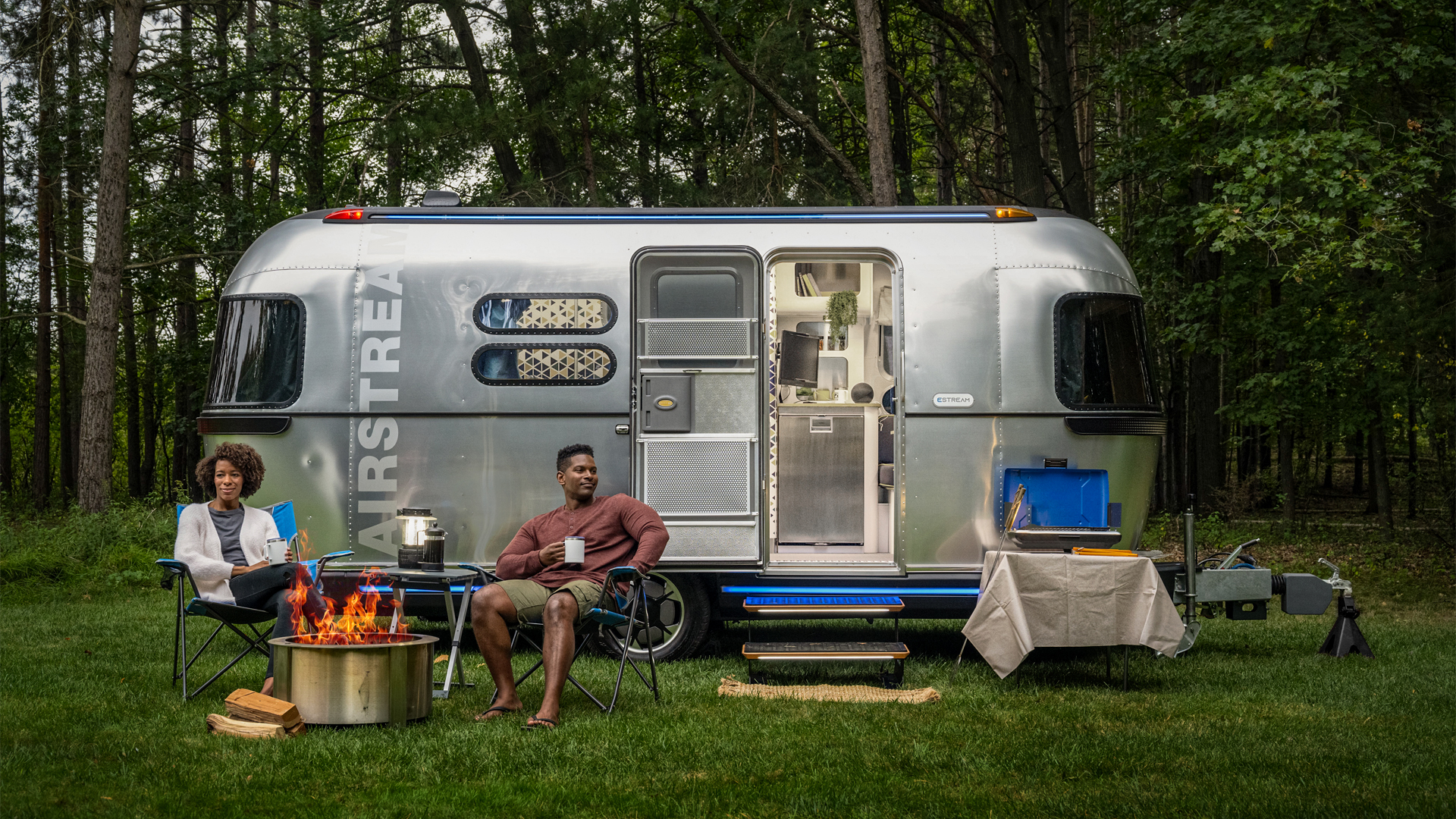 The promise of the eStream's technology is exciting for Airstreamers who want to take their adventure even further afield. Less weight to carry, less equipment maintenance, and less stress about where you'll refill and top off your supplies. With the ability to run the air conditioner without the need for shore power, the eStream presents a more comfortable way to travel. And while the technology driving this innovation gets the lion's share of the attention, the eStream's interior features modern styling to match its technological advances. Inside its 22-foot floor plan, future owners will find all the comforts of home you'd expect from an Airstream – an onboard wet bath, flat screen TV, and all-electric appliances, including a cooktop, convection microwave, and refrigerator.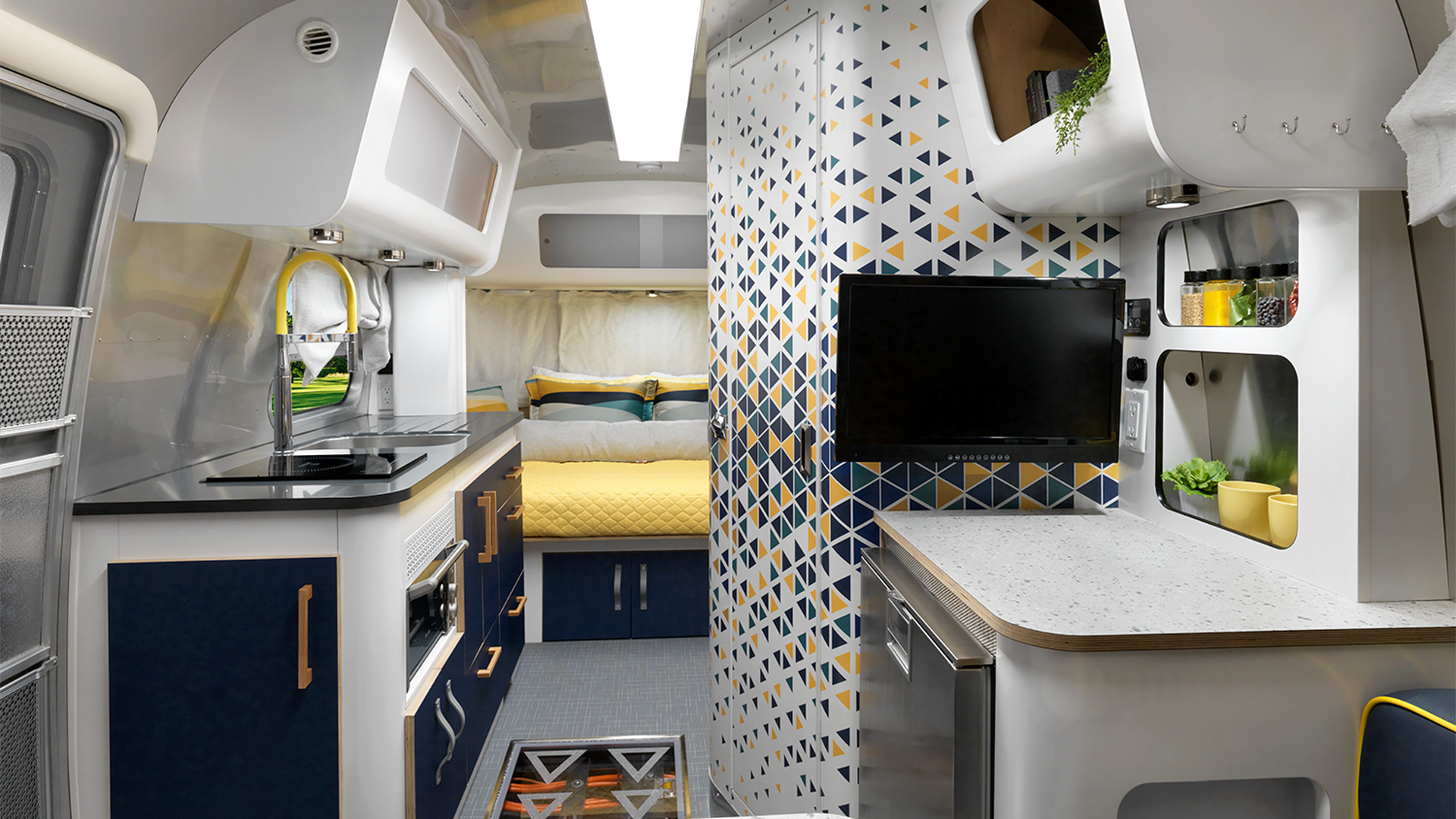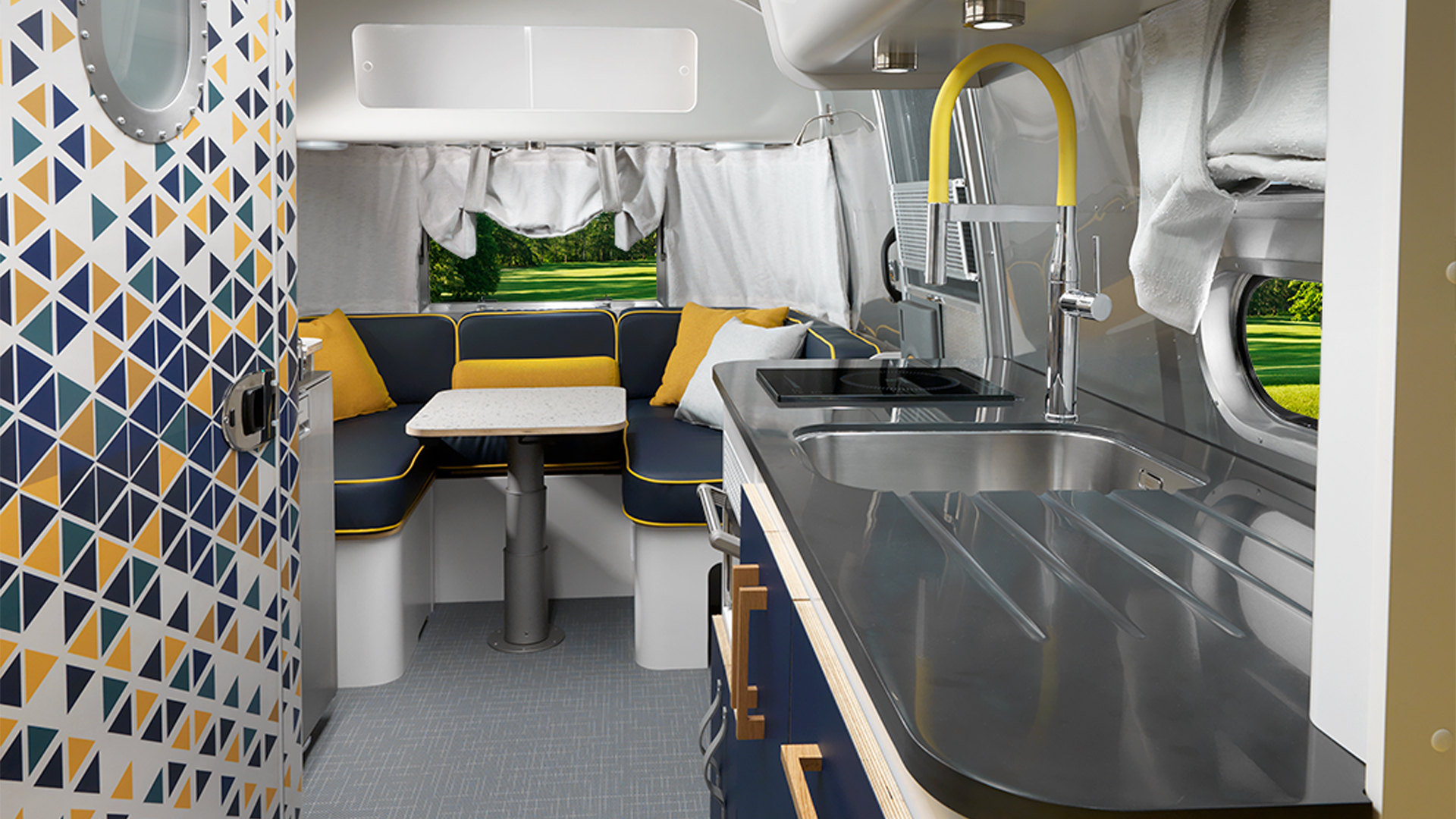 And because our modern work-play-live lifestyle requires a dedicated connection to the world at large, Airstream is developing groundbreaking connectivity solutions and digital resources for the future owner based on the eStream's capabilities. Still in the development phase, future owners will be able to utilize a state-of-the-art signal booster that provides 5G connectivity and a Wi-Fi hotspot, enabling the operation of lighting and HVAC as well as accessing troubleshooting and support resources through voice commands. Intuitive touch screens will allow future owners to monitor power, water, and waste tanks, and a smartphone app in development promises to make trip planning easier while syncing the information to the eStream's onboard systems. This powerful trip planning technology will be more than simply directions to get owners from Point A to Point B – it will be curated to maximize efficiency, range, charging, accessibility, and height restrictions.     
"We've seen some of this technology emerging in European RV design over the last couple years," said McKay Featherstone, Airstream VP of Engineering and Product Development. "But the eStream brings together multiple technologies and combines them in this complete package. It's comfortable, connected, and built with the intent to expose what's possible in the future of Airstream travel."
D
riving
Mode: Leading-Edge Aerodynamics, Unparalleled Safety and Performance
With more Airstreamers adopting electric tow vehicles, and with electric vehicle (EV) technology making leaps and bounds every day as more auto makers invest in electrified technology, the eStream arrives at an inflection point. Working with Airstream's parent company, THOR Industries, along with its various subsidiaries and partners, Airstream has created a concept travel trailer that utilizes advanced aerodynamics to passively contribute to better fuel economy and drive-assist motors in the axle to actively work to push the eStream forward while in tow.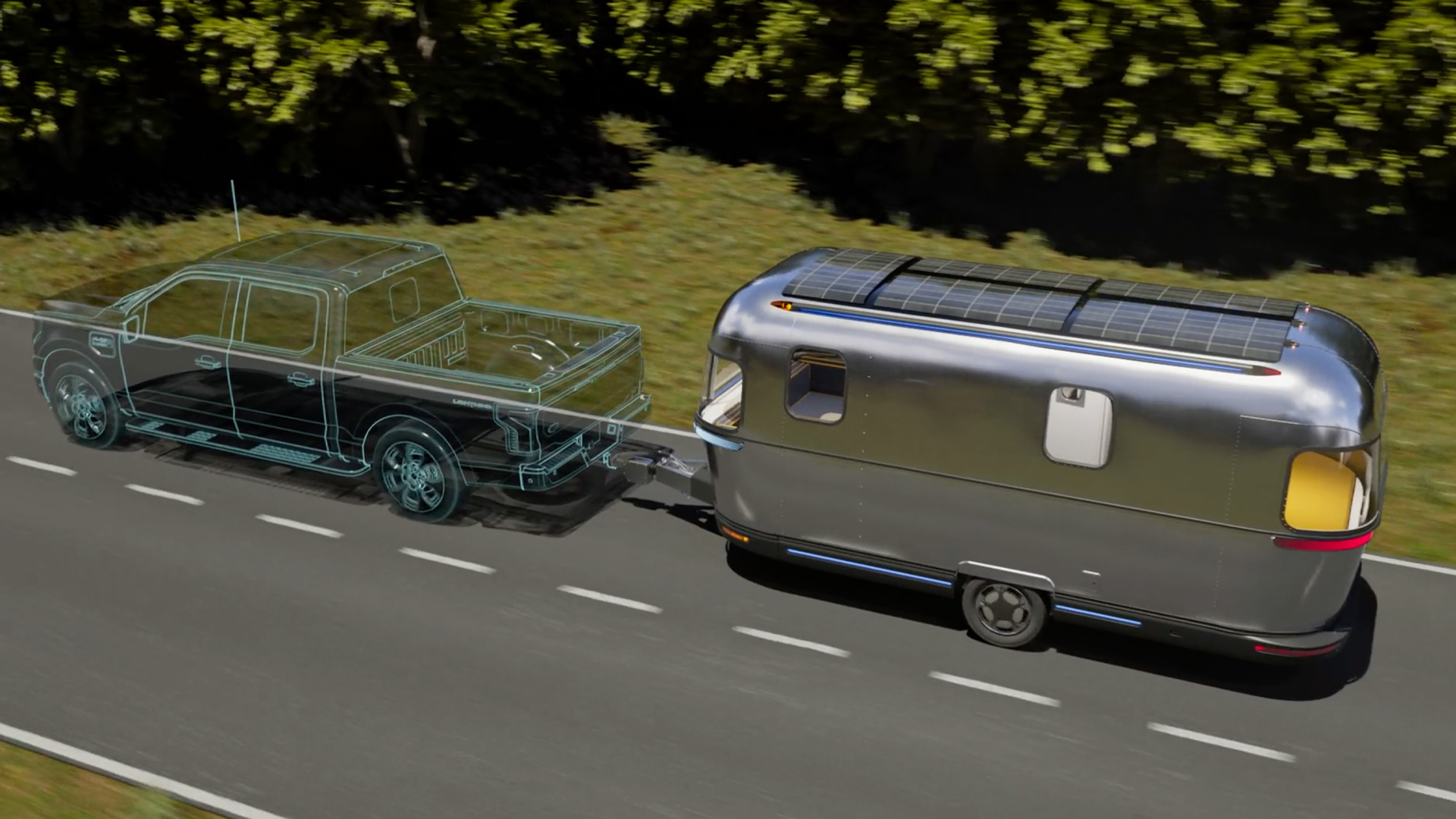 "The benefits to the owner of an EV tow vehicle are pretty obvious, but towing efficiency, increased safety, better fuel economy, and more range are benefits that all Airstreamers want, whether they're towing with an EV or a traditional internal combustion engine," said Wheeler. "No matter what kind of vehicle you're hitched to, the eStream's aerodynamics and drive-assist motors mean that it tows almost as if it weren't even there."
An aerodynamic shape has been part of the Airstream DNA since Wally Byam founded the company in 1931, but the eStream takes streamlined design to the next level. With fewer protrusions on the rooftop, a profile that is 8 inches narrower than the typical Airstream travel trailer, and a sleek underfloor with rear diffuser, the design team incorporated aerodynamic design elements that improved aerodynamic drag by 20 percent, translating directly into more range while towing.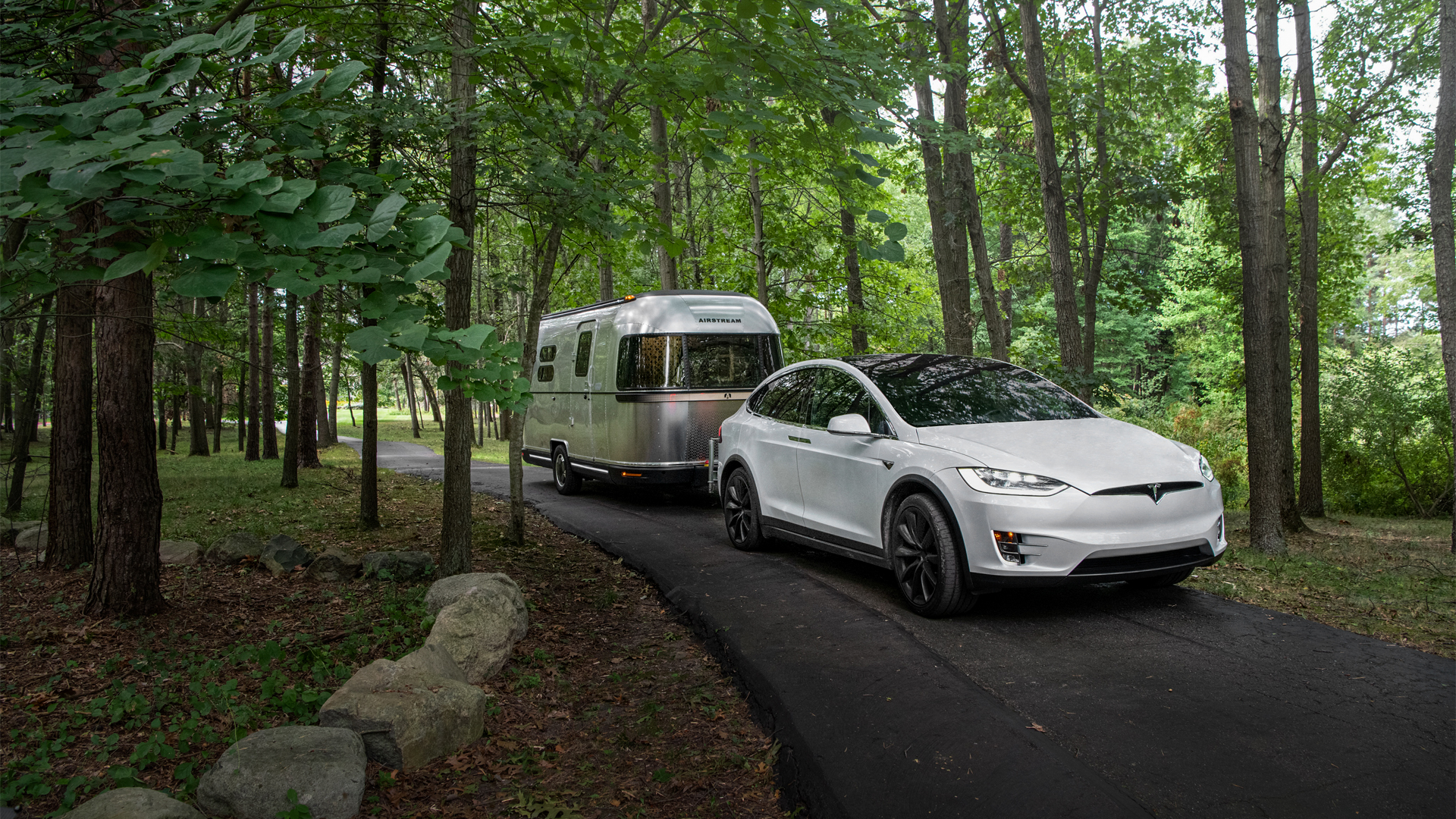 The bank of high-voltage batteries in this concept provide ample power to the dual motors integrated with the axle. While in tow, the drive-assist motors actively move the travel trailer forward in concert with its tow vehicle – in essence, the eStream follows behind, reducing the energy consumed by the tow vehicle and significantly extending its range.  
More than just helping to move the rig forward, the drive assist motors work in tandem with advanced sensor and control systems to actively stabilize the eStream. Combined with a reduced hitch weight, this technology simplifies the towing experience and means future owners will be able to safely tow without the need for bulky weight distribution hitches. And the same technology that powers the wheels in motion can also be used to lock the wheels in a stationary position, aiding in theft deterrence and peace of mind.   
"The foundation of the powertrain is to help you have a more sustainable journey and go farther, no matter what you're towing with," said Featherstone. "But once you have powered wheels in your travel trailer there's so much more that you can do – they can give you more traction for navigating slick roads, or you can lock them while parked for extra safety and theft protection."  
Developed in an exclusive THOR partnership with ZF Friedrichshafen AG, the chassis architecture has scalable components. The battery technology is designed to be scalable from 20 to 80 kWhr of power, covering a wide range of vehicle sizes, range, and price points. The electric travel trailer chassis works with any standard tow vehicle, and any of the battery sizes enable the travel trailer to move under its own power, offsetting weight and drag. With the largest battery size, the platform is capable of extending towing range by about 50-75 percent when compared with a non-powered trailer.  
Moving Mode: Precision Remote Control for Campsite or Storage Navigation
The systems, batteries, drive-assist motors, and aerodynamic improvements are the heart and soul of the eStream's promise to future Airstreamers, but the most astounding feature of the eStream is its Moving Mode.
The same drivetrain options that provide power directly to the axle and help move the travel trailer while in tow also give the eStream the ability to maneuver independently by remote control at low speeds. Future owners will be able to move the eStream toward the tow vehicle for hitching, or remotely move the eStream into a campsite. With remote control ability and 360-degree maneuverability, for the first time Airstream owners can envision a world where they never have to back into a campsite again.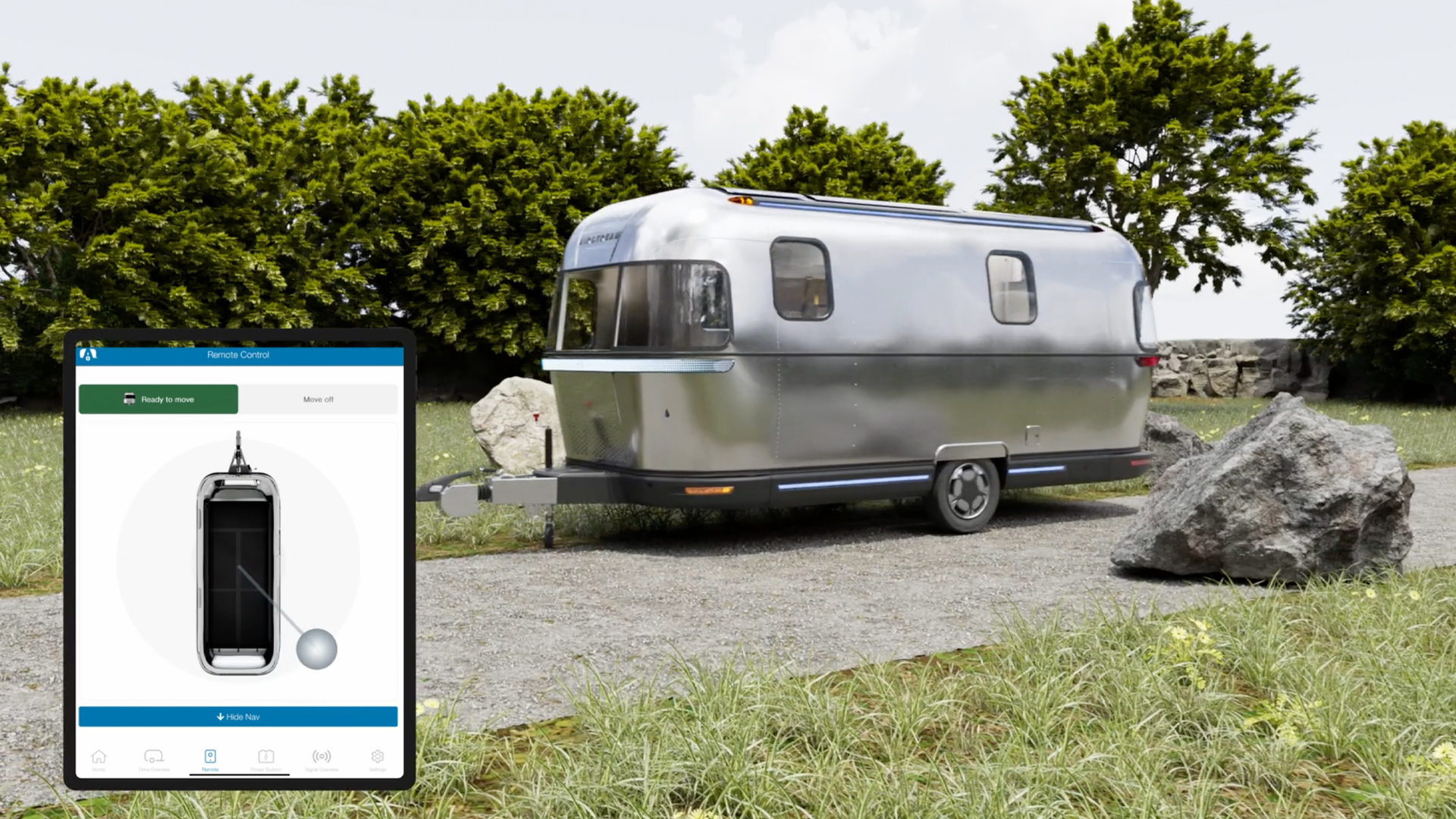 "Backing up a travel trailer is one of the most intimidating things for new customers – and sometimes even for customers with plenty of experience," said Featherstone. "With this remote-control capability, we've completely eliminated that – with one finger on the phone or tablet you can easily move the eStream into any tight spot, or position it so the solar panels catch more of the sun. You may move the travel trailer into a tight campsite, or it might just be a gas station or storage or anywhere that you need to maneuver with precision."
Charging: Multiple Ways to Stay Powered Up
The eStream will be able to take advantage of the same network of charging stations that many EVs utilize – a quickly growing network that makes it easier than ever to travel with electric power. More and more campgrounds, parks, truck stops, and rest areas are installing EV charging stations as well, meaning more options down the road for quickly charging while stopping for a break.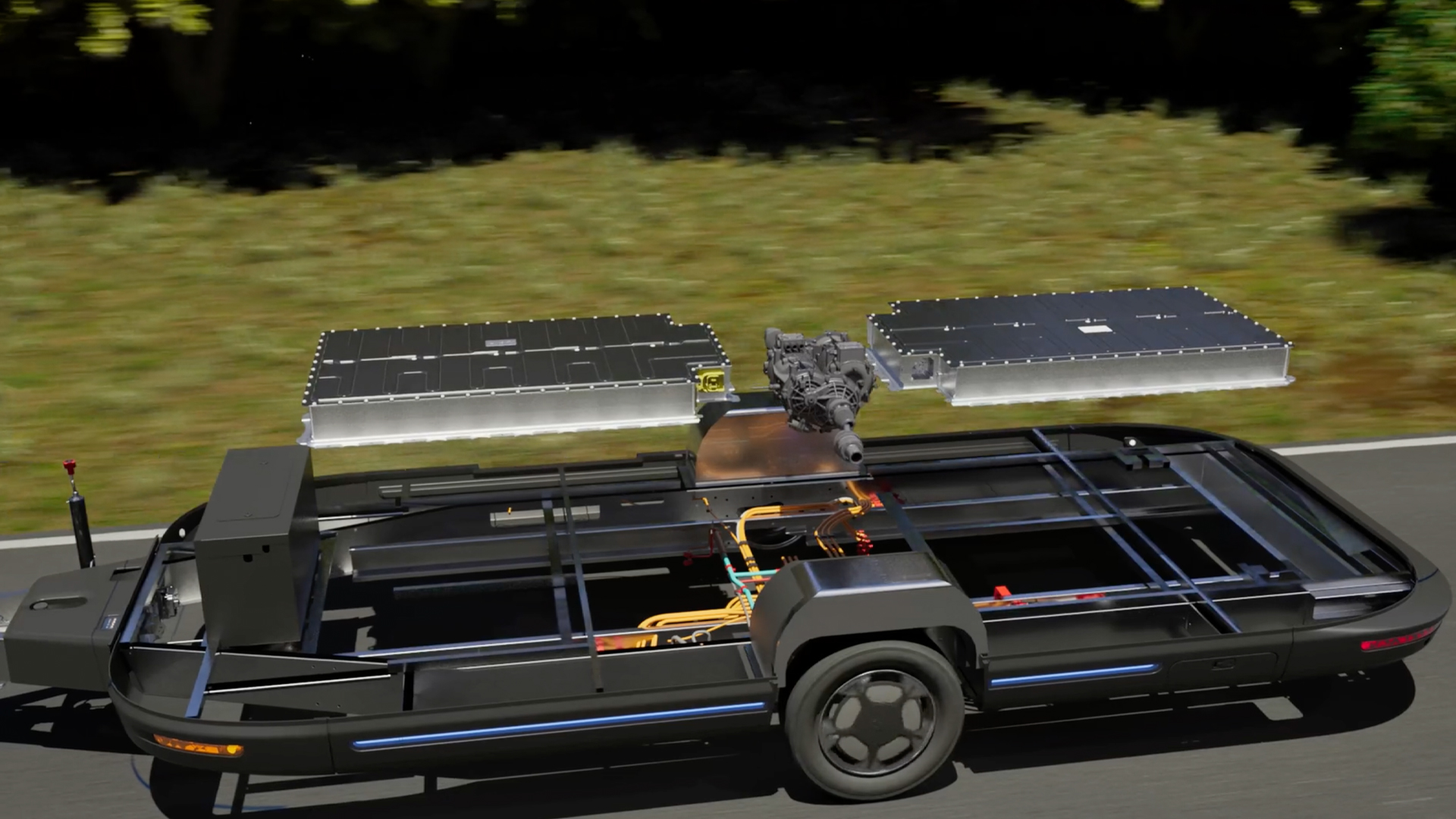 The eStream also utilizes the same standard 30-amp shore power hookup common to most RVs in the United States, allowing future owners to charge up their battery bank while plugged in at the campsite. And with 900 watts of solar power capacity on the sleek rooftop, the eStream's batteries will get a constant supply of solar power whenever parked or traveling in view of the sun.
"Imagine pulling out your phone, checking the sky, and repositioning your Airstream so it's not in the shade anymore," said Wheeler. "The potential is so exciting – that you can be charging your Airstream with solar power while in motion, and that power is helping the drive-assist motors that are extending your range."
Learn more about our new eStream Concept Travel Trailer and how it will transform the future of travel.
Dive into our past research and development efforts, learn more about our concepts, and explore our collaborations by visiting the Airstream Innovation & Research Lab (AIR Lab) on our website.