The body/mind connection is long-established. From ancient Greek philosophers to modern fitness gurus, everyone agrees that a healthy body is essential to maintaining one's mental fitness. 
But how can we take care of ourselves when access to gyms and other recreational facilities is limited and daily routines are disrupted?
Full-time Airstreamers have a term for this situation: Tuesday.  
So, we asked two fitness-conscious Airstream Ambassadors for their advice on how to stay in shape in the age of social distancing. Christine and Aaron Willers live in a 2014 Airstream Interstate and make their living as fitness coaches with a specialty in helping other RVers.
The keys to building a healthy lifestyle are establishing routines and slowly building on your success, according to the Willers.
"Everyone is different, so you need to find out what your base level is – for both exercise and food – and then just improve upon that," says Christine. "From there, it's all about progression until you reach your goals."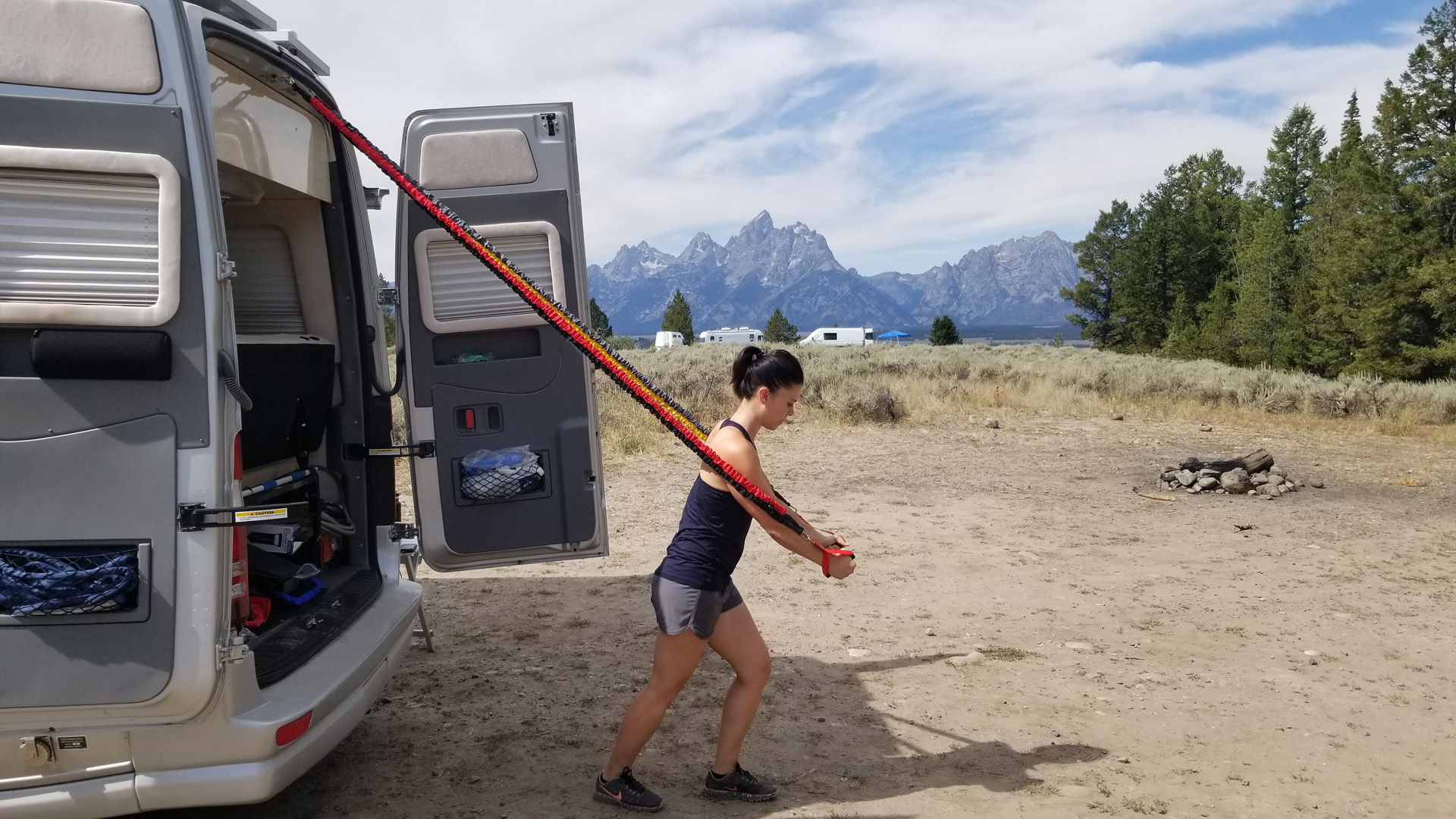 The first routine to address is eating, says Christine. Whether you are on the road or trapped at home, it can be tempting to eat a lot of restaurant meals, and over-indulge in what's in your pantry. 
"We make jokes about full-time RVers gaining the freshman 15," she says. "We see even younger people acting like they're on permanent vacation. They're not moving around, and they're dining out three times a day with a lot of alcohol, too."
Americans sheltering in place are vulnerable to a similar phenomenon, especially if they aren't working and/or don't like to cook. Christine urges her clients to implement incremental changes to head-off the potential weight gain from too much calorie-dense restaurant fare.
"The number of times someone gets take-out or delivery food every week is going to vary," says Christine. "But if a person is eating out eight meals a week, it's difference-making progress to get that number down to five or six per week, and you can wind down further from there."
Whether ordering-in or cooking at home, the Willers say portion control is key. Eating too much of any food, even a nominally healthy one, is a problem. Christine offers this very specific caution to stress and boredom eaters: "Do NOT go into the jar of peanut butter with a spoon. That never ends well."
When cooking at home, Christine says, look for ways to trim calories from your favorite meal. Try steaming instead of frying, use healthy oils (olive and avocado), and offer sauces and dressings on the side.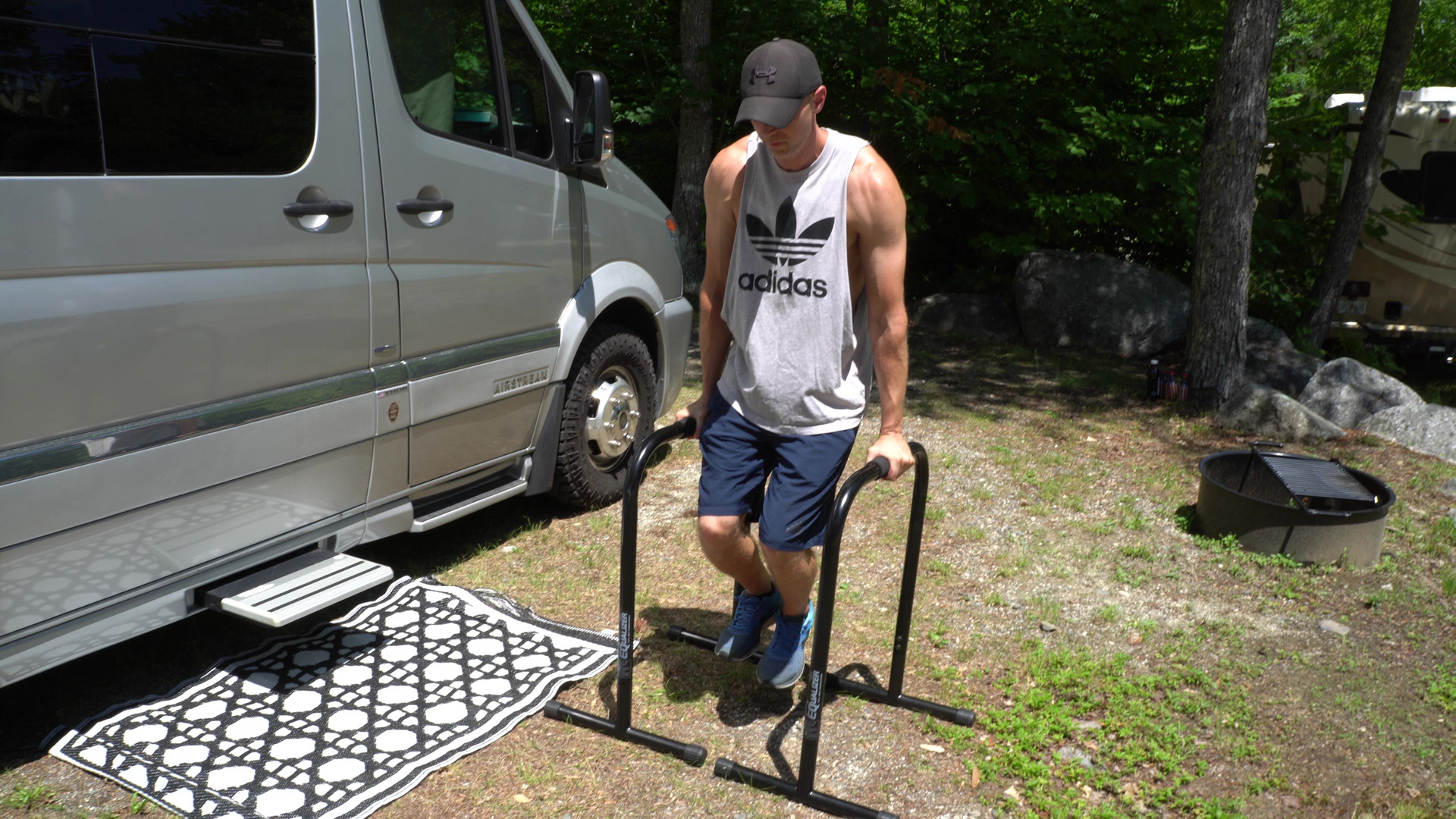 When it comes to the exercise side of the fitness equation, setting a daily routine – and sticking to it – is critical, say the Willers.  
"It can be hard to establish the work-out habit when things are uncertain, like when we are relocating every day," says Aaron. "So, our top tip is to exercise first thing in the morning before the little things can get in the way."
How much exercise do you need? The American Heart Association would like you to rack up 150 minutes per week of moderate aerobic activity or 75 minutes of more vigorous activity. You can log that time in a variety of ways from social-distanced walking or running to climbing the stairs at your house to a strength-building session that also gets the blood pumping.
The Willers, like many Americans, prefer to work out in a gym. With those facilities closed, the couple has pulled out the exercise equipment they carry in their Airstream; gear that is also perfectly suited to a home with limited space. 
"My top pick for RV equipment is a pair of adjustable dumbbells," says Christine. "They have a minimal footprint. You can buy them online with various maximum weights. If you're not very strong yet, you can get a smaller pair to work into. Then, if you end up really liking it, you can upgrade from there."
But Aaron emphasizes that your body is all the exercise equipment you really need. "Push-ups, sit-ups, lunges, planks, air squats – these bodyweight exercises are great and can be done in very limited space. We do some of those in our Interstate."
As with much of life, 90% of getting in shape is simply showing up. How you exercise matters less than actually, you know, exercising.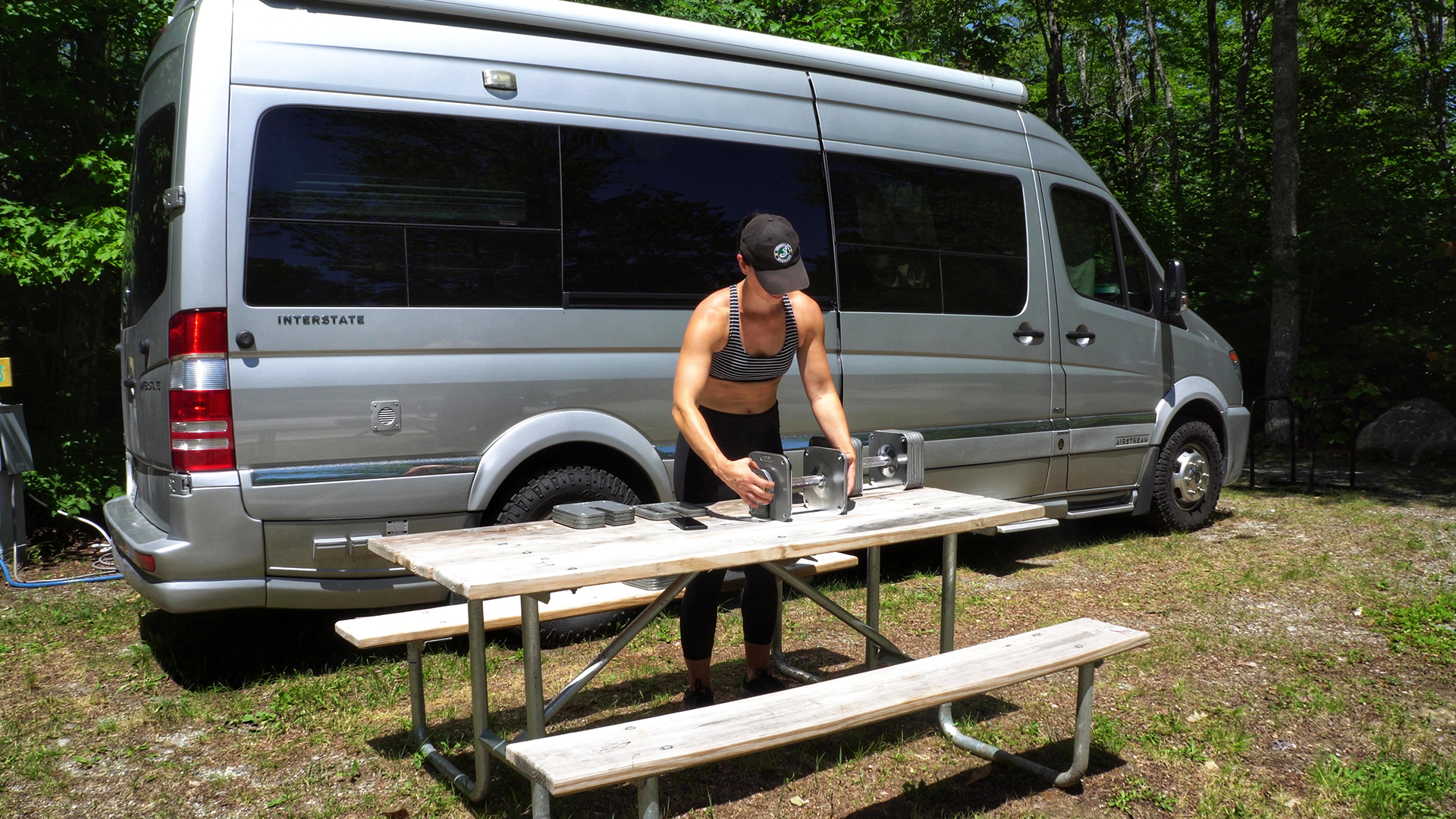 "I don't care how lackluster the workout is," says Christine. "If you show up for 20 minutes and you're just wasting your time and moping around, I don't care. You show up for 20 minutes every day and eventually, you're going to have fun. It's going to feel good and you're going to want to stay longer than 20 minutes. It's just that physical act of changing your routine that's really hard for people. The first three weeks of forming that routine are critical to consistency."
As the wise man said, never let a good crisis go to waste. Use this crazy time to establish some new habits, and you could reap the benefits for a lifetime.
Need a little motivation? As of the time of this writing, these fitness clubs are offering access to free classes online.