Class B motorhomes offer everything you need to get into National Parks, camp overnight, navigate throughout, and spend days exploring with your home as your "backpack."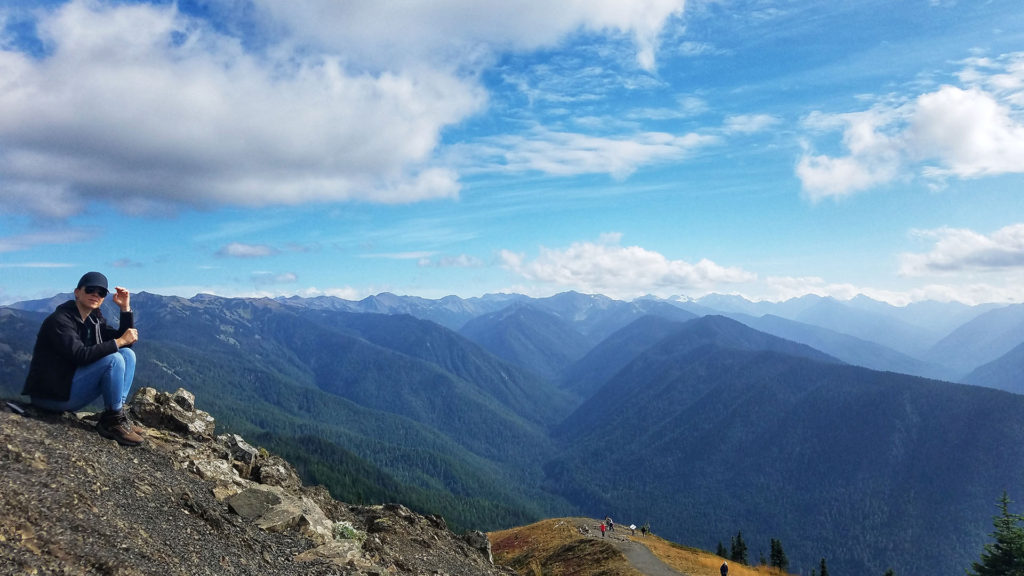 We drove into Yellowstone National Park on the Friday afternoon of Labor Day weekend last year without an itinerary. We didn't have any reservations secured to sleep that night. It was exciting and liberating, but also a little nerve wracking at the same time. This was our very first time "winging it" in a National Park. We could have (and maybe should have) chosen a different weekend to test our luck and experiment with first-come-first-served camping spots, but why? After all, this is why we choose our Airstream Interstate in the first place...
Class Bs are known for their nimbleness. They are small and easier to drive than the larger offerings of a Class A or Class C. You can take them up mountains and along narrow, windy, roads. You can generally park them pretty comfortably in an average parking lot. Tight camping options? No problem! Traveling in a Class B camper van is an adventurist's dream!
How Long is Too Long for National Park Camping?
The internet is full of useful information related to each individual National Park. The National Park Service website makes it particularly easy to punch in your park of interest to find general information, calendar of events, current conditions, rules, and other frequently asked questions. One common question upon RVers is, "will my RV fit into the campsites?"
It is always recommended to check with your desired campsite directly to find rules regarding RV length guidelines. You will find many that can accommodate larger rigs and many that can't. Some campsites will post their max size using a "combined length" which means the length of your tow vehicle PLUS the length of your trailer. Be certain you understand what the max length means while you are doing your research.
Generally speaking though, you will find sources that agree 35 feet is a "safe" size that will get you into roughly 73% of National Park Campgrounds. While this number seems comfortable, you will need to plan ahead and be buttoned up on your research and reservations to avoid any hiccups. The research will also show that lengths of 25 feet and 19 feet can be accommodated 93% and 98%, respectively. What is great about this 25-19 foot classification is you will often also be able to get access into more primitive "tent camping" only zones. This is exactly what we did in Yellowstone National Park.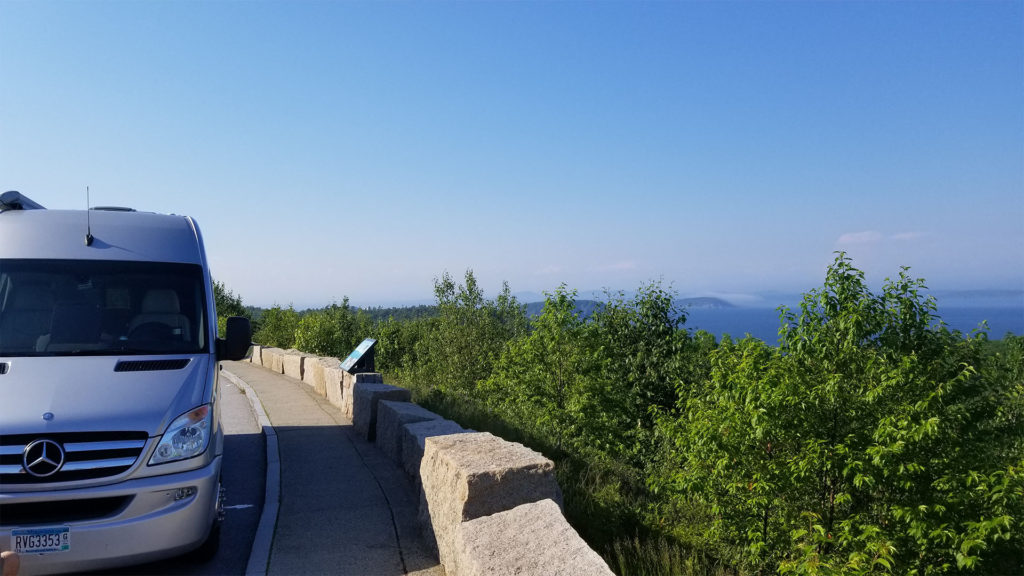 Upon driving into Yellowstone on that Friday morning, we checked the board at the entrance that showed campsite availability. Yellowstone offers 12 campgrounds with over 2,000 sites. Five of these twelve campgrounds accept reservations, three of which were slotted as full upon our arrival. The majority of the sites are first-come, first-served.
We ended up going to Lewis Lake which is a first-come-first-served offering at $15 per night. The nightly rate for this location is attractive compared to the nightly fee at the reservation-only sites ($27-$32). Lewis Lake is restricted to 25 feet or less, so we took advantage of our size and decided to go there first and secure a spot for the day. With the higher price at the reservation sites, you do get more amenities such as dump stations, flush toilets, showers, and generator usage. But, with some preparation, you can enjoy your first-come-first-serve sites without these amenities. Remember, you are at a National Park so you should be out exploring anyway!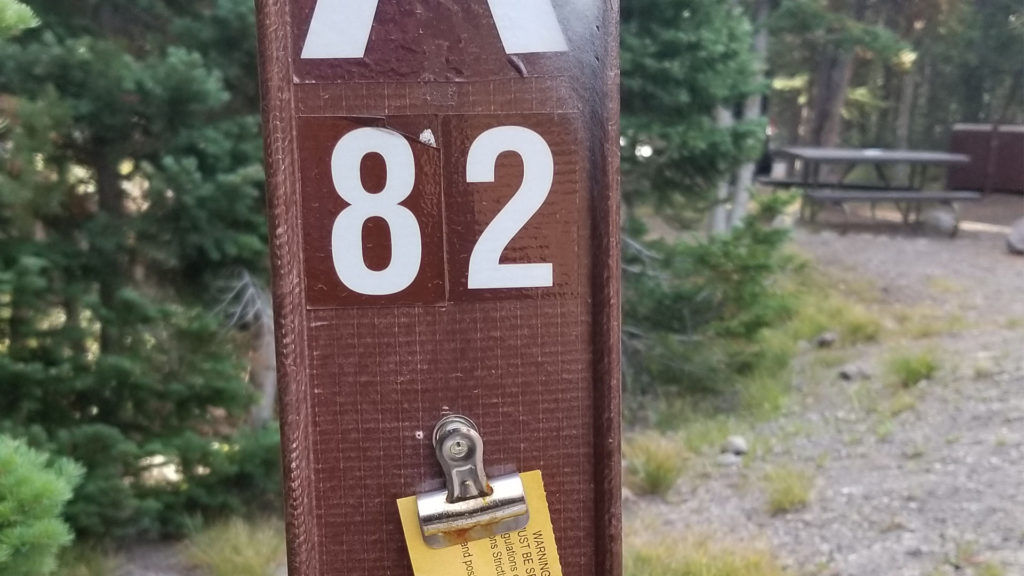 Speaking of Exploring...
Daily exploration while visiting National Parks in a Class B is where your mobile home will really shine. Gone are the days of packing bags with various outfit layers to accommodate changing temperatures throughout the day. Items like sunglasses, sunscreen, bug spray, swimsuits, beach towels, water bottles...they are always with you! Need to switch kicks and change into those hiking boots? No problem! Your home literally is your backpack while you are out exploring. No packing anxiety, and no more forgetting items that you end up needing.
In addition to the items above that you may want to have on your days exploring, I must also point out the comforts provided for some of the need to have items such as restrooms, food, and shelter.
You just can't beat the convenience of having an onboard toilet with you every inch of your journey! Sure, there are public restrooms available within the National Parks. However, they are surprisingly few and far between. Especially if you find yourself off the beaten track and exploring less populated areas of the park. The onboard toilet will definitely take your experience to the next level.
I absolutely love having my entire kitchen with me everywhere I go. This is particularly true while visiting National Parks. Just like you don't have to pack a backpack full of gear, you don't need to pack a cooler full of food. Bagged lunches can be fun every now and then, but nothing beats a healthy, hot cooked meal to keep you eating right and feeling your best.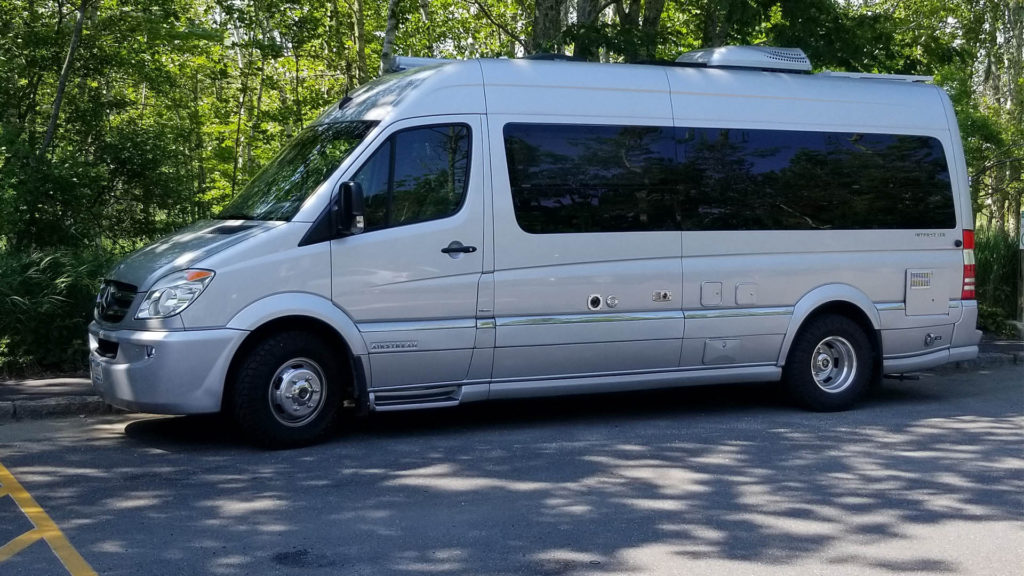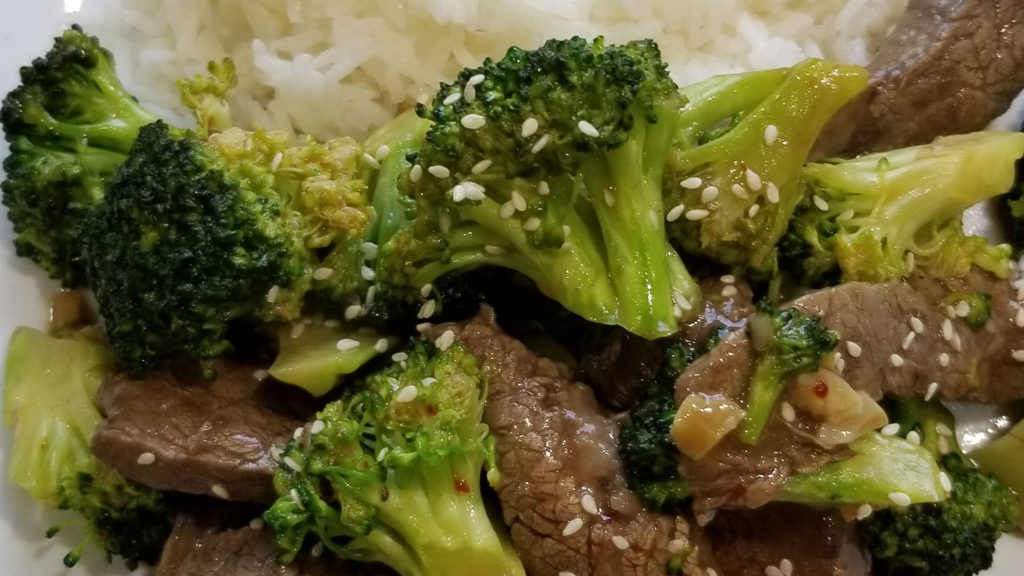 I remember when we were traveling through Acadia National Park and we drove past a popular restaurant, Jordan Pond House, which is known for its famous popovers. The parking lot was packed and there wasn't a single space available. This was definitely an opportunity to indulge in the famous tradition of "Popovers and Tea," but we opted to pass and drove another half a mile up the road to park. Once we were settled into our parking spot, I popped into our refrigerator and decided to whip up a Beef and Broccoli stir fry. In a matter of 15 minutes, we were enjoying a delicious and healthy home-cooked meal, in the comforts of our own home. We may or may not have washed it down with a glass of red wine. To me, these memories are priceless.
Relax and Put Your Feet Up
Having shelter with you is the final call to luxury while visiting National Parks with your Class B. Being on a Sprinter chassis, you are able to blur the lines to your advantage. You can go up into areas where trailers and traditional RVs are clearly marked as not allowed. After all, you are just a van that occupies a single parking space, just like everyone else!
Sometimes during your day of exploring, you get worn out and just need a break. Whether it is to recoup some energy or escape the elements of the sun, heat, or rain, you can find sanctuary in your Class B. Drink some water, freshen up, and take a breather before you continue on.
At the end of one of our longest days exploring Acadia National Park, we decided to head up to Cadillac Mountain for dinner and a sunset. Cadillac Mountain is a major destination for visitors to Acadia National Park and is the highest point on the east coast. This is a destination where oversized vehicles and trailers are not allowed. But, it was not a problem for us to zip on up. We pulled into an overlook area about one hour prior to sunset. We snagged what could arguably be the best parking spot in the parking lot, where we were able to back in and swing our back doors wide open.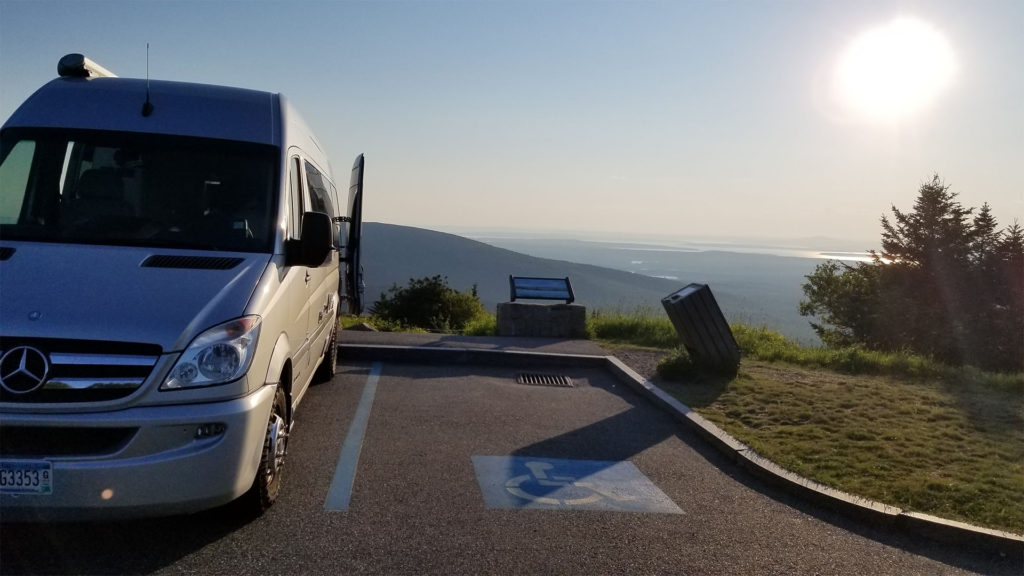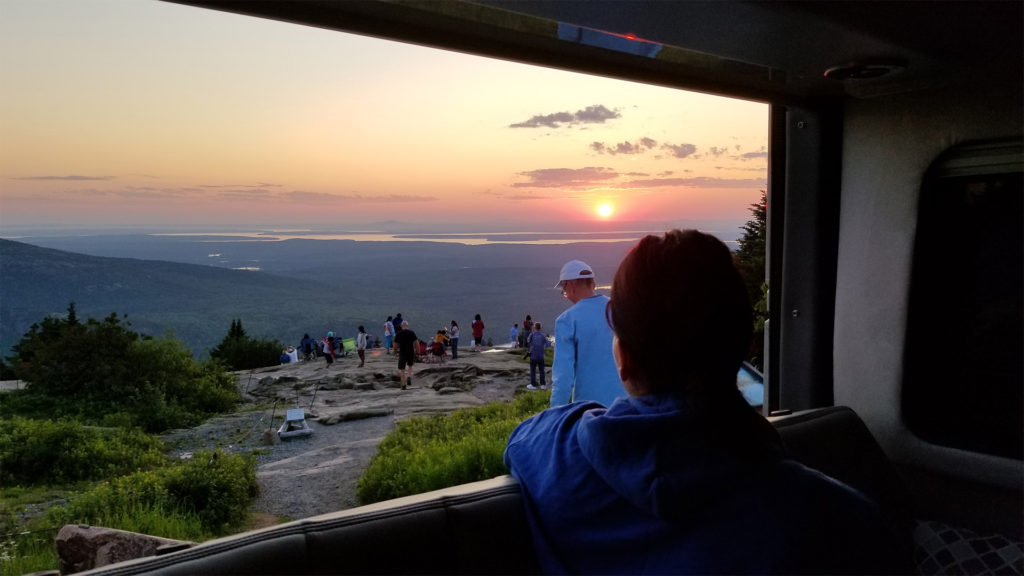 We took our shoes off, heated up some soup, and got cozy on the rear sofa. It was at this point that I actually changed out of my athletic gear and put on my comfy clothes. Yes, I put on my pajamas and I had no shame! This is what life is about. Here we sat and watched as the crowd started to pour in. People were bringing their folding chairs and blankets to grab the best spot out on the rock to observe the magical sunset that was about to come. We were able to enjoy the show from our home on wheels, and it was a night we will never forget!