What a wonderful testament and legacy Wally Byam left behind when he wrote the Wally Byam Creed.
To open a whole world of new experiences…a new dimension in enjoyment, where travel adventure and good fellowship are your constant companions.
It was apparent to Wally that Airstream was more than just a travel trailer. Customers came into his factory in Los Angeles, glowing with pride in their Airstreams, spouting tales from their travels, excited to have met other Airstream owners along the way.
Airstream always had touch-and-go financial situations throughout the 40's and 50's. The businessman, showman, and entrepreneur decided that to salvage his company, he needed to offer group tours.
So he did. In 1951, the first Airstream Wally Byam Caravan departed, headed through Mexico and Central America. It was a success, serving as a prototype and setting a learning curve for many more Caravans to come.
Traveling in exotic lands provided Airstream with opportunities for product improvements, and to brag about what those changes meant for customers. It also became apparent that owners were having fun as a group, forming lasting and unbreakable friendships. Those became the building blocks that brought financial stability to Airstream.
Until 1955, Wally allowed any type of recreational vehicle to join the Caravan. But that year, a close-knit Airstream group calling themselves the Jack Rabbits approached Wally, asking permission to form an Airstream-only club. He gave them his blessing and told them to go ahead and form their club.
That summer, a Caravan traveled through Eastern Canada. Wally and his wife Stella left the Caravan to scout the upcoming 1956 European Caravan. In his absence, Wally needed someone to lead: so he chose my mother, Helen Byam Schwamborn, his cousin and close friend.
Before he left, he put Helen in charge of the Caravan. He knew Airstreamers wanted to form a club, and since he'd already given them the green light, he asked Helen to assist them as they got organized – and she'd also be providing office support once they were up and running.
The Wally Byam Caravan Club was officially formed in Kentville, Nova Scotia. Their first rally was held in 1958, in Bull Shoals, Arkansas. Reread the excerpt from Wally's Creed I included above.
To open a whole new world of experiences…
Airstream Caravans continued to go north to Canada, and south to Mexico and Central America. Two historic Caravans traveled from Cape Town to Cairo and, famously, around the world from Singapore through the Iron Curtain to Moscow's Red Square, ending in Portugal.
…a new dimension in enjoyment, where travel adventures and good fellowship are your constant companions.
The Wally Byam Caravan Club still today offers rallies – there's hardly a week that goes by when you can't find one somewhere in the United States. Wonderful travel adventures await Airstream owners, leading them to new memories and friends. The WBCCI brings Airstreamers together in marvelous fellowship.
The picture included in this week's reflection is of a dear friend, Gayland Stephens. I met him in 2009: he's a wonderful combination, a Texan and a rancher. He joined the WBCCI and loved the organization and fellowship.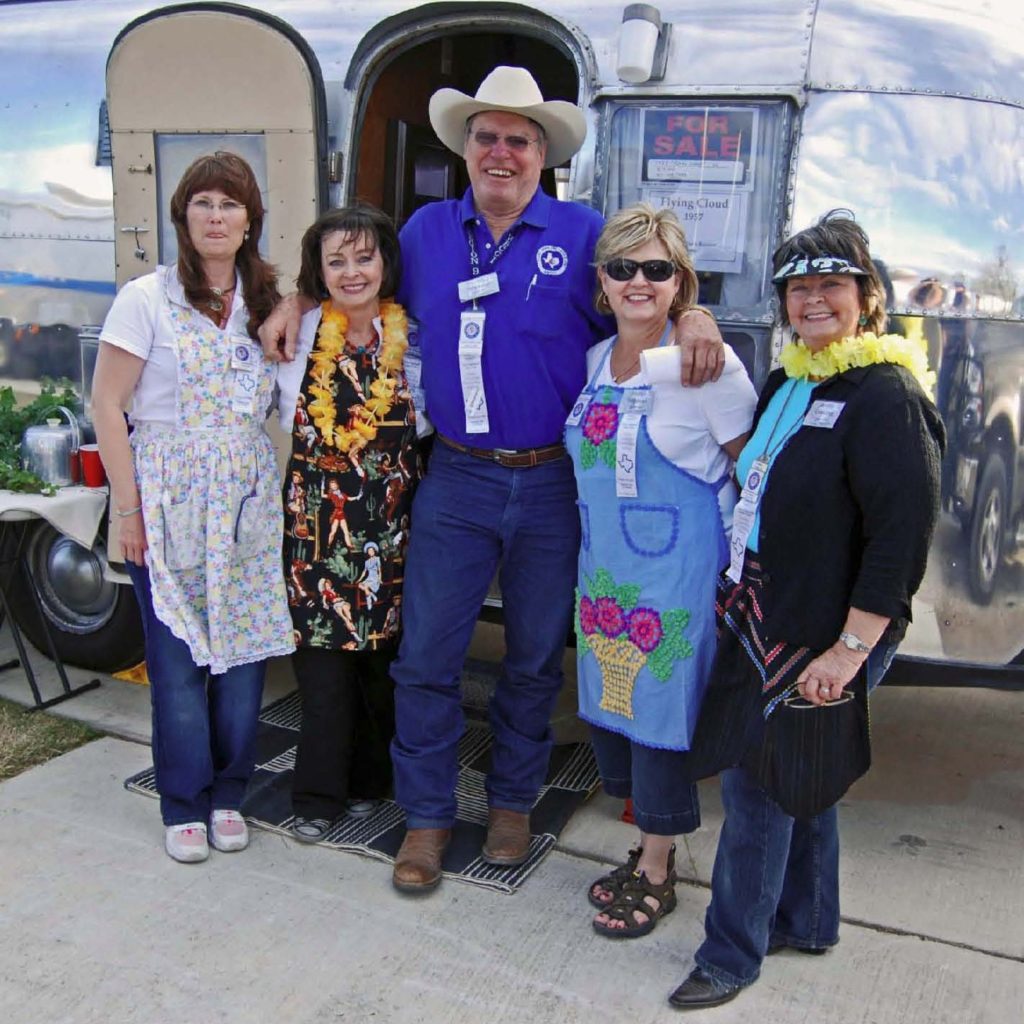 Shortly after joining, he fell ill and was hospitalized. His new Airstream friends were family. He didn't expect what would happen while he was hospitalized. Flowers, cards, telephone calls, Airstreamers stopping by the hospital – he was overwhelmed by the love and camaraderie that came from his new Airstream family.
Gayland made a commitment: as long as he was able, his support of the unit and new friends would be unending and with full participation and support. Gayland is no longer with us, but his spirit and commitment will live forever within the Airstream world.
…good fellowship is your constant companion.
Thank you, Wally Byam, for giving us Airstream, the silver channel we enjoy as we meander down the byways, meeting those who share our common interests.
For those who own Airstreams, they understand how it's played a vital role in their lives. You experience a new world and way of life that will make you wish you'd purchased your dreams years earlier.
Dale "Pee Wee" Schwamborn has silver in his blood. Each week, Pee Wee shares one of his many stories, including his experiences on the iconic Airstream Caravans, his time spent working in the Airstream factory, and the many Airstreamers he's befriended, far and wide.
Read more about Wally Byam's Creed.
You have just read Part III.