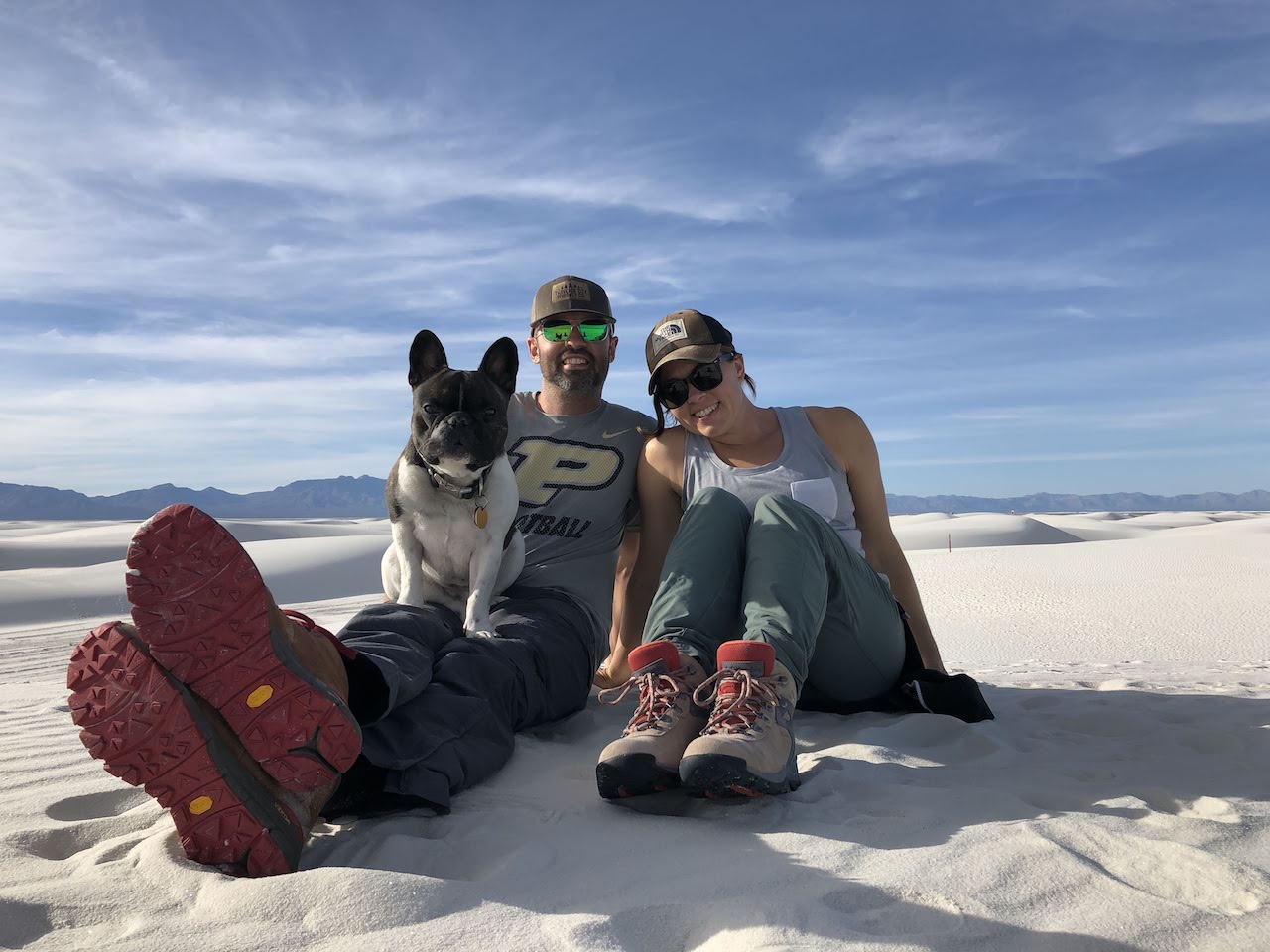 Me and you and a dog named Boo
Travelin' and livin' off the land
Me and you and a dog named Boo
How I love being a free man
While Ryan and Kate are probably too young to recognize that 1970's hit song, these full-time Airstreamers are living its lyrics. Except their dog is named Frank, and the couple is livin' off greeting cards.
Powered by their bias for action, Ryan and Kate gave up a life that was successful by any measure for one that truly fulfills and energizes them. After graduating from Purdue University, Ryan went to work at a civil engineering firm while Kate, a graphic designer, joined an ad agency.
"We started along the path of what I think you think you should do," says Kate. "You get the job, you make money, you buy a car, you buy a house, you get a promotion, you make more money, you buy a nicer car, you buy a bigger house.
"But I had this gnawing sense that there was more out there. Life is bigger than this. I'm missing something. I didn't want to find myself 90 years old—on my deathbed—realizing I hadn't seen the world."
In 2011, Kate and Ryan started a greeting card company, From Frank™, as a side hustle. That proved to be the first step in a complete life transformation.
"From Frank was a collection of 50 cards based on our dog Frank and his mission to make humans smile," says Kate. "It grew quickly. We were picked up by Recycled Paper Greetings, a division of American Greetings, and had cards in Target within the first two years."
Five years later, in 2016, Ryan and Kate decided to leverage From Frank's success and the freedom it afforded them, to re-cast their lives. It was time to see the world and live on their terms. The couple sold their house along with most of their possessions and moved into a smaller house that would rent quickly when they decided to hit the road. On the business side, they outsourced the printing and distribution of their cards, allowing them to focus on the more mobile-friendly creative tasks.
As they began to plan their new life on the road, Ryan and Kate quickly concluded that an RV was the only way for them to adventure with Frank. In late 2017, after checking out numerous models and brands, the duo settled on a 2011 Airstream 27-foot FB Flying Cloud.
"Kate finds Airstreams incredibly sexy," says Ryan with a laugh. "I love the quality of the product and how they hold their value."
Says Kate: "I was instantly drawn to the front bed Flying Cloud—it just feels so open to me. It doesn't feel like an airplane where you're walking through and there's stuff on either side. We love everything about our Flying Cloud—even down to the way the cabinets open!"
Working from the Flying Cloud is a joy, says Kate. 
"We wake up, we have coffee, and then we snap our fingers, and we're at work. I really like it because we're around people in the campground who are enjoying their lives. They are usually either on vacation or retired. I'd much rather hear people laughing out my window than I would a co-worker behind the cubicle complaining about their day."
Across the workday, Kate and Ryan often switch "offices," which include the bed, camp chairs or a picnic table, and the stand-up desk they installed in place of the dinette couch. Because changes in scenery enhance her creative flow, Kate often works from a nearby coffee shop.
Because they spend most of their day working, the couple prefers to stay in one location for up to a month at a time. That schedule allows them to both explore the area and work without the constant disruption of packing up and traveling.
As for their travel itinerary, Ryan and Kate say they aren't much for long-range planning, except when it comes to one of their favorite activities.
"The ski season kind of dictates our schedule because we definitely want to be out west to ski for two to three months," says Ryan. "We decide where we're going to ski that year and then plan our travel around that. How do we get to our ski spots? Then, where do we go from there?"
Work also dictates some of their travel — and the occasional unique experience. When the couple visited American Greetings for meetings, the company allowed them to overnight in its loading dock.
Kate and Ryan say they have gained valuable insights from their journey — lessons they could only learn on the road.
"The freedom to be able to hook up and go wherever you want to go is alluring for me," says Ryan. "I'm not sure I knew that about myself when we started. I know that now."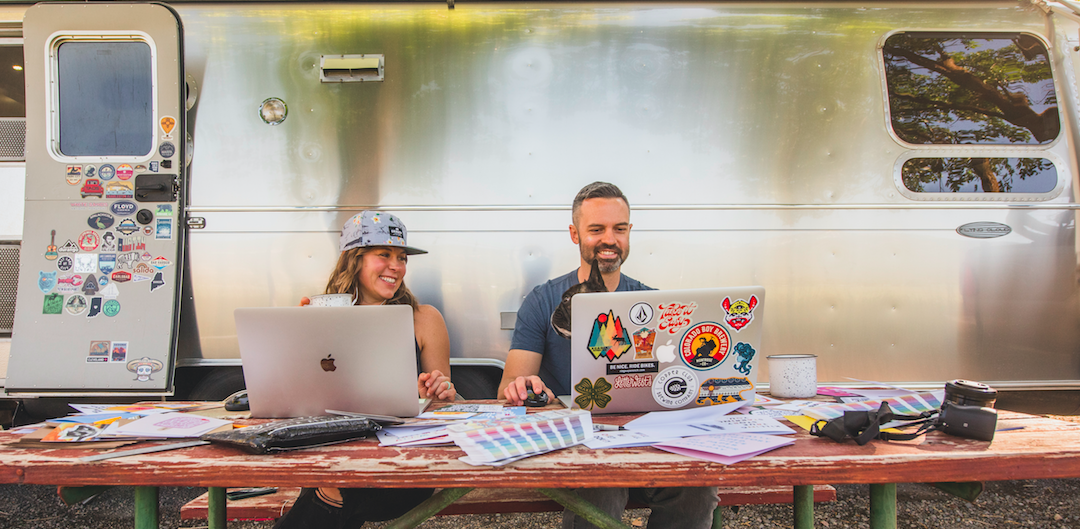 As for Kate: "I've learned that it takes very little to have a happy life. Very, very little. The exercise of whittling down the things that were most important to us was eye-opening."
Friends often ask Kate and Ryan how long they will stay on the road. Kate has a ready answer.
"I always say it's like when Forrest Gump went on his run. One day we'll get tired and we'll turn around. It's indefinite. There's not an end goal. It's not even a trip for us. It's how we're living our lives."