"Mother Nature is a master sculptor and in no place is that more evident than at Arches National Park," said traveler and author Stefanie Payne. 
Arches National Park beckons Airstreamers into a surreal landscape. The towering structures of natural arches, created during the Jurassic age by the erosion of Utah's sandstone by water and wind, are just the beginning. The arid, high-desert park is also full of towering red rock stone spires, tremendous fins and delicately balanced boulders. Come find what could be a scene from a 1950s-era film on Mars exploration; only you're playing the lead role.
Portable Park: Arches National Park
After exploring Arches through our Portable Park series, you must see the magic and majesty of Arches for yourself. 
Here are our top five places to set up camp during your adventure.
Devil's Garden Campground
Arches National Park
Moab, UT
As the only campground located within Arches National Park, Devils Garden offers an ideal base for your Arches adventure. With all the Utah juniper, pinyon pine, prickly pear cacti, yucca and other desert wildflowers, Airstreamers could almost forget they're in red rock land. The vegetation offers a brilliant palette of color against the deeply hued backdrop of the park. Arches is home to myriad hiking paths, one of which -- Broken Arch Trail – begins at the campground. The other trails are quite varied, offering fantastic hikes for explorers of all skill levels. There's the easy (and scenic) 0.3-mile loop around Balanced Rock and the steep and strenuous 3-mile round-trip trail to Delicate Arch. Adventurers can also choose to take guided hiking tours of the Fiery Furnace, use the off-road vehicle routes, and explore on their road bikes. Perched at an elevation of 5,200 feet, Devil's Garden is nestled deep among the park's natural wonders,18 miles north of the entrance, and 23 miles from Moab, Utah. The drive to Devil's Den can be challenging, but it's worth the effort. No surprise, this campground is popular, so reserve your spot early. There are 51 sites with paved roads and parking spurs. Flush toilets and drinking water are provided. Campsites contain picnic tables and fire rings. This is dry camping, so make sure you come well-provisioned. Make use of the drinking water; it's a must, as even in late October the weather can be hot during the day. Nights are cooler, and the sky is filled with stars.
Explore Devil's Garden Campground
Dead Horse Point State Park
Moab, UT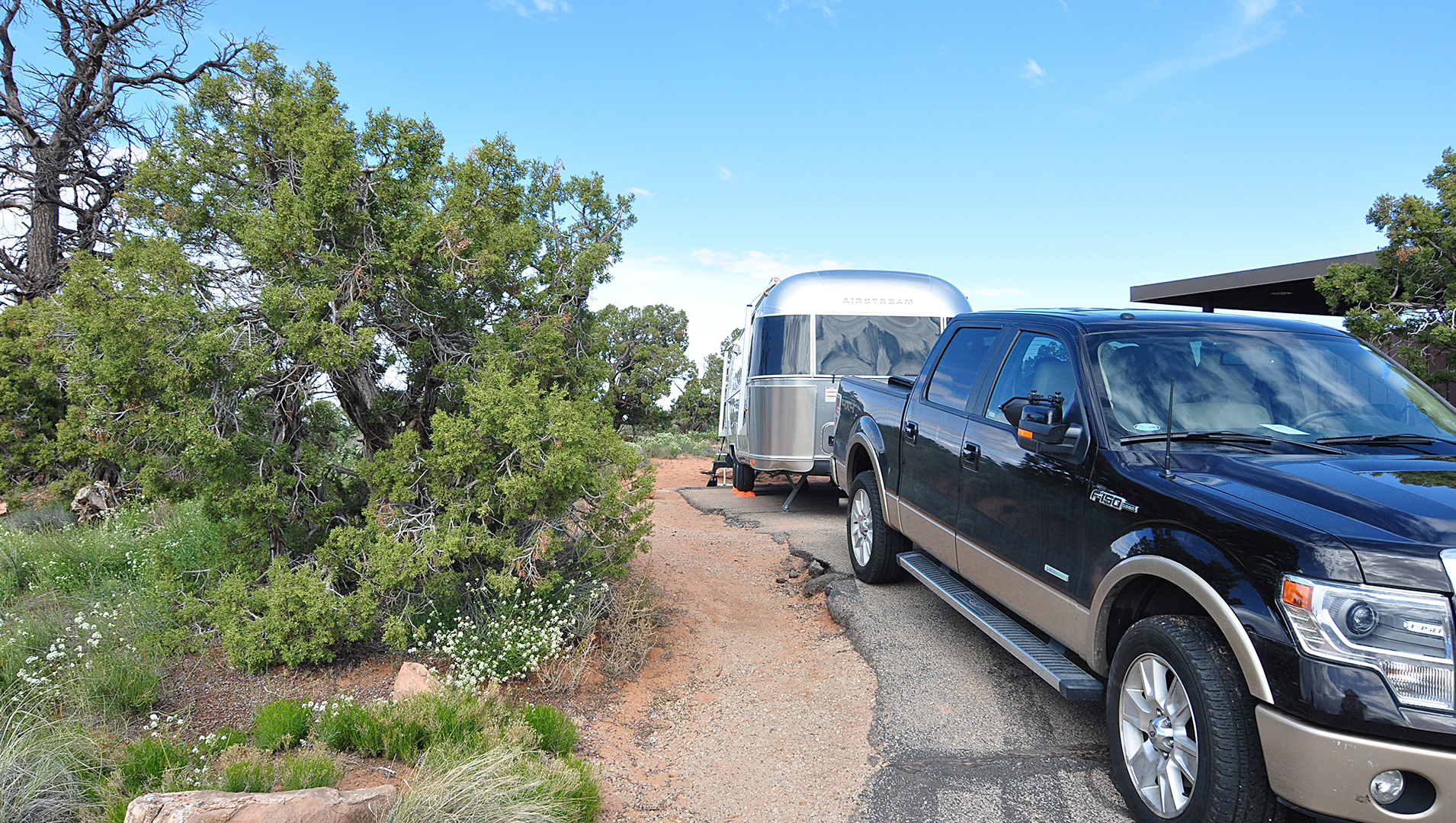 Just 30 miles southwest of Arches lies Dead Horse Point State Park. Use it as a jumping-off point for the national park, but don't miss all this state park has to offer. There's Dead Horse Point, a 2,000-foot peninsula of rock atop sheer sandstone cliffs that loom above the Colorado River. The peninsula is connected to the adjacent mesa by a narrow strip of land called the neck. Below, dramatic cliffs and canyons dominate the spectacular view. Carved by ice, water and wind, these geological wonders are home to flora and fauna able to withstand the desert's extreme conditions. According to legend, Dead Horse got its name from 1800s cowboys who used the immense plateau to corral wild mustangs, many of which died of exposure. It's a hauntingly beautiful spot and a perfect place to set up camp. Airstreamers Zamis Ventures say: "The campground is completely quiet, far from all traffic, and has incredible night sky views. Some of the best sites offer awesome views of the La Sal Mountains. The high mesa can definitely get windy, and the shelters around the picnic tables are very useful." At the park, you'll find plenty to do when you're not exploring Arches. There are several hiking and mountain biking trails that are perfect for exploring the park. The campground has 56 sites with asphalt pads. Reservations are recommended, as the park fills up quickly. Sites are spacious and come with a covered picnic table and electric hook-ups. There are on-site bathrooms and a dump station. Bring in your drinking water (and lots of it). You'll need it during your explorations.
Explore Dead Horse Point State Park
Ken's Lake Campground, Bureau of Land Management (BLM)
Moab, UT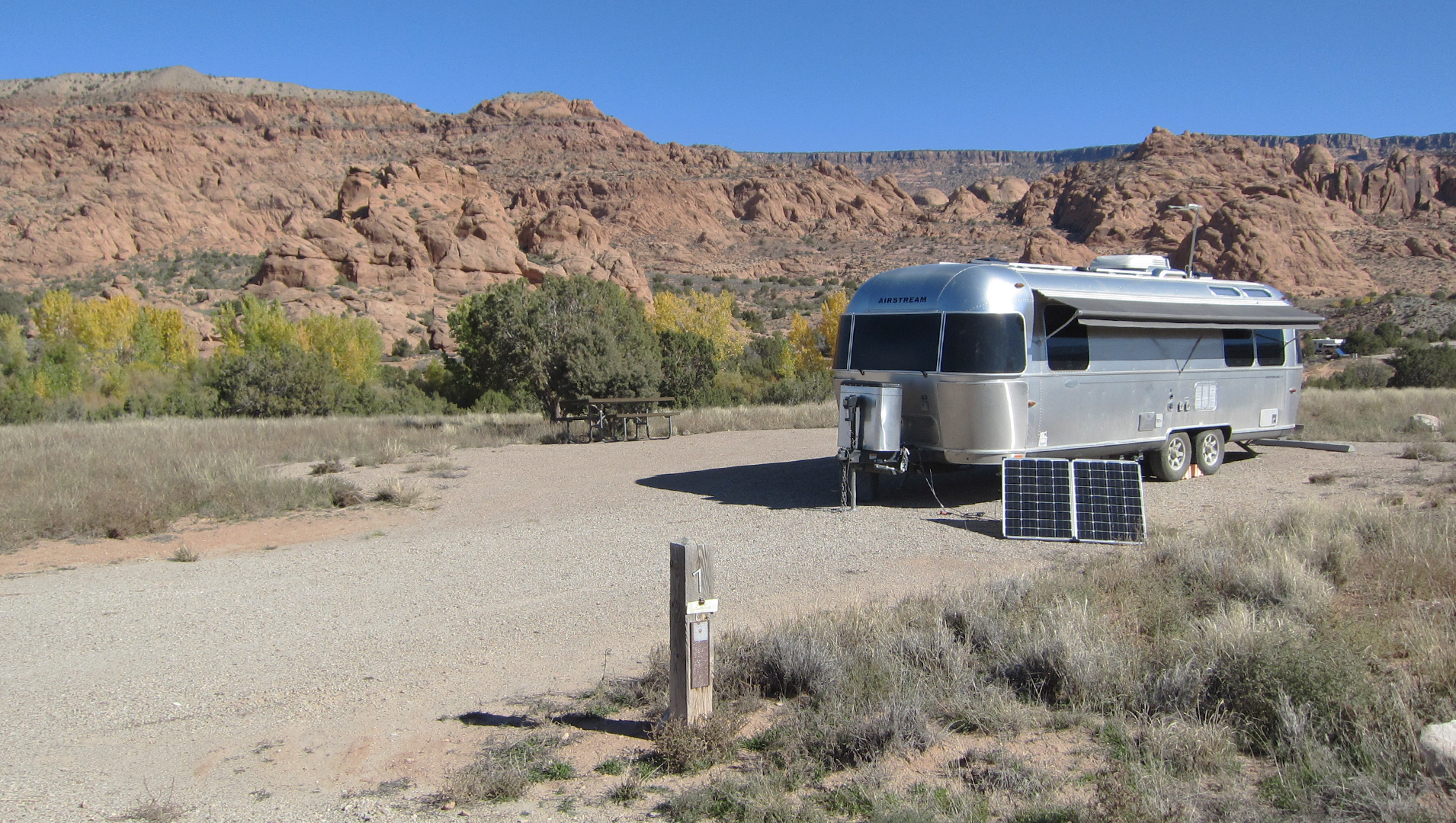 "We started out planning to stay three days, then five days, and in the end, we were there for seven days, and we used it as our jumping-off point for Arches and other Moab-area activities," says AudreyAirstream of Ken's Lake Campground. "I can't wait until we can visit this place again! Beautiful views, well-spaced campsites, a great price, hikes right out of the campground, and the ability to wander down to the lake itself." Sounds like a perfect place to park your Airstream. At this campground, located twelve miles south of Arches, you can soak in the desert landscape when you're not immersed in the beauty of the national park; views of the La Sal Mountains and red rock fins amaze visitors. Activities here include swimming, paddle-boarding, non-motorized boating and fishing in the lake. Enjoy hiking and horseback riding, with trails close to camp. Explore the canyons that dot the area. There's also mountain biking, whitewater rafting, and four-wheel drive tours offered in the surrounding area. If you want a night out on the town, Moab is only 15 minutes away and offers dining, shopping and museums. Because this is BLM land, Ken's Lake is dry camping. Provision accordingly. The sites have picnic tables, and there are vault toilets, graveled roads and trash receptacles in the campground. Campsites at Ken's Lake are first-come, first-served. Come early, set up camp, and start checking things off of your Arches must-see list.
Horsethief Campground, BLM
Moab, UT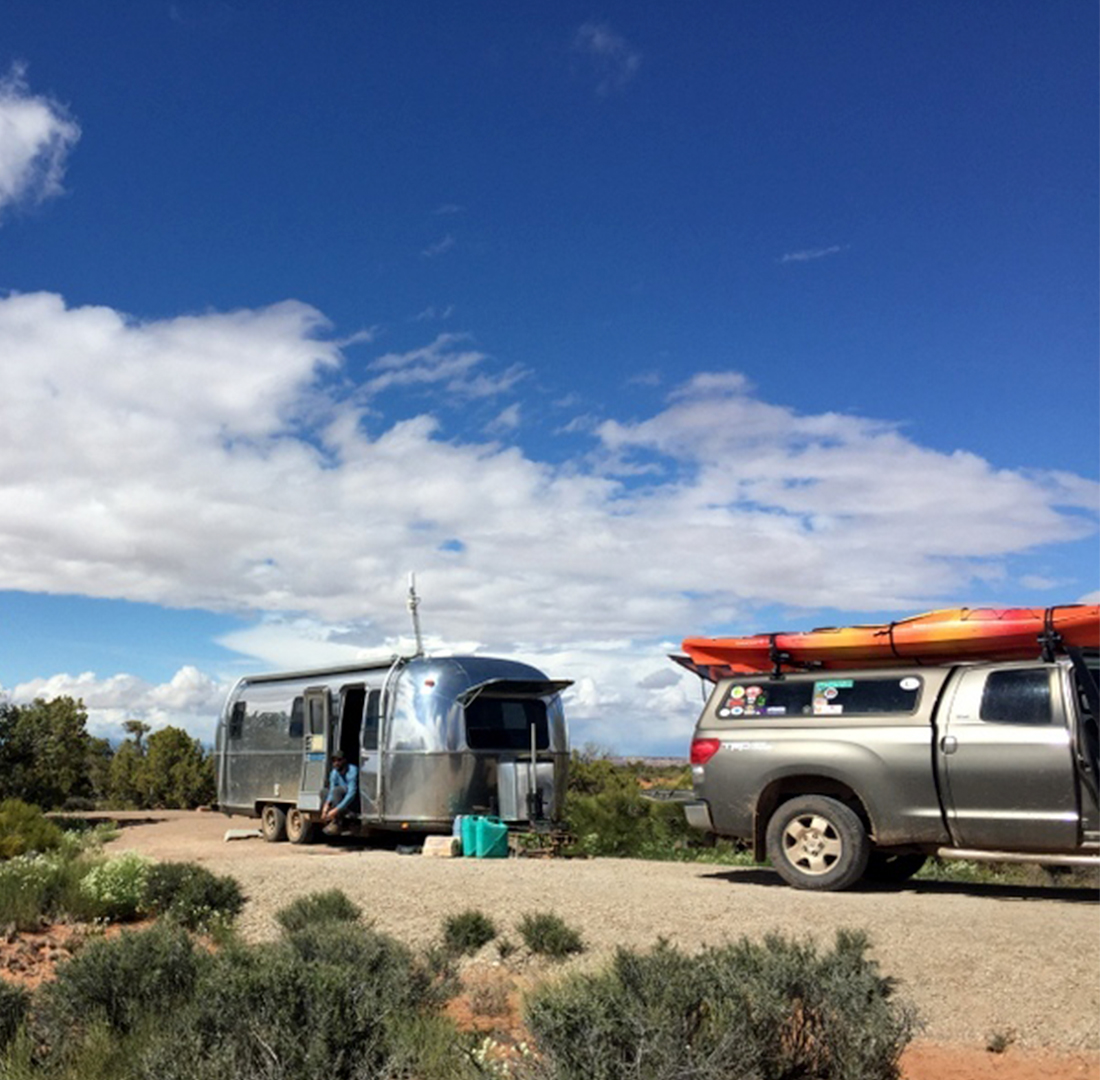 Set on the mesas above Moab, tucked away in pygmy pinyon-juniper forests, Horsethief Campground offers sweeping views of the surrounding area and the chance to make indelible memories. This BLM facility makes for boondocking at its finest, including up-close-and-personal proximity to nature and the infinite expanse of the desert. While you won't find hook-ups, showers, fresh water, or a dump station, you will find spacious, secluded sites separated by pinyon pines, juniper trees, and blackbrush. Here's how Airstreamers Kblanquart describe their experience: "We really enjoyed our stay here. The sites are very large, and there are trails right off the campground for hiking and mountain biking. The campsites along the edge have unobstructed views of the desert landscape. The campground is just a [short] drive to Arches National Park, so we used this as our home base. It's also near a Dark Sky area, so the stargazing is spectacular." The short dirt road to the campground is well-maintained, as are the internal roads. Arches is about 20 miles from Horsethief. If you want to set up camp away from the hustle and bustle of Moab, this is the place. Come well-stocked and well-prepared, and leave it better than you found it. 
Moab Valley RV Resort
Moab, UT
If dry camping isn't your thing, you'll feel right at home at the Moab Valley RV Resort. Not only is it mere minutes from Arches, it also offers more amenities than other nearby campgrounds. Sites are full hook-up, of course, including cable TV and wi-fi. In addition to showers and laundry facilities, Airstreamers will be treated to a pool, hot tub, bicycle wash and repair station, putting green, life-size chess and checkers, and a general store for stocking up. Airstreamers Currently Wandering say they were "super impressed" and that, while they usually don't stay at RV parks, this one was a delight. "This park is well run, the staff is very friendly, the pool is warm, my kids were obsessed with the large chess set, and we just had a great time." Such amenities, combined with proximity to all of the wonder of Arches, is how memories are made. Nearby guided attractions also abound. Take a river trip on the Colorado or Green River. Experience Moab on a four-by-four tour. Saddle up for horse or mule trails in the La Sal Mountains. Or, have a one-of-a-kind adventure in a hot air balloon. There's no shortage of thrills for guests at this resort.