Propane is an essential part of Airstreaming, letting you boil water on the stove and heat up your Airstream on cold nights. Some older Airstream models have combination propane/electric refrigerators that can use either power source, and Airstreams equipped with a gas water heater use propane to provide a warm shower and deliver hot water at the tap. Easy to transport and readily available across the country, propane is a source of power that can set you free, allowing you to wander out about in the wild.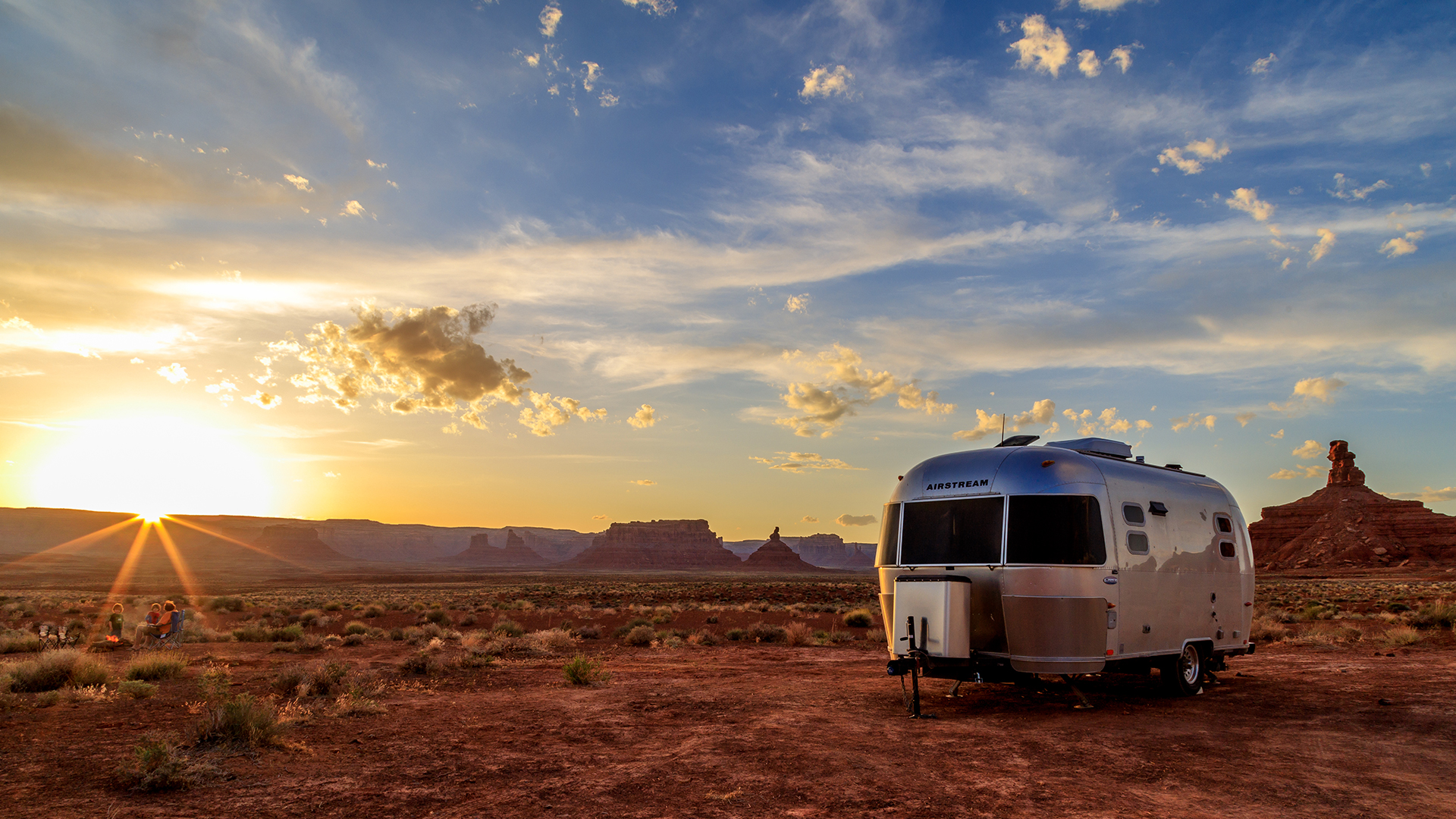 No matter where your adventure takes you, it's a great idea to leave with a full tank (or tanks – many Airstream Travel Trailers have two tanks mounted to the hitch) of propane. A quick internet search will reveal dozens of locations near your location that offer propane refills. Additionally, propane refills are available at many gas stations, big box stores, and camping supply stores. You can even top off your propane in Jackson Center at the Mothership!  
Depending on where you are camped, your particular Airstream model, the season, the weather, and a variety of other variables, propane usage needs can be hard to predict. Luckily, propane is easy to come by and relatively inexpensive when it comes to fuels.  
When Dealing with Any Fuel: 
Safety Firs
t
First and foremost, we recommend not traveling with the propane valves turned on. We recommend closing both valves whenever in motion, and any time you're hitching or unhitching.
Regular maintenance of your Airstream's propane system ensures you can have a carefree adventure. You don't want any propane hiccups destroying your fun. You should visually check your entire propane system at least twice a year.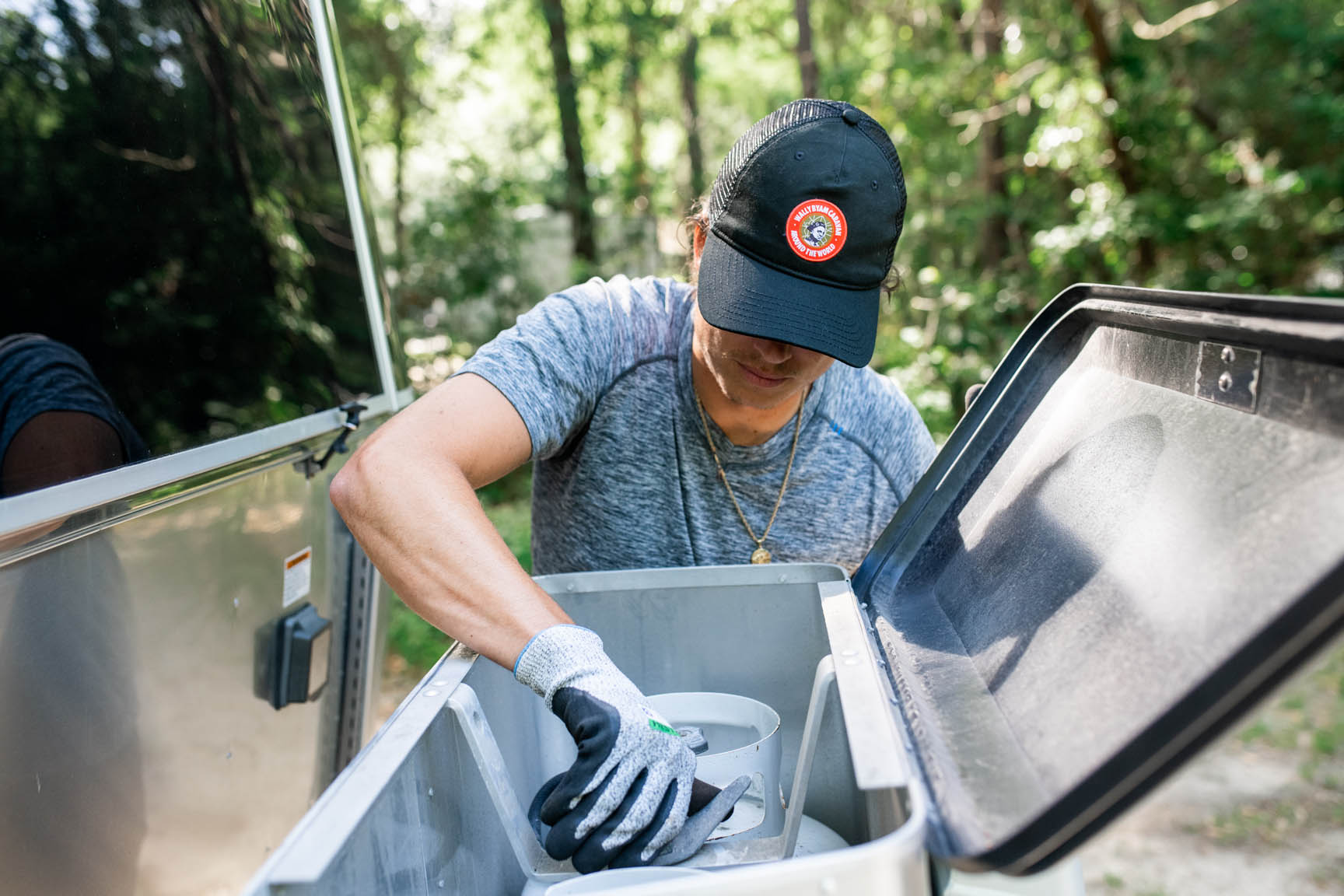 Check all your hoses, lines, and connections. Look for wear on the lines, and make sure nothing is out of place that could rub on the hoses or lines. Make sure there is no debris gathering around your tanks or where your propane runs to appliances and your water heater. Spiders and other creepy crawlers love the smell of propane. Remove any webs or nests you might find. 
Your Airstream comes with fire, propane, and carbon monoxide detectors already installed. Check your detectors before every trip to make sure they have fresh batteries. It's a good practice to change any batteries in your detectors at the start of every camping season. 
Propane Usage: An Inexact Science
It's hard to determine how much propane you will need on any given trip. Many variables affect how much propane you burn while cooking, firing your furnace, or heating your water. The exterior temperature will largely determine how much heat you need – that, and your relative level of comfort. And when cooking, it depends on how much frying you do over the stove, how many dozen cookies you decide to bake, and how much water you boil for coffee.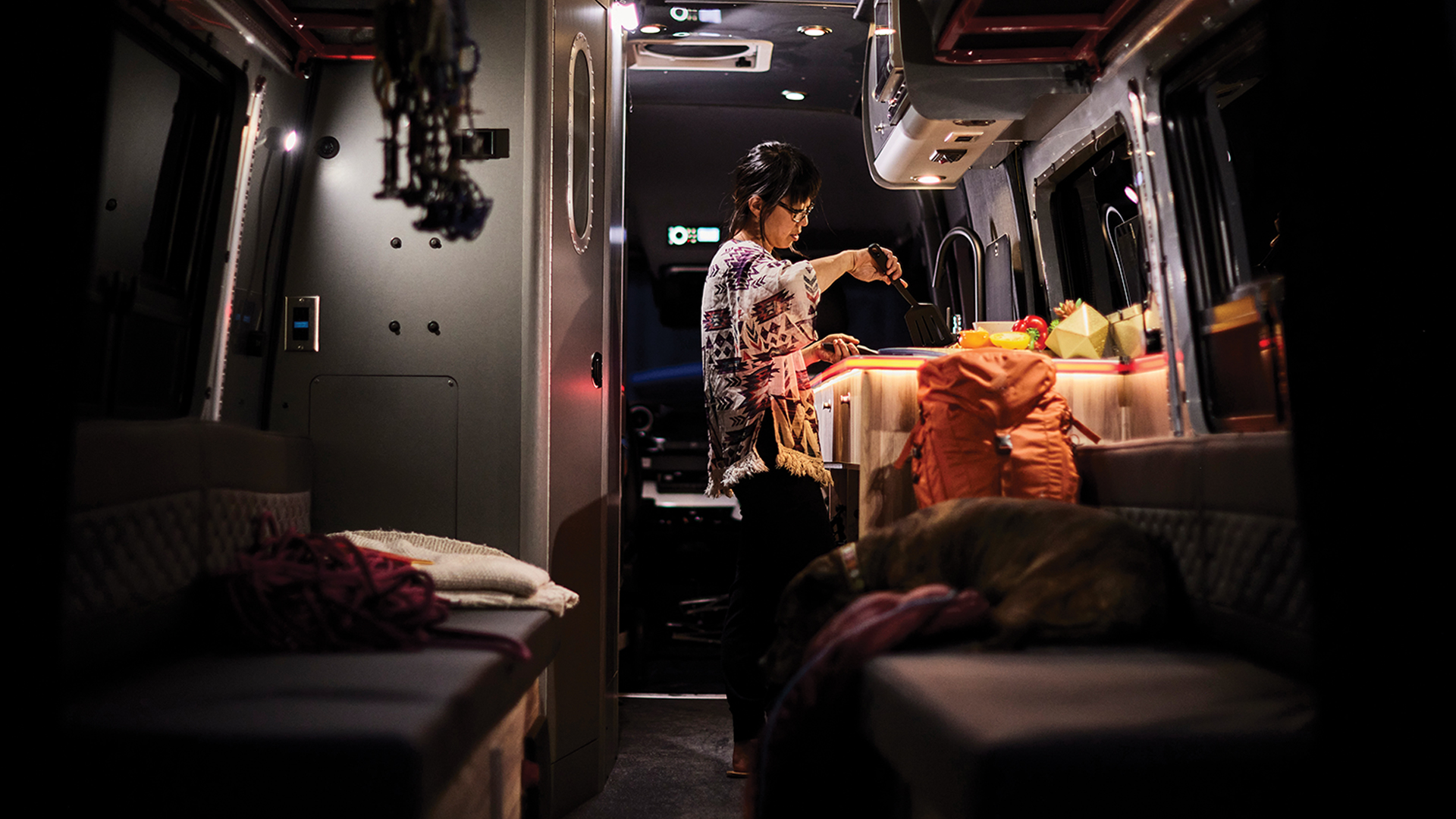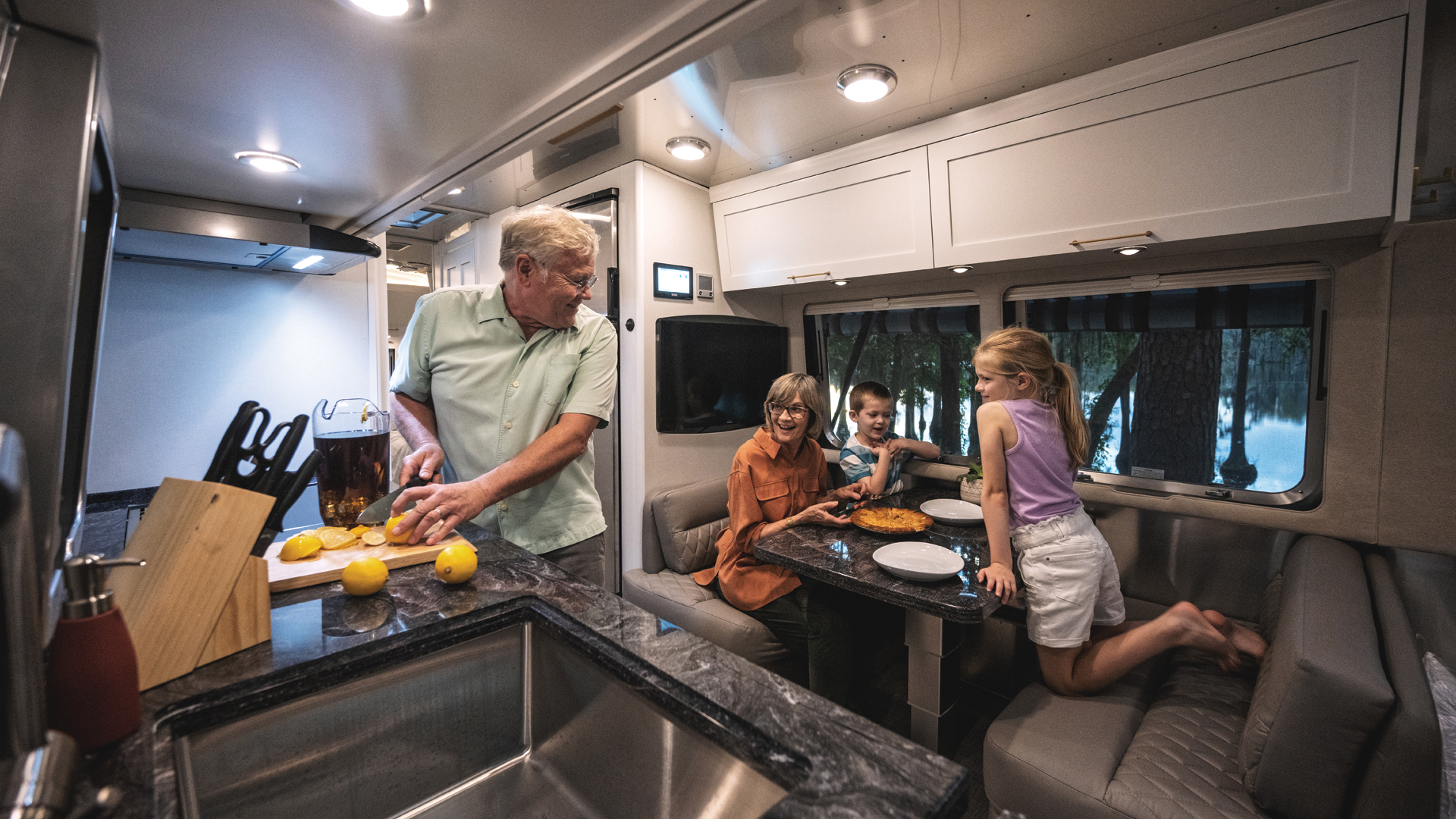 Complicated equations will help you determine the amount of BTUs required by your propane appliances, but seasoned Airstreamers will tell you that the best strategy is the one you apply in your car: keep an eye on the gauge. With two propane tanks on the hitch of most Airstreams, running one tank down before switching to the other tank is a great prompt to get to the refill station. And many Airstreamers don't hit the road until they've topped off the tanks. 
Seasonality plays a part as well – if you're camping in the summer, your propane requirements are quite different than if you're heading out in October. And if you're not taking showers and washing your hands with warm water, you'll use less propane in your water heater. 
For many, propane usage is a fun game of conservation. When hooked up to electric, avoid using your propane to heat the Airstream – use the heat pumps (if your model is equipped). If you've got a campfire, use that for cooking (rather than the stovetop).  
Refilling Your Tanks
Eventually, you will need to refill your propane tanks – luckily there are lots of places to fill up. Refill stations are easy to find, and there are many apps that can help you find a refill spot. Common places that offer propane are gas stations, home improvement stores, RV parks, and campgrounds.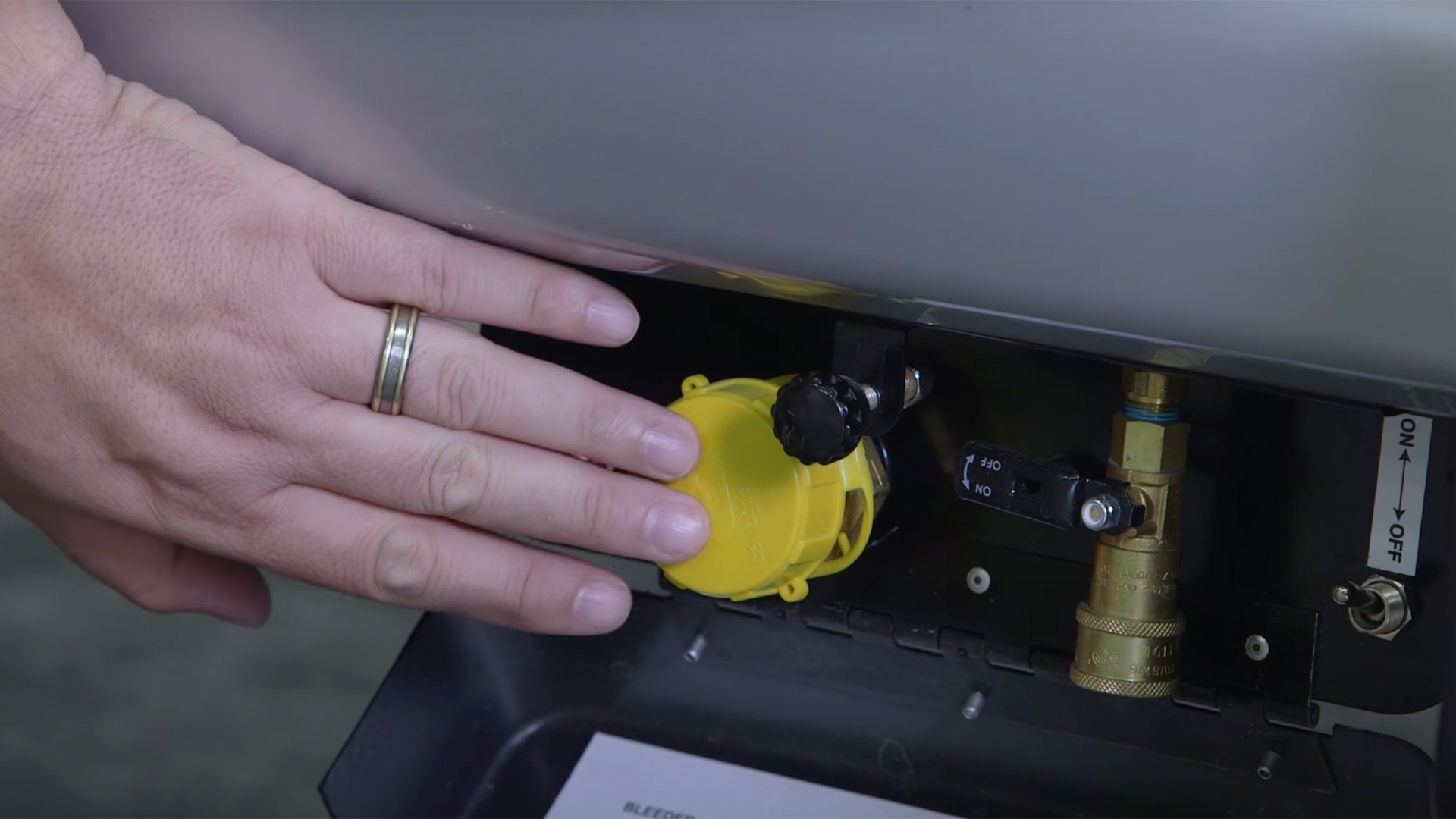 We recommend finding a refill station that's conveniently located so you can simply pull up and let an attendant fill the tanks without having to remove them from the hitch. If need be, you can remove your tanks from the front of your RV, but it's important that they be reinstalled correctly in order to prevent any possibility of their falling off or becoming dislodged in travel.  
We always recommend having a qualified service individual refill your propane tanks. They must be filled as directed by the tank manufacturer. Instructions are located near the fill valve.
Propane in Your Motorized Airstream
The five touring coach lines in our motorized Airstream fleet are all equipped with LPG amenities as well. Just like in our travel trailer lines, the two-burner cooktops as well as the furnaces and water heaters in our touring coach models are all fueled by propane. And every motorized Airstream comes equipped with exterior propane hookups for a grill or other low-pressure LP appliances (for more info see our guide to tailgating in your Airstream Touring Coach).
Beyond the onboard amenities that utilize LPG, our award-winning Interstate line – Interstate 24GL, Interstate 24GT, Interstate 24X, and Interstate 19 – all feature LPG generators with auto-start functions. Whenever you need more power, the LP generator in your Interstate will automatically kick on, providing you with all the power your adventure requires (see your user's manual for more information).
Troubleshooting Propane Flow Issues
Imagine you just refilled your propane tanks. You head out to the wild backroads of America and find the perfect camp spot. Dinner time rolls around, and you can't seem to get your stove to ignite. You check your other appliances that run on propane, and they aren't working either. 
Don't panic, yet.
Check these things first.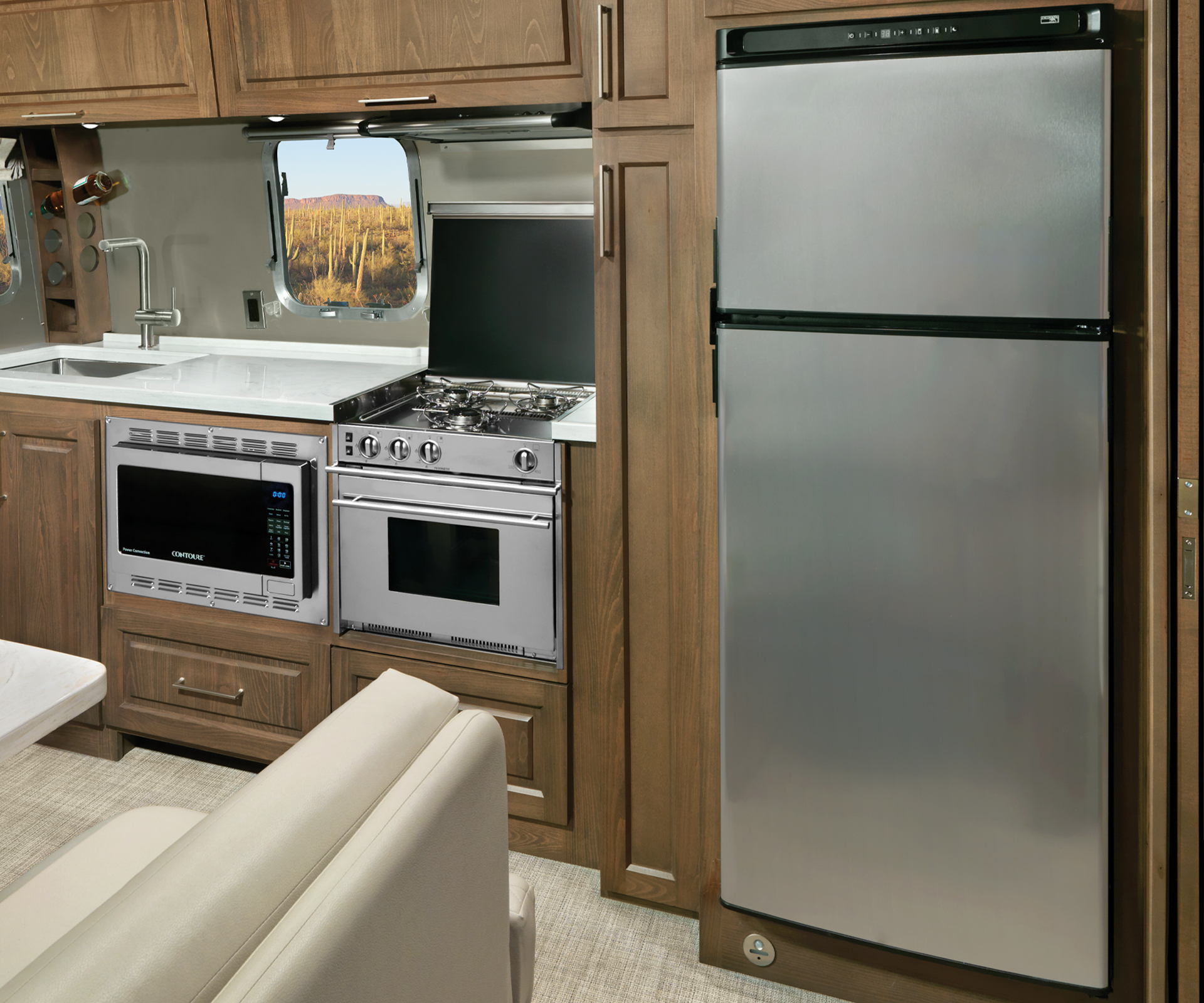 Make sure the valves on your tanks are "on."
The attendant refilling your propane tank has to close the valve before they fill your tank. It's easy to forget to open the valve when you arrive at your camp spot. Double-check and make sure the valve is open. Solving your problem could be that easy. 
Most modern Airstreams have an Automatic Gas Regulator that allows for an uninterrupted switchover when your first tank runs empty. Both tanks are connected to this regulator. Make sure there is propane in both tanks before you start. Then rotate the knob on the top-front side of the regulator toward the tank you want to use first – this is now your service cylinder, while the other tank is the reserve cylinder. 
If propane is available, the indicator will turn bright green and stay lit as long as there is fuel coming from the service cylinder. When the tank runs empty, the regulator will automatically switch over to draw propane from the reserve cylinder. When that tank runs empty, the indicator will turn red, indicating that it's time for a refill. 
If you run out of propane, it's possible that air can get trapped in the lines. To solve that minor issue, read on.
Bleed the lines. If you just refilled your tanks, there may be pockets of air in the lines. Turn the gas to your main stove burner "on" and light it. It may take a second if there is air in the line. Leave it lit until the flame burns steadily. Check other propane-using appliances to ensure they are working as well. 
Check the excess flow valve. The excess flow valve is a safety feature to stop or slow the flow of propane in the case of a leak, and it's a standard feature of most propane tanks. If you turn your propane valve on too quickly, it can spring/engage the valve. Close the propane valve, turn off propane appliances, and wait three to five minutes before trying again – this time, opening the propane valve slowly. 
If the excess flow valve was tripped because you have a leak, you need to turn off your propane, turn off your appliances, and extinguish any fire or heat sources that could ignite the propane. A propane leak is a serious issue that requires a visit to your Airstream dealer for service. 
Make sure your pressure regulator is working. Pressure regulators last about 8-10 years. If you have an old regulator or yours isn't working properly, you need to get it replaced.
If you're still not getting flow to your gas appliances, you might need to call a professional.
Outdoor Cooking with Your RV Propane
Camping is just not camping without a little outdoor grilling, and pancakes just taste better when cooked on a camp stove outside. But carrying around another propane tank or staying stocked up on small propane canisters can be a pain.
The good news is you already have propane tanks running to your Airstream trailer. Why not use what you already have?
For stoves and grills that use the small propane canisters (little green bottles), you need a low-pressure adapter. Most late-model Airstreams come with an external LP port on the hitch. With the external port, you can use a quick-connect hose designed for this purpose to attach a number of small propane appliances that use one-pound, low-pressure LPG tanks.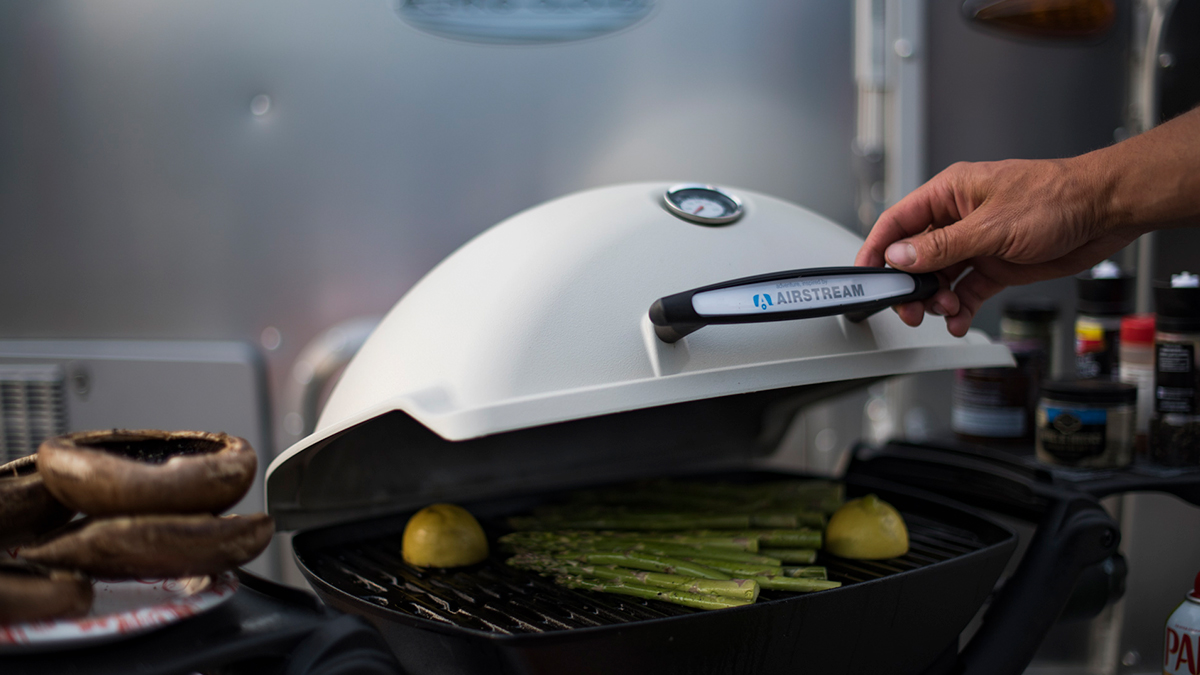 Larger grills require a special converter to achieve the correct pressure. At most camping supply stores you'll find other adapters that allow you to attach your stove or grill to DOT propane tanks on Airstream travel trailers. Be sure to follow all safety considerations and instructions.  
We've made it easy for you to get grilling with the official Airstream Weber® Q1200 tabletop grill – ready out of the box to connect to your Airstream's exterior LPG port. 
Powerful, Portable, and Precious: Propane is a Camper's Best Friend
Propane gives you the ability to venture far and wide without having to give up too many creature comforts. The more you travel the better feel you will get for how much propane you use and before you know it you will be a propane pro.
From heating to cooking to warming up the shower, propane is an essential part of your camping experience. For more info on this versatile fuel source, browse our library of articles at Airstream Support.