Her Way and the Highway is an email series celebrating the vibrant community of Airstreaming women. Featuring inspirational stories, road-tested recommendations, and expert advice from women who hitch up and hit the road, Her Way and the Highway comes straight to your inbox every week.
Traveling is a deeply personal experience. You get to choose your journey. There are so many ways to find joy and passion on the road. For Mona Heath, it's in the people she meets along the way.
There was a time – many long years ago – that Mona was emphatically not a camper. This fact was made very clear after several nights spent in a pop-up camper and tent. Fourteen years, seven Airstreams, and 70K miles later, she now has trouble calling herself anything but a camper. She's seen so much of the country – and she's done almost all the towing and camping as a solo female.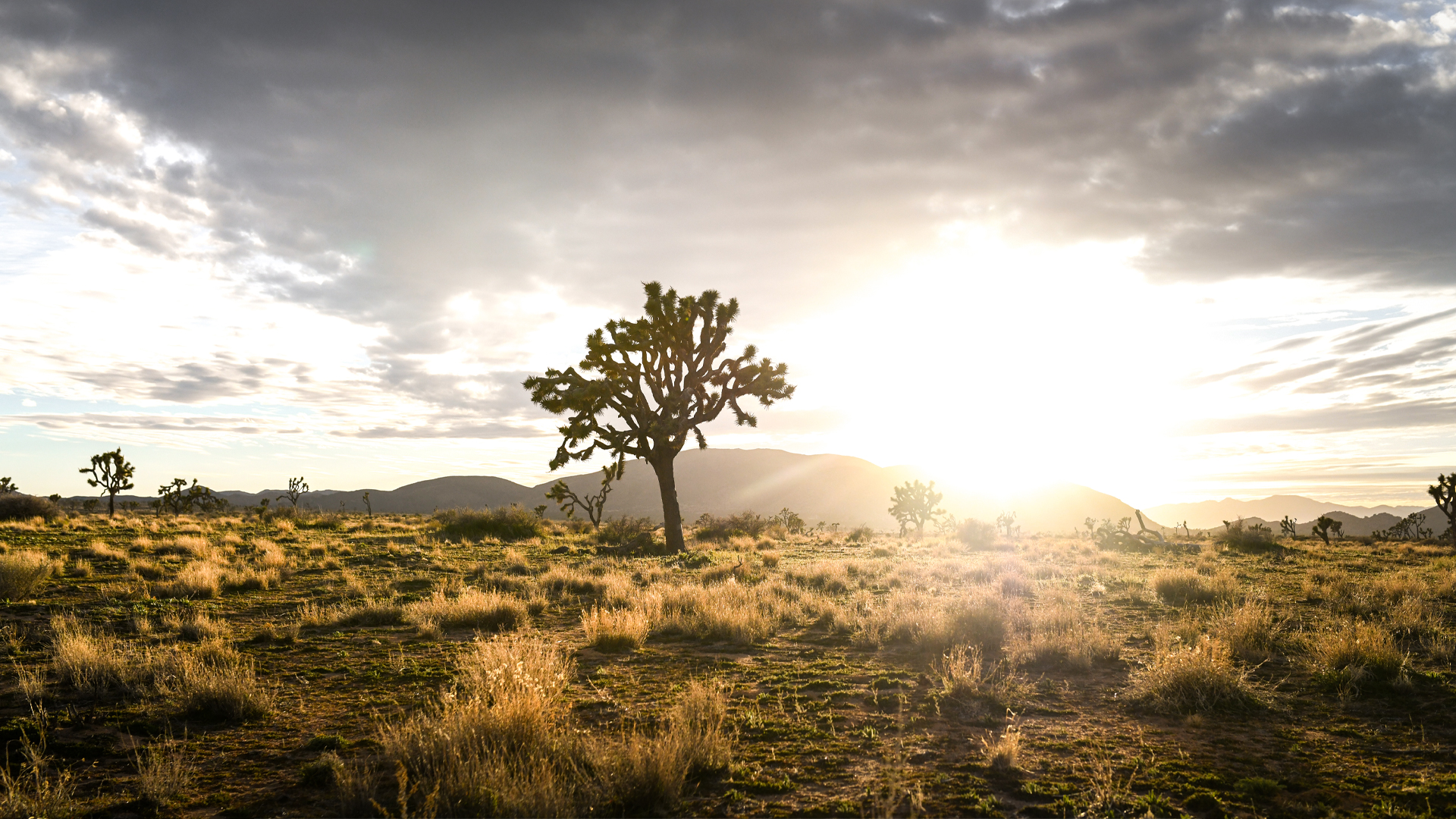 Her first camper was a vintage 1962 travel trailer with tons of character, an ice-box, and no toilet – but it was her little escape pod from all the stresses of her professional life. She soon transitioned to her first Airstream, a 1969 Tradewind, and immediately became a member of the Airstream Club.
Mona has always been active in the Airstream community, but in 2019 her role became more prominent – and groundbreaking – when she became the first female International President for the Airstream Club International. Rather than resting on the laurels of her history-making role, Mona has been hard at work steering the Club into the 21st Century.
"It's never been about being The First International Female President," she says. "Rather I've always hoped to be remembered as an International President who did a good job – and just so happened to be a woman."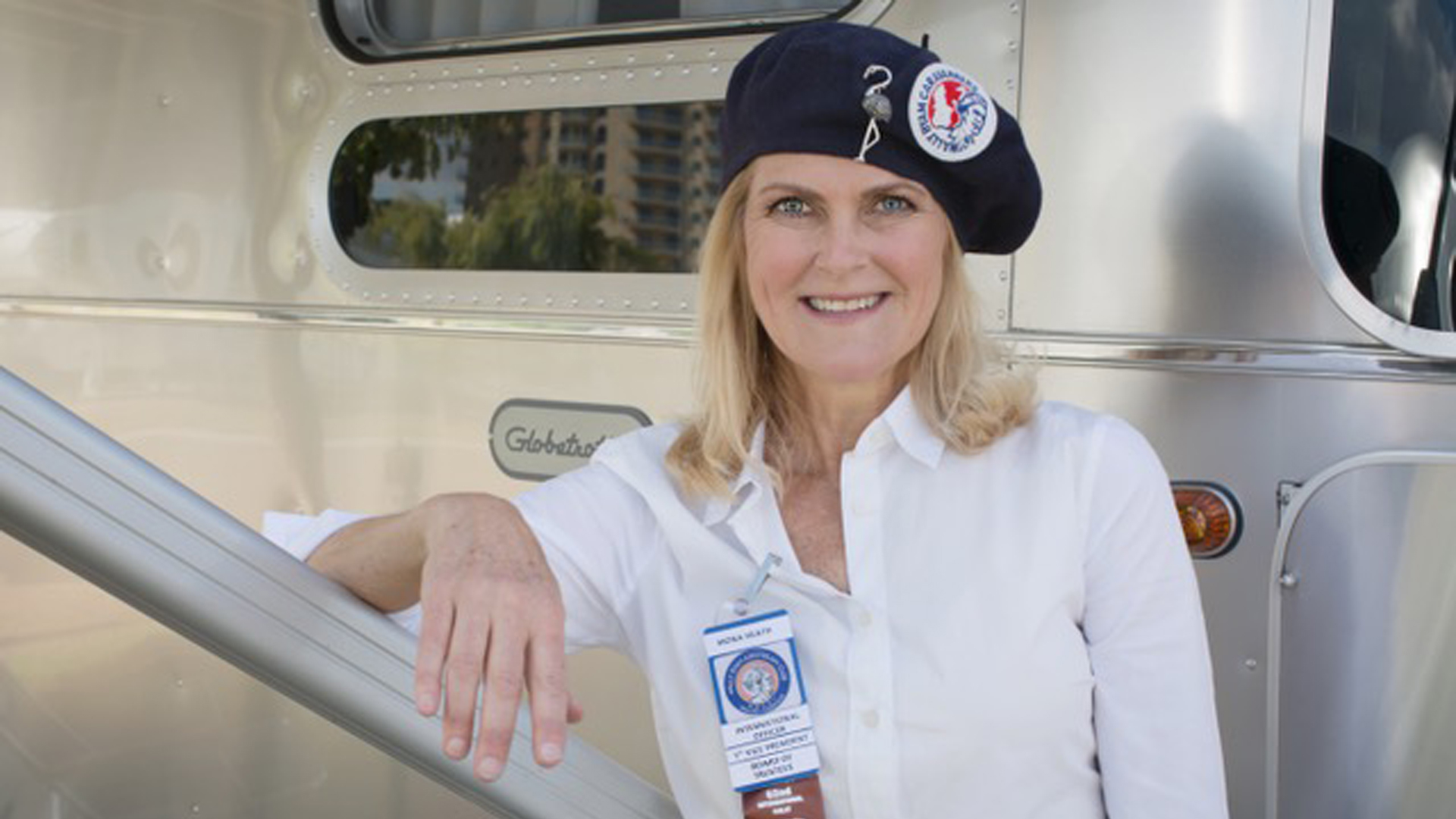 The Club has become a family for her, and her goal as president was to create a more inclusive environment where anyone could find a sense of belonging.
"The community is so full of diversity – of thought, of lifestyle, of heritage, and of tow vehicle, Airstream model, length, and camping choices," she says. "All are welcome in my world, this world of happy campers."
A membership in the Airstream Club International is a great idea no matter your level of camping and Airstreaming experience. Benefits include access to rallies and caravans, along with special courtesy parking throughout North America and Europe. Most of all, the Club offers access to a passionate community of Airstreamers who share a love for the freedom of the road.
Mona knows that everyone has their unique style when it comes to life and camping. And, for her, that style is constantly changing. In 2018 – after ten years of attending rallies and traveling all over the United States in different Airstreams – she decided it was time to sell everything and go full-time. In the summer of 2018, she fell in love with a 27FB Globetrotter named Globby, and it became her new home.
Having traveled extensively in a 19-foot Bambi, Mona's beloved dog Izzy was happy to have a little more room for fetch in their full-time rig. It didn't take long for Mona to realize that life on the road didn't have to be a desolate journey alone. Her new life re-energized her, and she found herself connecting with more people than ever before – on the road, at events, and on social media.
Over the years, she has enjoyed attending a variety of Airstream rallies all over the United States. She keeps her schedule full of events and destinations. She's now an expert at finding that perfect spot to call home – even if it's just for one night – even if that perfect spot is less than picture-perfect. Although she prefers the luxuries of full-hookup campgrounds, she has overnighted in a variety of parking lots, truck stops, rest stops, Cracker Barrels, and just recently her first Walmart.
"Having made the mistake of over-planning my first long-distance travels, the ability to let your body or the elements influence when and where you stop is much more preferable than driving too far and too late just to land at the next planned stop," she advises.
For many solo women, a big question is where to camp. There are so many options for campgrounds, boondocking, and overnighting in parking lots.
"Finding campsites is a blend of necessity and exploring bucket-list locations," she says, "although that list continues to grow when friends post their pictures of favorite campgrounds on social media."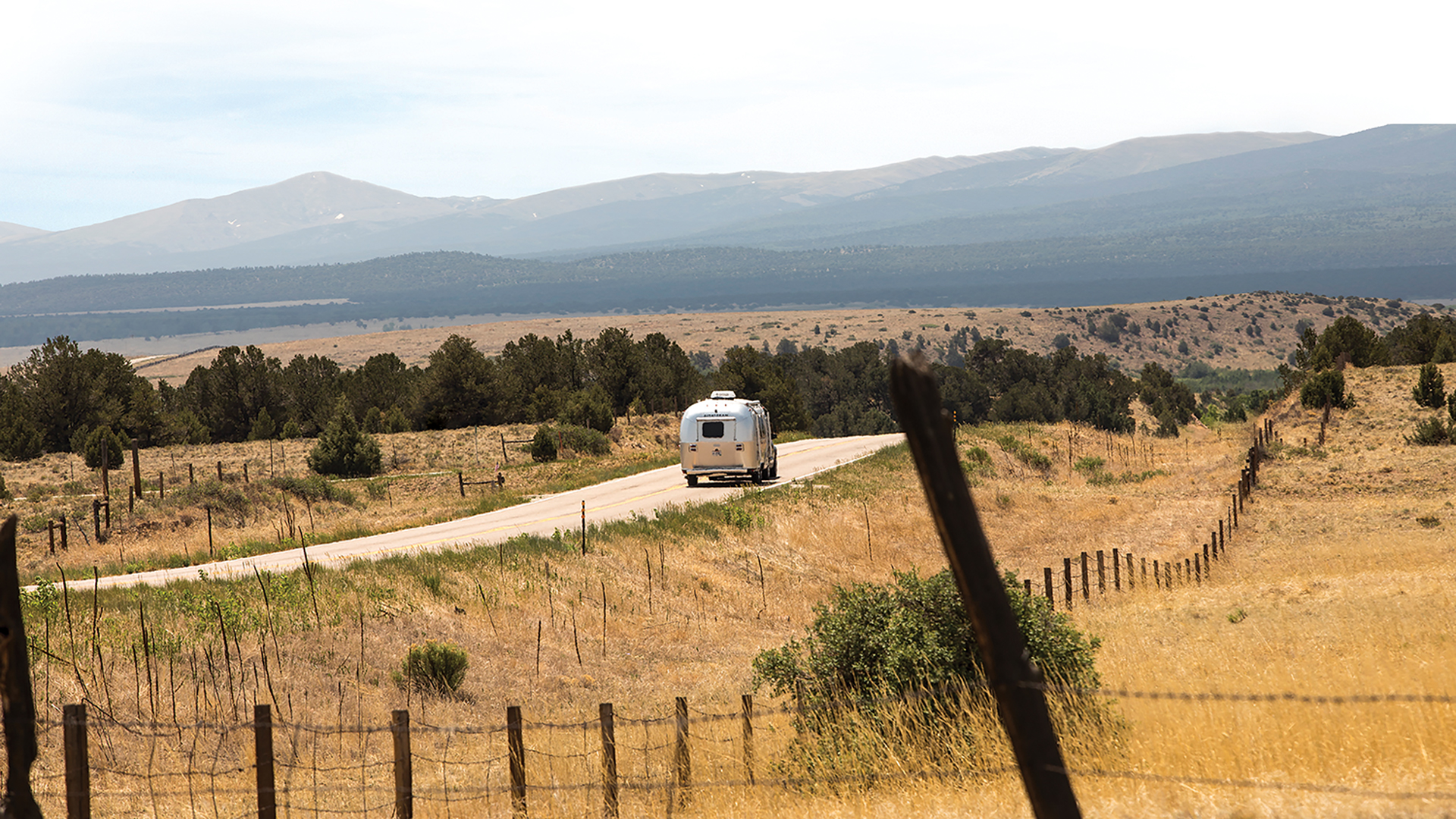 There are many helpful apps for travelers these days. Mona loves the WAZE app for navigation.
"I can't even count the number of times I've been able to avoid road debris," she says. And she recently purchased a membership to Togo RV and is looking forward to exploring all the resources it provides. She also loves her Harvest Hosts membership – a membership that provides unique RV camping at places like wineries, farms, museums, and more.
Now Mona is embarking on another new path. After traveling many miles as a blended Airstream family (two Airstreams and three trucks) with her partner Tim and dog Izzy, she recently sold Globby and she and Tim invested in a 2021 30-foot Classic they named LoveShack ("In Classic White of course!" she laughs). She's looking forward to this next chapter – exploring local sights, food, and history – together with Tim.
"As someone who values my independence, it's been an incredible experience to work together to share all aspects of this lifestyle," she says.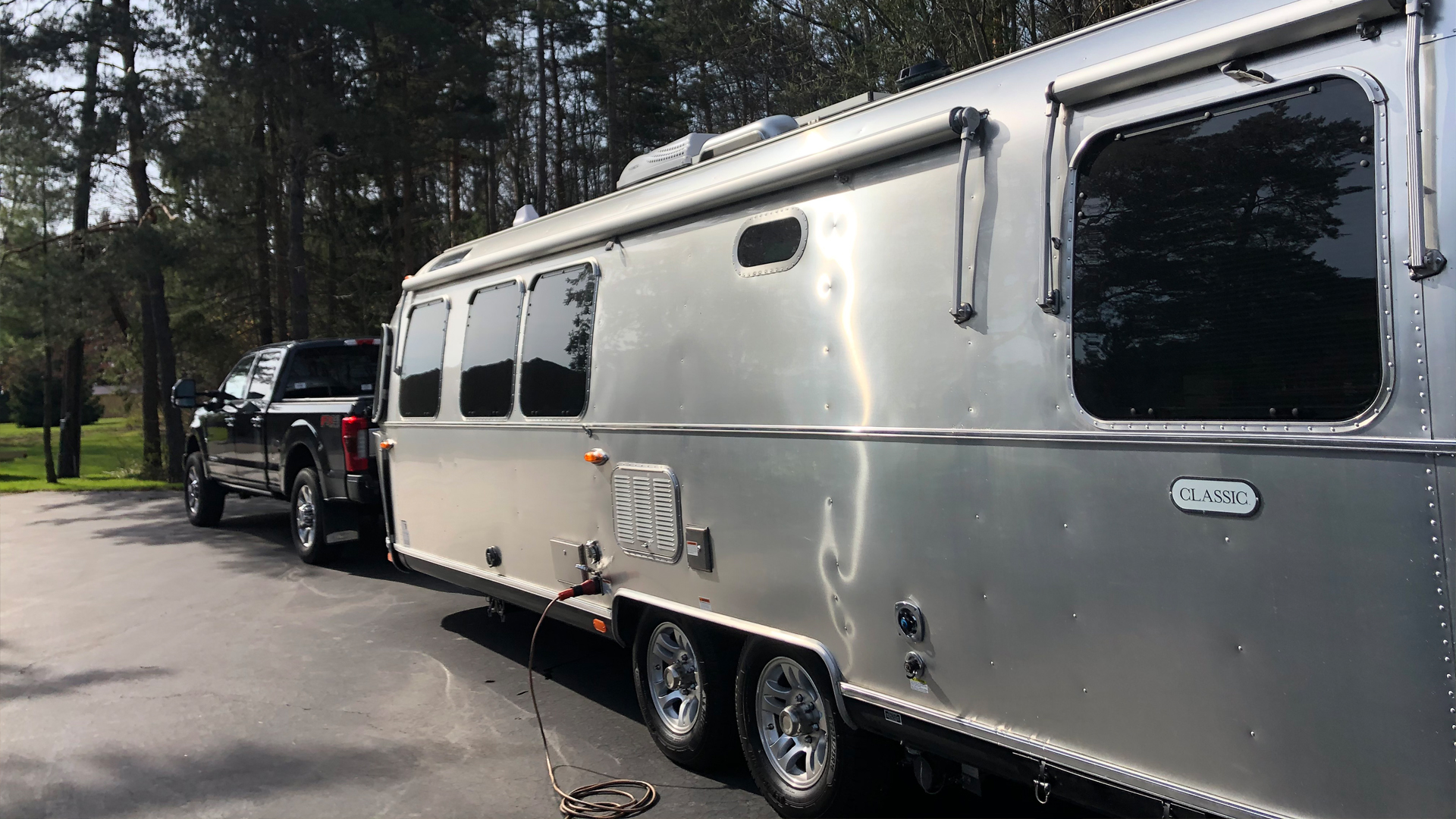 Both she and Tim especially enjoy getting to trade-off sitting in the passenger seat for a change. Whether traveling solo or with a partner, Airstreaming provides a unique lifestyle that Mona is thankful for every day.
"Even now, as I sit in my Airstream, the steady rain remains one of the most peaceful sounds," she admits. "My partner Tim, pup Izzy, and I are dry, warm, and so incredibly thankful that we were able to retire at an early age and take full advantage of this lifestyle."
As you prepare to set out on your own journey, learn from the pros – but don't be afraid to find your own rhythm. Not everyone's bucket list will be the same. And not everyone's preferred style of camping is the same. If you are new to RVing, campgrounds provide a lot of nice amenities. But don't let boondocking and dry camping intimidate you too long. Take it from an experienced Airstreaming woman like Mona Heath: Some of the most beautiful places in the world are off the beaten path.
Happy exploring.
Want more stories of incredible women who Airstream?