During the year after Wallace Merle Byam graduated from high school in Portland, Oregon, his mother and stepfather died within several months of each other. As he would do many times in his life when he needed to organize his busy mind, Wally got out a pen and paper and began to write. It was 1916, and the affirmations Wally committed to paper that day would end up guiding him until his death in 1962.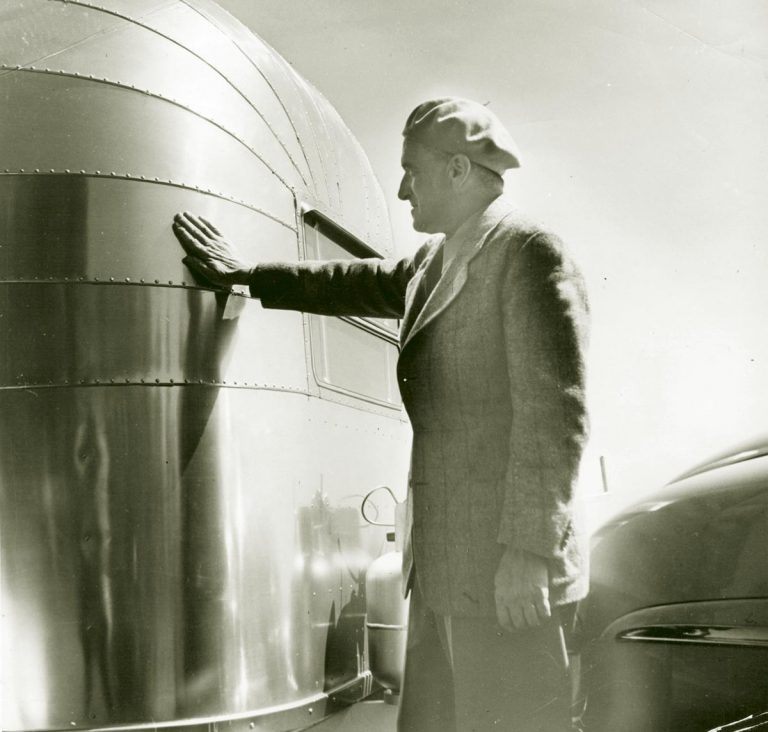 Get enjoyment out of little things, he wrote.
Fifteen years later, Wally Byam founded Airstream in a small, Los Angeles warehouse. His simple prescription for happiness steered him as he designed and refined what would become the world's most recognizable travel trailer. Like other design and engineering pioneers of the day – innovators like Henry Ford and Frank Lloyd Wright – Wally Byam was eccentric, demanding, and ambitious. He led caravans through the jungles of Central America and past the castles of Europe. He loaded Airstreams onto barges and sailed up the Nile to camp at the foot of the Egyptian pyramids. He pioneered the use of refrigerators, toilets, screen doors, and showers in travel trailers. He was an ardent Chemex user in the 1950s, singing the praises of the pour-over coffee that would become popular in hipster coffee shops a half a century later.
Wally was never content riding the wave. He was the wave.
Make history, he wrote in 1916, looking inside himself in an effort to uncover the strength of his true character.
Upon graduating from Stanford in 1921, Wally saw his opportunity down the coast in the gleaming jazz-age mecca of Los Angeles. Among the Art Deco buildings and palm tree-lined boulevards, he made a career for himself in marketing and publishing, eventually owning seven magazines. When his business dried up after the stock market crashed, Wally decided the way forward involved marrying his marketing skills with his love of the outdoors.
His first wife, Marion, hated camping. She hated tents and sleeping on the ground. In an effort to appease her, Wally built his own camping trailer – basically a tent mounted to a Model T chassis that he pulled behind his truck. The marriage didn't last, but Wally's commitment to a new vision for the American leisure lifestyle did.
He set up shop in Los Angeles in 1931 and called the business Airstream. He sold custom-built travel trailers, as well as plans and kits that people could build at home. The three-pronged marketing approach worked, and Airstream took flight even as the Great Depression set in. While other industries floundered, travel trailers appealed to itinerant workers who saw them as a way to stay mobile and chase work around the country.
His first production design was very different than today's familiar "silver bullet" Airstream. The Airstream Torpedo Car Cruiser was a teardrop design made of plywood. It featured an industry-first innovation that lowered the floor and allowed for more headroom. That, in turn, freed up space for a table with a washbasin, a stove, and an icebox.
The Torpedo was years ahead of the competition, and proved an unequivocal success. Wally's other early designs used variations on the teardrop, sometimes covering the exterior with leatherette or riveted metal – foreshadowing what would become Airstream's iconic design.
By the mid-1930s, hundreds of competitors crowded the travel trailer market.  One of the more innovative companies was the Bowlus Teller Company, which built a streamlined aluminum travel trailer called the Bowlus Road Chief. In the Road Chief, Wally saw an opportunity to build a better mousetrap. He set about designing his own aluminum travel trailer, drawing inspiration from airliners and solving what he considered to be the Road Chief's main design flaws. Wally called his new travel trailer the Airstream Clipper, acknowledging its debt to aircraft like the Pan Am Clipper. It was 1936, and the iconic Airstream "silver bullet" design was born.
World War II forced Airstream to shut its doors, and Wally went to work for the Lockheed aircraft company. Airstream reopened in 1947 and Wally brought dozens of innovations to the design table, gleaned during his years building airplanes. Production soared in the 1950s as Wally designed an increasingly broad range of Airstream travel trailers to suit various needs.
One thing didn't change, though: the classic Airstream style. You can count on one hand the number of significant revisions to Airstream's travel trailer design over almost nine decades. The bodies grew wider, the chassis went from having a central pipe to a ladder frame, and new technology and innovation reduced the number of pie-shaped aluminum wedges forming the end caps. But in keeping with Wally's philosophy to "not make changes, only improvements," modern Airstreams aren't so different from their vintage cousins. Today, it's estimated that some 70 percent of all Airstream travel trailers are still on the road.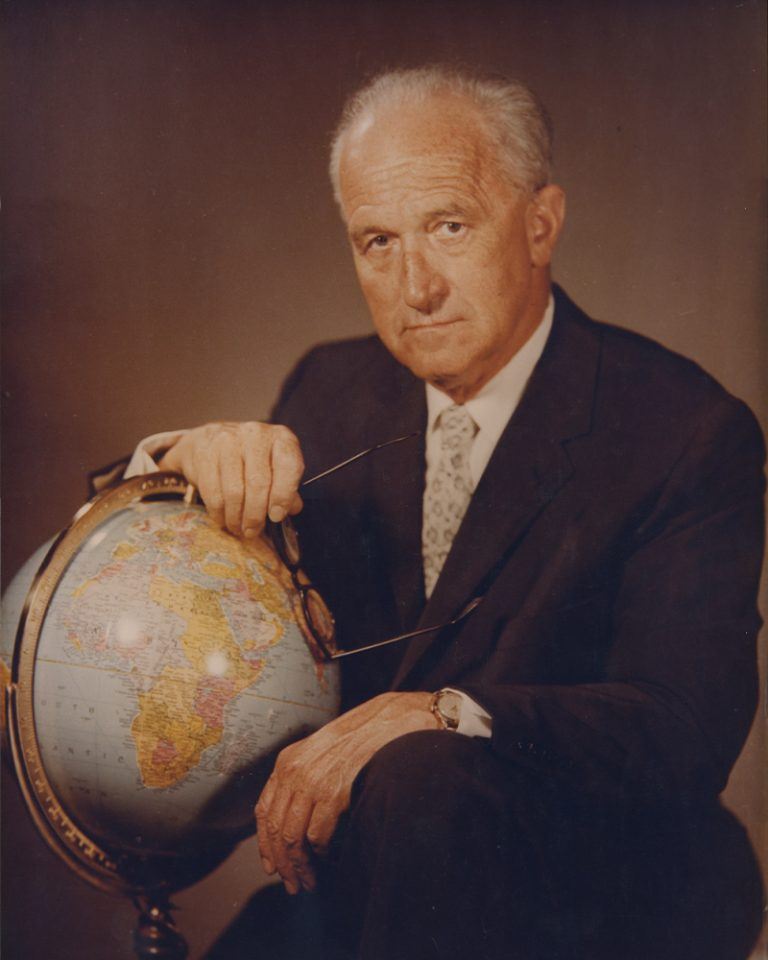 Make history, Wally Byam wrote in 1916 before going on to design the world's most recognizable travel trailer. The company he founded is stronger than ever, not content to simply ride the wave he set in motion. Today, Airstream embraces the same dedication to innovation and design-forward thinking Wally envisioned when he first hung that Airstream sign above the door to a Los Angeles warehouse in 1931.