If you haven't had to deal with frozen pipes or bursting lines in your home, count yourself lucky. If you have, you know how disruptive and intensive those repairs can be. The same can happen in any Class B Sprinter van RV: if temperatures drop below freezing, any water in the tank or pipes could also freeze and potentially burst or damage the water system. That's why it's important to flush and winterize your water system while temperatures are still moderate. We'll show you how to do this on an Airstream Interstate Touring Coach.
What you'll need:
Your owner's manual
An air compressor (your own or an air station)
A flashlight to help you work
An appropriate and safe place to drain water onto the ground
Choose your strategy: water pump or drain
There are two ways to empty your fresh water tank (consult your owner's manual before you choose):
Use your water pump to draw all of the fresh water through your faucets and showerheads and into your grey water tank, then empty that. If you have trouble getting underneath your coach, this option won't require that.
Remove the plug under your fresh water tank and let it drain directly onto the ground. If speed is your priority, this option might suit you best.
If you're choosing option 2, simply locate the fresh water tank under the vehicle. On Airstream Interstate Touring Coaches, the tank is under the driver's side and you'll see a black vinyl plug in the center of the bottom of the tank, Simply remove the plug to drain the water. Before you replace the plug, you might want to blow any excess air out of the lines and the tank. If so, see Step 4 below.
If you're using your water pump, follow these steps:
Step 1: Stop the flow of water to the water heater
Before you begin flushing your tanks and your water heater, locate your water heater bypass valve. It's under the sofa seat on the driver's side, behind the fabric cover. You should be able to spot it by its yellow color. Turn the valve to the "on" position by rotating it so that it is parallel to the water line it's part of. This stops fresh water from flowing through your water heater, as well as any antifreeze you might add to your pipes and tanks for the winter.
Step 2: Turn on all faucets and showers
Your next task is to open all of your faucets, including the bathroom showerhead that doubles as the faucet. Hook up the hosing to your exterior shower and turn it to the "on" position as well. You should also locate your low point drain lines, which are usually located under the microwave once you pull out the drawer. Consult your Airstream Interstate owner's manual for the exact location. Turn both valves (one for hot and one for cold) to open position.
Step 3: Turn your water pump on and let the water flow
Your water pump will draw the water from your fresh water tank through your faucets and showers, dispensing it into your grey water tank.
Step 4: Blow any excess water out of the lines
Locate the city water regulator port on the driver's side exterior of the Interstate at about waist height. Hook your air nozzle into this fitting and use a minimum of 60 psi. Once you see that only air is coming out of the faucets and showers, you can turn off the air compressor.
Step 5: Shut off faucets and flush the toilet
Turn every faucet and showerhead back to the "off" position, return your low point drains to their regular position, and press the pedal on the toilet to flush any remaining water into the black water tank.
Step 6: Empty your grey and black water tanks
Any water from your faucets, showers, and toilet will now be in your grey and black water tanks, which you can empty as normal.
Watch the video
If you're more of a visual learner, watch this video and see these steps in context.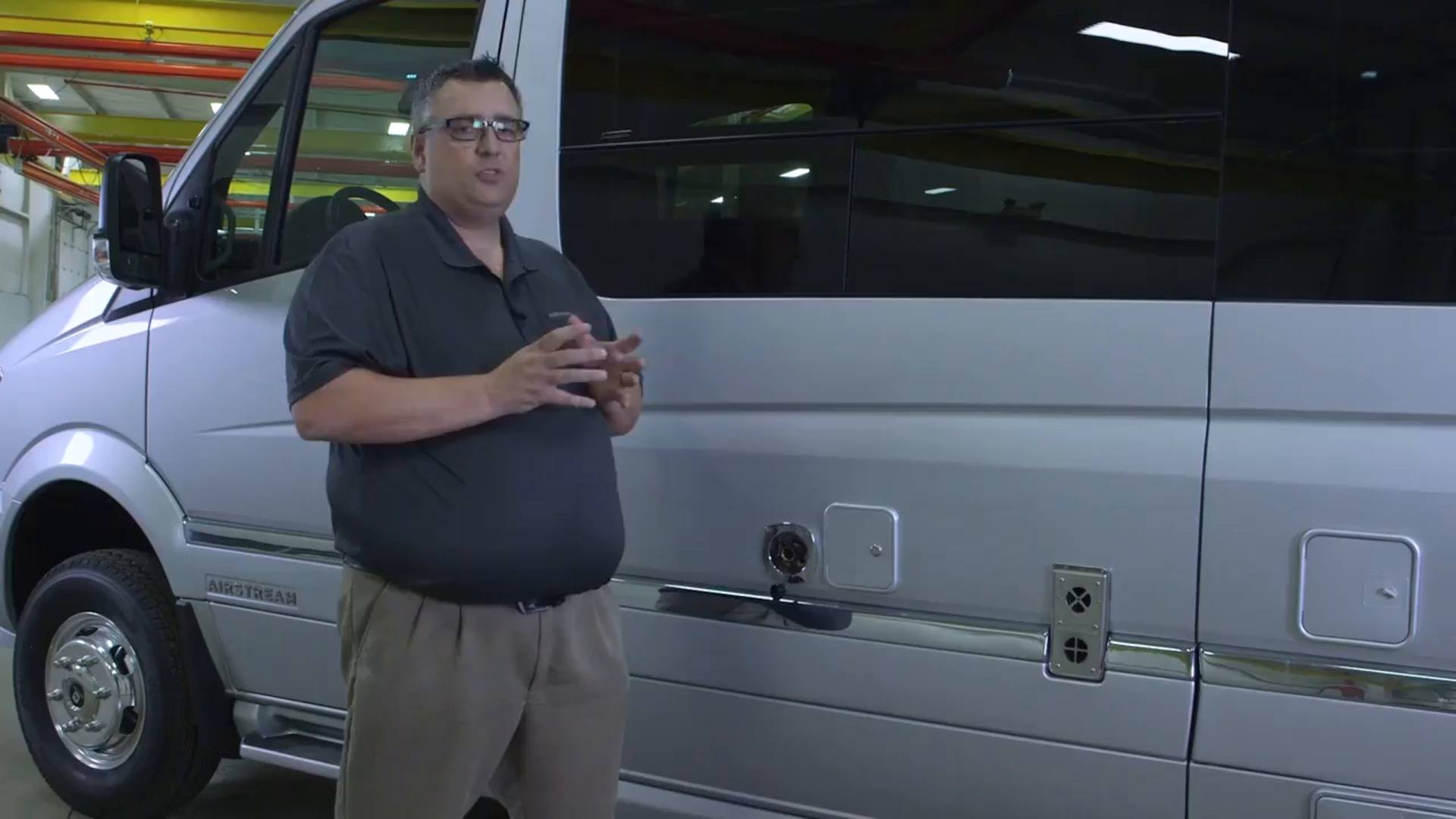 Don't let the winterizing stop here
Draining the water from your lines and tanks is only one of the recommended steps to prepare your RV for winter temperatures or long-term storage. For more tips, including how to remove the battery and level your RV, check out this post.
Find your owner's manual
Things get lost, we understand. That's why we keep a repository of Airstream owner's manuals online, in one searchable place. Find yours and get winterizing.