Molly Moore, her husband, Joe, and their four young kids have been traveling in their 2019 30' Airstream (nicknamed "The Chrysalis," or often just "Chrissy") since July 2020, attempting to let go, spend time in wild places, and instill a strong foundation of Leaving No Trace, while picking up the trail of their Legos left at campsites across the entire country. She tells her family's story at The Moore Air and on Instagram (@the_moore_air), recounting their adventures and discoveries from remote parks to big cities, all while growing up and slowing down in tight quarters…together.
We were off. For three months we had considered the possibility, started taking baby steps in the direction, and from time to time would make some bigger leaps, yet somehow we were never fully convinced it was going to happen until the day we drove away. We sold our things, stored what remained, said goodbye to friends, bought what we believed to be critical supplies (water filter, single ply toilet paper, internet booster, a durable French press), and booked some campgrounds, all during a painful and messy time during the Summer of 2020. Our departure date came, and much to our surprise, we actually departed. Despite the ambitious tasks and decisions it had taken to make it happen, we still couldn't believe it was happening. After all, it was 2020: Nothing felt terribly reliable or certain.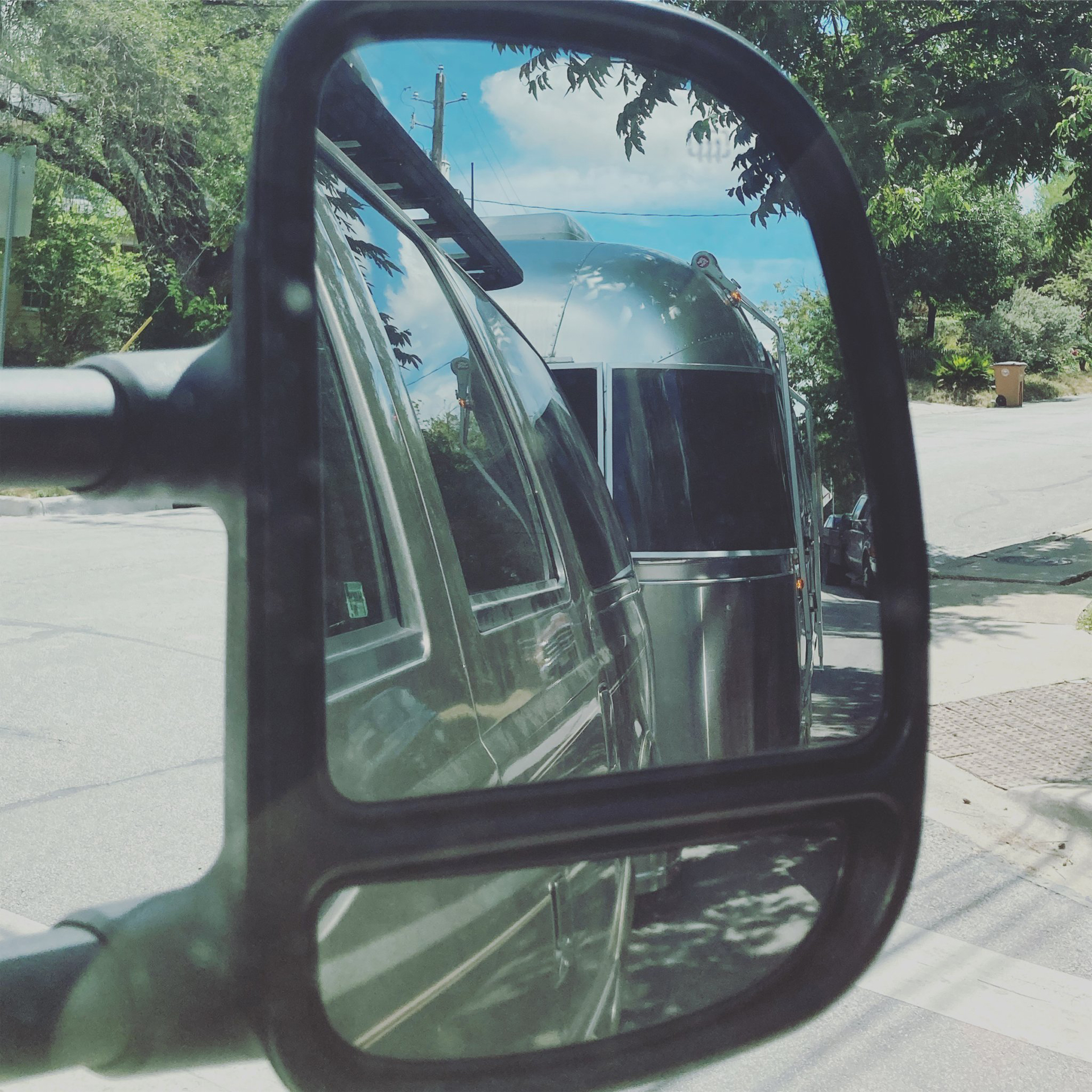 Three Days in and Things Were Already Feeling Revolutionary
We headed out of Texas, out of the intense summer heat by way of two state parks; three quick nights in order to rush to some weather that might offer some solace, some change, some reprieve. We learned so much in those first few days. We found our rhythm of setting up and breaking down camp; we started to immediately see what "critical necessities" were actually going to be superfluous and in the way; we learned how much time to add on to google map's estimated time of arrival; we began to understand our power consumption and our solar panel's ability to provide; we learned our max highway speed (65 mph); we learned that all four children actually wanted to sleep in one bed. But more than anything, we started to unwind. Whatever intensity came with driving, setting up, breaking down camp, there were always moments throughout the day to sit in the shade and watch the kids roam, explore, and make up new games with sticks. Three days in and things were already feeling revolutionary.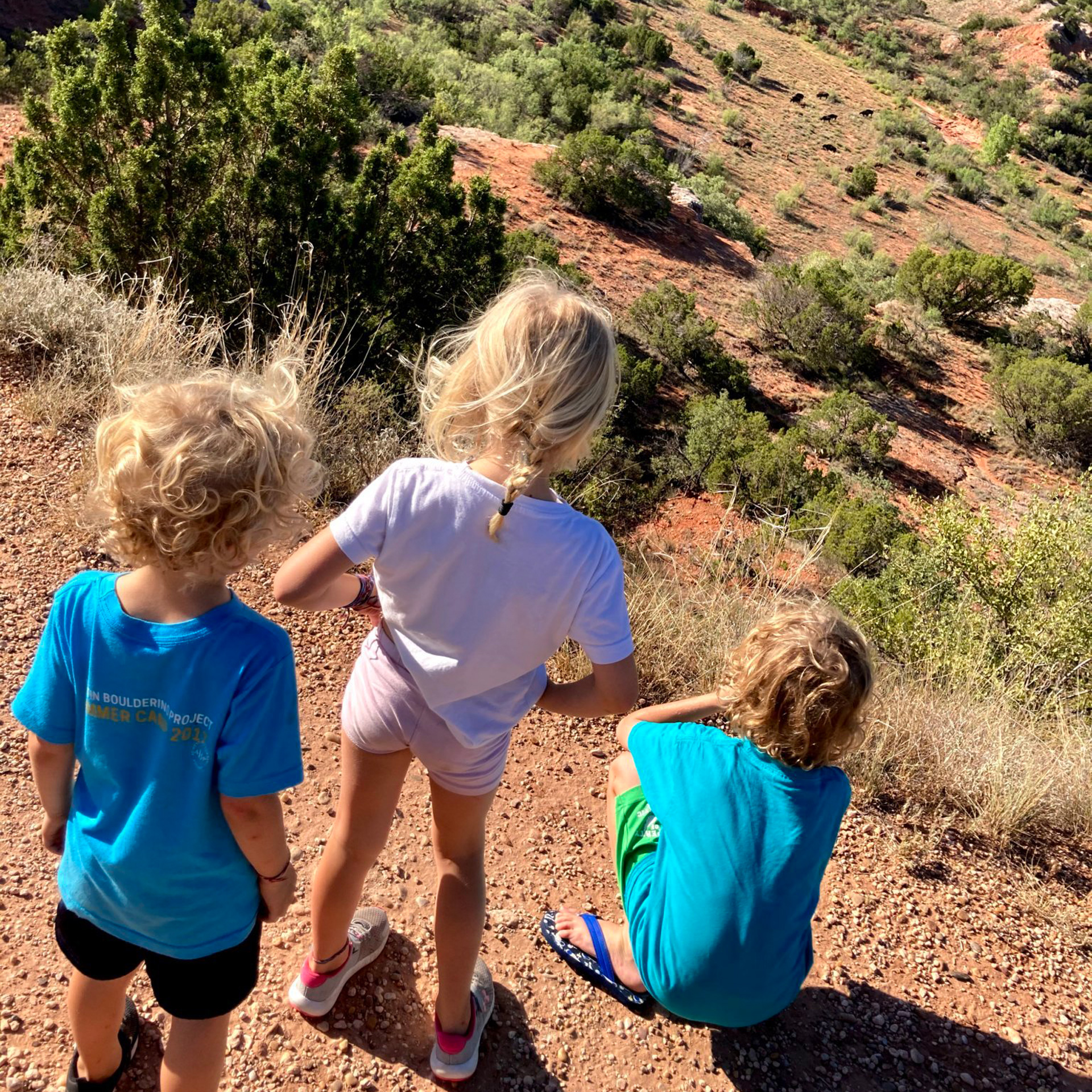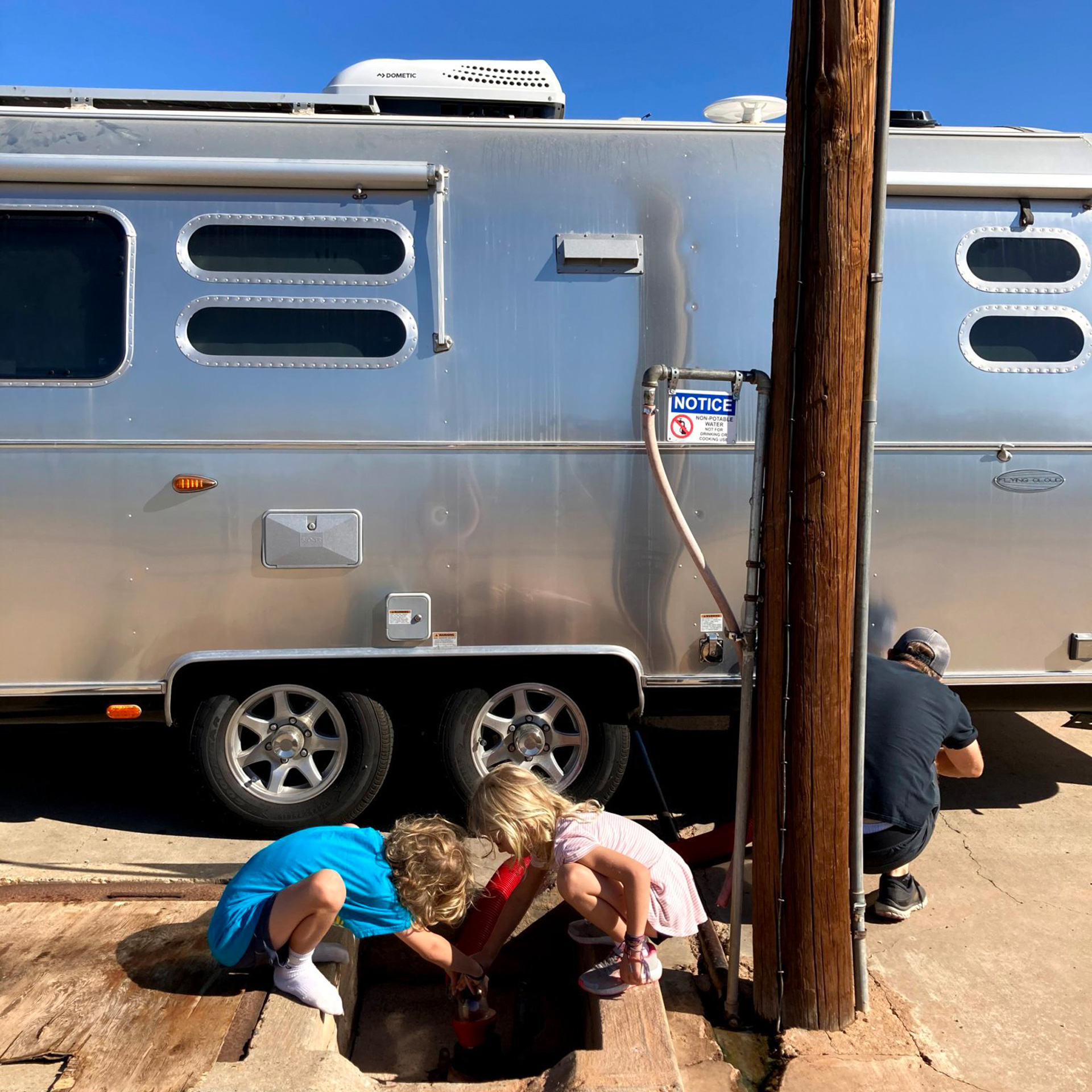 Our next stop was the Black Canyon Campground in the Santa Fe National Forest. We were cruising along Highway 40, getting close to our exit that would shoot us up to the Santa Fe area, when suddenly a storm came upon us. That storm brought hail. Then that storm brought lightning that struck something just ahead of us on the side of the road that burst into flames. This may have been our first brush with intense weather, but it was certainly not our last. Within the next six weeks alone, we would escape a forest fire, park strategically to avoid being blown over in a windstorm, and drive through an unseasonable snowstorm. But for now, we had hail and lightning to dodge.
We arrived at the campground, checking for hail damage, relieved the storm had stopped and confident the worst of the day was behind us. Yet as we were making the one-way, uphill loop of the campground to survey the first come-first served campsites, our tow vehicle decided it had had enough. A loud pop, a splash, as if someone's water was breaking. We were stuck in the middle of the one-way road, with the tail of the trailer just touching the entrance to our campsite. And we couldn't budge. Panic set in, without a clue what to do next. Yet in the coming hour, when I didn't know what problems to solve for, I would soon understand that others around me knew what to do and how to help. And help they would.
Help is On the Way, Always
First, a neighbor would hook up their truck and situate the trailer at our campsite, all before we could cause any traffic jams. Second, another neighbor would offer to drive Joe to a cell signal (there was no signal in the campground) to call for a tow. That same neighbor would drive Joe for a trip to town for a rental car. Third, another neighbor would bring us their extra water as they were leaving and no longer needed it. The water was turned off in the campground and our tanks were empty. That same neighbor would teach us how to put that water in our empty tanks, another task we had yet to tackle since, after all, we were on day four of our journey. Fourth, fifth, and sixth, every other neighbor offered us advice on places to go in Moab, in Colorado. They let us pet their dogs. They learned our kids' names. They shared more water. Provision abounded.
Our three nights in Santa Fe turned into a week. It took a few days for our stress to subside. Would the trip continue? Had we reached our destination? Did we really know what we were doing? Was this smart? Was this safe?
Having the Time of Their Lives
Meanwhile, the kids had discovered the vast wilderness that abutted our campsite. They found trees to climb, woods to explore, games to play with each other that consumed hours of their time. They had freedom and autonomy. They had not perceived our stress. They told us "we are having the time of our lives." And slowly, our stress subsided as well. We learned how to put the kids down for the night and sit by the fire pit, under the stars, tall pines swaying, cuddled in a blanket. And just be together. Back at home, our covid-era, full-time working selves would have otherwise been tackling work, a host of to-dos, or if nothing else, watching TV. Now we were simply being. Provision abounded.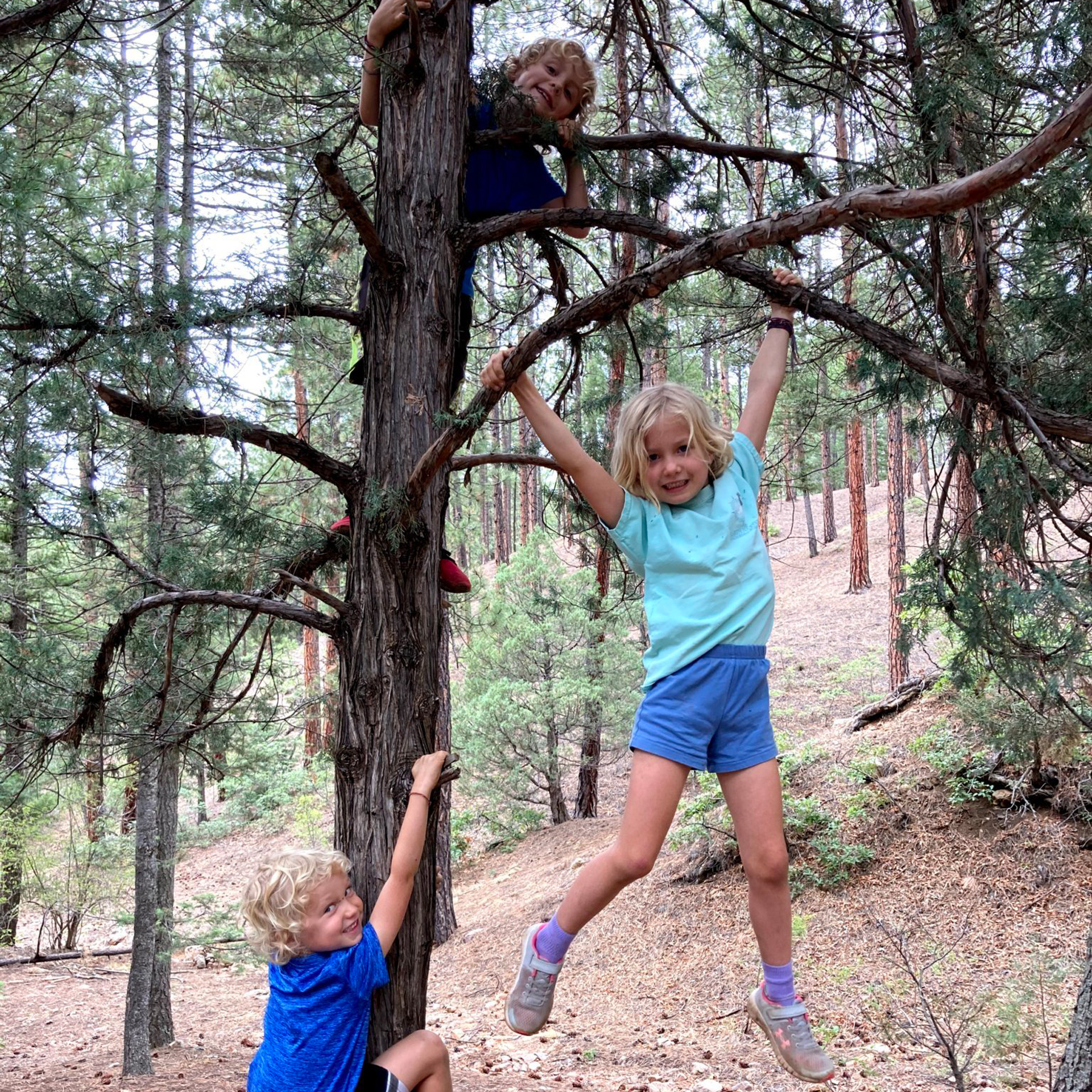 Beyond the campground we found neighbors, stumbling into some preschool classmates from home (which was now over 700 miles away) on the side of a river where we had pulled over on a whim to go fishing. The run-in turned into a day trip to the Valles Caldera National Preserve which turned into another night's pizza night. We were finding friends; we were finding community. Provision abounded.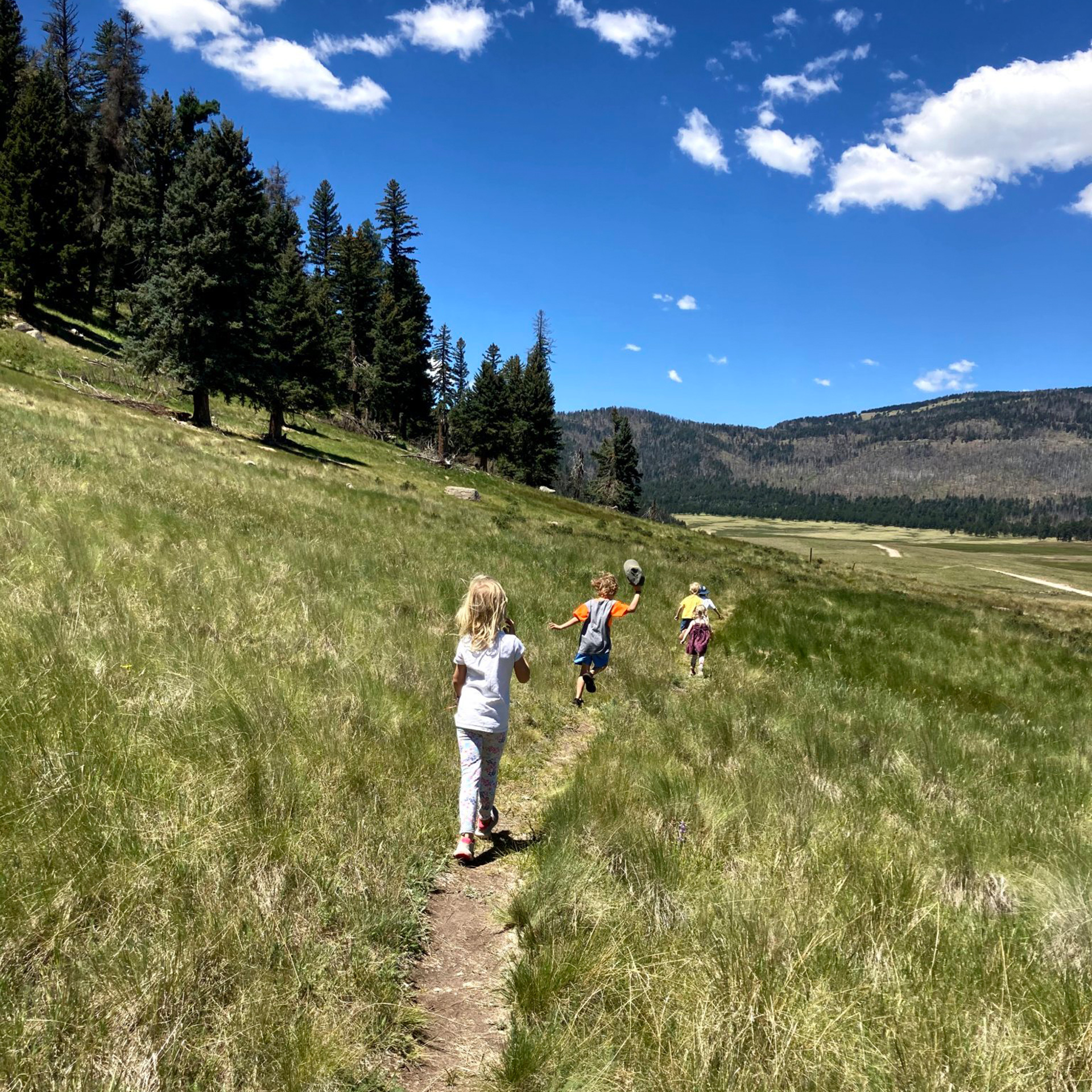 A Snapshot of a New Lifestyle
All in all, the week was intense. We had fears. We doubted our abilities. We lacked clarity on how to move forward. We worried about finances. We wondered about the kids. Would we all be okay? Yet, in hindsight, that week also gave us a snapshot of a new lifestyle; one that we would come to love. We would regularly rely on others. We would do our best to provide for others as we could. We would make friends along the way. We would reconnect with old friends and come to know them in more intimate ways. We would learn how to be flexible, how to bend with unexpected challenges. We would find the most satisfaction in places with the fewest amenities like cell signals, showers, and playgrounds. We would play, explore, and get dirty. And at the end of the day, we would rest under the stars.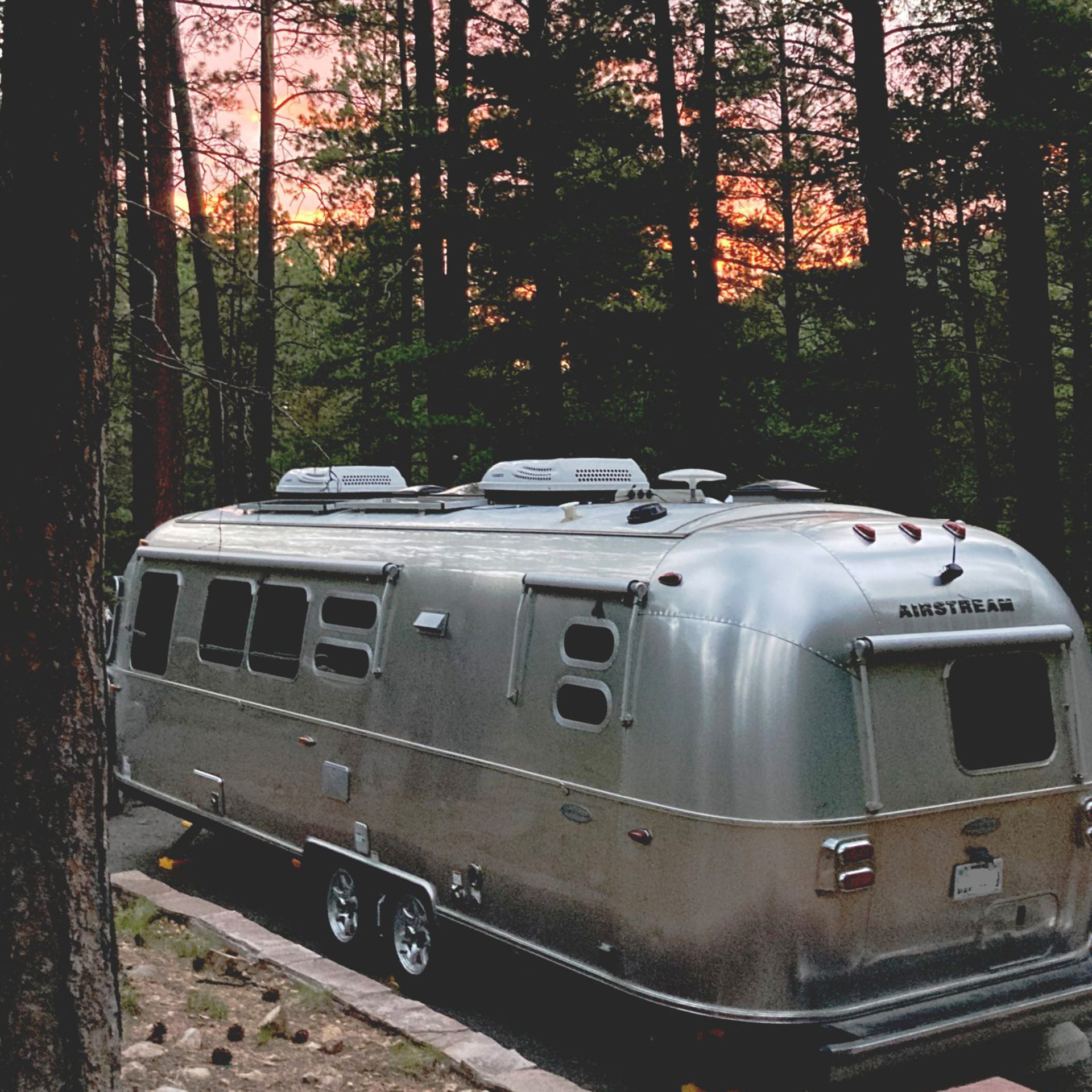 We would leave Santa Fe and spend the following week making our way through Durango, Moab, Salt Lake City, and Boise, all the while experiencing similar themes from that time in Santa Fe: extreme challenges, breath-taking nature, old friends and new, reliance on kind and abundant offerings from strangers, learning flexibility and presence. Learning the logistics of the road and the maintenance of our Airstream fell to the background as the more important, more critical education of the journey consumed our attention.