Let's Get You Set Up with the Right Travel Trailer Generator.
The last thing you want is to spend money on a generator for your RV and then find out it's not powerful enough. But you also don't need to overspend on the most powerful option you can find. This is our guide to helping you find the best RV generator for you.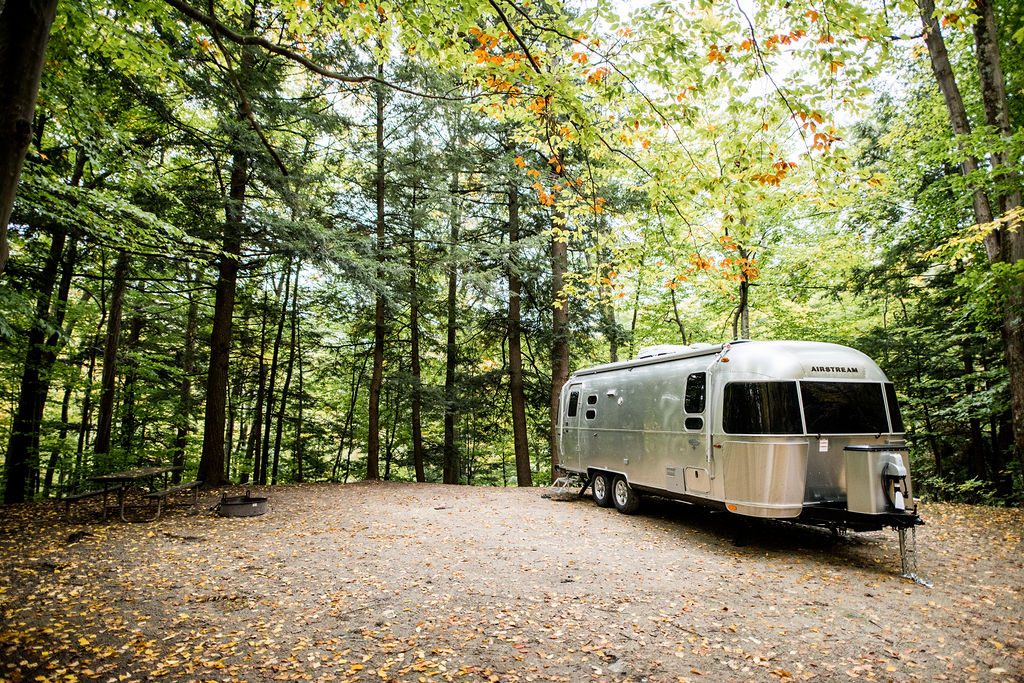 Why Do You Need a Generator for Your Travel Trailer?
Most RVs (and all Airstream travel trailers) come equipped with a battery that gives you a limited amount of power for lights and small appliances for a limited amount of time. In order to enjoy all the electricity-powered features in your RV to the fullest extent, you'll need to either connect to electricity at a campground, or bring your own generator.
Having your own generator gives you so much flexibility in terms of where you can go, how long you can stay, and how comfortable you can be while you're there. So if you're planning on dry camping or boondocking off the grid, we highly recommend bringing a generator along with you.
What is boondocking?
Boondocking is just a fun word for camping without power or water/sewer hookups. You can boondock in your backyard or way out in the open desert. Many Airstreamers love boondocking for how absolutely connected to nature you are, and call it the best of both worlds to have the shelter of an RV but the nature-focused experience of tent camping.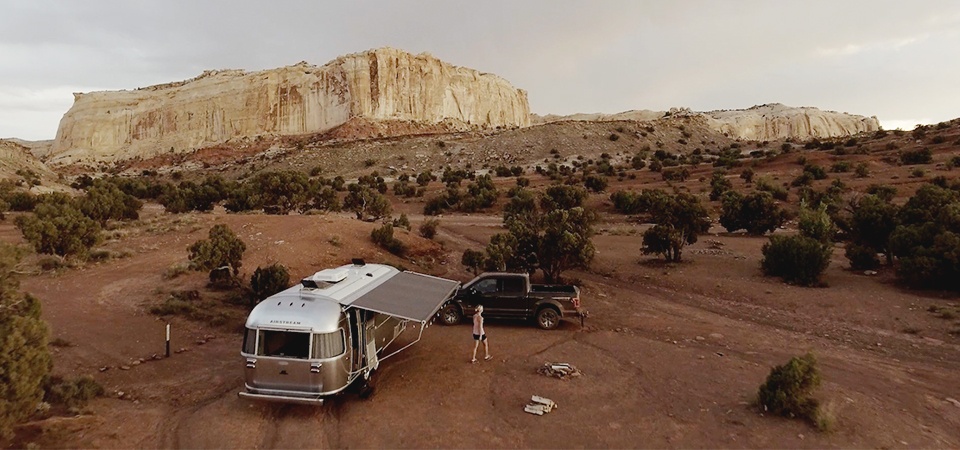 What Will Your Generator Power? And What Won't It?
First, let's talk about what it won't power. If you have a gas-powered water heater and/or furnace in your travel trailer, those will be covered by your onboard propane tanks. Make sure those are full, and you're set.
A propane-powered/gas-powered camping trailer generator on the other hand converts fuel into electricity for any devices inside your RV that use a power outlet, plus some appliances:
Air conditioner (draws the most power in your RV)
Refrigerator and freezer
Microwave
TV(s)
Radio/CD/DVD player
Lights
Computer/devices
Kitchen appliances (toaster, coffee maker, etc.)
Hair dryer/curling iron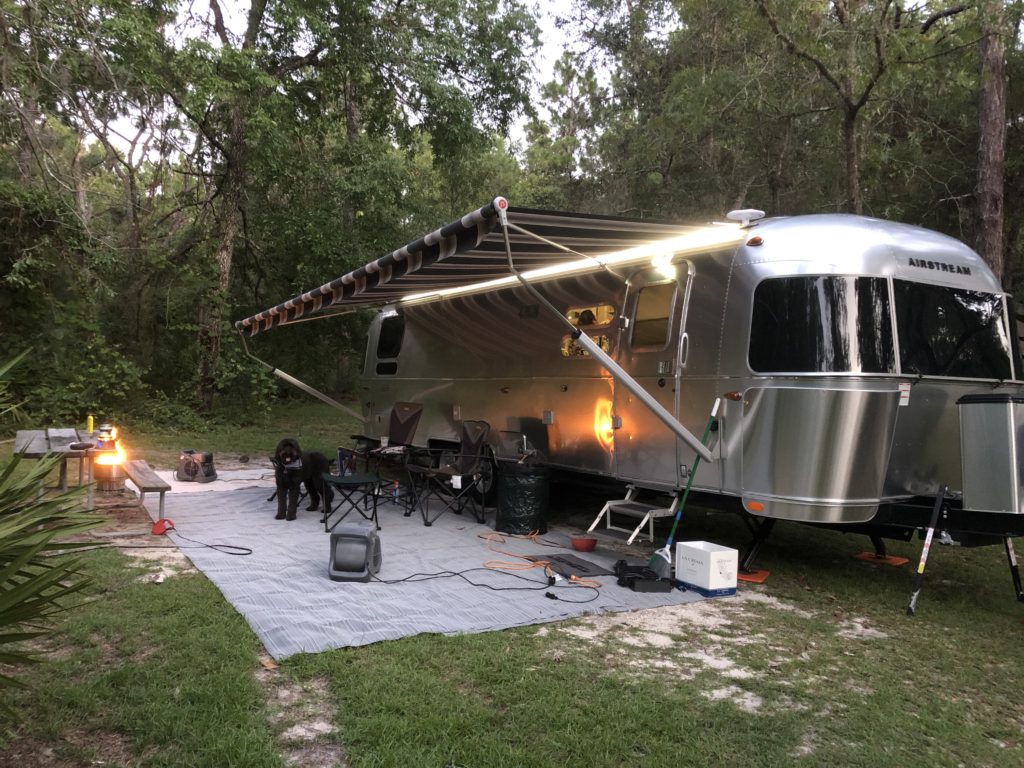 How Much Power Output Do You Need?
This is probably your biggest question when it comes to generators, and we don't blame you. It's not every day you calculate the Wattage of all of the electronics you use, so we're here to help.
It's smart to start with your air conditioner, as it's likely going to draw the most power for the longest period of time within your travel trailer. Plus, your air conditioner will naturally draw more power when it's first turned on. This is what's called "Starting Watts." The power you need to keep your air conditioner running after it's started successfully is called "Running Watts." Most generators specify the upper limits of each category.
So, if you're going to be running your AC and some common indoor entertainment devices and appliances, here's an example calculation for an Airstream Travel Trailer:
Used Continually
Air Conditioner 15,000 BTU
1,800 Watts
Refrigerator (If not propane)
325 Watts
Trailer Interior Lights
100 Watts
Used Sporadically
Convection Microwave
1,956 Watts
Radio/CD player/DVD player
200 Watts each
TV
200 Watts
Laptop
140 Watts
Example Total
4,721 Watts
For this level of usage, a 5,000 Watt or higher generator should allow you to start up and run all of your basic conveniences in conjunction with your propane-powered appliances and devices.
Please Note:
The above calculation is for illustrative purposes only and does not serve as a standard across all Airstream Travel Trailers or RVs in general. Consult generator manufacturers for information on the limitations of each specific generator.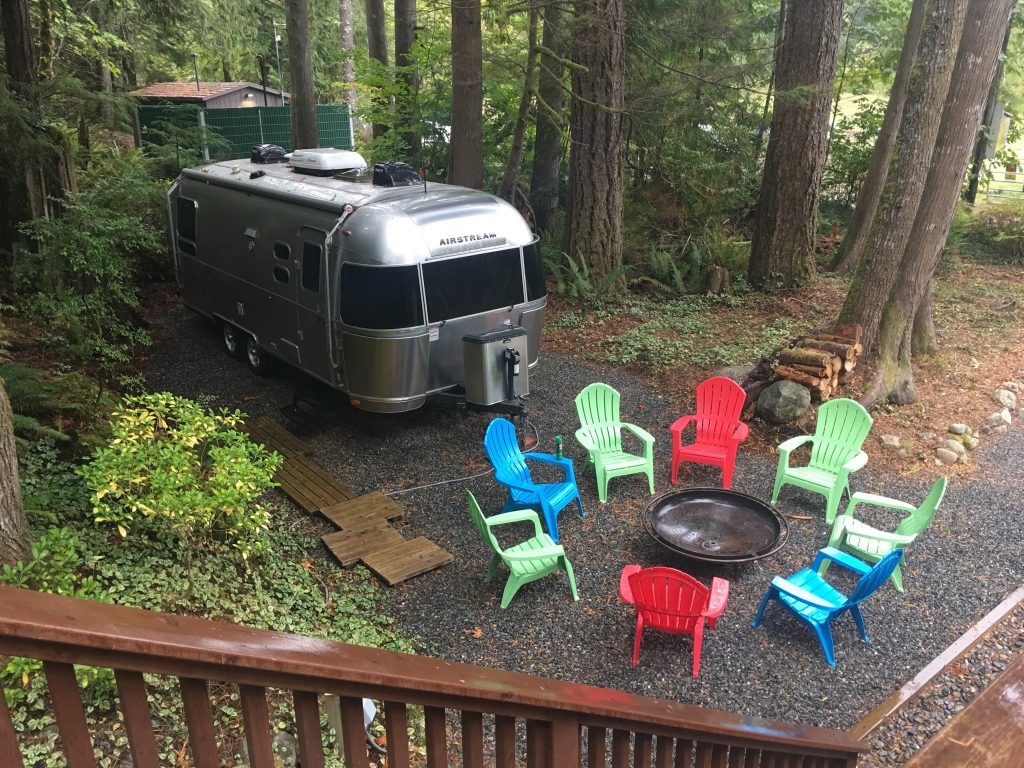 What Happens If You Don't Have the Power You Need?
If you don't have a generator or your generator has run out of fuel, any appliances you're using or devices that are plugged in will drain your travel trailer's battery rapidly. You'll notice the largest appliances (air conditioner, refrigerator) will shut down first, and things like lights will follow.
Some sensitive electronics like TVs and computers can be damaged by a sudden loss or surge of power, so it's important to keep your generator running consistently. You can also keep this in mind when you're shopping for a generator and look for a model that's electronics-safe.
RVing without battery power isn't the end of the world while you're parked, but it's not safe for driving and towing, as your travel trailer's battery powers the driving lights and in some cases, the power hitch that raises and lowers the trailer for hitching and unhitching to your tow vehicle.
What Features Should You Look for in an RV Generator?
1. Safety features
Look for enclosures to protect from the elements, as well as emergency shutoff, power surge, and fuel safety features.
2. Portability
Size of generators basically corresponds to their power output, so the more power you need the larger generator you need. However, the size of generator needed to power the average RV will often fit well within the confines of a truck bed or your RV itself. Look for generators with wheels and handles for easy lifting and transporting.
3. Fuel economy
Compare the fuel consumption and fuel economy of multiple generators and look for the most efficient use of natural resources possible. Often, generators have an eco mode to conserve power when you're not using all of your appliances and devices.
4. Electronics-safe
If you plan to use your generator to power sensitive electronics like TVs and computers, make sure your generator is built to keep them safe.
5. Noise level
Whether you're camping around others or out in the open by yourself, you won't want a noisy generator interrupting your peace and quiet. Look for quiet generators you can use anywhere without being a nuisance.
6. Lightweight
If you're storing your generator inside your travel trailer, you'll need to account for the extra weight and make sure it's within your vehicle's capacity and under the maximum weight limit of your trailer.
7. Easy startup
Some generators feature a pull-start like a lawnmower, while others use a key or even a remote to start. Laying in bed and starting up the generator sounds pretty convenient, doesn't it?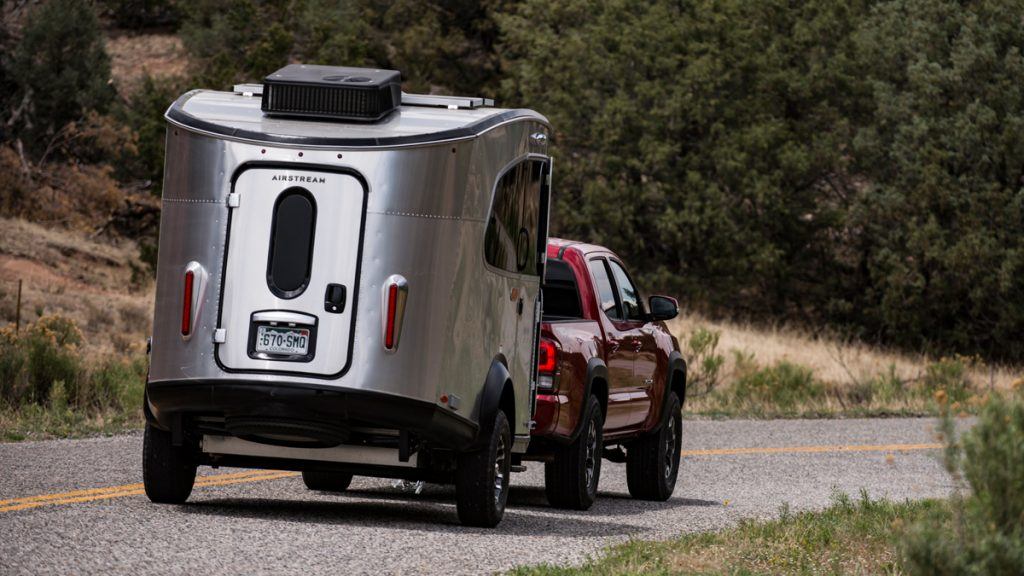 Want Some One-on-One Advice?
Now that you have some 101 knowledge, you probably have some more specific questions. Your Airstream dealer is your best bet for one-on-one advice on which size generator will be best for your travel trailer.
Use our dealer locator to find the Airstream dealer closest to you.