A few weeks ago, we kicked off model year updates with the announcement of the twin bed configuration for the International and Flying Cloud 23FB floor plans. More exciting news about the Airstream travel trailer lineup is being announced with performance enhancements and updates for all models — and yes — even more big news yet to come.
​​Let's not make changes, let's make only improvements.

- Wally Byam
What's New for Travel Trailer Model Year 2023?
Twin Beds Options for the International and Flying Cloud 23FB
The 23FB floor plan is the shortest Airstream that includes dual axles and is also the longest layout that comes in what we refer to as the narrow body style (8ft. exterior width) — making it unique amongst the Silver Bullet lineup. This small and "just right" floor plan is one of our most popular options and includes all of the features that make adventuring in an Airstream something to remember.
Did you catch the exciting model year announcement for the Airstream Touring Coach product lineup? The incredible E1 Package features a powerful Volta battery system that removes liquid propane (LP) from the equation and adds all-electric components powered by a massive 12.1 kilowatt-hour lithium battery pack.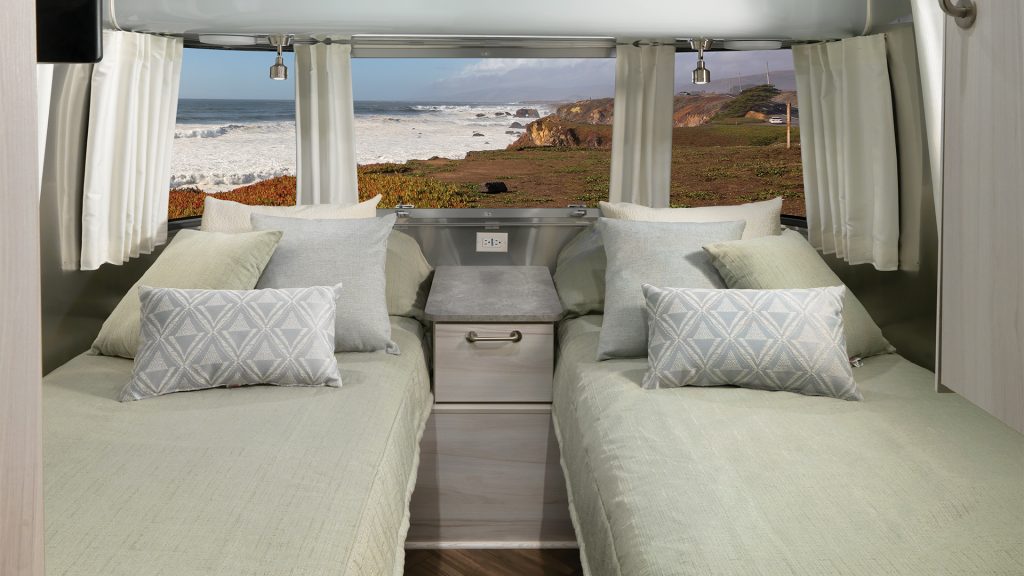 Updates Across the Travel Trailer Lineup
Solar Panels and Batteries
As travelers and nomads rediscovered camping over the course of the pandemic and also explored the beauty of boondocking (camping without traditional RV hookups), the topic of solar power and batteries were consistently at the top of the list when speaking with customers because most of the campsites had been booked out months in advance. Boondocking and using more energy from the sun requires solar panels and batteries to hold that energy — the longer you want to stay, the more you'll likely need of both.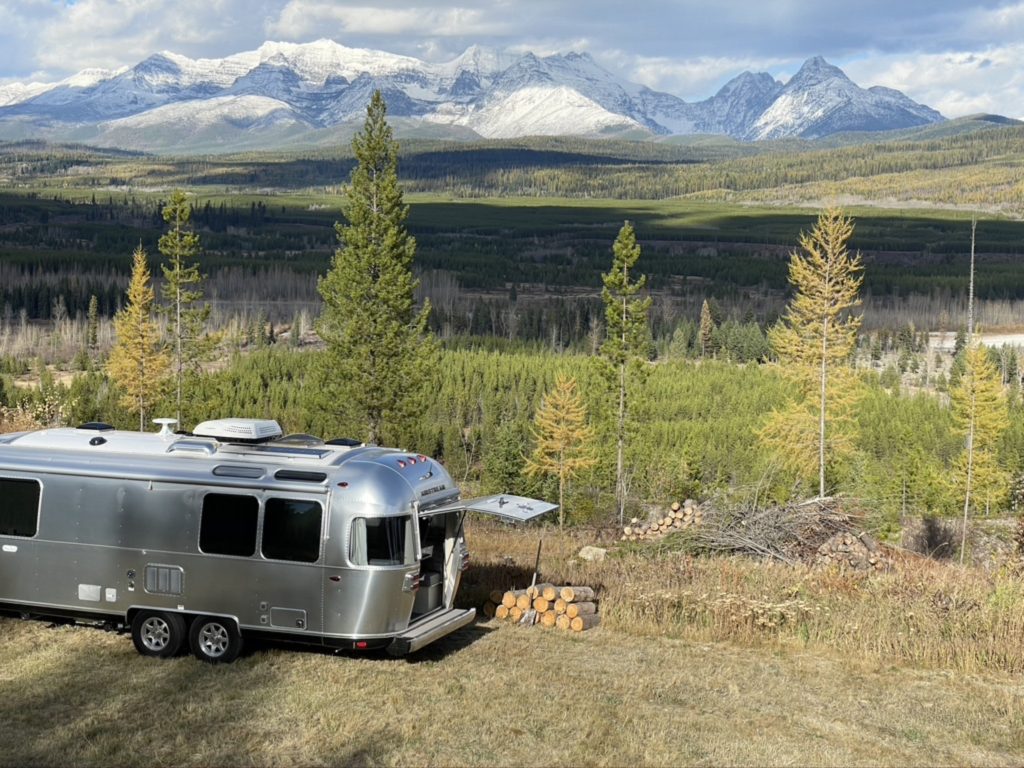 While not yet a full solar roof like you may have seen on the eStream Concept Travel Trailer, we're excited to announce the addition of enhanced solar performance as well as an additional panel with almost all Airstream travel trailers. We have also made the transition to 12-volt TVs across the travel trailer lineup (with the exception of Classic). This type of TV is highly energy efficient while also freeing up an inverted circuit for other purposes when needed.
An Improved Solar Array and an Additional Panel
The model year upgrades in solar power include a shift to high-performance Merlin Solar where each solar array is 100 watts versus 90 watts per panels used in previous years (+10 watts per panel). With higher output and full potential wattage that exceeds the previous generation of solar panels, Merlin rigid panels are an upgrade that truly enhances the travel experience whether boondocking or traveling between campsites.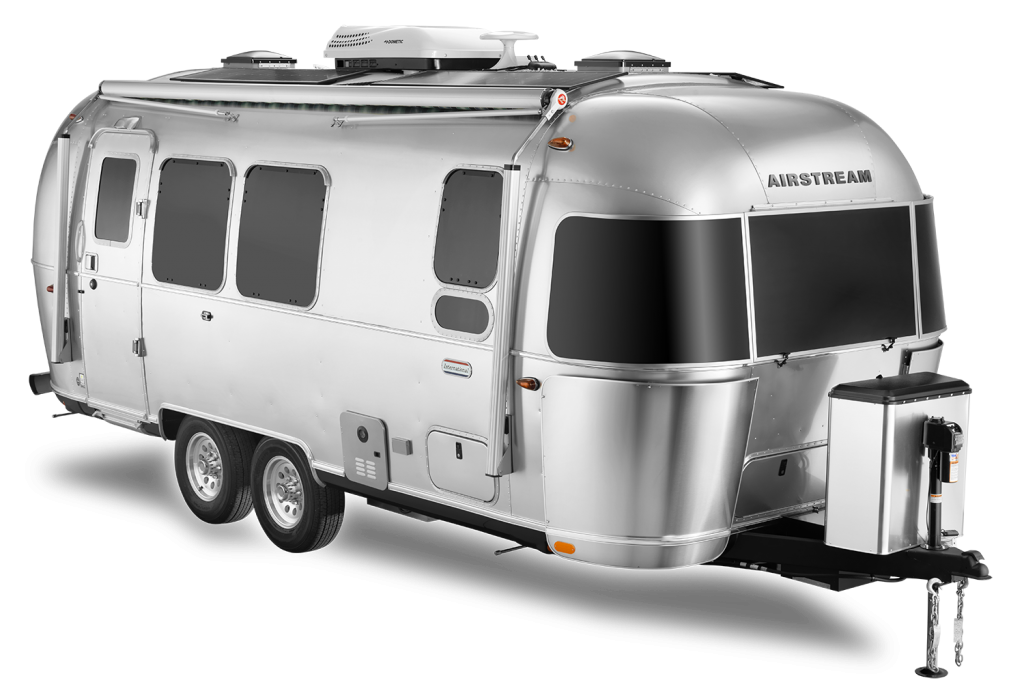 Rigid Panels from Merlin Solar:
Superior performance in all light conditions

Quicker to "wake up" and get to work

High UV Resistance
Parallel operation enables each panel to operate individually or collectively as a strong group — maximizing the collection of solar power in all lighting environments and situations

Military-grade design, exceptional durability, and long-lasting

Rigid, yet optimized to perform with the curved roof of the Airstream
The roof-mounted solar panels and front solar connection port work together to provide collaborative charging for your batteries which increases efficiency and decreases charging time.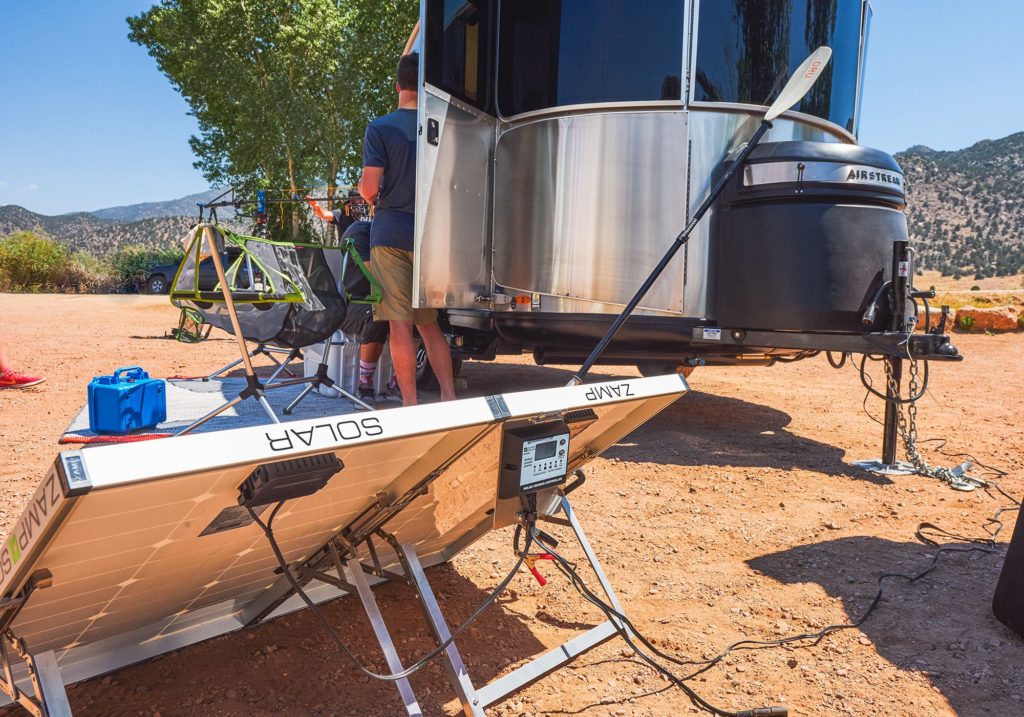 Customer Choice of Batteries
New for model year 2023 is the option for customers to choose their own batteries at the dealership upon delivery (with the exception of Classic and Pottery Barn Special Edition). This update provides flexibility which enables each Airstreamer to choose the best battery chemistry for their specific need. Planning to stay at campgrounds that offer shore power? Lead acid or AGM batteries will be perfect. Looking to venture away from the grid and need more battery capacity? High-performance deep cycle lithium-ion batteries are your go-to (we recommend Battle Born Batteries). With this update, we've upgraded to a multi-stage auto-detecting power converter, making it seamless to drop-in different batteries (by chemistry) and doesn't require any physical changes for the power system to adjust.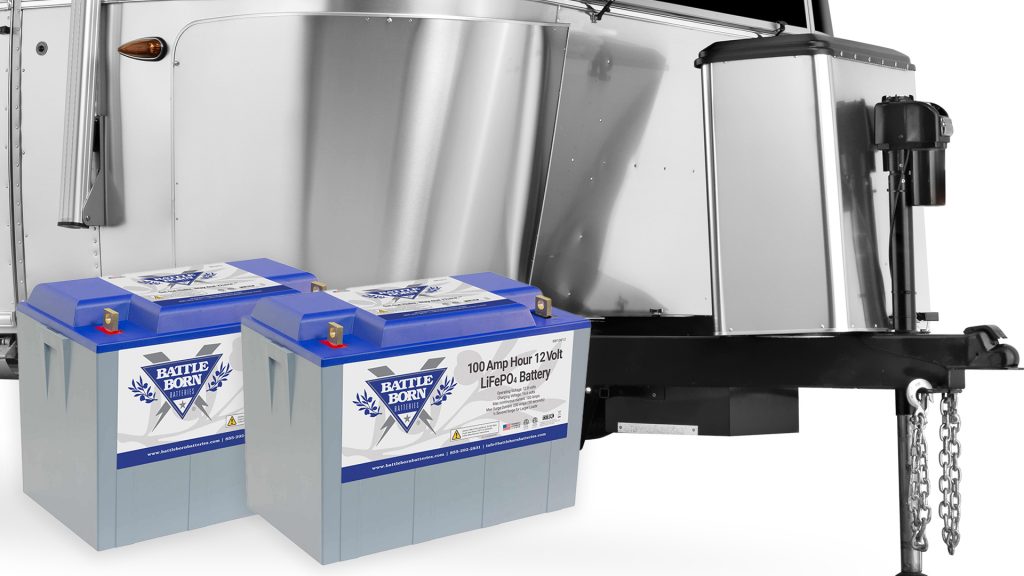 This customer-centric update is another example of collective feedback from customers and dealers alike. The battery flexibility is favorable, but knowing that fresh batteries that haven't started their warranty yet is something we're pleased to offer customers. While no longer included as part of the previously labeled solar package, your authorized dealer will work with you to determine the battery solution that works best for your adventures. 
For the Classic and Pottery Barn Special Edition models, a 200Ah battery bank (2 - 100Ah lithium batteries) is still included from the Airstream factory.
Redesigned Media Console
The media console can be found in most overhead storage areas in the galley area. This cabinet has typically held the radio, USB ports, and Blu-Ray/DVD player. New for model year 2023 is the removal of the Blu-Ray/DVD player and an improved media console design that saves on space. An HDMI port enables customers to bring their own media or streaming device based on their preference (Apple TV, Chromecast, Fire TV, Roku, etc.). With a 110v outlet and USB ports conveniently located next to the HDMI port, you can power up your device, connect to Airstream Connected Wi-Fi, and start streaming your favorite show.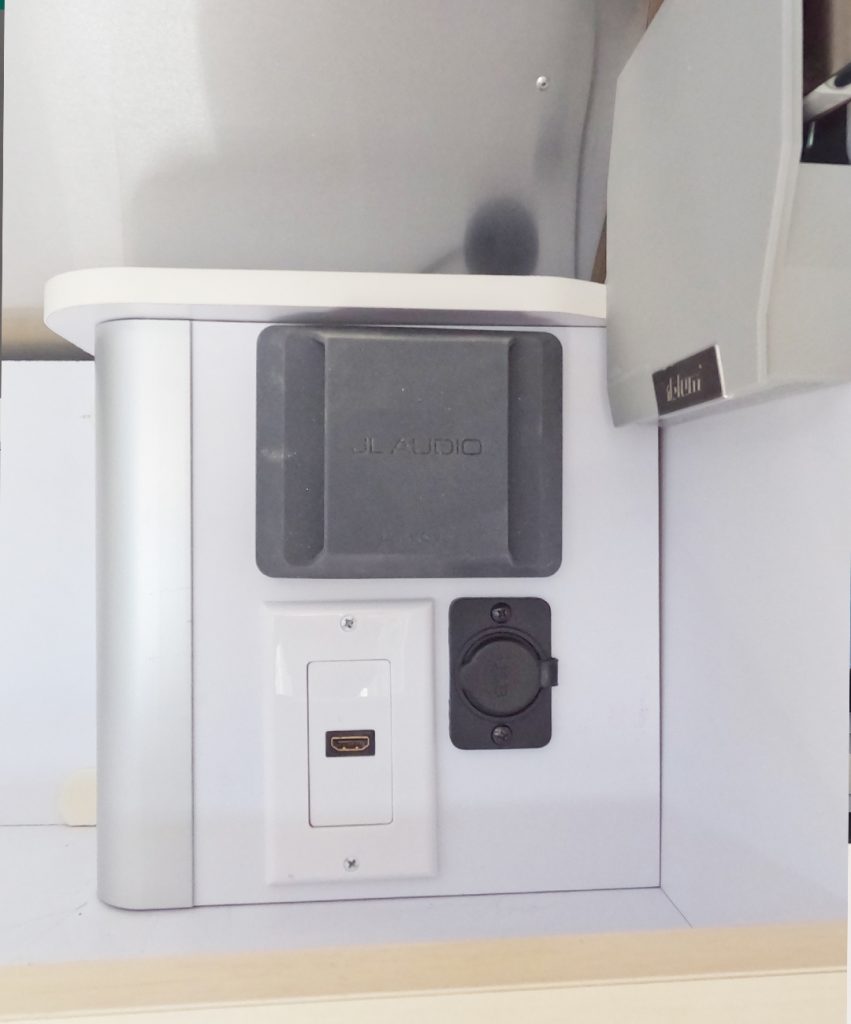 For models that include more than one television, the HDMI port plays the same media on both TVs and extends the option to attach an HDMI switch — making it possible to set up multiple streaming devices that can be selected with the tap of a button.
Airstream Model Specific Updates
Basecamp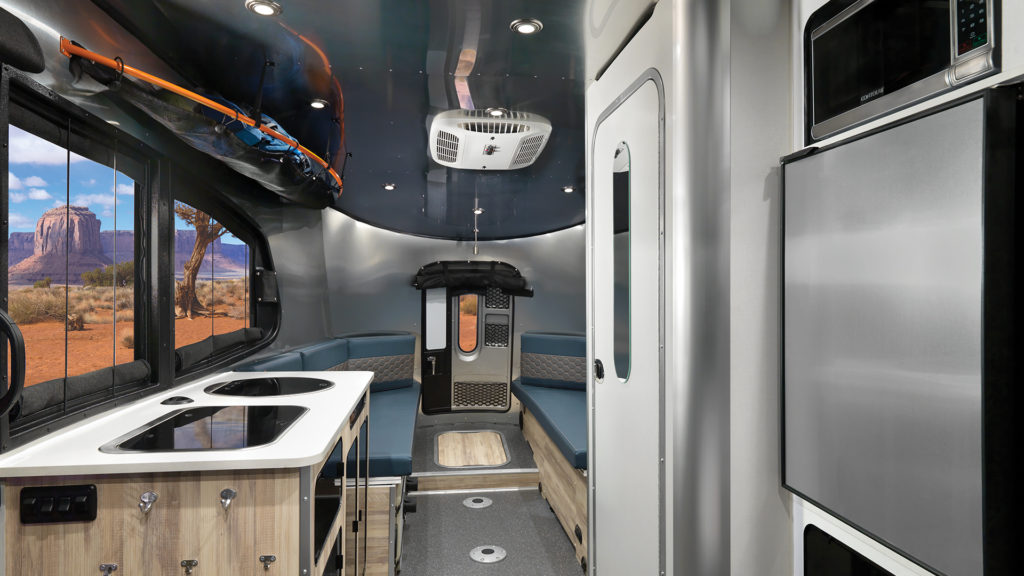 Read all about the model year 2023 updates for Basecamp by clicking right here — there's all kinds of exciting news!
Bambi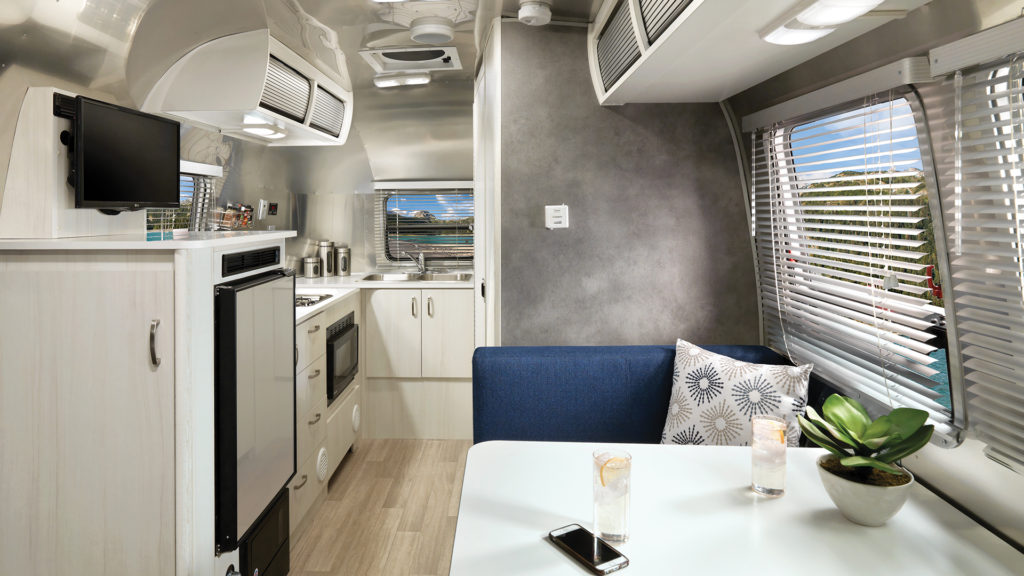 New Clarion radio

New DC-powered Vitrofrigo electric refrigerator on 19CB, 20FB, and 22FB floor plans

New shower door style on 19CB, 20FB, 22FB floor plans
Caravel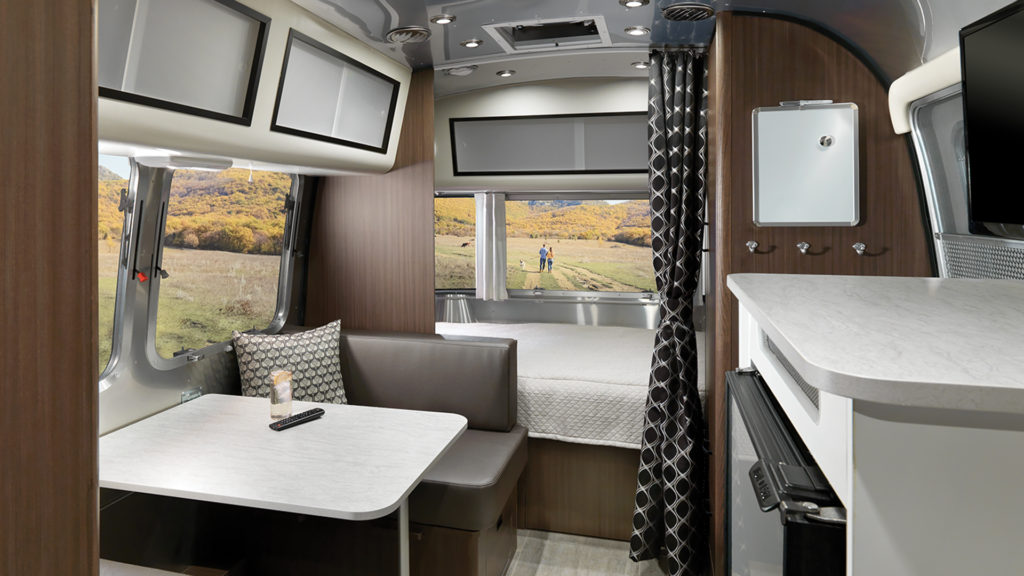 New DC-powered Vitrofrigo electric refrigerator on 19CB, 20FB, and 22FB floor plans
Flying Cloud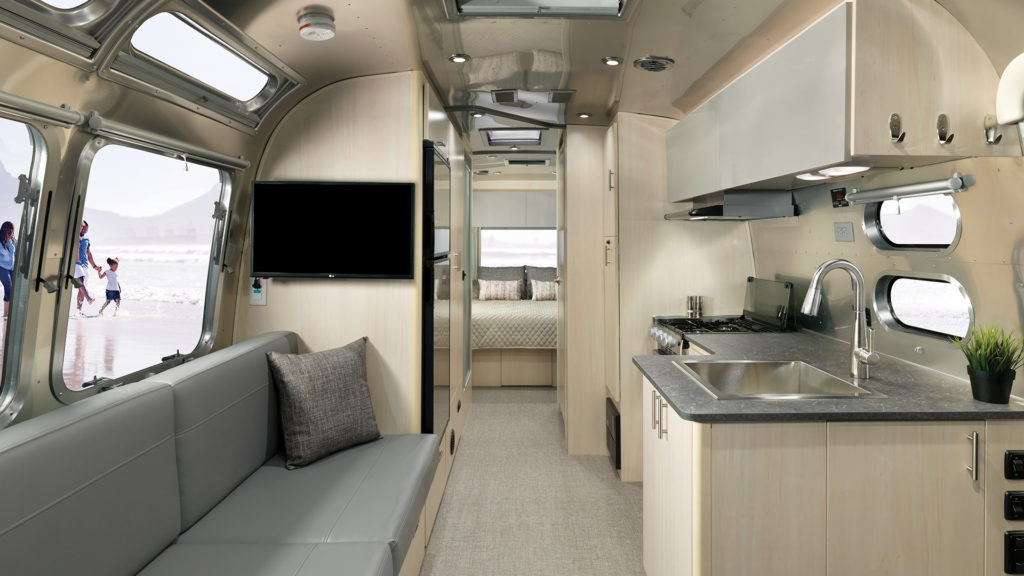 23FB Twin option now available

The queen bed configuration now includes panoramic views and nightstands on each side with the removal of the floor-to-ceiling wardrobes

Overhead cabinet door finish updated to matte grey

The 23CB and 23CB Bunk floor plans have officially been retired
International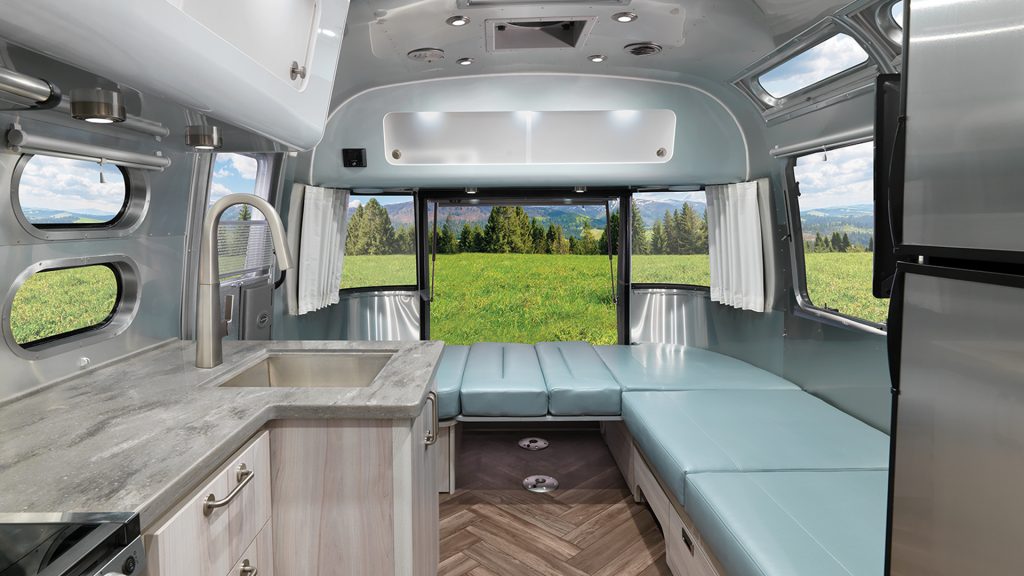 23FB Twin option now available

The queen bed configurations now includes panoramic views and nightstands on each side with the removal of the floor-to-ceiling wardrobes

The 23CB and 23CB Bunk floor plans have officially been retired
Globetrotter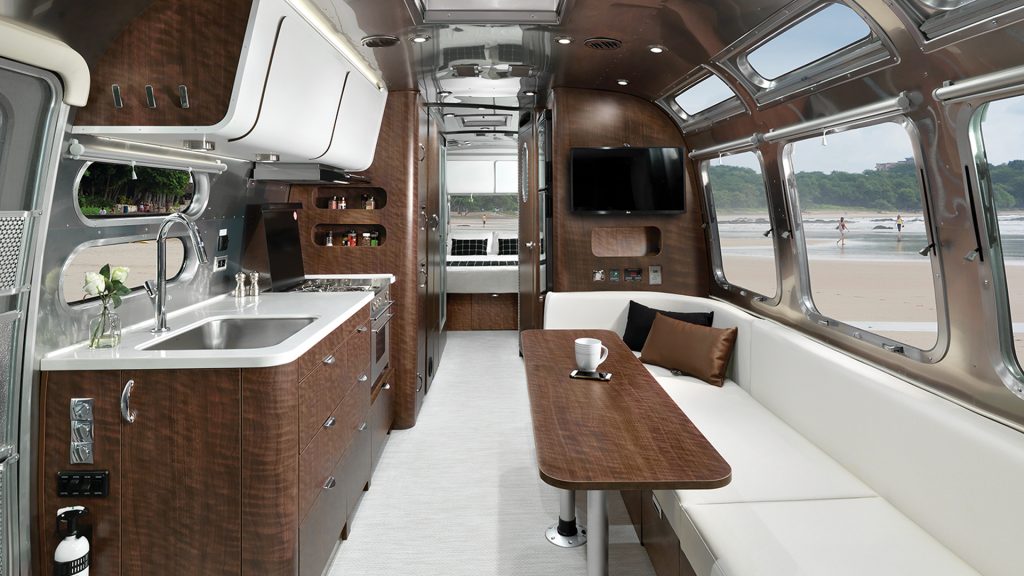 New Furrion Cooktop & Oven (available in Fall 2022)

MERV8 air filter for higher filtering efficiency and air quality

The 23FB floor plan has officially been retired
Classic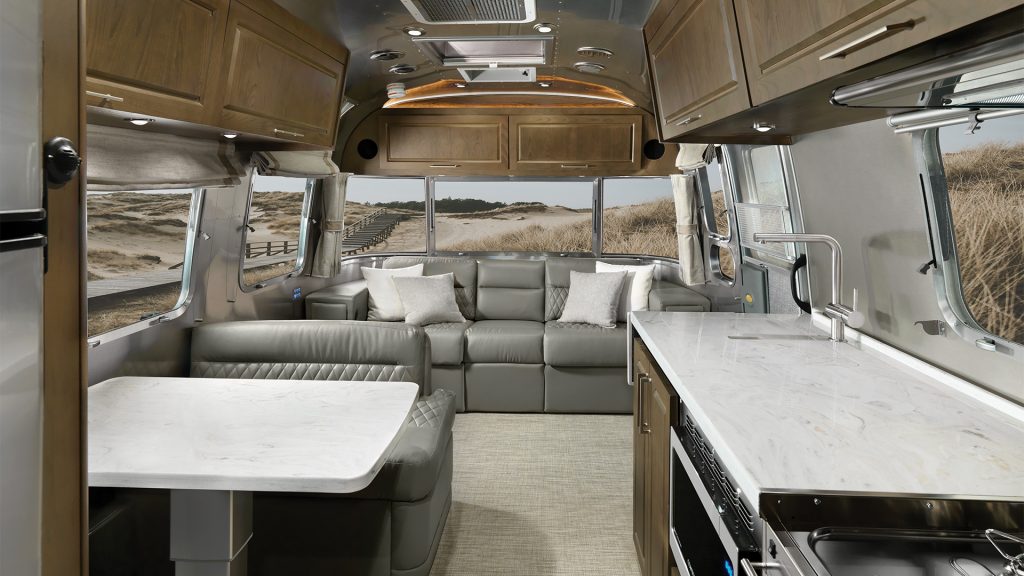 New, 3-burner residential style cooktop

Updated, larger convection oven
Something New?
We're not quite finished with Model Year 2023 updates yet! Make sure you're subscribed to The Rivet newsletter and stay tuned for the biggest announcements yet to come from Airstream this summer