The definition of get-up-and-go, Basecamp is ready for anything and tough enough to go off-road or off-grid whenever you're up for it. It has earned a special place in the Airstream product lineup as the top-selling model the past few years due to unique upgrades and the addition of the popular Basecamp 20 floor plan. This exciting model continues its path of evolution with improvements inside and outside the aluminum shell.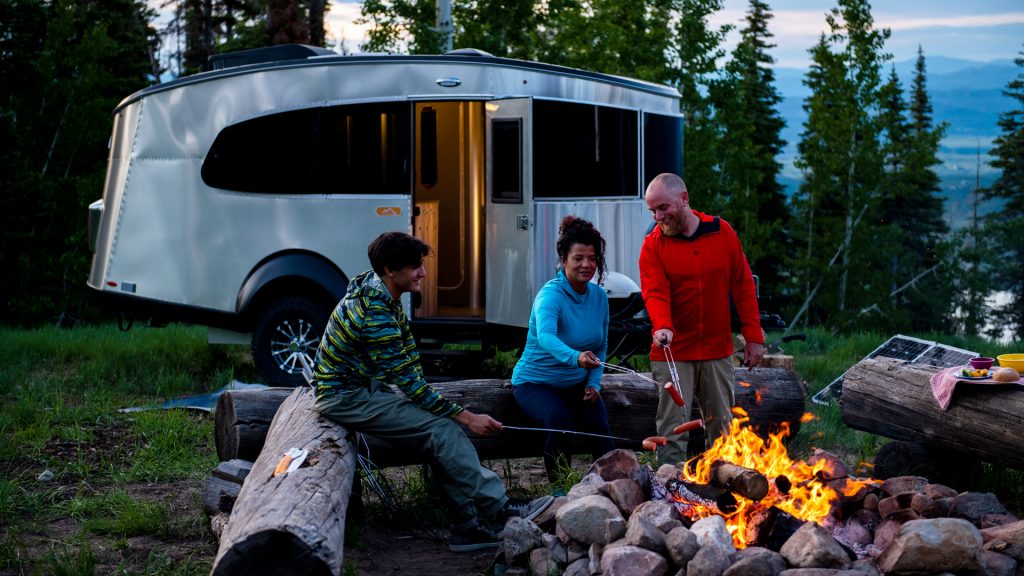 Earlier in July, we released the first round of model year 2023 travel trailer updates which included the addition of the twin bed master bedroom configuration for the International and Flying Cloud 23FB floor plans. Further model year updates for the Silver Bullet lineup include additional, high-performing solar panels on most models, a redesigned media console, and several model-specific updates. 
The Basecamp stays true to the roots of Airstream founder Wally Byam's Credo, which aims "To provide a more satisfying, meaningful way of travel that offers complete independence." We're aiming to fulfill Wally's credo each year with ongoing updates for the Basecamp — let's get started. 
What's New for Basecamp in Model Year 2023?
Upgraded Solar Panels and Performance
There are quite a few ways to charge the batteries on an Airstream, but none quite as popular and intriguing as solar power. Roof-mounted solar panels aren't new to Airstream or the RV industry by any stretch of the imagination, however, advancements in solar panel technology have certainly arrived — amplifying the solar collection efficiency and battery charging capabilities for adventurers whether they're on the move or setting up camp for a while.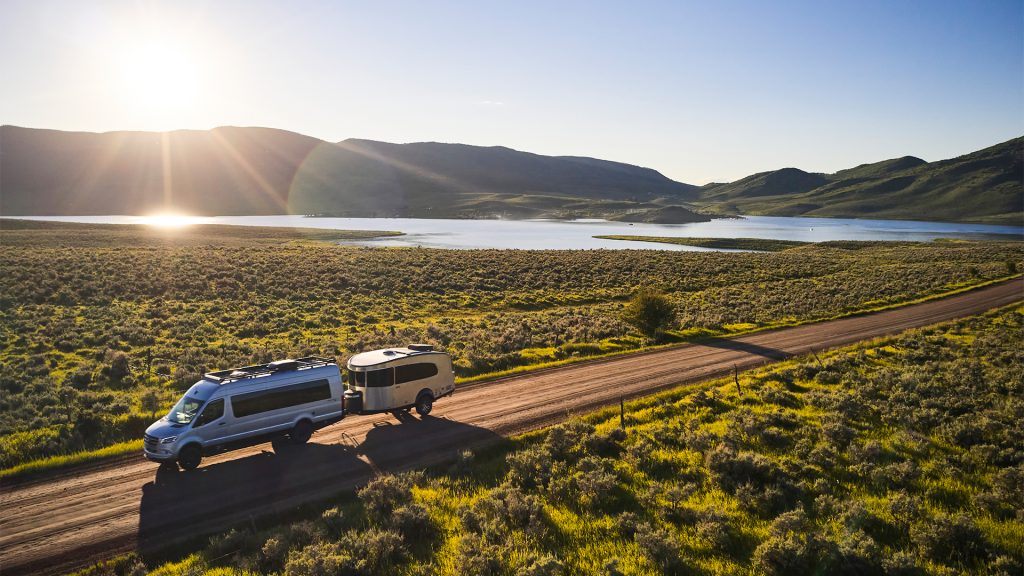 A solar package has been offered for Basecamp in recent years which included 2 - 90w solar panels and 2 AGM batteries for a total of 180w of solar power. New for Basecamp model year 2023 is the introduction of high-performance, flexible Merlin Solar where each solar array is 100 watts. With higher output and full potential wattage that exceeds the previous generation of solar panels, Merlin flexible panels are an upgrade that truly enhances the travel experience whether boondocking or traveling between campsites.
To the promise of the eStream Concept Travel Trailer and the vision of enhanced off-grid capabilities, the aerodynamic and efficient flexible solar panels are one of the first innovations from eStream to appear on a production model and we're excited to bring them to the Basecamp lineup. 
Flexible Solar Panels from Merlin Solar:
Superior performance in all light conditions

Quicker to "wake up" and get to work

High UV Resistance

Parallel operation enables each panel to operate individually or collectively as a strong group — maximizing the collection of solar power in all lighting environments and situations

Military grade design, exceptional durability, and long-lasting
With the solar option, Basecamp 16 gets 2 - 100 watt solar panels for a total of 200w on the roof which is a 20w improvement versus the previous generation. With the solar option on the Basecamp 20, you get 3 - 100 watt solar panels for a total of 300w of harvesting power — a 120w difference between what was offered in past model years. 
The flexible, roof-mounted solar panels and front solar connection port work together to provide collaborative charging for your batteries which increases efficiency and decreases charging time.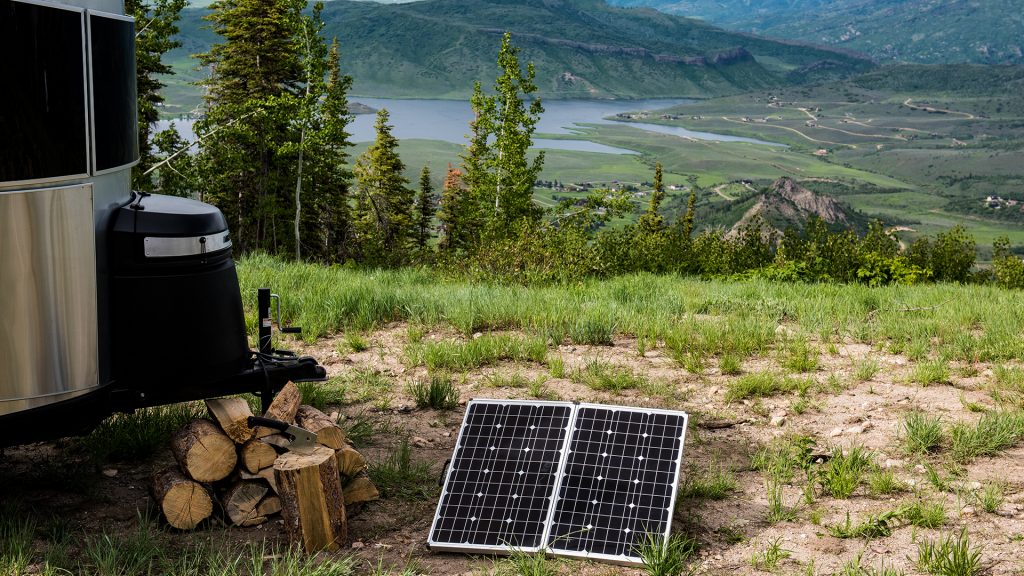 Continuously Improving with Composite Flooring
Wood flooring is an RV industry standard and served Airstream for nearly 90 years – as well as the home building industry where it's been used even longer. But it's also one of the components we've found an opportunity to amplify the quality of an Airstream and extend its life even further than the already well-known longevity. Initially announced for traditional Airstream travel trailers (Silver Bullets) for model year 2021, we're transitioning away from ⅝" WBP tongue-and-groove wood flooring and introducing Ridge Corporation TransCore™ seamless composite flooring to the Basecamp product lineup. 
TransCore™ – a proprietary composite formed from waterproof, inert recycled glass and polypropylene. Developed by Ridge Corporation, TransCore™ is a state-of-the-art composite engineered for firmness under foot, strength, and screw retention. Ridge's manufacturing process utilizes heat bonding instead of adhesives, which results in all the layers fusing together in a complete, single piece without bonding lines and is manufactured exclusively for Airstream. Learn more about the benefits of composite flooring and why bringing the material to our entire lineup of travel trailers aligns with our company mission to not make changes, but to only make improvements.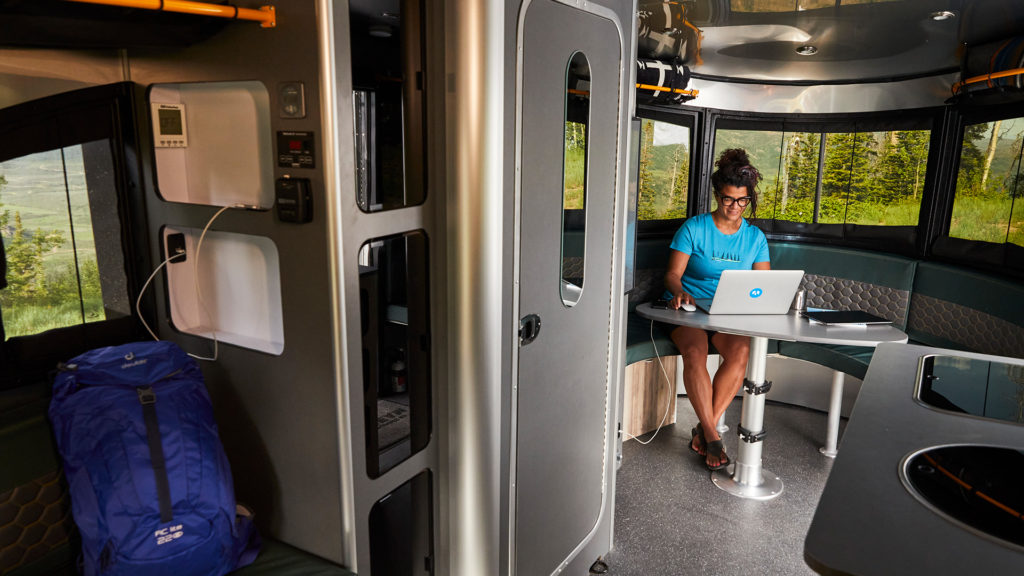 Flexible Battery Options
New for model year 2023 is the option for customers to choose their own batteries at the dealership upon delivery (with the exception of Classic and Pottery Barn Special Edition). This update provides flexibility that enables each Airstreamer to choose the best battery chemistry for their specific need. Planning to stay at campgrounds that offer shore power? Lead acid or AGM batteries will be perfect. Looking to venture away from the grid and need more battery capacity? High-performance deep cycle lithium-ion batteries are your go-to (we recommend using Battle Born Batteries).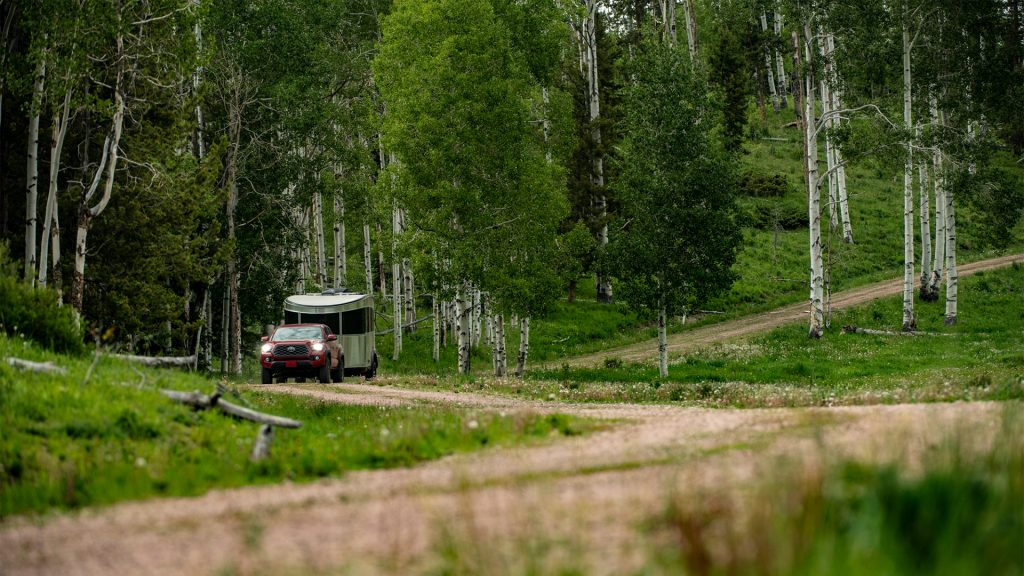 This customer-centric update is another example of collective feedback from customers and dealers alike. The battery flexibility is favorable, but knowing that fresh batteries that haven't started their warranty yet is something we're pleased to offer customers. While no longer included as part of the previously labeled solar package, your authorized dealer will work with you to determine the battery solution that works best for your adventures. 
12V Auxiliary Outlet for Powering More Devices
Similar to the 12V auxiliary outlet included in the Basecamp 20, the Basecamp 16 now comes standard with a 12V outlet located on the rear street side bench for easy access from the interior or through the rear hatch door. Whether plugging in a portable air compressor, vacuum cleaner, or even mobile power inverter, the 12V auxiliary outlet supplies up to 200W of power directly from the batteries and is located next to the USB ports and 110v outlet found at the rear of the Basecamp.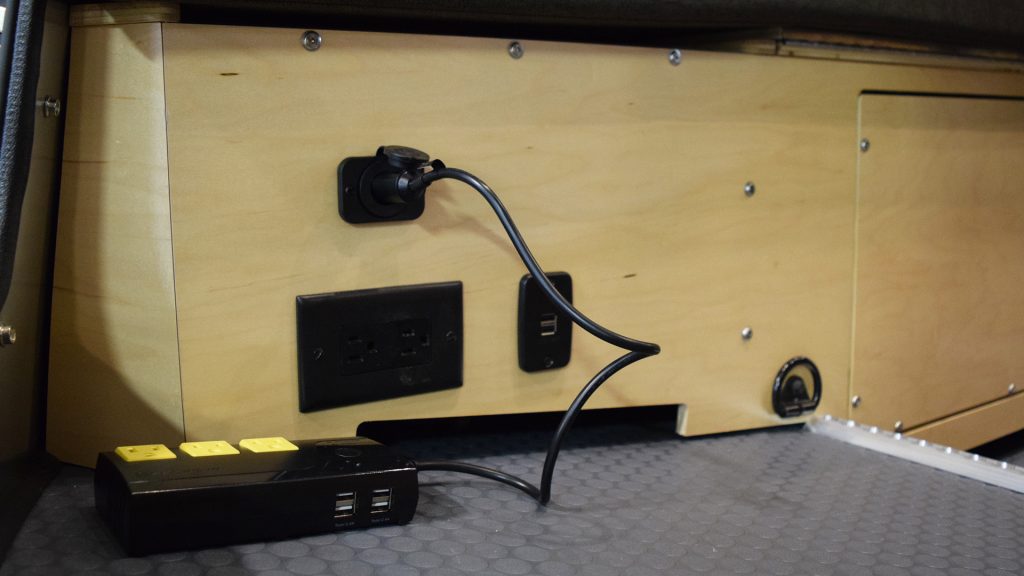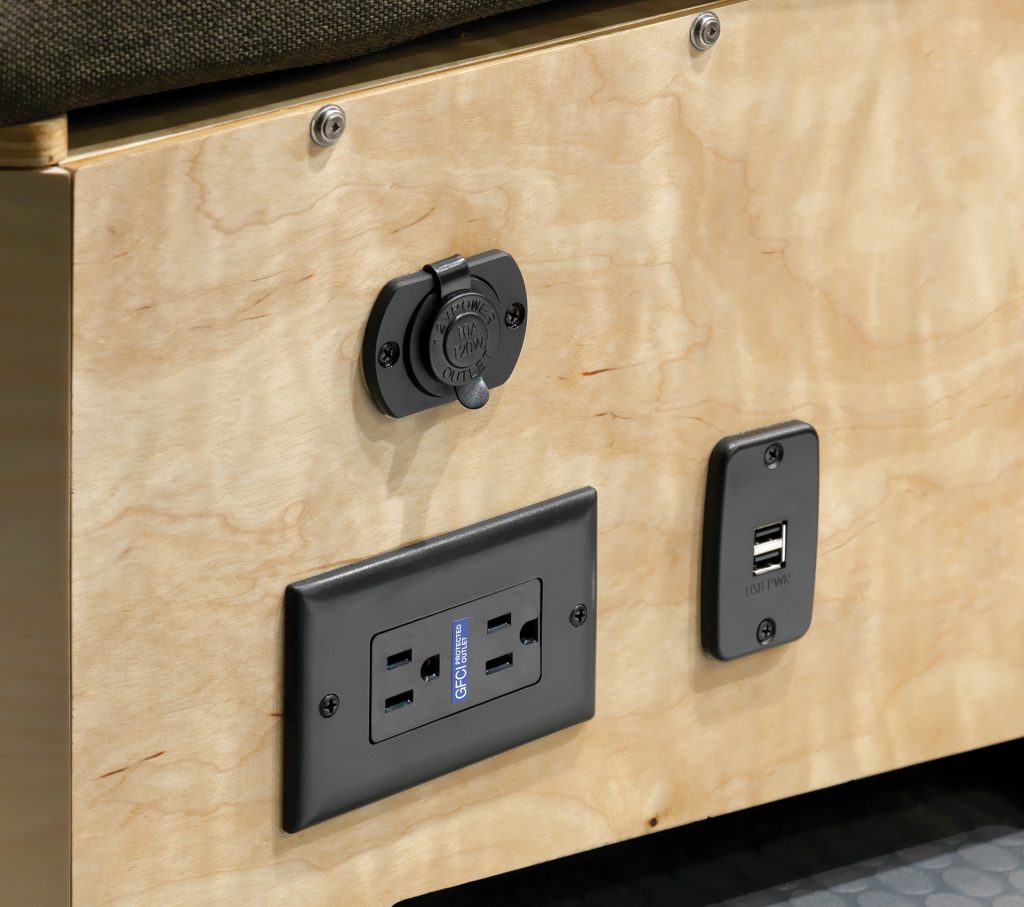 Tankless, On-Demand Water Heat and LP Forced Air Furnace
Since the re-release in 2016, the Basecamp 16 has included a combination hot water and furnace system. As of model year 2023, the Basecamp 16 is updated to resemble the Basecamp 20 which includes a tankless on-demand LP water heater for instantaneous hot water pumped to both the kitchen sink and wet-bath shower head. Both the Basecamp 16 and 20 include a ducted furnace to keep the interior nice and warm when the temperature drops. The 16' has a 12,000 BTU furnace while the 20' has 16,000 BTU furnace — all powered by propane.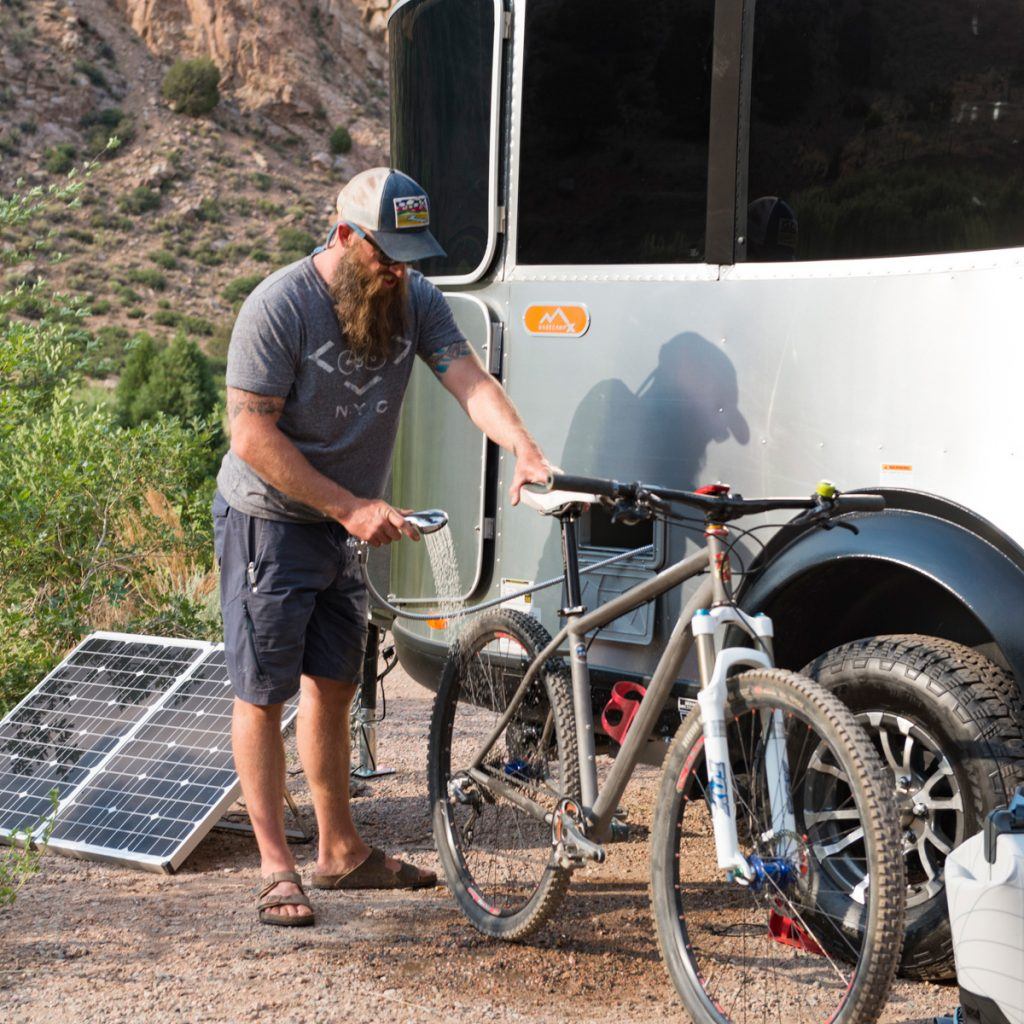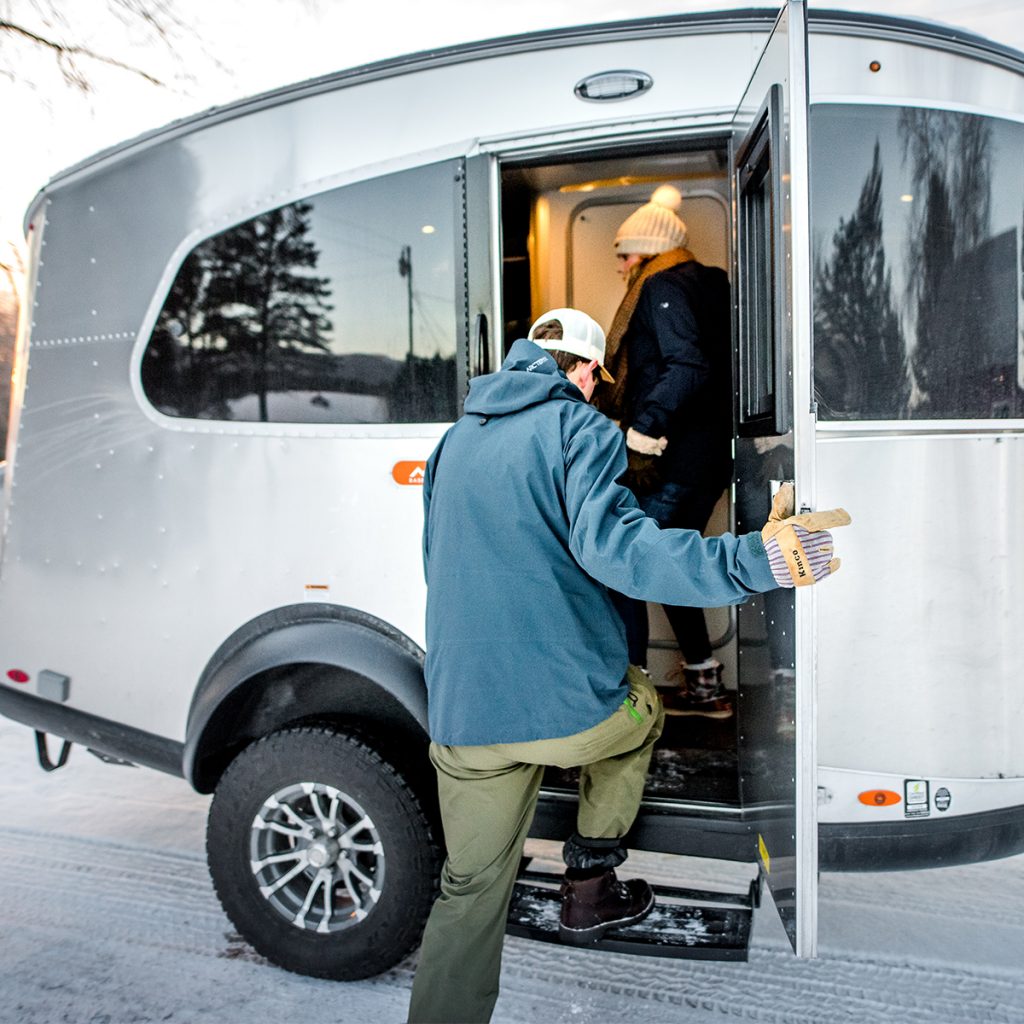 Also new for 2023 is a redesigned systems panel to make it easier to control and monitor all of the utilities throughout the Basecamp. Located above the street side bench is the updated control cluster that conveniently stacks the solar monitor, fresh and combination tank monitor, thermostat for the furnace, and tankless water heater control.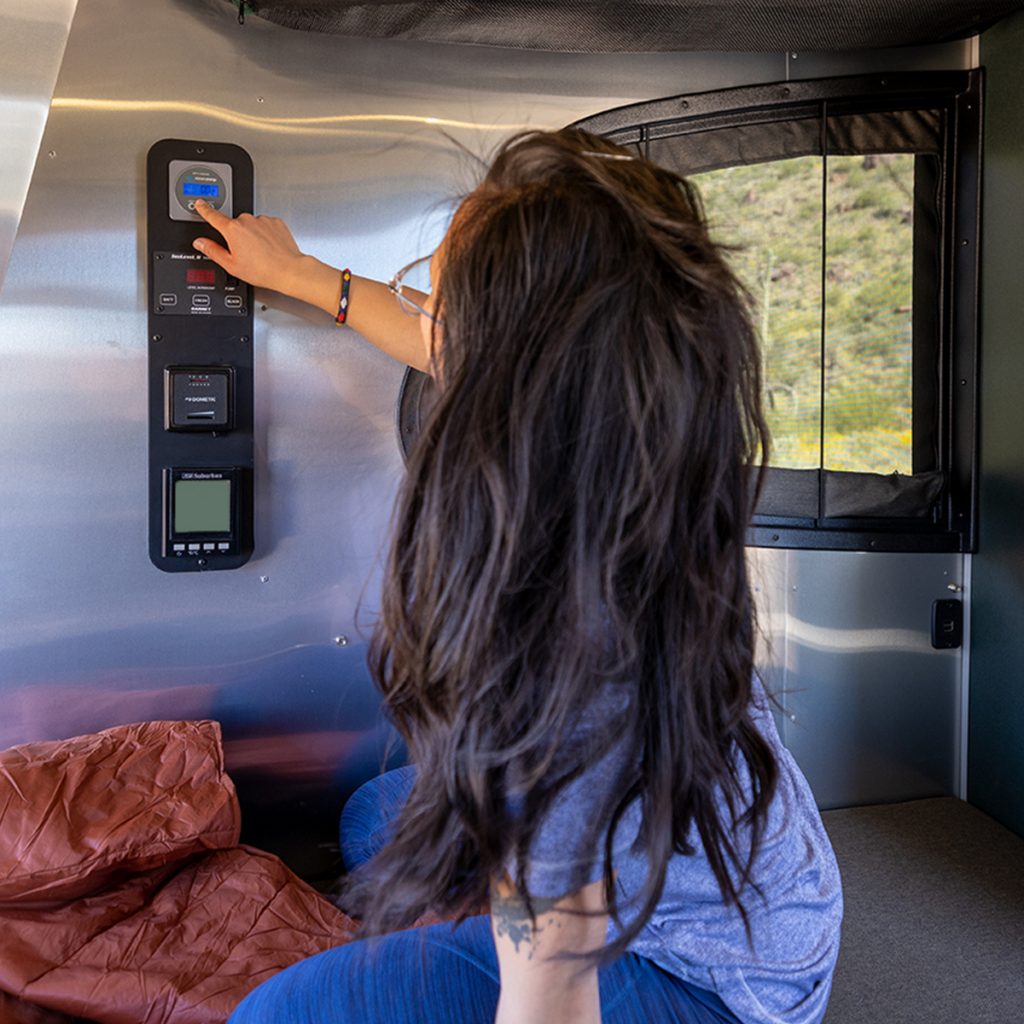 Whether you're quickly moving through the cabin and need to make an adjustment or have already snuggled in for the night, the relocated systems control panel makes it simple by consolidating all of the interfaces in one location. Not sure about adding solar from the factory? The Victron solar monitor has a designated position at the top of the control cluster and is pre-wired, making it a snap to add if you'd like to order the Basecamp without solar panels right away.
The REI Co-op Special Edition Basecamp
For model year 2023 and for the first time in company history, we're excited to introduce a new Special Edition model that is built on the Basecamp foundation. Welcome the all-new REI Co-op Special Edition Basecamp to the travel trailer family.
This travel trailer is adventure-ready, inside and out. It's focused on sustainable features and materials that inspire explorers to discover more ways to camp beyond the traditional definition. Equipped with rugged components, exclusive upgrades, and a vast collection of REI Co-op kit items, this Basecamp provides all of the functional and beautiful design details that empower adventurers to get out and roam.