Airstreamers appreciate quality, innovation, design and craftsmanship. A trip with your Airstream® is a sleek, sophisticated journey into the beauty of the wild – it is adventure at its finest.
That's because Airstreamers have a taste for the best.
When the day is done, and you want to unwind with your favorite spirit, High Camp Flasks is there to quench your discerning thirst. The team at this craft-beverage-meets-outdoor-gear outfit believe "nothing completes a day's adventure like a celebratory drink."
To make that drink all the more special, High Camp Flasks' two top-tier travel beverage sets make your current flask look like, well, like it needs to be replaced.
The Firelight 750 Flask is perfect for toting and sharing your favorite potables on any adventure – from a homecoming game to a weekend in the deep woods. This rugged, flask is big enough to carry a full 750ml bottle of wine or a fifth of your favorite liquor. It's double-walled, vacuum-insulated construction keeps your drink at temperature (whether a single malt, mixed martini or Sauvignon Blanc) while the brush polished 18/8 stainless steel exterior makes you look cooler than Steve McQueen on a motorcycle.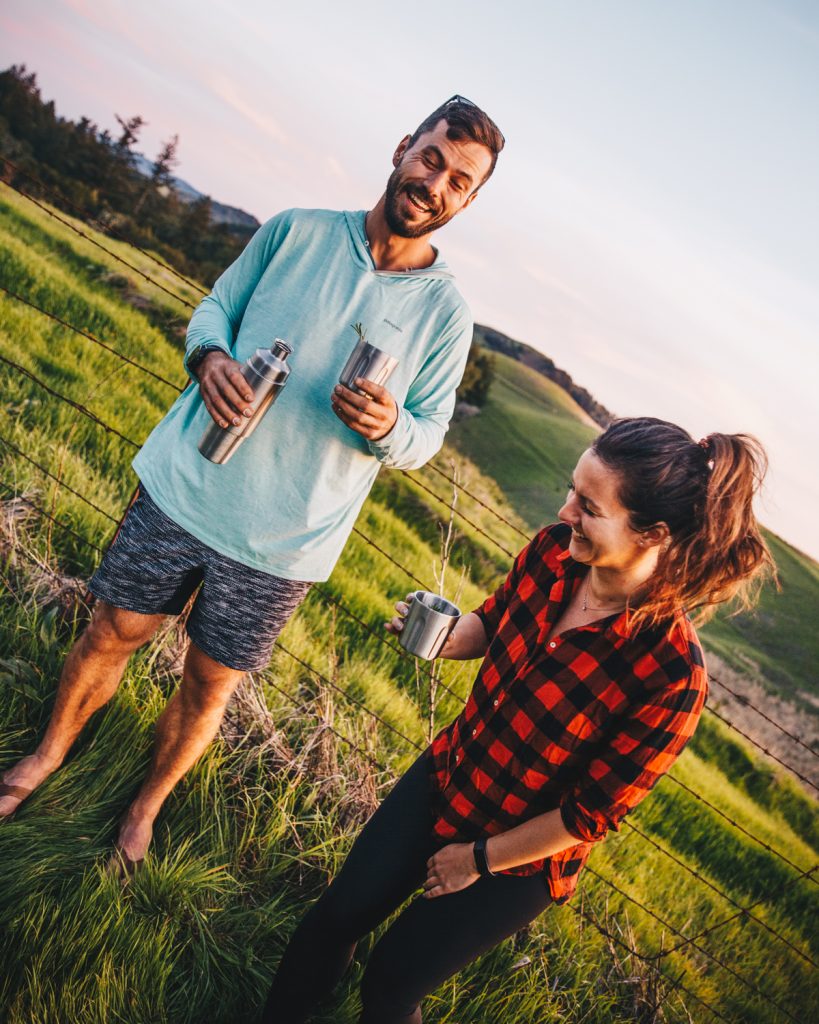 High Camp Flasks's designers really thought this one through. A stainless steel plug cap and silicone seal prevent leaks, while the no-drip lip makes for a perfect pour. The interior of the flask is electropolished to preserve and protect the taste of your choice beverage.
When it comes time to sip by the fire or knock back a few over cards, break out the two 6-Shooter stainless steel tumblers that travel as endcaps to the Firelight 750 Flask. The 6-Shooter tumblers are double-wall stainless steel and feature barrel grooves that make the cups easy to grip. When not in use, the 6-Shooter tumblers attach seamlessly to the Firelight Flask using their patented magnetic locking system.
When you're flying solo, the Halflight 375 Flask is the perfect travel companion – sturdy, attractive and always ready with, as George Bernard Shaw called it, "liquid sunshine."
The Halflight 375 Flask carries up to half a bottle of wine or spirits but is compact enough (at 7.3" high by 3.25" wide) to fit in your purse or backpack. Just like its big brother, the Halflight 375 Flask keeps drinks at temperature thanks to double-wall vacuum construction. The polished stainless steel exterior gives this sturdy, practical vessel a touch of modern elegance.
The 375ml version comes with a single 6-shooter 11oz. double-wall tumbler that doubles as the flask cap cover, and is held in place by that magnetic locking system.
Both the Firelight 750 Flask and the Halflight 375 Flask are BPA and phthalate free and come with a lifetime guarantee.
High Camp Flasks started with a handshake. After countless camping trips and as their appetites for new American craft spirits grew, the two founders decided to create the ultimate bar glass for the wild. And so, they did. One Kickstarter later and the company is off and running, providing discerning palates with the best-tasting beverages in the backcountry.
---