Sometimes, the best Airstream® trip is one where you leave the hustle and bustle of everyday life behind and truly unplug. Other times, though, you want to stay connected during your explorations.
If you're trekking the wilderness and want to tune in to what's going on in the larger world – whether it be news, sports, weather alerts or your favorite music station – ION Audio has a radio for that.
These are not your typical radios. ION Audio is in the business of creating products that maximize the quality and convenience of people's lives in a fun, easy-to-use and innovative way. And that's why they're still going strong today.
Take the Survival Scout, for instance. This emergency weather radio is a rugged and powerful workhorse. It stands up to the most inclement weather and keeps you informed with a sensitive tuner that receives AM, FM and shortwave so you can get news updates from all over the world. Plus, it has seven NOAA weather bands, so you'll know exactly what's happening if things get hairy.
Use the sun's energy to recharge your ION radio's high-capacity 2300 mAh battery via the built-in solar panel or use the dynamo hand crank to fire it up. With a built-in white LED, you'll keep essential lighting even if you don't have an external light. A USB charge port keeps your other portable devices powered up, ready to go.
Whether the situation is dire or not, the Survival Scout always keeps you entertained, thanks to its powerful 20-watt 4-inch 2-way speaker and 100-ft range Bluetooth streaming.
There's also the Solar Rocker, a high-power, solar-rechargeable speaker that rocks as hard as you do. This audio wonder pumps out great sound through its 8-inch 2-way speaker system, powered by a 100-watt dynamic power amplifier. The Rocker comes with an AM/FM radio and six presets, easy Bluetooth streaming capability, and the built-in light bar for moody, groovy lighting effects.
With a USB charge port to recharge your devices, a telescoping handle and built-in wheels, the Solar Rocker offers the ultimate in ease-of-use. There's even a high-quality microphone so you can create your own memorable events or prove to your friends that you really do know all the words to Bohemian Rhapsody.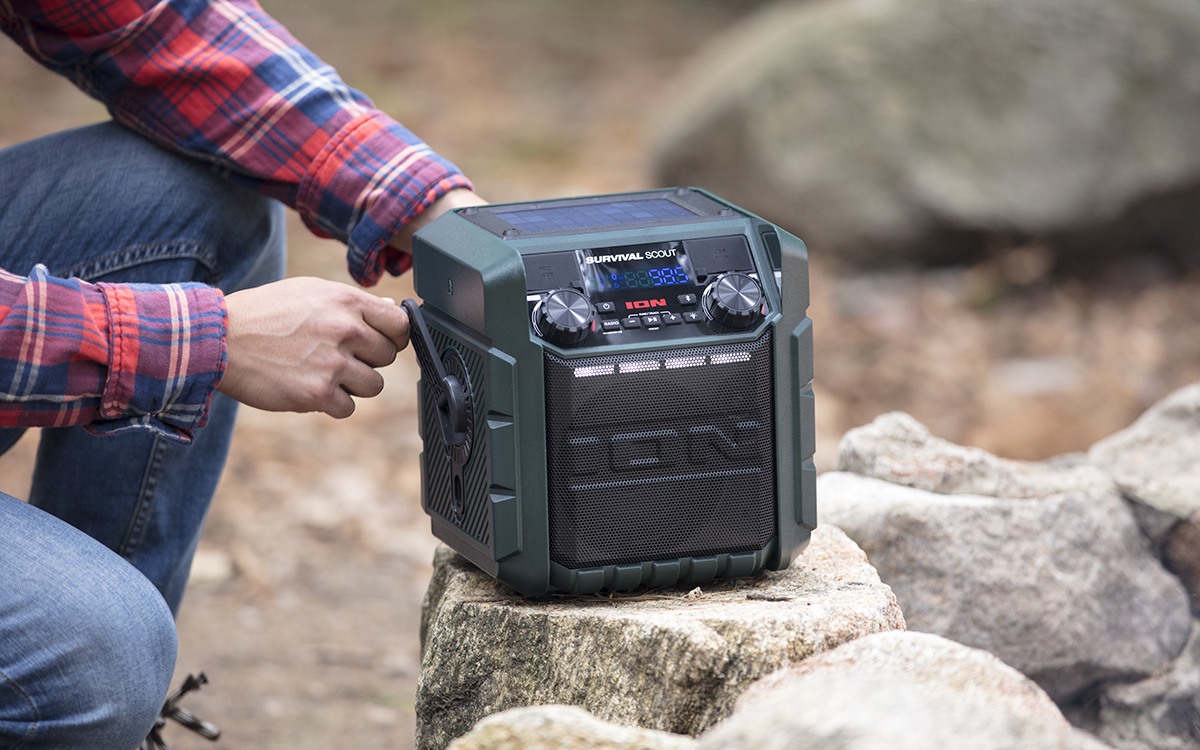 For more than a decade, ION Audio has been a leader in lifestyle consumer electronics. The company has revolutionized indoor and outdoor sound and lighting to create the best consumer entertainment experience. ION's goal is to surprise and delight customers with innovative, exciting, great-sounding products that will enhance their outdoors experience. With the wide array of ION products, there is something for everyone, no matter how you choose to spend your time outside.
---