Meet Laura Preston, owner of Vacilando Quilting Co. and a fellow Airstreamer. Preston is on a quest to connect people with the beauty of her travels through a true piece of Americana – inspired handmade quilts.
Living a nomadic lifestyle and working out of her Airstream studio/home, Preston spins the scenery around her into beautiful textile representations of what she experiences. The result is a refreshing and modern take on the tradition of quilting.
For Preston, Vacilando quilts represent a powerful duality. They are evocative pieces of art and craftsmanship meant for use in everyday life. In line with the tradition of quilting, Preston designs heirloom pieces to cherish for generations.
It all started back in 2013 when Preston embarked on a year-long road trip across the US in her 1986 34-foot Airstream trailer. A year later, this professionally-trained painter and art historian made her very first quilt to tap into her creativity. She instantly fell in love with the craft. The following year, Vacilando Quilting Co. was born.
No matter where Preston's travels take her, she's ready to deliver a hand-crafted Vacilando quilt to you in just four weeks. Wrap yourself in West Texas with the Trans Pecos Quilt, which evokes the soft colors of the Chihuahuan Desert and rugged minimalism of the landscape. The Mojave Quilt gets its inspiration from the changing colors of the sky as the sun rises or sets below the mountains, with warm reds and pinks that fade into golds and yellows. Or there's the stunning Topa Quilt, whose design and palette are reminiscent of the sunset as seen from the Ojai Valley, filtering through the Topatopa mountains.
Only the highest quality materials go into each piece, like 100% Kona cotton, Belgian linen, natural raw silk and US-grown unbleached cotton batting. With three standard sizes to choose from – crib, throw, and Queen – and the option to order a custom size, you can find your perfect fit.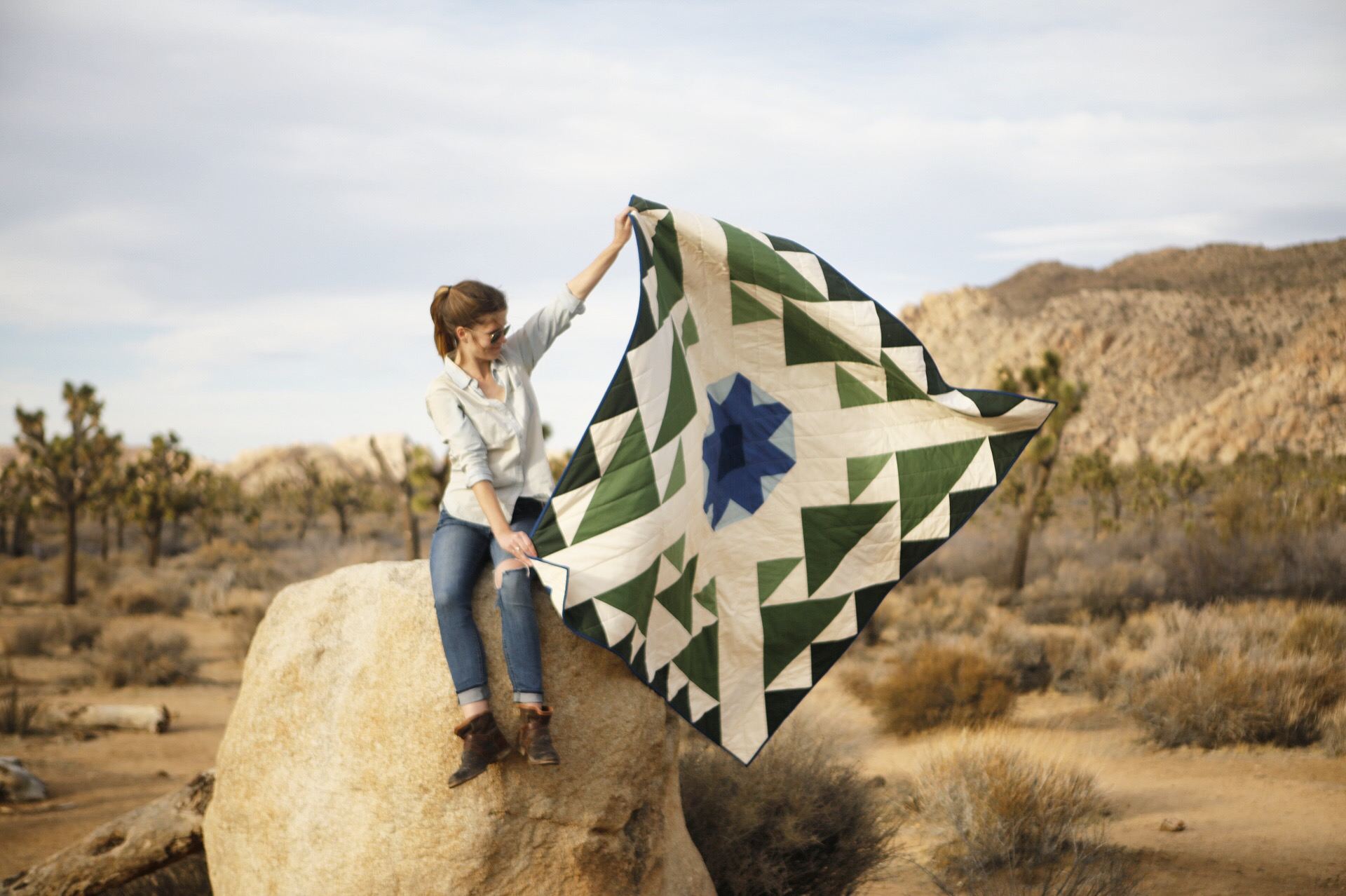 Airstream searches every corner of the outdoor world to find the coolest gear to feature in Airstream's A-List. When we find cool products, we like to showcase them here and often create affiliate relationships. Airstream may get a commission and benefit financially by items purchased through the A-List.
---